Do you have any ideas about how to teach the alphabet letters?
Each of the alphabet coloring pages in our collection has fun and exciting activities that help kids learn the letters of the alphabet.
Kids will look forward to your letter of the week lessons if you pair it with simple arts and crafts.
Include this printable letter X for x-ray coloring page in your daily routines.
Children will be able to create alphabet crafts, discover basic anatomy for kids, and learn more words that start with the letter X.
Learning about the alphabet letters will never be tiresome with this printable letter X coloring page!
*By the way, this post may contain affiliate links which means I may receive a small commission at no additional cost to you if an item is purchase through that link. For more information, click here.*
Printable Letter X Coloring Page
Printable Letter X Coloring Page Materials Needed:
Printable Letter X Coloring Page (FOUND AT THE BOTTOM)
Make your child's finished printable letter X coloring page a forever memory by laminating it! We use this laminator and cannot express how much we love it! It is not only inexpensive, it is SO easy to use!
Your kids will love seeing how much you adore their art work when you laminate and display it for years to come!
Looking for more amazing alphabet crafts to do this weekend? Check out our Letter W, G and O Coloring Pages.
Ideas for Printable Letter X Coloring Page
There is no need to worry about thinking of activities to use with this printable letter X coloring page.
We have already prepared these brilliant ideas for how to include it in your lesson plans.
Sit back and relax while you jot down these notes!
1. Best Letter X Collection
It's important to compile your learning materials before you begin organizing your routines.
This will make it easier for us to keep our letter of the week lesson structured and on pace.
We have put together a list of learning resources that you can use for your activities as we will be learning about the letter X this week.
You can also use these items to get your kids in the mood to learn.
Play with a doctor cart kit playset toy, read a book about an alphabet adventure with the letter X, and complete the day's activities with learning to play the xylophone.
Children will have so much fun with the ideas in our best letter X collection that they won't even be aware that they are learning an alphabet letter.
Don't miss these collectibles that go great with the printable letter X coloring page!

2. Anatomy for Kids
What's great about this printable letter X for x-ray coloring page is that it incorporates not only arts and crafts but also anatomy for kids.
After completing the printable letter X coloring page, this is a great opportunity to begin teaching about anatomy, starting with the parts of the body.
This idea can be used in your science and anatomy lessons.
Explain each body part's function after introducing the basic body and its parts.
3. Q Tips X-Ray Handprint 
Arts & crafts will always be a favorite activity for kids!
Especially if they will be decorating their craft using an object they use on a daily basis.
This printable letter X coloring page is also a fantastic fine motor exercise.
With their little hands, children can try arranging the q tips.
Make this Q tip x-ray handprint as soon as they are completed with the printable letter X coloring page!
Get your q tips, glue, scissors, and black construction paper ready.
The first step is to trace your hand on construction paper, then cut it out.
Like the way the bones on our hands are arranged, arrange the q tips one at a time.
After, glue the q tips in place.
After it has dried, you can use it in your pretend play activities.
An interactive pretend play activity with your kids can cap off your letter of the week activities.

4. Letter of the Week: X
You can include a number of interesting activities in your routines while teaching the letter of the week.
In addition to alphabet coloring, you may discuss the letter X's phonic sound.
Making a fox mask will make teaching the phonic sound more fun!
Include this free printable fox mask in your arts and crafts projects.
In order to emphasize the phonic sound of the letter X, have your children repeat the word "fox" a few times.
When kids have finished crafting their fox masks, they can wear them during animal costume parties, dress-up activities at school, or whenever they like.
We hope it was fun for you to implement these ideas into your daily activities.
It's never been this fun or simple to learn the letter X in the alphabet!
We are confident that your children will advance and progress in whatever things they will accomplish.
Printable Letter X Coloring Page: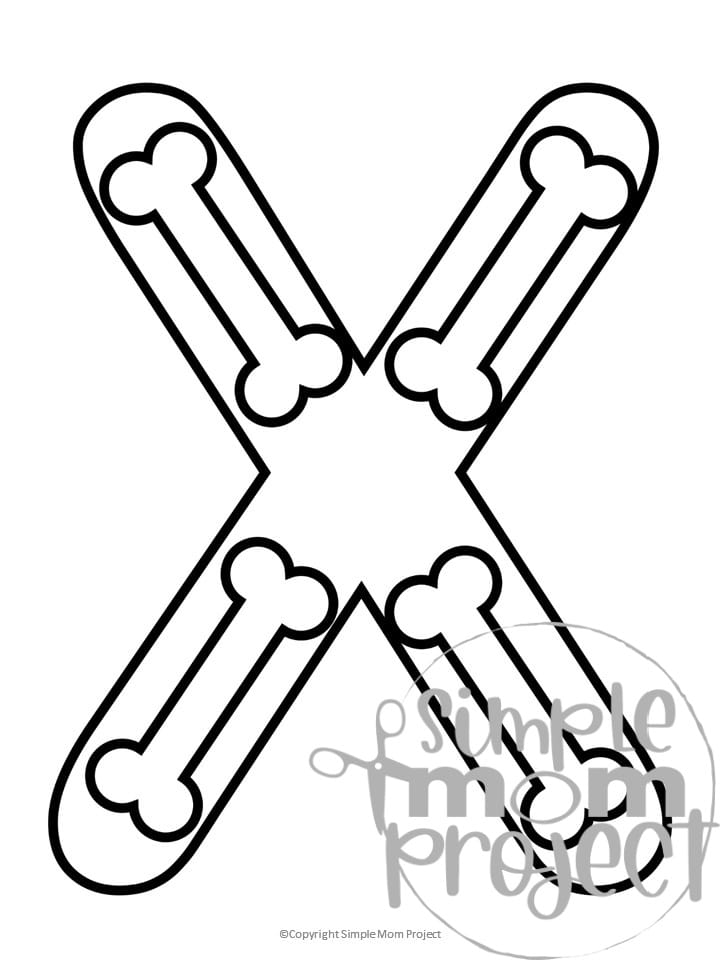 If your children enjoy coloring alphabet worksheets, this printable letter X coloring page is perfect for them!
This simple coloring page for the letter X in the alphabet illustrates an x-ray.
Kids may easily work on this because the only colors required are black and white.
You may use your finished printable letter X coloring pages in a number of ways.
You can add your artwork in your alphabet coloring pages collection, construct an alphabet wall out of your alphabet coloring pages, hang them on the wall by cutting the outline font in your pretend play corners, and more.
We value your feedback on this printable letter X coloring page, so please feel free to share it!
We'd like to hear about your experiences with organizing your learning routines.
Please leave a comment in the section.
When you have finished, be sure to share your creation on Simple Mom Project's Facebook Page and follow me on Pinterest!

Kaitlen D.
More Fun Alphabet Coloring Pages