Want to let your little ones show their creativity?
Why not give them these printable tiger craft templates?
It's okay if they are new to these build-your-own activities because we included an easy-to-follow tutorial video and step-by-step pictures with written directions.
The printable tiger paper bag puppet craft templates are perfect to give to someone who loves zoo animals or Safari animals and arts and crafts activities.
Kids will love feeling like they are on a real African safari adventure when they make this simple printable tiger puppet craft.
Use this paper bag tiger puppet craft in learning activities, pretend play, animal themed decorations and more.
This cut-and-paste craft is such a great way to keep those little hands busy and motivated while developing many skills.
*By the way, this post may contain affiliate links which means I may receive a small commission at no additional cost to you if an item is purchase through that link. For more information, click here.*
Printable Tiger Paper Bag Puppet Craft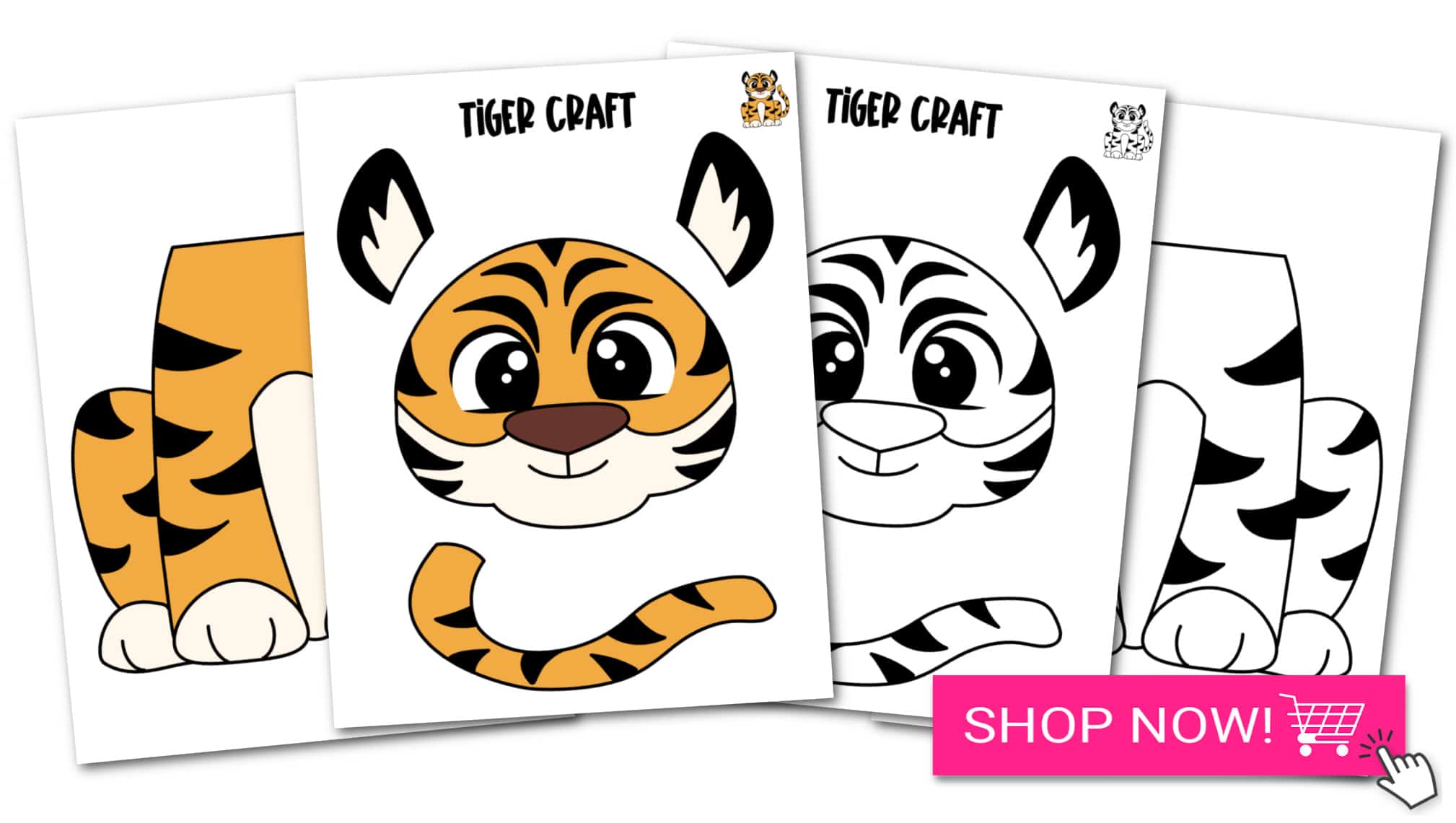 Tiger Craft Supplies Needed
Need more crafty fun? Check out our Zebra Puppet and Monkey Puppet.
T
hey are perfect for those days when staying indoors is the only thing your family can do!
Ideas for Easy Preschool Paper Tiger Craft
Don't miss out these amazing diy ideas on how to include these simple printable tiger paper bag puppets in your kids' daily activities.
1. Little Tiger Kids Collection
Experience the wildlife safari with this preschool printable tiger paper bag puppet template.
The tiger finger puppets are very friendly, and kids will be fascinated with their black and orange fur.
There's a high possibility your little ones will be obsessed with these animals after making this tiger puppet craft.
Hence, we offer you these cute tiger collections.
2. T is for Tiger
This basic printable tiger puppet craft is perfect to use when teaching your preschooler, the alphabets and words that start with the letter T.
Once your little crafter completed this cut-and-paste tiger puppet, print out a large letter T and glue it on a cardboard as part of the visual aid.
Teach your kids how to produce the /T/ sound and tell them how to say the word "tiger."
Learning the proper way of pronouncing words can help children become more confident when speaking or communicating.
Practice as often as possible until your kids can get familiar with the alphabet sounds.
3. Tiger Toilet Paper Roll Craft
Create a cute tiger puppet craft for kids with just crayons, colored pencils, glue and brown paper bags.
When your preschooler completed this craft, look for a follow-up activity that will keep them interested in tigers.
We came up with a diy tiger toilet paper roll craft using a few supplies that can be found inside our house.
Start painting the paper roll orange and set it aside to dry.
While waiting to dry, cut out the tiger ears from an orange construction paper.
Make the tiger's face by gluing two googly eyes and use a black marker to draw the nose, mouth and whiskers.
Use a thin brush to paint black stripes around your orange toilet paper roll tube.
Finish it off by gluing an orange pipe cleaner at the back of your tiger craft then leave it for a few minutes to completely dry.
There you have it!
Your diy tiger paper roll craft is ready to join your zoo animal puppet crafts.
4. Host a Puppet Show
Having a puppet show helps develop kids' storytelling skills as they act out a story.
The printable tiger paper bag puppet craft is great for entertaining a large group of kiddos at any children's party.
Using recycled materials you already have at home, create a cute-looking puppet theater – don't worry if it looks simple, what's important is kids will have lots of fun!
You'll be surprised how kids unleash their creative side in making scenarios based on the events they have seen, experienced or would like to experience.
We hope these fantastic puppet craft ideas caught your attention.
Have a blast making this basic printable tiger bag puppet template with your family and friends.
Tiger Paper Bag Puppet Instructions
Make yourself comfortable and have fun as we build our own paper bag tiger puppet crafts.
Take out all the crafting or recycled materials that you think we'll need in this diy tiger activity.
Click download and print as many tiger templates as you like.
Help your little ones to cut out the tiger patterns into individual sections.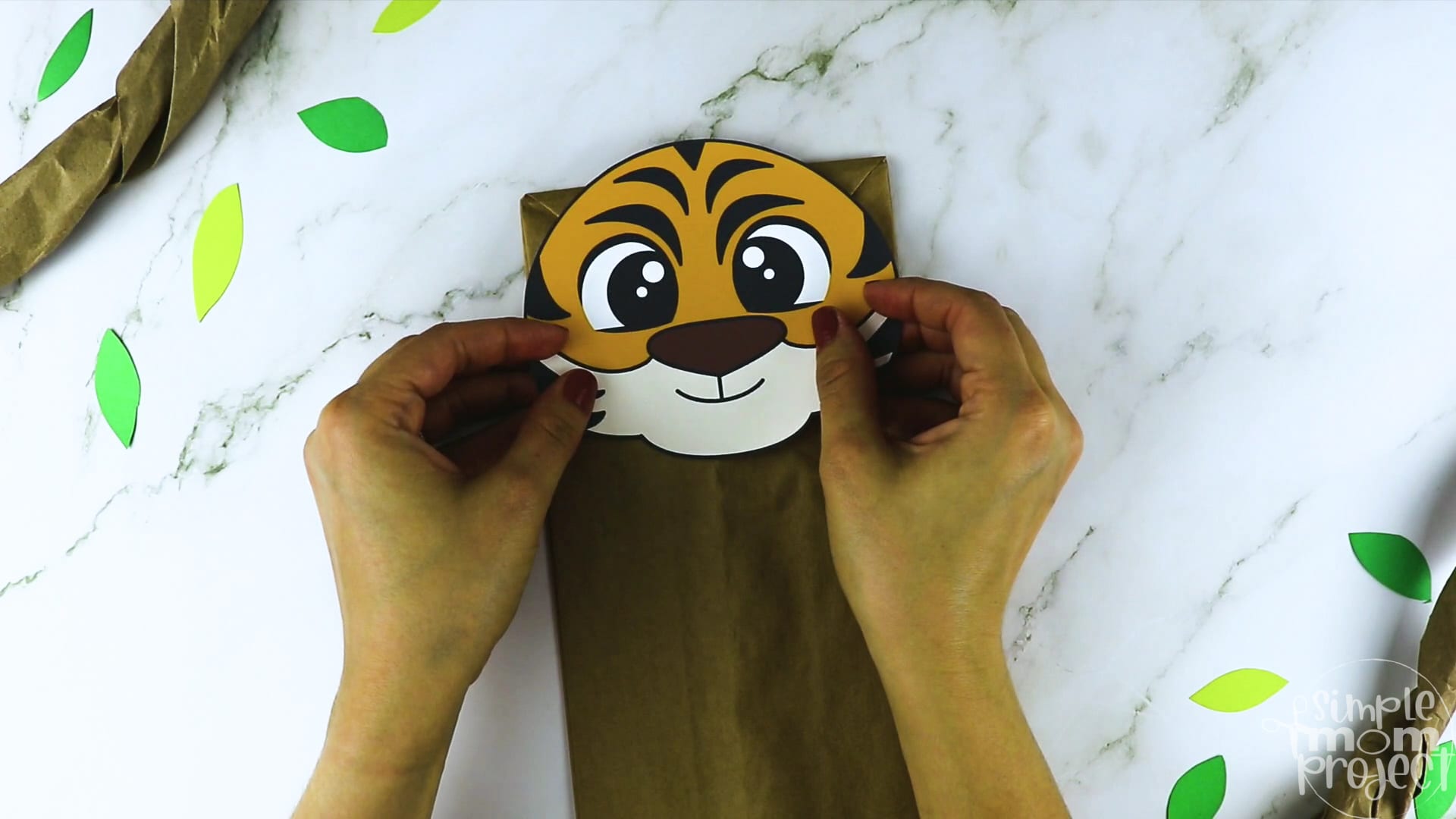 We will use the bottom part of the brown paper bag as the top side of our puppet craft.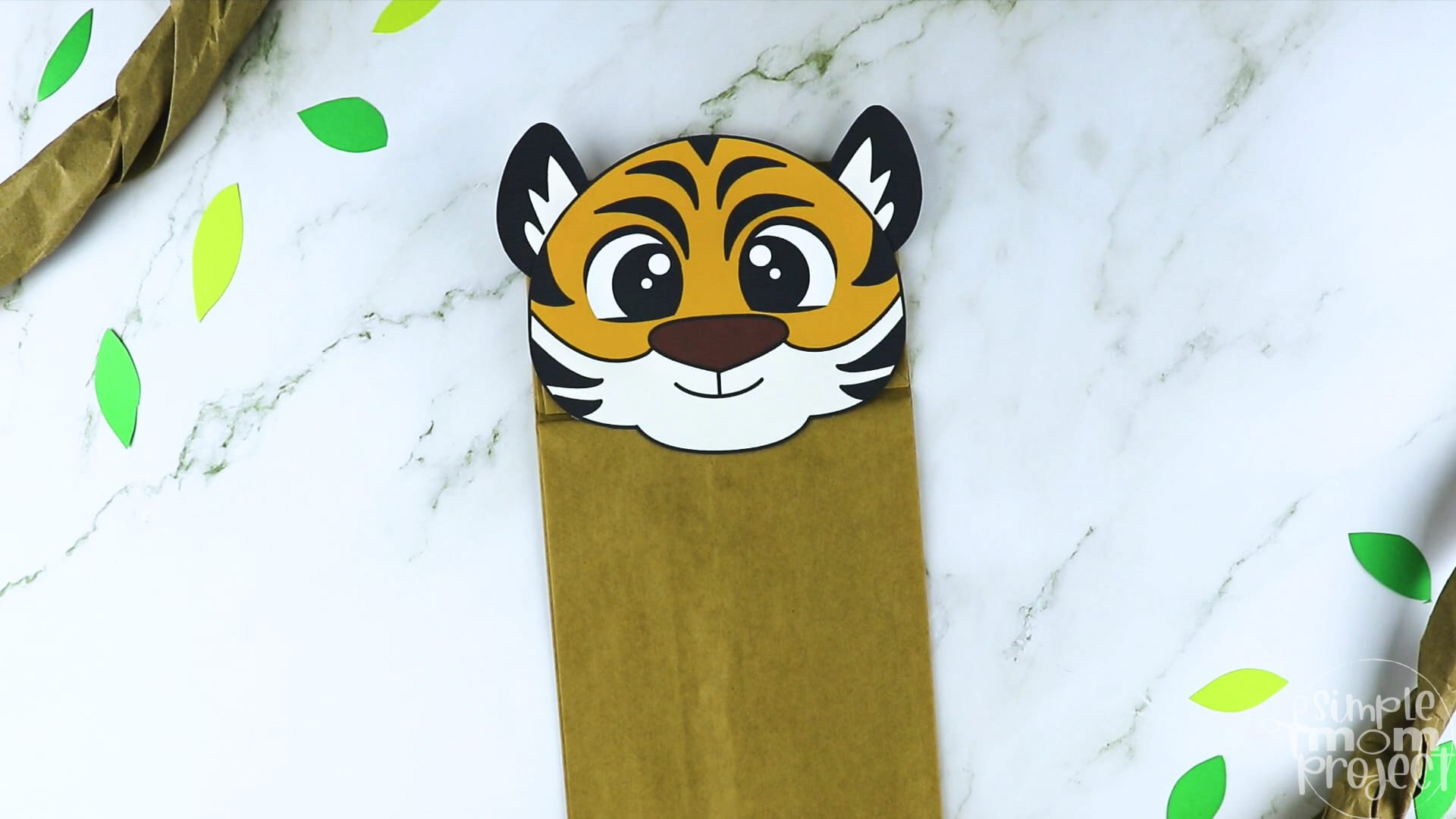 Start with gluing the tiger's head.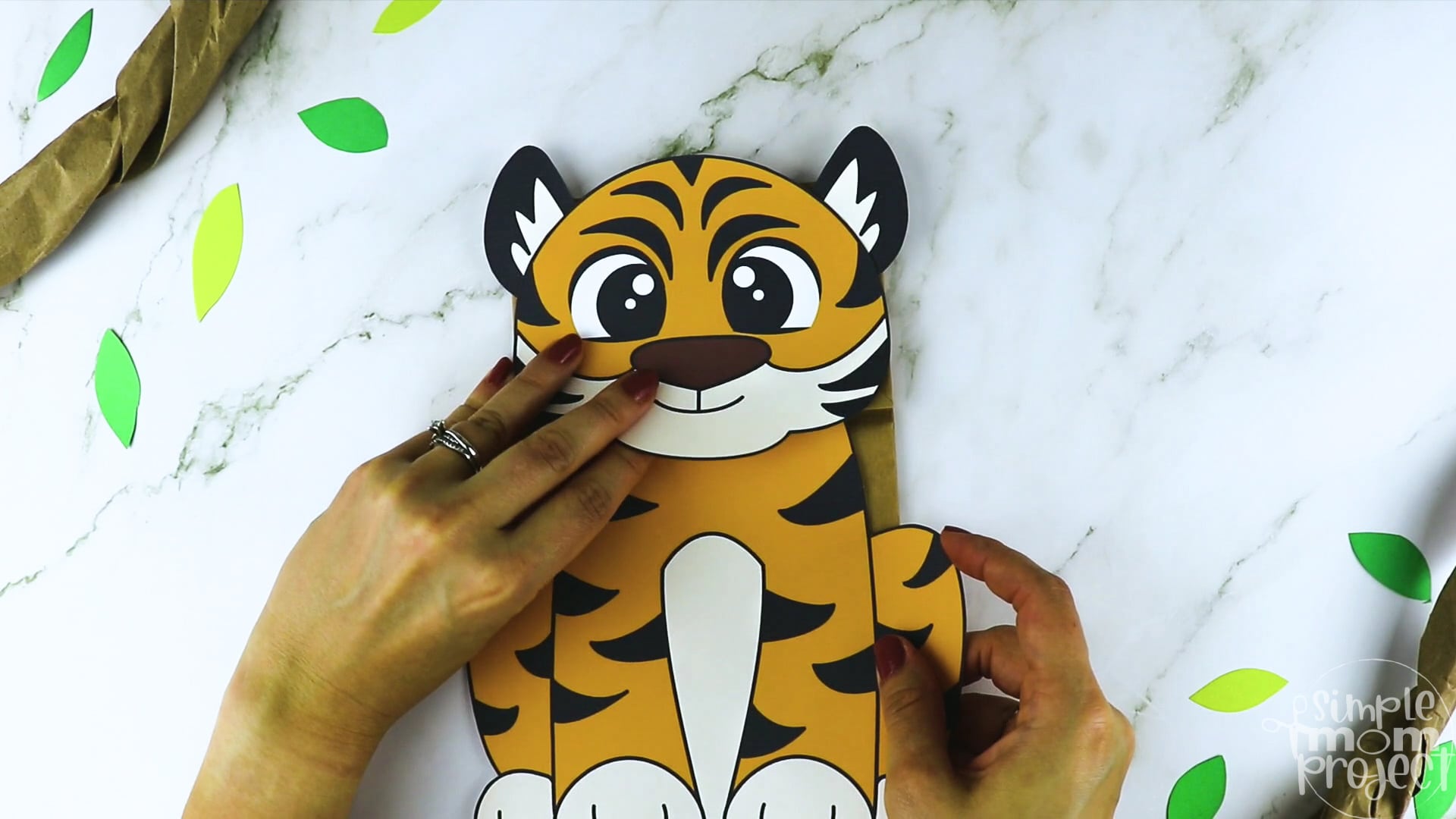 Follow with its two adorable ears.
Then, glue on the body and legs.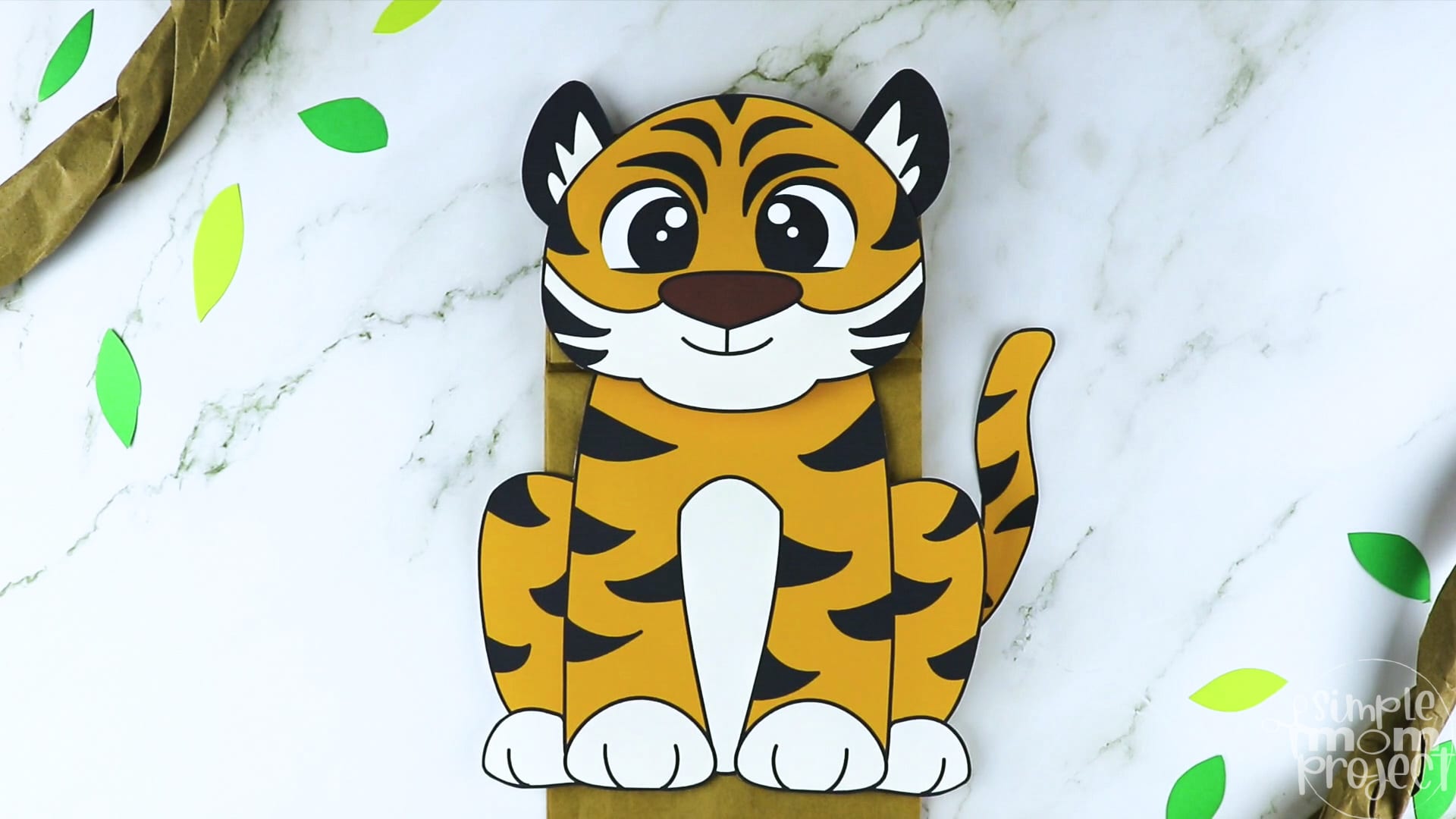 And lastly, attach its long tail at the back of the bag.
Your tiger paper bag puppet is complete and ready to play with your kids.
More Options to Choose:
You can print the blank version and trace the cut outs on card stock paper for a sturdier tiger paper bag puppet craft,
Print the tiger template in color for a simple and easy rainy day craft or,
Print the blank tiger template and use it as a fun coloring sheet activity and then glue the pieces of the tiger craft together.
Printable Tiger Paper Bag Puppet Template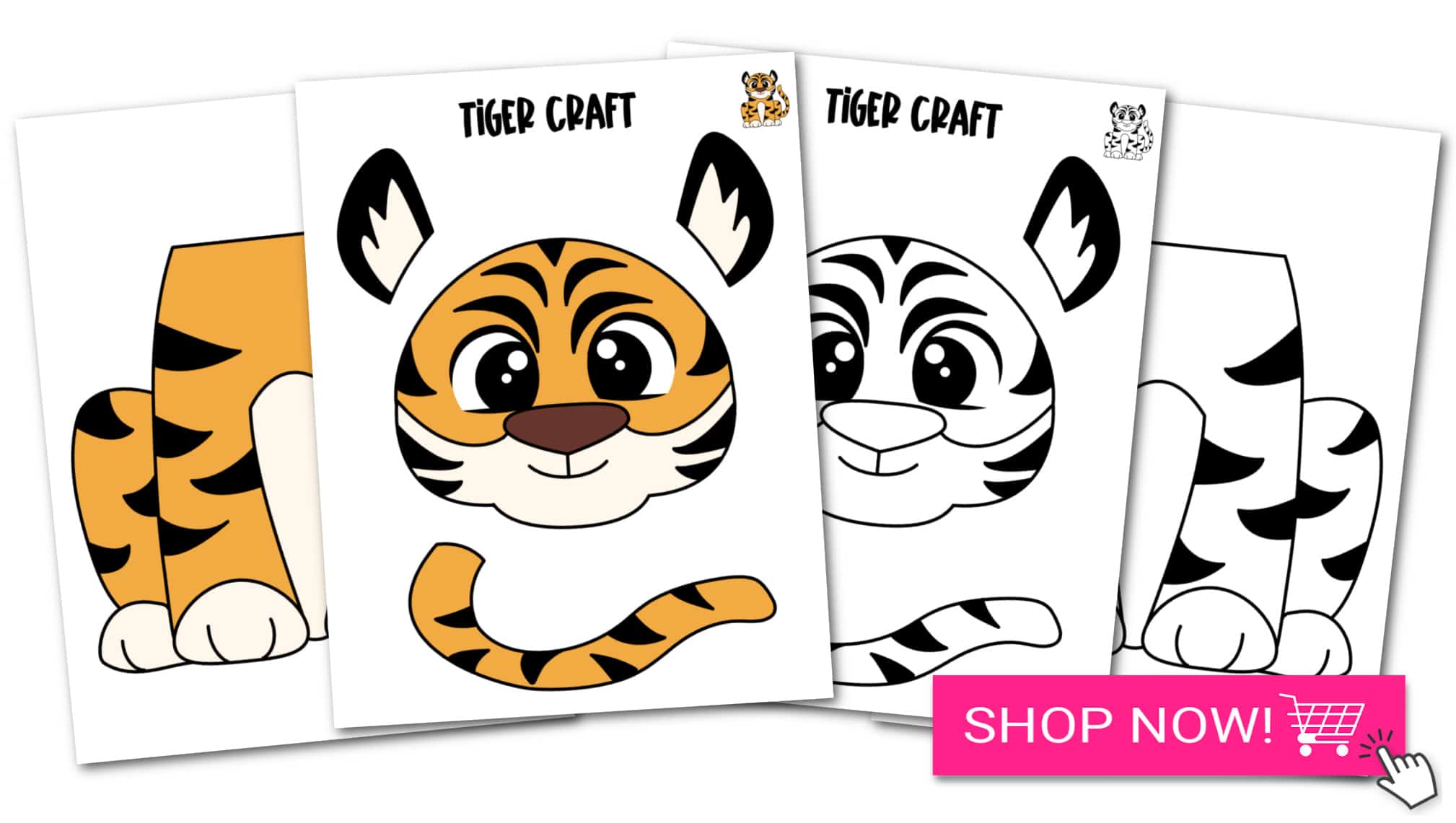 We have two easy versions of this tiger hand puppet printable template for your kids to enjoy.
There's the basic black and white tiger drawing where they can color it.
Then, there's the full colored tiger template if they want to proceed to cut and paste.
Don't forget to share your learning plans in the comments.
Need more zoo animal puppet fun? Check out our packed list of paper bag puppets for simple craft fun with your little ones.
When you have finished, be sure to share your creation on Simple Mom Project's Facebook Page and follow me on Pinterest!

Kaitlen D.
More Fun Printable Puppet Craft Templates