Our bird templates feature stunning and majestic birds from all around the world.
Along with the eagle and falcon, hawks, are also one of the most fearsome hunters.
They also have exceptional vision and see eight times better than we do!
We don't want to miss out on these magnificent birds so we have created a printable hawk template with ideas for how you can include these powerful hawks into your learning plans and routines.
This printable hawk template can help you organize your bird, alphabet, arts & crafts, and other lessons.
Your children will have a great time learning about these unique birds while having fun!


*By the way, this post may contain affiliate links which means I may receive a small commission at no additional cost to you if an item is purchase through that link. For more information, click here.*
Printable Hawk Template
Printable Hawk Template Materials Needed:
Printable Hawk Template (FOUND AT THE BOTTOM)
Make your child's finished hawk template a forever memory by laminating it! We use this laminator and cannot express how much we love it! It is not only inexpensive, it is SO easy to use!
Your kids will love seeing how much you adore their art work when you laminate and display it for years to come!
Ideas for Printable Hawk Template
We make sure to create printable hawk template ideas that are simple to perform and require only basic and inexpensive craft materials.
Check out the suggestions below for how to integrate them into your everyday routine.
1. Amazing Hawk Books to Read
Read these interesting books to learn more about these brave hawks.
Learn about hawk facts, including how they live and hunt for prey, as well as different types of hawks such as Red-tailed Hawks.
These books are perfect for pairing with the printable hawk template at any time of day.
2. Hawk Mask
Aside from learning about hawks, we've created a printable hawk template idea that your children may use to express their creativity and use their finished masterpieces in a variety of ways.
This hawk mask craft can be used in imaginative play and creative reading by your children.
They can also be worn at costume parties!
We will need paper plates, scissors, brown construction paper, markers, and glue.
Begin by cutting the paper plate in half.
Draw two circles and cut them for the eye holes with the remaining half.
To make the hawk's feathers, cut different sizes of strips from construction paper.
If you have any feather crafts, you may use them for this.
Make a beak form out of construction paper by drawing or cutting it out.
To create a hawk mask, glue everything together.
You can make as many hawk masks as you want and wear them with your friends and family.


3. Letter H for Hawk
This printable hawk template can also be used to teach letter recognition.
This hawk bird is perfect for your letter of the week learning plans.
This hawk template can be used to introduce things that start with the letter H.
Along with learning the alphabet, you can also introduce the phonic sound of H.
You can also use the printable hawk template to make hawk word connecting dots for your kids to trace as they practice their spelling.
4. Flying Hawk Gross Motor Activity
This printable hawk template idea is a fun outdoor activity that also helps your kids develop their gross motor abilities.
They also get to move and fly like a marvelous hawk, strengthening their body coordination and movements in the process.
This flying hawk activity can be done in your backyard while watching the birds fly high in the sky.
Allow your children to observe how birds fly from one tree to another.
Guide them to spread their arms open wide, and flap them slowly and fast, just like how hawks move and fly.
These are the best and simplest ideas we have for this printable hawk template.
With these activities, we are confident that your children will want to learn more about hawks.
We are certain of your child's progress with these cognitive, artistic, and gross motor skills enrichment tasks.


Printable Hawk Template: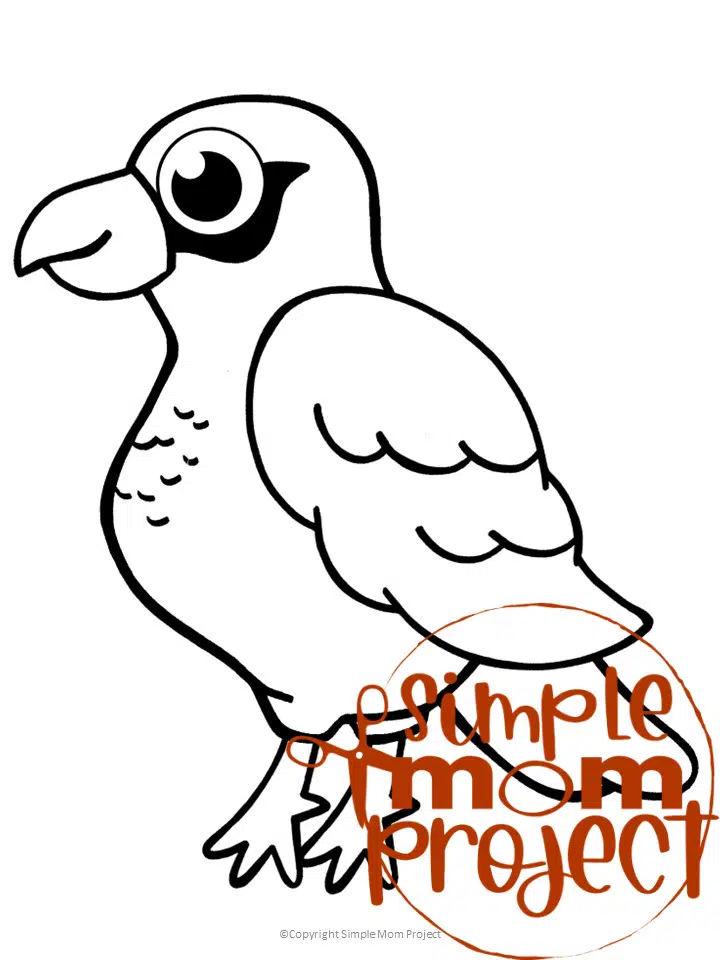 Bring out all of your creative materials and let's get started on this hawk coloring page!
This hawk drawing can be customized with a variety of decorative materials.
Crayons, markers, paint, crepe paper, sequins, and beads are all available!
The more materials you combine, the more realistic a hawk you'll get!
Your finished hawk artworks can be hung on the wall, framed, or just added to your collection of bird coloring pages.
Give this hawk template to everyone you know who enjoys hawks and other fantastic birds!
We want to hear your experiences in organizing your learning plans with this printable hawk template.
Interact with us in the comment section!
When you have finished, be sure to share your creation on Simple Mom Project's Facebook Page and follow me on Pinterest!

Kaitlen D.
More Fun Printable Craft Templates