We've got a new animal craft for your kids this week that will keep them entertained for hours.
This printable gorilla craft template is perfect for any activities you have planned, whether you want to learn about animals or the letter G.
We created this for kids because we appreciate seeing them be productive and because we know they love making animal crafts.
Along with learning about animals, they would also study letters and phonic sounds!
Allow your kids to have fun with this simple gorilla craft using whatever items they can find around the house.
It's a fantastic idea to start developing hand-eye coordination and fine motor skills by putting this gorilla shape together.
By doing this craft project on their own, they can gain more confidence and independence.
Include this printable gorilla craft template in your routines for a fruitful and memorable arts and crafts experience!

*By the way, this post may contain affiliate links which means I may receive a small commission at no additional cost to you if an item is purchase through that link. For more information, click here.*
Printable Gorilla Craft

Gorilla Craft Supplies Needed
Need more crafty fun? Check out our Letter G Craft, Monkey Puppet, and Panda Craft
.
 T
hey are perfect for those days when staying indoors is the only thing your family can do!
Ideas for Easy Preschool Paper Gorilla Craft
With these printable gorilla craft template ideas, we can help if you're still uncertain how to begin your lesson preparations.
Check out these amazing ideas we have gathered for maximizing it in your everyday activities at home and at school.
Prepare to keep the kids busy and interested for a few hours with all of these ideas!
Do not hesitate to incorporate them into your activities this week!
1. Great Gorilla Finds for Kids
Searching for resources that you might use is one method to organize your learning routines.
We made a list of great gorilla finds for kids in addition to the printable gorilla craft template.
The printable gorilla craft template can be introduced using these learning resources, or you can use them to continue your activity after making gorilla crafts.
We made certain to include only the most interesting and engaging resources for children of all ages.
All of them work better with the gorilla craft template, so incorporate it into your routines.
We included interesting books on gorillas that you could read during circle time or before bedtime.
Of course, we didn't forget to add a cute gorilla plush toy for kids to cuddle with to get a better understanding of what a gorilla looks like in real life.
Enjoy incorporating these items into your daily activities!
Click on the links below to see how inexpensive and fun they are!

2. Get to Know the Gorillas
Before doing the printable gorilla craft template, kids would enjoy learning more about these gentle giants.
This idea could also be used in your science lessons, as you will be discussing animals.
Gather the kids and share these amazing gorilla facts with them!
Gorillas are herbivores.
Their food consists of leaves found throughout the forest.
Although some of them also consume insects.
Did you realize we share almost 98% of our DNA with them?
Due to their genetic similarity to humans, they could potentially contract human diseases.
They are quite sociable.
In their habitat, gorillas typically reside in groups known as "troops."
More than 25 gorillas can be found in each group inside the habitat.
These gentle giants weigh more than 200 kg and stand as tall as humans.
The adult male gorillas are known as "silverbacks," and they are much stronger than you might expect.
These strong gorillas can snap branches in half and bite with great force.
They are very smart.
They are seen using different materials in the forest to make ladders and sticks to live.
These facts are certain to inspire kids to immediately grab the printable gorilla craft template!
These gentle and wise giants would make wonderful themes for crafts!
3. Simple Gorilla Paper Crafts
Aside from working on the printable gorilla craft template, you could also make more gorilla paper crafts.
You could find inspiration for your upcoming craft project in the printable gorilla craft template.
To make a one-of-a-kind gorilla craft, use simple items such as paper plates, construction paper, cardboard, and more.
Kids could also use paint if they wished!
Allow children to be a little messy as they create their own handprint gorilla crafts using the printable gorilla craft template as a guide.
They could also create a gorilla mask out of cardboard or paper plates, which would make a wonderful costume for any event.
Start making your own easy gorilla paper crafts with the creative supplies you already have!
Let the kids use their imagination; it doesn't have to be pricey!
4. Letter G for Gorilla
With the printable gorilla craft template, be ready to learn an alphabet letter!
Yes, using the template, you can learn the letter G.
Use the gorilla as the letter G in an alphabet lesson plan with an animal theme.
Print a copy of the printable gorilla craft template and present it to the kids, who can then guess what animal it is.
If they answer "gorilla," you might follow up by asking them "what letter does gorilla start with?"
You might also teach your preschool and kindergarten children the phonic sound of the letter G.
In order to familiarize them with the sound of the G, have them repeatedly say the word "gorilla."
For a fun gross motor exercise, you could also have them act like gorillas!
How did these ideas integrate into your activities for the week?
We hope that we were able to help you in planning a fruitful and enjoyable learning week for you and your children.
We're excited to see how much fun your kids have with these ideas and the printable gorilla craft template!

Gorilla Craft Instructions
Once you have all of your supplies ready and the printable gorilla craft template printed, follow these simple step-by-step directions!
Let's help our kids cut the gorilla craft pieces because it will be a terrific fine motor practice.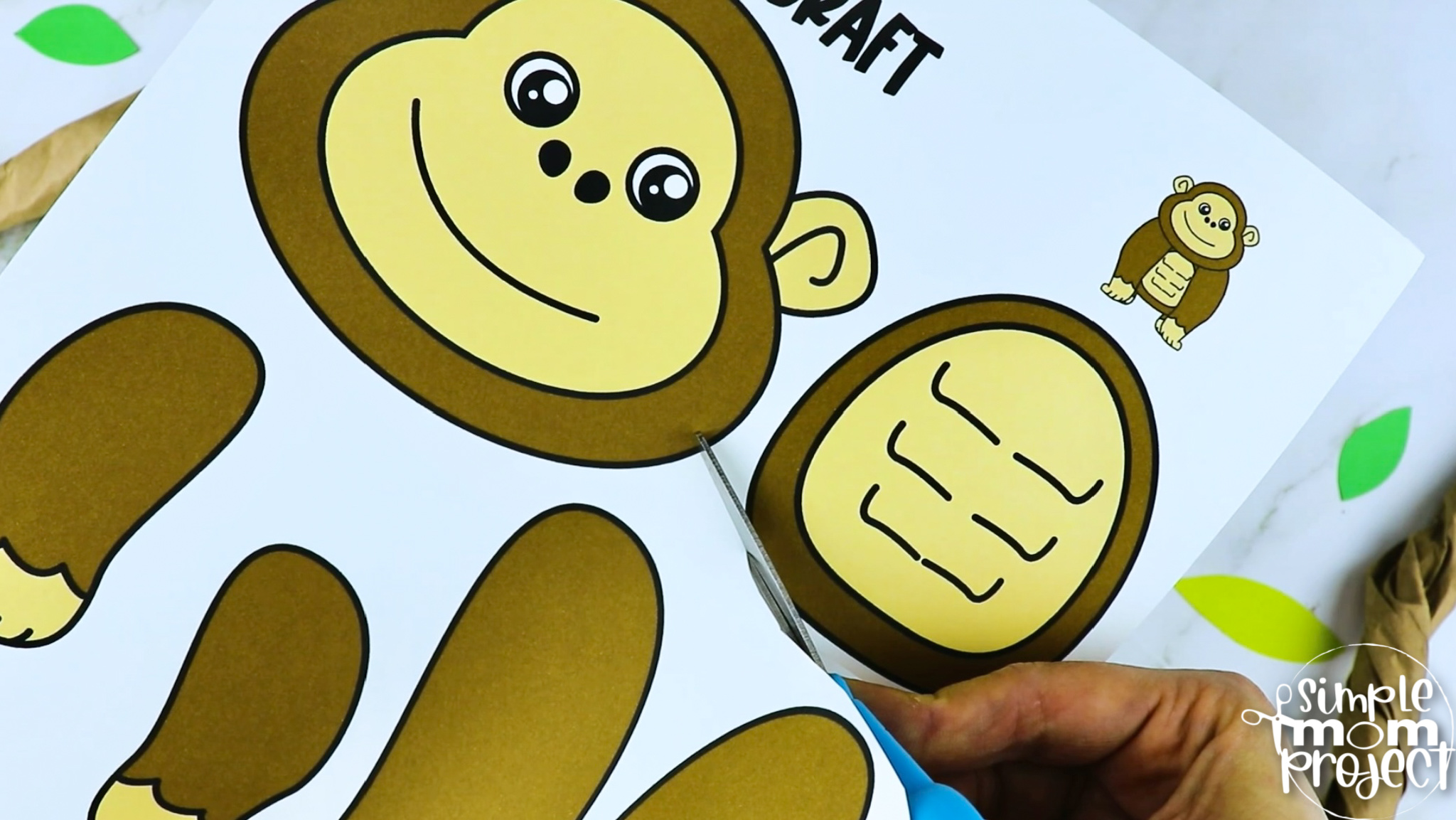 If your children are eager to color some crafts today, you may also work on the black and white gorilla craft.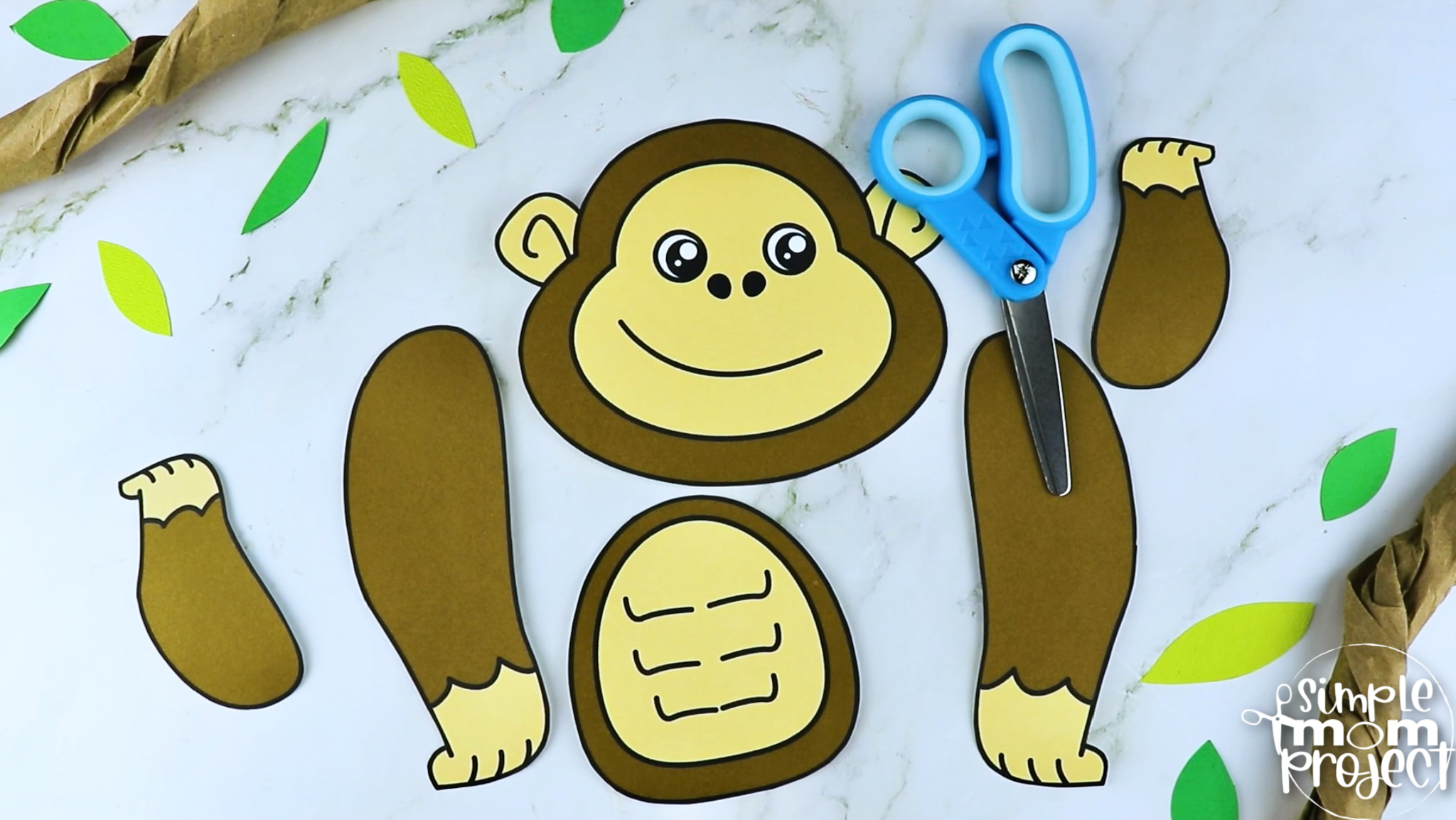 First, attach the gorilla's head and body together.
Place the arms on either side, placing them both below the head portion.
After that, add the gorilla's big foot.
To finish your craft, place the remaining gorilla's foot!
Look at how cute you've made your gorilla craft!
More Options to Choose:
You can print the blank version and trace the cut outs on card stock paper for a sturdier gorilla craft,
Print the gorilla template in color for a simple and easy rainy day craft or,
Print the blank gorilla template and use it as a fun coloring sheet activity and then glue the pieces of the gorilla craft together.
Printable Gorilla Craft Template
Do you enjoy reading Good Night, Gorilla to your children?
Having kids work on the printable gorilla craft template would be fun for you too!
Make kids occupied and productive by teaching them about these amazing gorillas with gorilla crafts.
What interesting activity other than creating a craft about an animal may be used to learn about it?
They could develop their creativity, fine motor skills, hand-eye coordination, and independence by using this simple gorilla shape template.
This wonderful gorilla craft template is printable, so you may use it as inspiration for more homemade crafts.
Make your own gorilla crafts this week by recycling materials like paper plates, cardboard, and scrap papers.
Kids have the opportunity to do whatever they want because there are two templates to pick from!
Spend the day being creative and productive while enjoying all the gorilla craft templates!
Need more animal craft templates? Check out our packed list of animal craft templates for simple craft fun with your little ones.  
When you have finished, be sure to share your creation on Simple Mom Project's Facebook Page and follow me on Pinterest!

Kaitlen D.
More Fun Printable Animal Craft Templates