Alphabet letter activities for children don't have to be boring and just plain worksheets.
Make them fun so your preschooler will keep their interest in learning the individual letters.
This free printable letter G craft template is in uppercase and perfect to use for coloring, stencil, stamping, crafts and more.
Use this easy printable letter G for goat craft template for your gift card and scrapbook projects.
This cut-and-paste letter G craft is one of the fun ways in learning the upper and lowercase letters in the classroom or simply at home.
The new look letter G craft is best to pair with alphabet books so kids will be able to learn new words.
Aside from this simple printable letter G for goat craft template, we have a lot of fun printable templates that start with letter G that your kids will surely love!
Get the printable A to Z alphabet craft templates to keep your child's little hands occupied during the weekend.


Need more crafty fun? Check out our Letter R, Letter Y and Letter L craft.
 T
hey are perfect for those days when staying indoors is the only thing your family can do!
*By the way, this post may contain affiliate links which means I may receive a small commission at no additional cost to you if an item is purchase through that link. For more information, click here.*
Free Printable Cut and Paste Letter G Craft
Ideas for Easy Preschool Paper Letter G Craft
Let's take a look at these great ideas on how to include this free printable letter G craft template in your child's daily life.
1. Goat Fun Facts
During our farm visit, we've seen a lot of goats eating tree leaves and grasses.
If you plan to study farm animals with your preschoolers this weekend, you will want to be sure to include this simple cut and paste printable letter G for Goat craft template.
Did you know that there are many different types of goats around the world?
There are 210 different breeds of goats while China has the greatest number of goats with around 170 million.
We know that a baby goat is called a kid, but did you know a goat giving birth is said to be called "kidding"?
You may find it weird, but it's true!
Did you know that goats have four stomachs?
These are rumen, reticulum, omasum and abomasum which helps them digest tough roughage like grass and hay.
The average lifespan of a goat is 12 years. But in some cases, they can live up to 15 years.
2. G is for Goat Books
Reading to children often makes them love books and helps with their brain development.
Sharing a book together and discussing the content allows parent and child to create deeper bonds between them.
Here are the highly recommended children's books that you can connect with today's alphabet letter activity.
Better grab some cookies and your letter G craft as you read these books.
3. ABC Writing for Kids
Give your preschooler the exercise they need by working with tracing letter G worksheets.
Help your child practice writing the uppercase and lowercase letter G by following the arrows on the worksheets for the correct directions.
Let your child master the basic strokes in writing the letter G, both the capital and the lower case.
Kids should know more about the alphabet, including how to pronounce words correctly.
Lists down the common letter G words, like guitar, gorilla, goose, grass, gumball and more.
Teach them the /G/ sound until they are able to recognize it on their own.
4. Letter of the Week: Letter G
Bored of watching your kids playing on the same mobile games again and again?
Well, it's time to develop their interest in making DIY crafts out of recycled materials!
Once your kid is done working on this preschool printable letter G for goat craft template, let's move forward to another cut and paste craft that starts with letter G – the cute giraffe puppet craft.
Children will enjoy the process of coloring, cutting and gluing all the patterns of this free printable giraffe craft template.
There's also a simple step-by-step instructions and short tutorial video included to guide your preschool or kindergarten.
Using a hot glue gun, attach a popsicle stick or paper straw at the back of the cut-out giraffe craft.
This adorable giraffe is ready to join your zoo animal puppet show at home!
We hope you enjoyed these wonderful printable letter G craft template ideas with your toddler, preschool or kindergarten.
It's always fun to be part of your easy craft activities.


Letter G Craft Supplies Needed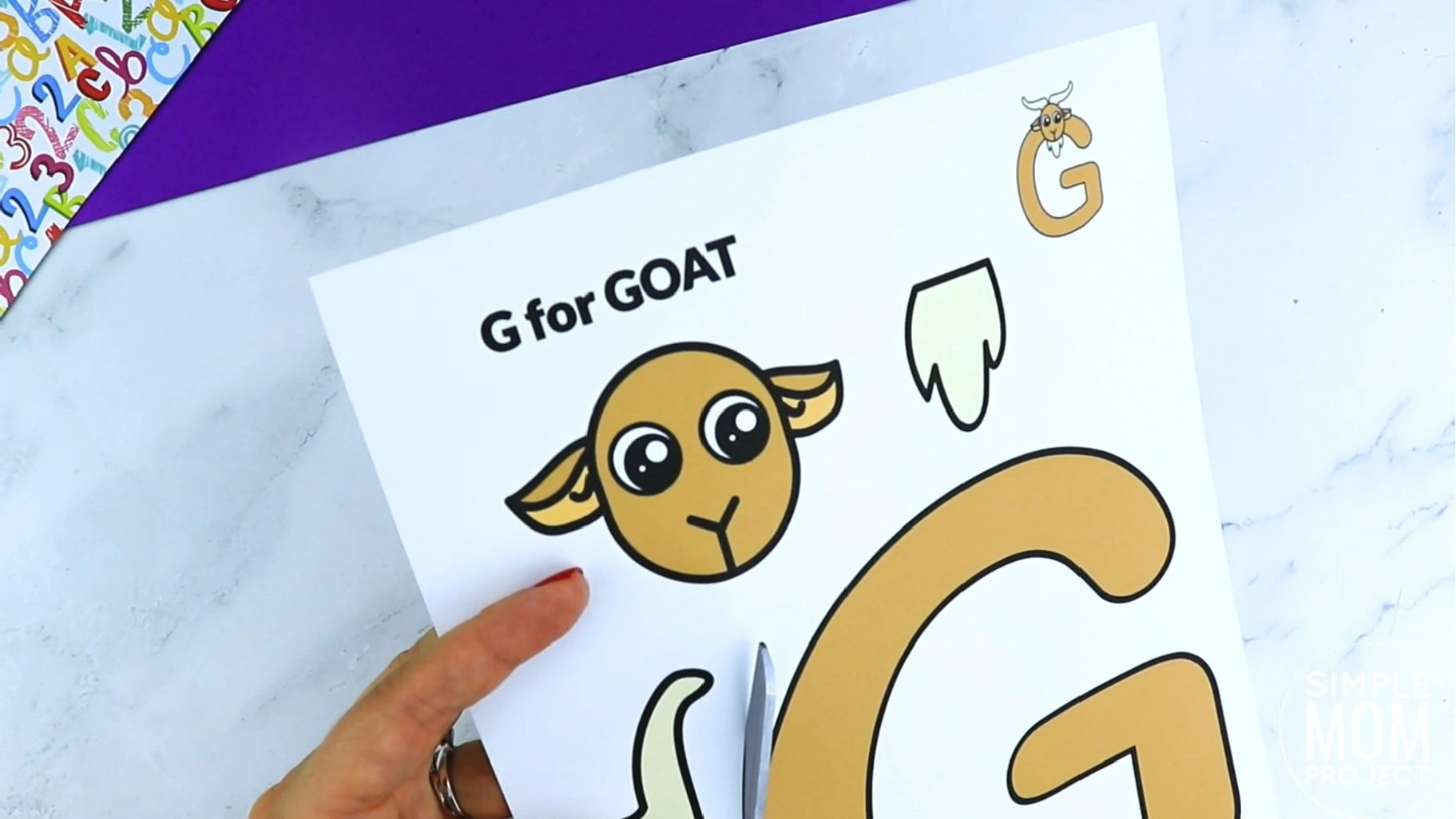 Printable Letter G Template (FOUND AT THE BOTTOM)
Keep scrolling to get your very own letter g craft today and start with your little ones and their alphabet craft buddies today!
Letter G Craft Instructions
Making this free printable letter G for goat craft template is super easy!
Even preschoolers or kindergarteners can do it with minimal supervision.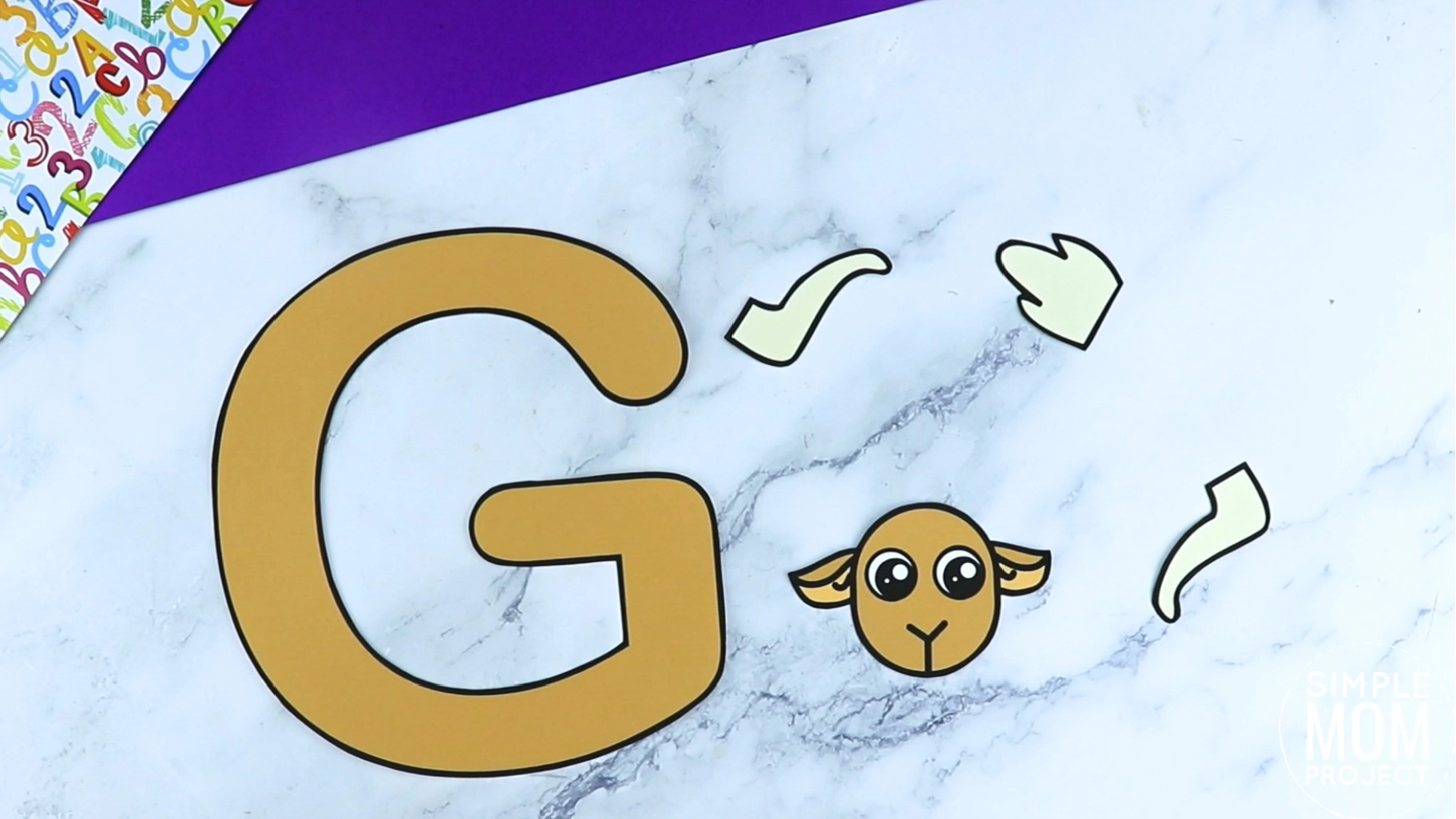 Print the chosen version of this printable letter G craft template on a white construction paper and cut it into individual pieces.
Using a glue stick, attach the beard onto the goat's face.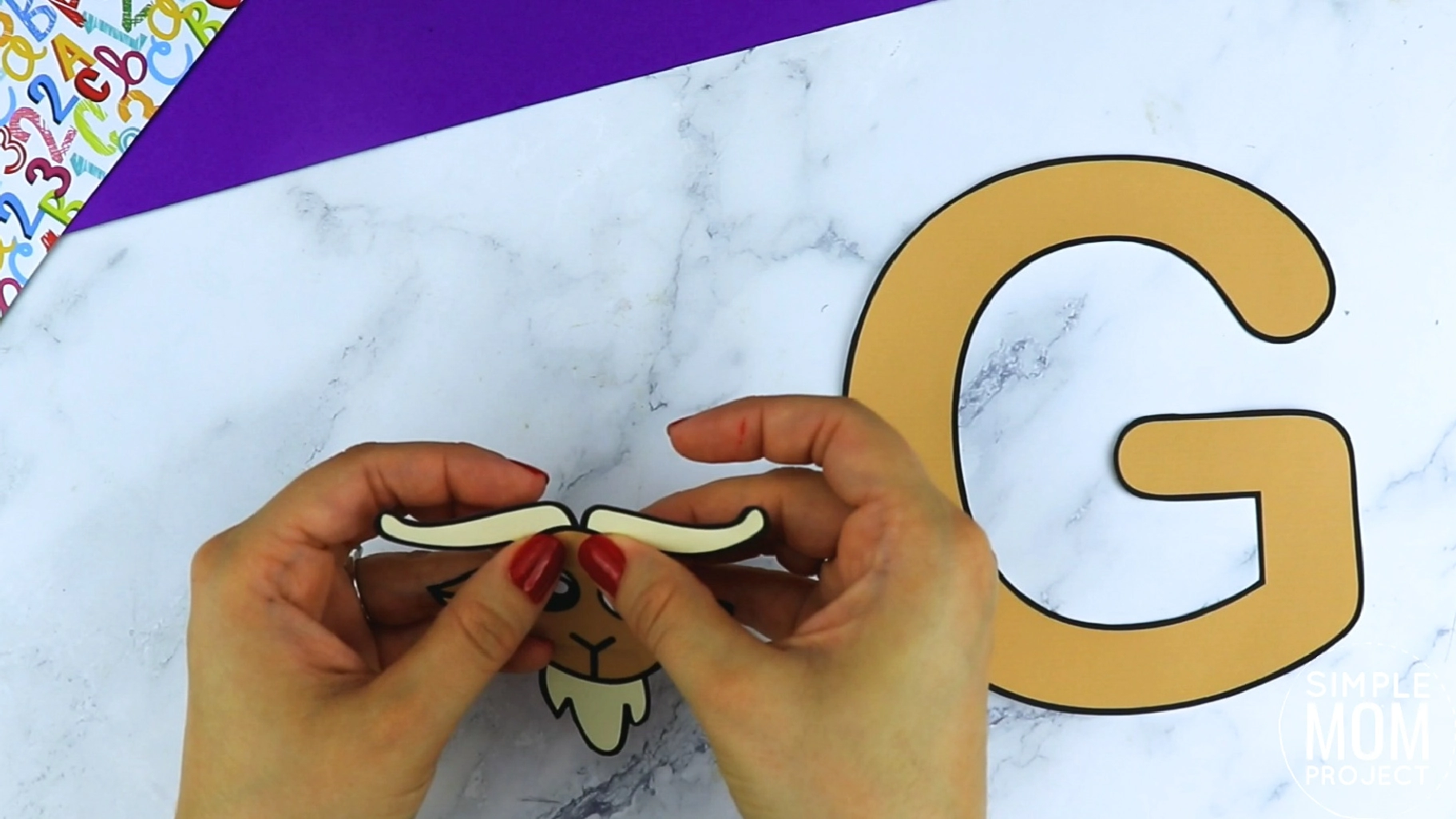 Next, glue on the two horns.
Lastly, glue the goat's head on top of the letter G.
Your adorable goat craft is complete and perfect to include in your alphabet series.
More Options to Choose:
You can print the blank version and trace the cut outs on card stock paper for a sturdier letter g craft,
Print the letter g template in color for a simple and easy rainy day craft or,
Print the blank letter g template and use it as a fun coloring sheet activity and then glue the pieces of the letter g craft together.
Free Printable Letter G Craft Template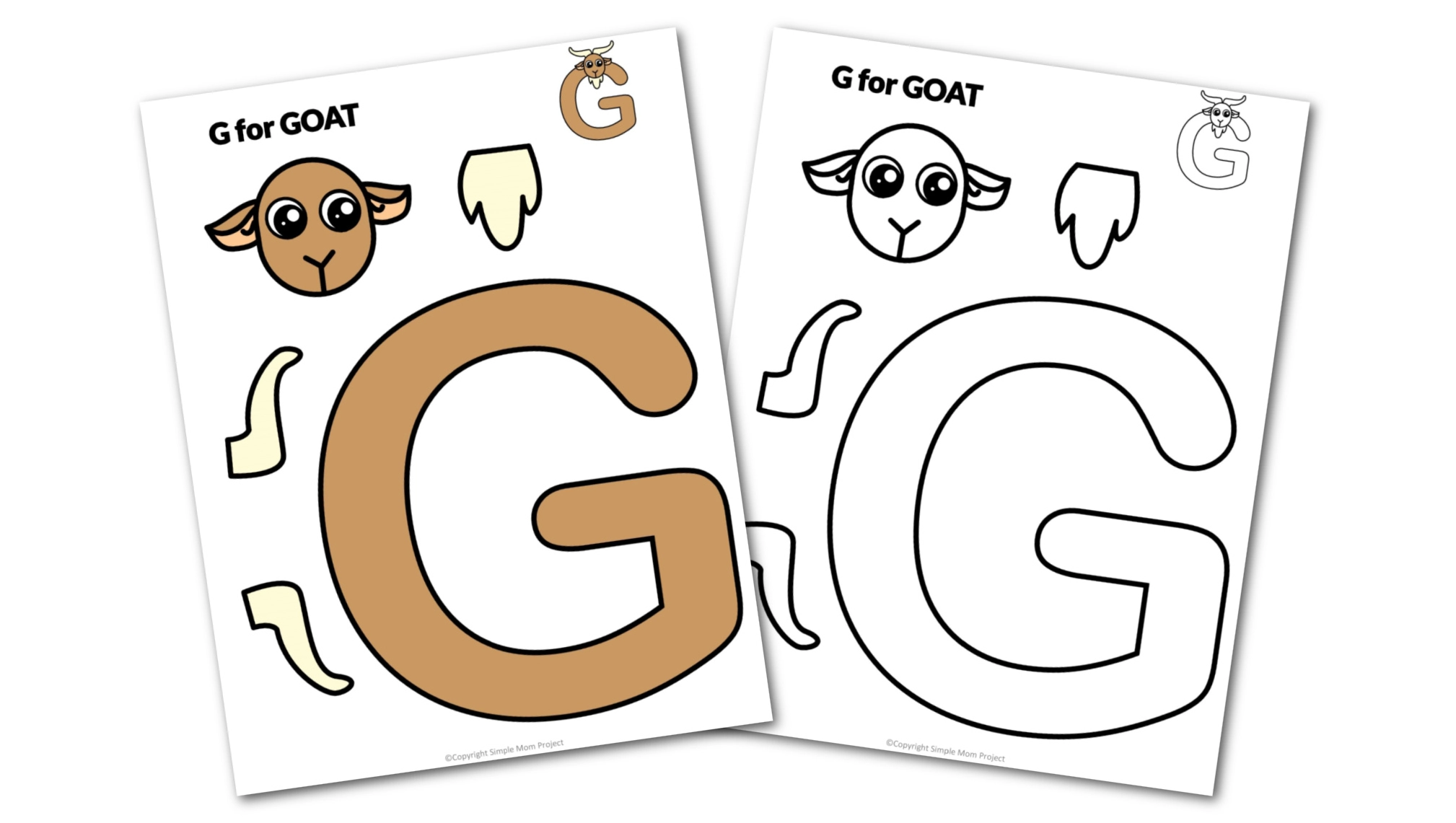 Having a hard time to decide which of these two simple printable letter G craft templates suits best for your toddler, preschool or kindergarten?
Don't worry because you can have them both!
If your child is into filling in amazing colors, get the free printable letter G for goat craft template.
However, if they want to proceed in cutting and gluing all the patterns together, get the easy cut-and-paste colored version of letter G template.
Don't forget to share your learning plans in the comments.
Need more alphabet letters fun? Check out our packed list of alphabet for simple craft fun with your little ones.  
When you have finished, be sure to share your creation on Simple Mom Project's Facebook Page and follow me on Pinterest!

Kaitlen D.
More Fun Alphabet Crafts