With this community helper paper bag puppet, you can make your child's trip to the doctor a worry-free experience!
Doctors play an important part in keeping us healthy and free of illness.
Some children may be nervous about going to the doctor, which is why we created this doctor paper bag puppet.
Making their own puppet crafts and learning about how incredible these doctors are would be fun for them.
We developed these doctor paper bag puppets to be incredibly easy and simple for children to construct.
Kids learn about a community helper while honing their artistic skills.
Our printable community helper puppets are excellent for enhancing creativity, imagination, and hand-eye coordination.
This printable doctor paper bag puppet template is a must-have for your community helper theme at home or school!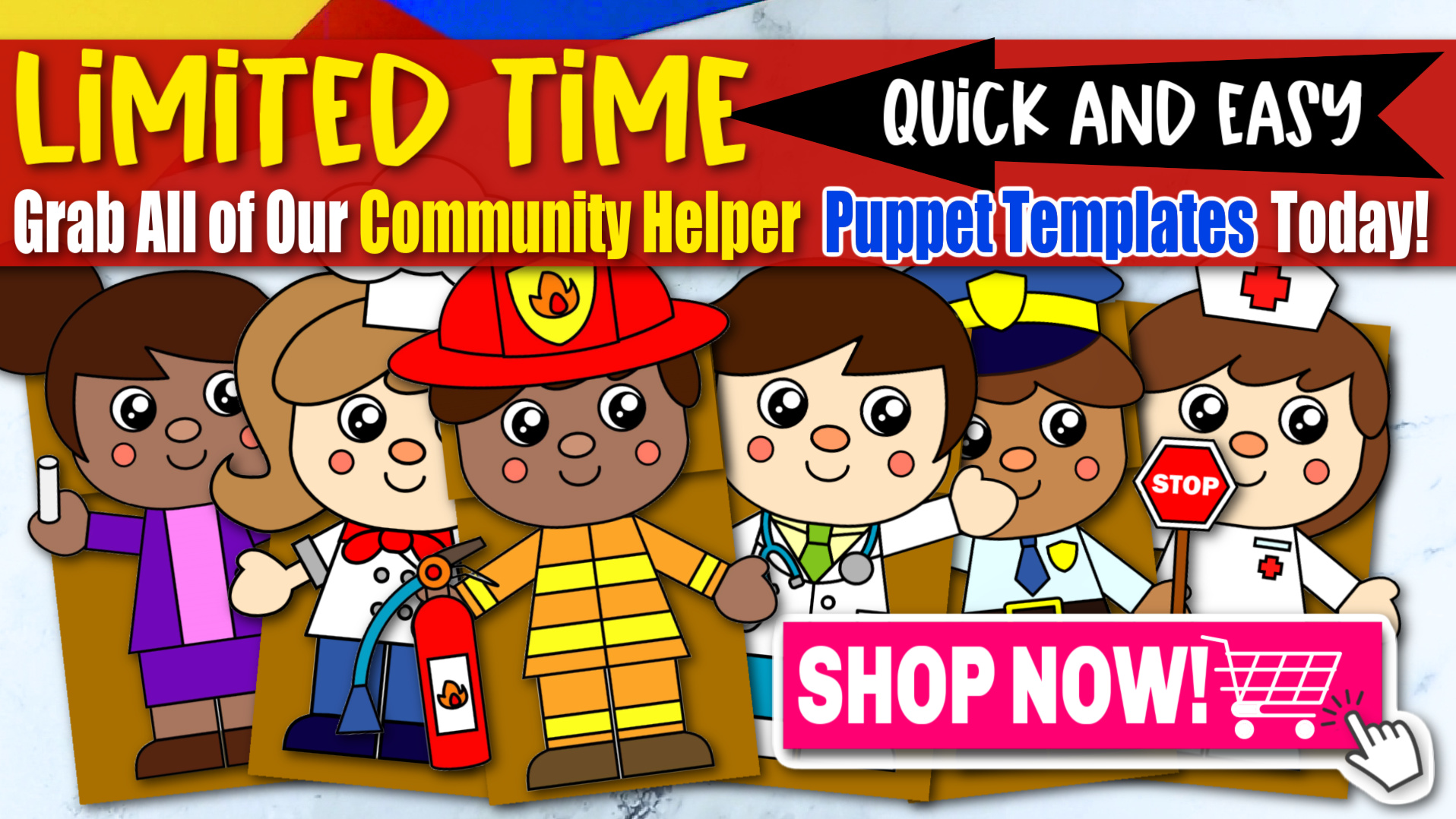 *By the way, this post may contain affiliate links which means I may receive a small commission at no additional cost to you if an item is purchase through that link. For more information, click here.*
Printable Doctor Paper Bag Puppet Craft

Doctor Craft Supplies Needed
Need more crafty fun? Check out our Doctor Cut and Paste Craft, Nurse Puppet, and Veterinarian Puppet
.
 T
hey are perfect for those days when staying indoors is the only thing your family can do!
Ideas for Easy Preschool Paper Doctor Craft
Enjoy a week of learning about this community volunteer by incorporating these ideas into your daily routine!
All the creative ways you may include this doctor paper bag puppet into your preschool lesson plans are listed below.
These activities will keep kids interested in learning about community workers and excited to do so.
Please feel free to use these ideas!
1. Greatest Doctor Books and Toys for Kids
Do you have a doctor's appointment coming up?
Or does your child dream to be a doctor someday?
In any event, we've compiled a list of the best doctor books and toys for kids.
These items are appropriate for children of all ages, particularly preschool and kindergarten kids.
Having all of these doctor-related items in their learning nooks would definitely set the tone for learning about this community helper.
You can also introduce these learning materials to the children before they begin working on the doctor paper bag puppet.
Read books about wanting to be a doctor and meeting one at a checkup.
After that, have some fun playing a doctor game with your kids to wrap up the day's activities!
2. Preschool Community Helper Day
It could be a good idea to arrange a meet and greet with a doctor if you plan to use this doctor paper bag puppet in your classroom activities.
Plan a preschool community helper day at the school so kids can interact with doctors and learn more about what it's like to work in the community.
This will also instill in the children the impression that doctors are not to be feared when they go for their monthly checkups.
Kids can also show the doctor their printable doctor paper bag puppets or construct the paper bag puppet together.
Also, you might suggest to your children that they dress up as doctors for the event.
Discover more about these workers in the community and get a chance to interact with one in person!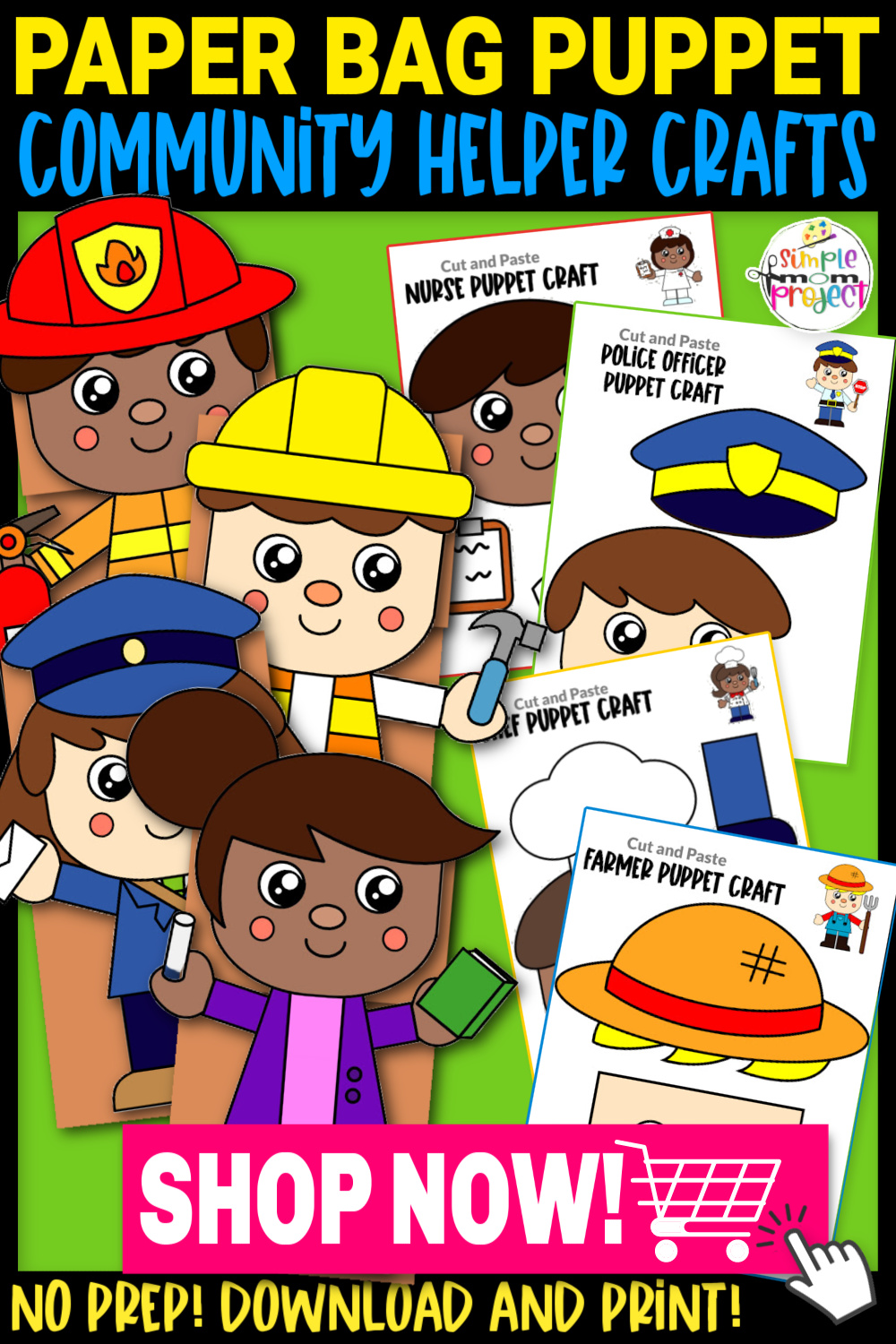 3. Doctor's Office Dramatic Play
Set up a doctor's office dramatic play in your child's room or in the classroom to inspire their future dream of being a doctor.
Let kids play doctor by setting out some medical toys and a DIY doctor's outfit.
Display the doctor toys you have available, like bandages, cotton pads, and stethoscope toys.
The dramatic play would appear even more fantastic if you put up a finished piece of the printable doctor paper bag puppet template.
If you want to use this concept in your preschool classroom, put up a corner that you may modify to look like a doctor's office.
You can use this idea in your science lessons or even your preschool dramatic play activities.
This dramatic play can also be used to teach us about how to keep our bodies fit and healthy.
4. Community Workers Puppet Show
Our entire collection of community helpers paper bag puppets is designed for use in preschool puppet shows.
This weekend, host a puppet performance for the kids and their friends to have some quality time together.
Give the kids time to work on several community helper puppet crafts before having them perform a quick puppet show.
You will witness the children who will choose the community worker they wish to play and portray as a puppet.
This is also a great idea for a group activity at school once preschoolers have completed their printable community helper puppets.
How did these ideas fit into your learning objectives? Are you looking forward to a community work theme week in your classroom?
We hope that you will incorporate these creative ideas into your weekend activities at home and at school.
These ideas will definitely make learning community workers more enjoyable and fascinating!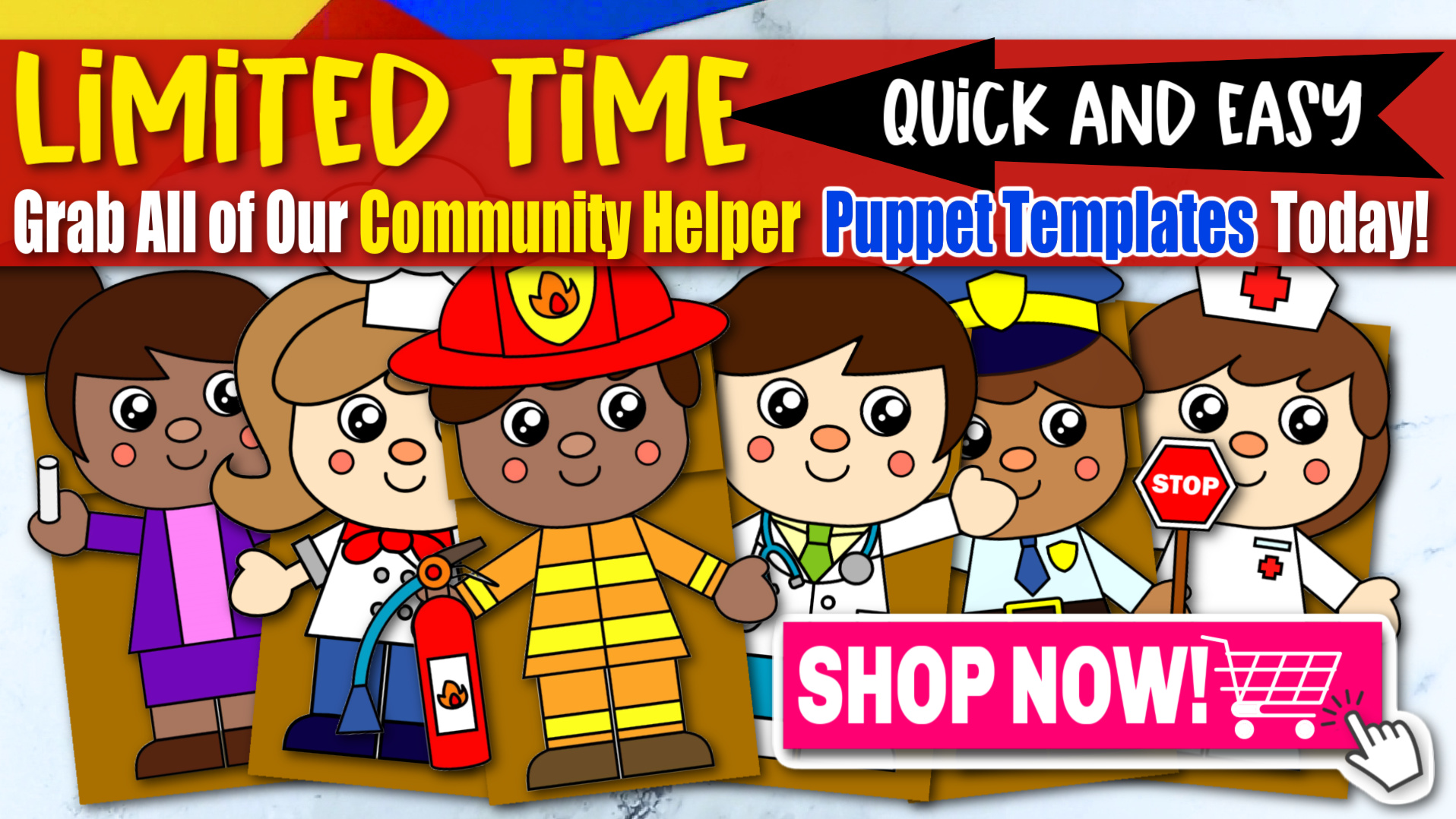 Doctor Paper Bag Puppet Instructions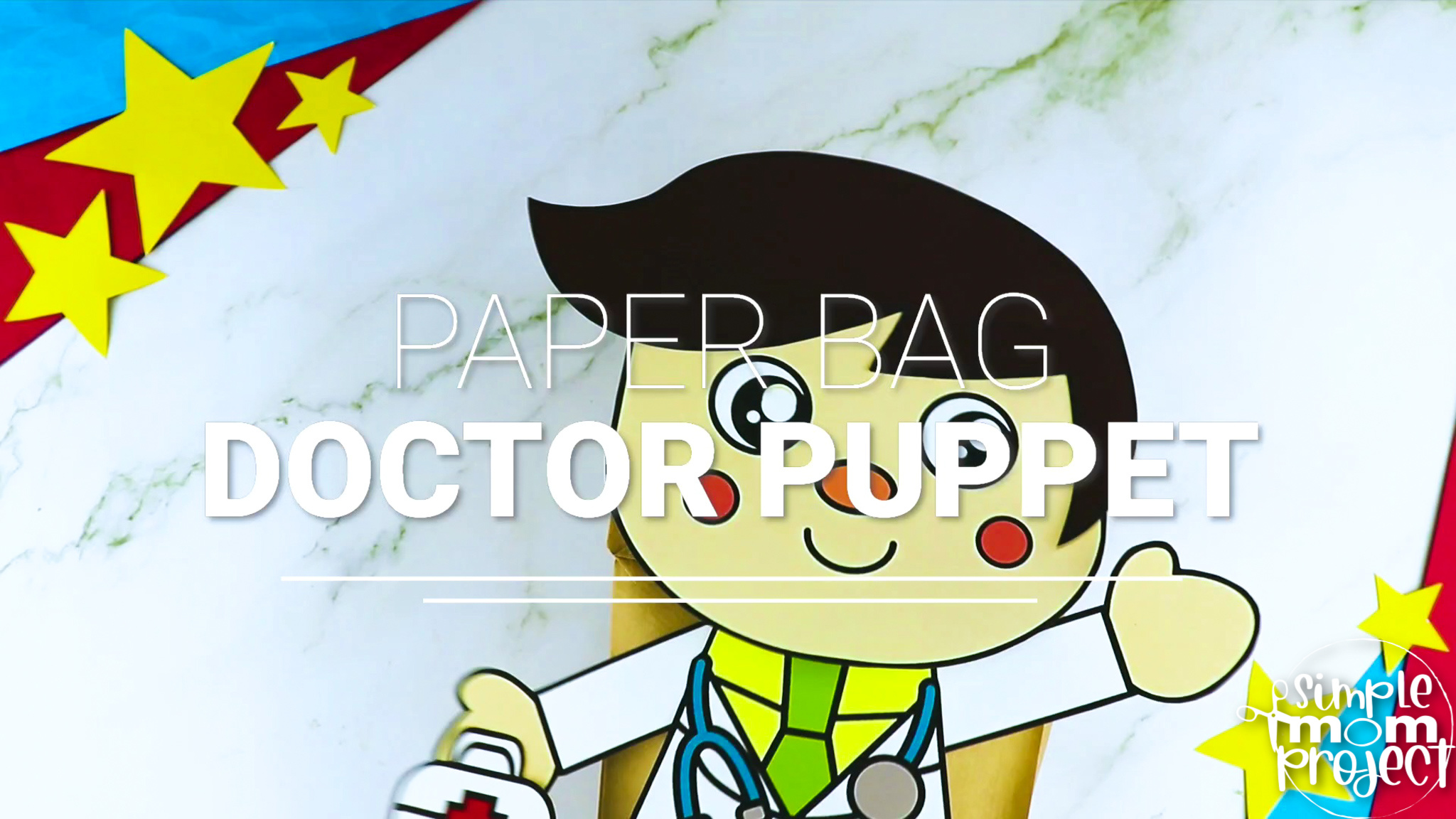 These simple step-by-step instructions will help you in starting and finishing your doctor puppets once you have all the supplies ready.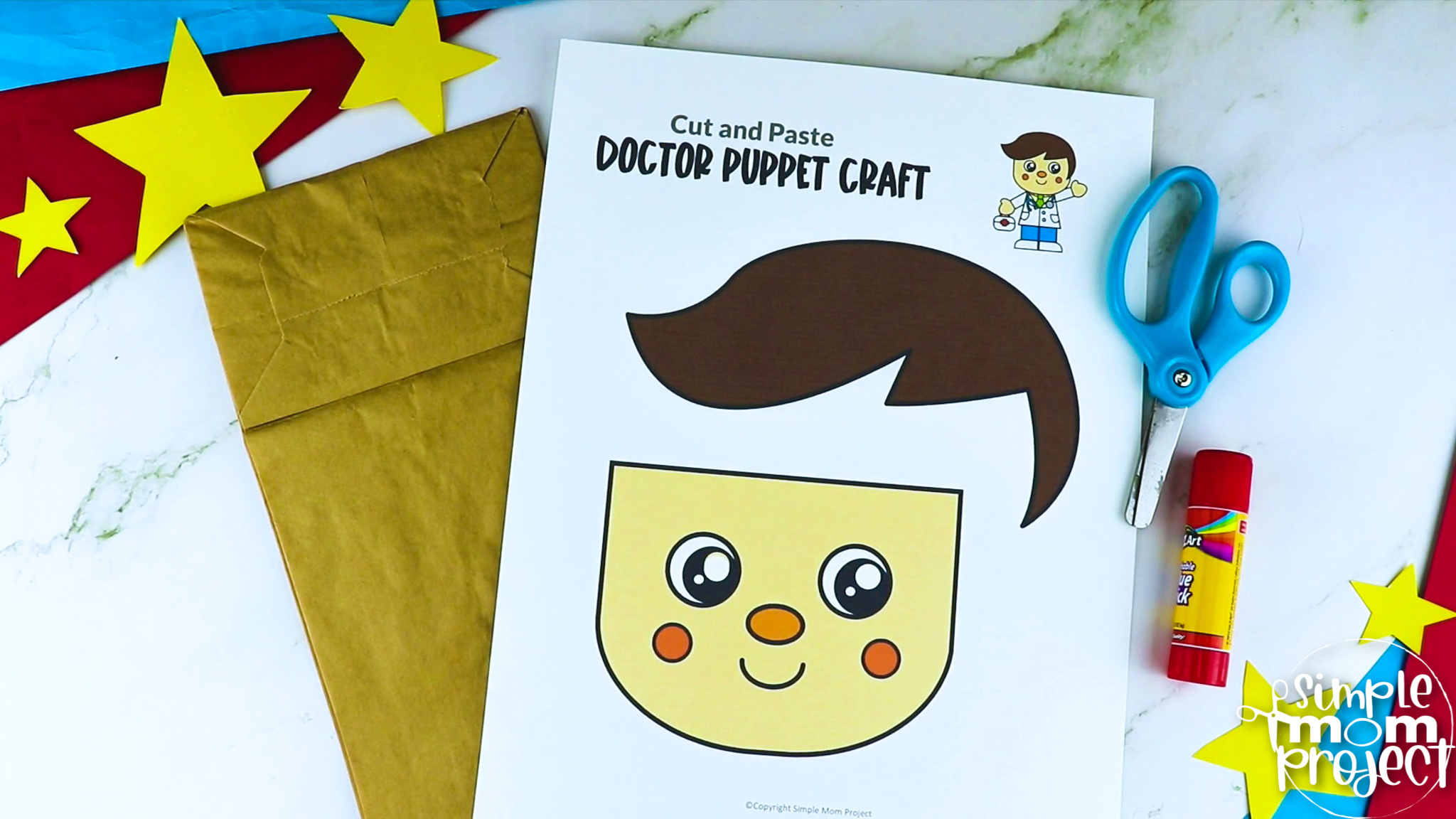 Help your kids cut the doctor parts one at a time.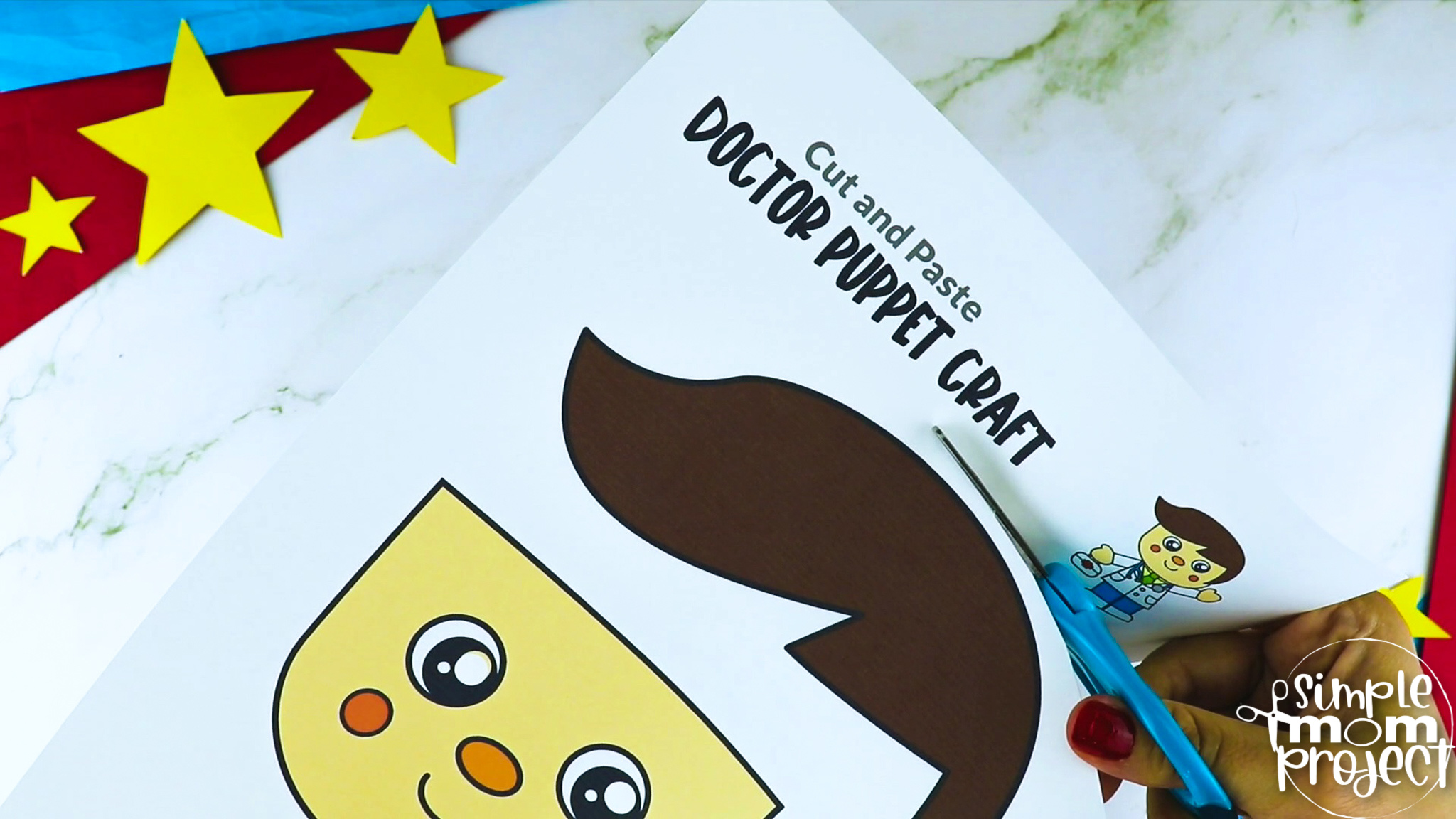 Have fun using decorative tools to color and alter the black and white doctor template.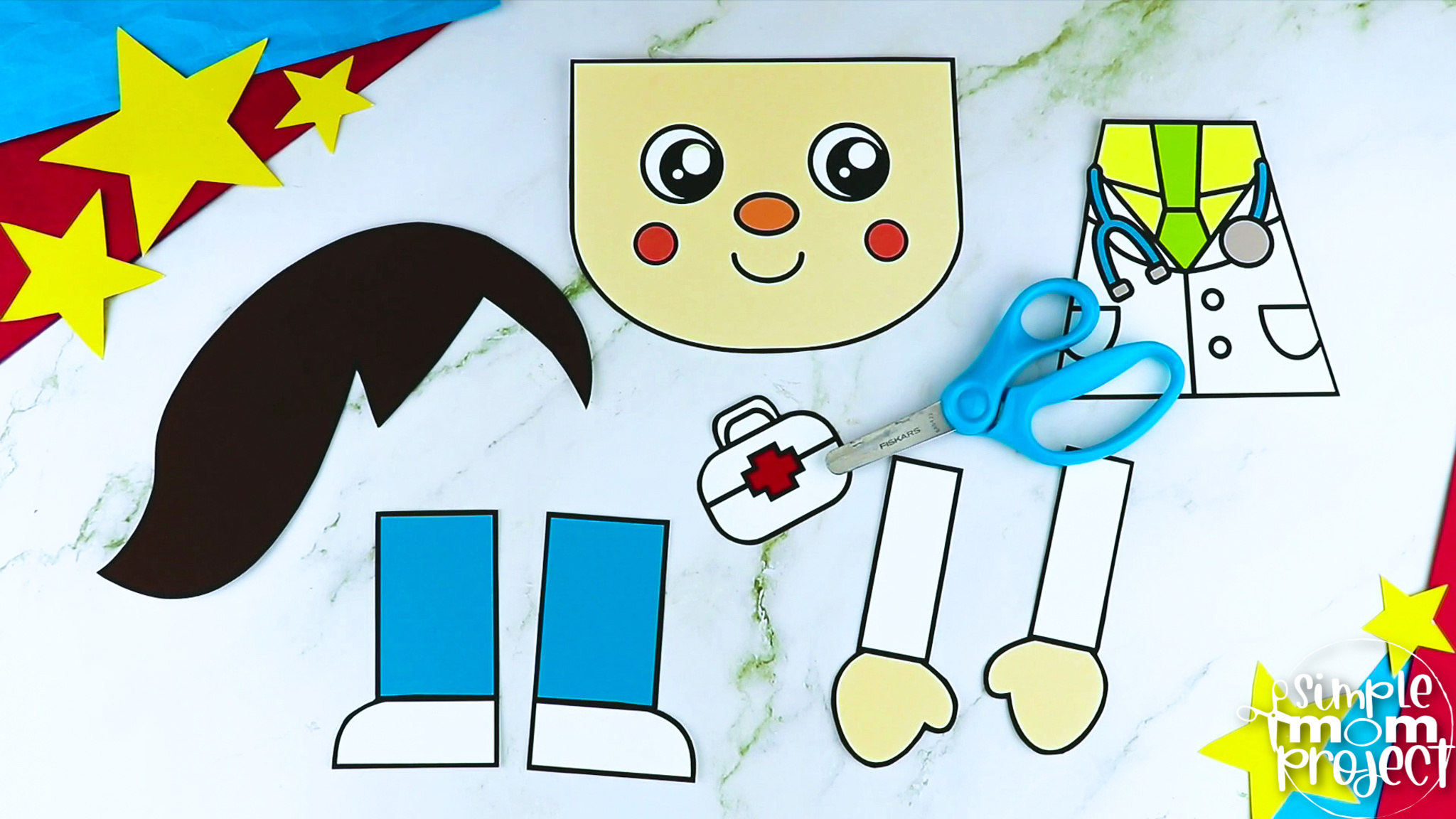 Attach the doctor's head to the folded edge of a brown paper bag.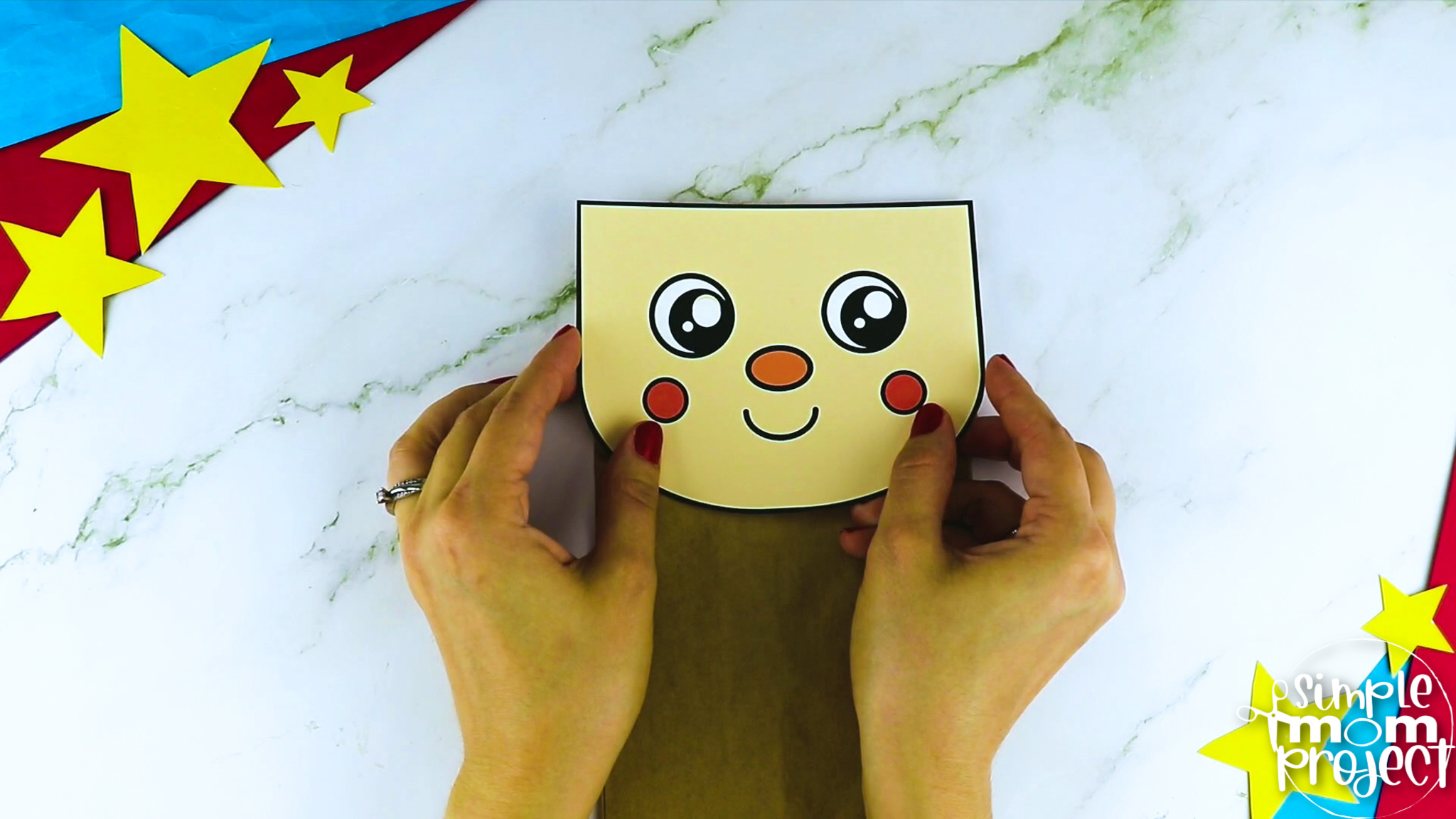 Now position the body underneath the doctor's head.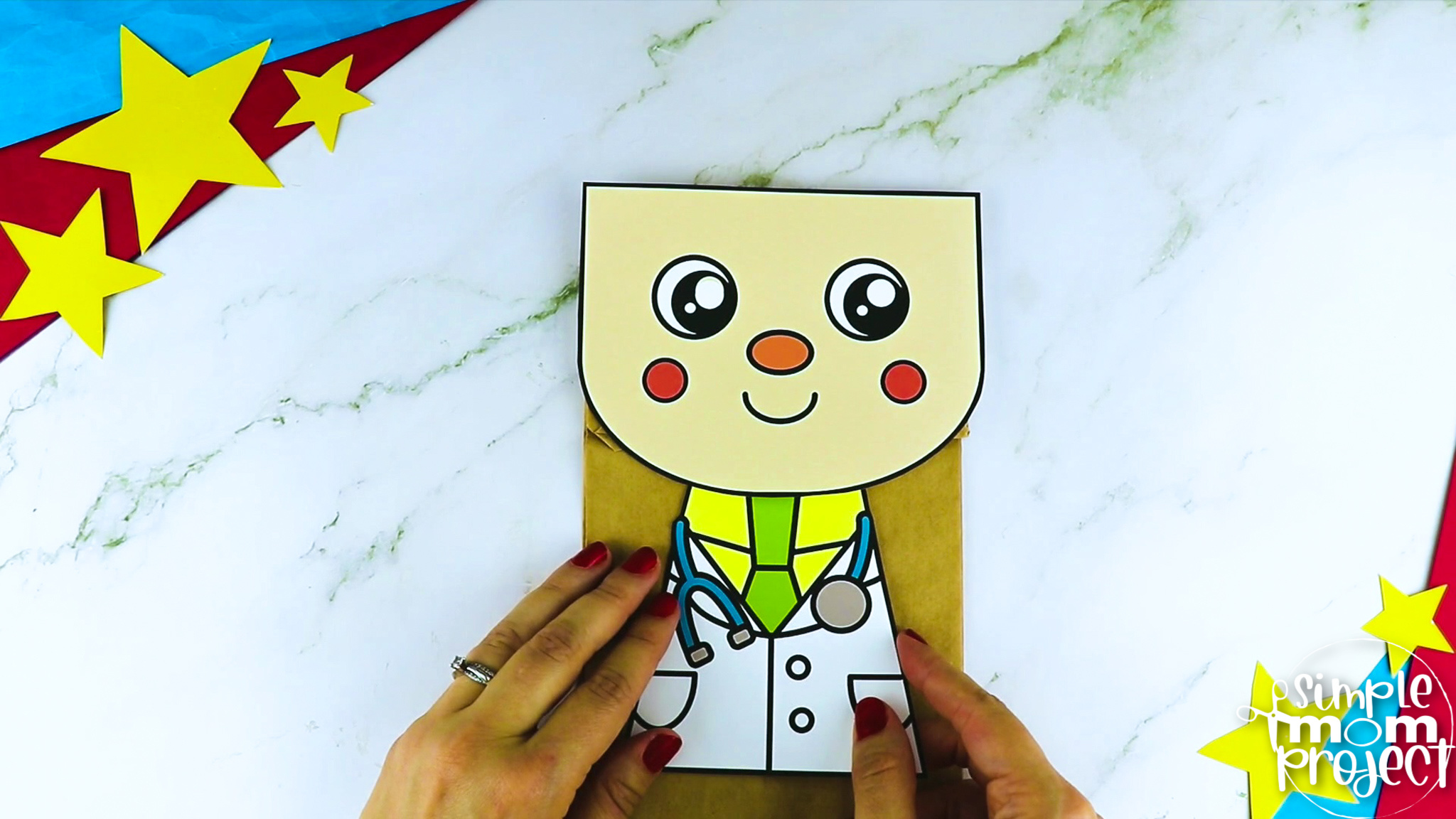 Both legs should be positioned beneath the body.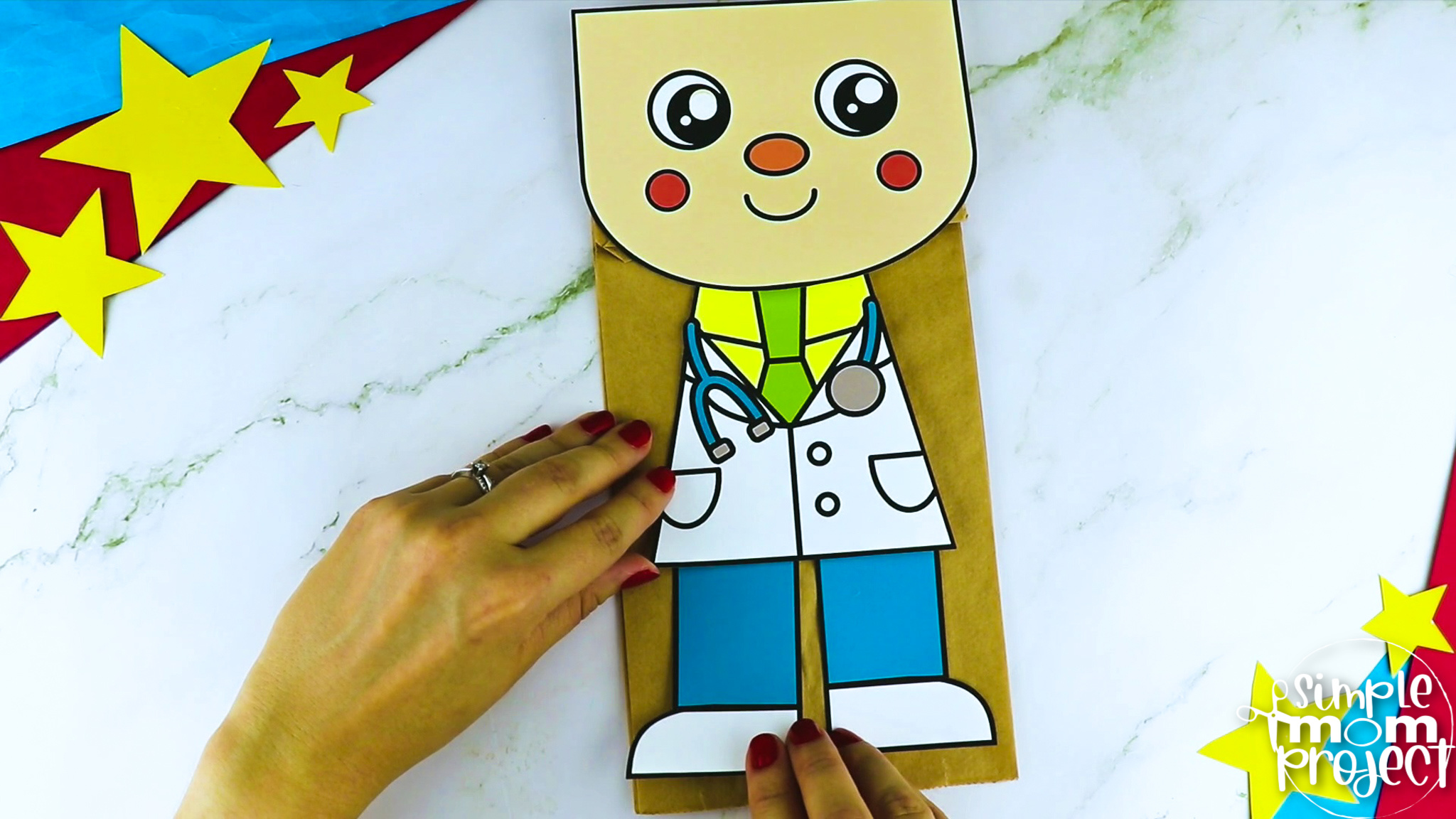 Then attach the two arms on opposite sides of the body.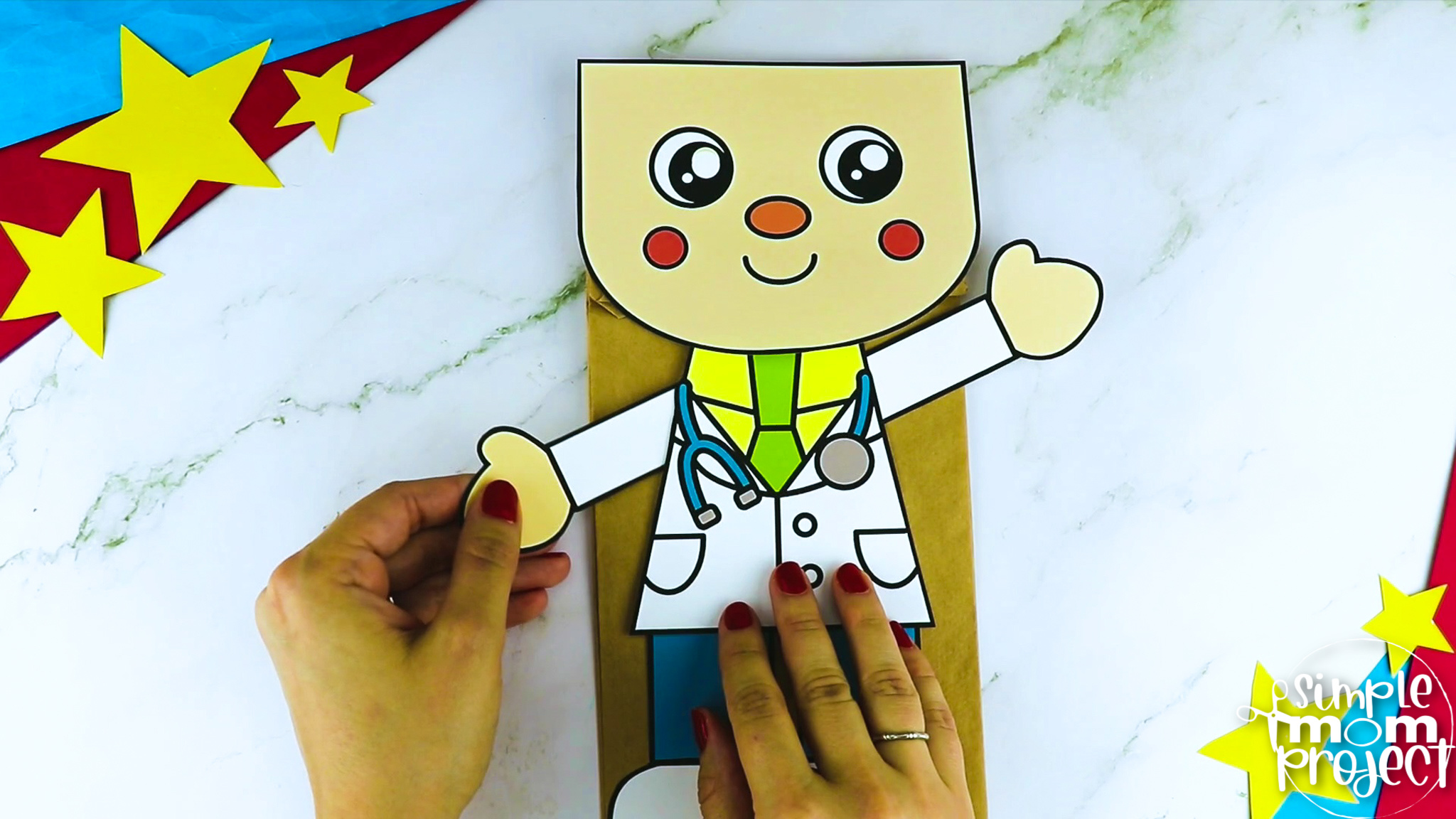 Remember to style the hair on top of the head!
Doctors must have their medical supplies, so carry the bag with one hand as seen in the picture below.
More Options to Choose:
You can print the blank version and trace the cut outs on card stock paper for a sturdier doctor paper bag puppet craft,
Print the doctor template in color for a simple and easy rainy day craft or,
Print the blank doctor template and use it as a fun coloring sheet activity and then glue the pieces of the doctor craft together.
Printable Doctor Paper Bag Puppet Template
Working on this printable doctor paper bag puppet template will help your child fulfill their dream of becoming a doctor one day.
Use this fun preschool craft to teach children everything about community volunteers while keeping them engaged.
Children will have a blast making their own doctor paper bag puppets with just a few basic tools like scissors, glue, and brown paper bags.
This kid-friendly hand puppet is as easy to assemble as cutting and pasting.
Kids are allowed to select the doctor puppet template that they want to use as well.
Give them the option of a doctor template in colored or basic black and white.
Cut and assemble the doctor's pieces one at a time to begin their fine motor skills.
Enjoy pretending to be a doctor by printing a copy of this printable doctor paper bag puppet template.
Need more community helpers puppet fun? Check out our packed list of paper bag puppets for simple craft fun with your little ones.  
When you have finished, be sure to share your creation on Simple Mom Project's Facebook Page and follow me on Pinterest!

Kaitlen D.
More Community Helper Printable Craft Templates