Every one of the volunteers in our community has a big part to play.
Making a craft in their honor is such a fantastic way to express gratitude.
These community helpers are so excellent at what they do that some of our children aspire to be like them someday.
The nurses in the hospital who take care of us whenever we are ill are one of the most amazing community helpers we have.
Do you have a child who dreams of working as a nurse one day?
If so, this printable nurse paper bag puppet template will be the perfect neighbor puppet for them!
Make an easy and fun nurse puppet craft at home using basic supplies like scissors and glue.
This printable nurse paper bag puppet is ideal for preschool and kindergarten activities.
Kids will definitely love making their own nurse puppet crafts!
This week, include community helper themes into your home and school lessons by using this printable nurse paper bag puppet template!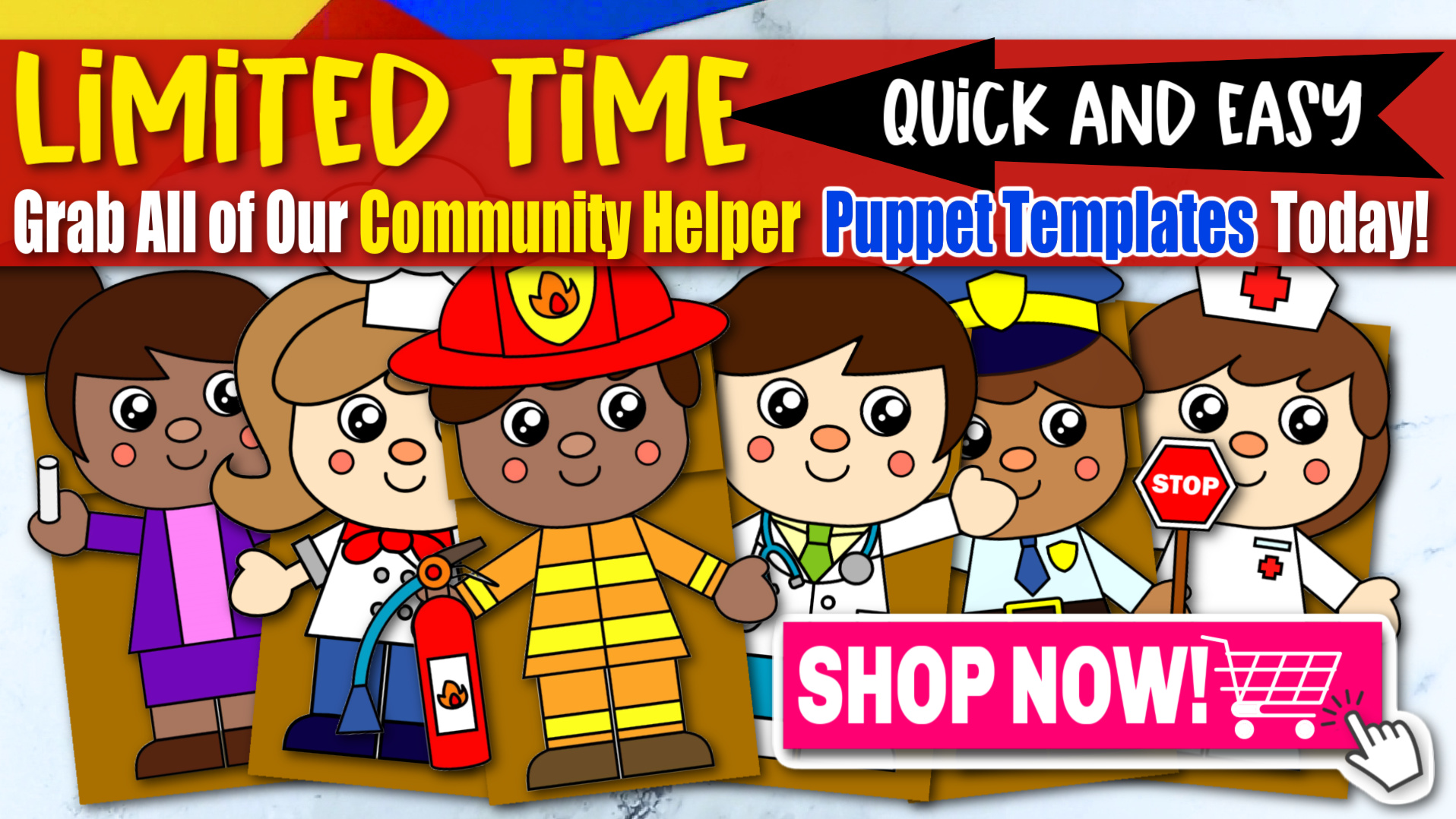 *By the way, this post may contain affiliate links which means I may receive a small commission at no additional cost to you if an item is purchase through that link. For more information, click here.*
Printable Nurse Paper Bag Puppet Craft

Nurse Craft Supplies Needed
Need more crafty fun? Check out our Nurse Cut and Paste Craft, Doctor Puppet and Veterinarian Puppet
.
 T
hey are perfect for those days when staying indoors is the only thing your family can do!
Ideas for Easy Preschool Paper Nurse Craft
We have prepared some best ideas for you to include the nurse paper bag puppet into your home and classroom activities.
These ideas will definitely make your lesson planning exciting and engaging!
Don't worry, we made sure that these ideas are simple and easy to implement!
1. Best Nurse Learning Materials for Kids
Nurses are really helpful in making us feel better and healthier when we are not feeling well.
It would be a great idea to feature them during your community helper week.
These nurse items for kids are perfect if you plan to use the nurse paper bag puppet template at home or at school.
You can set up a nurse dramatic play corner or introduce the nurse puppet craft using these learning materials.
Allow children to play with nurse-themed pretend toys during free play and display books about nurses for them to read during quiet time.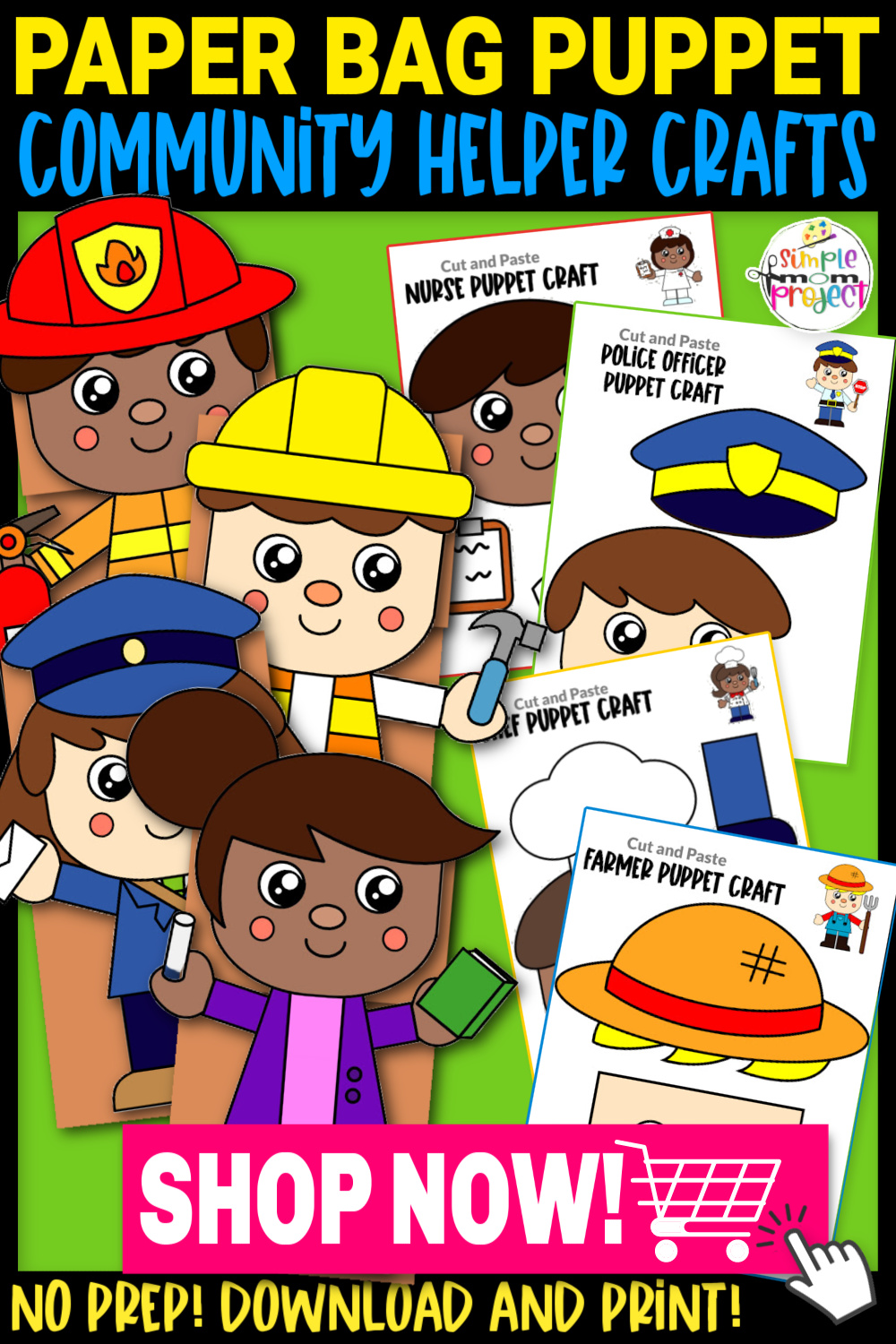 2. Nurse Cap Paper Craft
Working on their nurse paper bag puppets would surely make the kids want to dress up as one.
We can always improvise with their outfits when it comes to dressing up as their favorite community helpers!
We need a nurse cap to finish off their outfit after mixing and matching some of their clothing.
Paper can always be used to create one!
Let's make a nurse cap paper craft, so have your white construction paper ready!
Combine two construction papers.
With the folded edge at the top, fold it in half.
Fold the upper right corner down to the center after locating the paper's center.
Repeat the technique with the upper left corner, leaving a two-inch margin around the bottom edge.
Fold the tip down to meet the edge of the triangle's center.
Pick up the bottom edge of the border's top layer and fold it up.
Then flip the cap over and do the opposite side.
Open the hat and gently shape it.
3. Community Helper Stick Puppets
There are numerous fun crafts that can be made with the printable nurse paper bag puppet template.
Aside from making a paper bag puppet, you can also construct a stick puppet out of it.
This way, children can take it with them and play with it whenever and wherever they wish.
You can also use any sticks you have at home, like art sticks, barbecue sticks, and popsicle sticks.
Reuse them to make a stick puppet of a community helper.
These stick puppets are excellent stage props for shadow play performances as well.
Simply print a copy of the nurse puppet template, cut it out, and assemble it before attaching it on a stick.
Print more copies of this nurse puppet template to create more stick puppets if you're planning to stage a shadow play this weekend.
4. Basic First Aid for Kids
Nurses are among the first persons in the hospital to help patients.
If you have little nurses in training, you should teach them basic first aid.
With this printable nurse paper bag puppet template idea, a first aid kit could come in handy.
Giving them scenarios is one of the best ways to instruct children in first aid.
The kids will gain awareness as an outcome.
Keep the scenarios light and remind the kids that they are always welcome to offer and accept help.
You may also demonstrate to them what is in a first aid kit, what it is used for, and how it is used.
Role-playing will surely make this basic first aid lesson much easier.
This idea might also work wonderfully as a safety activity in a classroom.
These ideas will definitely make your community helper theme fun!
We made sure that these ideas are simple and easy to implement at home and at school.
Children would certainly be encouraged to put forth their best effort in order to become their favorite community helper someday.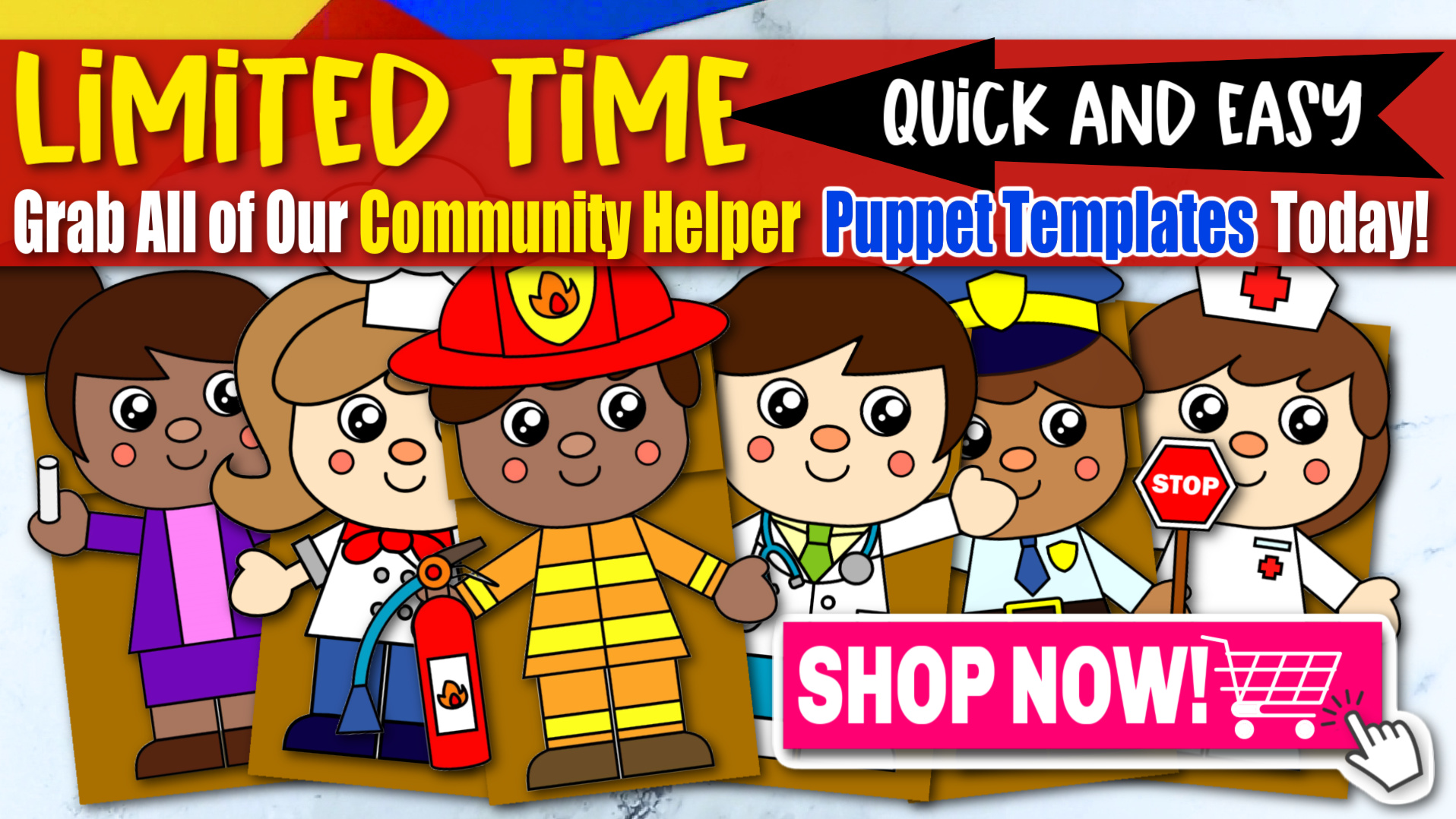 Nurse Paper Bag Puppet Instructions
When you have all of the supplies ready, don't forget to follow these simple instructions to make your nurse puppets!
If your children decide to begin with the colored template, assist them as they cut out each individual nurse piece.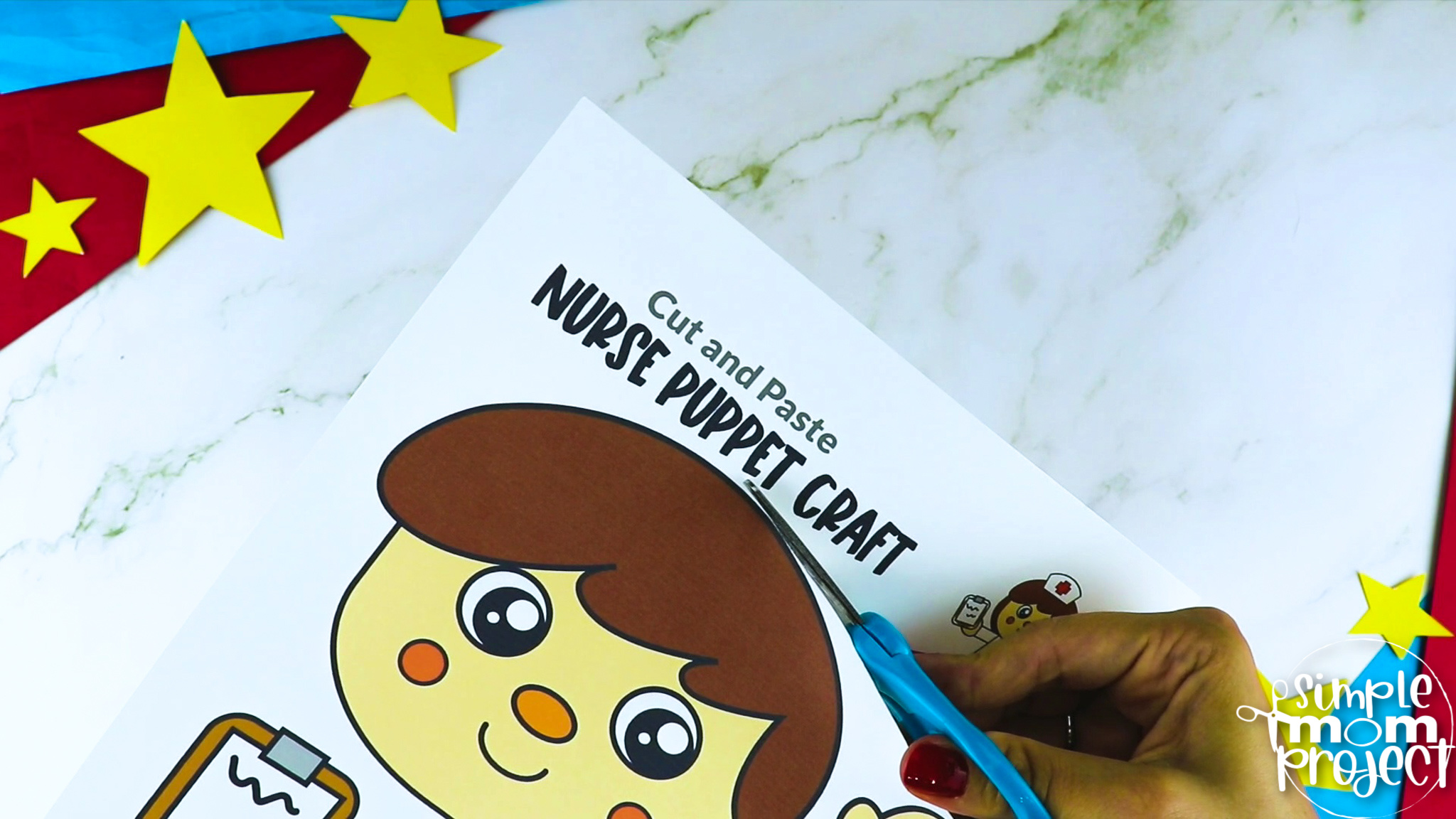 Any colorful supplies you have on hand can be used to alter the plain black and white nurse template.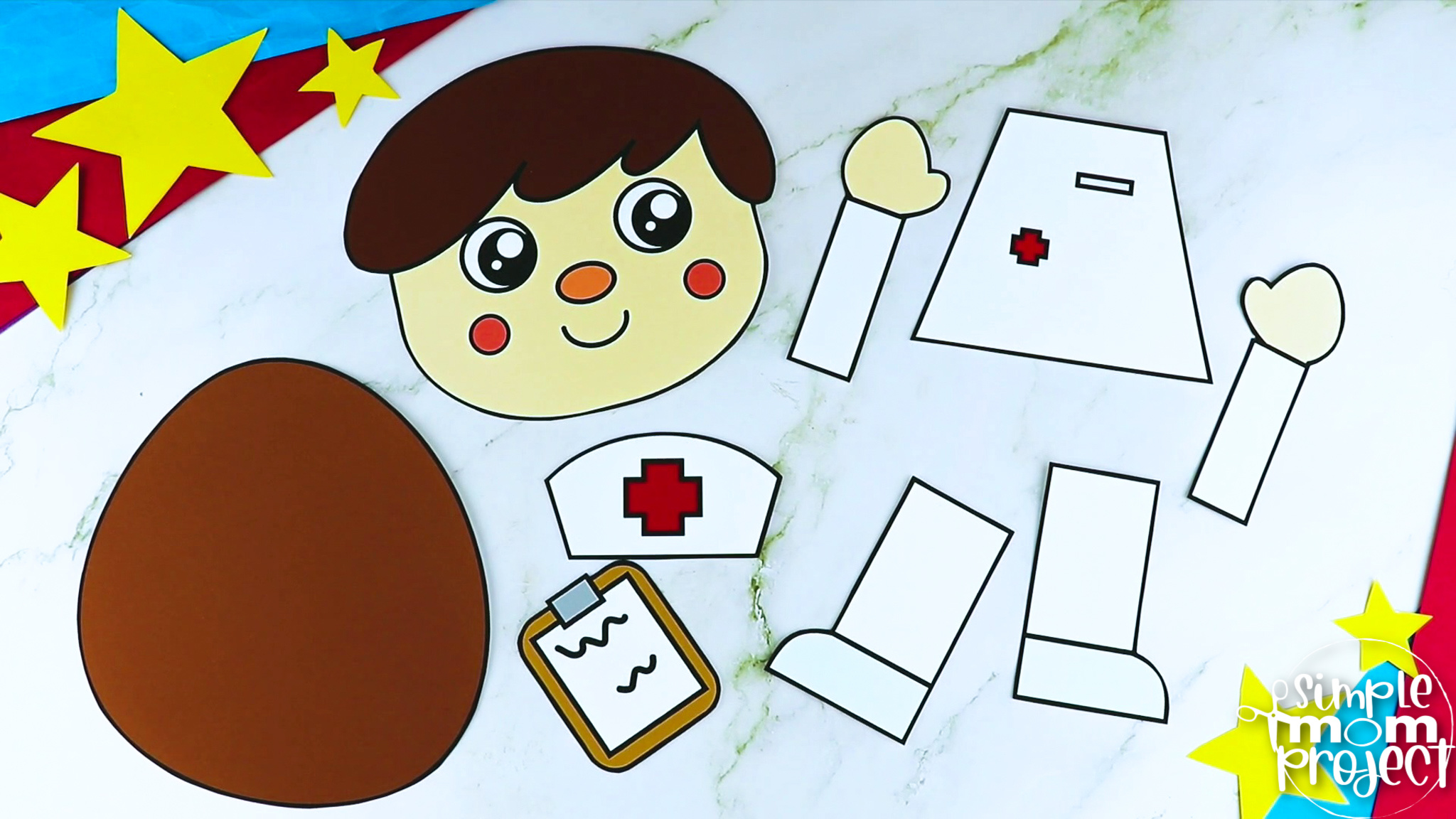 Start your nurse puppet by attaching the head to the brown paper bag's folded edge.
Place the upper body beneath the head.
Add the two arms on both sides of the body.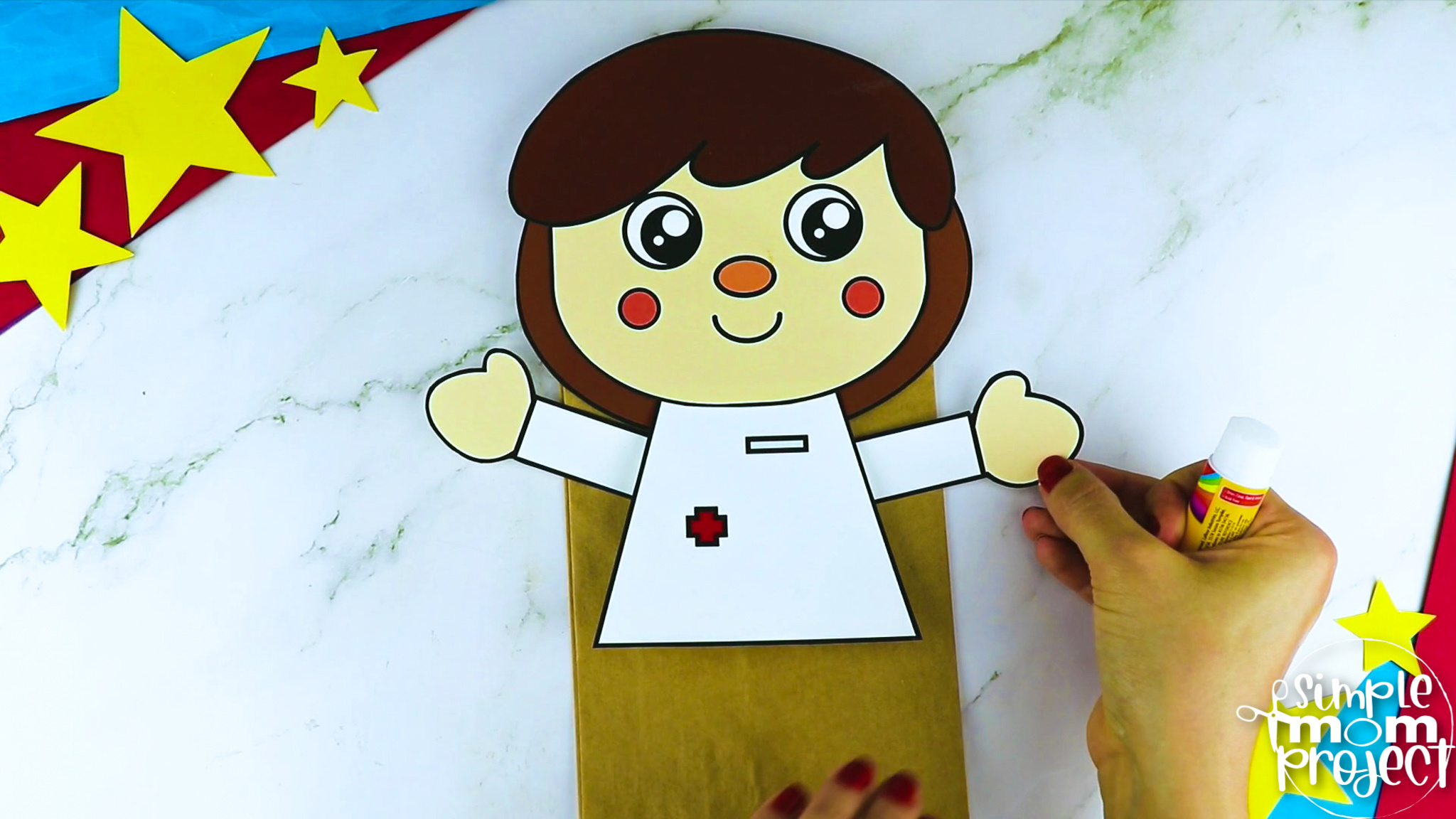 Next, connect the lower body.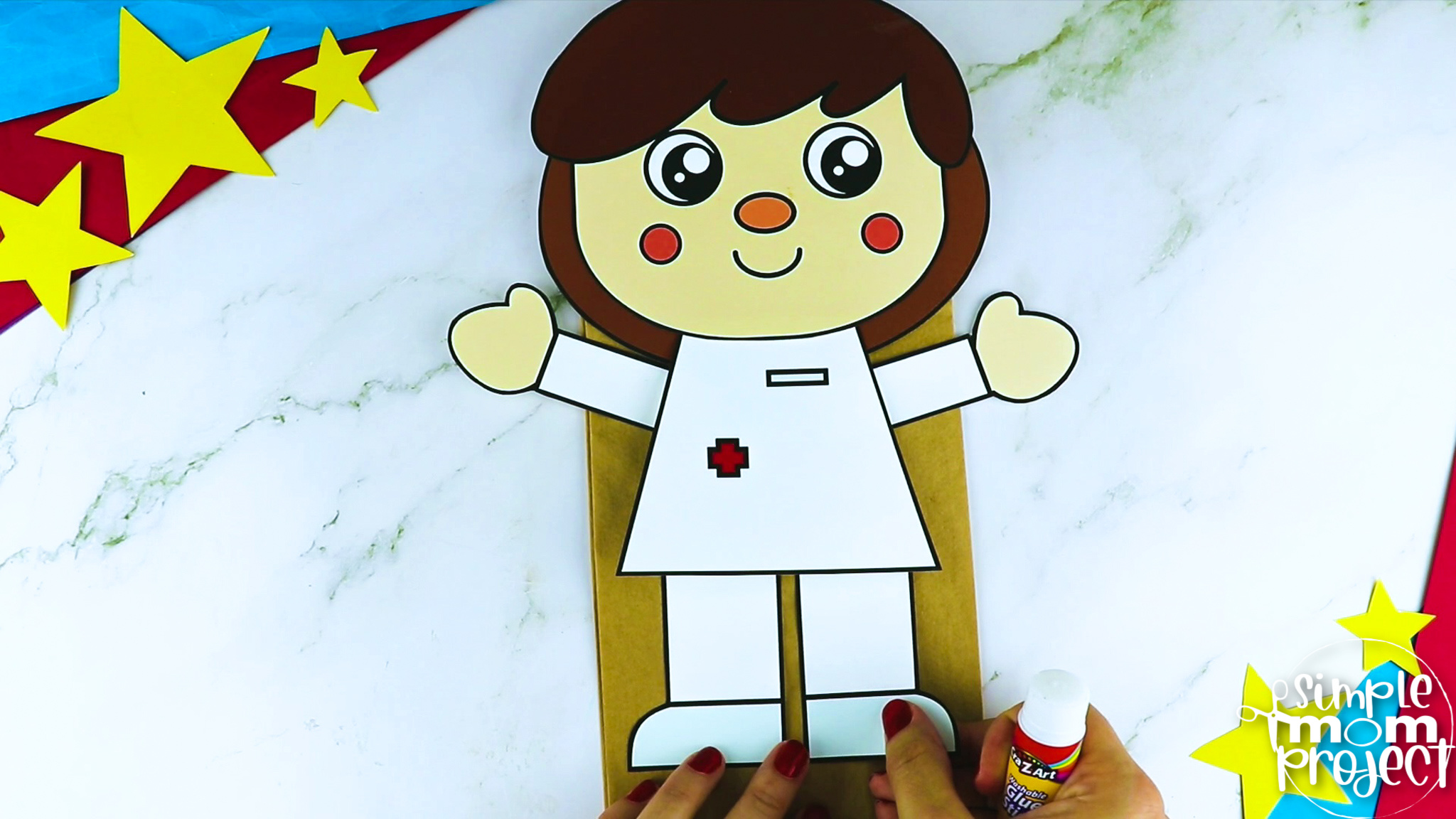 On one hand, place the nurse's file.
Add the nurse's cap on the head of your paper bag puppet nurses to complete the look.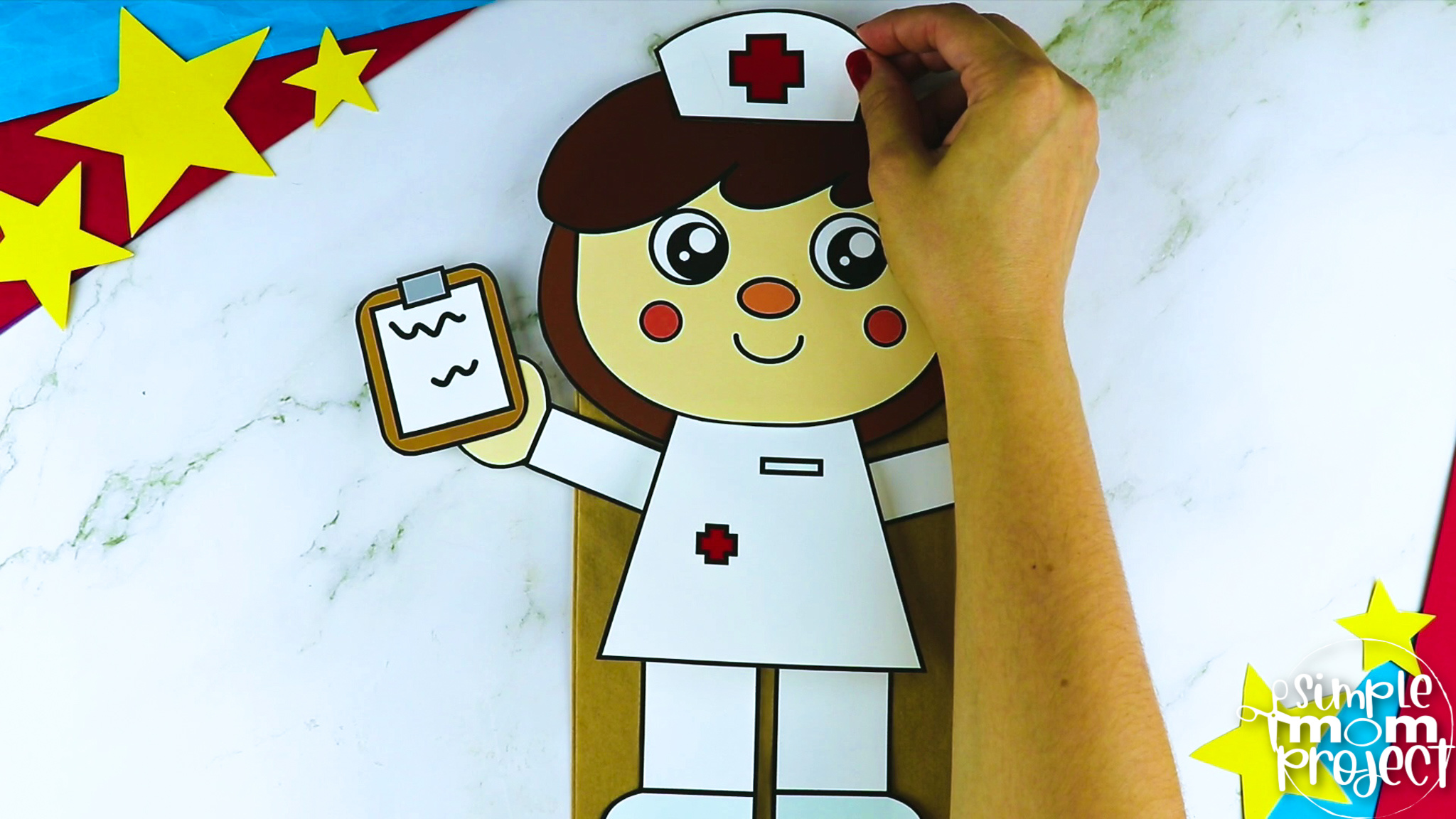 You've always done a great job creating your favorite community helper prepared to help the city!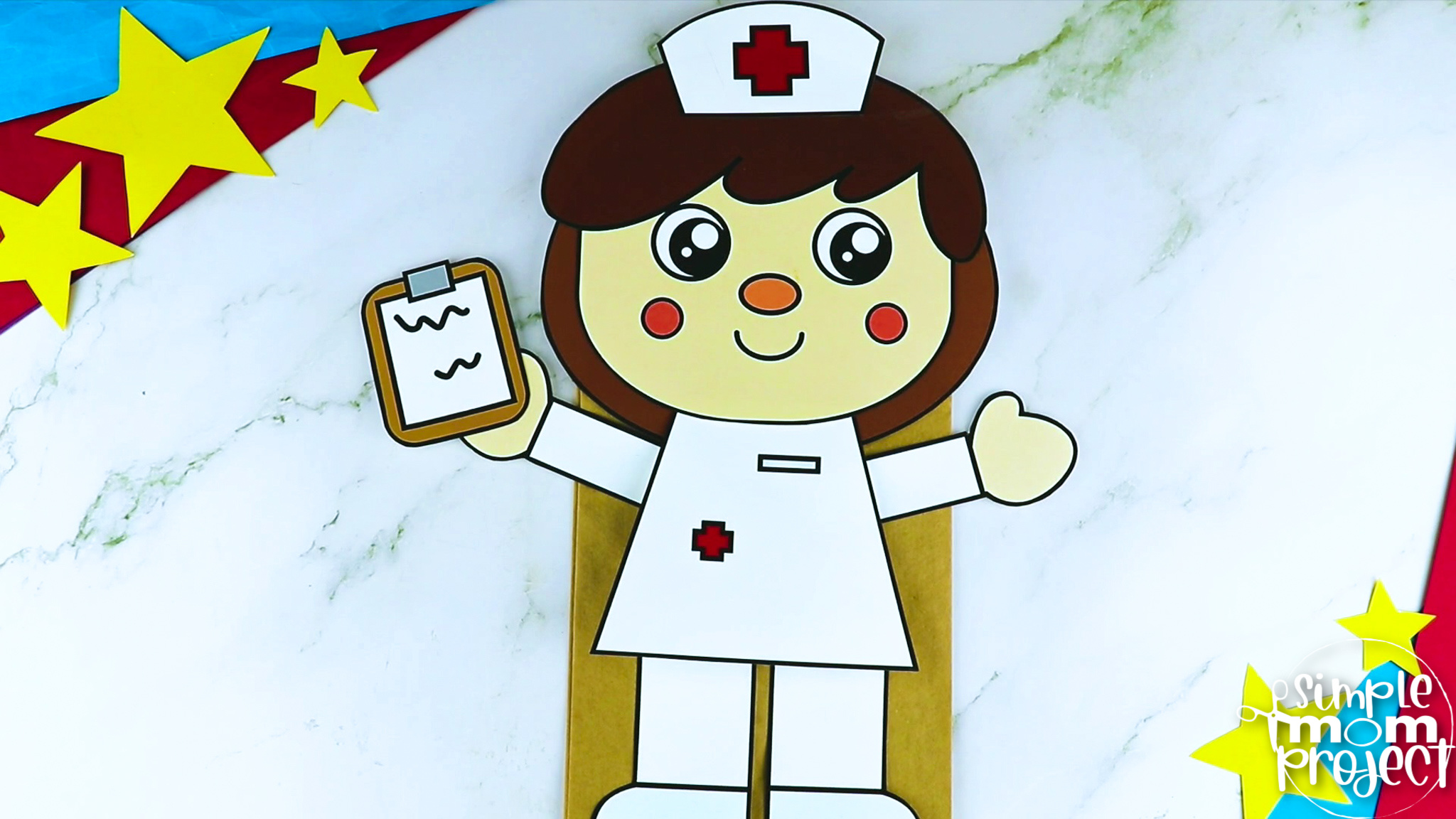 More Options to Choose:
You can print the blank version and trace the cut outs on card stock paper for a sturdier nurse paper bag puppet craft,
Print the nurse template in color for a simple and easy rainy day craft or,
Print the blank nurse template and use it as a fun coloring sheet activity and then glue the pieces of the nurse craft together.
Printable Nurse Paper Bag Puppet Template
Use this printable nurse paper bag puppet template to have fun playing the part of a nurse!
Print one right away if your kids are excited to create their own hand puppets!
Making this nurse paper bag puppet craft will help them appreciate and respect this community worker even more.
We designed this community helper puppet to be simple to build and suitable for preschoolers and kindergarteners.
You have a ton of templates to share with your class if you plan to use this into your lessons.
Kids can pick between a basic and colored nurse puppet template that we have prepared.
Let them choose the template they want to use to make their nurse puppets.
Our detailed instructions, which include a tutorial video, will help them make their hand puppets without any trouble.
Take advantage of the features that this nurse paper bag puppet offers in your lesson ideas!
Need more community helpers puppet fun? Check out our packed list of paper bag puppets for simple craft fun with your little ones.  
When you have finished, be sure to share your creation on Simple Mom Project's Facebook Page and follow me on Pinterest!

Kaitlen D.
More Printable Community Helper Craft Templates