Looking for a great way to introduce your children to the world of farm animals while they learn?
Have you thought of taking your children to the farm to meet different farm animals?
One of my favorite family trips was when we went to a farm outside of town.
My kids couldn't wait to get near their favorite farm animals.
And I can actually tell which animal quickly captured their attention0.
Cows, yes!
They couldn't wait to see them as soon as they heard the mooos.
Hold on to your cowboy hats if your kids are up for some fun farm animals activities this week because we're not just bringing the farm to you—we've also got a printable cow template for them! 
Whether your young cowboys and cowgirls are crazy about cows or just love being crafty, these cute farm animal crafts will make them go howdy with joy!
Grab the free printable cow template and gather your crew for some fun farm animal crafts fun today!
*By the way, this post may contain affiliate links which means I may receive a small commission at no additional cost to you if an item is purchase through that link. For more information, click here.*
Old MacDonald Had a Farm Song
Do you remember the timeless song that has played as the soundtrack to countless childhoods?
The song "Old McDonald Had A Farm" is so simple but so incredibly captivating.
Have you ever pondered why this song has transcended generations, being an all-time favorite of young children all across the world?
Everyone loves this classic song that we all grew up listening to.
I used to sing this when I was little to learn about animal sounds.
Incorporating it with fun activities for my kids was a brilliant idea.
And who would have imagined that there were plenty of enjoyable activities for kids to do while listening to this song? Yes!
From creating farm animal artwork to playing guessing games based on animal noises, doing farm animal yoga, and telling stories with farm animal puppets.
Of course, there are materials that work best with singing this timeless song.
I always make certain that the materials I use are both safe and age suitable for children of all ages.
Check out all of these if you're not sure what materials will go best with it.
With these Amazon resources, you can create a range of fun and captivating cow farm themed activities for your preschoolers with just one click!
1. Prepare an interactive storytelling activity for your children. I'm sure they'd have a lot of fun listening to this cows can moo! can you? story while imitating cow sounds like in the song.
2. My kids enjoy collecting toy animals of all sizes. We played a game of cow sorting where kids sorted the toy figures according to size after I got this collection of cow figures.
3. Dressing up as cows with this cow onesie costume may definitely promote dramatic play and allow our children to become their favorite farm animal.
4. Your children will undoubtedly enjoy plush cow toys because they can double as both cuddly friends and tools for pretend play.
5. This farm jigsaw puzzle can be a fun approach to improve fine motor skills and cognitive abilities while you listen to the song.
Best Cow Crafts and Activities
What if I told you that the world of cow-themed crafts and activities is brimming with opportunities?
So, it's time to shake things up in the barn with some exceptionally fun cow-themed activities that are just as delightful as a hayride on a sunny day!
These cow crafts and activities will have you and your kids cheering, grinning, and moo-ing with glee!
1. Printable Cow Paper Bag Puppet Template
Brown paper bags are frequently used in the creation of arts and crafts.
If you have any on hand, now is the time to put together this printable cow paper bag puppet template!
It's simple to do and can be utilized for imaginative play and interactive storytelling.
2. Free Printable Cow Template
Creating a lesson plan for a farm animal unit?
This free printable cow template can be used for a variety of projects.
It may be a coloring page, a tool for learning the letter C, or a design for a bulletin board with a farm theme.
It's free and simple to download!
3. Free Printable Cow Craft Template
What could be a more fun approach to learn the letter C?
Yes, learn about cows!
Children are certain to enjoy learning about this farm animal as they progress to learning about the letter C.
You can use this cow craft template for a number of classroom activities because it is completely free!
4. Free Printable Farm Cow Craft Art Project
Are you planning a field trip to the farm soon and want to introduce your children to these adorable farm animals?
Start with cows by having your children create this free printable farm cow craft project.
Print more of this because it's free, and bring your crafts on your next farm visit!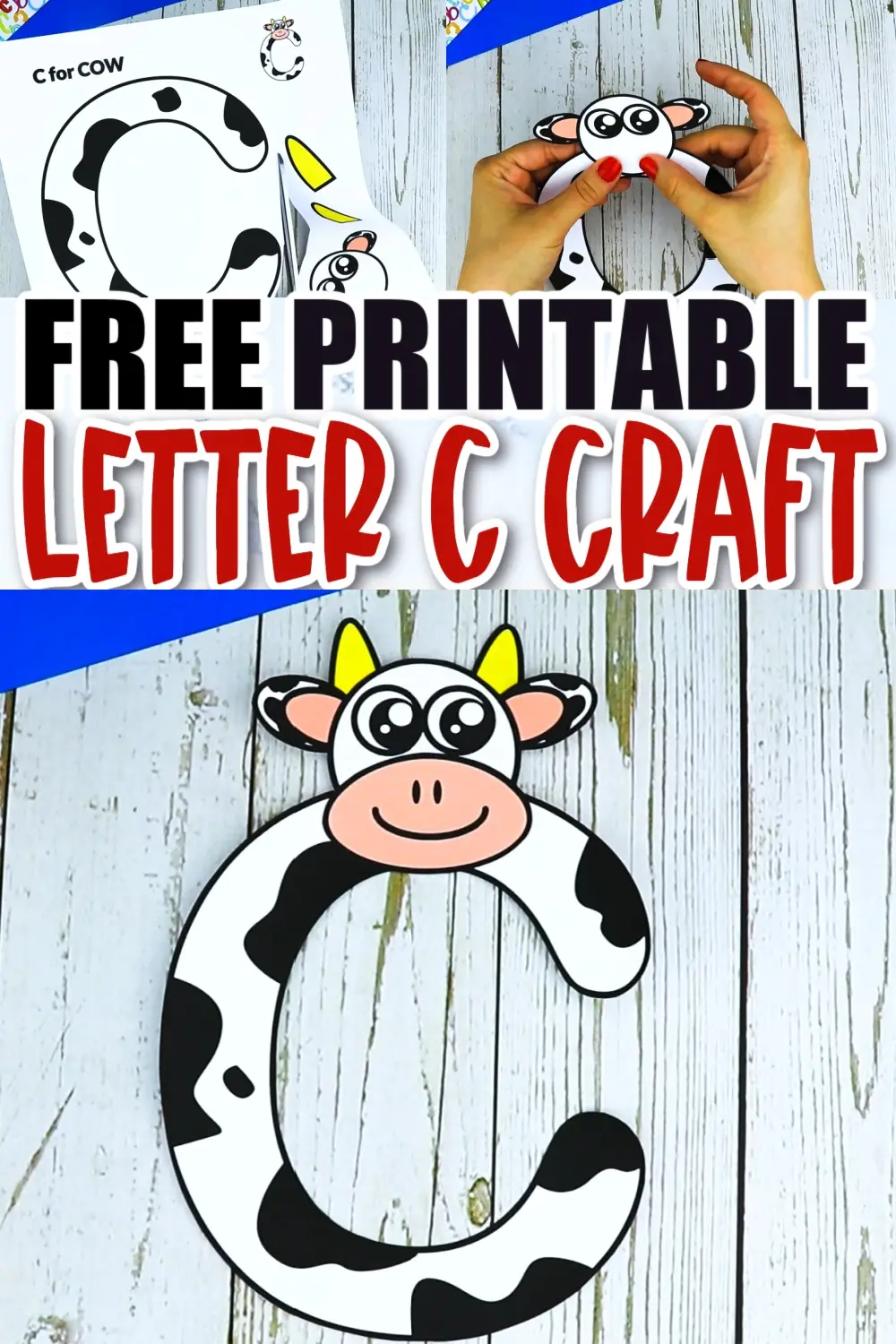 5. Free Printable Letter C Craft Template
Who says learning the letter C is difficult?
That is not the case with this free printable letter C craft template!
Include this as an art project, a visual aid, or a resource for flash cards in your letter recognition activities.
Kids are going to learn with ease and excitement!
6. Free Printable Letter C Coloring Page
Do your kids like coloring as much as my girls do?
This free printable letter C coloring page comes in helpful during our letter C coloring activities.
Use different colors you want, including paint, permanent markers, and crayons.
A foam cup and a polystyrene ball combined in one craft project?
What a creative approach for creating a cow!
Your children will want to try this, just like mine did a few weeks ago.
Create one right now by going to their website!
Have you ever completed a project using a newspaper? such as a craft?
If you haven't yet, today is a fantastic day to make a newspaper cow craft!
Newspapers should not be thrown away, so why not make them into something our children would love making?
Looking for a cute craft to tie your farm unit lesson plan together this week?
Put your hands up because we're going to need them for this handprint cow project!
It's so much fun to create these with hands of all sizes!
Why not teach both cows and sizes at the same time?
Have a party coming up with a farm theme?
Why not make your own version of this cow treat tube and give it out as party favors?
Sounds wonderful!
Don't toss away your toilet paper just yet; they'll come in handy for this project.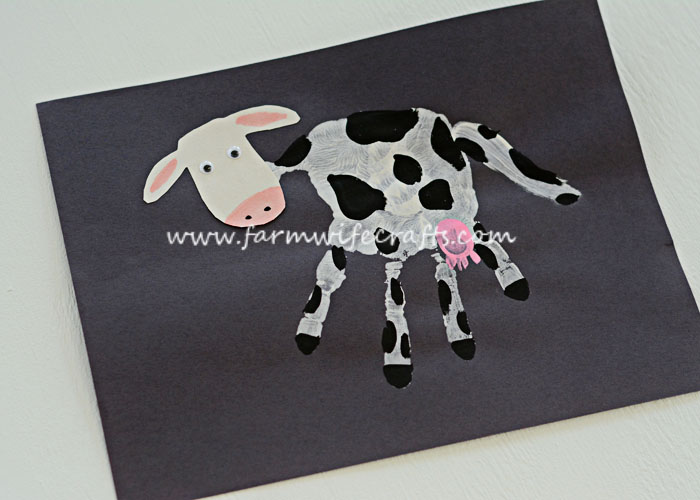 Do you wish to teach your children about dairy farming?
Letting them know about it is a fantastic idea.
Include dairy farming in your farm unit lesson plans and follow it up with this handprint dairy cow craft activity!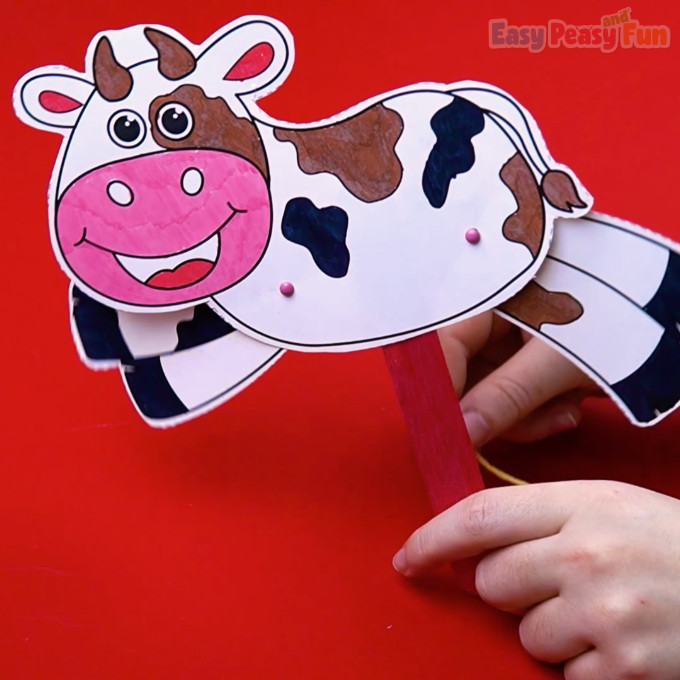 Have you ever had a childhood obsession with paper dolls?
Because I did!
And discovering this movable cow paper doll was a real treat!
Paper dolls are not only for our favorite cartoon characters, but also for animals.
This is great for a puppet show or creative storytelling!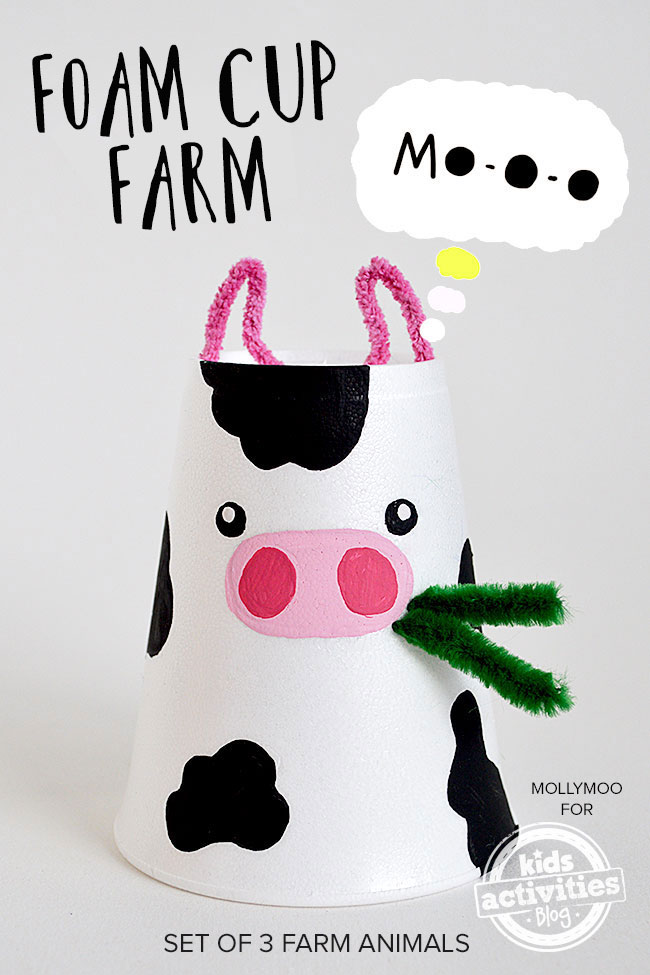 13. Cutest Farm Crafts: Cow, Chick + Piggy Made from Cups
Do you agree that cows make the cutest crafts?
Because my girls and I agree!
Make these farm craft paper cups if your kids love the cutest crafts and things, as my two girls do!
They are so adorable that you might use them as classroom decorations!
14. Pine Cone Farm Animals: Pig, Cow, Lamb, Rooster, Chick
Did you know that you can make your favorite farm animals out of a pine cone?
Absolutely!
It can be transformed into a pig, cow, lamb, rooster, or even a chick.
These are so cute that you'll want to place them all over your house!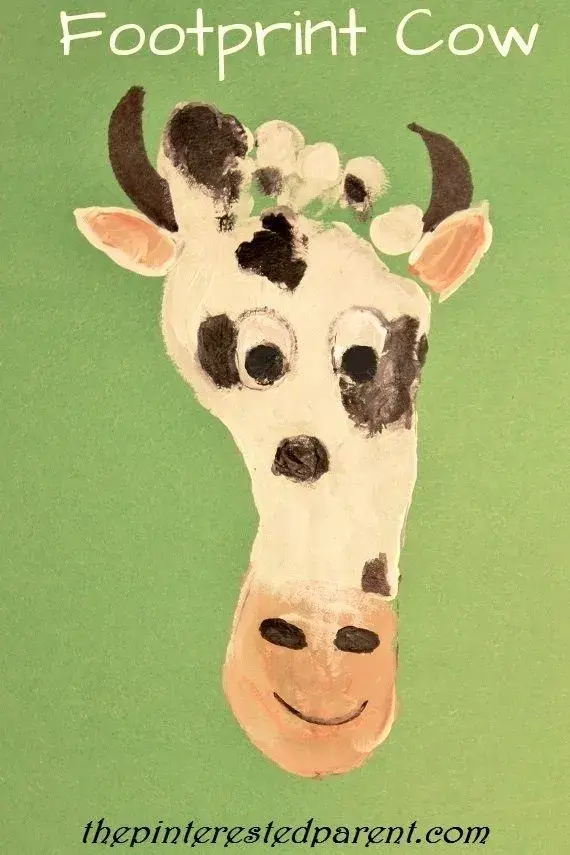 Footprint crafts that teach the alphabet?
Count me in!
These activities are perfect to incorporate into your weekly letter lessons because they feature crafts for letters C through E.
Children would be thrilled to stamp their foot on crafts!
16. Easy Paper Cow Craft – Farm Animal Craft Ideas
Are you looking for a unique paper cow project that is also easy to make?
Look at this easy paper cow craft!
It comes with a video tutorial to help you get started!
What is a great fine motor skill for kids that also teaches them life skills?
Sewing it is.
Kids will love sewing after making this easy cow soft toy.
They'd want to have more of them for their toys!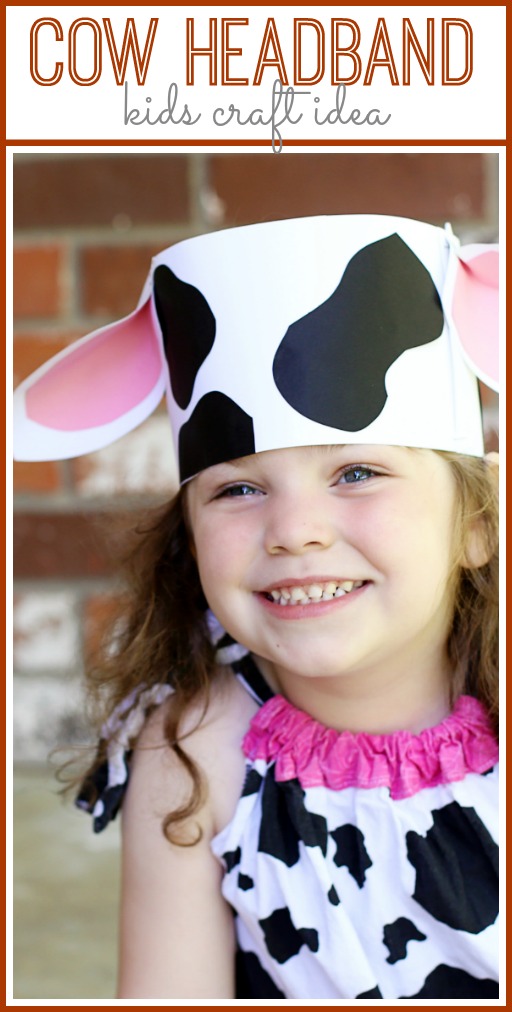 Going to the farm with your kids and they want to dress up as cows?
There's no need to spend money on a costume when you can make your own cow headband!
You'll be ready for your farm tour in no time with just a few basic materials!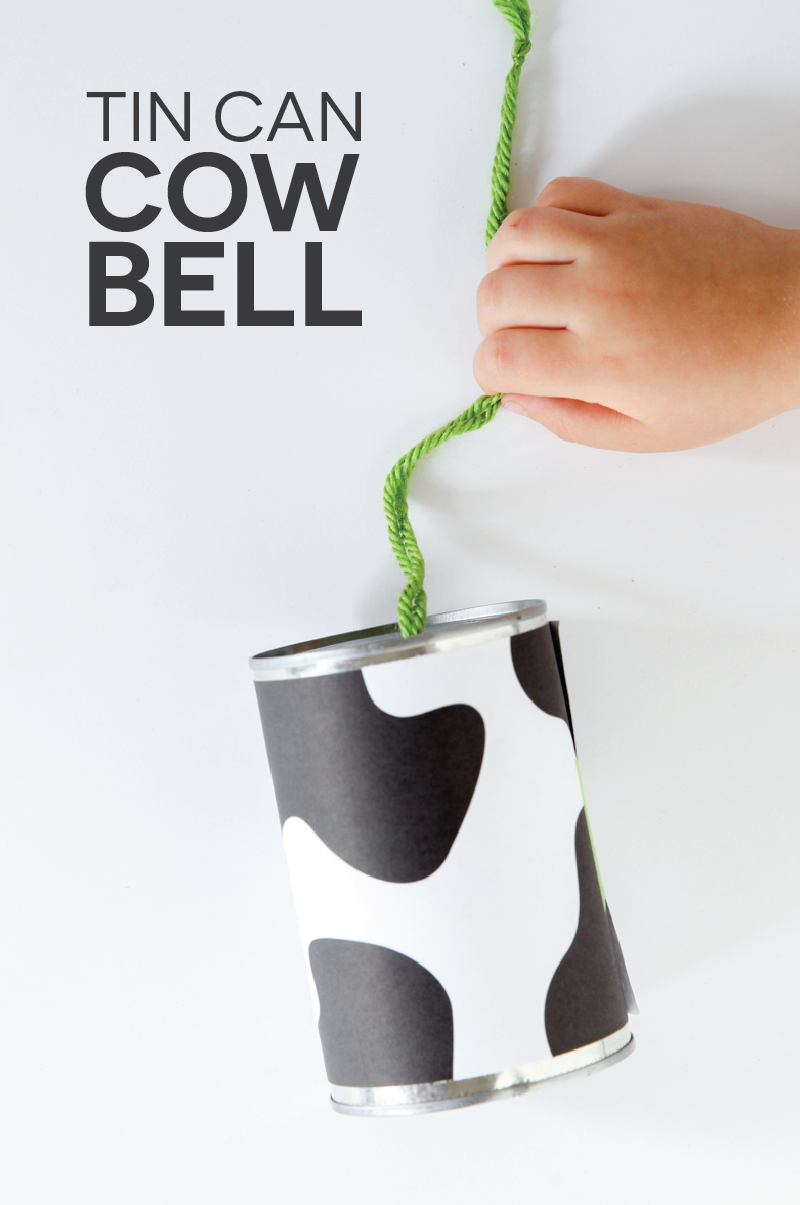 Do you know what the cow bell is for?
My children have also inquired about this, and they are astounded at how it works with cows.
That's why I made this tin can cow bell with them.
This kept them busy while they were making and playing with it afterwards.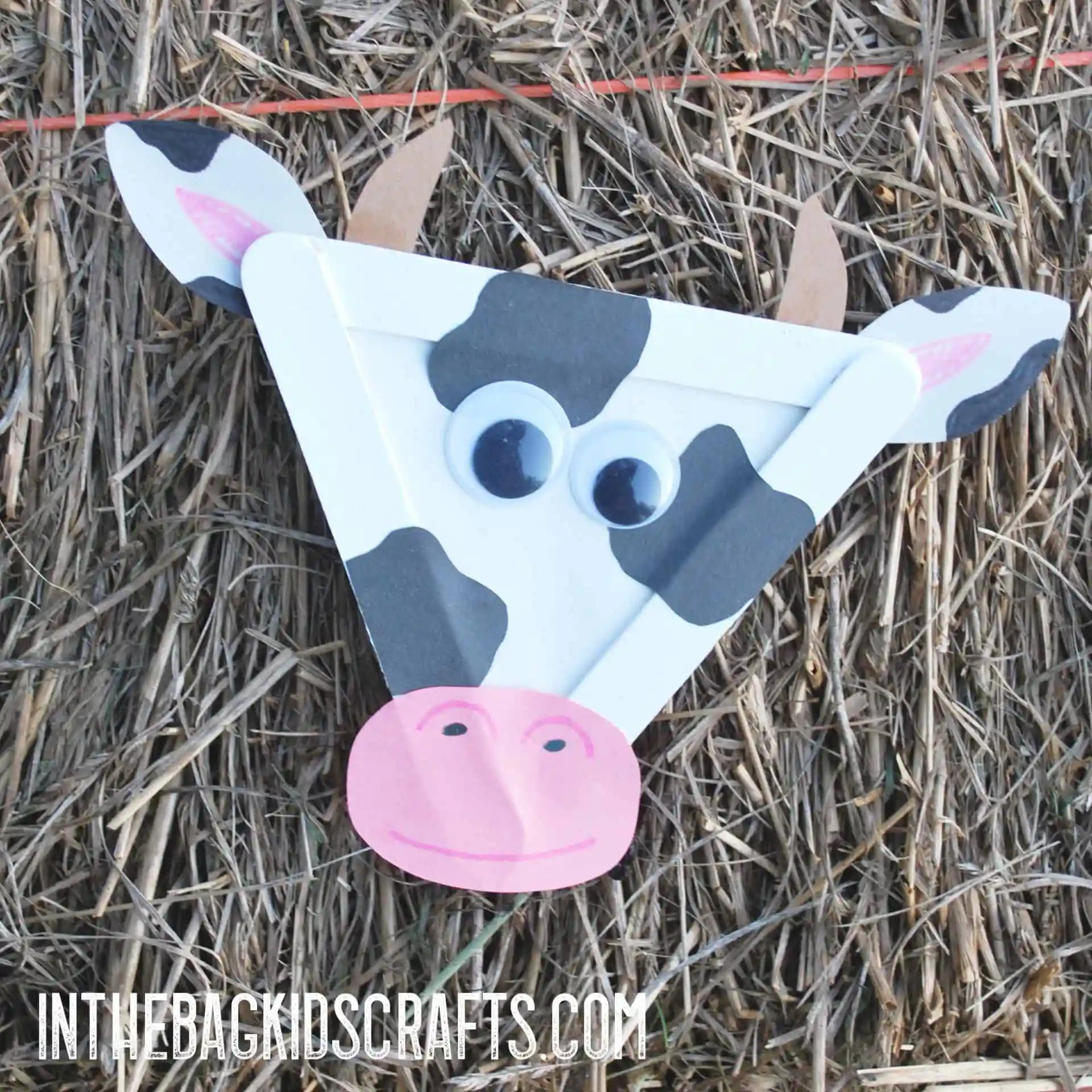 20. Easy Cow Craft (with FREE template)
Do you enjoy doing goofy projects with your children?
Me too!
We laughed so hard while doing this simple cow craft.
It's cute and simple, and my kids thought it was interesting that cows could also be in triangles.
Check it out to find out how much fun it is to make with your kids!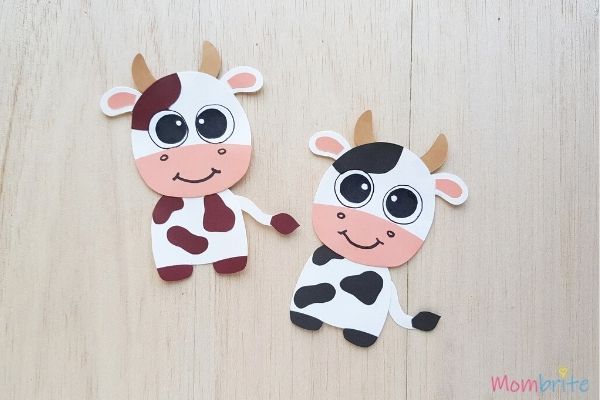 21. Cute Paper Cow Craft for Kids
What does the cow say? Moo!
Prepare to have moo-tastic fun doing this cute paper cow craft with your kids.
It includes a free printable template that you can download as many times as you want. 
How many paper plate crafts have I done?
I've already lost track.
Check out this paper plate cow if you enjoy paper plate arts and crafts like I do.
Now is the time to use those paper plates in your kitchen!
Do you think your children will find learning the letter C to be boring?
We've got your back.
You can learn the letter C by making this cute cow craft.
If you didn't know, cows make an amazing teaching animal!
24. Cow Paper Bag Puppet Craft for Kids
What else are paper bags good for? Puppets, of course!
I've always liked making puppets out of paper bags.
Include this cow paper bag puppet craft for kids if you are as well.
You won't need much to start this craft; just a few basic craft supplies.
Do you need coloring pages for your art projects?
Go over this website to find 10 all new coloring pages.
These are all free to download so you and your kids can enjoy it to the fullest!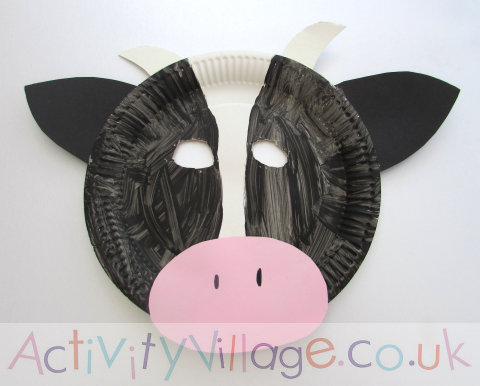 Did you know you can make your own farm-themed costumes for your children?
Yes, of course!
You can get started with this easy cow mask DIY instead of going to the dollar store.
To get started, all you'd need are some ordinary supplies like paper plates and paint.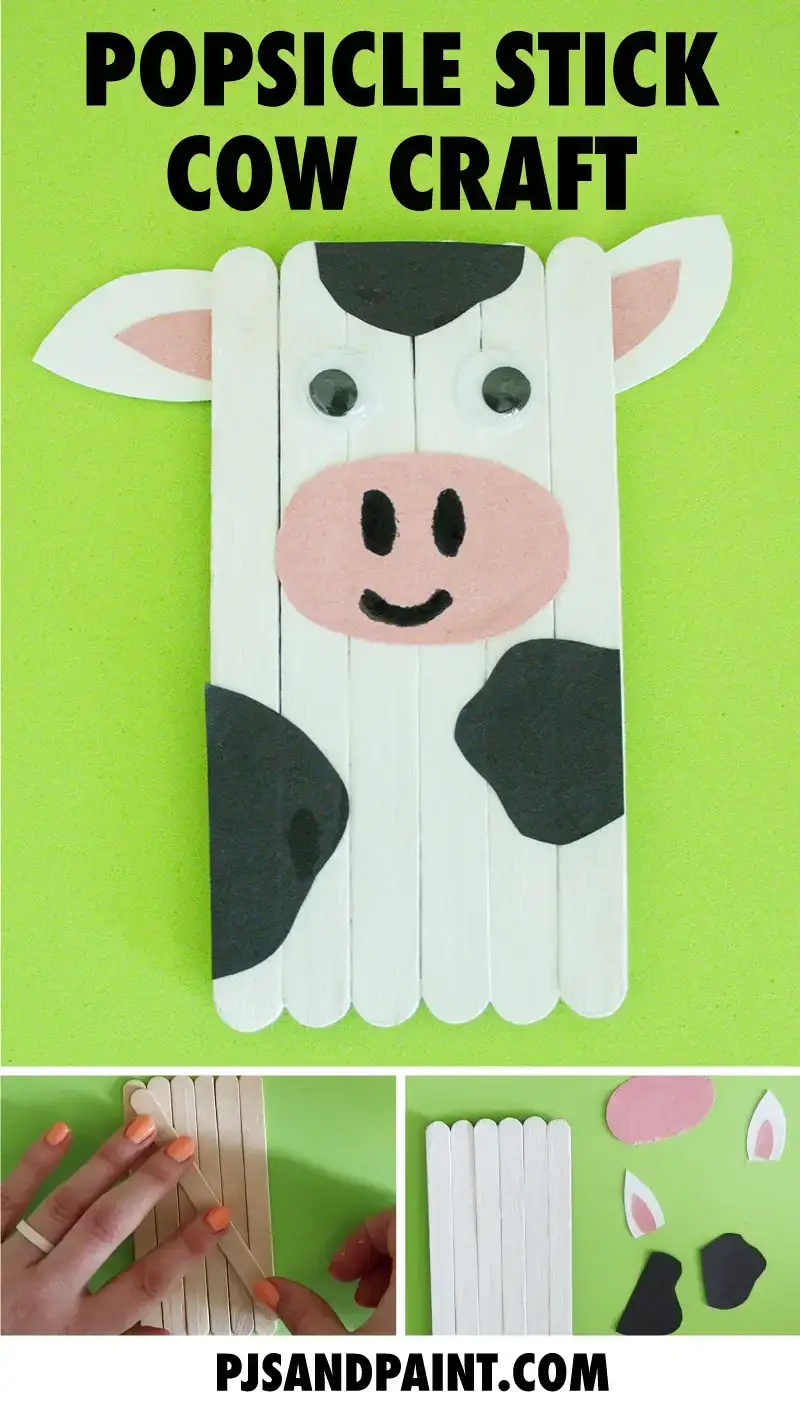 Do you believe popsicle sticks are one of the most useful crafting materials?
Popsicle sticks are used in a variety of activities, including fine motor tasks and even cooking and baking!
Today, do this simple popsicle stick cow craft with your kids using your stack of popsicles!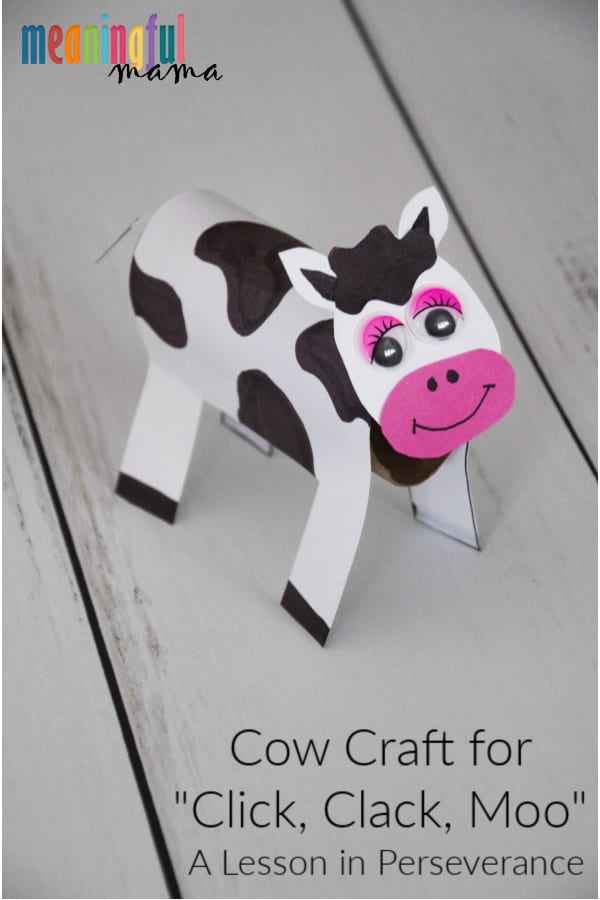 28. Cow Craft for 'Click, Clack, Moo" Lesson on Perseverance
What a fun way to mix crafts with learning about virtues, right?
This cow project was our follow-up activity after learning about perseverance.
Visit the website to learn more about the lessons that this project will teach you and your children.
How many 3D crafts have you done with your children?
Put this 3D paper cow craft on your list of crafts to complete this week.
My daughters fell in love with 3D crafts after discovering that they weren't so difficult to make after all!
30. C is for Cow Craft: Handprint Cow Craft
What kinds of crafts are always a hit with your kids?
My girls love handprints!
They love tracing or stamping their hands in paint.
Make this craft as soon as possible if your kids enjoy fun handprint art and you're studying about the letter C or cows this week.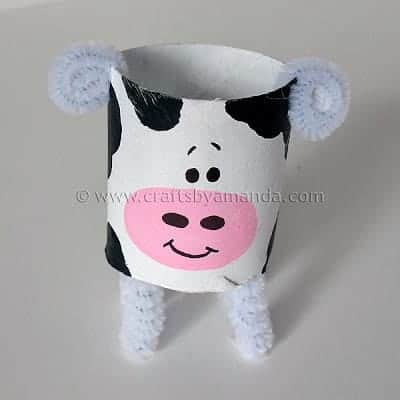 31. Cardboard Tube Cow: The Farm Series
If you believe you should throw away your cardboard tubes, think again!
Cardboard tubes make fantastic crafts, such as this cardboard tube cow.
Not only does it encourage our children's creativity, but you can use them as house decorations!
What do I enjoy most about working with clay?
It is forming it into a variety of shapes and forms.
Check out this website to learn how to create your own clay cow because it's also a great fine motor activity for our kids!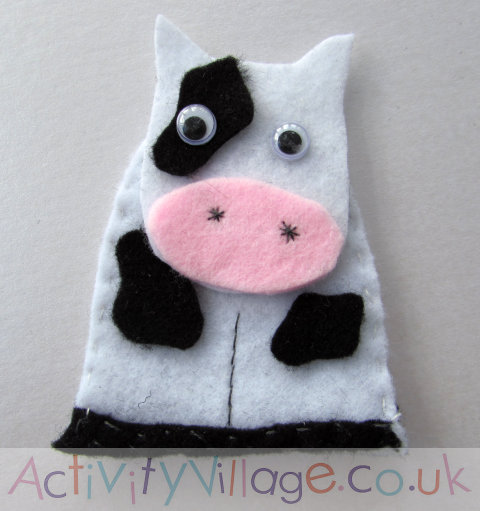 Don't you think finger puppets are great as props for reading and circle time?
I spotted this cow finger puppet when hunting for a prop to use during our circle time farm-themed activities.
Making it is ideal for kids to learn how to sew and develop their fine motor skills.
Are you organizing a farm-themed party or day at your house or school?
This simple cow project will be a perfect addition to your party decorations!
The best thing is that kids may make the craft and use it to fill their favorite drinks at the party.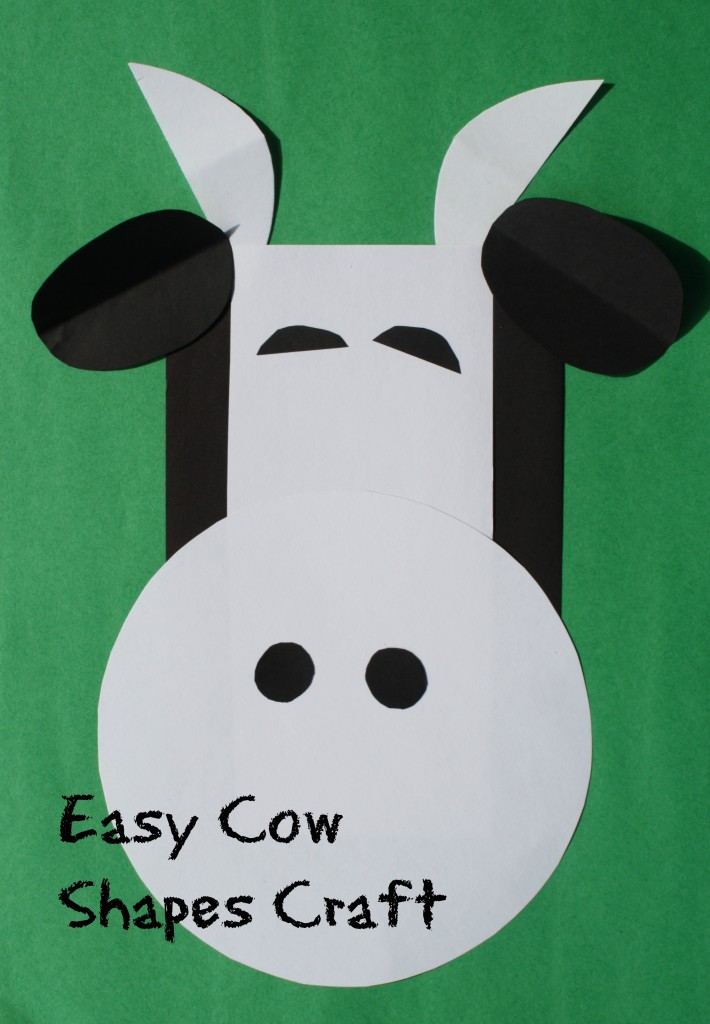 35. C is for Cow: Shapes Craft
A craft that combines a letter, an animal, and shapes?
I mean it!
This C is for Cow includes a number of learning themes, including the letter C, the cow, and various shapes.
You may integrate this not only in arts and crafts but also in math exercises to learn about forms and shapes!
What do I like best about these kid-friendly crafts?
Children can work at their own pace and according to their own techniques.
This spotted cow activity allowed my daughters to make any kind of spots they wanted on their cow crafts.
This allows kids to be independent while also following simple directions.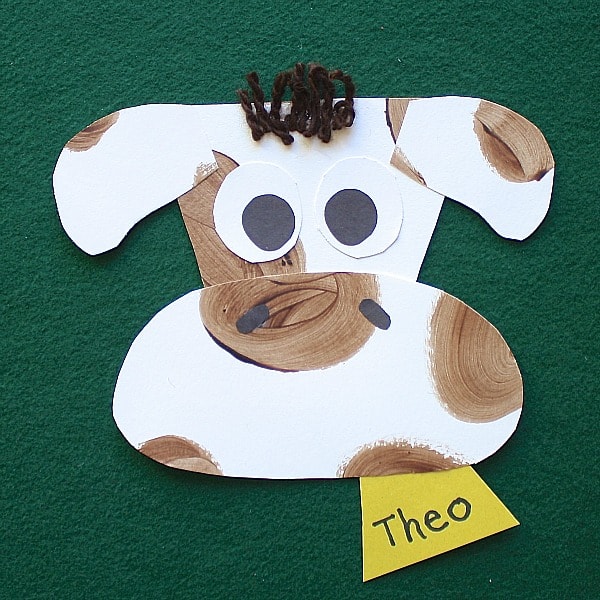 37. Farm Animal Craft for Kids – Cute Paper Cow
Looking for a cow craft that uses only 4 basic supplies?
It's right here, so there's no need to look elsewhere.
To get started, you'll only require construction paper, paint, glue, and scissors.
Simple and highly practical!
38. Paper Plate Cow Craft for Preschoolers and Kindergarteners
Combining a preschool and kindergarten class for a farm animal unit lesson plan?
This paper plate cow project is perfect for both classrooms!
There is a free cow template included with it, which you can download and print for each student in your class.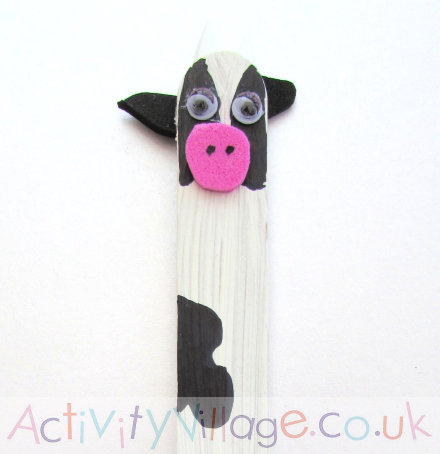 Did you know you can make a bookmark out of craft sticks?
I was also surprised to learn how to make one in this cow bookmark craft.
This would also make a great gift for someone close to you who enjoys reading!
40. Cow Toilet Paper Roll Craft for Kids
In my opinion, a fun cow lesson calls for a fun craft to go along with it!
Making this craft out of a cow toilet paper roll with my kids was so much fun.
You can only imagine how many of these crafts we were able to create since we had so many paper rolls!
Who doesn't incorporate cows into farm activities?
Not me, though!
This cow craft is useful if you don't want to spend a lot of time getting ready for your farm-themed crafts.
It's as easy as print, color, cut, and paste!
42. Chick-fil-A Cow Day (Paper Plate Cow Masks with Free Printables)
Did you know that Chick-fil-A hosts a yearly event called Cow Appreciation Day on the second Tuesday of July?
Awesome, right?
Make sure you make and wear your paper plate cow masks the next time you go to Chick-fil-A for this event!
Looking for a simple cow craft with a free template to make before your farm visit?
Check out this kid-friendly easy cow project!
If you enjoy no-prep crafts, put this on your list right away!
44. Easy Paper Plate Cow Craft
Paper plates not only create great crafts, but they also make the cutest decorations, don't you think?
We recently did this easy paper plate cow activity, and my kids enjoyed it so much that they put it on their doors as a decoration.
Create your own today with your children!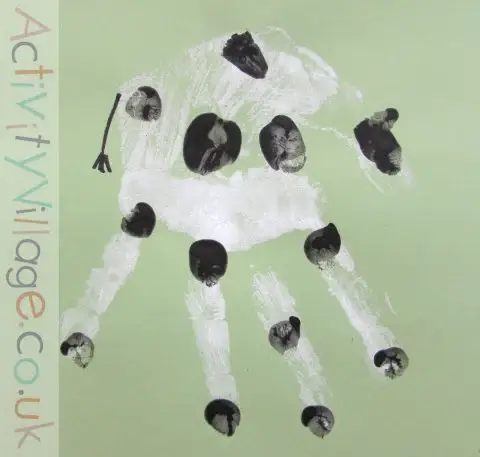 Do your kids not mind getting a little muddy during their art projects?
They'd also like making this handprint cow craft!
Parents are welcome to participate in this fun activity by making various sizes of handprint cows!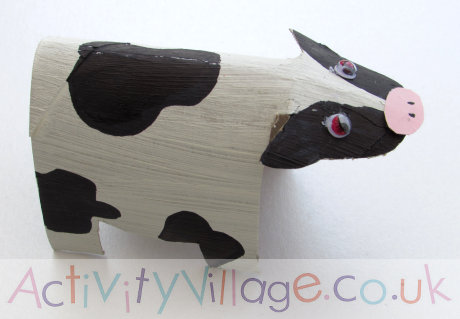 Who would have guessed that a toilet paper roll could resemble a cow?
Check out this toilet paper cow project to believe it.
This is why I keep as many toilet paper rolls as I can since they can come in handy for arts and crafts like these!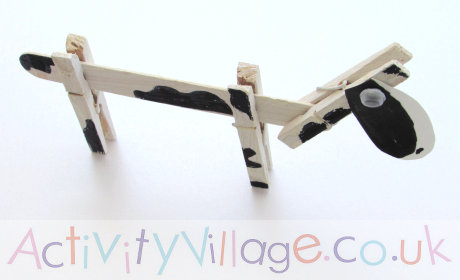 Wooden clothes pegs can be transformed into a cow.
Develop your imagination and creativity by producing this craft for the peg leg cow activity!
Don't worry, only 3 wooden clothes pegs are all that's needed.
Have you ever tried crafting a project out of different sizes of paper plates?
I didn't know that paper plates came in such big and small sizes, and they made the greatest crafts until recently.
Like this paper plate cow, for example.
If you have these kinds of paper plates, go to the website and read the complete article to learn how to make one today!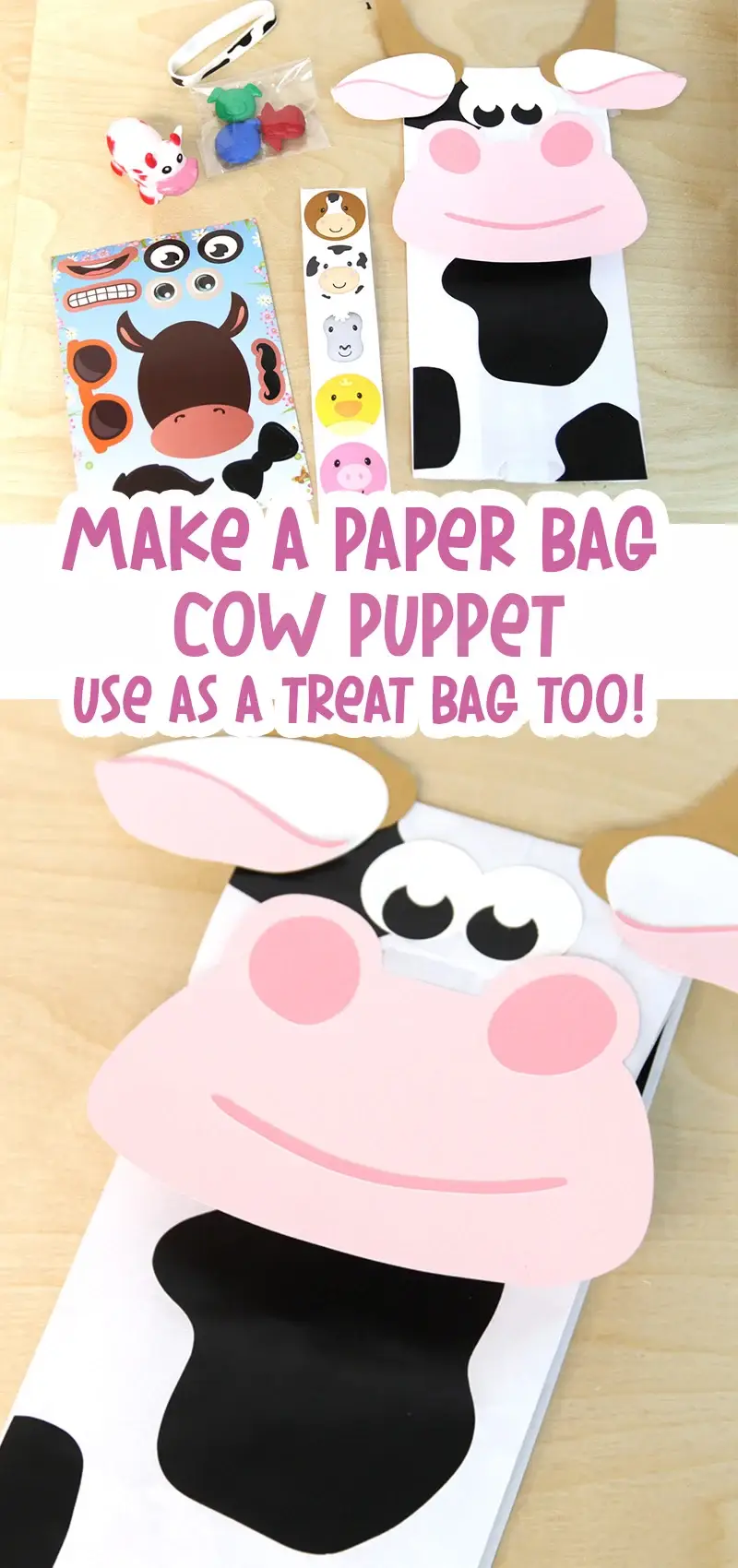 49. Cow Paper Bag Puppet and Favor Bag
Getting ready to throw a party with a farm or cow theme?
Include this cow paper bag puppet craft, which can also be used as a favor bag.
You won't have to buy anything if you can make your own favor bags with your children!
Setting up a farm-themed coloring nook for your children?
Print and place this cute cow coloring page in your corner.
You can pair it with your children's favorite coloring materials, such as crayons and markers!
Now, it's time to mooooove on to your own creative adventures!
We hope you like these "moo"-velous cow crafts and activities!
As we wrap up this crafting journey, we'd love to see your masterpieces.
We would be honored to feature your family's artistic endeavors.
Who knows, your work might just be the next Simple Mom Project star attraction in our coming feature.
So, don't be shy!
Share it with us via email.
Until then, keep moo-tivating and crafting! 
When you have finished, be sure to share your creation on Simple Mom Project's Facebook Page and follow me on Pinterest!

Kaitlen D.