If you use our easy to make community helpers paper bag puppets, you can be sure you're in for a fun-filled week!
We make sure that kids have a great time learning about these amazing community helpers by having them construct their own paper bag puppets.
Get to know the people who play a significant role in the construction of our community.
All of our printable community helper puppets are perfect for puppet shows and preschool lesson ideas.
Improve their hand-eye coordination and fine motor skills.
Learn about their duties and importance in our community by with this construction worker puppet template.
Include this printable construction worker paper bag puppet template if you're having a community helper theme at home or school!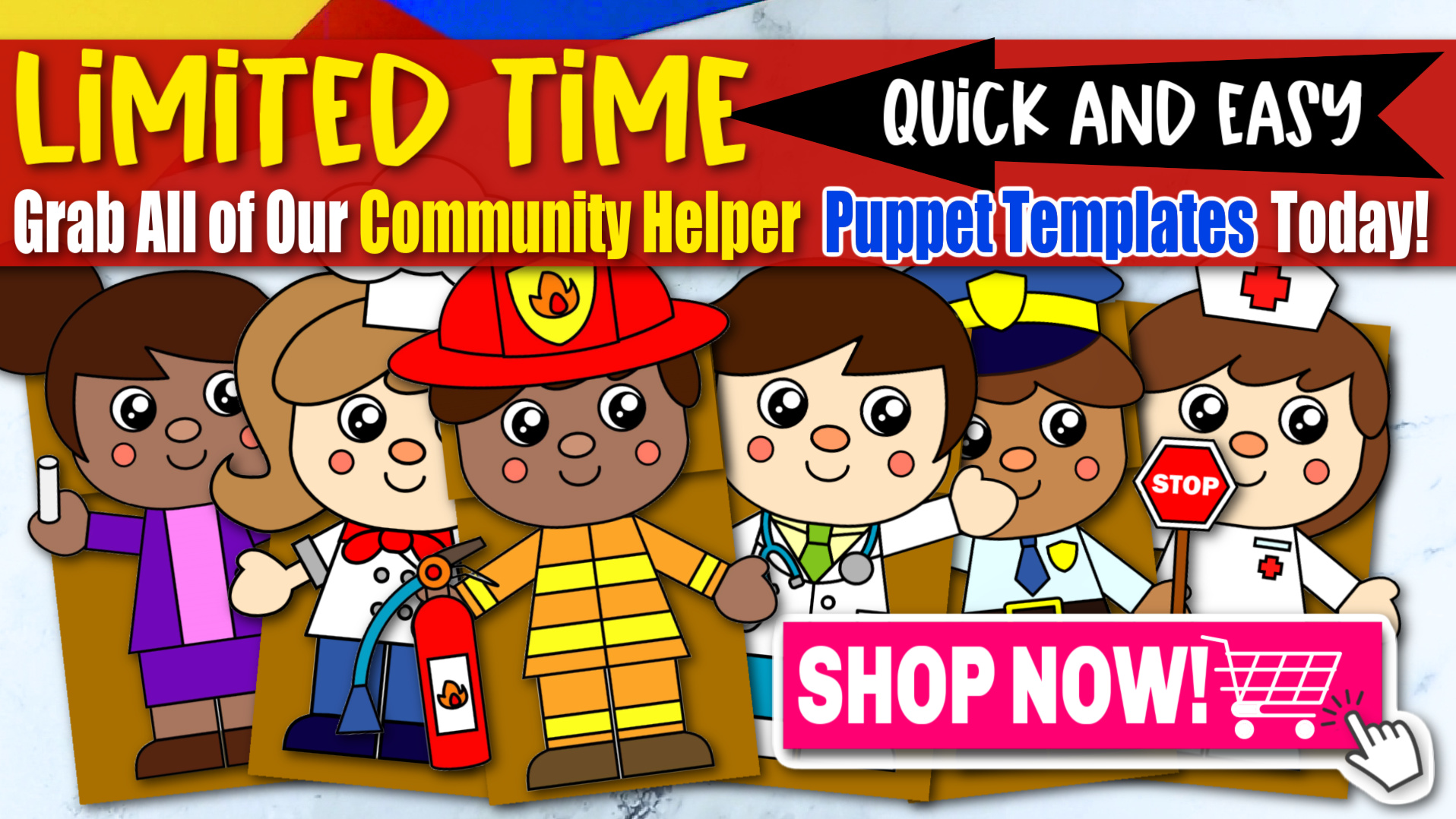 *By the way, this post may contain affiliate links which means I may receive a small commission at no additional cost to you if an item is purchase through that link. For more information, click here.*
Printable Construction Worker Paper Bag Puppet Craft

Construction Worker Craft Supplies Needed
Ideas for Easy Preschool Paper Construction Worker Craft
We've got you covered with preschool-friendly activities!
We've come up with some fantastic ideas for using this construction worker paper bag puppet in your routines.
These ideas will make your preschool craft activities more exciting!
Enjoy including these ideas in your lesson plans!
1. Best Construction Worker Collectibles for Children
Thinking of a creative approach to get children excited about learning about these skilled construction workers?
It would be a terrific idea to transform your child's room or classroom into a construction site!
We have gathered some of the best children collectibles featuring construction workers.
All the little ones who aspire to work in construction someday will love these collectibles as well.
If your children have never met a construction worker, reading a book about one would be great!
Allow your children to dress up as construction workers and play with action figures with their pals.
These collectibles are sure to bring out the best in your child's creativity and imagination!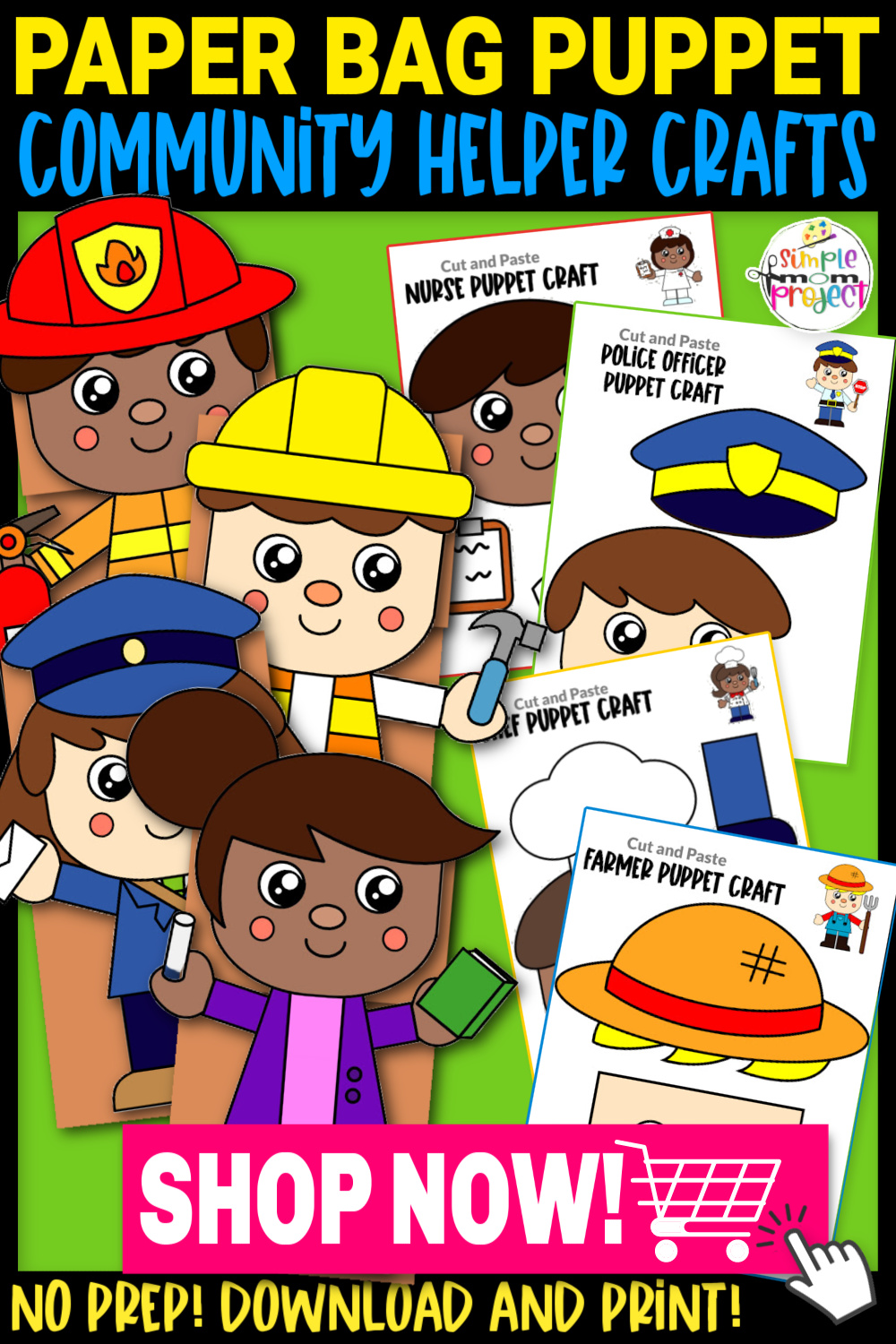 2. Community Worker Dress-Up Day
Have you asked your children what they hope to become when they grow up?
Allow kids to choose who they want to play and dress up as in this printable construction worker paper bag puppet idea!
This activity is ideal for preschool events as well as costume parties.
Use all of our community helper paper bag puppets as a guide for what costume to wear on dress-up day.
Let your kids be whoever they want to be!
They can put on a costume to look like a mailman, a chef, a doctor, a nurse, a construction worker, and more.
Ask the children to introduce themselves as the community helpers they are.
Give them the opportunity to perform the roles they are portraying.
You'd be amazed to see all of these kids and their dreams for the future.
During the activity, you can also have them work on their preferred printable community helper puppet template.
3. Visit a Construction Site
Have you ever passed by a construction site?
What can you say about all the big trucks and equipment used there?
Kids who work on this printable construction worker paper bag puppet template will surely be inspired to visit a construction site!
This printable construction worker paper bag puppet template idea would be a fun field trip activity for your preschoolers.
By taking the kids to the workplaces of these incredible construction workers, you may help them learn more about them.
Construction workers play an important part in the development of many infrastructures in our community, and they deserve to be recognized.
If there are no construction sites near your school or home, you may always improvise!
Set up a construction site in your backyard or classroom.
Display some large cartons and construction vehicles together!
You could also use paper bag puppets to represent construction workers on your own DIY construction sites!
4. Construction Worker Puzzles
Did you know that you can use this printable construction worker paper bag puppet template to create a fantastic puzzle?
Construction workers are excellent builders, just like all the children who aspire to be one someday!
Use this construction worker puppet template to create a puzzle game for your math lessons.
You can play this puzzle idea in groups or in pairs.
Having the kids fit the pieces of the construction worker together would make for a fun game.
Whoever finishes the construction worker puzzle first wins the game!
We hope you'll use these ideas in your future lesson plans!
These creative ideas will surely make learning about community helpers more fun and engaging for all of the children.
All these ideas will guarantee that your family time is a blast, so you won't have to worry about your weekend plans!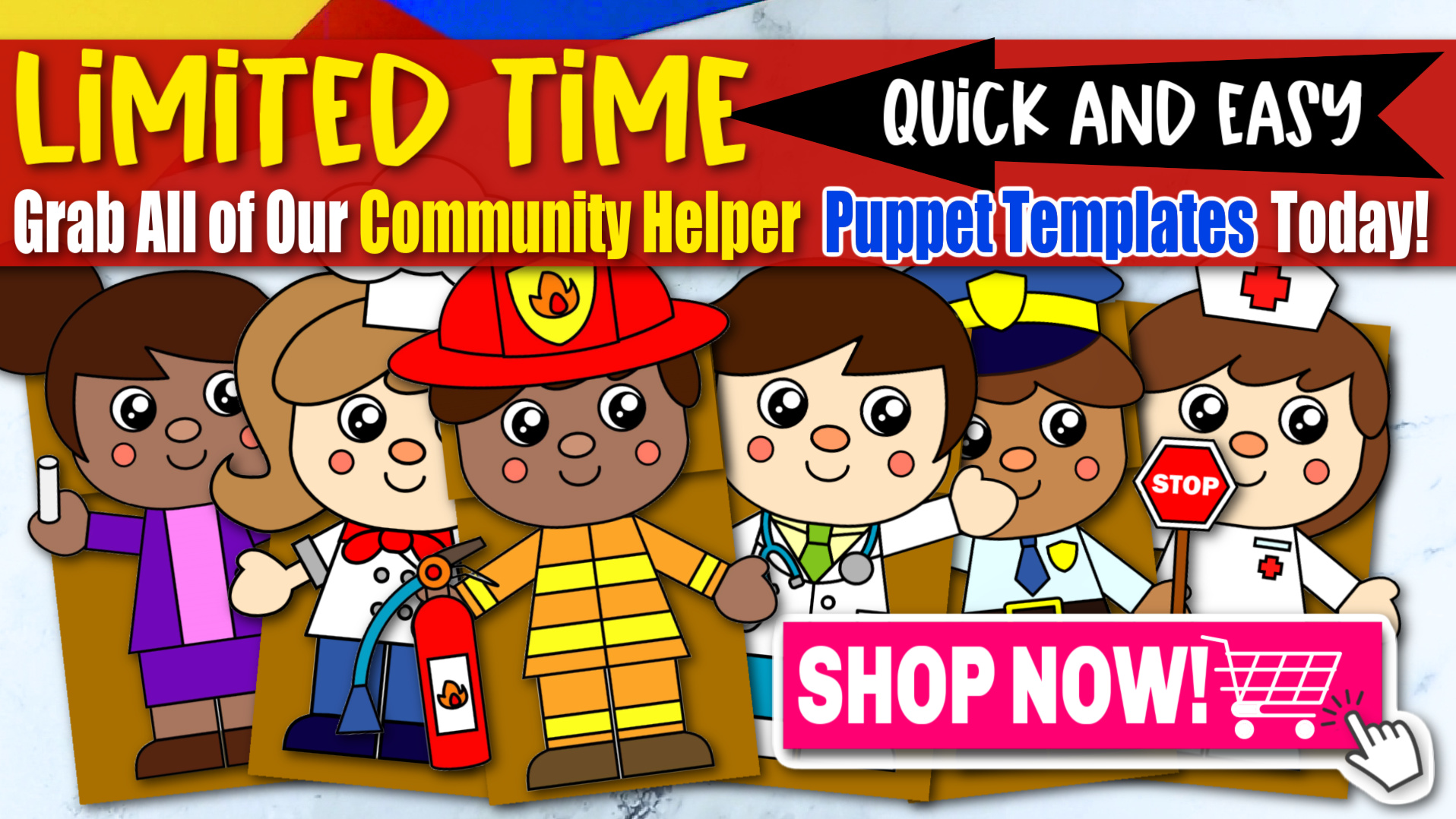 Construction Worker Paper Bag Puppet Instructions
Check out these simple step-by-step instructions to make your construction worker puppets after you have all your materials ready.
Allow your children to express their artistic ability by coloring the plain black and white construction worker template.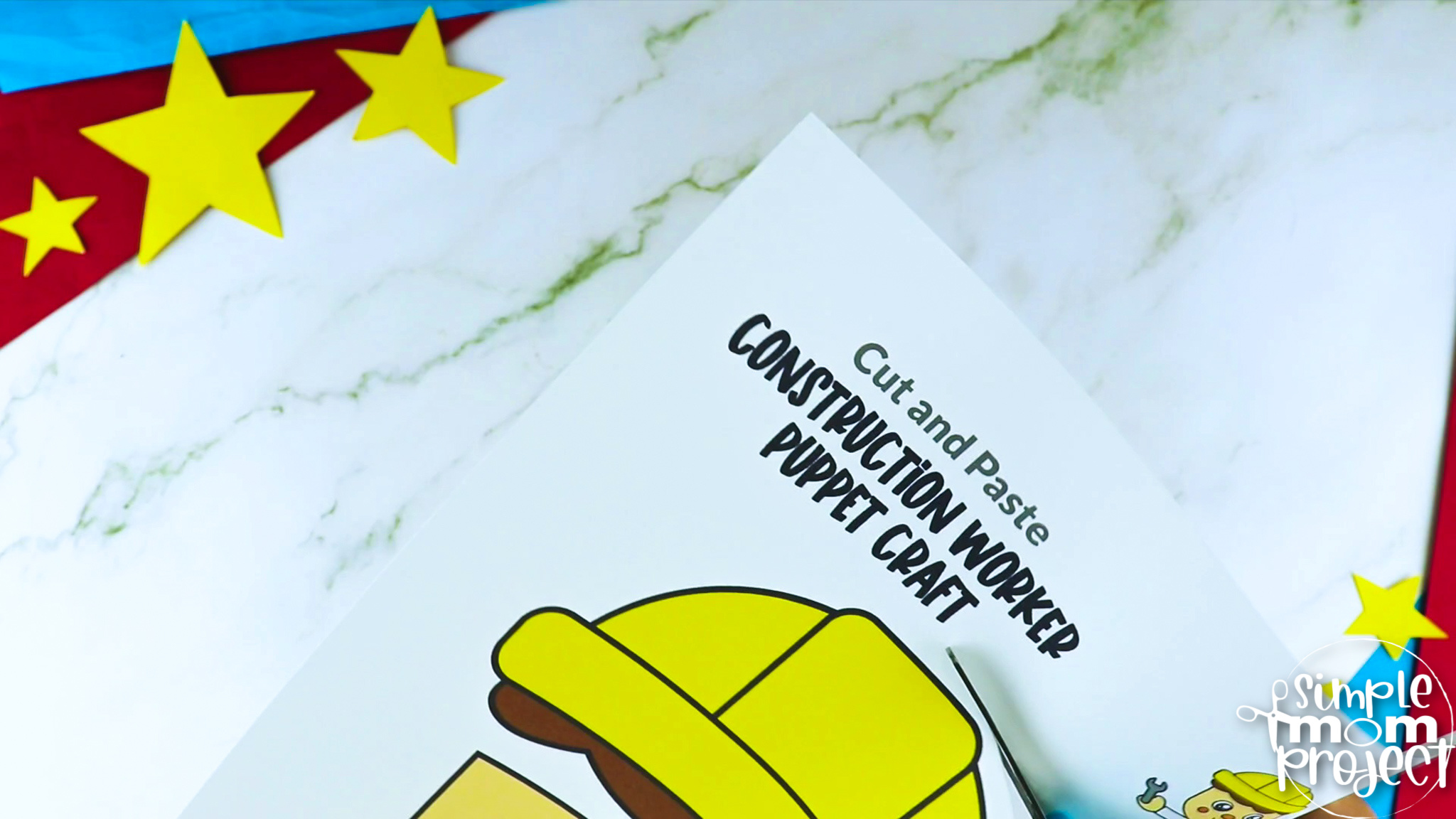 Cutting the pieces out one at a time is a great way for kids to improve their fine motor skills if they chose the colored template.
Attaching the head and body to the brown paper bag's folded edge will serve as the foundation for your diy puppet.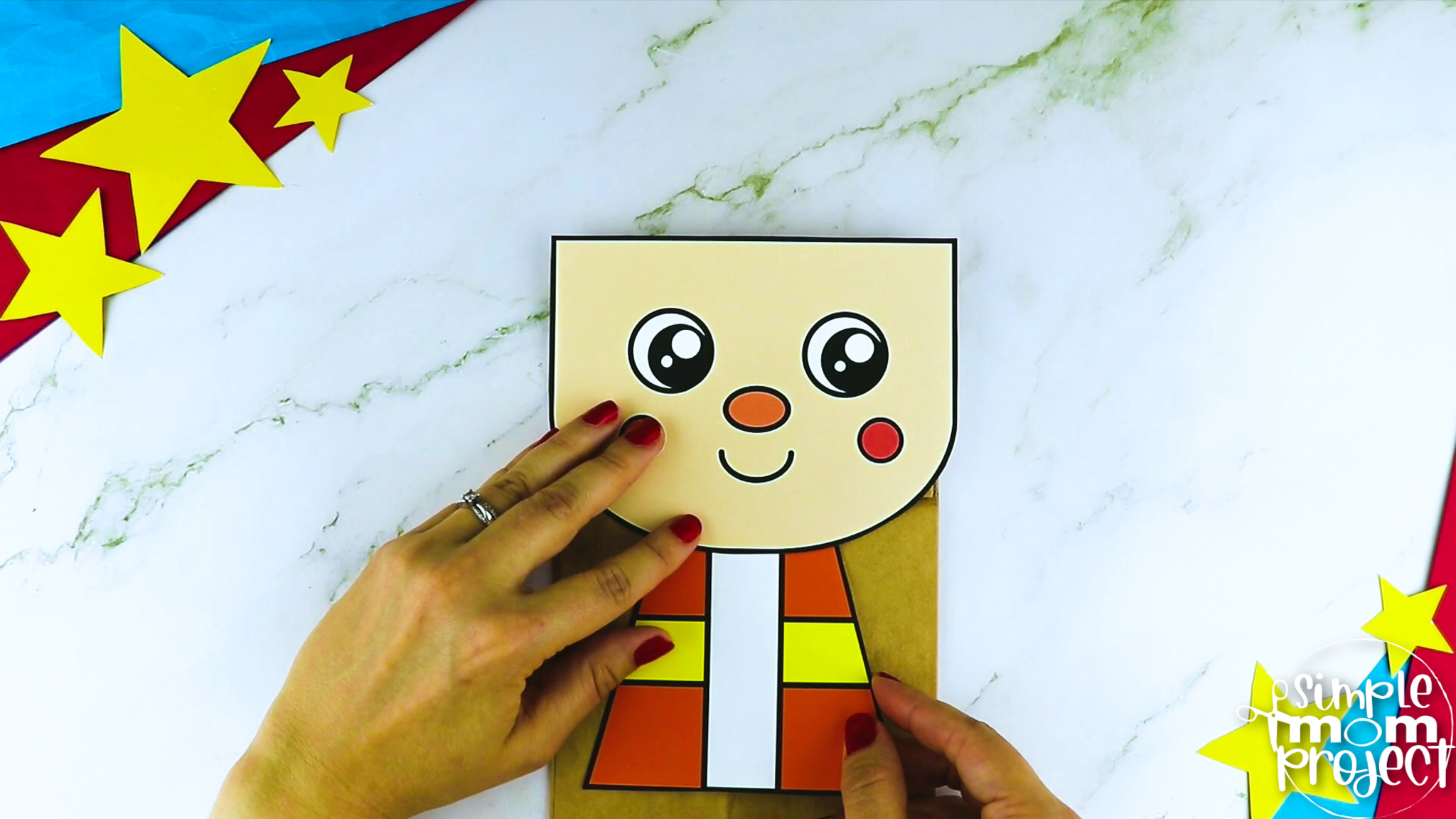 Place the construction worker's yellow safety helmet on his head.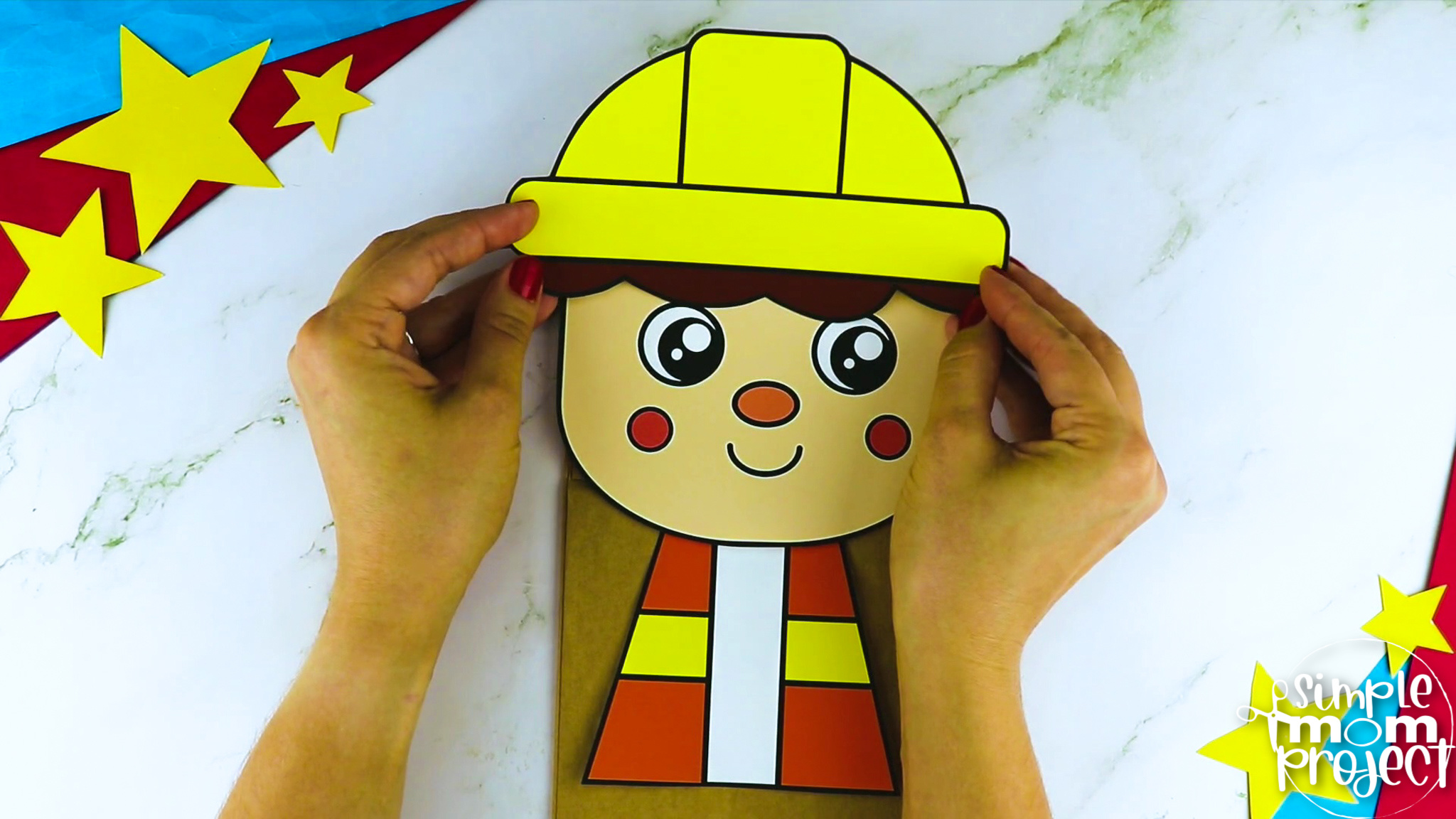 Now place the legs of the construction worker below its body.
The construction worker's arms should be positioned on both sides of the body.
Finish the puppet construction worker by attaching the tools to both of its hands.
What a magnificent puppet you've made of a construction worker that's now prepared to build at the site!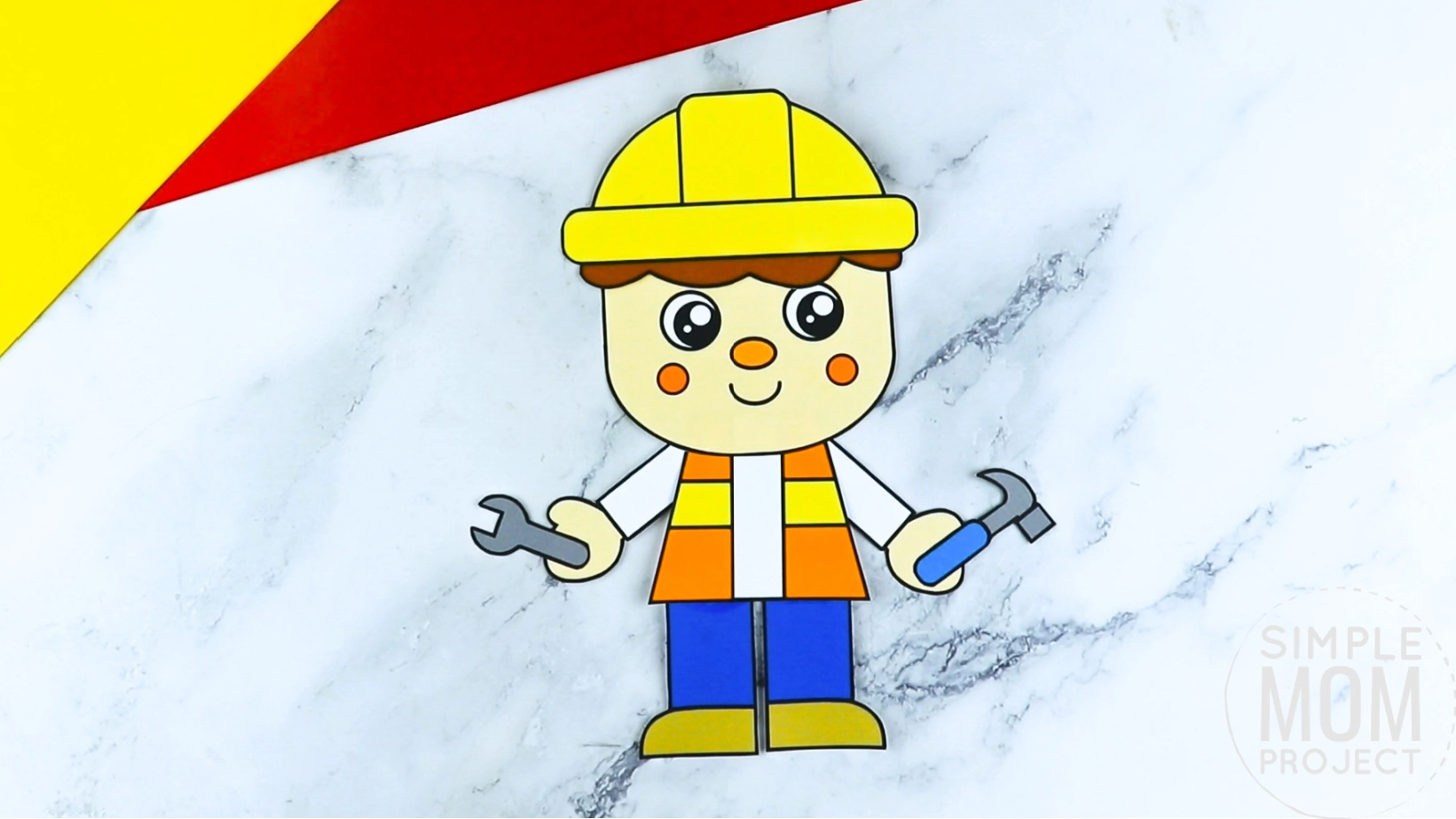 More Options to Choose:
You can print the blank version and trace the cut outs on card stock paper for a sturdier construction worker paper bag puppet craft,
Print the construction worker template in color for a simple and easy rainy day craft or,
Print the blank construction worker template and use it as a fun coloring sheet activity and then glue the pieces of the construction worker craft together.
Printable Construction Worker Paper Bag Puppet Template
Do you want to make your community helpers learning plans more engaging for your preschool and kindergarten kids?
It's always a good idea to incorporate arts and crafts into your lessons.
We created a construction worker paper bag puppet craft for all the kids that want to be construction workers someday and enjoy building!
This community helper puppet template is made to seem like a realistic construction worker and is very easy to make.
Making their own paper bag puppets gives kids the ability to develop in a variety of ways while having a great time.
Cutting and assembling the parts of a construction puppet helps them strengthen their fine motor and hand-eye coordination skills.
If kids wish to make more of these construction worker crafts, we have more templates for them!
We've created two different construction worker templates for them to select from: one that is plainly black and white and one that is colored.
This gives kids the freedom to create their own paper bag puppets of construction workers of their choices!
Need more community helpers puppet fun? Check out our packed list of paper bag puppets for simple craft fun with your little ones.  
When you have finished, be sure to share your creation on Simple Mom Project's Facebook Page and follow me on Pinterest!

Kaitlen D.
More Fun Printable Community Helper Craft Templates