Have your kids ever received a letter from the mailbox?
Or writing a letter to a special someone?
Do they know who delivers their letters?
They would definitely want to send and receive letters after using this printable mail carrier paper bag puppet template!
Spend some time creating this puppet to learn more about this volunteer in the community.
Mail carriers perform an important part in delivering our letters throughout the community.
And many of the kids hope to become one in the future. Encourage kids to make their own paper bag puppet mail carriers to fulfill their dreams!
They learn more about their favorite volunteer in the community while also gaining a lot of new abilities.
Working on this puppet craft improves hand-eye coordination, creativity, and fine motor skills.
Because we have many templates for kids, they can enjoy picking out their favorite mail carrier template! Include this printable mail carrier paper bag puppet template in your weekly home and school activities!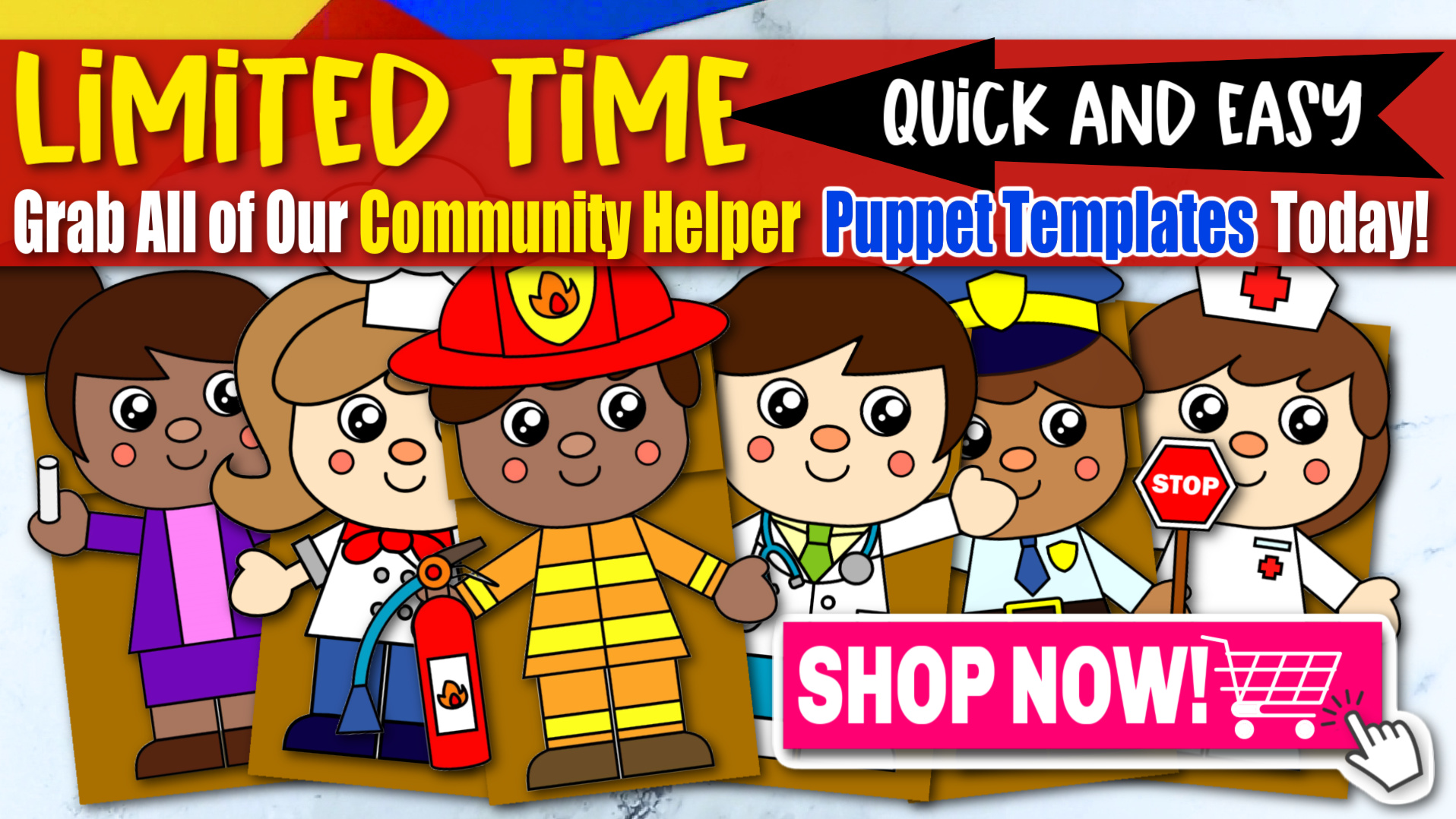 *By the way, this post may contain affiliate links which means I may receive a small commission at no additional cost to you if an item is purchase through that link. For more information, click here.*
Printable Mail Carrier Paper Bag Puppet Craft

Mail Carrier Craft Supplies Needed
Ideas for Easy Preschool Paper Mail Carrier Craft
Check out these ideas for ways to include this mail carrier paper bag puppet into your regular routines.
If you're seeking for new ways to liven up your community work week themes, these ideas will come in helpful.
You are welcome to incorporate them into your teaching for kindergarten and preschool.
1. Magnificent Mail Carrier Collection for Children
If you have little mail carriers-in-training, they may want more of these mail carriers once they finish their puppet crafts.
Kids can use the magnificent mail carrier items we've gathered for them in their activities at home and at school.
You can also utilize these learning materials to arrange your mail carrier curriculum for this week.
These mail carrier items can also be used to introduce the printable mail carrier paper bag puppet or to decorate your children's learning nooks.
Allow children to read books about mail carriers and engage in role-playing while dressing as one.
These should definitely be on your list of educational materials for your community helper themes!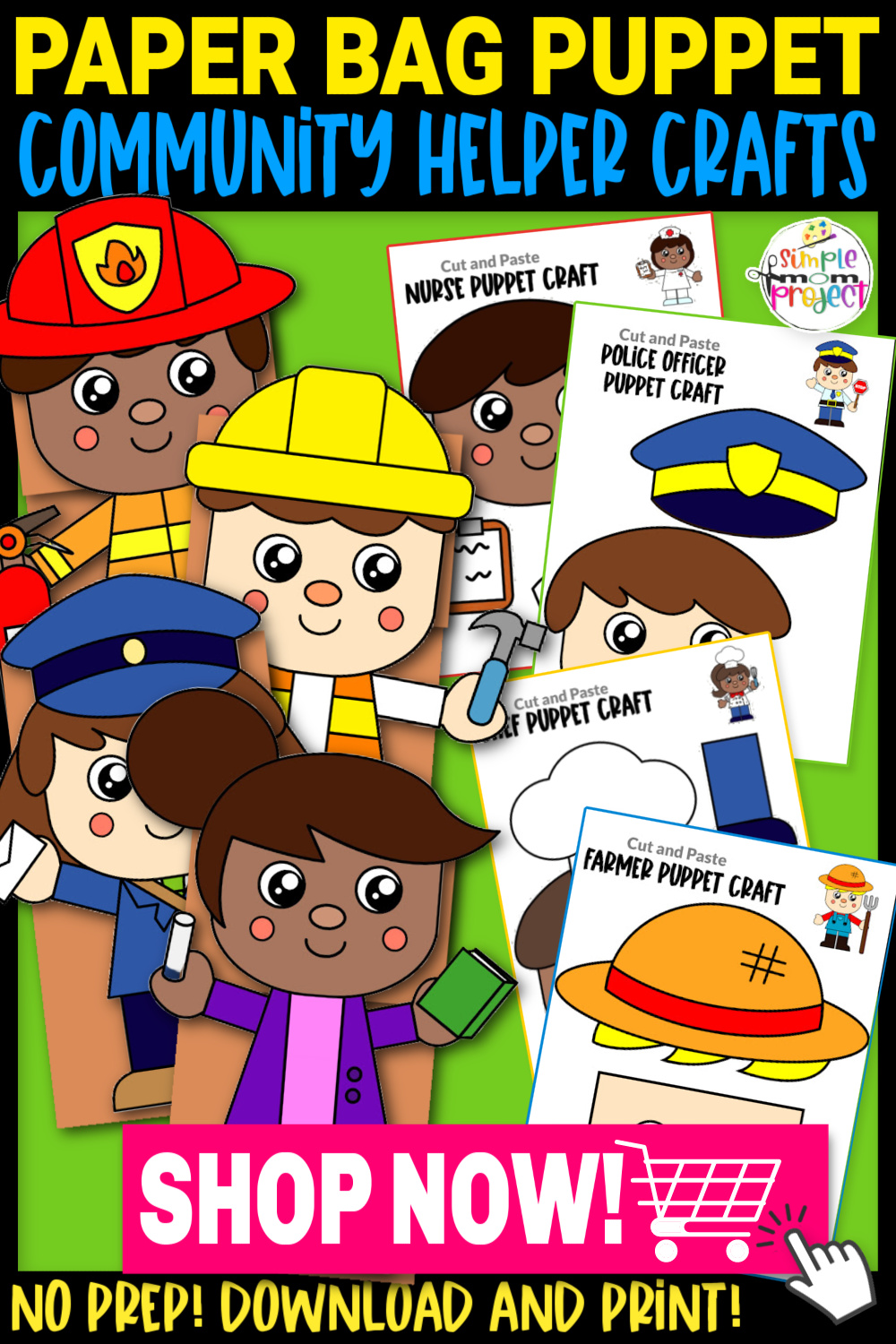 2. Community Helper Paper Dolls
Do your children enjoy pretend play?
This mail carrier puppet template makes an excellent play item for your community helper pretend play activities.
You may make a paper doll out of this printable mail carrier template in addition to making it into a puppet.
Kids can play it wherever they are, whenever they want, in this way.
This community helper paper doll is also very simple to make and requires only four materials!
You only need a copy of the printable mail carrier template, scissors, glue, and a piece of cardboard!
Cut the parts out after your mail carrier copy is ready.
On the cardboard, assemble the mail carrier pieces before cutting them out once again.
To make more of these paper dolls, you can print more copies of the mail carrier template.
Allow children to play with our collection of other community helpers as well!
3. Mailbox Craft
Matching this printable mail carrier paper bag puppet template with a mailbox craft would be a lot of fun.
Letters are delivered by mail carriers by placing them in mailboxes.
If you have a mailbox at home, you can use it as a model for your mailbox crafts.
By using shoe boxes or any other box you have at home, you can also teach recycling to your children using this printable mail carrier paper bag puppet template idea.
Make this mailbox craft using them.
The box can be decorated by painting it or by covering it with colored construction paper.
Let your children decorate it however they wish.
They can also add stickers, sequins, glitter, or other decorative pieces.
This idea can also be used to inspire little kids to make a mailbox craft as part of a preschool art project at school.
4. Mail Carrier for a Day
With the help of this printable mail carrier paper bag puppet template, kids will be encouraged to become mail carriers one day!
Why not give them the chance to be one while they are still young?
It is always nice to watch our children share their dreams with us.
It's heartwarming to see how much they value and appreciate all the community helpers.
Dress them up as a mail carrier and let them carry the mail for the day.
You can always improvise by mixing and combining different outfits if they don't have a postman costume.
They only need a vest, a hat, and a bag to hold all the letters they will distribute.
This is also a fun role-playing activity to do at home or at school!
Encourage kids to write their own letters as well, which they may then give to someone special in their lives.
They can also send a greeting message to their friends.
Once all the letters are ready, lead them as they distribute them by walking around the neighborhood.
This will provide them firsthand experience of what it is like to be a mail carrier, as well as their duties and responsibilities.
We hope you enjoyed taking notes on these ideas as much as we did sharing them with you!
You won't have to worry any longer about planning easy and simple activities for your community helper theme week at home and at school.
For more of these fantastic ideas for puppet crafts, keep an eye on our collection of community helper puppets!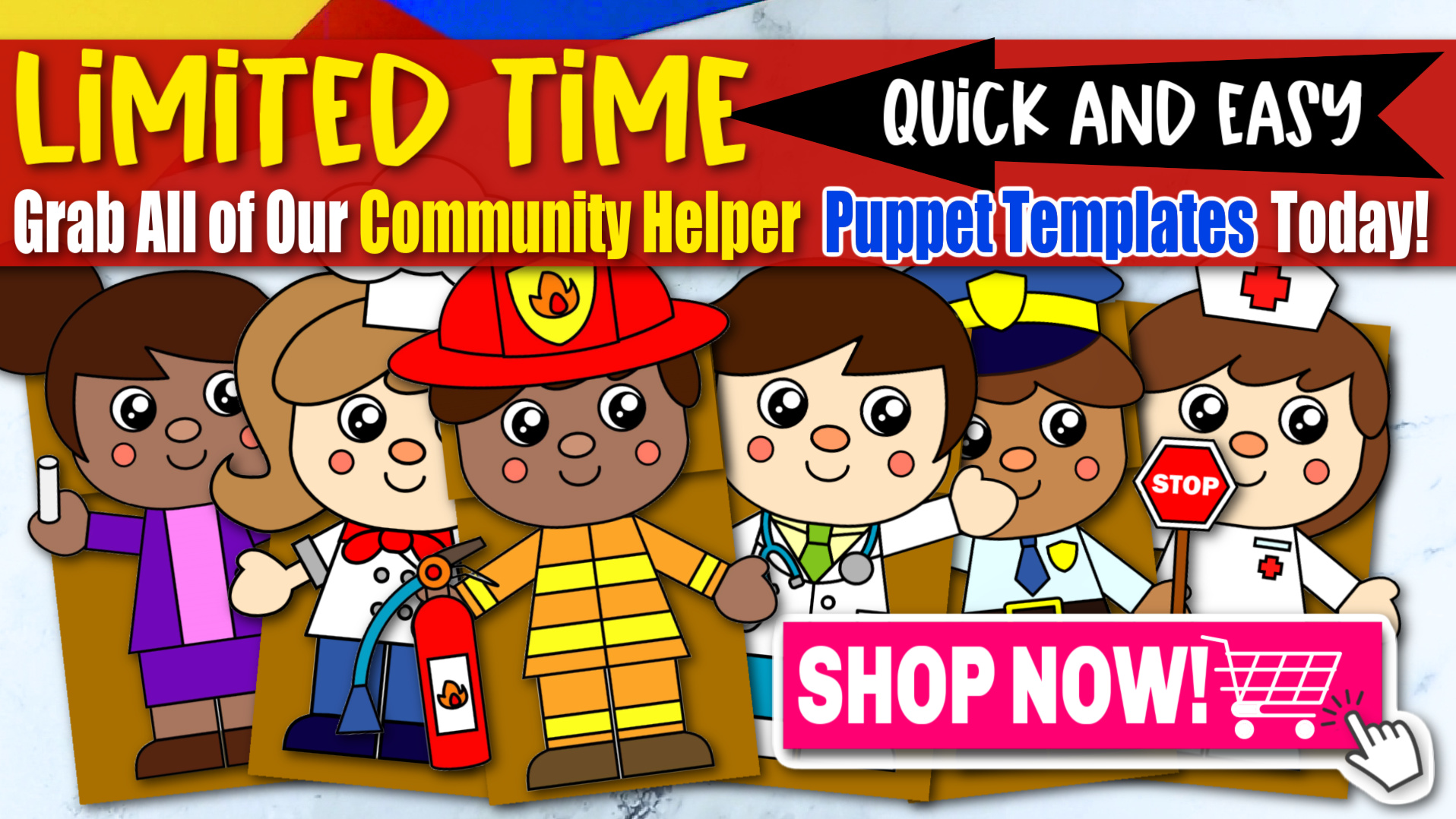 Mail Carrier Paper Bag Puppet Instructions
Once you have all the materials ready, don't forget to look at these simple steps.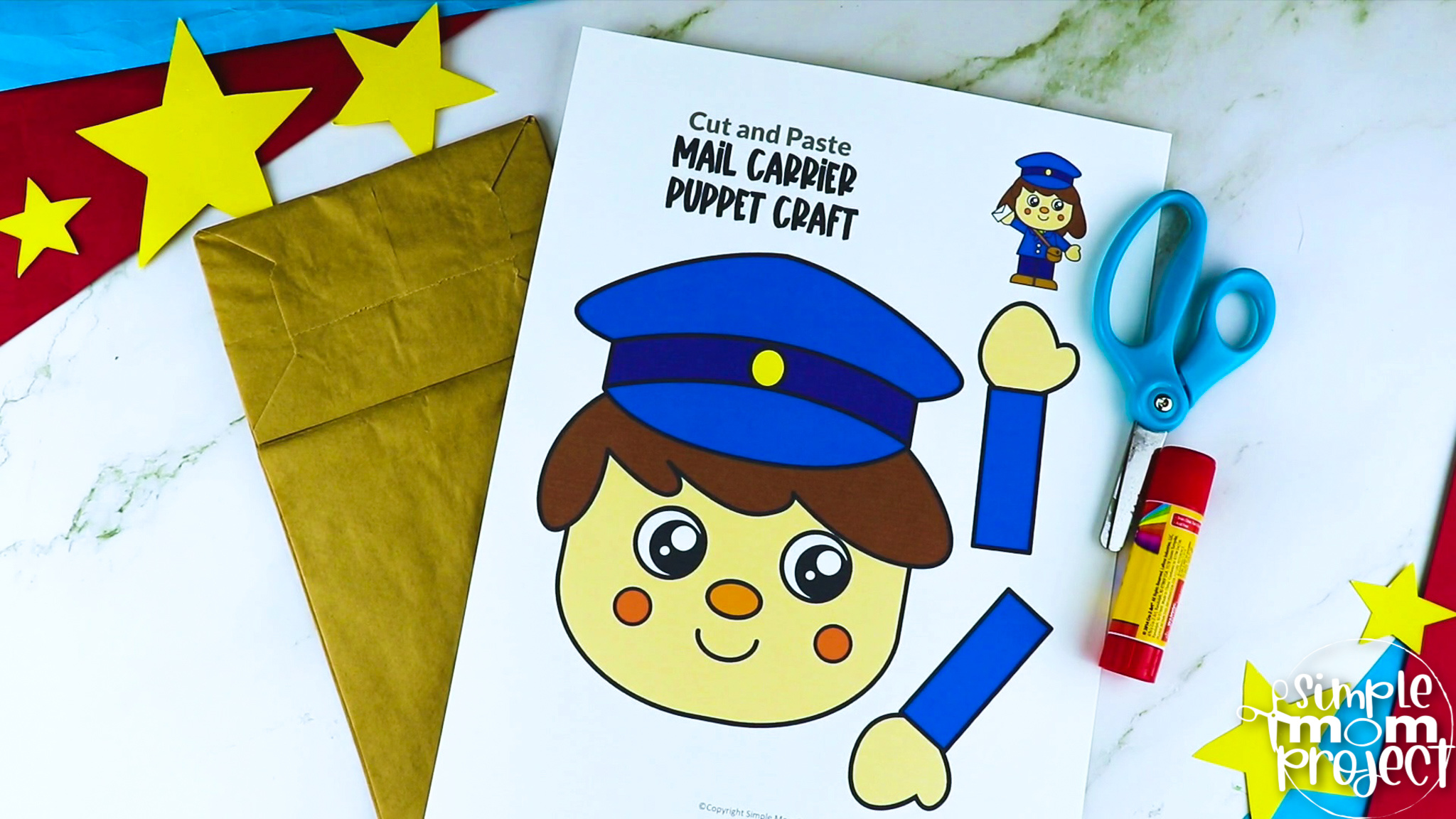 Guide your children in cutting the colored mail carrier template one at a time.
Use all your coloring materials to modify the plain mail carrier template.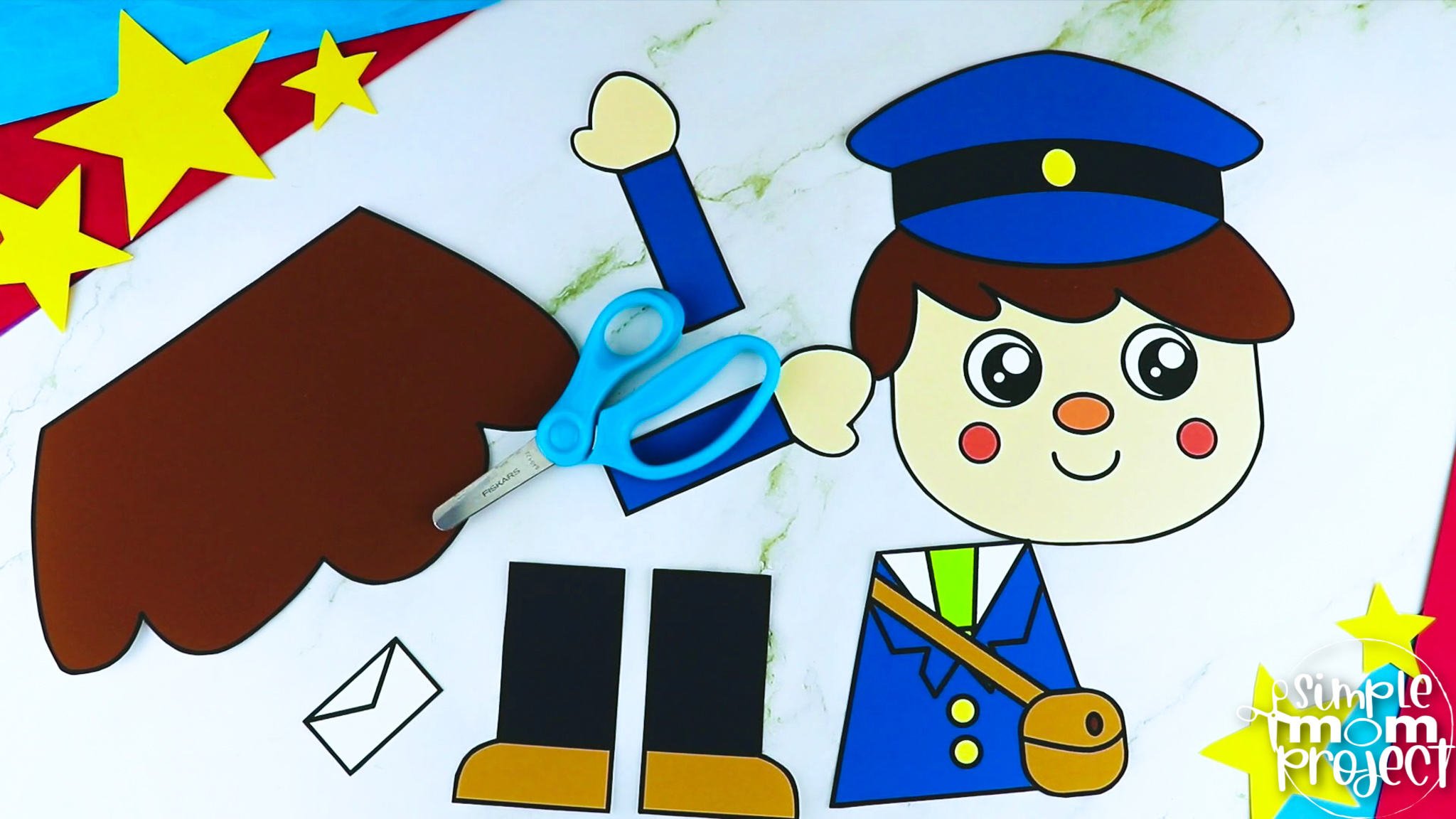 Start by placing the mailman's head on the brown paper bag's folded edge.
Next, attach its body beneath the head.
Its arms should be placed on both sides.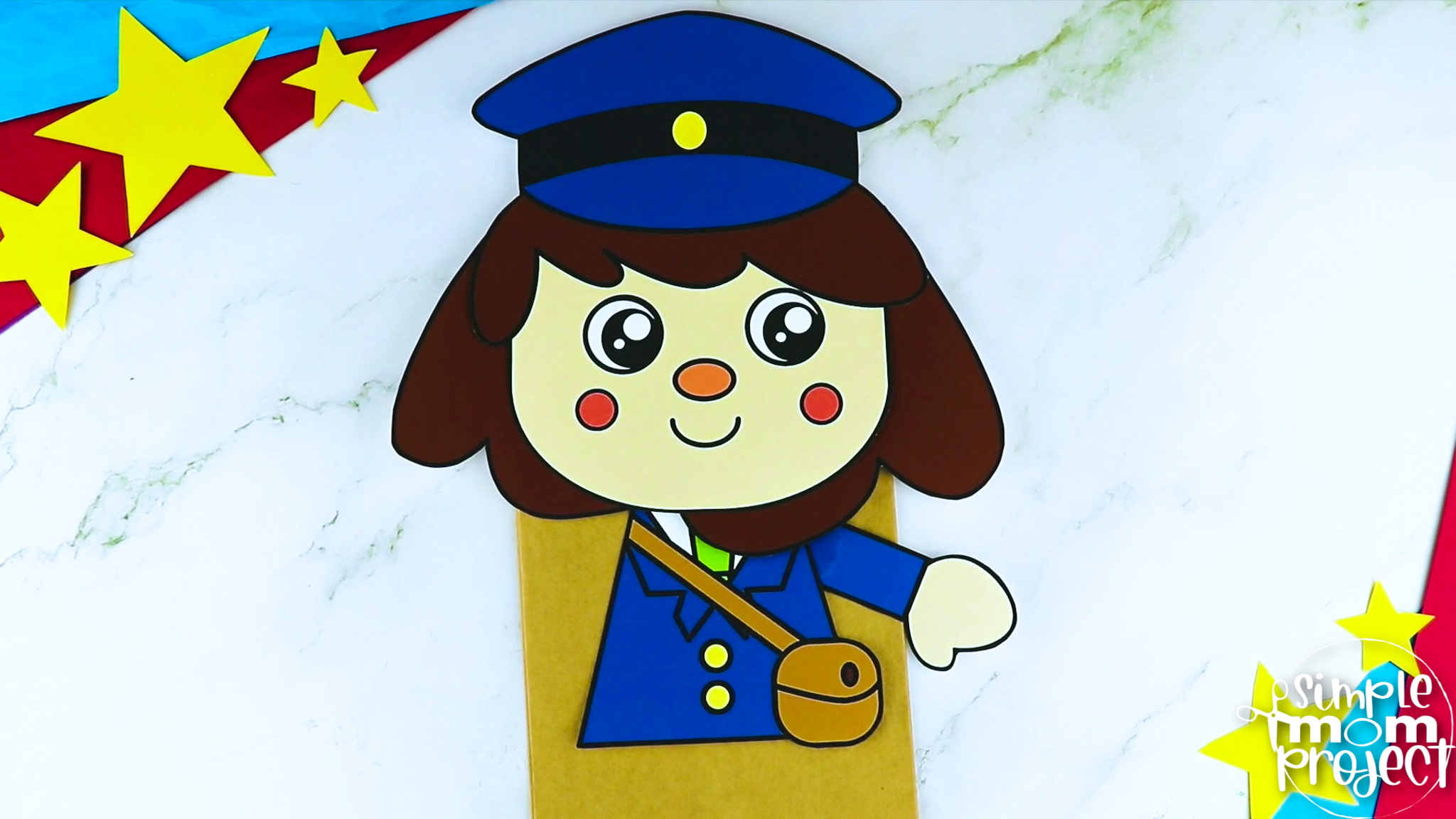 Attach the lower body next.
Don't forget to place the letter on one hand because mail carriers are experts at delivering letters.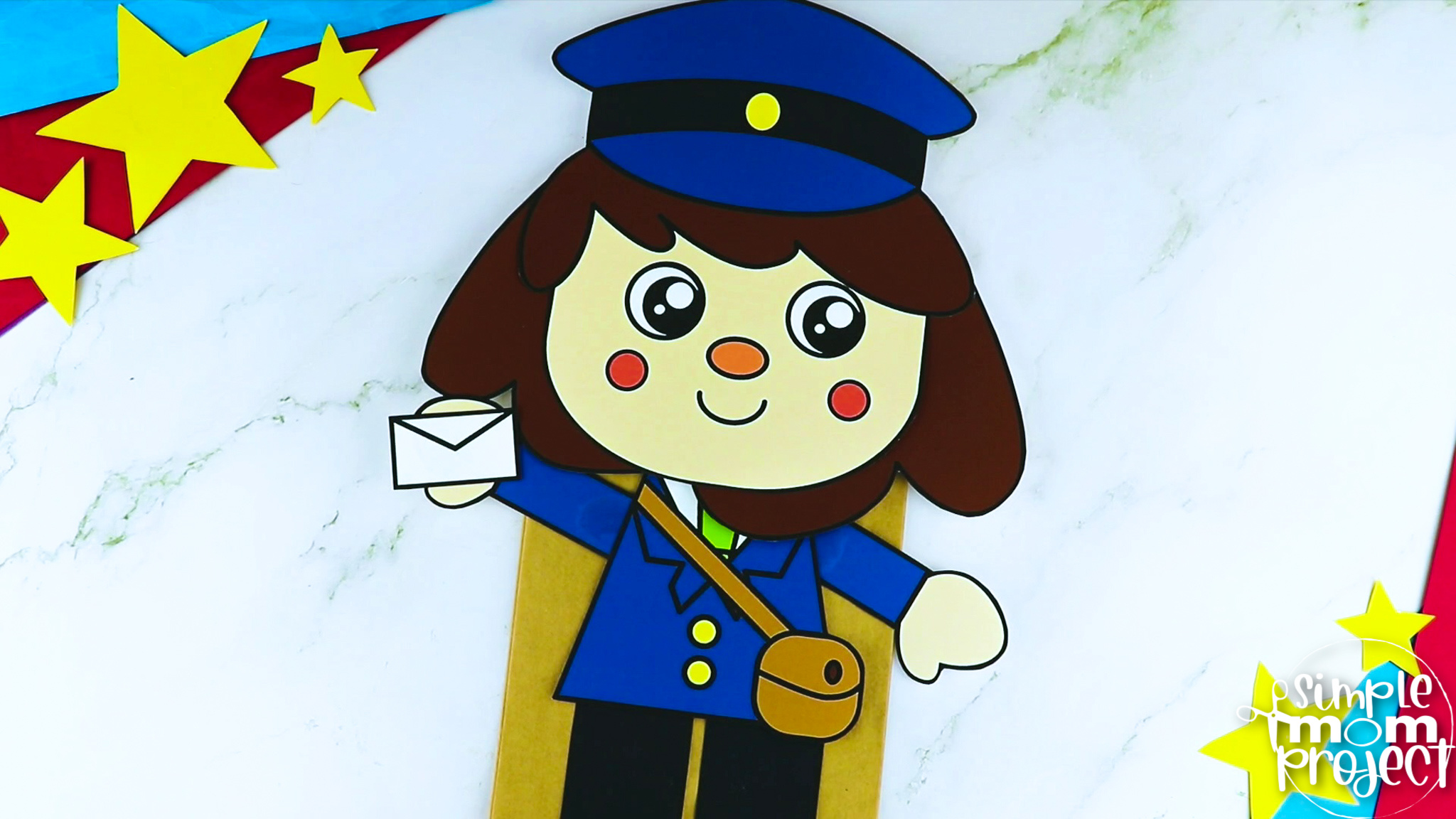 We know you're thrilled to be delivering letters with your magnificent mail carrier puppet!
More Options to Choose:
You can print the blank version and trace the cut outs on card stock paper for a sturdier mail carrier paper bag puppet craft,
Print the mail carrier template in color for a simple and easy rainy day craft or,
Print the blank mail carrier template and use it as a fun coloring sheet activity and then glue the pieces of the mail carrier craft together.
Printable Mail Carrier Paper Bag Puppet Template
This printable mail carrier paper bag puppet template is ready to receive your mails!
Have your kids create their own DIY mail carrier puppets using supplies like glue and scissors.
They will have a great time because this puppet craft is as simple as cutting and pasting!
With this mail carrier puppet craft, kids can do more than just showcase their artistic talents.
Children can work on their hand-eye coordination and fine motor skills by cutting and pasting the puppet craft.
This will encourage them to play role-playing games with their pals more often.
Allow your children to enjoy all of the templates we have available for them.
They can begin with either the black & white or colored mail carrier puppet templates.
There's no need to sweat about how to finish it because we've included easy instructions for building it!
With the help of this printable mail carrier paper bag puppet, let them role-play, dress up, and practice being mail carriers!
Need more community helpers puppet fun? Check out our packed list of paper bag puppets for simple craft fun with your little ones.  
When you have finished, be sure to share your creation on Simple Mom Project's Facebook Page and follow me on Pinterest!

Kaitlen D.
More Fun Printable Craft Templates