We have something ready for you and your children to use at home and at school throughout your transportation week.
This printable ambulance template is ideal for teaching about vehicles, transportation, and even the letter A of the alphabet.
It is made in black and white because we want it to be basic and easy to personalize however you like.
Make cardboard crafts, classroom designs, and coloring pages using this simple ambulance illustration.
Any activity you have prepared in advance with a transportation or vehicle theme would fit with this.
This week, learn more about this amazing emergency vehicle!
Print your copies right away and have fun using ambulances to plan your transportation-themed week!
*By the way, this post may contain affiliate links which means I may receive a small commission at no additional cost to you if an item is purchase through that link. For more information, click here.*
Printable Ambulance Template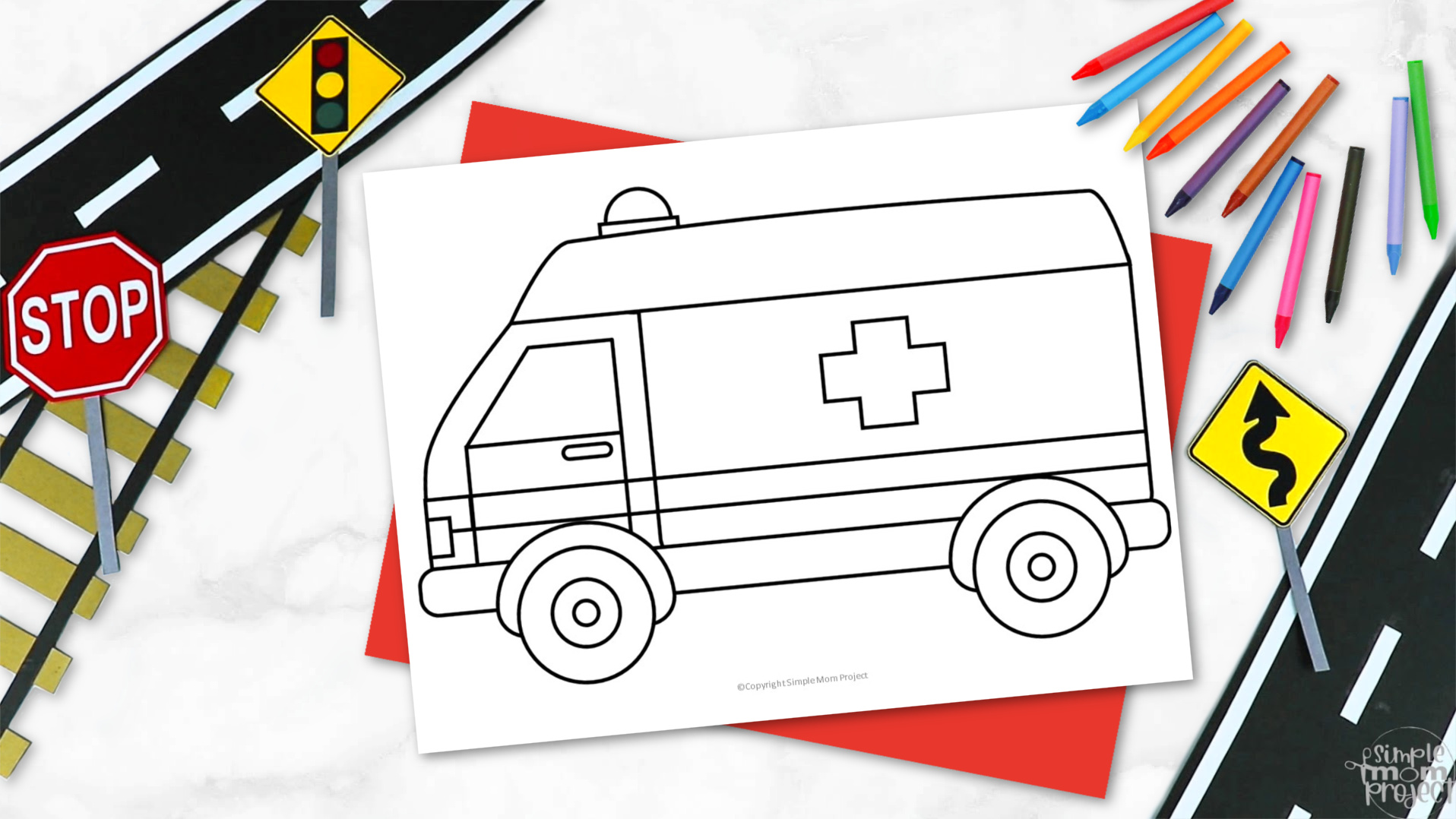 Ambulance Template Supplies Needed:
Printable Ambulance Template (FOUND AT THE BOTTOM)
Ideas for Ambulance Template
Along with the printable ambulance template, we've compiled a list of creative ways to incorporate it into your daily routines.
Please feel free to use any of these ideas as we wish to assist you in organizing your lesson plans.
All of these will certainly be entertaining and simple to put into practice.
As you continue reading, grab a pen and paper and make a note of these ideas!
1. Amazing Ambulance Learning Resources
You will need a list of learning materials to use when you begin planning your lesson ideas.
Aside from this printable ambulance template, we'd like to share these materials that would match it nicely.
You could plan your activities and determine when to start them by using these resources.
These amazing ambulance learning tools are certain to be entertaining and appropriate for children of all ages.
Children would like playing with ambulance toys and plushies and reading books about ambulances.
Any routine would be amazing with these!
These resources could be used during reading time, circle time, or even free play.
Check them out by clicking on the links below.
Don't worry; they are all inexpensive and simple to find!
2. Preschool Ambulance Theme
Putting up a classroom decoration with an ambulance theme would be so much fun!
This week, whether you are studying the letter A or vehicles, an ambulance is a smart idea.
You could also use the printable ambulance template as a decoration in your room or study corners.
It would make for a wonderful ambulance banner, bulletin board poster, and even wall hangings.
You may also have the kids work on the printable ambulance template first, then exhibit their finished artworks.
Make an ambulance pretend play corner using recyclable materials, such as cardboard boxes and more.
Enjoy using the printable ambulance template for your preschool themes this week at home and at school!
3. Emergency Vehicles
The importance of emergency vehicles should also be discussed within your transportation week classes.
To teach about emergency vehicles, you could start with the ambulance because it begins with the letter A.
You may start by playing the ambulance's sound and asking the kids to identify the vehicle it comes from.
Once they can recognize it, display a sample of the printable ambulance template to them.
If they have seen one up close or have been inside one, ask them to talk about it.
You might also talk about how important it is and how it supports the community in moments of emergency.
Children should understand the function of each emergency vehicle in our community and how important it is to saving lives.
Have the kids work on the printable ambulance template when the lesson comes to an end.
4. Ambulance Craft
Your kids can be inspired to create their own ambulance craft by this printable ambulance template!
To make one, gather some materials like cardboard, construction paper, crayons, markers, glue, and scissors.
When beginning to make your crafts, you can use the ambulance template as a guide.
Give your kids the freedom to be as creative as they like when making their crafts.
They can either attach construction paper cutouts to the printable ambulance template or create an ambulance out of cardboard.
Whatever they accomplish, it will surely be fantastic because it is handcrafted and was created by them independently and with confidence.
Put all of their finished ambulance crafts up on the wall or the bulletin board so they can see them every day!
We hope that you will use these ideas in your activities this week.
Enjoy a wonderful week of ambulance transportation with the printable ambulance template.
Learning about emergency vehicles would be fun for kids, and they would want more!
Keep a keen eye out for the addition of more vehicle templates to our collection!
Printable Ambulance Template:
Discover an amazing vehicle that can save lives in an emergency.
Yes, the ambulance is here! Make ambulances a part of your transportation-themed week at home and at school.
Create crafts, coloring pages, and pretend play activities using this printable ambulance template.
This simple ambulance in black and white could be altered into anything you can think of.
It could be modified to serve as a coloring page, craft template, flashcard, teaching tool, or even a classroom display.
Any vehicle or transportation-related themes you have will go perfectly with this emergency vehicle template.
If you're learning about the letter A, you can also use this template!
Use this printable ambulance template to help the kids develop their fine motor skills, hand-eye coordination, creativity, and independence.
Please feel free to pass this to anyone you know who likes ambulances and other forms of transportation!
Don't forget to leave a message in the comment section.
When you have finished, be sure to share your creation on Simple Mom Project's Facebook Page and follow me on Pinterest!

Kaitlen D.
More Free Printable Vehicle Templates