Do your kids enjoy making paper bag puppets?
Participating in puppet show activities allows them to express and grow in their imagination and creativity.
What's fantastic about this is that we'll be combining imaginative play with arts and crafts.
Enjoy a fun day with your kids by using this printable beaver paper bag puppet!
Preschool and kindergarten kids will love assembling the parts of the beaver one by one, learning interesting facts about them, collecting cool and educational beaver items, and developing their vocabulary.
Choose from the black and white template or the colored beaver template from two different beaver puppet craft designs.
Children who want to can also do both.
Cutting, pasting, and assembling the beaver parts will help them develop their fine motor abilities.
You won't have to worry about how to complete this beaver puppet craft because we'll be providing detailed instructions with pictures.
This is a simple and easy beaver paper bag puppet craft that all children will enjoy making!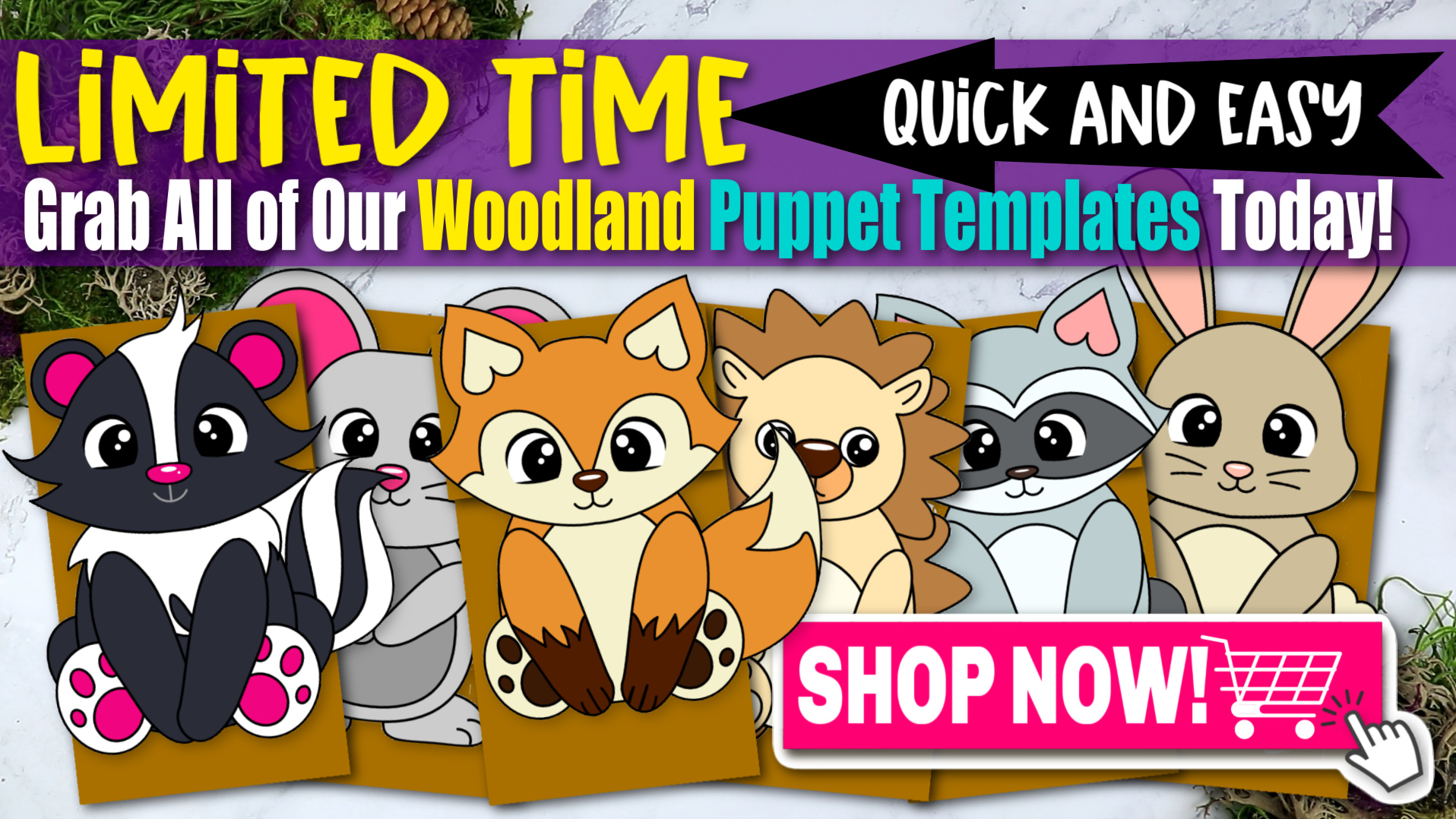 *By the way, this post may contain affiliate links which means I may receive a small commission at no additional cost to you if an item is purchase through that link. For more information, click here.*
Printable Beaver Paper Bag Puppet Craft

Beaver Craft Supplies Needed
Need more crafty fun? Check out our Dog Puppet, Groundhog Puppet and Owl Puppet.
 T
hey are perfect for those days when staying indoors is the only thing your family can do!
Ideas for Easy Preschool Paper Beaver Craft
This printable beaver paper bag puppet craft can be incorporated into a variety of activities besides arts and crafts.
We'd love to share this list of amazing ideas for integrating and organizing this puppet craft into your lesson plans.
Scroll down for more ideas!
1. Best Beaver Collection for Kids
This printable beaver paper bag puppet craft is sure to catch your children's interest.
We'll show you some awesome beaver collectibles that you may use in your activities.
You could use these materials in your circle time activities or reading classes.
Gather the kids together and read an informative book on beavers and an exciting story about a little beaver and an echo before or after they complete the printable beaver paper bag puppet craft.
Children may be wondering about what a beaver looks like in real life, so let them play and explore with a beaver stuffed animal and toy figure.
2. Interesting Facts about Beaver
Kids love to ask about anything and everything!
Once kids have done making the printable beaver paper bag puppets, they will surely ask about these cute beavers.
You can use this printable beaver paper bag puppet idea in your science classes because we'll be discussing how beavers live in their surroundings.
To enhance their understanding of animals, be sure to add these interesting beaver facts.
Did you know that beavers have strong swimming abilities?
They can swim for up to fifteen minutes underwater.
Beavers have orange-colored teeth.
Their huge front teeth are constantly growing.
Beavers enjoy eating wood.
They are herbivorous animals that eat woody branches and leaves.
Beavers have poor eyesight but excellent hearing, smell, and touch senses.
They have transparent eyelids that allow them to see beneath water.
Beavers splash their tails on the water as a warning signal to fellow beavers that danger is approaching.
Their average life span is 24 years.
They are nocturnal animals and keep themselves busy by building at night, thus the phrase "Busy as a beaver."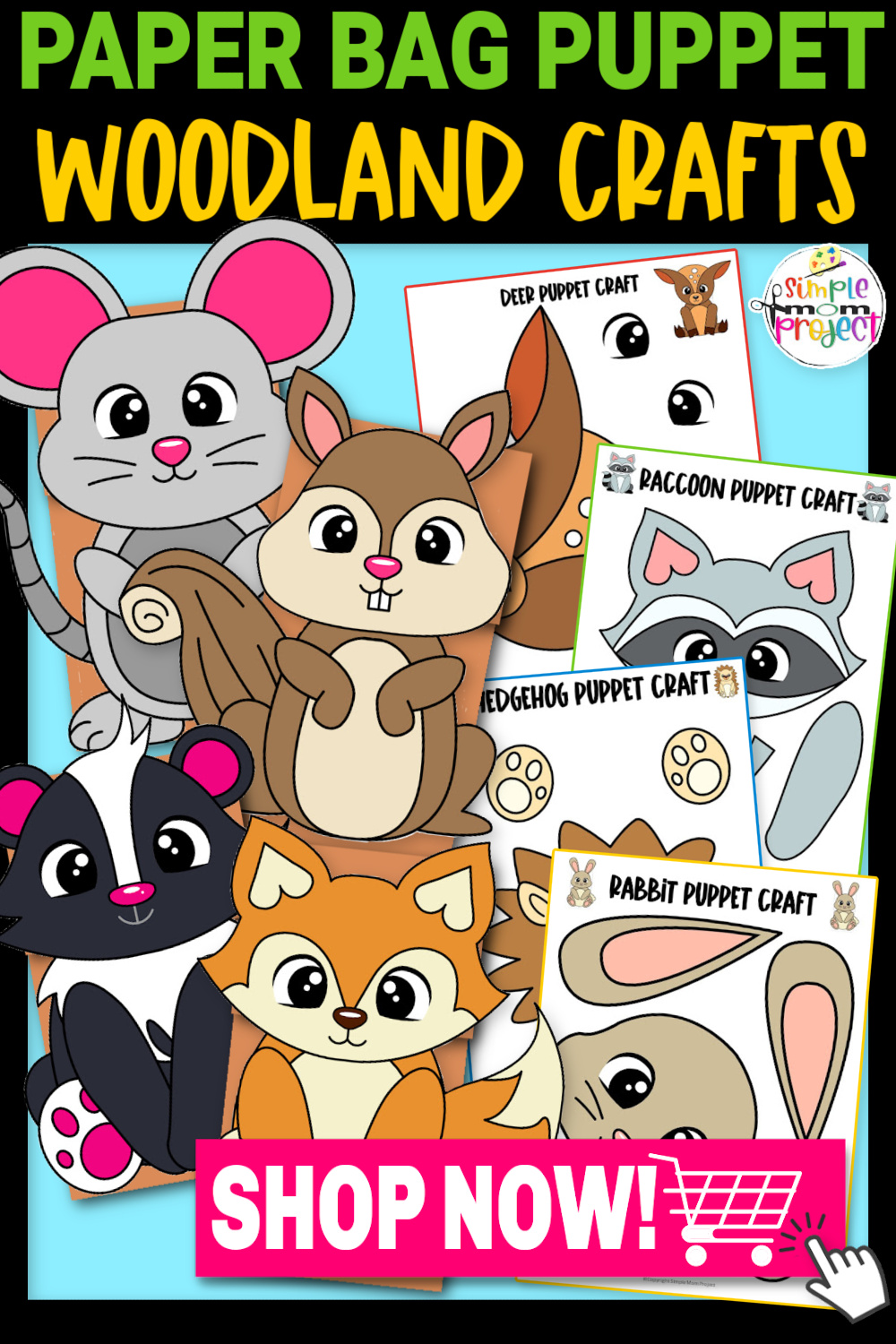 3. Beaver Paper Plate Mask
Do your children request more animal crafts after completing the printable beaver paper bag puppet?
This printable beaver paper bag puppet idea would go well with your preschool crafts.
You can make your own beaver paper plate mask to use at animal dress-up and animal-themed events in addition to the paper bag puppet craft that you can use for puppet show performances.
Grab your paper plates, brown paint, paintbrush, construction paper in brown, white, and black, a popsicle stick, and glue to get started.
First, paint the entire paper plate with brown paint.
Then, using the construction paper, draw and cut out the rest of the beaver's features while waiting for it to dry.
Draw two half circles for the beaver's ears on the brown construction paper, and then cut them out.
Cut two medium-sized circles for the eyes and two rectangles for the two front teeth from the white paper.
Draw a triangular shape for the nose and two smaller circles for the pupils on the black construction paper, then cut them out.
After putting everything together, attach a popsicle stick to the paper plate's back bottom.
As an alternative, you can cut and draw a hole on the eye area so that kids can still see while wearing their beaver paper plate masks.
4. B is for Beaver
Did you know you can incorporate this printable beaver paper bag puppet craft into your alphabet lesson plans?
Use this beaver craft to teach the letter B to preschool and kindergarten kids.
Combining alphabet letters and animal crafts works great!
Have them say "B is for beaver" or "Beaver starts with the letter B" once they've finished making the printable beaver paper bag puppet craft.
This is also an excellent time to introduce the phonic sound of B.
We hope that these ideas will wrap up your weekend plans!
These are the best ideas we have for creating beaver puppets.
Children will surely spend their time productively finishing their beaver puppets and participating in all of these activities!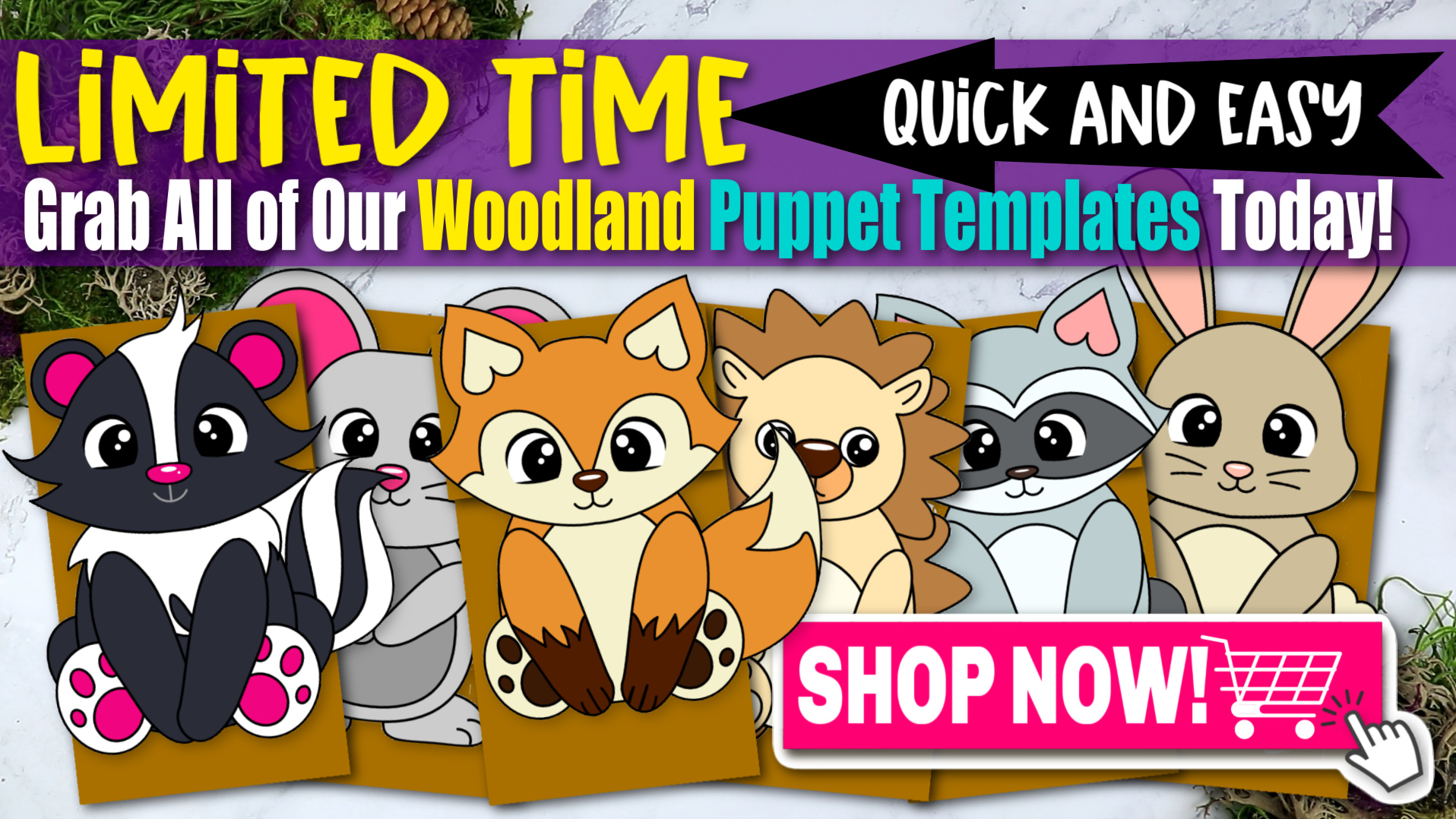 Beaver Paper Bag Puppet Instructions
If you couldn't wait to get your hands working on this puppet craft, purchase the beaver template then prepare all the materials you will need!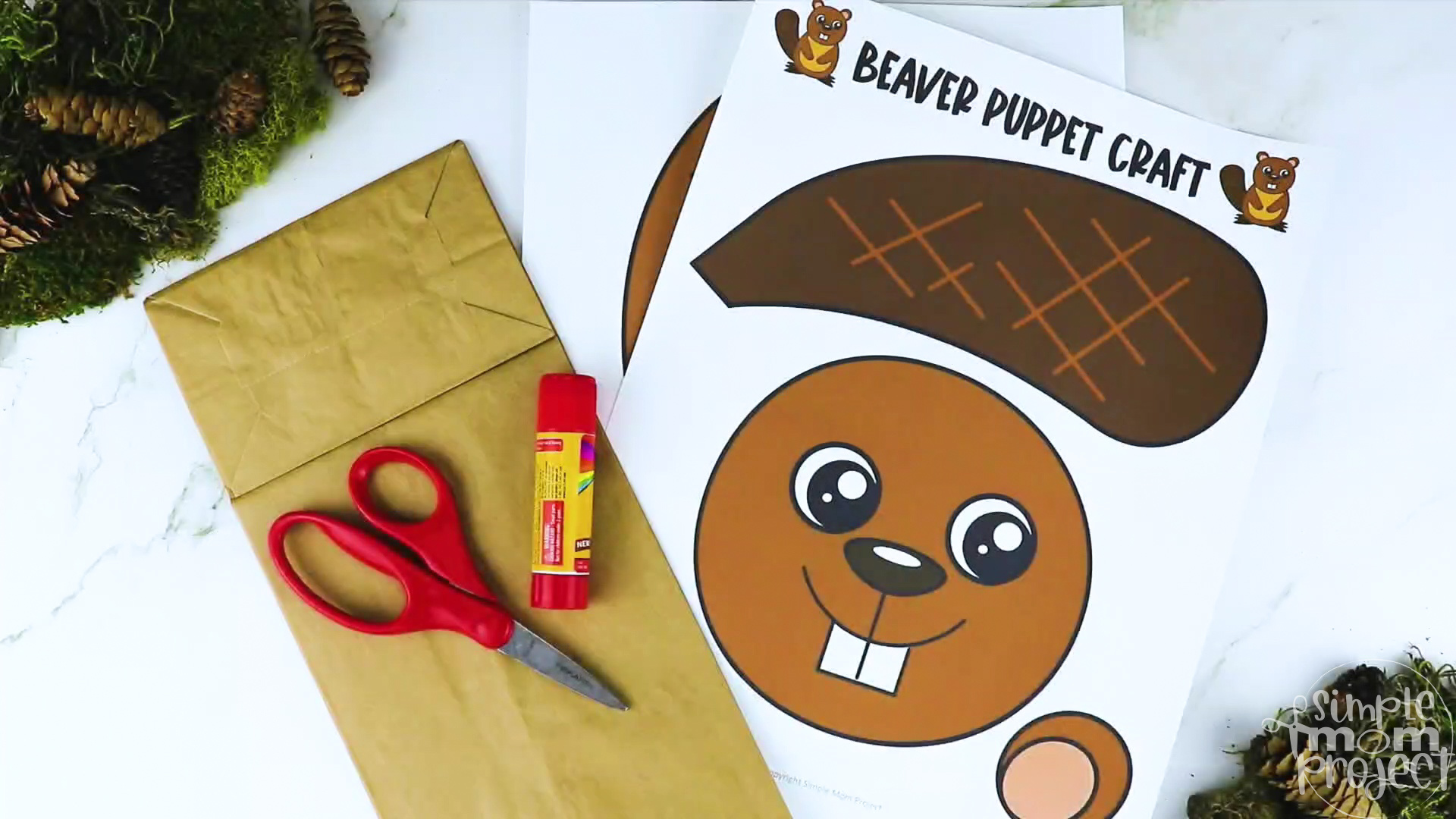 For the black and white beaver template, allow your kids to use all their coloring tools to customize their beaver.
If they picked the colored beaver, guide them in cutting the body pieces one by one. This will be a great fine motor practice for them as well.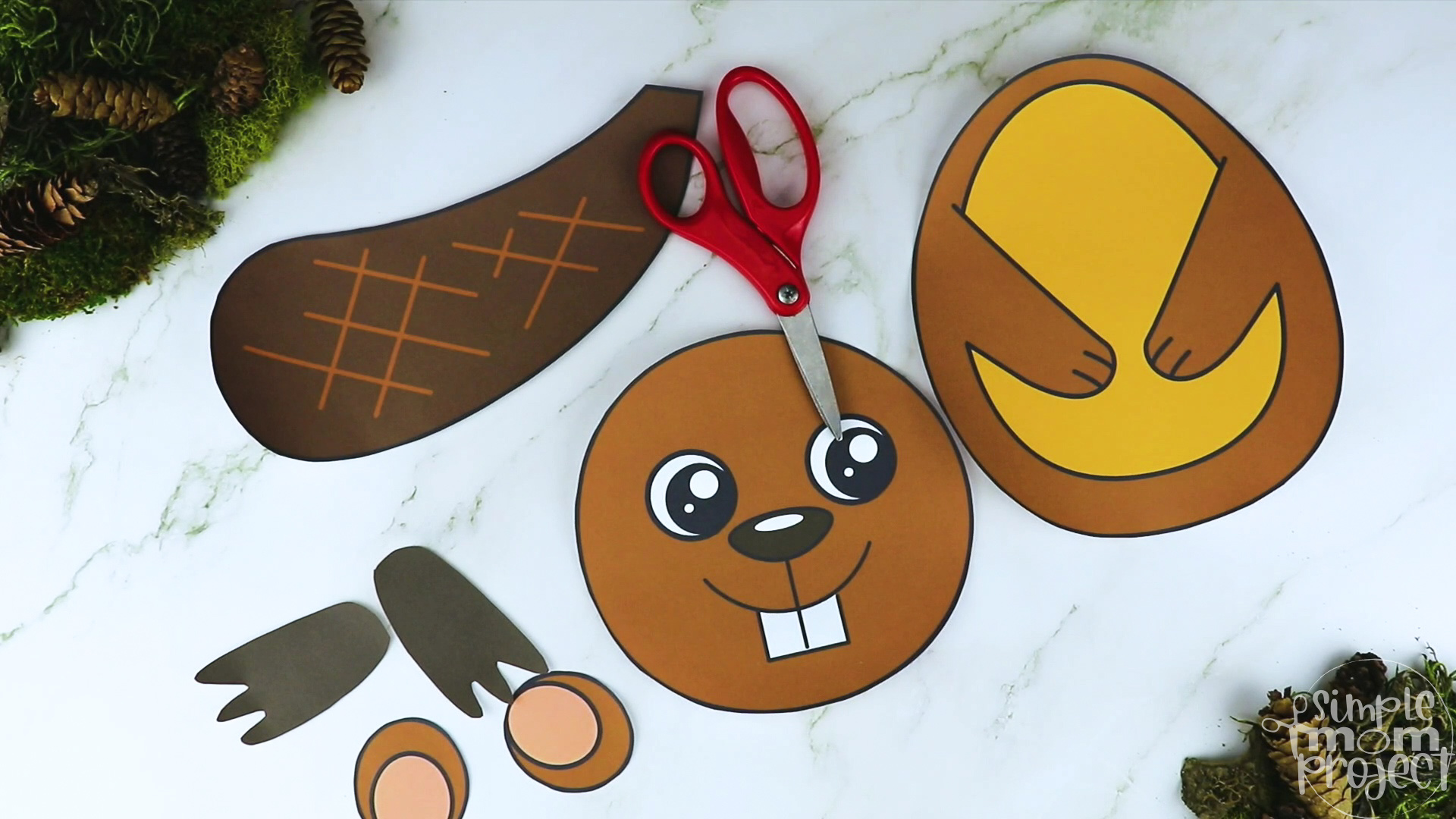 First, glue the body of the beaver onto the brown paper bag, making sure it is secured on the lower portion, behind the paper bag's folded edge.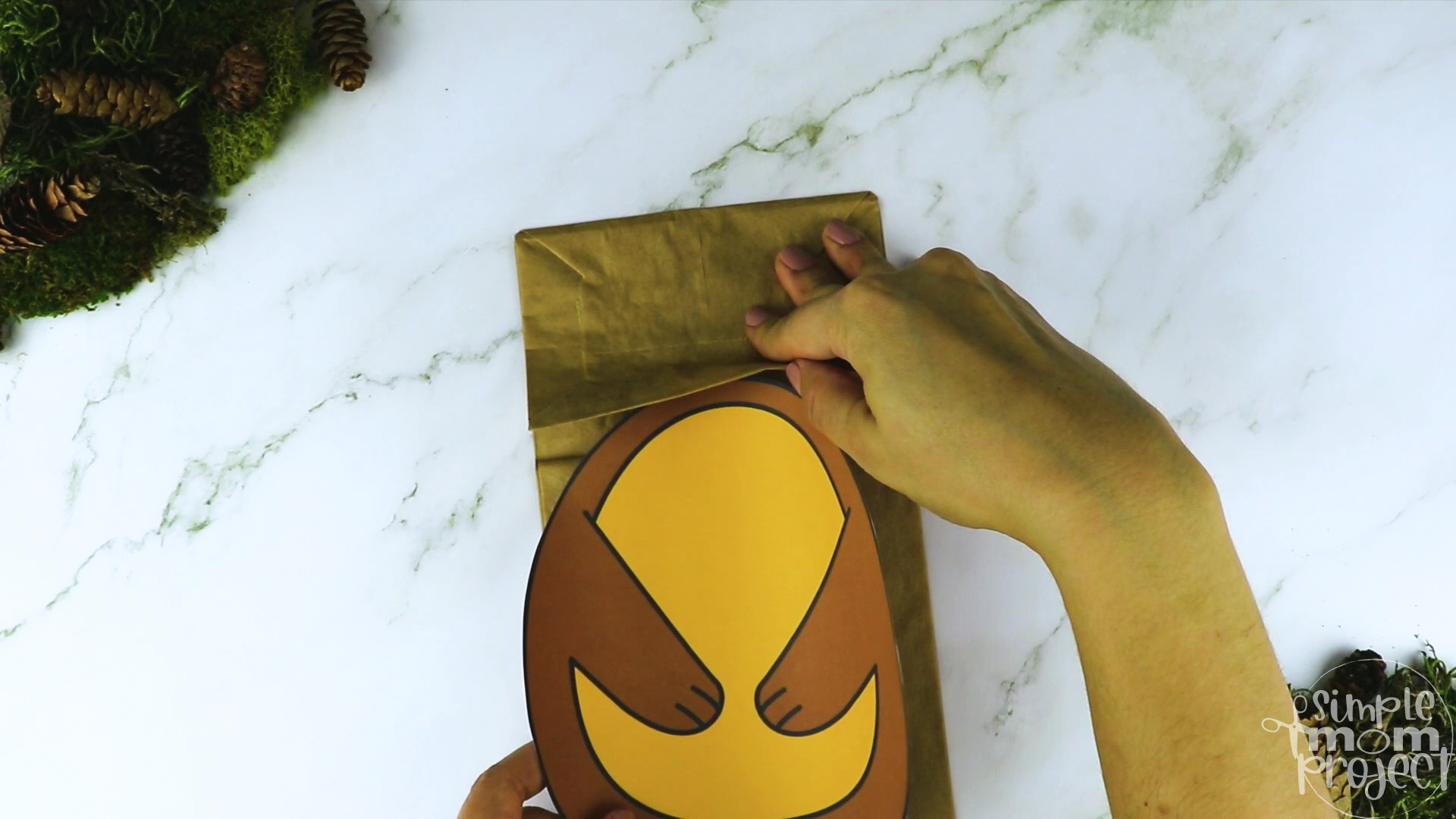 On top of the paper bag, attach the beaver's head.
Next, attach the beaver's long tail to the back.
Don't forget to put their two cute ears on the back of the head.
Add the two tiny feet of the beaver to complete it!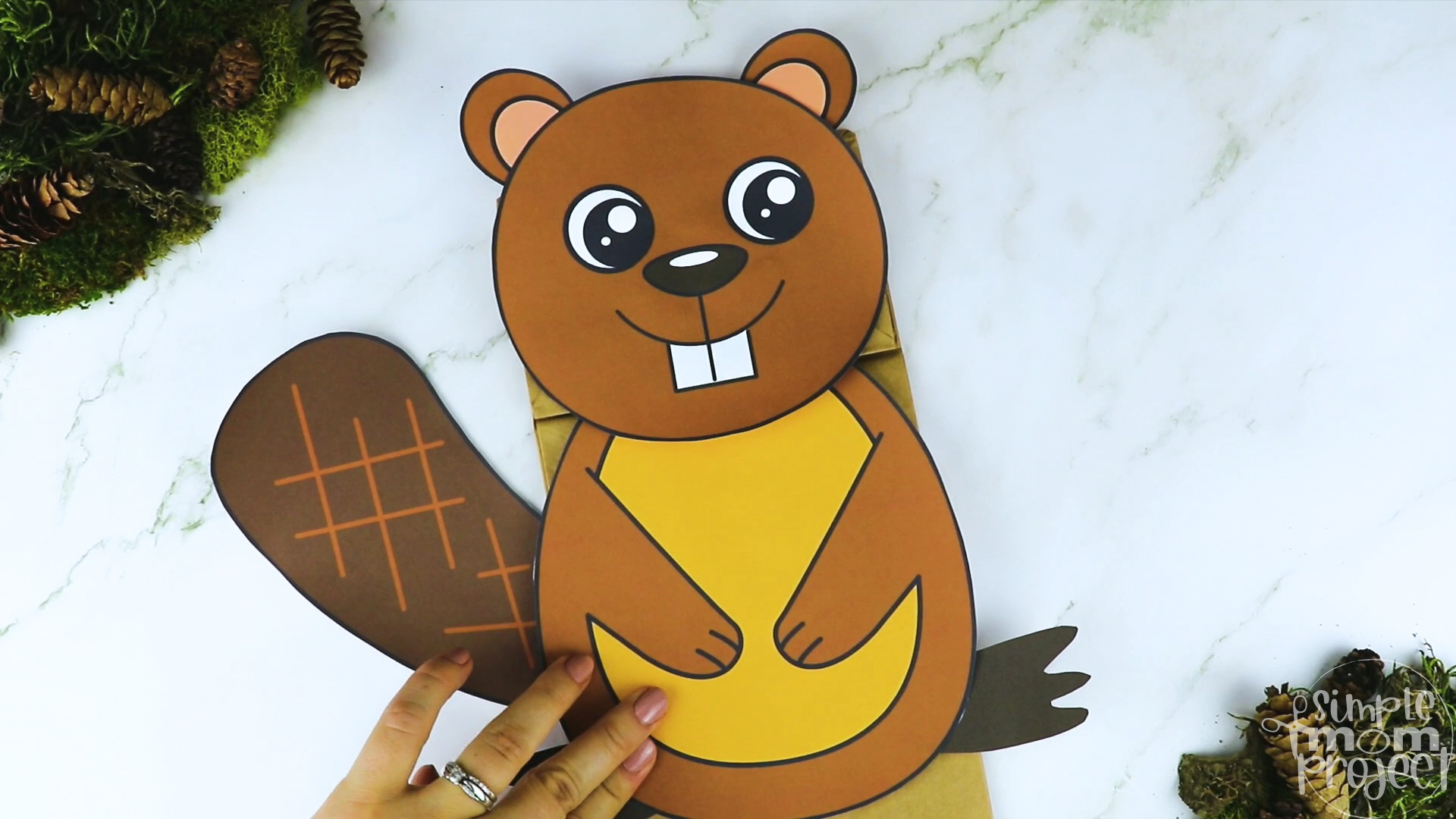 Look how adorable it turned out! Kids will surely look forward to create this beaver paper bag puppet craft!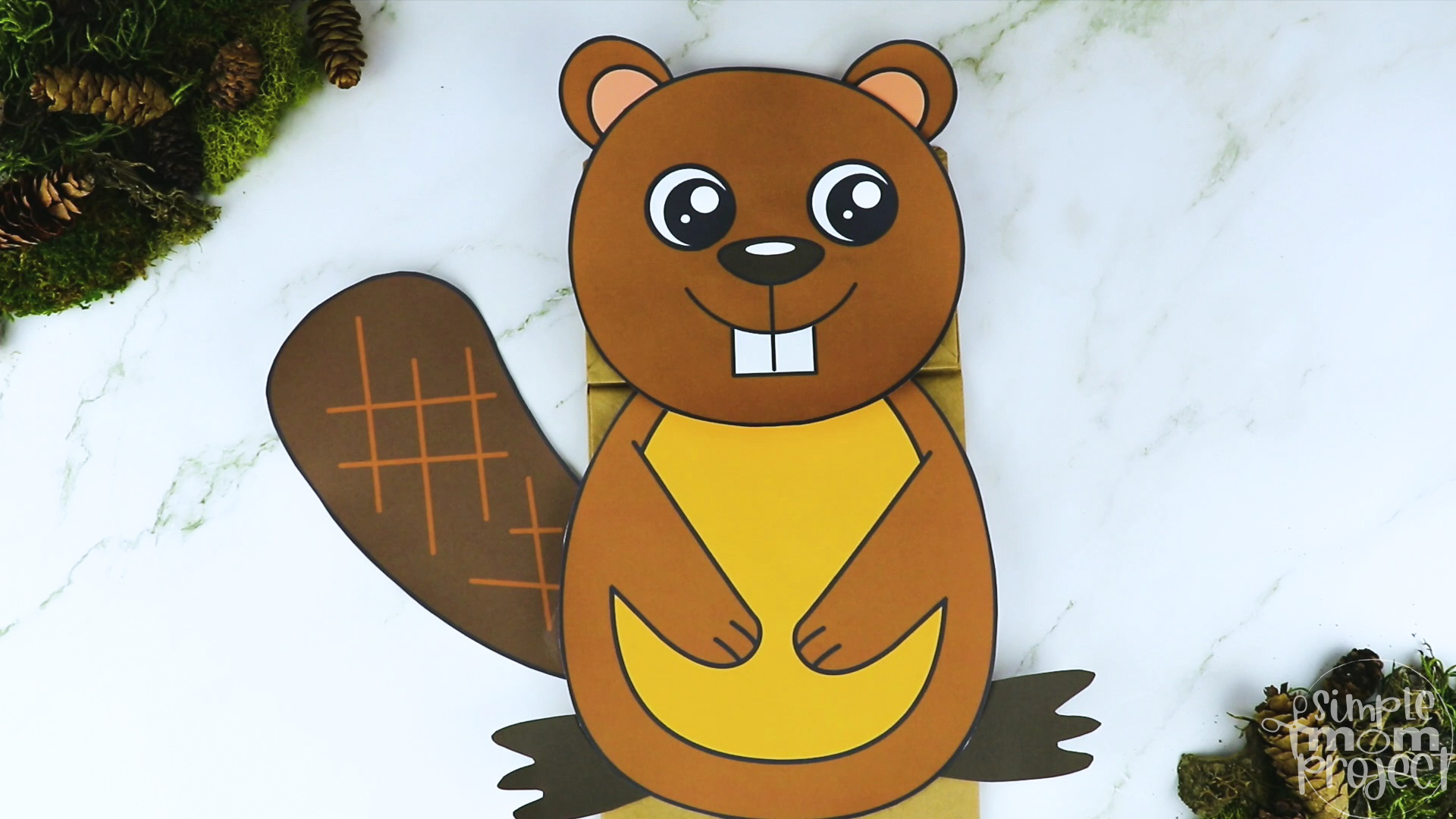 More Options to Choose:
You can print the blank version and trace the cut outs on card stock paper for a sturdier beaver paper bag puppet craft,
Print the beaver template in color for a simple and easy rainy day craft or,
Print the blank beaver template and use it as a fun coloring sheet activity and then glue the pieces of the beaver craft together.
Printable Beaver Paper Bag Puppet Template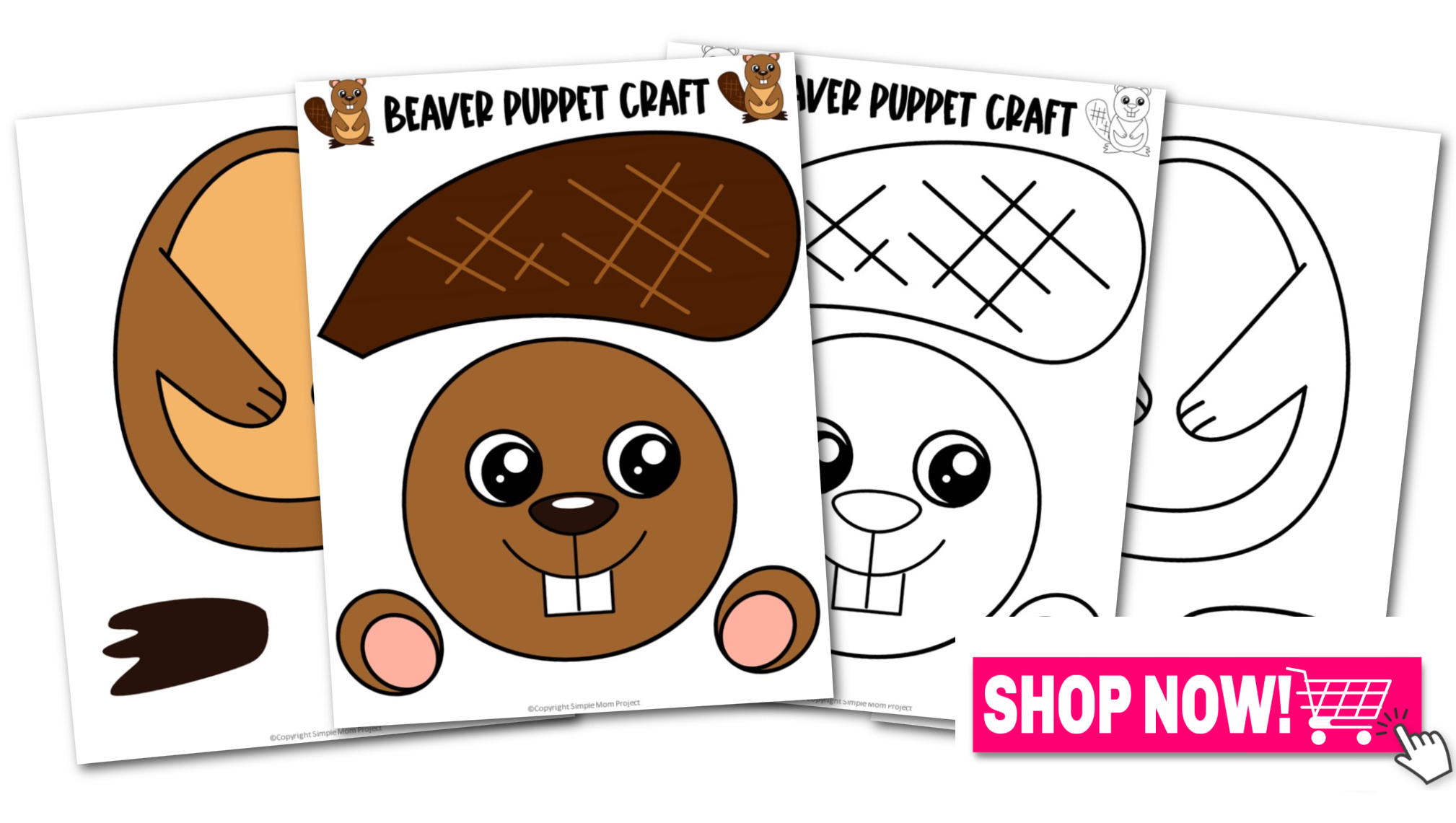 Spend a fun week with this beaver paper bag puppet craft!
Making their own animal hand puppets that they can use for different activities would be fun for kids.
You can choose between the simple black and white beaver and the colored beaver template.
Both are fun and simple to complete!
Don't forget to share your learning plans in the comments.
Need more woodland animal puppet fun? Check out our packed list of paper bag puppets for simple craft fun with your little ones.  
When you have finished, be sure to share your creation on Simple Mom Project's Facebook Page and follow me on Pinterest!

Kaitlen D.
More Printable Puppet Craft Templates