Have you watched the Jurassic World movie?
If so, you are most likely familiar with the brachiosaurus.
This plant-eating dinosaur with the size of a four-story building existed roughly 150 million years ago.
Have you ever wondered why they are so huge?
Experts believe that their size made them difficult prey for predators, according to studies.
We've included this long-necked dinosaur, Brachiosaurus, in our dinosaur template collection so you don't have to worry about learning more about them.
Prepare for an exciting week by using our printable brachiosaurus template ideas that you can share with the entire family.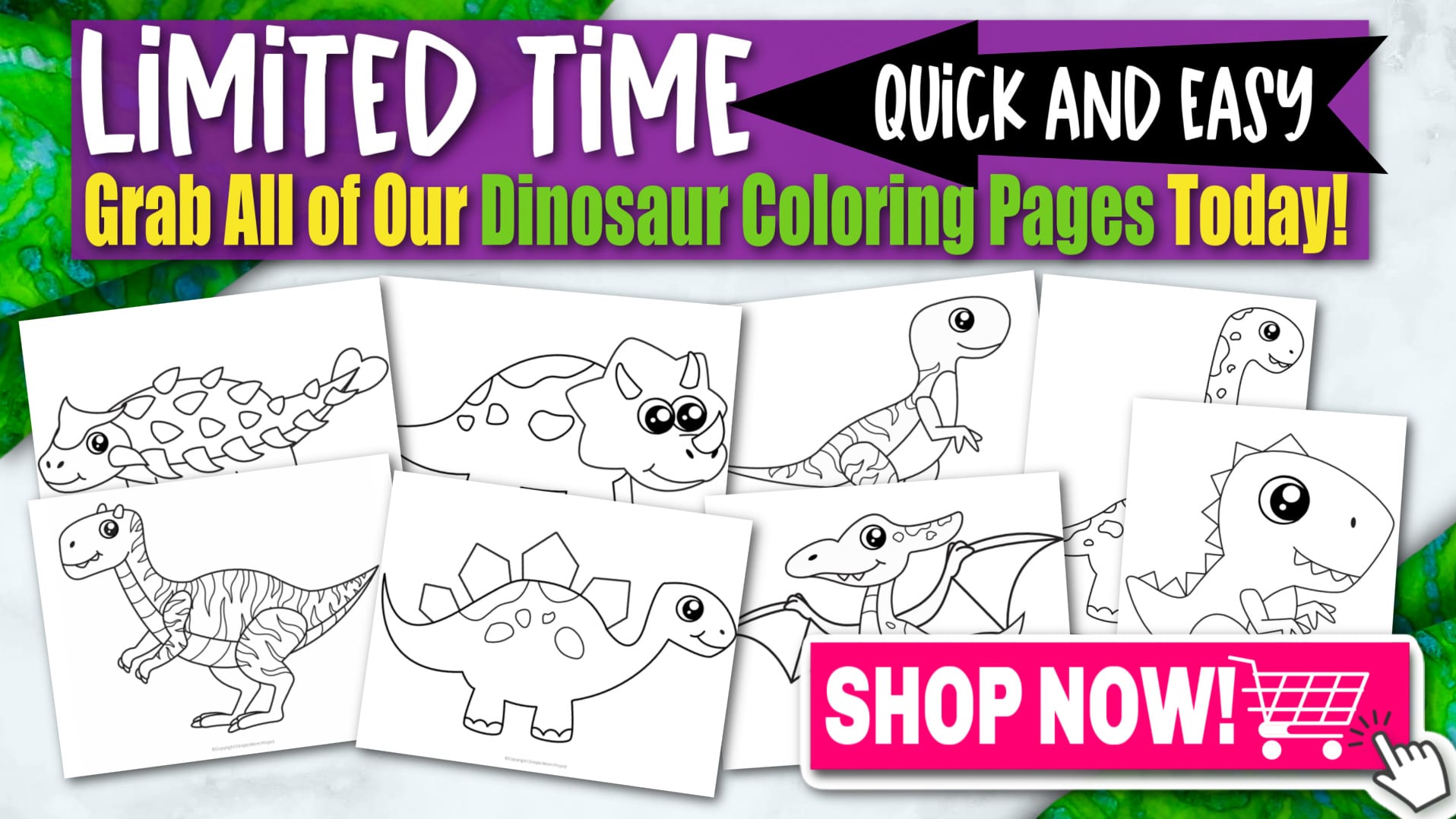 *By the way, this post may contain affiliate links which means I may receive a small commission at no additional cost to you if an item is purchase through that link. For more information, click here.*
Printable Brachiosaurus Template
Printable Brachiosaurus Template Materials Needed:
Printable Brachiosaurus Template (FOUND AT THE BOTTOM)
Make your child's finished brachiosaurus template a forever memory by laminating it! We use this laminator and cannot express how much we love it! It is not only inexpensive, it is SO easy to use!
Your kids will love seeing how much you adore their art work when you laminate and display it for years to come!
Ideas for Printable Brachiosaurus Template
We have also made a list of interesting ideas on how you can incorporate this printable brachiosaurus template in your dinosaur activities and learning plans.
These are the most simple and enjoyable for kids of all ages!
1. Brachiosaurus Collectibles
When I introduce a new topic to my kids, I make sure to include objects that relate to it.
I also looked for some awesome brachiosaurus items that my kids can enjoy throughout our lessons or on any given day.
We'll share a list of fun brachiosaurus collectibles that go well with the printable brachiosaurus template.
Spend some time reading these informative books and learning more about the brachiosaurus while snuggling a plush brachiosaurus or playing with a brachiosaurus toy figure.
After you've finished working on the printable brachiosaurus template, enjoy some fun dinosaur matching games with your family.

2. B is for Brachiosaurus
This printable brachiosaurus template can also be used in alphabet and letter of the week lessons.
This is a fantastic way to learn about dinosaurs while teaching the letters.
Your little dino fans will be thrilled like never before.
Begin by having them complete the printable brachiosaurus template.
Continue introducing the letter B by saying things like "B is for brachiosaurus" or "Brachiosaurus starts with the letter B."
You can also include the letter B's phonic sound.
During the lesson, you can also use the brachiosaurus collectibles to make your letter of the week more interesting.
3. Brachiosaurus Noodle Fossils
Did you know that about ten brachiosaurus fossils have been discovered?
Have you ever seen animal fossils in a museum?
If you haven't, this printable brachiosaurus template idea will bring you to a world of brachiosaurus fossils built entirely of noodles!
This is an excellent fine motor activity for all dinosaur enthusiasts.
Kids can focus on building and connecting the noodles together to make fossils while also strengthening their little hand muscles.
You can use whatever type of pasta noodles you have on hand.
My kids and I used a penne spaghetti noodle on our brachiosaurus fossils.
I printed a copy of the printable brachiosaurus template and followed the dinosaur outline to draw a brachiosaurus shape.
I put the glue in that shape and guided my children to place the noodles one by one.
They had so much fun that we built more dinosaur fossils after that!

4. Dinosaur Size Recognition
Dinosaurs come in a variety of sizes.
Using these dinosaurs to teach your children about sizes is a smart idea.
As an example of a big dinosaur, start with the printable brachiosaurus template.
For examples of medium and small dinosaurs, you can choose other dinosaurs from our collection of dinosaur templates.
You can print out the dinosaur templates and have your children identify their sizes.
This is also a fun game for them to play!
How did you organize your learning plans using these ideas?
We hope you enjoyed them as much as we enjoyed sharing them with you.
Your child dinosaur fan will enjoy working on these activities this weekend.
We are certain that your children will never stop talking about dinosaurs!
Printable Brachiosaurus Template: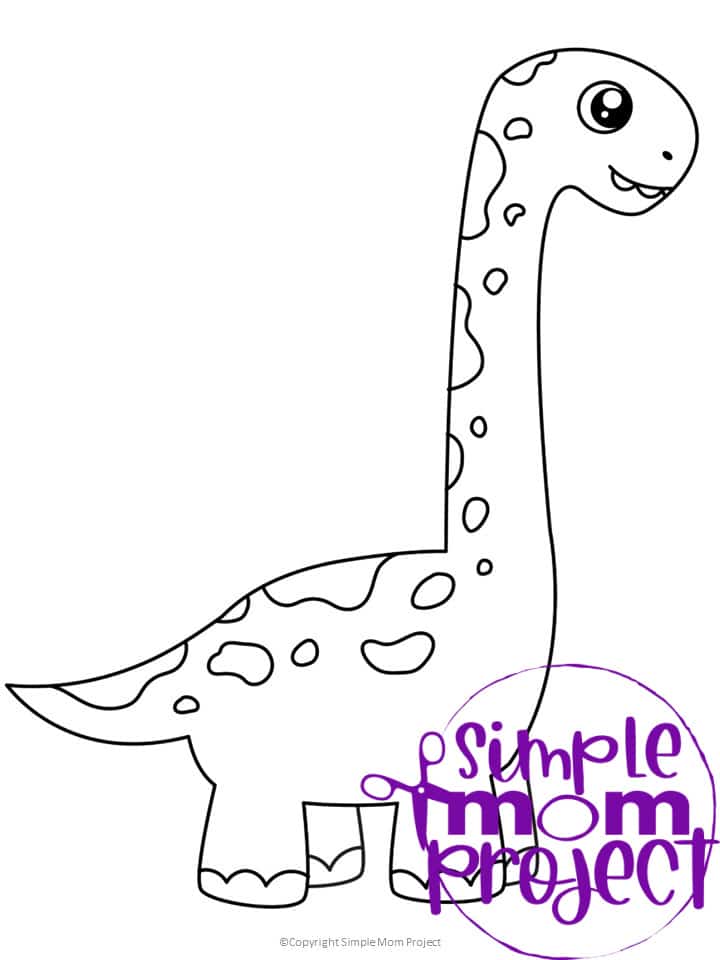 Do you plan to rewatch Jurassic Park?
Then now is a fantastic opportunity to work on this printable brachiosaurus template!
Your children will enjoy coloring their own brachiosaurus coloring page while learning about brachiosaurus in the movie.
This is a great chance to spend time with the entire family while watching a movie, eating a snack, and coloring a brachiosaurus.
Share your finished artwork with your friends and family.
You may either hang them all together on the wall or bind them with your other coloring books or pages.
Please feel free to share your wonderful experiences with these ideas.
We'd like to hear your comments on using this brachiosaurus printable template.
Interact with us in the comment section.
When you have finished, be sure to share your creation on Simple Mom Project's Facebook Page and follow me on Pinterest!

Kaitlen D.
More Fun Dinosaur Templates