There's no doubt, children are fascinated with dinosaurs! Today, we are going to share with you this free printable tyrannosaurus rex craft template that's perfect for all the Dino-loving kids.
We grew up watching the Jurassic Park movies, the T Rex is one of the most intense and classic scenes of all time. Tyrannosaurus Rex are large-sized vicious carnivore dinosaurs who always chase people in every Jurassic movie, but don't worry because our free printable tyrannosaurus rex craft template isn't scary at all!
In fact, this friendly printable tyrannosaurus rex craft template will encourage your child to develop their interest in coloring, practice their scissor skills and improve their creativity.

Need more crafty fun? Check out our Stegosaurus and Velociraptor craft.
T
hey are perfect for those days when staying indoors is the only thing your family can do!
*By the way, this post may contain affiliate links which means I may receive a small commission at no additional cost to you if an item is purchase through that link. For more information, click here.*
Free Printable Cut and Paste Tyrannosaurus Rex Craft
Ideas for Easy Preschool Paper Tyrannosaurus Rex Craft
We've put together a list of the best ideas on how to incorporate this free printable tyrannosaurus rex craft template in your child's everyday life.
1. The King of the Dinosaurs
Tyrannosaurus Rex or T Rex dinosaurs are perhaps the most well-known dinosaurs among adults and young children.
Did you know that the name Tyrannosaurus Rex comes from the Greek and Latin words meaning Tyrant Lizard King?
It is one of the largest dinosaurs to ever walk the Earth.
Have you seen Disney's Meet the Robinsons? My kids and I had a good laugh when the T Rex said "I have a big head and little arms." Yes!
They have small arms but are extremely powerful and feature two clawed fingers.
T Rex primarily ate herbivorous dinosaurs, including Triceratops but did you know that there was a strong debate about whether T Rex was a predator or scavenger?
Many scientists think that the dinosaur did both. Use our cute printable tyrannosaur rex craft template when telling these awesome facts to your kids.
2. Fascinating T Rex Stories
Reading a favorite book to your little one not only helps you to connect with them, but also gives your child the opportunity to develop their communication skills. Let your children have as high as possible by reading a book about their favorite dinosaurs.
These amazing Tyrannosaurus Rex books are my kids' favorites! We're confident that your kids will love them, too!

3. Easy Preschool T Rex Craft
Take an imaginary trip to Jurassic Park when you make this DIY paper plate tyrannosaurus rex craft. Fold the paper plate in half and cut it out.
With the help of our simple printable T Rex craft template, trace the arms and legs on cardboard.
Draw a triangular tail-shape and its sharp teeth as well and cut it all out.
Have your child paint every piece and leave it for a few minutes until it completely dries.
Glue all the T Rex pieces together and use a black marker to draw the eyes.
This paper plate T Rex craft can be part of your puppet mini show, too!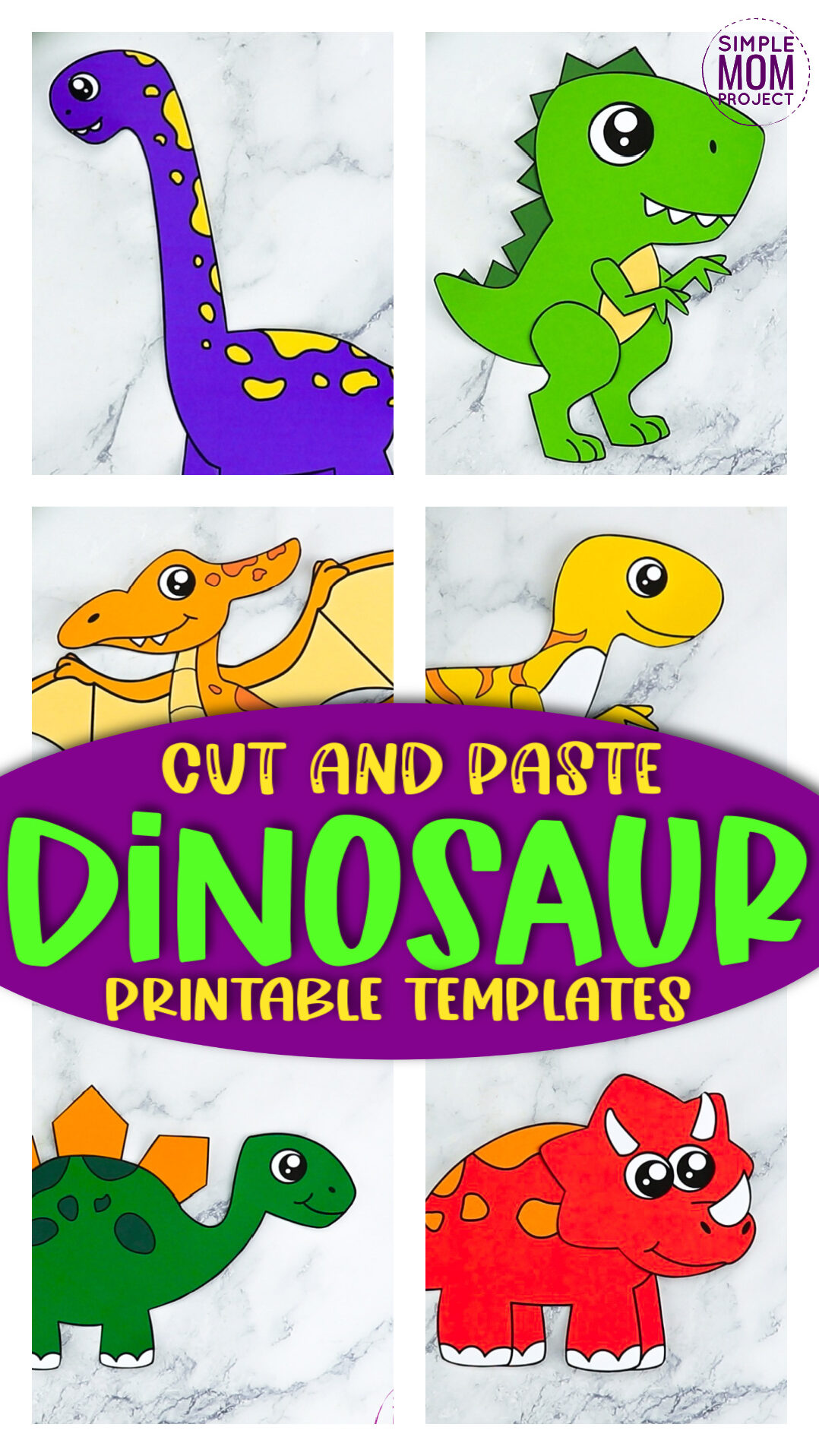 4. Dinosaur Themed Party
Can't get enough of dinosaurs? Your child will definitely love the idea of having a dinosaur themed party!
Print as many tyrannosaurus rex templates and have your child and their friends color and design it all.
Let's make a dinosaur garland by punching hole on every T Rex template, then insert a string on each of it, and put all the finished T Rex templates up on display.
You can also use these adorable printable tyrannosaur rex craft templates as cupcake toppers!
Just tape toothpicks to the back of each T Rex craft and stick them on your cupcakes.
There are a lot of amazing T Rex craft ideas everywhere! We hope you and your little one will have fun while making this easy cut and paste T Rex craft template.
Tyrannosaurus Rex Craft Supplies Needed
Printable Tyrannosaurus Rex Template (FOUND AT THE BOTTOM)
Keep scrolling to get your very own tyrannosaurus rex craft today and start with your little ones and their t-rex craft buddies today!
Tyrannosaurus Rex Craft Instructions
Can't wait to have your own T Rex craft? What are you waiting for? Take out all your craft materials and let's start crafting!
Ask your children to pick which version they want to make first. Download and print it on a white construction paper.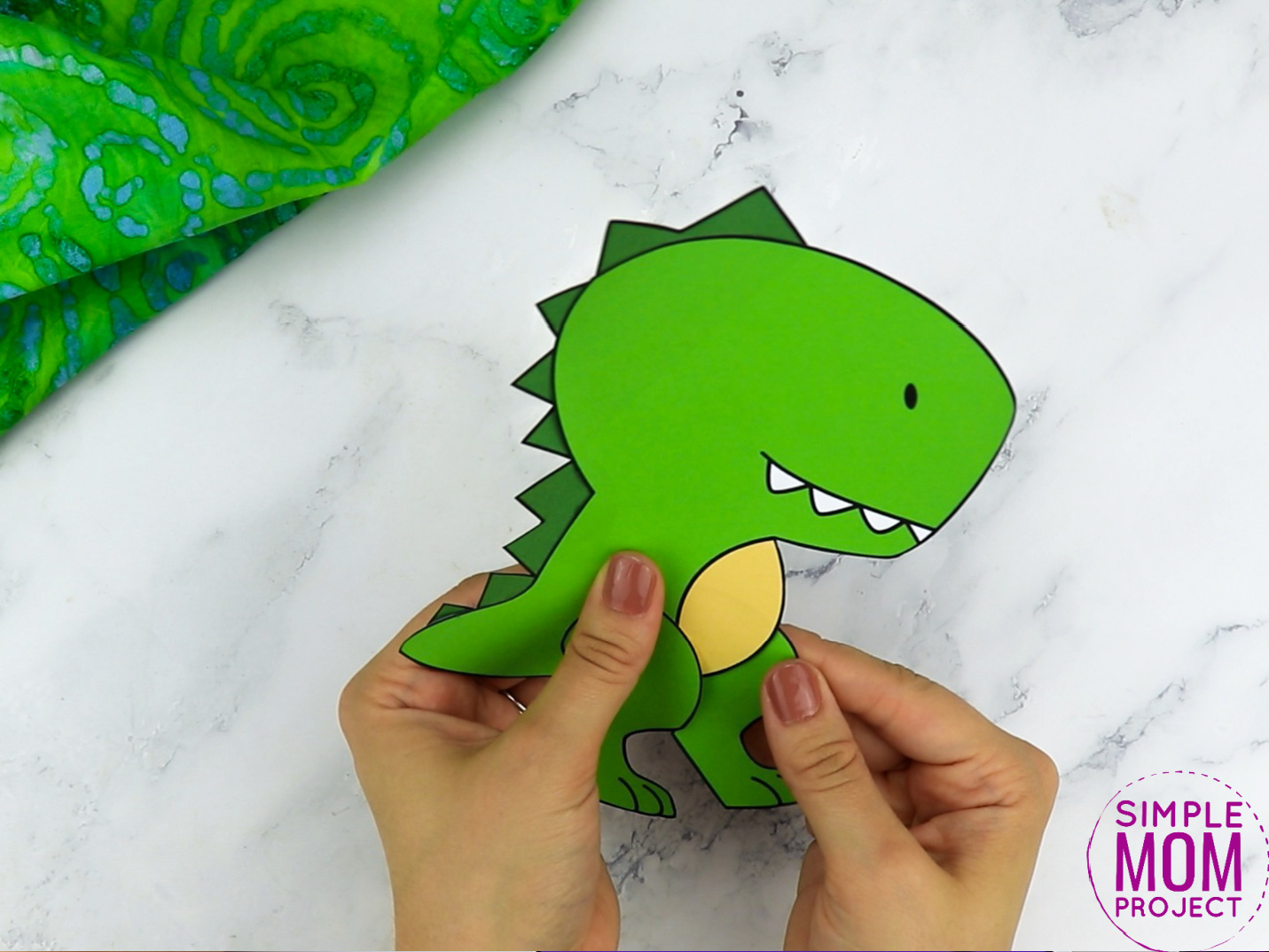 Start cutting each piece of the tyrannosaurus rex template. If you think your preschooler is ready to hold a pair of scissors, allow them to do it.
Glue the dinosaur's mohawk spikes at the back of its body.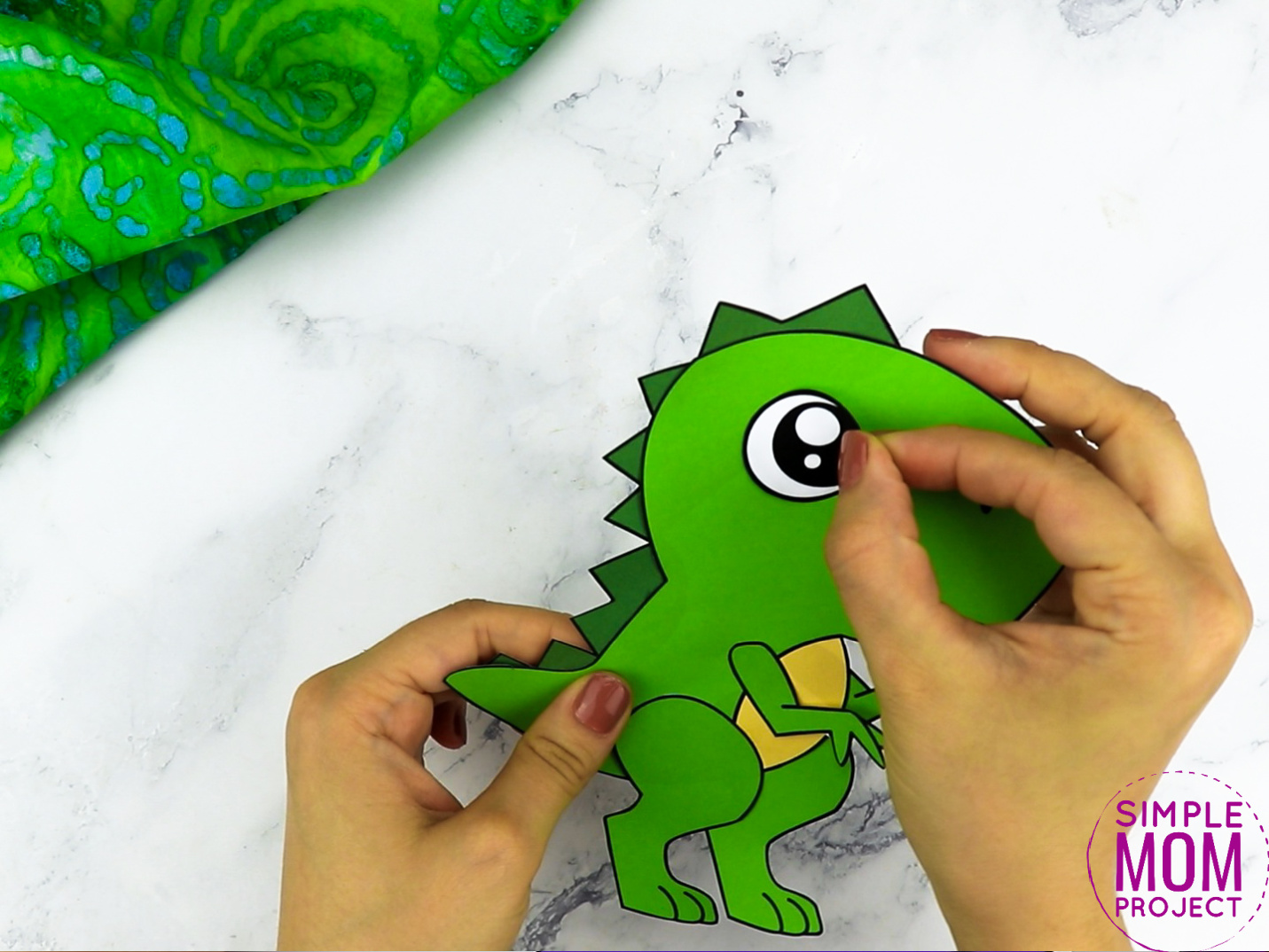 Glue its two powerful legs and their short arms.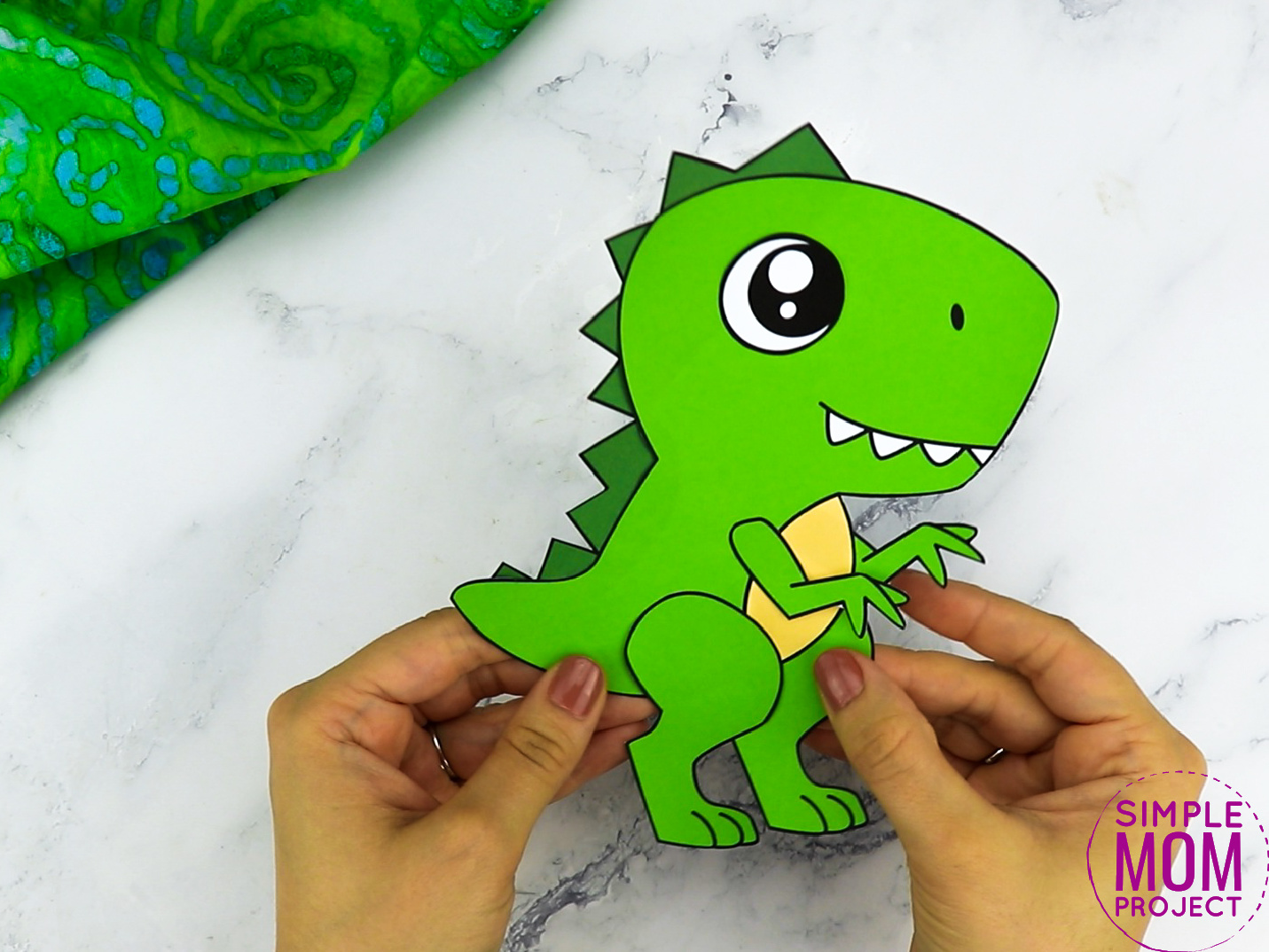 Finish it off by adding its bright big eye.
Your very own T Rex is ready to play and make friends!
More Options to Choose:
You can print the blank version and trace the cut outs on card stock paper for a sturdier tyrannosaurus rex craft,
Print the tyrannosaurus rex template in color for a simple and easy rainy day craft or,
Print the blank tyrannosaurus rex template and use it as a fun coloring sheet activity and then glue the pieces of the tyrannosaurus rex craft together.

Free Printable Tyrannosaurus Rex Craft Template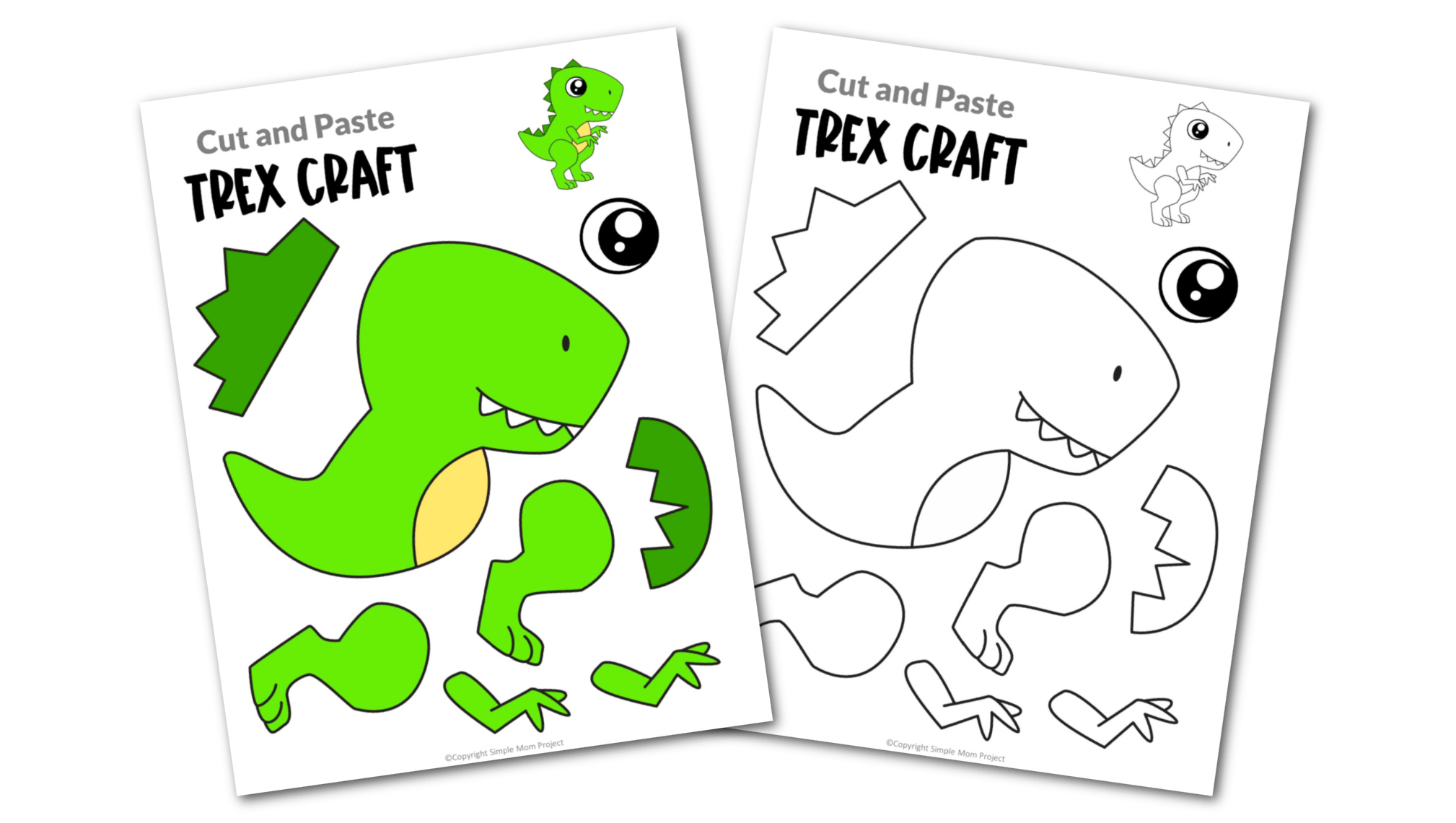 Searching for some fun cut and paste craft activity to make during the weekend? Don't worry because we got you!
This free printable tyrannosaurus rex comes with two different versions!
We have the black and white t rex drawing where your kids can color it first and the colored t rex template where they can directly cut and paste it together.
Don't forget to share your learning plans in the comments. Need more dinosaur craft fun? Check out our packed list of dinosaurs for simple craft fun with your little ones.
When you have finished, be sure to share your creation on Simple Mom Project's Facebook Page and follow me on Pinterest!

Kaitlen D.
More Fun Dinosaur Crafts