As we begin a new week of learning, we will add a new craft to our vehicle craft collection.
This printable ambulance craft template is a great option if you're looking for a topic or theme to add in your lesson plans.
Children will enjoy making crafts inspired by ambulances, learning an alphabet letter, reading engaging books about ambulances, and more.
If you want your kids to spend their free time doing something fun and productive, this printable ambulance craft template is perfect.
Include this ambulance craft if you're having a transportation theme at home or in your classroom!
We provide two templates for kids to choose from since we want them to have a wonderful time creating their vehicle crafts.
Give your kids the option of starting with either a white ambulance template or a colored ambulance template.
Or, if they simply couldn't get enough of these amazing ambulances, they might also try both templates.
Kids will also get to practice their fine motor skills by cutting and coloring each individual ambulance part.
While putting all the pieces together, they will also work on their hand-eye coordination.
You won't have to stress about how to complete your crafts because we'll share simple directions with pictures.
Get ready to have a blast and have a fantastic week using this ambulance craft template!

*By the way, this post may contain affiliate links which means I may receive a small commission at no additional cost to you if an item is purchase through that link. For more information, click here.*
Printable Ambulance Craft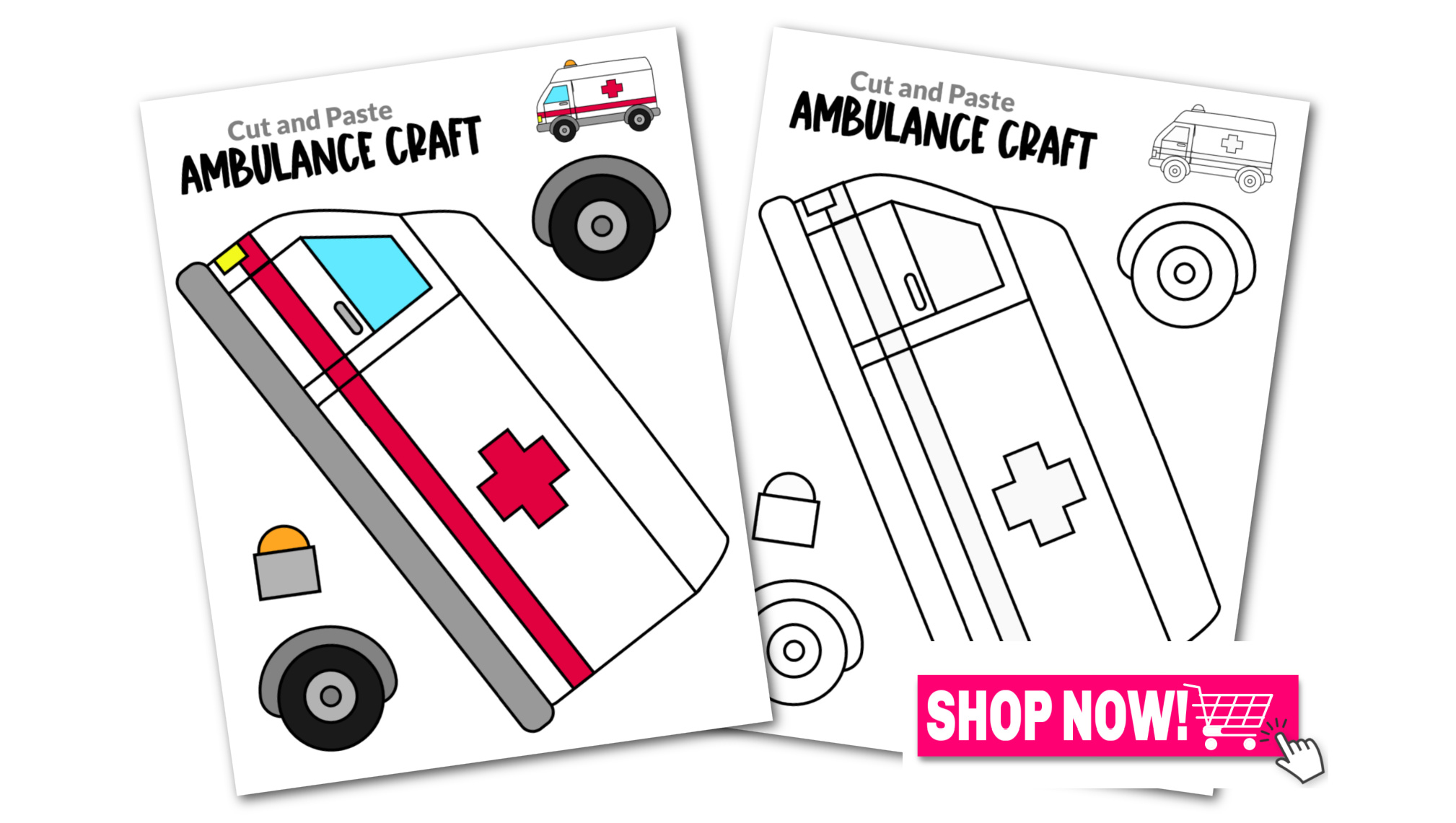 Ambulance Craft Supplies Needed
Need more vehicle crafty fun? Check out our Police Car Craft, and Fire Truck Craft.
 T
hey are perfect for those days when staying indoors is the only thing your family can do!
Ideas for Easy Preschool Paper Ambulance Craft
Don't forget to check out these ideas for maximizing the use of this ambulance craft template in your routines.
These are the easiest and best ideas you may do during lessons with your children.
Scroll down for more and grab a pen and paper!
1. Awesome Ambulance Collection for Kids
There are several ways to introduce your children to this printable ambulance craft template.
Reading a book about an ambulance, a doctor, or playing with an ambulance toy with your children could be good places to start.
By doing this, you are already getting children in the mood to learn about these vehicles.
These activities will be very beneficial to kids as they grow in literacy, language, knowledge, socialization, and imaginative play.
We'll be sharing a list of interesting objects from our awesome ambulance collection for kids in this printable ambulance craft template idea.
You may start making preparations for your routines and learning plans with the help of these kid-friendly items.
All of these items also go great with the printable ambulance craft template!

2. DIY Milk Carton Box Toy
We always like using our imaginations and our resources!
We want to show to children that we can create things out of some of the objects we have around the house.
This will make them enjoy creating and playing with their homemade crafts.
We're going to show children how to transform a common object into an ambulance toy in this printable ambulance craft template idea.
How wonderful is it that we will make a homemade ambulance toy with only an empty milk carton box?
Kids will definitely appreciate doing this craft because it allows them to design their own toy and teach them how to recycle materials.
Bring your empty milk carton box out, and let's get to work creating a DIY ambulance toy!
Prepare the following items for this DIY activity.
We'll need an empty milk carton box, a copy of the printable ambulance template, scissors, and glue.
Cut the ambulance parts from the template first.
Once the parts are ready, decide which side of the milk carton box you'll use to piece together the ambulance parts one at a time.
You can print the ambulance template on construction paper or any other sturdy paper you have to make your milk carton ambulance toy more durable.
A different option is to print a copy, stick it on cardboard, and then cut it out.
You may also open the top half of the milk carton box so that children can pretend to place their other toys inside the ambulance craft.
Aside from being a DIY ambulance toy, it can also be used as a pen or crayon holder.
Incorporate this printable ambulance craft template idea into your routines since it teaches children so much about saving, reusing, and helping the environment!
3. Handprint Ambulance Craft
Do you have kids that don't mind making a mess when they get to do something they enjoy?
If you have children in toddler, preschool, or kindergarten that enjoy spending time with their hands on something, this idea will be a wonderful addition to their routines!
We'll be creating a handprint ambulance craft with this printable ambulance craft template idea.
For this activity, all we'll need is white paint, a paintbrush, crayons, and paper.
Start by painting your child's hand with white paint, and then carefully guide them as they stamp their hand on the paper.
After it has dried, use the crayons to doodle and color more ambulance parts.
Draw a picture of the windows, door, wheels, and lights.
Give the kids the freedom to use their imaginations as they color the ambulance to look just like the ones they actually see.
The printable ambulance craft template can also be used as a guide for drawing and coloring the handprint craft.
4. Letter A for Ambulance
We won't forget to include an alphabet activity for kids with all these excellent printable ambulance craft template ideas.
Aside from arts and crafts, we'd like to combine this ambulance craft into a new learning area.
In this approach, you can start a new topic or lesson as soon as the kids finish their crafts.
To introduce and teach your children the letter A of the alphabet, use the printable ambulance craft template!
You can also prepare additional visual aids such as letter A cutouts, foam letters, and alphabet flashcards.
Introduce the letter A with the ambulance craft to incorporate this idea into your alphabet lessons.
"A is for Ambulance" or "Ambulance begins with the letter A" are some phrases to get you started.
You can also describe the ambulance's role in the community, as well as who uses it and how.
You can also introduce the phonic sound of the letter A to your children if they are in preschool or kindergarten.
How did these ideas fit into your preparation? Did it make lesson planning much easier?
We hope we were able to help you in planning a pleasant week for your children.
They will certainly request for more vehicle crafts in the future, so be sure to keep an eye on our collection!

Ambulance Craft Instructions
Can't wait to make this printable ambulance craft? Gather your supplies and follow these simple instructions!
If your children chose the colored ambulance template, you can begin cutting the ambulance parts right away.
If they want to start with the plain black and white ambulance template, provide them with a selection of coloring materials.
Once all the pieces have been cut, start by attaching one wheel to the ambulance craft's left side.
The remaining wheel should be positioned on the ambulance's right side.
To complete the craft, place the emergency light on top of the ambulance.
And there you have it, you have completed your ambulance craft!
More Options to Choose:
You can print the blank version and trace the cut outs on card stock paper for a sturdier ambulance craft,
Print the ambulance template in color for a simple and easy rainy day craft or,
Print the blank ambulance template and use it as a fun coloring sheet activity and then glue the pieces of the ambulance craft together.
Printable Ambulance Craft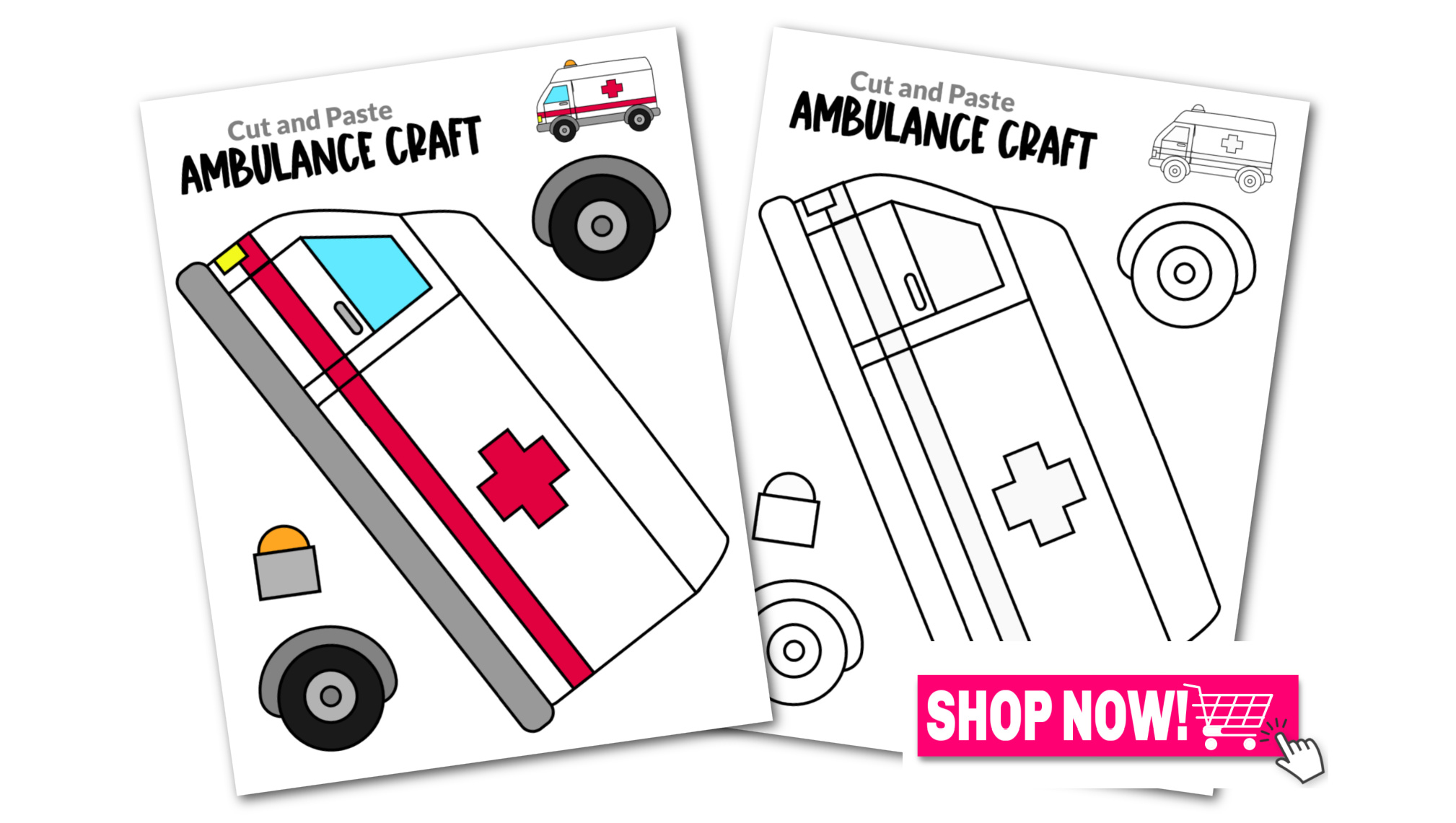 In our community, ambulances play a significant role.
We created this printable ambulance craft template because we want kids to learn more about this life-saving vehicle.
They will have the opportunity to develop a variety of learning skills once they begin working on this ambulance craft.
Cutting the ambulance parts one at a time will help them strengthen their fine motor skills.
This will be an excellent cutting activity for children who are just learning to use scissors.
The act of putting the ambulance pieces together will help kids develop better hand-eye coordination.
Children will learn how to follow and be patient during the activity by following our simple and easy step-by-step instructions.
And, yes, we have two templates from which children can freely choose!
Give them the option of a plain, black-and-white ambulance craft or a colored one.
In either way, they will have a great time making this ambulance craft and learning more about them!
Need more transportation craft fun? Check out our packed list of vehicle crafts for simple craft fun with your little ones.  
When you have finished, be sure to share your creation on Simple Mom Project's Facebook Page and follow me on Pinterest!

Kaitlen D
More Printable Vehicle Craft Templates