Wondering what to do with the kids this weekend?
Come and have fun with our simple printable Uranus craft templates suitable for toddlers, preschool, kindergarten and elementary kids.
Making this easy printable Uranus craft template boosts your child's fine motor skills, hand-eye coordination, imagination and creativity.
Combine the finished planet Uranus craft with paper plates, popsicle sticks, construction papers and other recycled materials to form a delightful variety of craft projects.
Scroll down and follow the easy instructions or watch the step-by-step tutorial video.

*By the way, this post may contain affiliate links which means I may receive a small commission at no additional cost to you if an item is purchase through that link. For more information, click here.*
Printable Cut and Paste Uranus Craft
Uranus Craft Supplies Needed
Need more crafty fun? Check out our Neptune Craft, Moon Craft and Saturn Craft.
 T
hey are perfect for those days when staying indoors is the only thing your family can do!
Ideas for Easy Preschool Paper Uranus Craft
We list down all the awesome ideas on how to maximize the use of this basic printable Uranus craft template.
1. Interesting Uranus Facts
If you plan to study planets and the solar system with your children, be sure to include this simple printable Uranus craft template.
Did you know that Uranus is the 7th planet from the Sun?
It's also the third largest planet in the Solar System.
Did you know that Neptune is the sister planet of Uranus?
These two planets share similar compositions and are both ice giants located in the outer solar system.
Did you know that Uranus has rings like Saturn?
It's surrounded by a set of 13 rings, but they are thin and dark.
Can you guess how many moons orbit Uranus?
That's right! 27 moons but most of them are very small.
These are the few fun Uranus facts you can share with your 3rd grade kiddos while making our cut-and-paste Uranus craft template.
2. Best Outer Space Books for Kids
Reading to children makes them love books and improve their imaginations.
Make reading a habit to connect with your little ones and discuss the book together.
It's a great way to develop your child's vocabulary and listening skills.
Here are my child's favorite outer space books that's perfect to pair with your basic printable Uranus craft template.

3. U is for Uranus
Creating this Uranus craft is as easy as color, cut and glue.
But did you know that you can also use the finished planet Uranus craft in learning the alphabet letters?
Print a large letter U and pin it on your kids' lesson board for a great visual aid.
Teach your little ones the /U/ sound and encourage them to list down some words that start with the letter U.
When they are finished, print out tracing letter worksheets to enhance your kids' writing skills.
Be sure to provide the uppercase and lowercase letter U worksheets.
If you're looking for more printable templates that involves the alphabet and letter U, try these:
4. Paper Plate Uranus Craft
Develop your children's creativity and art skills with the use of this basic planet Uranus printable template.
Encourage them to build their own planet crafts using recycled materials.
Take out two paper plates and use a pencil to trace the part of the Uranus on your first paper plate.
For your second paper plate, cut out the center of it to form a planet ring.
Let your child explore the colors by doing sponge painting on the paper plate.
Leave it for a few minutes until the paint is completely dry before gluing the ring on your planet Uranus.
All of these amazing Uranus craft ideas are easy peasy and would work well for kids of all ages.
Keep scrolling to get your very own Uranus craft today and start with your little ones and their planet craft buddies today!

Uranus Craft Instructions
Can't wait to build your own planet Uranus craft?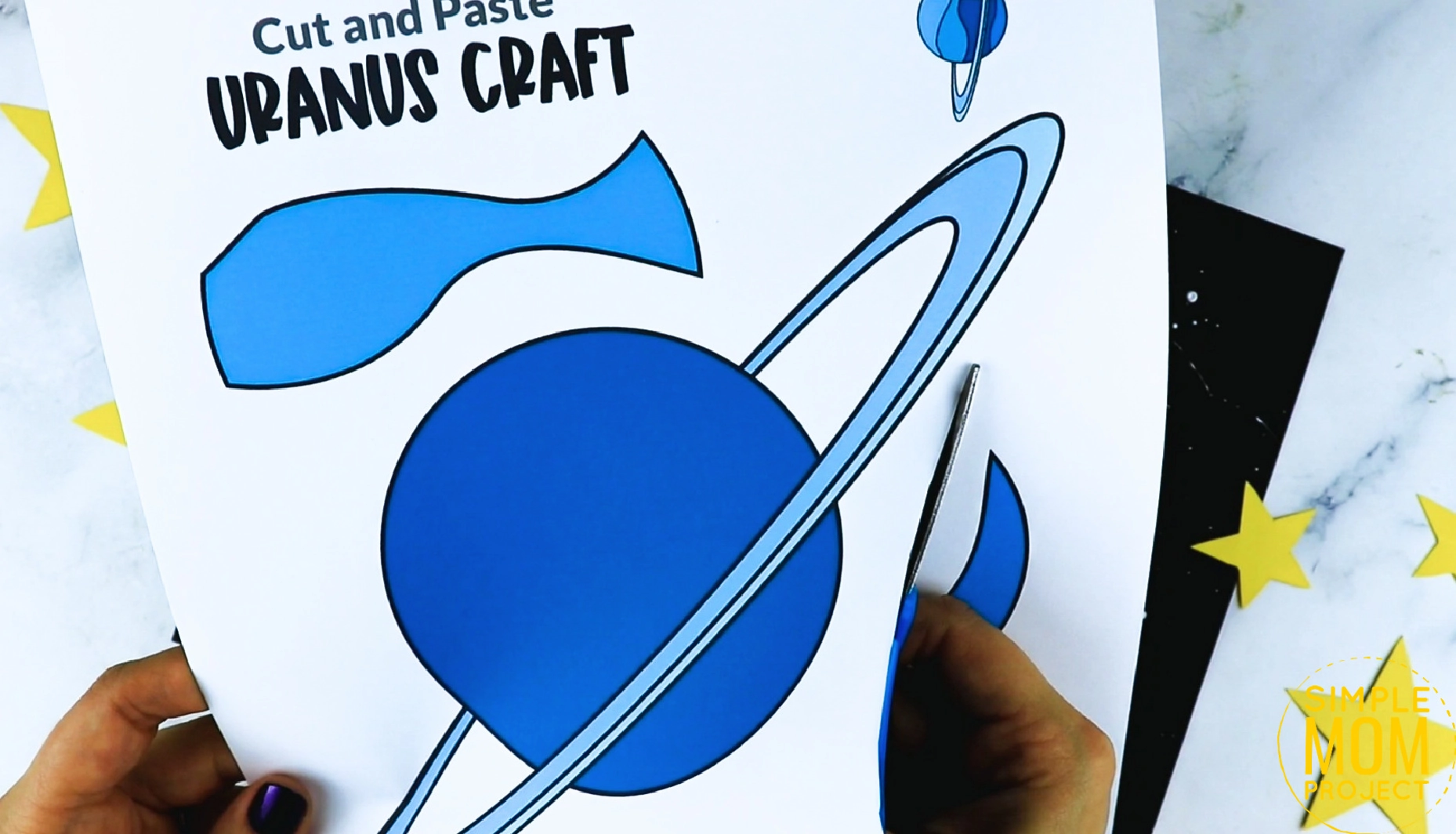 Take out all the simple materials and let's start crafting!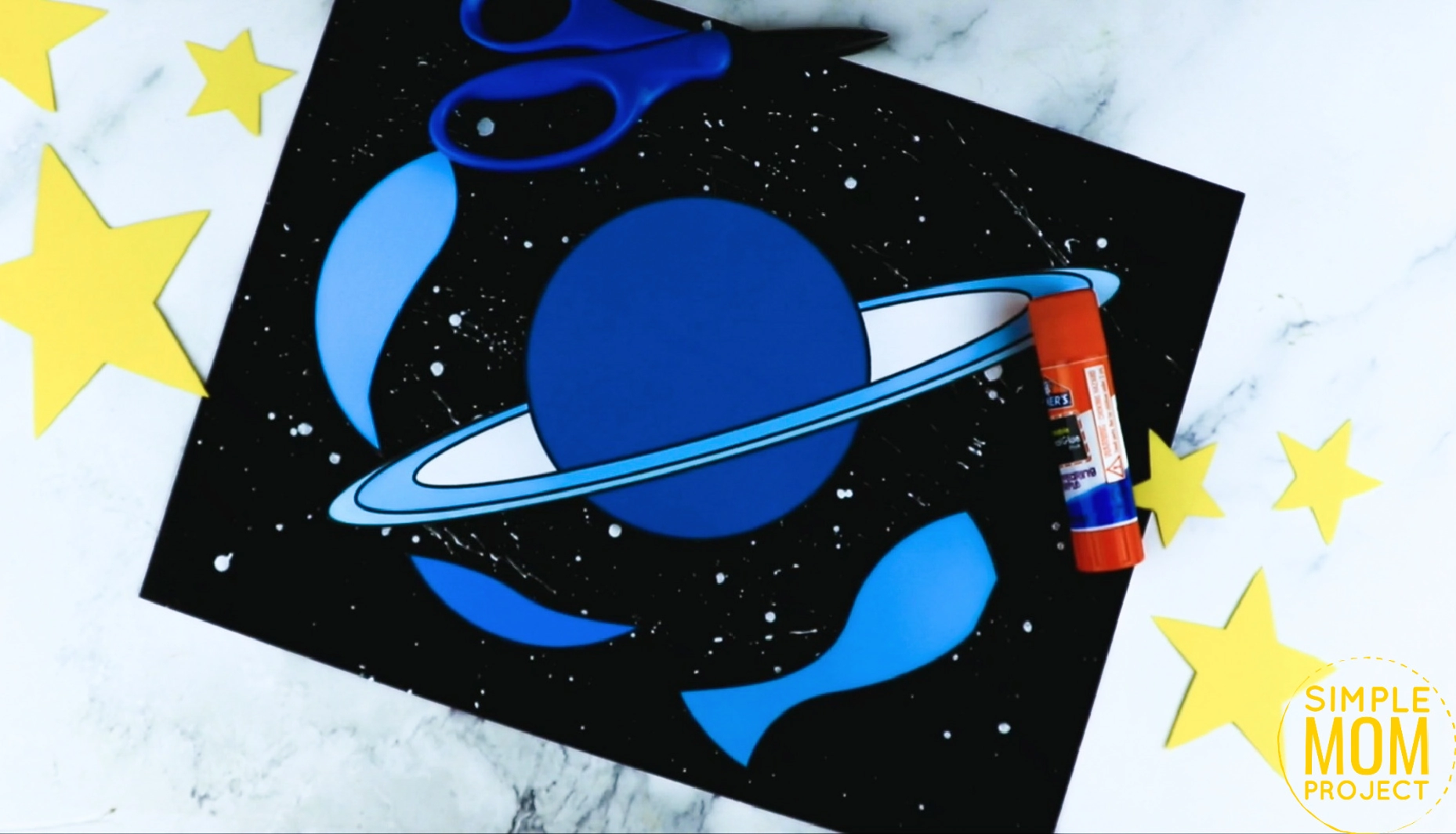 Let your little kids pick which version they want to make first.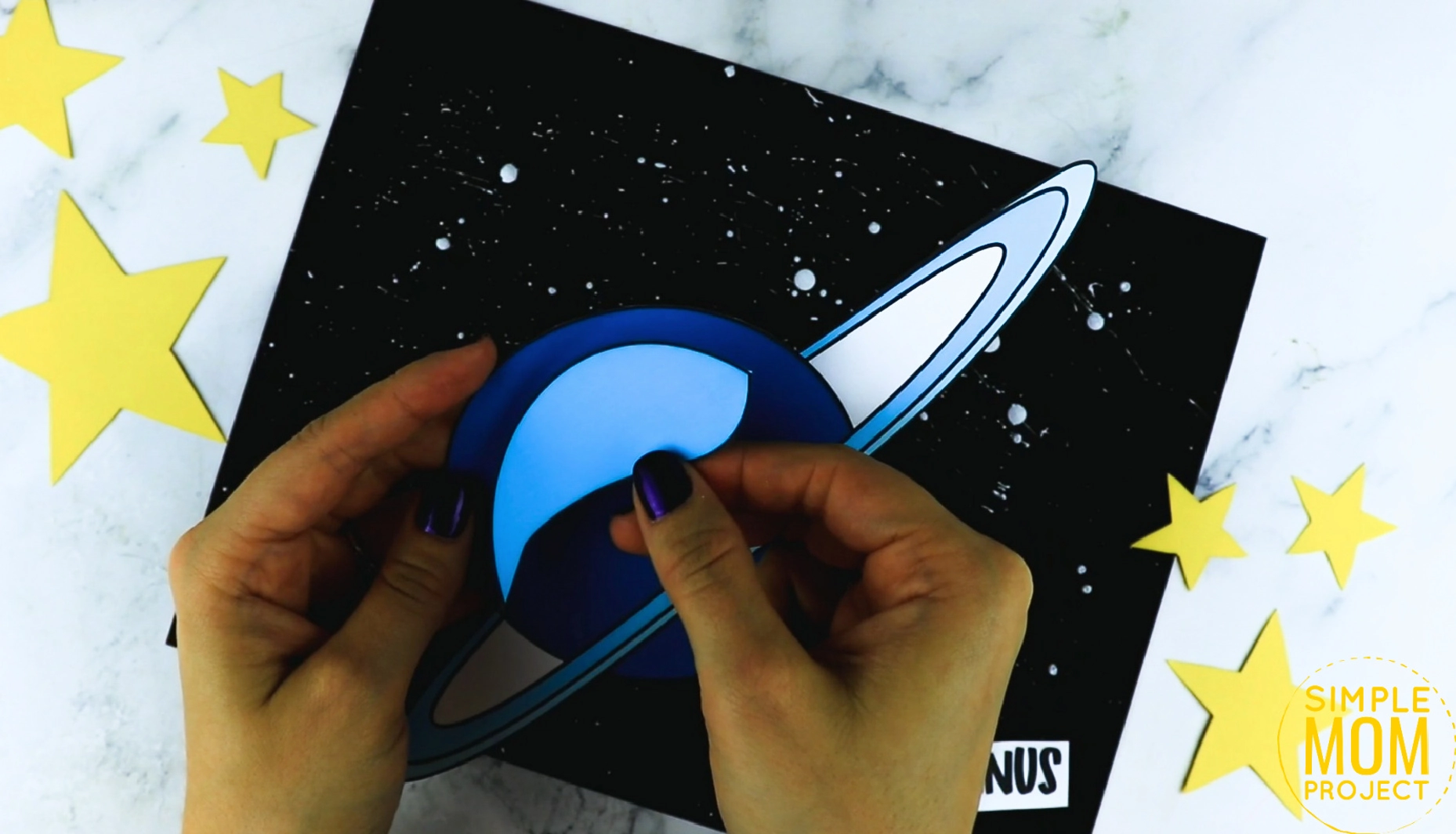 Download and print the Uranus craft template on a white sheet of paper.
Help your child to cut out the fun printable Uranus patterns into individual sections.
Use a glue stick to attach the cut-out parts onto your Uranus surface.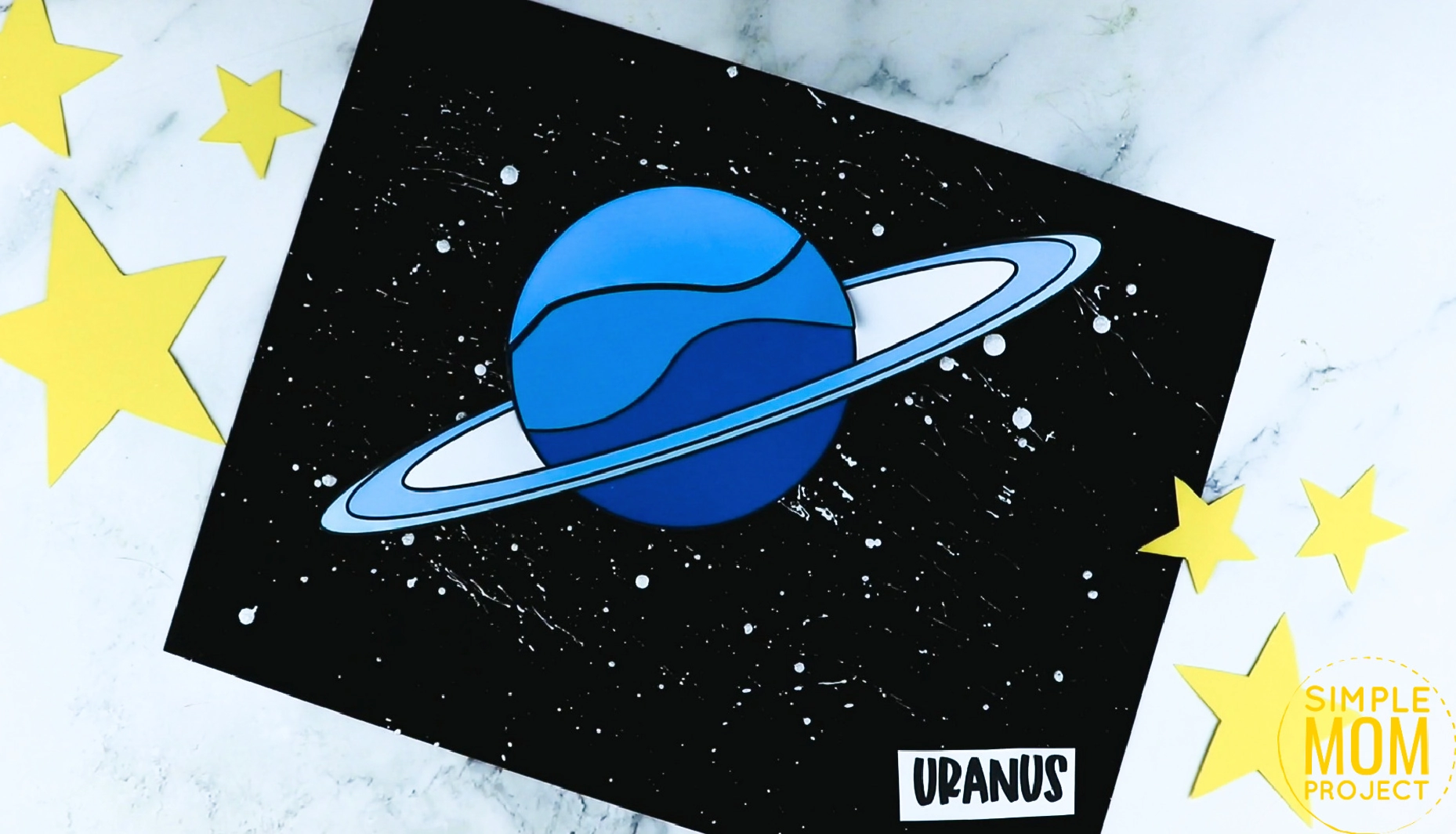 This cute planet Uranus craft is perfect to include in your kids' DIY Solar System project.
More Options to Choose:
You can print the blank version and trace the cut outs on card stock paper for a sturdier Uranus craft,
Print the Uranus template in color for a simple and easy rainy day craft or,
Print the blank Uranus template and use it as a fun coloring sheet activity and then glue the pieces of the Uranus craft together.
Printable Uranus Craft Template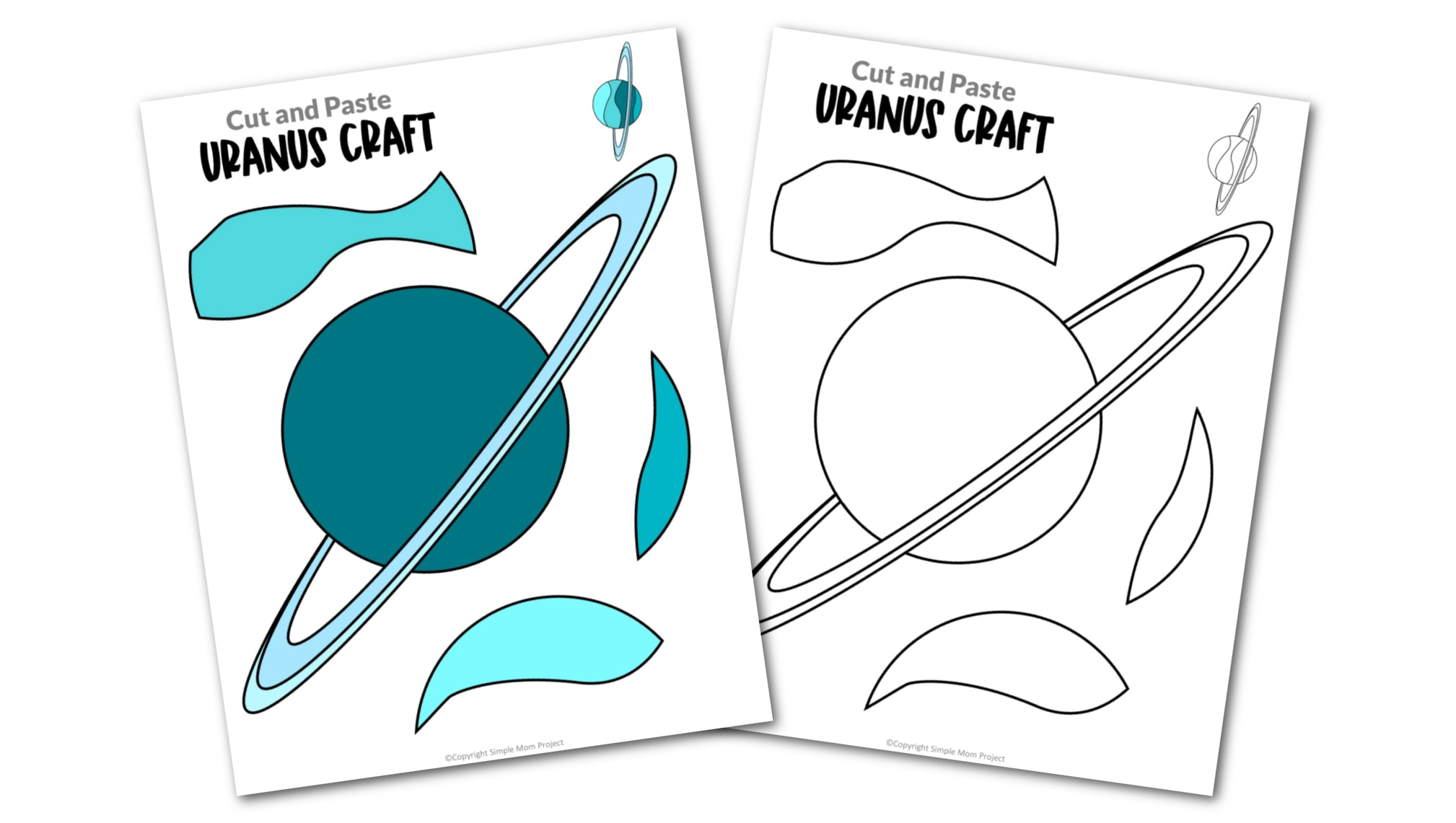 Keep your little astronauts busy during the weekend using the two different versions of these planet Uranus printable templates!
Your kids can choose whether they like to have the black and white Uranus outline with no color or the easy cut-and-paste colored Uranus craft template.
Don't forget to share your learning plans in the comments.
Need more planet fun? Check out our packed list of planets for simple craft fun with your little ones.  
When you have finished, be sure to share your creation on Simple Mom Project's Facebook Page and follow me on Pinterest!

Kaitlen D.
More Fun Planet Crafts