Turtles are magnificent creatures come in all shapes and sizes and live in a number of different environments.
It's no surprise that sea turtles are some of the most iconic and lovable animals in the ocean. Your little ones will definitely love coloring this adorable cartoon turtle drawing template if they are fascinated with Crush, the 105-year-old turtle character in Disney's Finding Nemo.
Take an imaginary trip under the sea when you make this free printable turtle coloring page that is perfect for the summer season!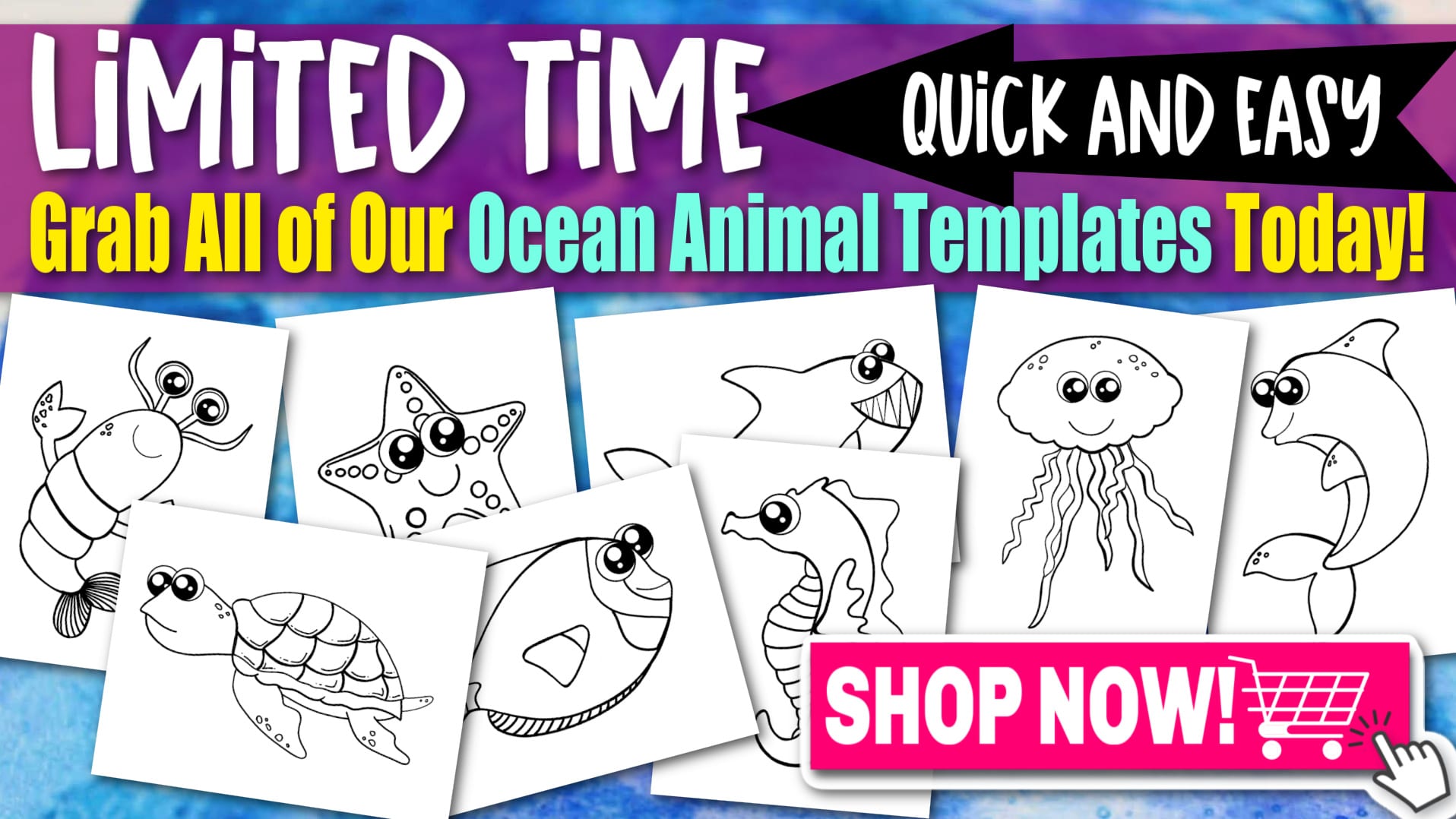 *By the way, this post may contain affiliate links which means I may receive a small commission at no additional cost to you if an item is purchase through that link. For more information, click here.*
Free Printable Turtle Coloring Page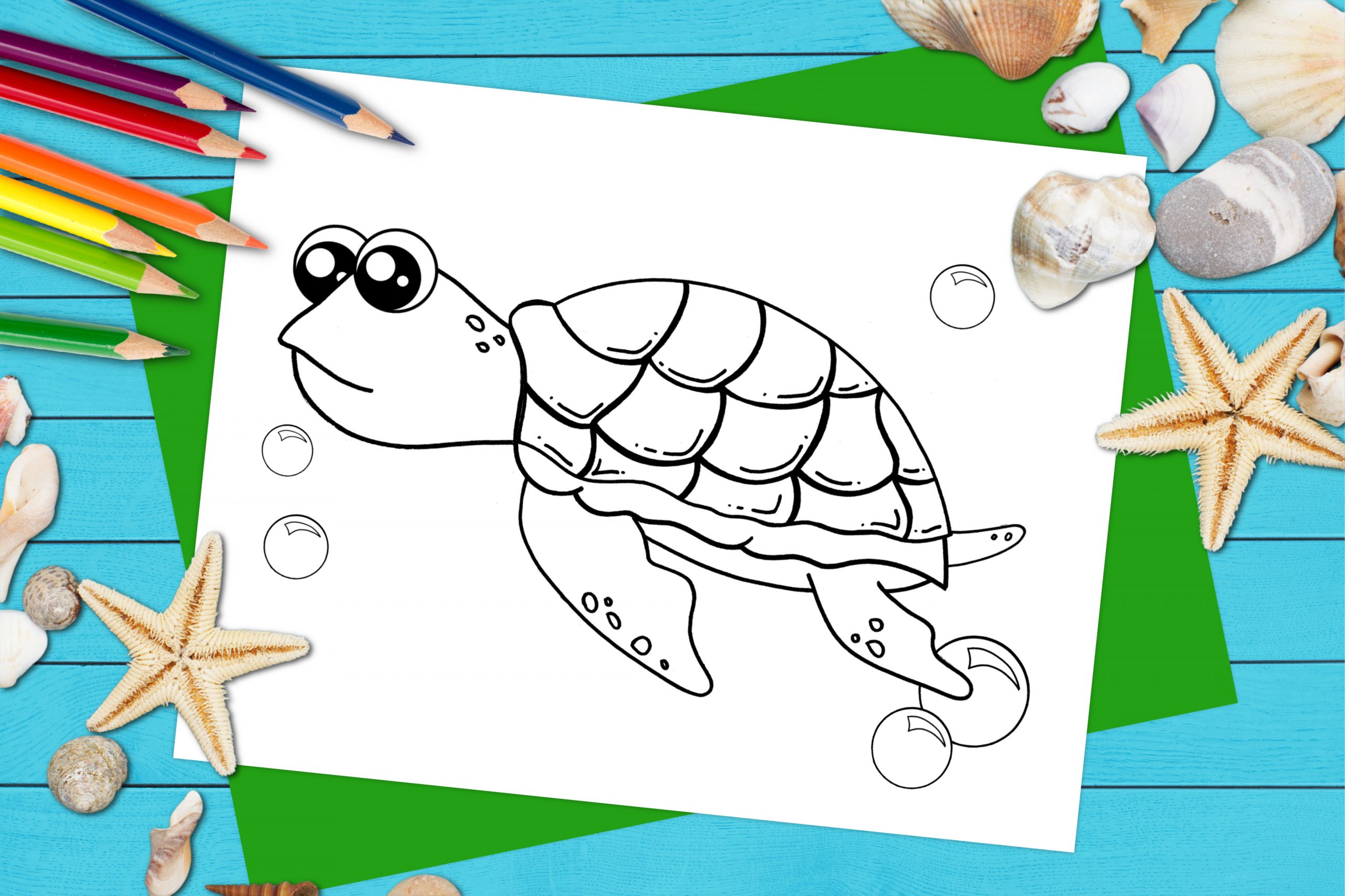 Turtle Coloring Page Materials Needed:
Printable Turtle Coloring Sheet (FOUND AT THE BOTTOM)
Make your child's finished turtle coloring page a forever memory by laminating it! We use this laminator and cannot express how much we love it! It is not only inexpensive, it is SO easy to use!
Your kids will love seeing how much you adore their art work when you laminate and display it for years to come!
Need more ocean animal fun? Don't miss out on all our full ocean animal coloring book for more ocean themed coloring pages and crafting fun with your little ones.
Ideas for Turtle Coloring Page Printable
For all the turtle lovers out there, here's a few ideas on how to include this adorable baby turtle coloring page in your daily life with the kids.
1. Fun Turtle Facts for Kids
Turtles belong to a group of reptiles called Testudines, which includes turtles, tortoises, and terrapins. So, what's the difference between these three sea animals?
Most turtles live in or near water and are great swimmers while tortoises are exclusively land animals and have flat feet for easy walking. Lastly, the terrapins live in water and land but mostly near swamps, rivers and ponds.
Did you know that baby turtles are called hatchlings? A beautiful baby turtle's gender depends on the temperature of the nest. Warmer nests lead to more females and cooler ones lead to more males. Interesting, right?
This cute free printable turtle coloring page will encourage your child to gain more interesting information about turtles and their ocean life.
2. Summer Fun at the Beach
Summer is almost here, which means a season full of vacations and great memories is just around the corner for the family!
Once your preschooler is done with this adorable free printable coloring page, tell them that you are planning to have a beach trip. Their faces will definitely light up because of excitement!
This printable sea turtle coloring activity and a family day at the beach will create a stronger emotional bond between family members. It's a great opportunity to make memories built on fun, laughter and togetherness.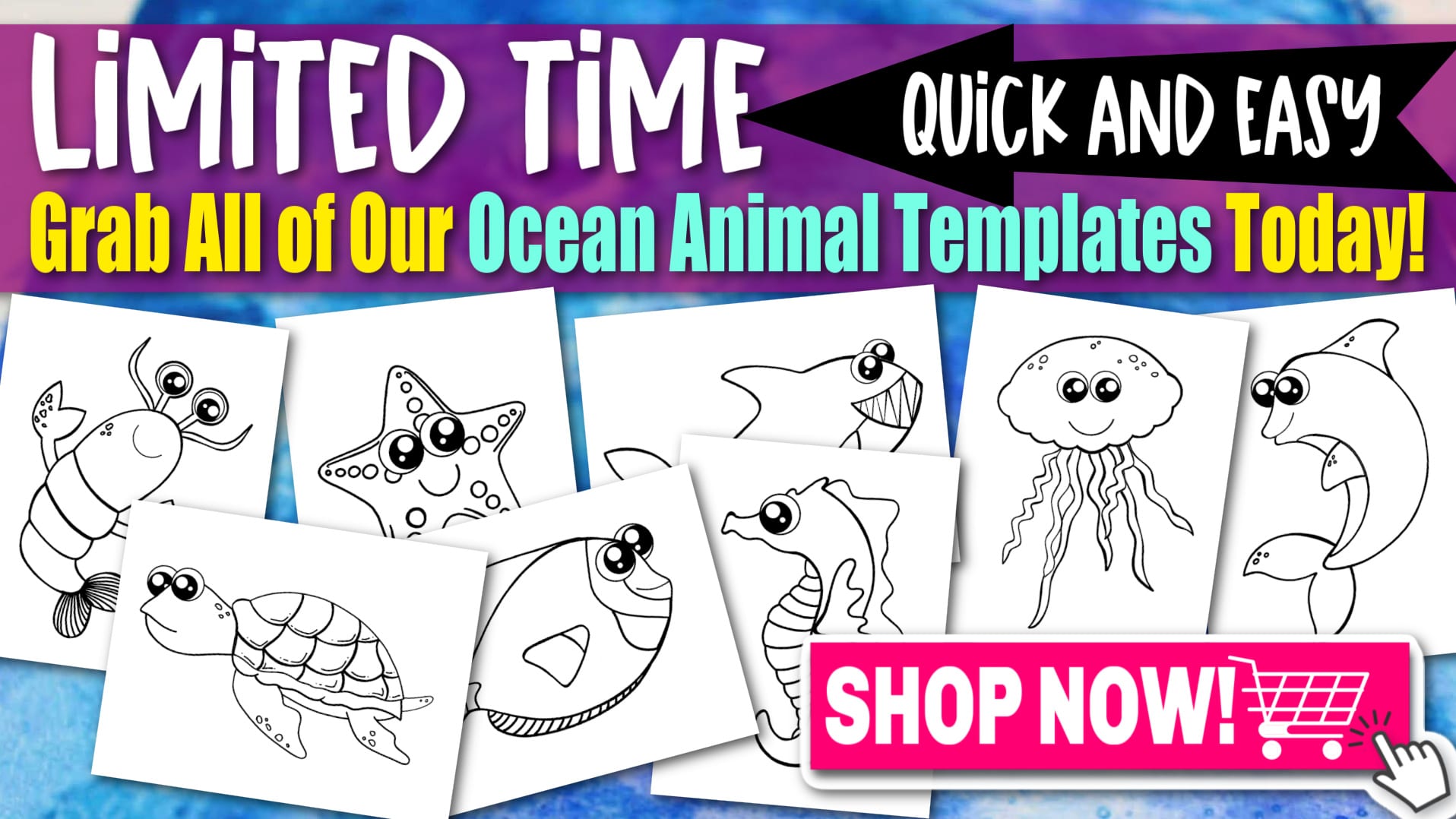 3. Easy Sea Turtle Craft
We love sea turtles at my house! Therefore, let's maximize the use of this lovely free printable turtle coloring page by creating a paper plate turtle craft!
Download and print this sea turtle coloring page now. Gather all the materials needed and don't forget the paper bowl or plate that serves as the turtle's shell. You can also add some googly eyes to make it more entertaining.
This easy preschool sea turtle craft is the perfect activity to keep your kids busy during the weekend.
4. Collection of Turtle Books for Children
Make your sea turtle craft educational by pairing it with one of these fun books about turtles.
We guarantee that your kids will surely ask for a more printable ocean animals coloring page after coloring this cute baby turtle drawing template.
Turtle Printable Coloring Page: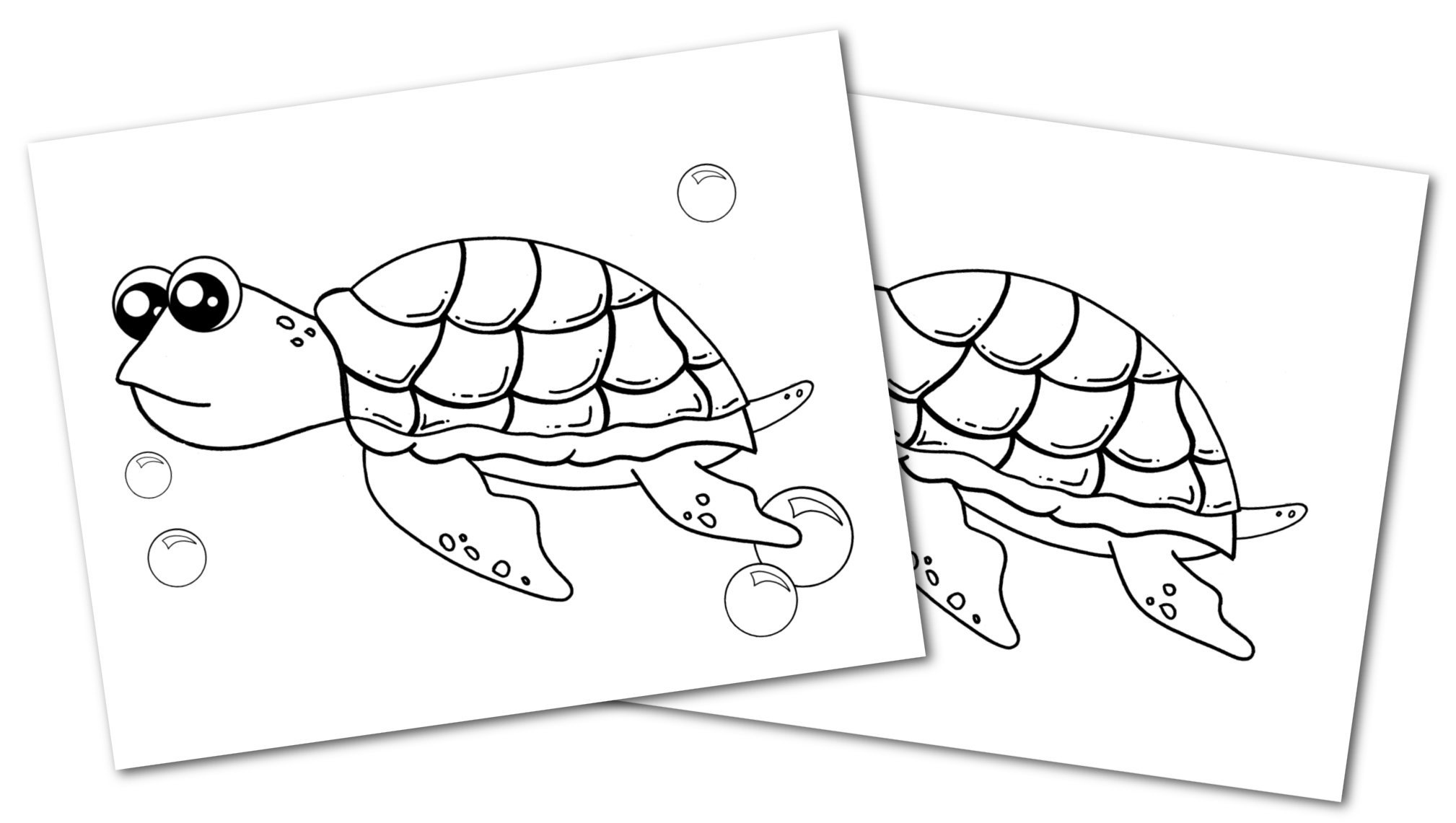 This free printable sea turtle coloring page has two different versions especially for your little ones! We have the cartoon-like turtle drawing template with bubbles and without the bubbles.
We are glad to be part of your summer activities with your kids. Don't forget to share all your incredible experiences in using this free printable turtle coloring page in the comment section.
When you have finished, be sure to share your creation on Simple Mom Project's Facebook Page and follow me on Pinterest!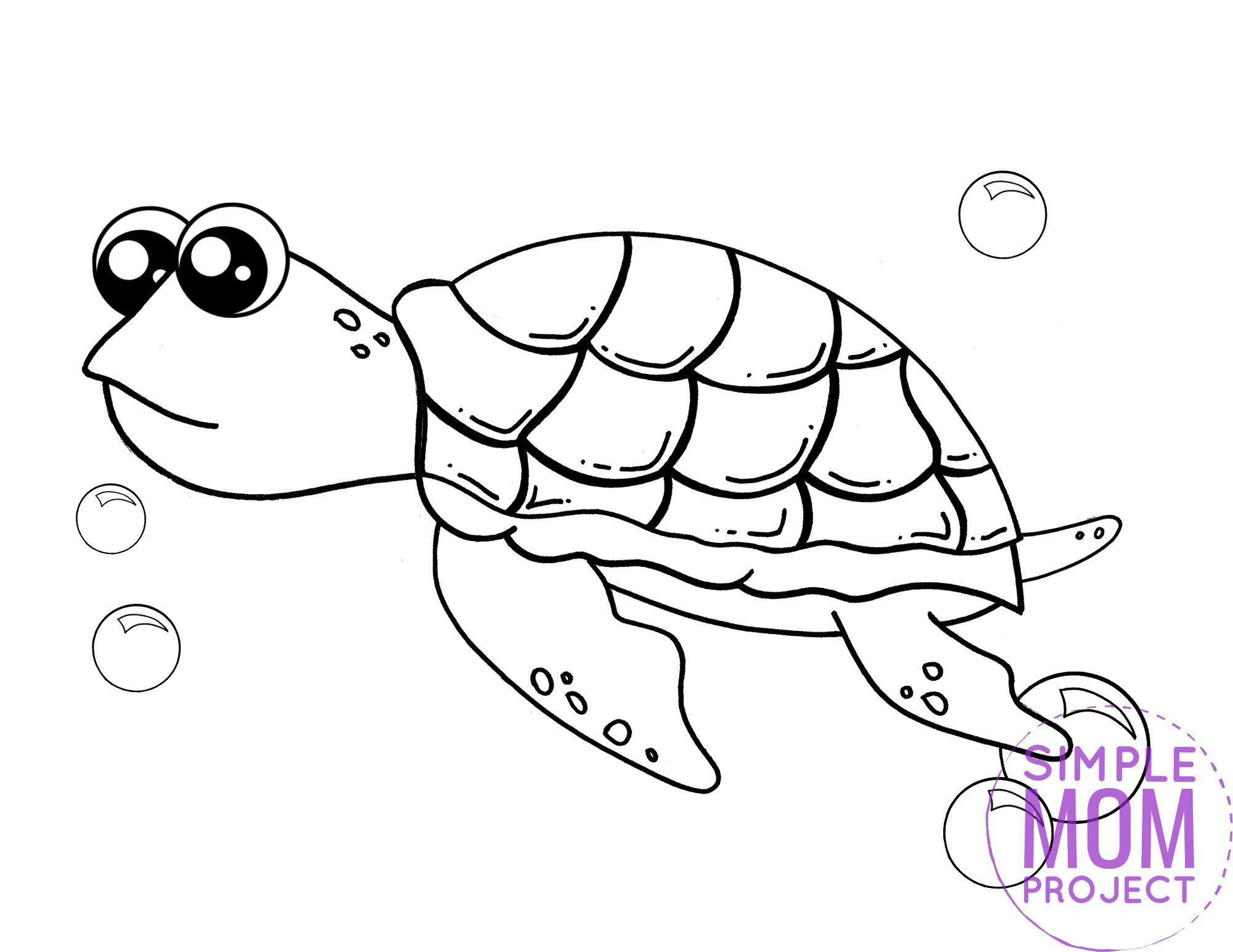 Kaitlen D.
More Fun Ocean Animal Coloring Pages