Spring is here and what a perfect time to make butterfly crafts. After all that snow and now rain, it's refreshing to see all the beautiful bright colors decorating the wings of these bugs. I've included a wide range of crafts to make.
There are quite a few that use recyclable material as well – good for the planet and it makes a great craft medium! Break out the paint, beads, and pipe cleaners, your kiddos are going to have a blast with the different types of butterflies they can make.
There are a few craft projects that do require some adult help and supervision, so be sure you're on hand! Plus, it's a lot of fun to spend time with your children and create something beautiful.
20+ Fun Spring Butterfly Crafts for Kids
Keep scrolling to find you next spring craft and be sure to tell us in the comments which butterfly craft was your favorite.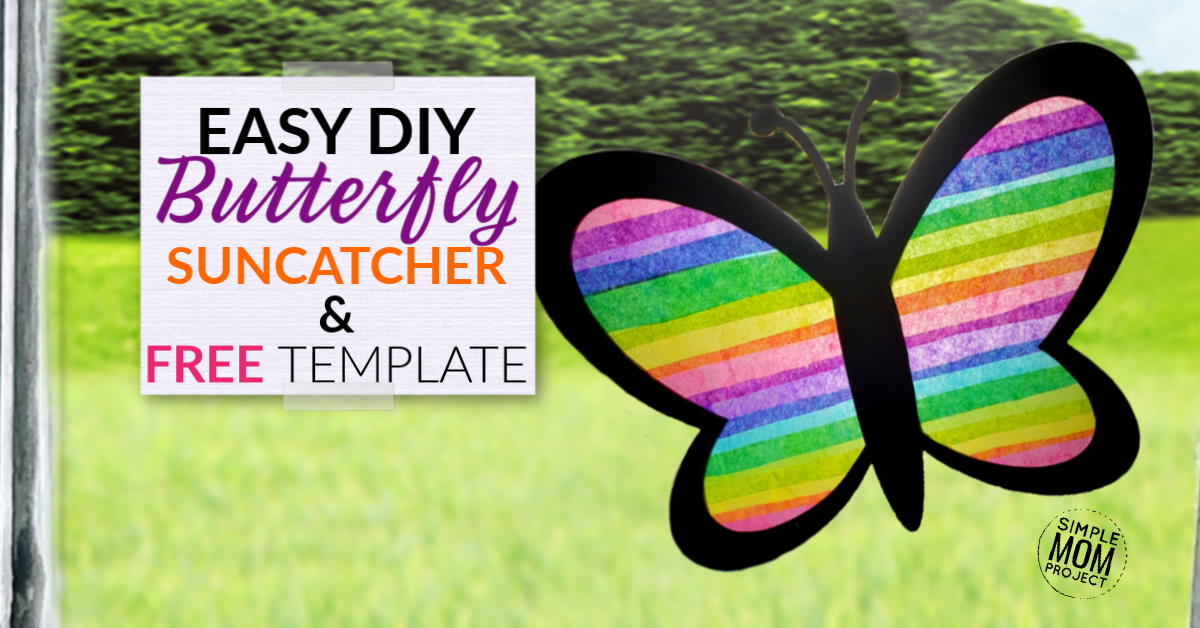 01 – Perfect for spring, this stained glass butterfly craft doesn't require many items to make and looks awesome once in the window.
Stained Glass Butterfly – Simple Mom Project
02 – Butterflies are beautiful! Why not pretend to be one. These exclusive masks are only found on our site. Print yours off now, color it and start fluttering around the house.
Butterfly Face Mask – Simple Mom Project
04 – Here is a paper plate craft where the child doesn't just make a 2D flat piece of art – this craft creates a butterfly that actually moves it's wings!
Paper Plate Fluttering Butterfly Craft – I Heart Crafty Things
05 – Gives old newspapers a new life – as butterflies! Break out the paint and get started on this easy craft.
Painted Newspaper Butterfly Craft – I Heart Arts n Crafts
06 – This is a craft this require a parent or guardian's help. The kids get to cut and color, but the adult needs to be the one in charge of the oven.
Shrinky Dink Butterfly Mobile – Cutesy Crafts
07 – This is a simple but fun craft. The kids make butterflies with their fingers on the mug – creating a piece of art you can take with you to the office!
Butterfly Mug Painting – The Best Ideas for Kids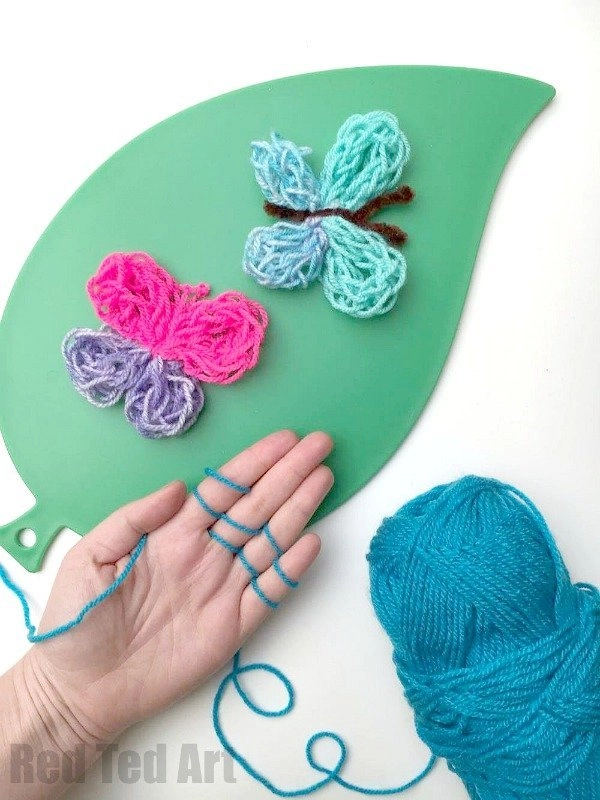 08 – Butterfly finger knitting might take a little bit of time to learn, but it's well worth it! These cute butterflies make great decorations in a child's window.
Butterfly Finger Knitting – Red Ted Art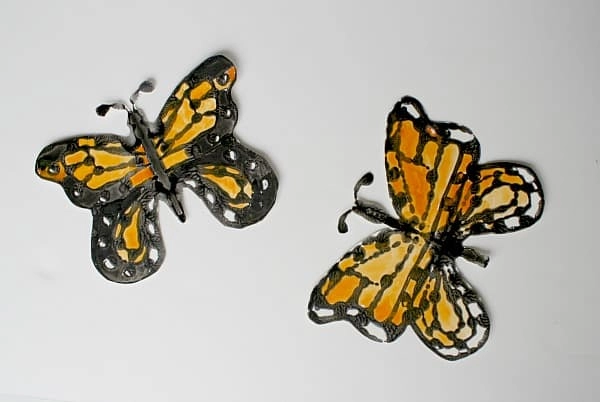 09 – Butterflies are the perfect creature to use as the subject of symmetry. The Monarch butterfly is gorgeously colored orange, black and white. This is a great craft to tie into other studies about Monarchs.
Monarch Butterfly Symmetry Art – Buggy and Buddy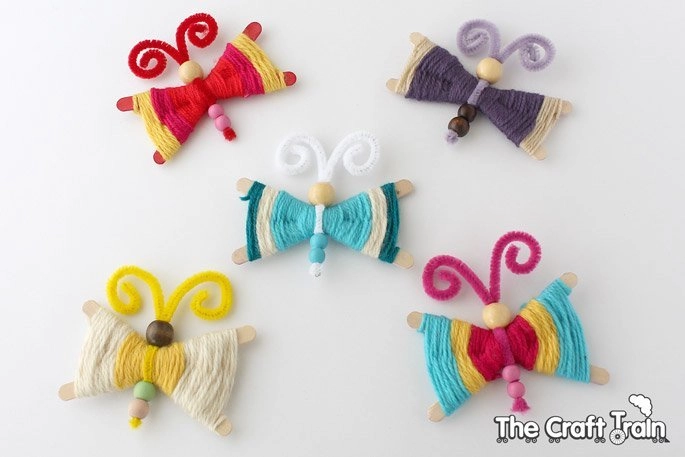 10 – Woven craft stick butterflies is a craft that's great for kids fine motor practice. It's an activity that's surely going to put their fingers in a work out.
Woven Stick Butterflies – The Craft Train
11 – If you don't mind a little mess with your crafts, try making butterfly squish art with your kiddos. Who doesn't love a little mess when it comes to art?
Butterfly Squish Art – The Craft Train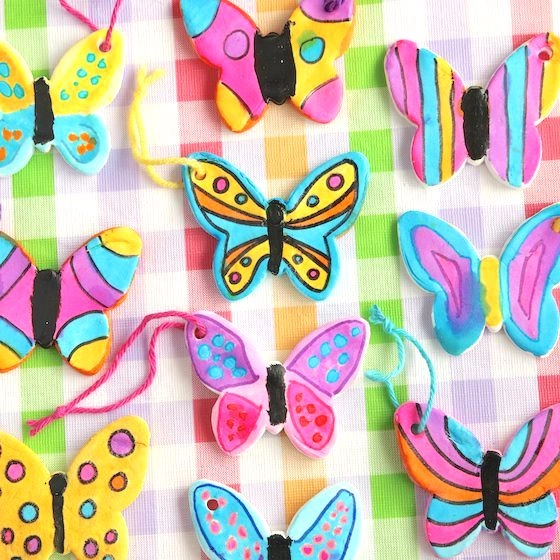 12 – Break out the paint and clay – your kids are going to want to fill all the windows and any empty space with these beautiful butterfly ornaments.
Vibrant Clay Dough Butterfly Ornaments – Happy Hooligans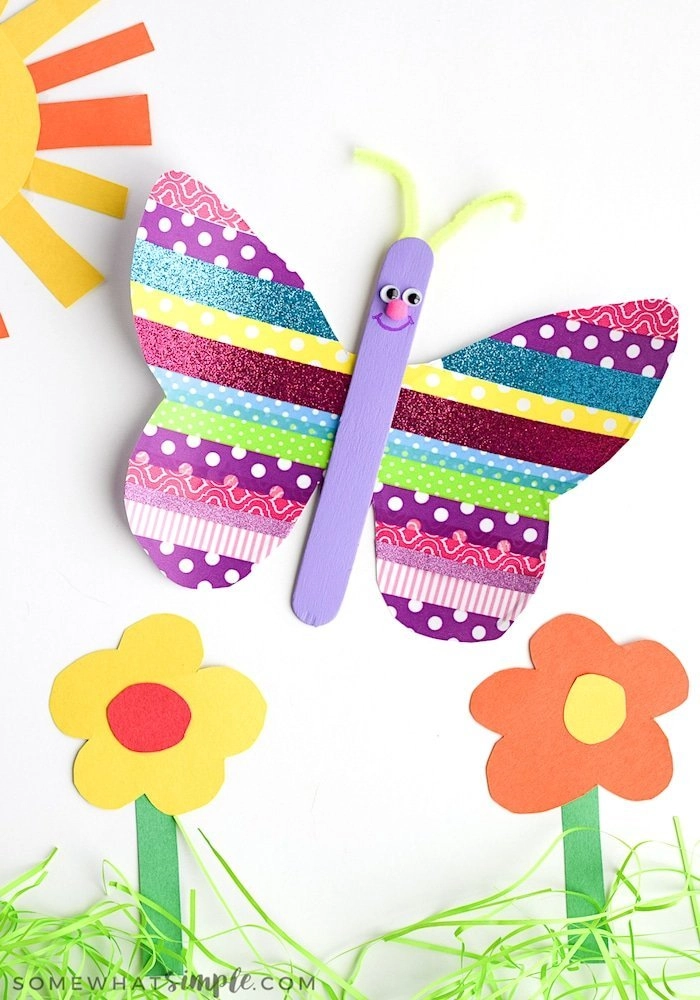 13 – What can't washi tape do? This is a craft medium I love to use and so will your kids. Use as many different kinds of washi tape as you want, to create some truly unique butterflies.
Washi Tape Butterflies Craft – Some What Simple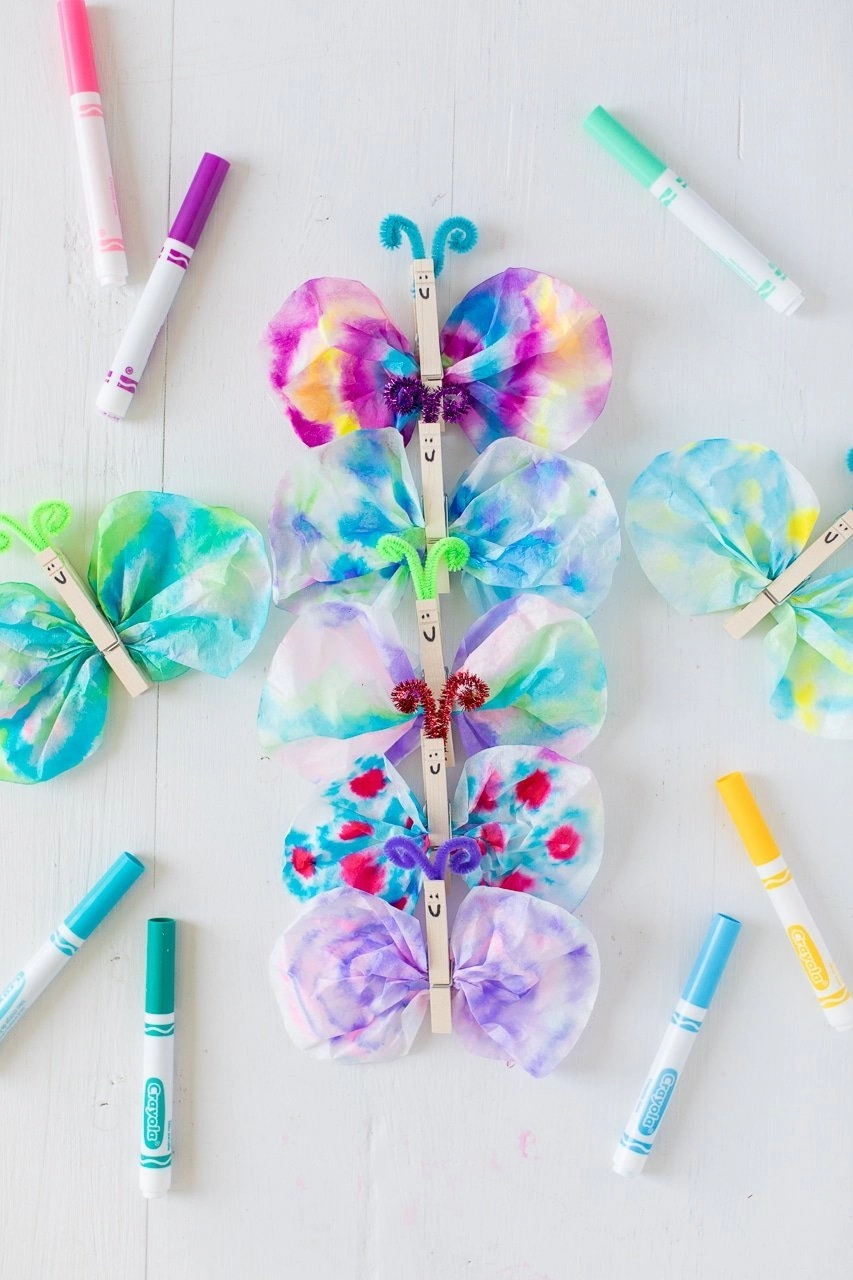 14 – If you've got coffee filters and markers on hand, this easy to do butterfly craft will be loads of fun to make.
Coffee Filter Butterflies – Made to Be a Momma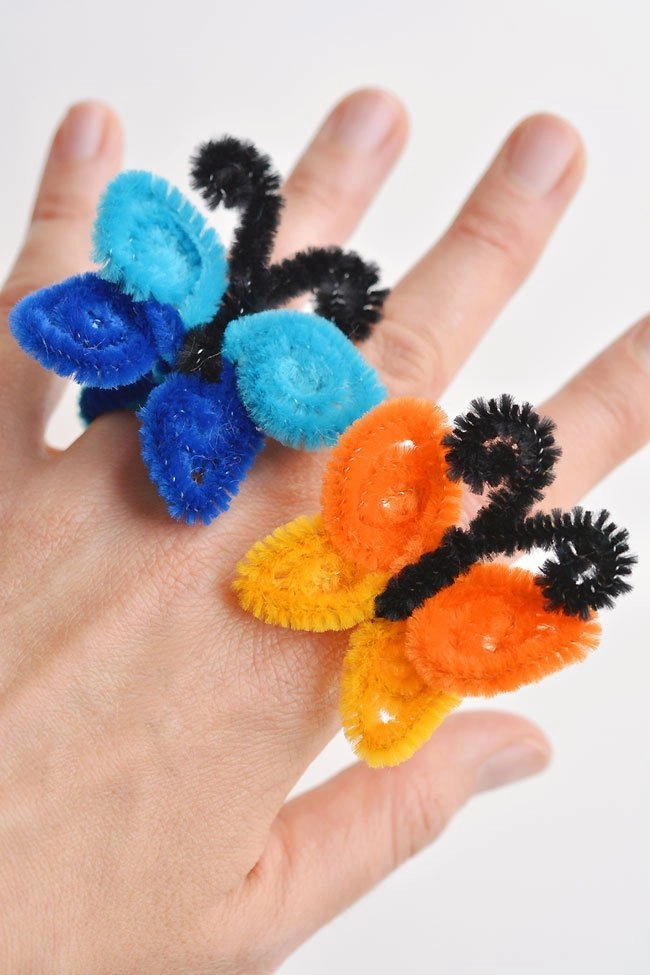 15 – Make some cute kid-friendly jewelry with this tutorial on how to take pipe cleaners and turn them into butterfly rings!
Pipe Cleaner Butterfly Rings – One Little Project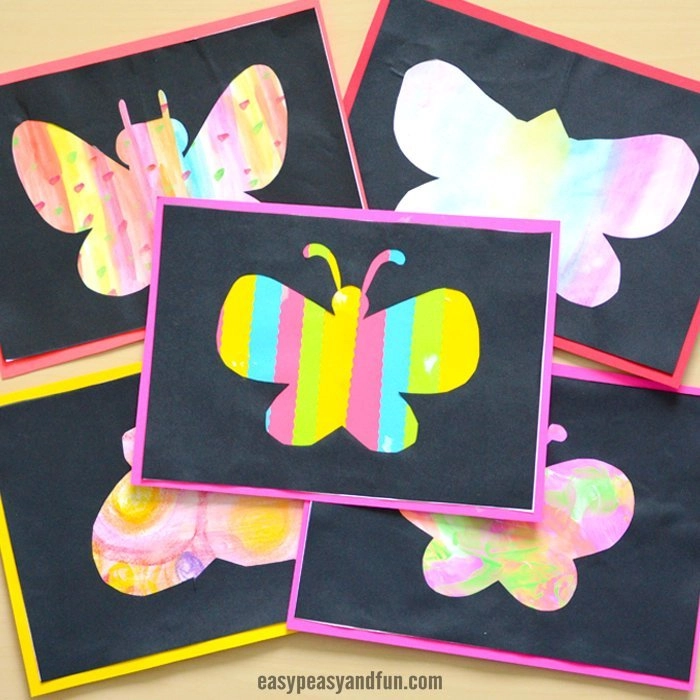 16 – This butterfly silhouette art is a creative and beautiful way to show how negative space plays a part in art.
Butterfly Silhouette Art – Easy Peasy and Fun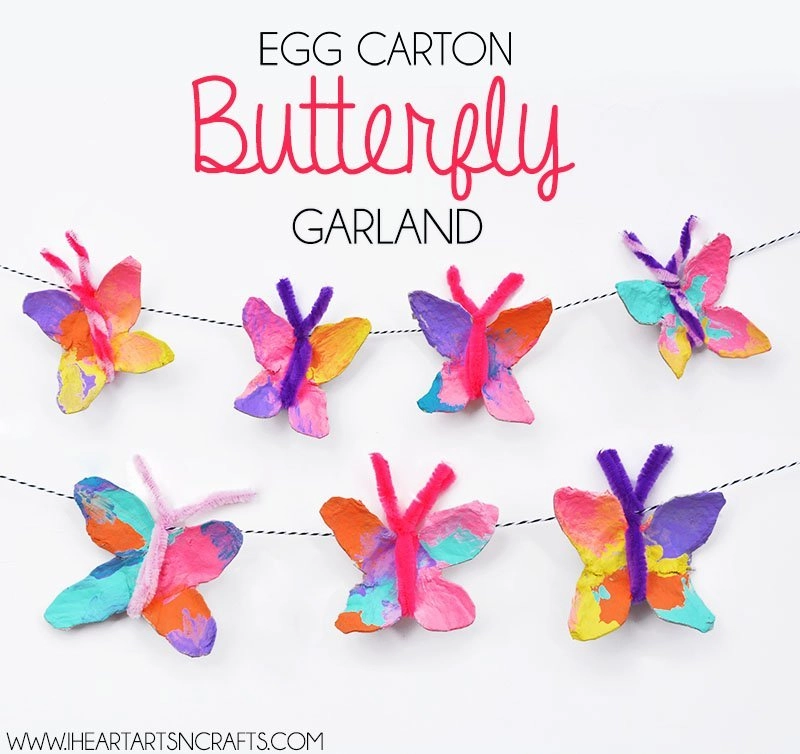 17 – Perfect for spring is this child painted egg carton butterfly garland. Not also does it use recyclable material, but it looks cute hanging up!
Egg Carton Butterfly Garland – I Heart Arts n Crafts
18 – This is another craft that I just want to make bunches of with my kids and decorate their room with them. They turn out so cute!
Beaded Pipe Cleaner Butterflies – One Little Project
19 – Nature is a great art medium. Using real leaves, create some one-of-a-kind nature butterflies.
Autumn Lead Butterflies and Dragonflies – One Little Project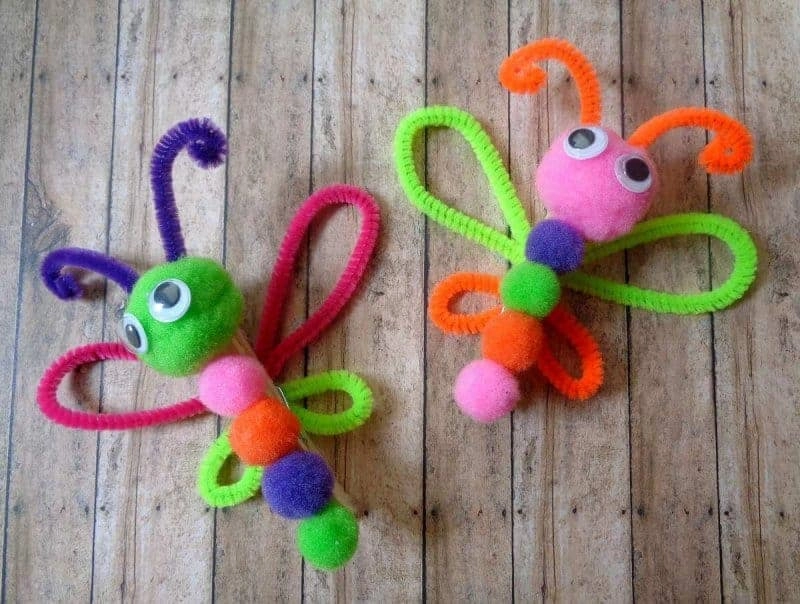 20 – Your fridge is seriously lacking some spring time flair. These butterfly magnets can help!
Clothes Pin Butterfly Magnet – The Inspiration Edit
21 – Let your kids' love for butterflies extend to your porch with this each to make butterfly toilet paper roll windsock.
Butterfly Windsock Toilet Paper Roll Craft – Easy Peasy and Fun
Which butterfly craft is your favorite? Be sure to tell us in the comments. If you feel like we are missing a true butterfly beauty in our list, let us know! We love showcasing beautiful works of art.

Kaitlen D.