The Land Before Time is one of the few non-Disney kids' movies that my family love to watch.
One of my favorite characters is Cera; the female triceratops who also inspired me to share this free printable triceratops craft template that's perfect to keep your children busy during the weekend.
This black and white illustration of a triceratops dinosaur on a white background will encourage your preschooler to develop their color recognition by providing lots of access to crayons and to work on their scissor skills.
There's no doubt that your children will love making this easy cut and paste triceratops printable template.
Keep scrolling down to see the simple instructions or watch the step-by-step tutorial video.


Need more crafty fun? Check out our Tyrannosaurus Rex and Stegosaurus craft.
 T
hey are perfect for those days when staying indoors is the only thing your family can do!
*By the way, this post may contain affiliate links which means I may receive a small commission at no additional cost to you if an item is purchase through that link. For more information, click here.*
Free Printable Cut and Paste Triceratops Craft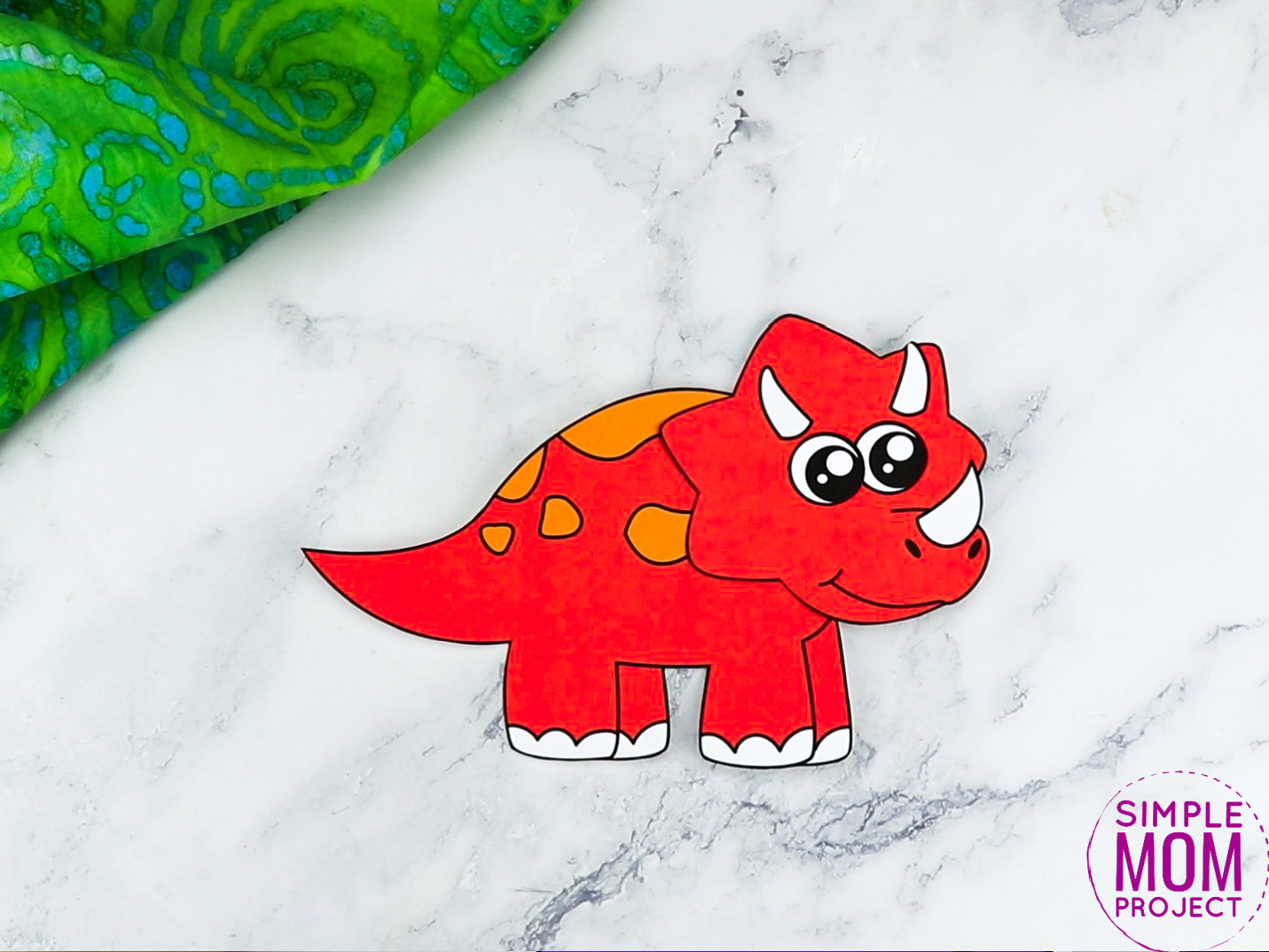 Ideas for Easy Preschool Paper Triceratops Craft
Here are the coolest ideas on how to include this free printable triceratops craft template in your everyday life with the kids.
1. Amazing Facts About Triceratops
Do you know any fun facts about dinosaurs?
If none, let me tell you these basic facts that you can share with your kids once they are finished making this easy cut and paste triceratops printable template.
Triceratops are herbivorous dinosaurs that lived a million years ago.
Do you know the meaning of triceratops?
It comes from the Greek language, meaning "Three-horned face."
They use their horns to protect themselves from T Rex.
Did you know that triceratops had huge heads?
Their skull was one third the length of its entire body and it could grow over 2m (7ft) in length.
They were slow moving creatures who roamed in a large group.
2. Triceratops Children's Books
Reading together is a nice way to spend time with your little one.
Reading to your children helps them develop their focus and self-discipline skills.
Make this easy cut and paste craft educational by pairing it with one of these wonderful children's books about triceratops.


3. DIY Paper Plate Triceratops Mask
Looking for a fun and easy dinosaur craft to make during the weekend?
Why not teach your child to make their own paper plate triceratops mask craft!
It is clear that dinosaurs are loved by every kid, so gather all the craft supplies and print out this cute triceratops craft template now!
Start off by cutting the white paper plate in half and have your preschooler paint it.
On a construction paper, cut out some semi-circles – this will become the triceratops' frill.
Next, draw a rounded triangle shape for the beak and three curved horns.
Cut out two holes for the eyes.
You can either tape a straw on the side of the paper plate to make a handle or punch holes on both sides of the plate and attach an elastic string.
Let your child wear the triceratops mask and play with their dinosaur toys.
4. Family Movie Night
If your kids are done making their cute printable triceratops craft templates and they still can't get enough of dinosaurs, we suggest having a movie night with the whole family!
It's a great opportunity to build a strong and healthy bond with your child.
My toddler usually wants to watch The Land Before Time.
It's set during the prehistoric era of the dinosaurs and simply teaches my children the importance of family and friends supporting each other even during difficult times.
While my kindergartener is fascinated with Jurassic Park.
These are just some of the awesome ideas on how to maximize the use of the easy printable triceratops craft template.
We're confident that you and your little one will have a lot of fun!


Triceratops Craft Supplies Needed
Printable Triceratops Template (FOUND AT THE BOTTOM)
Keep scrolling to get your very own triceratops craft today and start with your little ones and their triceratops craft buddies today!
Triceratops Craft Instructions
Let's start crafting and grab all the craft materials because we are about to have a good time with the kids!
Download and print out which version your little one chooses and cut out the cute printable triceratops craft template into individual sections.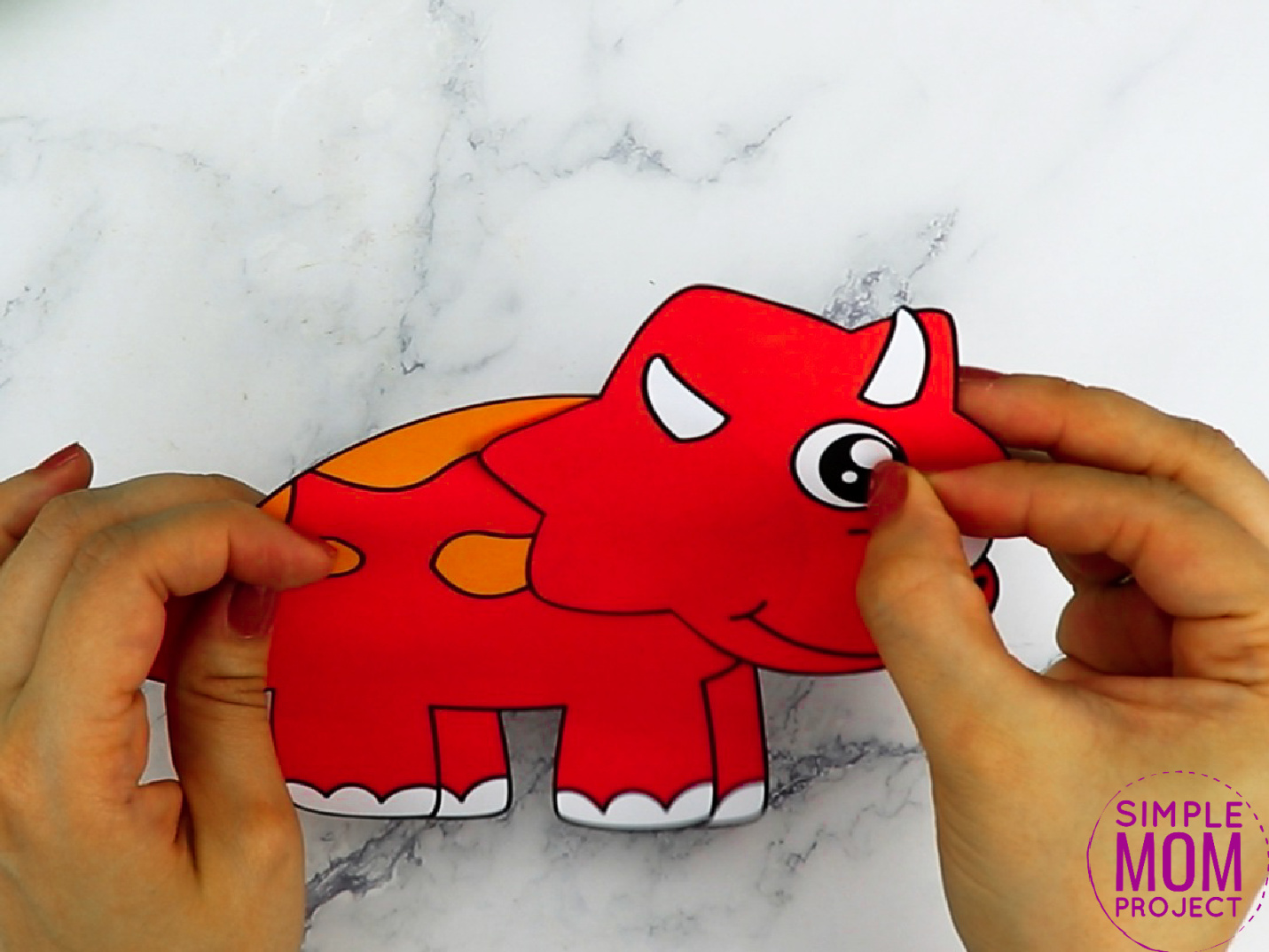 Start gluing its head and body together.
Then, glue its big bright eyes.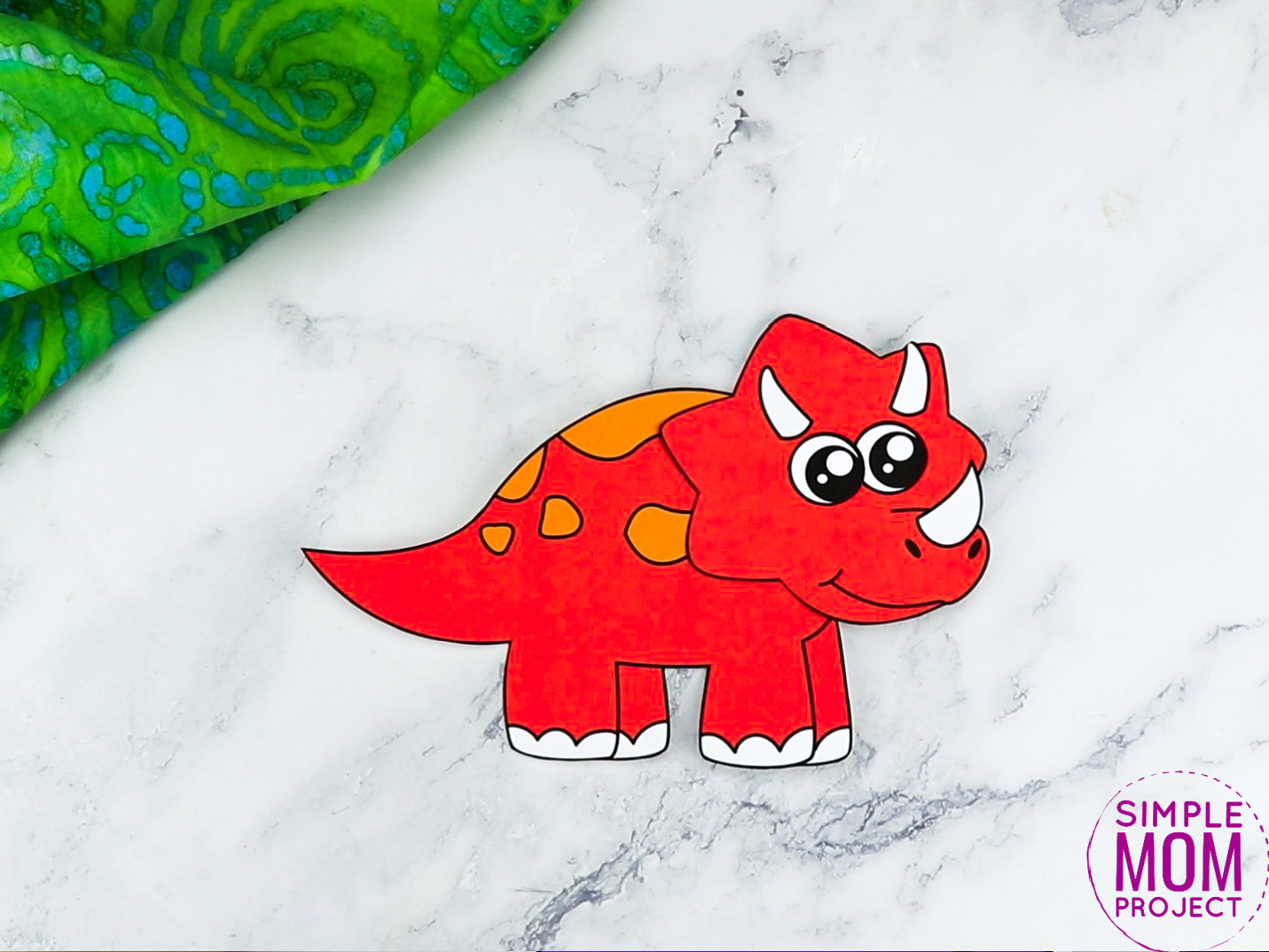 This cut and paste triceratops craft is so easy to make and depending on the ages of your kids, they may be able to do them all by themselves!
More Options to Choose:
You can print the blank version and trace the cut outs on card stock paper for a sturdier triceratops craft,
Print the triceratops template in color for a simple and easy rainy day craft or,
Print the blank triceratops template and use it as a fun coloring sheet activity and then glue the pieces of the triceratops craft together.
Free Printable Triceratops Craft Template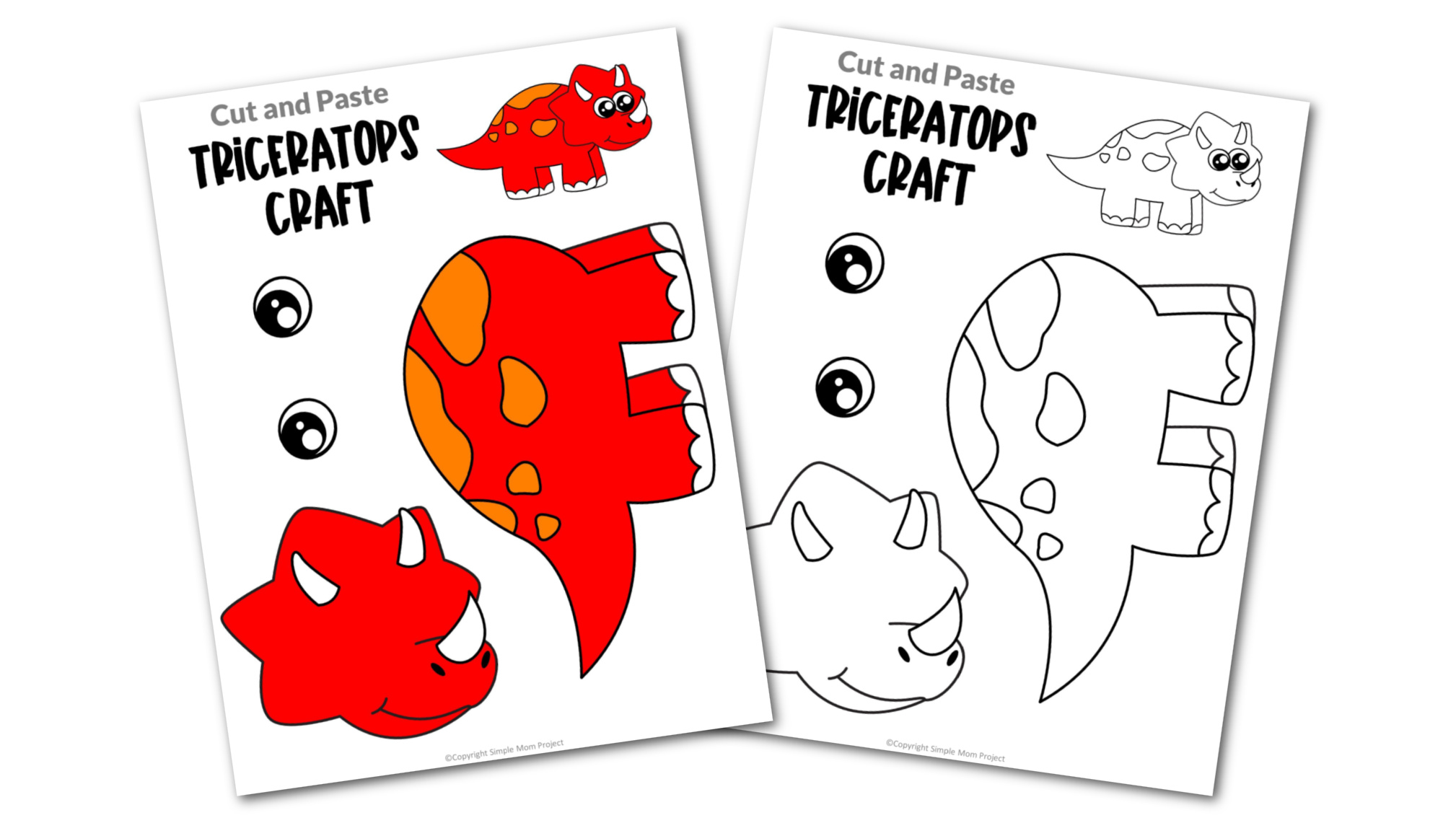 Why choose if you can print the two incredible versions of this free printable triceratops craft template for your toddler, preschooler and kindergarten.
We got the simple plain triceratops drawing template where they can fill it up with colors and the colored triceratops template if they want to directly cut and paste it together.
Don't forget to share your learning plans in the comments.
Need more dinosaur craft fun? Check out our packed list of dinosaurs for simple craft fun with your little ones.  
When you have finished, be sure to share your creation on Simple Mom Project's Facebook Page and follow me on Pinterest!

Kaitlen D.
More Fun Dinosaur Crafts