This preschool brown bear craft printable is an easy art activity for a kindergartner, preschool kid, and toddler to enjoy.
Whether you're searching for a rainy day activity, winter break craft, or something to do for fun with your kids, I'm confident that this fuzzy brown bear craft will keep your kids busy!
There are many ways to incorporate this easy preschool paper plate brown bear craft into your day with toddlers.
*By the way, this post may contain affiliate links which means I may receive a small commission at no additional cost to you if an item is purchase through that link. For more information, click here.*
Need more winter fun? Check out our build-a-wolf craft and our Abominable Snowman cut and paste craft. They are perfect for those cold days when staying indoors is the only thing your family can do!
Free Printable Brown Bear Craft for Kids with Free Bear Template
Ideas for Brown Bear Craft Printable
Below are a few ideas to get you started using this teddy bear printable with your toddler, preschooler, or kindergartner today.
1. Letter B Craft
You can use this teddy bear handprint per K activity as part of your letter recognition activities. Print the template for my teddy bear art. Write an uppercase and lower case B on the bear as your toddlers work to practice saying B is for bear during their preschool crafts session.
2. Handprint Preschool Crafts
Having new ways to document your kids' handprints is a fabulous way to add a colorful touch to a baby book, or home wall décor.
You can have your kids use their feet or handprint as the body of this fuzzy brown bear craft to document their growth over the years.
3. Paper Bag Bear Puppet
This brown bear craft printable can easily be used to create a paper bag bear puppet. You can download the teddy bear mask template, color the bear, and glue it to your toddlers paper bag.
Have your toddlers include other animal paper bag crafts to create their own play with animals for the family to enjoy.
4. Paper Plate Preschool Crafts
This is another fun preschool printable craft to use with paper plates. Gather one paper plate per kid along with my printable brown bear craft for an easy craft day with toddlers.
Your kids will enjoy making their paper plate brown bear craft as part of your toddler crafts day.
5. Bear Activities Day
Lastly, you can use this brown bear craft printable as part of your bear activities day with toddlers. You can create polar bears, teddy bear puppet, read a bear book, and design a teddy bear handprint craft as part of your day full of easy art activities.
6. Bible Lesson
Two times bears were mentioned in bible prophecy, one in Revelation 13:2 speaking of the first beast and another in Daniel 7:5 speaking of another beast.
But we are going to speak of a different bear in Hosea 13:8. The bible says, "Like a bear whose cubs have been taken away, I will tear out your heart." The last part of that scripture seems a little scary, but when we really dig into its meaning, we get a better understanding and a greater lesson to teach out kids.
This passage gives us an image of the LORD being the mother bear and her cubs are taken away because they have chosen to worship idols and cleverly carved images. God cannot tolerate the self-destruction his beloved people are on. He loves them, and us ferociously like a mother bear loves her cubs.
There's two messages here. One is to not worship idols. This could mean anything from a statue, to money, to food, to video games, anything that consumes us and is separating us from God.
The other is that God loves us so much that he would defend us, again, like a mother bear with her cubs. Give your kids a big bear hug and tell them just how much you love them and how much God loves them. It is endless and you (and God) will do anything to protect them.
These are just a few ideas that should get you moving forward in using this kindergartner brown bear printable with your kids. Using crafts in everyday life with kids helps encourage a love of learning, a curiosity of the world, and strengthens your kids' fine motor skills.
Brown Bear Craft Supplies Needed:
Printable Brown Bear Template (FOUND AT THE BOTTOM)
Keep scrolling to get your very own winter brown bear craft today and start with your little ones and their paper brown bear buddies today!
Brown Bear Craft Instructions:
After you've printed your brown bear template , go ahead and cut out the body parts.
Another fun way to enjoy this brown bear craft friend is to print the brown bear template on white paper and color him first. Then cut and glue him together.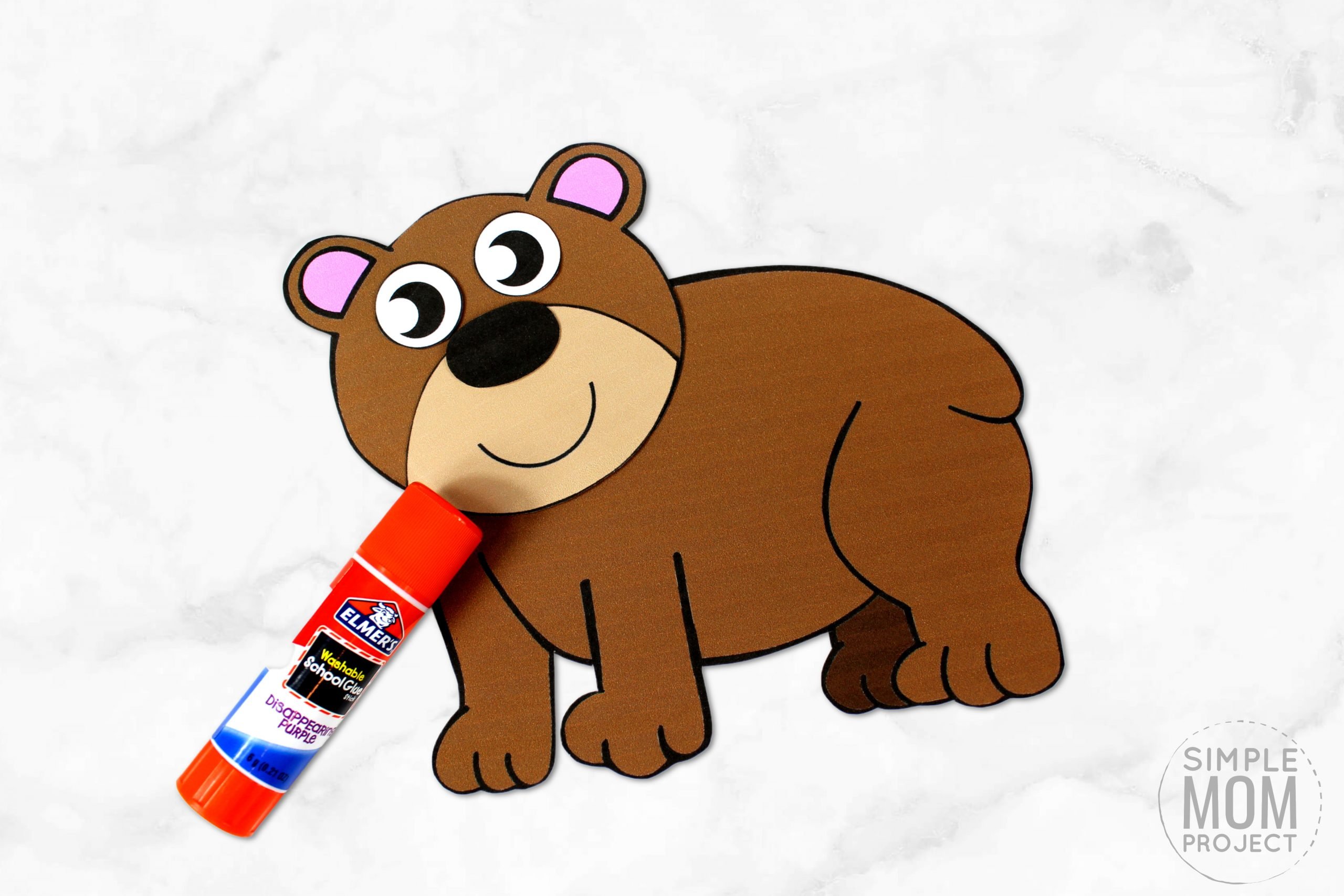 Next, simply glue all the pieces together. This brown bear craft is so easy and perfect for kids of any age including preschoolers, toddlers and kindergartners.
Free Printable Brown Bear Template:
Don't forget to share your bible learning plans in the comments. Need more winter fun? Check out our packed list of printable arctic animals for simple craft fun with your little ones.
When you have finished, be sure to share your creation on Simple Mom Project's Facebook Page and follow me on Pinterest!

Kaitlen D.
More Fun Arctic Animal Crafts: