Remember to keep your body warm with a winter hat, coat, snow pants, mittens, scarf and snow boots before having fun in the snow.
We're always cautious when it comes to choosing the right winter clothes for our children.
If your little one loves to express their fashions designs through winter outfits, they will definitely adore this free printable snow boots outline template.
Working on this easy printable winter boots template gives children the opportunity to enhance their creativity.
Want to know what's cool about this simple printable snow boots clip art template?
You have all the power to turn it into a fun coloring page, tracing worksheet, winter-themed décor and DIY craft ideas!
These fantastic winter or rain boots clipart black and white templates are hours of relaxing entertainment for not only the kids but the whole family!

*By the way, this post may contain affiliate links which means I may receive a small commission at no additional cost to you if an item is purchase through that link. For more information, click here.*
Free Printable Snow Boots Template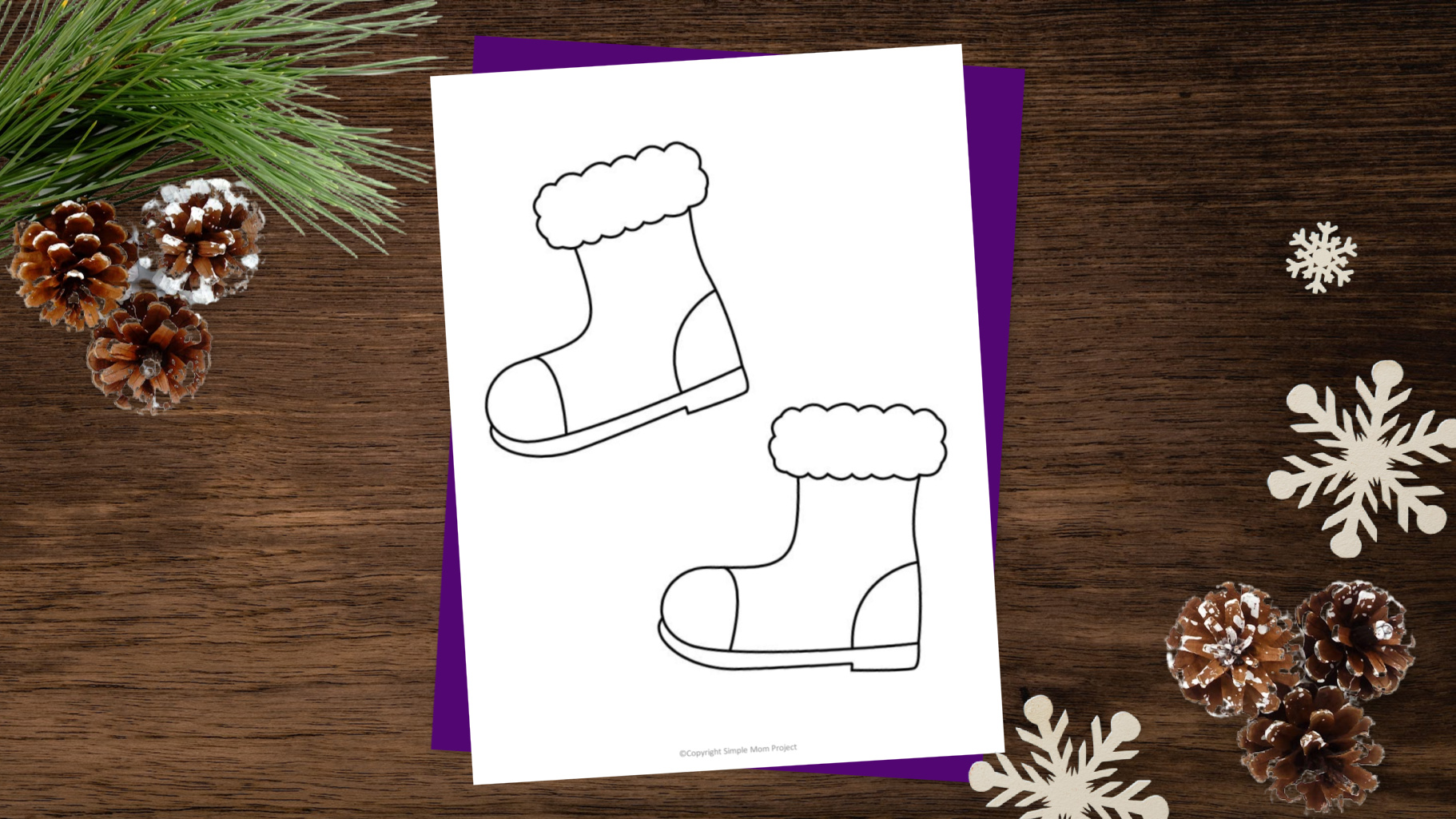 Snow Boots Template Materials Needed:
Printable Snow Boots Template (FOUND AT THE BOTTOM)
Make your child's finished snow boots template a forever memory by laminating it! We use this laminator and cannot express how much we love it! It is not only inexpensive, it is SO easy to use!
Your kids will love seeing how much you adore their art work when you laminate and display it for years to come!
If you're looking for fun winter templates for your little one. Make sure to check our Scarf, Mittens and Snow Hat template
Ideas for Snow Boots Template
Let's take a look at these awesome ideas on how to incorporate this free printable snow boots template in your kids' everyday life.
1. Great Winter Storybooks
Enjoying a book with your preschooler is a great way to share winter experiences together.
Encourage your child to read by themselves and say "Good job!" "I'm very proud of you!" once they are done reading to support your child's literacy development.
If you're running out of good books to read, we highly recommend these winter-themed books for kids in preschool and kindergarten.
2. Cute Snow Boots Flower Vase Craft
Craft is always a good idea no matter what time or season it is!
Gather all the classic craft supplies because we are going to make a DIY paper snow boots flower vase for the kids!
Children love coloring, cutting and gluing but if they are very young, cut out the pieces for them and let them handle the colors and glue.
Start by printing out this free printable snow boots template for your preschooler so they can color it however they desire.
Now for the flowers, we print out and color two free printable flower templates.
Paint two popsicle sticks green and leave for a few minutes to dry.
Glue on each flower on the popsicle stick tip and attach it on the cut-out snow boots.
Lastly, put the snow boots flower vase up on display anywhere inside your humble home.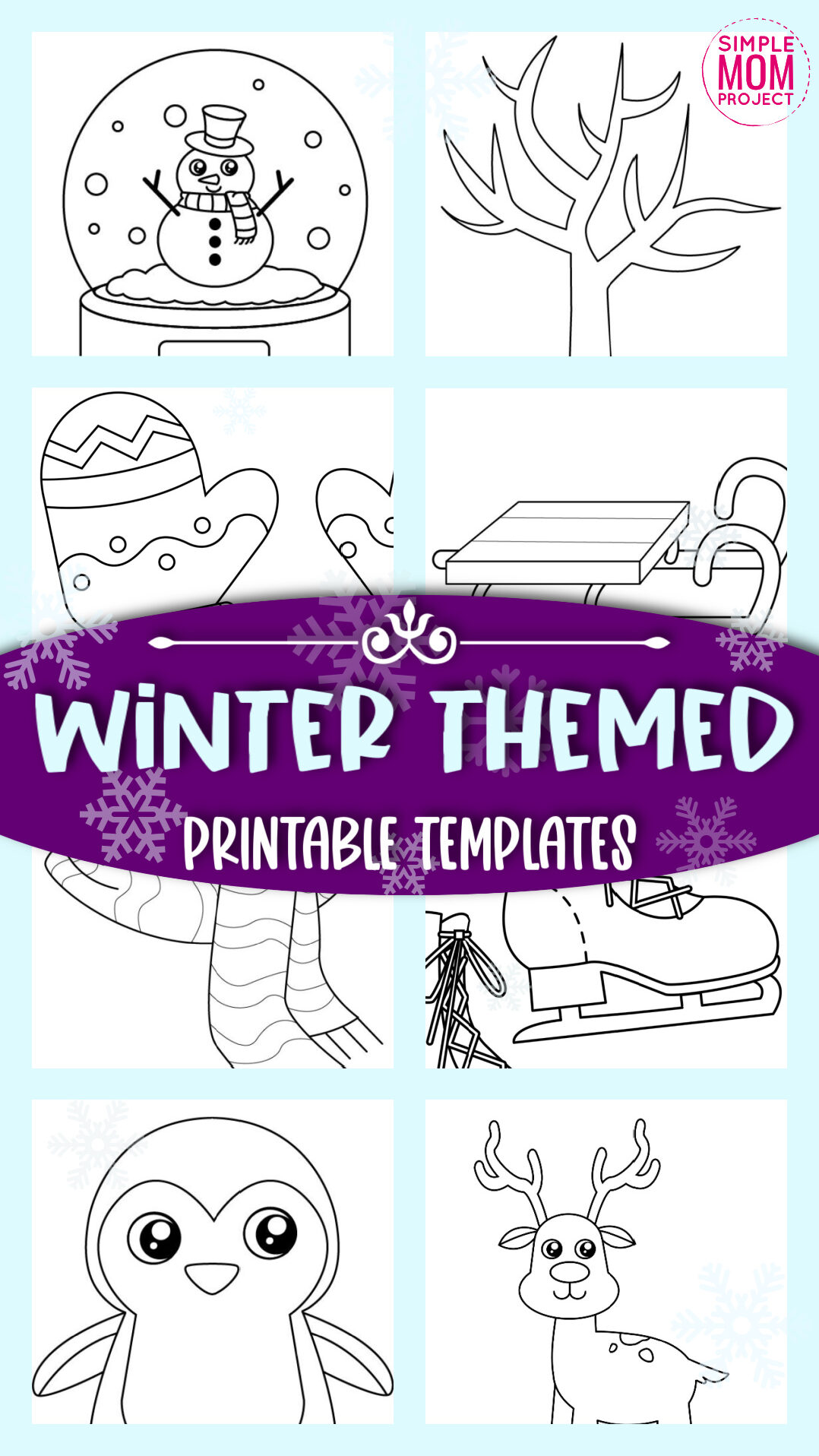 3. Classroom Winter-Themed Décor
Counting until the winter break starts, teachers might ask students to turn their ordinary classroom into a winter wonderland place!
Print as many snow boots templates as needed, and distribute it to every student along with some coloring and craft materials.
Have the student color the simple snow boots outline template however they want.
Let the kids' creativity flow by allowing them to add decorative items such as glitters, ribbons, sequins and beads.
And when they are finished, pin some of the cute snow boots on the bulletin board.
Then, use the other finished snow boots into a garland and hang it on the top corner of the blackboard.
4. Snowman Boots Invitation Cards
Most people love parties, especially for every season!
Since we are having so much fun with this easy printable winter boots clipart template, we thought it would be fun to make our own snowman boots invitation cards!
Cut the finished snow boots drawing out from the paper.
Get a colored construction paper and fold it in half, glue the cut-out snow boots on the front page of the colored paper.
Glitters and ribbons are always a nice addition to your invitation cards.
If you're happy with the outcome, give them to your family and friends for a memorable winter party!
These are just a few lists of the wonderful ideas that truly inspire us while making this preschool printable snow boots clip art template.
We hope you and your children like it!

Printable Snow Boots Template: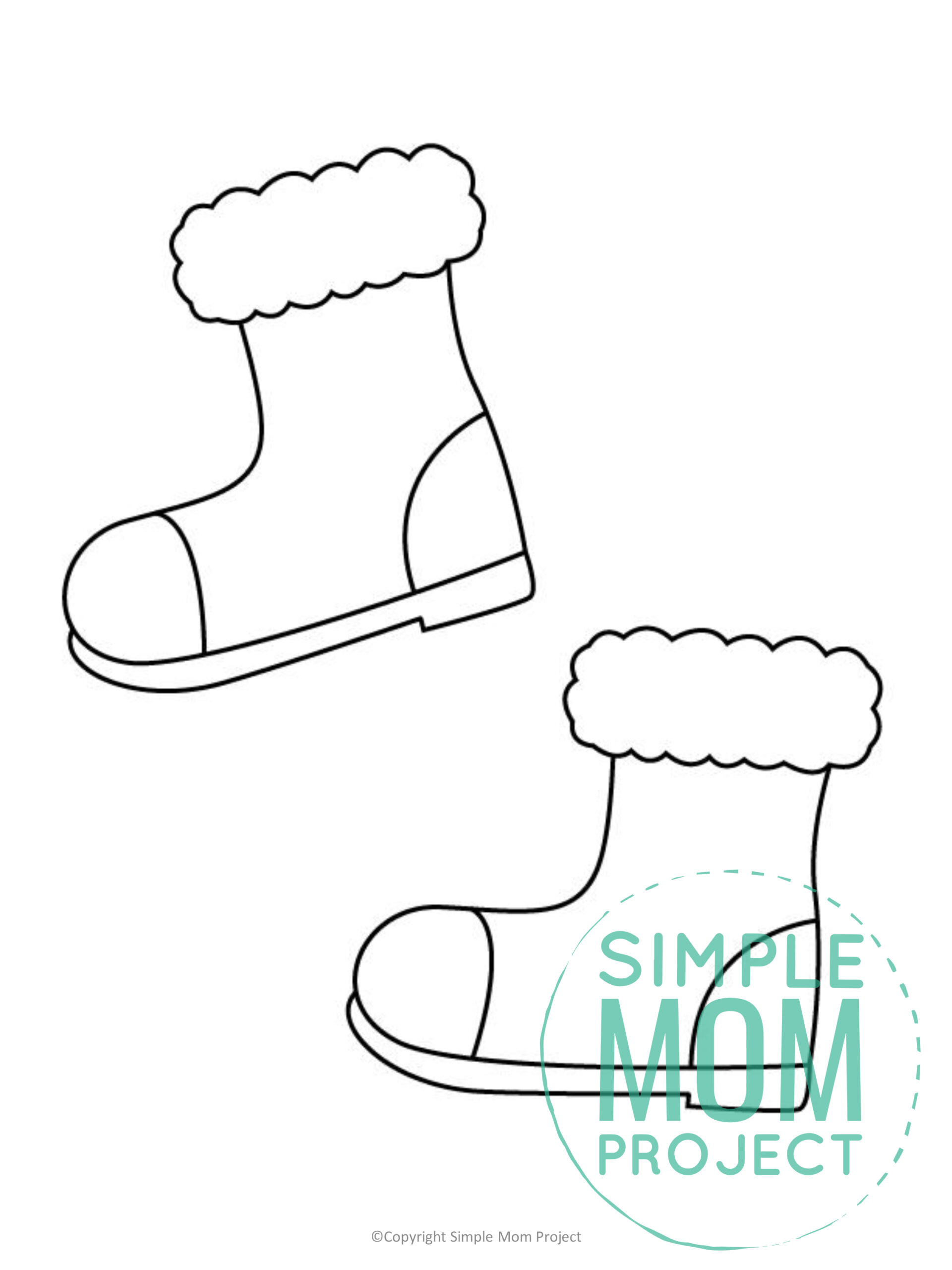 This free printable snow boots template is perfect to add in our winter template bundle!
Coloring and designing the simple snow boots printable template will create a sense of relaxation and well-being to your children.
Whichever you prefer to include this free printable winter boots template; we are glad to be part of your winter-themed craft activities.
Don't forget to share your awesome ideas in the comment section.
When you have finished, be sure to share your creation on Simple Mom Project's Facebook Page and follow me on Pinterest!

Kaitlen D.
More Wonderful Winter Template