Spring is in the air and flowers are everywhere. We have been getting in on the fun by planting flowers in our yard.
The kids love watching them sprout and bloom! I'm just happy I haven't killed them with my brown thumb yet.
Just in case, I created these cute flower templates for those of us who can't grow real flowers. Bonus: you can't kill these flowers, they contain zero pollen, and they're way easier to "grow" than real flowers.
Keep scrolling to get your own printable paper flower template.
*By the way, this post may contain affiliate links which means I may receive a small commission at no additional cost to you if an item is purchase through that link. For more information, click here.*
Free Printable Flower Template
Materials Needed:
Printable Flower Template (FOUND AT THE BOTTOM)
Flower Template Craft Idea
Need ideas for having fun with this adorable paper flower printable? Check out these fun ideas:
Garden of Flowers
My favorite idea for using these flower templates is to use them to create a no-fuss flower garden for your little ones to enjoy. Here are some fun ways to make your own garden:
– Use watercolors or finger paints to create colorful flowers from these printable templates. Then, cut them out and arrange your "garden" on the wall or on a poster board.
– Cut out flower templates and use them as stencils for an outdoor garden created with sidewalk chalk for everyone in the neighborhood to enjoy.
– Use my easy flower template to cut out flower shaped felt pieces for your little one to build their own felt flower garden. They can spend hours arranging their own garden and caring for their flowers through role play. It's a great way to encourage your child to use her imagination!
Classic Flower Template
To prevent Copyright infringement, you will see our watermark inserted on all of our images. This will NOT be included in your download.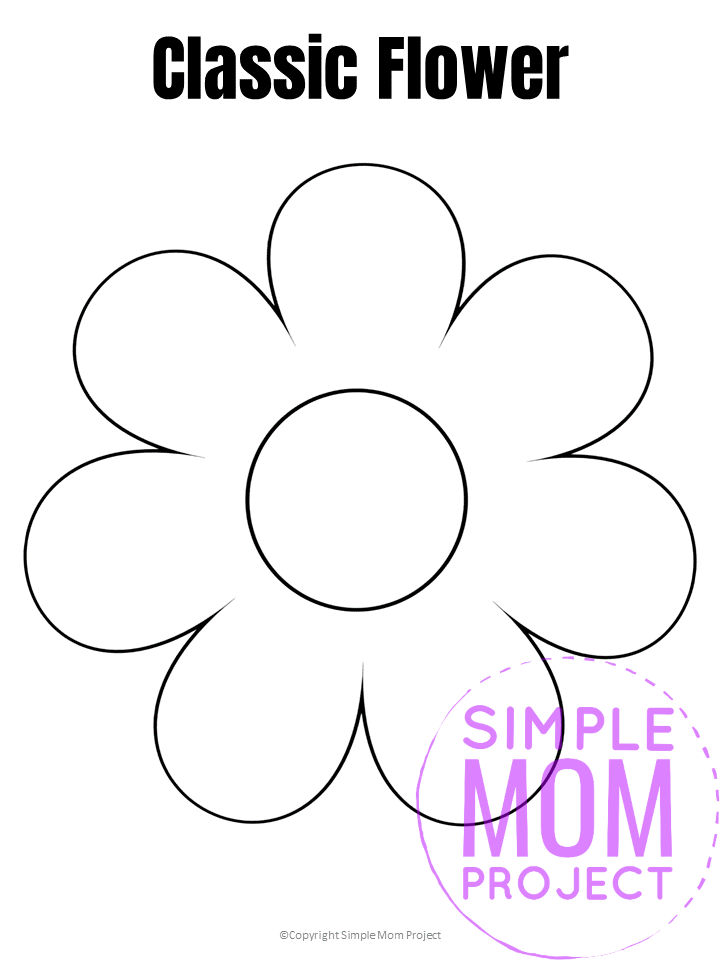 Do you have other plans for this flower printable? I'd love to hear your ideas in the comments!
When you have finished, be sure to share your creation on Simple Mom Project's Facebook Page and follow me on Pinterest!

Kaitlen D.
More Fun Summer Templates: