We love it when crafts are quick and fun and that's why all these delightful printable dolphin paper crafts have been carefully chosen for their attractive appearance and simplicity, and you will be sure to find the perfect dolphin craft for your kids.
Most of these crafts take around 10-15 minutes to complete and are perfect for toddlers, preschoolers and kindergartens.
During the process of making these arts and crafts projects, children are able to develop fine motor skills, hand-eye coordination, creativity and imagination.
These crafts are simple enough that kids can make by themselves at home or with a large classroom full of kids.
Dolphin Template
Wondering what activities to give your kids that provides a good time and educates them at the same time?
Well, let me share with you these dolphin templates I'm using to teach my kids about ocean animal units.
You might be thinking what's special about these dolphin template shapes?
It's like a blank canvas for a beginner crafter, younger kids will have the chance to practice their fine motor skills, experiment with different colors and techniques.
While older kids will be able to showcase their creativity by turning a piece of paper into wonderful craft projects.
Aside from the template itself, our kids will be able to think out of the box and create an ocean background using recycled materials.
I've compiled a few craft supplies that look really helpful to add or combine with your dolphin template to make them stand out.
Marine Life
What's the best way to introduce aquatic animals to our kids? I'd say visit an aquarium or ocean park nearby!
It's one of the best decisions I've made to nurture my children's curiosity as they grow up.
Another good reason is, despite our busy schedules; we find time to spend together and make beautiful core memories with our children.
We had the chance to get a closer encounter with the dolphins after the show, we were able to touch them and find out how these intelligent creatures communicate with each other.
When we got home, my little ones couldn't stop talking about the incredible creatures they have seen aside from dolphins, like a sea turtle, penguin, sea lion, and different fishes. 
Ocean Animals Educational Activities
Exploring, creating, and discovering is how we learn!
Kids who are making something using their little hands aren't only fun; it also teaches them about what they are making, how to make it and it develops fine motor skills.
Here, we have compiled a list of ocean-themed activities that allows your child to discover the secrets of one of the ocean's most peculiar creatures.
Your little one, even older children will enjoy each product we listed, and because it's fun, they become very absorbed in what they are doing.
Some activities require minimal supervision which is a great way to spend quality time with them.
How cute is this Under the Sea Ocean Animals Wooden Puzzle!
It's a fun activity to help children develop strong hand-eye coordination, fine motor skills, and problem-solving abilities.
This would be a nice new addition to decorate their ocean-themed room when assembled.
This Ocean Stacker Tower is the ideal activity whether you're looking for an activity that will occupy the kids for a few minutes or a fun way to spend a few hours together in the afternoon.
My girls were able to learn how to balance these sea animals to keep a tower upright.

I Spy Ocean Animal Activity Book

Take an imaginary trip under the ocean with this I Spy Ocean Animal Activity Book.
My kids and I are having a great time guessing and observing the one thing that matches the given letter.
This would be extra fun if your kids are learning about animals in the ocean.
Sea Life Dot Markers Activity Book
This handy set of dot markers activity sheets gives my children the opportunity to practice their coloring and fine motor skills.
Kids will have the chance to explore the ocean life as it includes various sea creatures such as whales, dolphins, sharks and many more.
Since your little ones fancy a bit of ocean-themed activities, this magnetic fishing toy set is a must-have!
My girls love to include these magnetic toys whenever they are doing pretend play or enjoying their morning dip in their kiddie pool.
Counting Ocean Animal Toys
The best way to teach a child to count is by making it enjoyable.
Get them this Counting Ocean Animal Toys and watch how they master early math skills such as counting, grouping, patterning and comparing.
What I love most about these ocean animals is they're cute enough to captivate my kids' attention.
22 Dolphin Craft Ideas
Since you're searching for fun ways to keep your kids occupied, we've compiled these different craft ideas that will save you a ton of time and effort scrolling through the Internet.
All these dolphin crafts projects have been carefully chosen for their simplicity and cuteness, and you will be sure to find the perfect ocean craft for your kids.
(This post contains affiliate links. Click here for the full disclosure statement)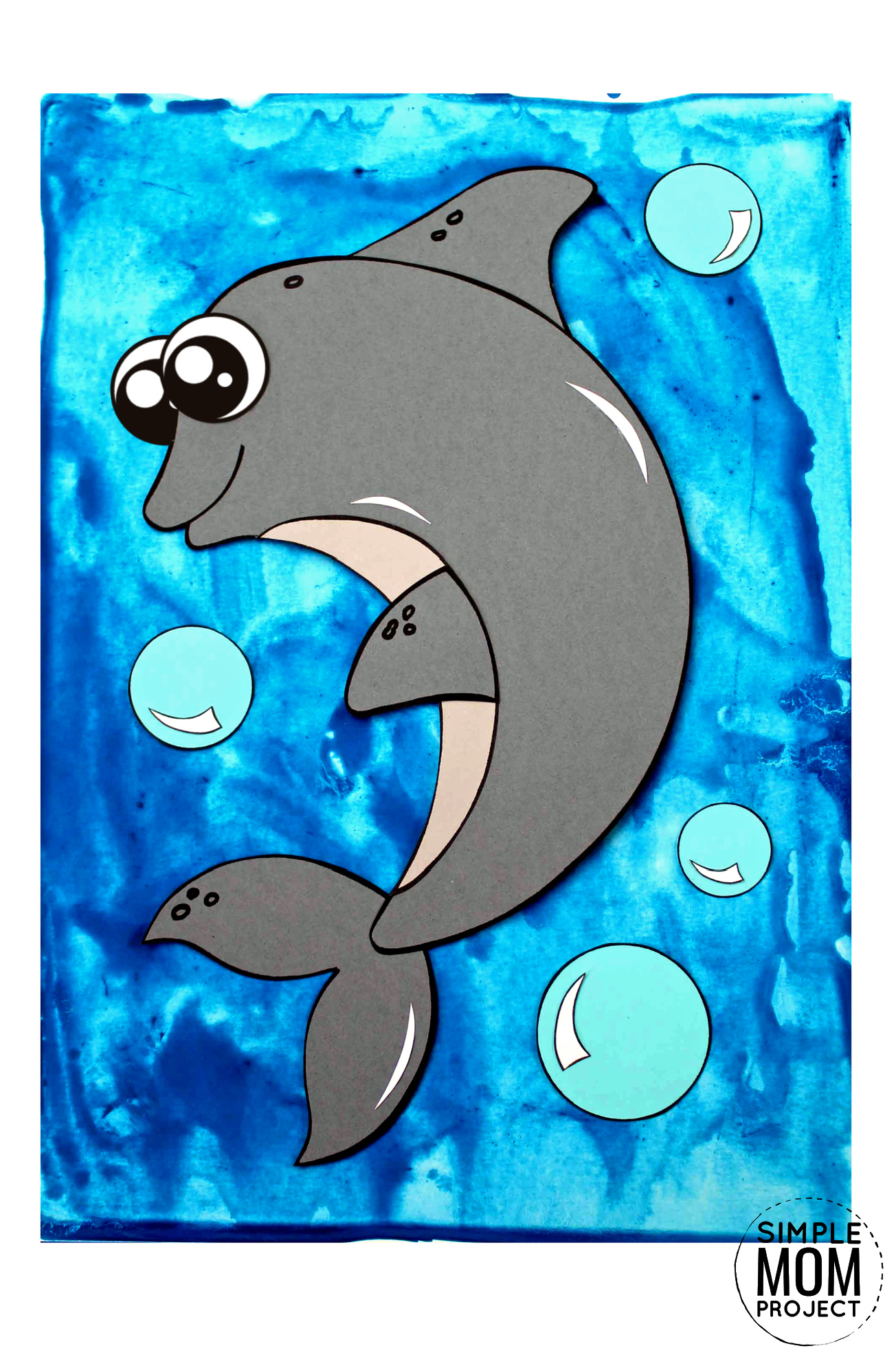 Free Printable Dolphin Craft for Kids
My daughters and I are having so much fun making this cut-and-paste dolphin craft because it comes in a colored and white version.
Aside from that, this printable dolphin is perfect for personal use or for group activities.
It's a great start to get your kids excited about crafts and learning so don't wait any longer, take a look at this blog and don't forget to print out the dolphin template.
Want to make unique dolphin crafts with your kids?
Learn how to make this dolphin suncatcher craft that is quick and easy for preschoolers to make.
My girls had so much fun making their own dolphin suncatcher cute crafts and then continuing to use their imaginations to play with it all day long!
Free Printable Dolphin Craft
My young children love this video tutorial because it's the perfect way to create their own dolphin craft.
It teaches them how to cut the pieces of paper properly, where to glue the tail fin and side fins.
This easy craft is such a great way to keep those little hands busy and motivated while building fine motor skills!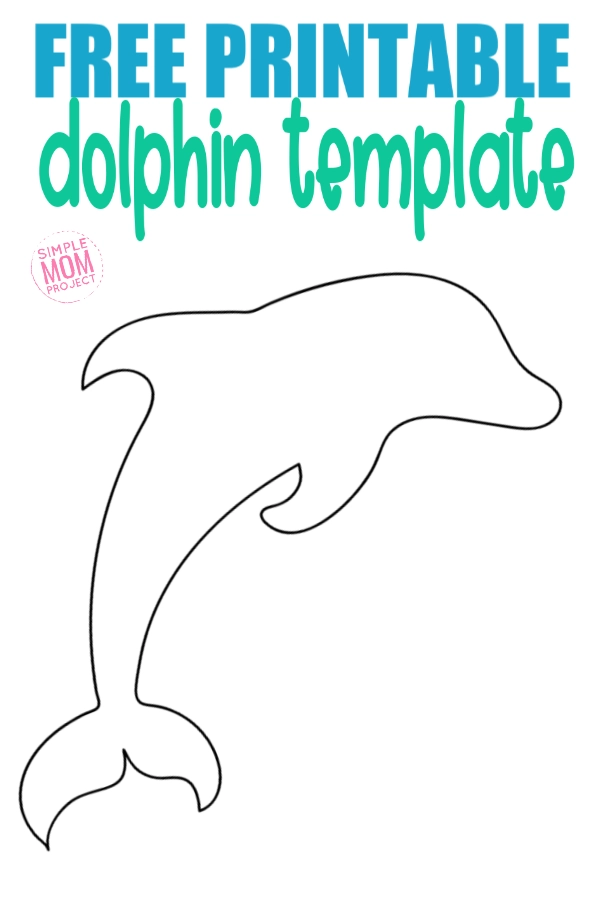 Free Printable Dolphin Template
Since you're stuck indoors with bored kids on a weekend, here's our printable dolphin template you can do with them.
We use this dolphin outline for a variety of craft projects, creating stencils, bulletin boards decor and more.
The great thing about dolphin-themed crafting is that no matter what you do, the result is going to turn out cute.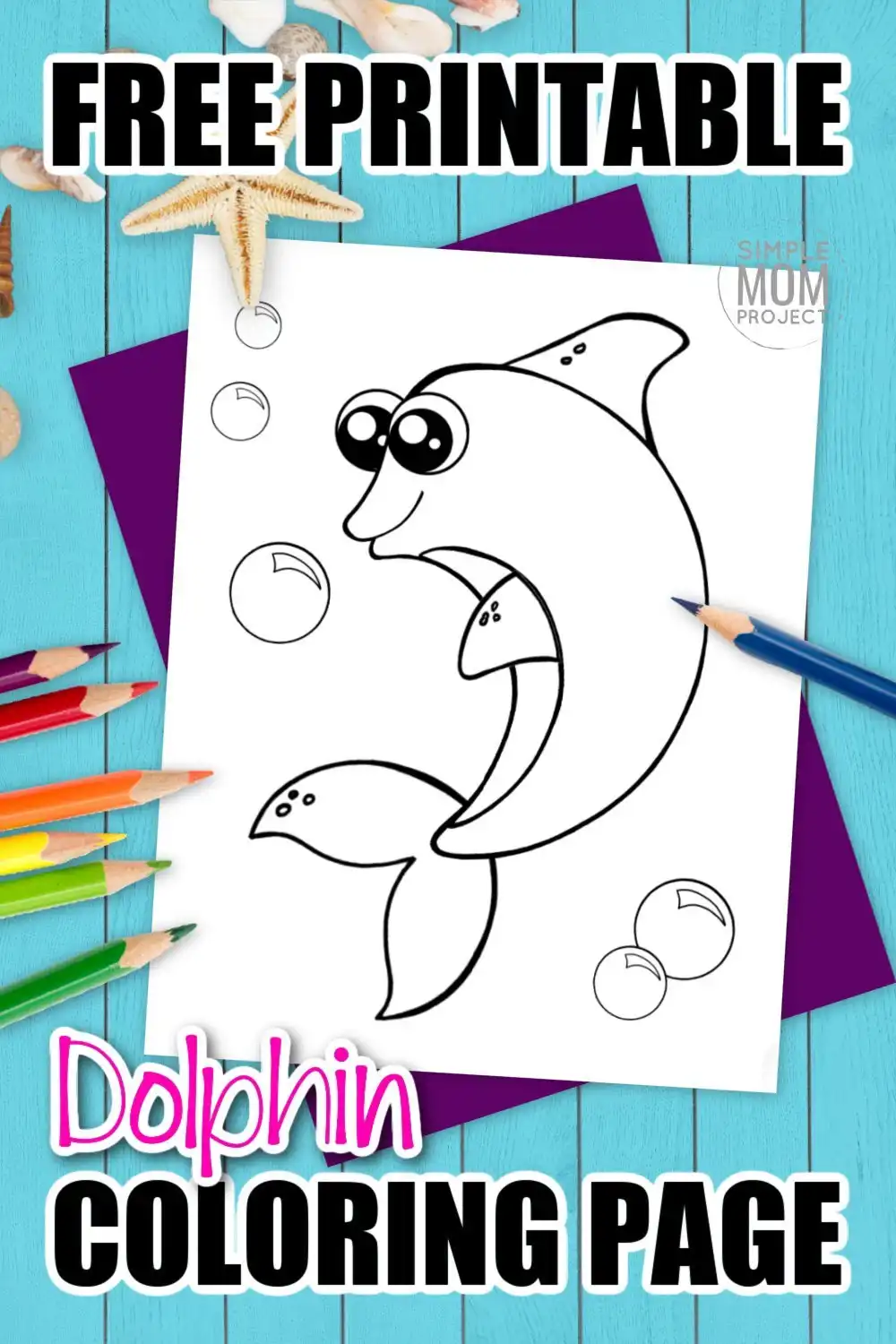 Let your kids creativity shine using our dolphin coloring page to create a dolphin art project.
It's another fun activity that requires only a few basic supplies; you can give the coloring page to your child and let them color it in and then help them when it's time to cut.
You can also combine this dolphin template with other materials to make a delightful variety of craft projects that kids can enjoy for hours.
Kids who love getting their hands dirty will surely love this D is for Dolphin Craft.
This craft project uses simple materials that can be found around our house, like card stock papers, tissue paper, glue, scissors, etc.
Making creative dolphin crafts like this is one of the easy ways to teach little kids motor skills while encouraging their creativity.
Make great use out of your spare paper plates and keep the kids entertained with this craft project.
This activity needs adult supervision when coating the paper plate with shades of blue paint and cutting a shape of a triangle for the fins.
Don't wait any longer, check out this paper plate dolphin craft and share it to your family and friends now.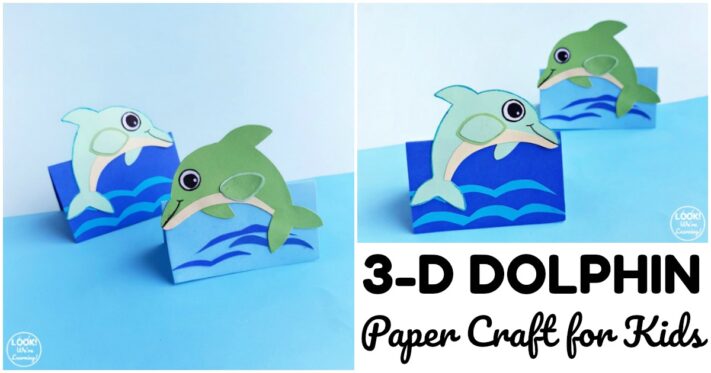 3D Paper Dolphin Craft for Kids
Time to get crafty with this 3D paper dolphin craft for kids using a few craft supplies you probably already have at home.
What I like most about these easy dolphin crafts is that my little kids are learning about ocean life while being creative.
Click on it now to see the step-by-step instructions.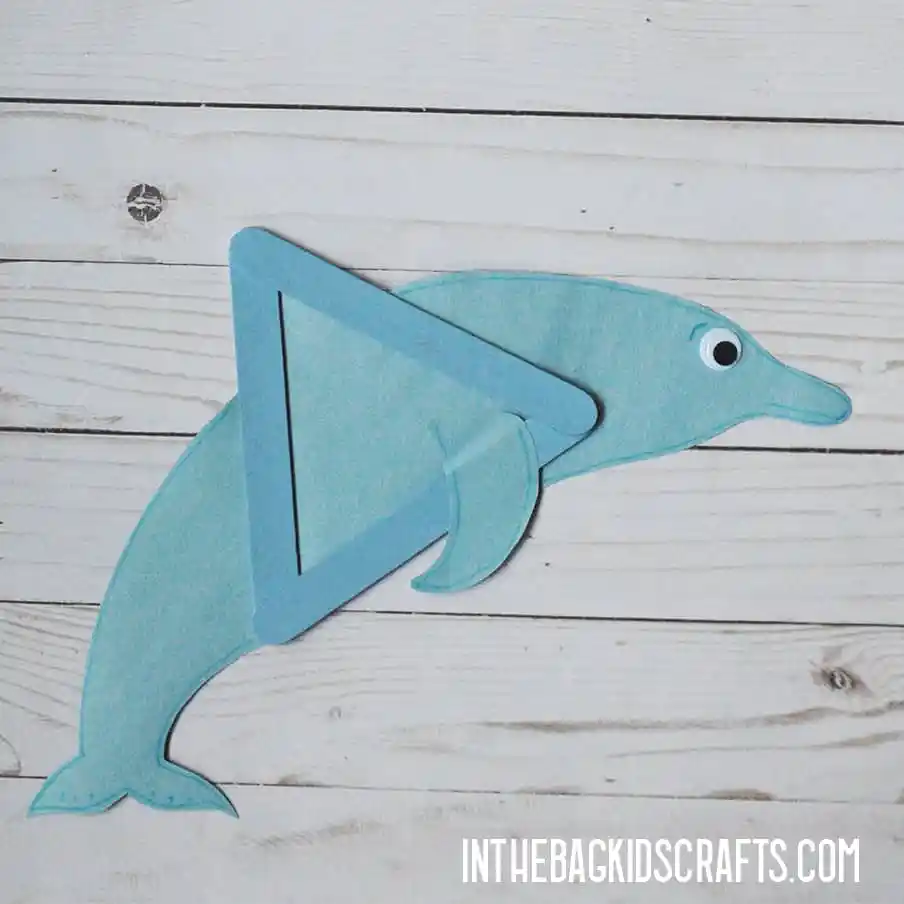 Dolphin Craft for Kids (with Free Template)
One of the favorite things that my kids love to craft with are popsicle sticks and this bag kid's crafts gave us a brilliant idea on how to do it.
My kids really enjoy adding details on their dolphin craft.
Don't miss this chance to spend a lively afternoon with your little ones, take out your kids' craft bag filled with their master list of supplies because we're about to have so much fun making dolphin craft sticks.
This activity takes very minimal time and its end result is amazing.
How to Fold An Origami Dolphin
Stuck indoors with bored kids on a rainy day?
These ocean crafts for kids will keep them busy, engaged, and learning.
In a few minutes your child can transform a simple blue paper into one of these utterly adorable origami dolphin crafts.
It takes around 10 minutes to complete and is perfect for toddlers, preschoolers and kindergartens!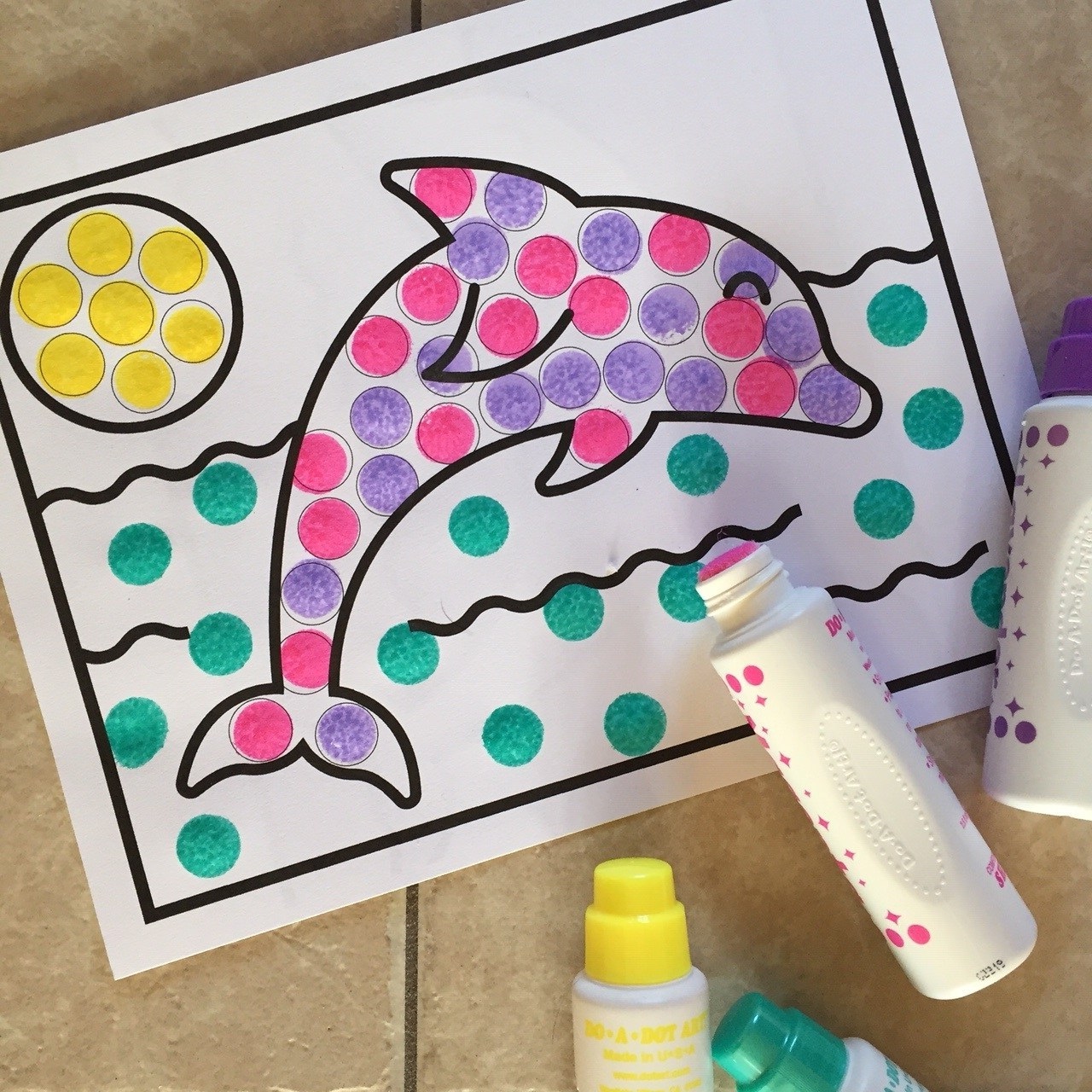 Preschool Dolphin Dot Art Activity
It's time to take out all your round tip markers and stamp into these dolphin-shaped templates.
This preschool dolphin dot art activity is not only fun to make using simple materials but is also great for working on fine motor skills.
It's a simple art project that the kids can make by themselves.
A Jumping Dolphin Paper Craft
We love dolphins! That's why we thought of making more dolphin crafts using a few basic supplies.
There's no need to wait! Instantly download, print the pdf files and make your jumping dolphin paper craft project.
It's a really great activity to help foster scissor and fine motor skills!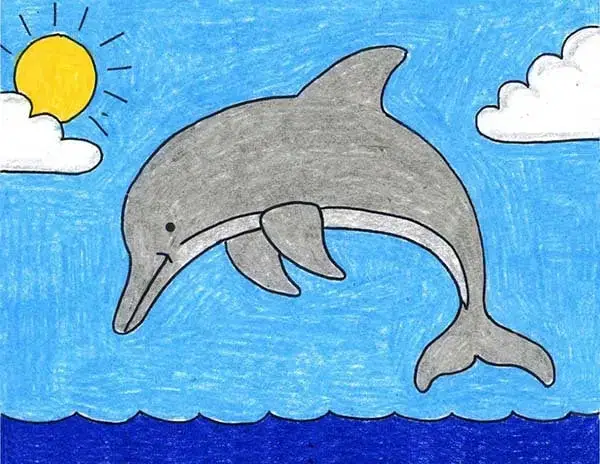 Get your kids excited about learning how to draw a dolphin with this easy step-by-step tutorial.
This activity is wonderful for letting your kids' imaginations run free.
The best part is, my little ones get to talk about their art work which develops their communication skills.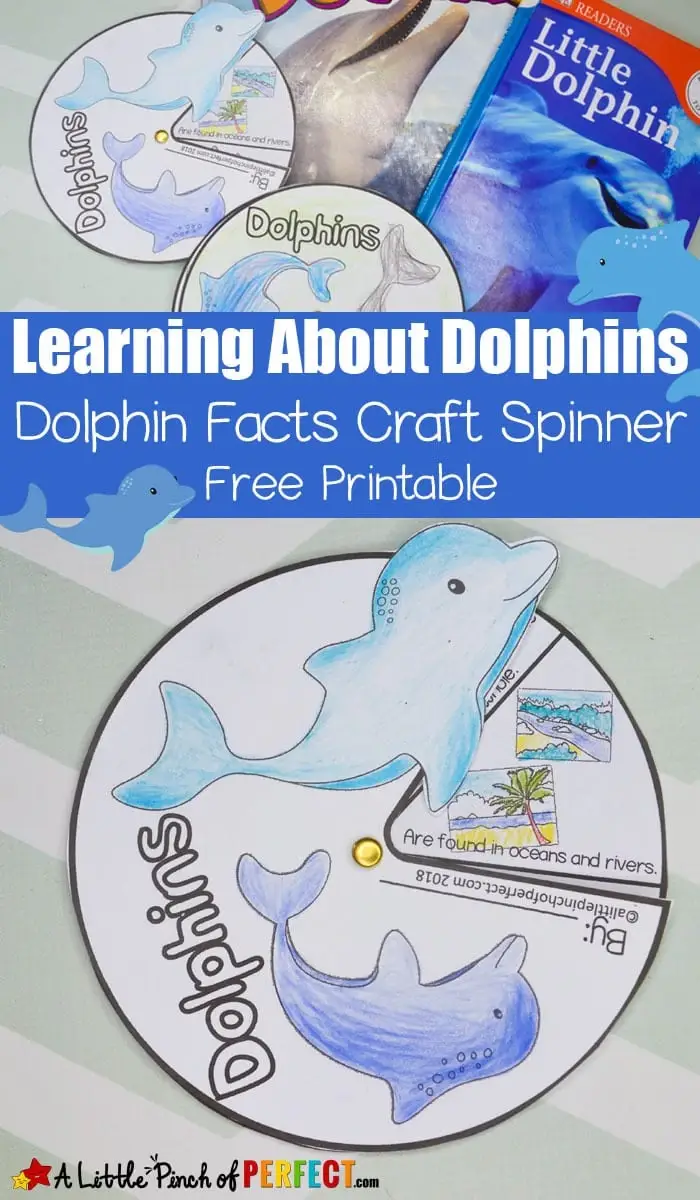 This dolphin spinner craft is our fun way of learning facts about dolphins and enhancing creativity at the same time.
What we love most about this craft is, my girls were able to create more spinner dolphins with different fun facts and share them with their classmates.
Kids will love this easy dolphin craft and you'll love how easy the prep is.
How to Draw a Dolphin – Draw with Blippi
I'm sure you stumbled across one of Blippi's Youtube videos because your children love him.
Well, my kids do love him too and since they want to learn how to draw, we watch this video tutorial together.
This step-by-step tutorial teaches us the easiest and simplest way on how to draw a dolphin from scratch.
It surely inspires my little ones to improve their drawing skills!
How to Draw a Dolphin Step by Step for Kids
We know you can't get enough of these intelligent creatures, that's why we'll start learning how to draw them!
We don't worry about complicated steps on drawing our own dolphin, everything is already set for us thanks to this printable drawing guide.
All of these awesome giraffe ideas are very easy and would work well for toddler, preschool or kindergarten.
This is such a great way to keep those little hands busy and motivated while building fine motor skills!
Watercolor Mosaic Dolphin Craft
Do your kids love experimenting and mixing various colors?
Well, I do! That's why this watercolor mosaic dolphin craft is one of our favorite activities.
It's a simple step-by-step tutorial video for kids to practice following directions.
Once we're done with this mosaic dolphin craft, we display it as decor in our living room for all the guests and visitors to see.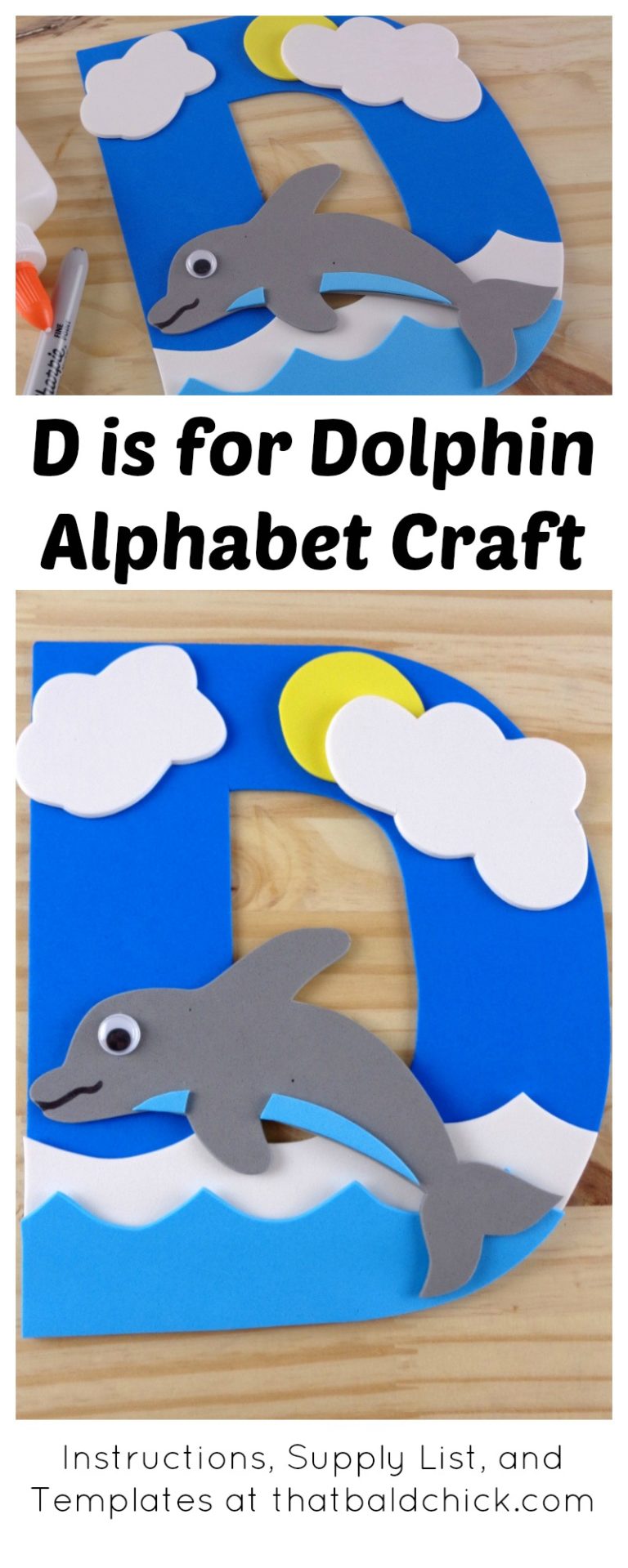 D is for Dolphin Alphabet Craft
Since your child is studying the alphabet letters, make sure to pair it with this fun letter D is for dolphin alphabet themed crafts.
All you need are a few simple materials including craft foam sheets, wiggly eyes, sheet of paper, permanent marker, glue, scissors, etc.
This dolphin art is a great idea to help kids learn about beginning sounds, letter formation, lowercase letters and upper.
Get crafty with the paper plates and make this diving dolphin craft that you can paint in with beautiful colors.
This craft activity improves my little one's fine motor skills and develops my older child's creative thinking which helps them think out of the box.
Grab your craft supplies and create this diving dolphin sea paper craft with your kids now.
Let your kids have imaginations as high as possible with these fun dolphins in the ocean art project.
My kids love the process of tracing, cutting, painting and gluing to transform these simple materials into cute jumping dolphins.
This easy activity at home will be relaxing and fun for our kids!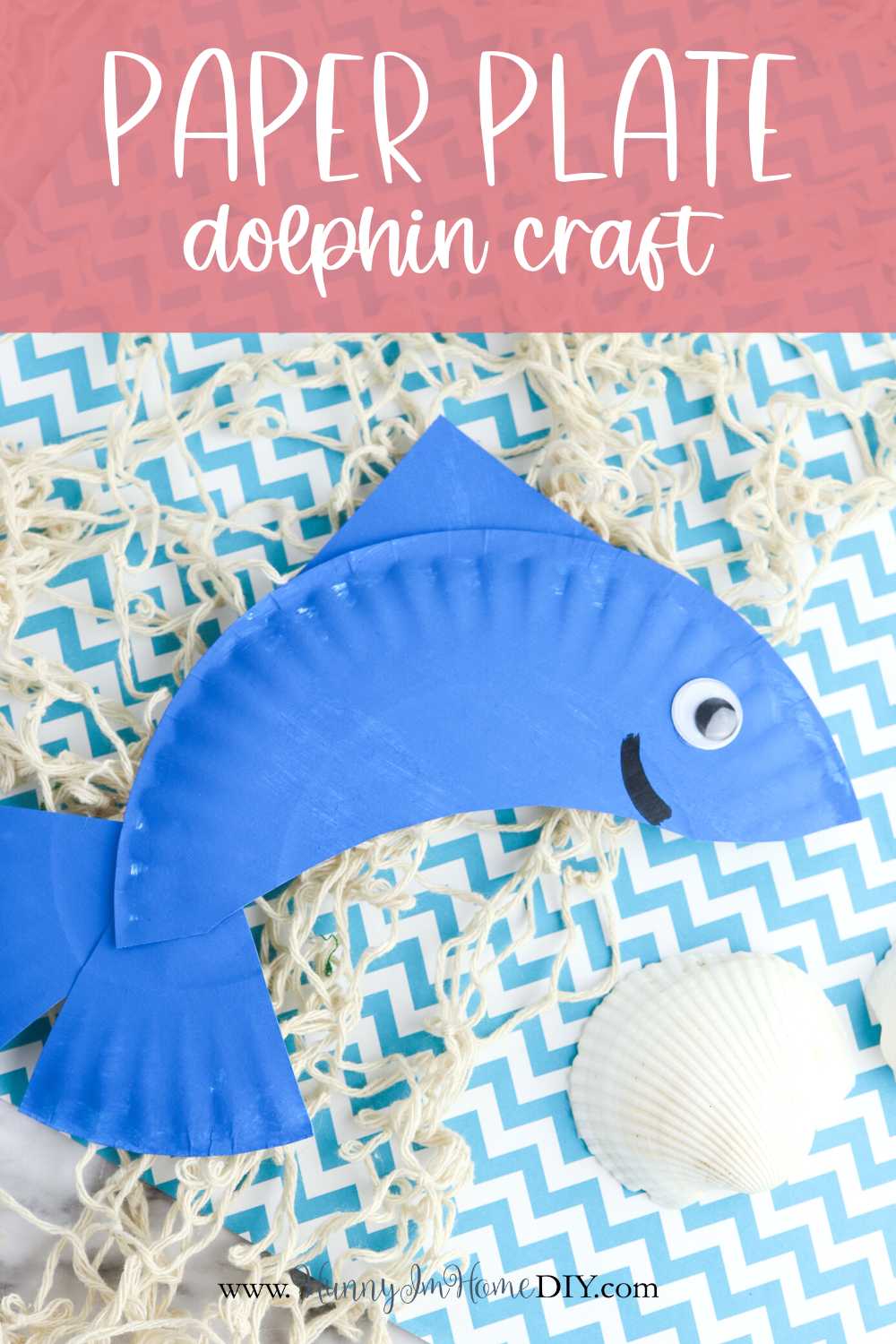 Cute Paper Plate Dolphin Craft for Preschoolers
Work with your preschoolers to create this cute paper plate dolphin craft that will provide them with hours of entertainment.
My girls personally love this craft because it's a little bit challenging for them when cutting the right pieces of the paper plate.
The fulfilling part of this activity is to witness my kids' dedication and hard work as they completed this cute dolphin craft.
How to Draw a Cartoon Dolphin
Bored of looking at your kids playing on the computer or mobile phone?
Well, why not try to develop their interest in drawing.
This video tutorial helps children learn how to draw a cute cartoon dolphin with easy steps.
Once your kids master the art of drawing, look for follow-up activities that keep their interest in dolphins like watching the movie Flipper or read the island of the blue dolphins book.
Making this printable dolphin craft is one of the most productive and fun things your child can do during the weekend.
We mostly focus on easy and inexpensive projects so your preschooler can do it on their own.
If you're ready to use this free printable, go ahead and download the pdf file below.
You may print as many pages as you'd like for hours of dolphin crafting and coloring fun with kids.
When you have finished, be sure to share your creation on Simple Mom Project's Facebook Page and follow me on Pinterest!

Kaitlen D.