Dolphins are so fascinating to me. They are a beautiful ocean animal that many can enjoy seeing when in areas like Florida. As you plan your summer vacations and work to get the kids excited about the world we live in, you'll definitely want to add this dolphin suncatcher craft idea into your mix of activities.
Whether you're looking for something to keep your preschool kids busy while you're stuck at home or want something that ignites a love of ocean life within your kids, this paper plate stained glass suncatcher craft is the best option!
Keep scrolling to find the short list of supplies, fun activites to do with your new dolphin suncatcher craft, and the easy dolphin craft tutorial.
Dolphin Suncatcher Craft Tutorial for Kids
*By the way, this post may contain affiliate links which means I may receive a small commission at no additional cost to you if an item is purchase through that link. For more information, click here.*
What to do with Dolphin Suncatcher Crafts
1. Add to Learning Curriculum
You can add this suncatcher craft into your ocean studies for kids who are learning about ocean life. This beautiful suncatcher craft will work as part of your art class at home while encouraging your kids to ask questions about dolphins as you try to educate them about these beautiful animals of the sea.
2. Read Dolphin Stories
Gather up some books that expand your children's imagination and love of all ocean animals by using this suncatcher craft for kids to keep their little hands busy as you read dolphin stories out loud. Some of my favorite dolphin stories for kids include Splash's Secret Friend and Hope for Winter: The True Story of A Remarkable Dolphin Friendship.
3. Family Art Time
It's always fun to enjoy art together as a family. Completing art projects like suncatcher crafts together with your kids will help strengthen your family bond.
As you work to make your own dolphin craft using my tutorial for kids below and the free printable dolphin template, you'll enjoy hours of fun making these adorable household decorations together.
I know that these ideas will help your kids expand their creativity and help your daily life of raising kids and keeping preschooler kids busy! My kids always enjoy new ways to make fun things like this free printable dolphin craft to use their creativity in a whole new way.
4. Rainy Day Activity
This dolphin suncatcher craft is the perfect rainy day spring and a summer activity for kids that features a free printable and preschool template to design stained glass for kids projects together.
While it is raining outside you can talk to your kids about how dolphins live in water, but the water that's falling from the sky is different than the water dolphins swim in.
Keep reading to see how to make a dolphin suncatcher craft.
Dolphin Suncatcher Supplies Needed:
Dolphin Template (found here)
Dolphin Suncatcher Tutorial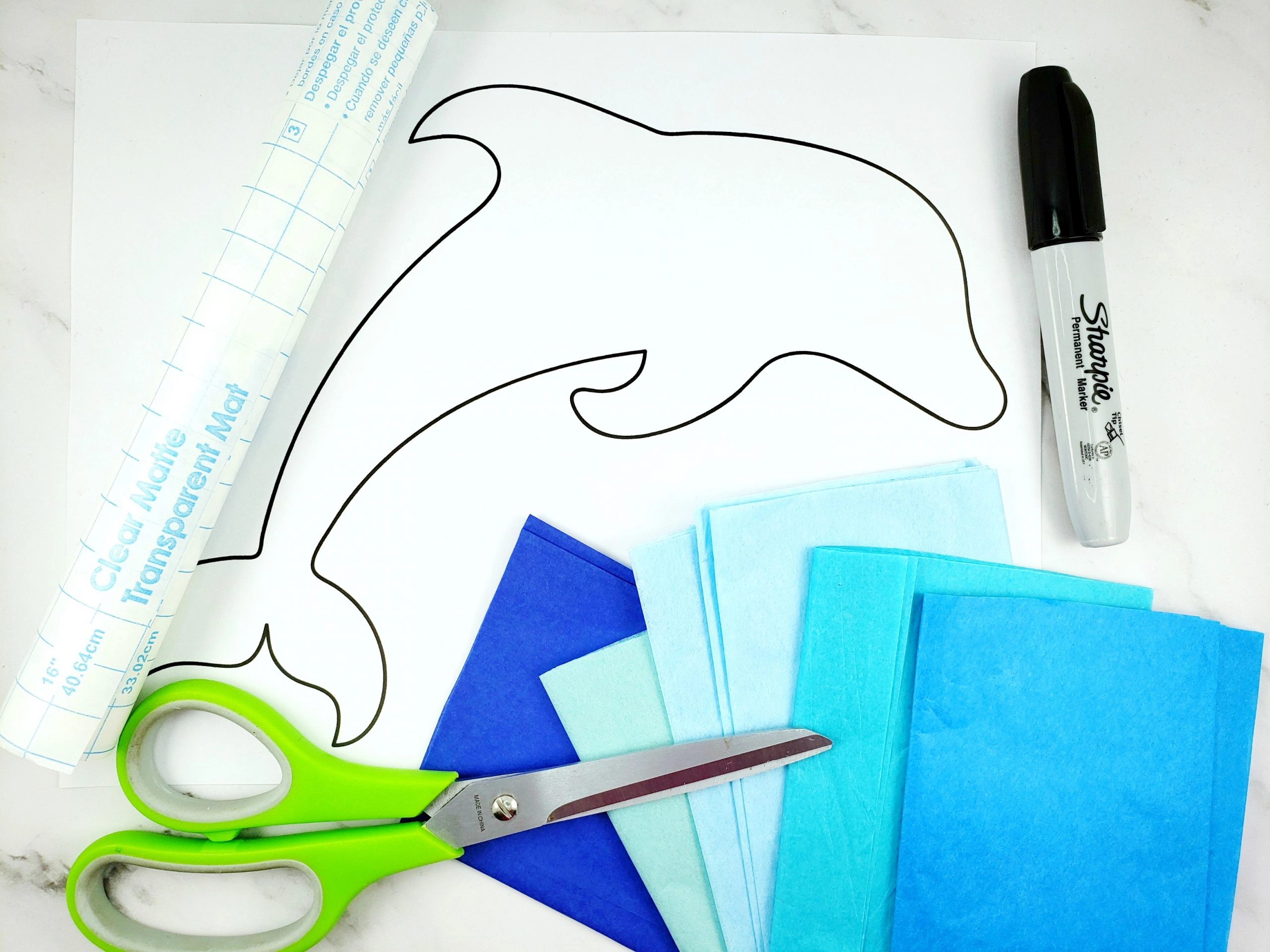 First, gather up your supplies and print out your dolphin template.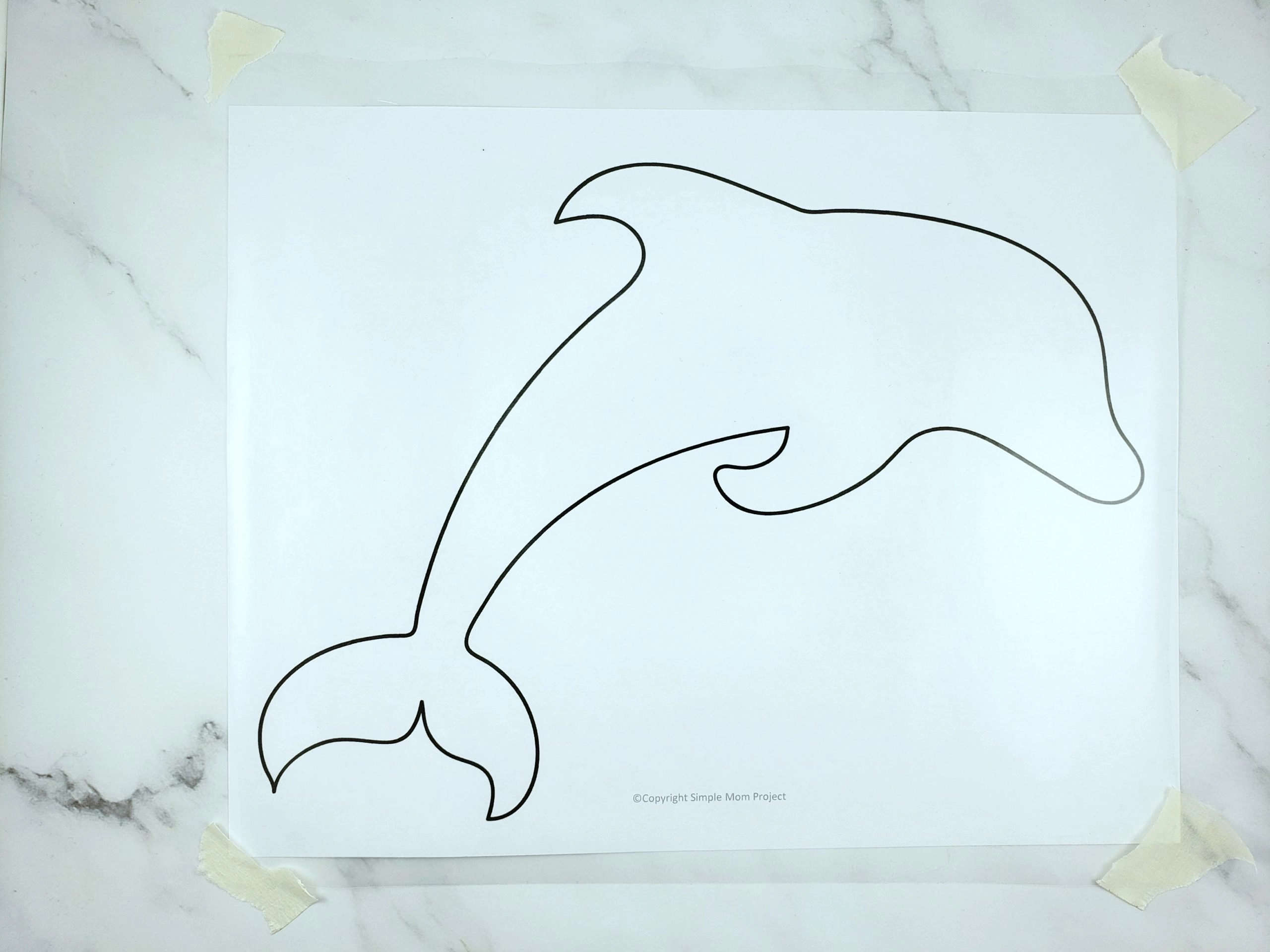 Next, cut two sheets of contact paper and remove the backing from one of them. After you've done that, carefully lay it upside down (sticky part up) on top of your printed dolphin template.
The template is used as a guide. I would encourage taping your contact paper to a surface so your dolphin doesn't move underneath it.
Then start laying your cut out tissue paper. We decided on long half inch strips of different shades of blue tissue paper, but you can get as creative as you want. You can even have a rainbow dolphin!
Try not to overload the outer layer with tissue paper though. You'll want to still see the dolphin's outline under your tissue paper.
Then peel off the other piece of contact paper. Carefully lay it on top of your dolphin suncatcher (sticky side down this time). It is okay if the pieces don't match up exactly. You will be cutting the edges in the following steps.
Once your second layer of contact paper is on, take your large sharpie and trace the dolphin. Aren't you glad you can still see it?
Now it is time to cut out your dolphin suncatcher. If you have younger kids, you'll want to take ownership of this step.
Then finally display your new dolphin suncatcher proudly on the window of your choice!
However you enjoy this dolphin craft for kids as an addition to your ocean theme unit study, or a simple stained glass style project at home with kids, I'm confident you'll enjoy every minute of this awesome project!
When you have finished, be sure to share your creation on Simple Mom Project's Facebook Page and follow me on Pinterest!

Kaitlen D.
More Fun Suncatcher Crafts: