Dolphins are beautiful and amazing creatures! My children love them. If you like dolphins too, you will want to get this latest craft template. It's the perfect way to share your love of dolphins with your little one while crafting together.
*By the way, this post may contain affiliate links which means I may receive a small commission at no additional cost to you if an item is purchase through that link. For more information, click here.*
There's just something about dolphins that makes them seem so much like us. Last year, we read Dolphin Adventure by Wayne Grover aloud.
I had no idea dolphins had such tight family units before I read the book which is based on a true story. It's a great read that I would recommend for anyone interested in learning about dolphins.
Most experts agree that young children learn best through play. After you've used this fun template to make your own dolphin creations, spend time playing together to learn more about these amazing creatures!
Free Printable Dolphin Template
Dolphin Template Supplies Needed:
Printable Dolphin Template (FOUND AT THE BOTTOM)
1. First, try to move like a dolphin!
Exploring the way an animal moves is a great way to learn about them. You could "swim like dolphins" in the bathtub or a pool. My kids love to play in the tub any time of day! It's a great way to have some fun and burn energy.
Or have a dolphin family dance party with paper dolphin friends! Dance parties are a fun way to encourage your child to participate in healthy physical activity. They're also a great way to let off steam and de-stress for kids and adults. Check out Donna the Dolphin from Turtle Interactive or We are the Dolphins from Kids TV.
Also, singing the songs can help children to build language development and communication skills. It's a great activity for preschool aged children and children with speech delays. Don't be afraid to sing along with the music!
2. Then, stretch like a dolphin.
Yoga is another great way to reduce stress and help kids practice their flexibility. Yoga is also a great way to teach children relaxation and concentration skills. There is a fun "dolphin pose" your kids are sure to love.
It's almost exactly the same as the downward facing dog pose, but in dolphin pose you rest on your forearms. It's a great pose for kids that might be anxious or restless, and it's a lot of fun too!
You could even set up ocean animal yoga stations around your home with these easy dolphin template printables. Just write the name of the pose on the dolphin and attach it to the wall. Have children "swim" around the room completing poses for a fun kid friendly yoga session.
3. Finish with a fantastic finger painting!
Just for fun, take out the finger paints! This printable dolphin makes a perfect stencil for finger painting fun. Just print, cut out, and have fun painting.
Encourage your child to explore shades of gray to create a realistic dolphin, or let them use their imagination for extra fun! Don't forget to offer lots of different materials for decorating dolphins like googly eyes and glitter.
Keep scrolling to get your very own printable dolphin template and start crafting projects with your kids today.
To prevent Copyright infringement, you will see our watermark inserted on all of our images. This will NOT be included in your download.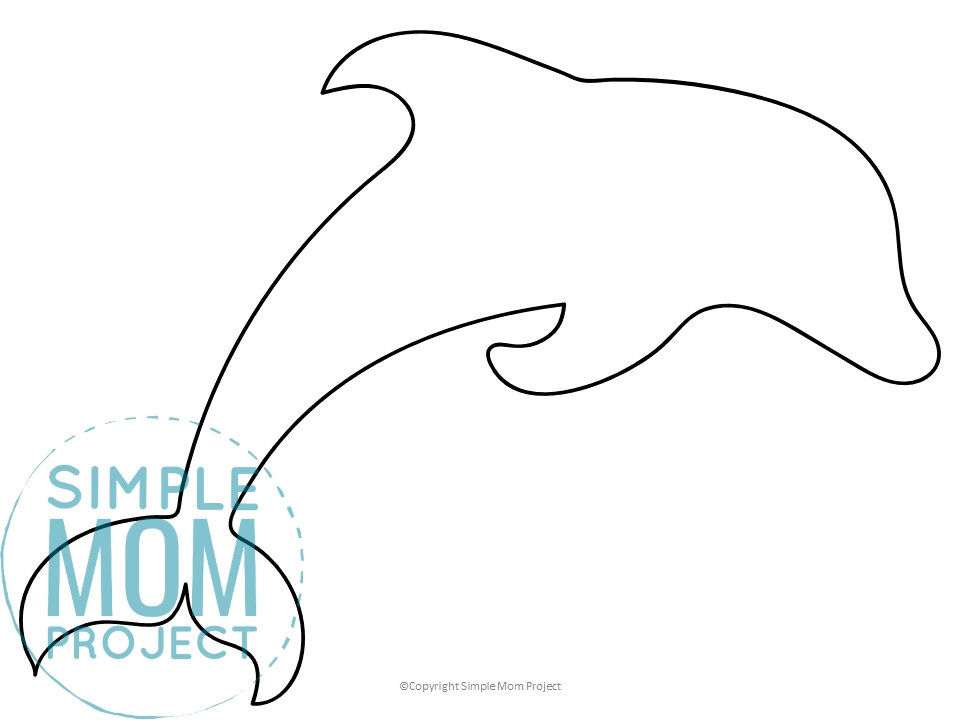 Don't forget to share your ideas for using this easy printable in the comment section. I love to see how you're using these fun and easy templates!
When you have finished, be sure to share your creation on Simple Mom Project's Facebook Page and follow me on Pinterest!

Kaitlen D.
More Fun Printable Templates: