Fall is the most beautiful season of the year. The weather is a little cooler, the air is brisk, and there's a sense of joy around you as you near the season.
Today I'm excited to share one of my favorite fall crafts; the easy DiY fall scarecrow popsicle stick craft.
This fall kids simple craft uses Elmer's glue, a magnet, popsicle sticks, hot glue gun, and other supplies to create DiY popsicle fall scarecrow.
You'll just love this cute fall pumpkin season craft for preschoolers, I'm sure of it!
I am so excited to share today's craft with you! This Fall Scarecrow Popsicle Stick craft came out way better than I could have imagined.
Gather up your supplies and follow these simple directions so you and your kids can make one too!
Easy DiY Fall Scarecrow Popsicle Stick Craft
*By the way, this post may contain affiliate links which means I may receive a small commission at no additional cost to you if an item is purchase through any link. For more information, click here.*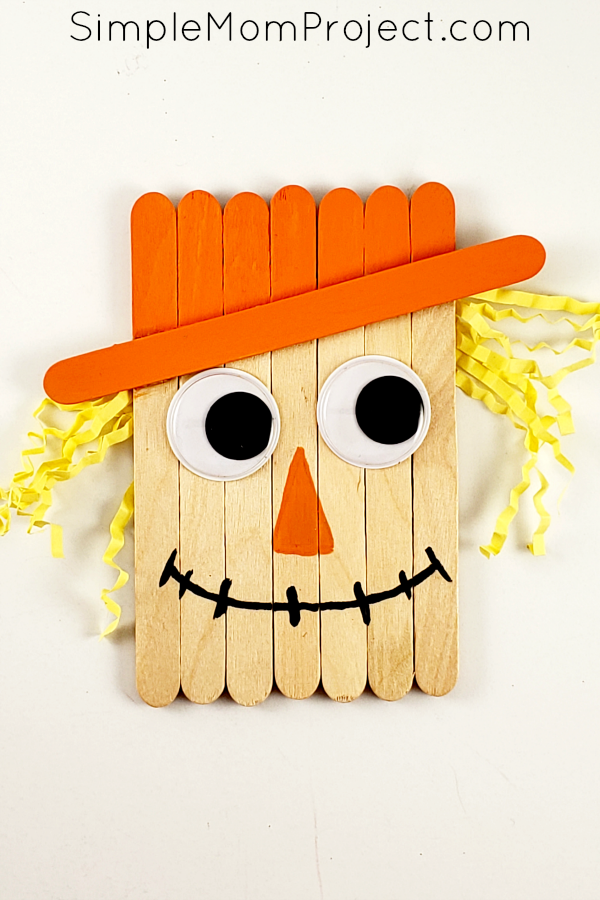 Ideas for Easy DiY Fall Scarecrow Popsicle Stick Craft
Below you'll find a list of creative ways to use this hot glue gun scarecrow popsicle stick craft with your preschoolers at home or in the classroom this fall season.
1. DiY Popsicle Stick Puppets
Using my step by step instructions for this school project homemade, your preschoolers can create DiY popsicle stick puppets.
This scarecrow popsicle stick puppet craft can be used to help your preschoolers with social skills, by having them put on a fall play in the classroom.
Encouraging your preschoolers to create stick puppet crafts using somewhat simple craft ideas is a fabulous way to enhance your students' fine motor skills, creativity, and social skills.  
2. Magnet Craft for Refrigerator
During the fall season, many teachers are searching for school project homemade gifts for family members.
You can follow my step by step tutorial below to use this toddler craft as part of your homemade gifts craft sessions.
Once your preschoolers fall scarecrow popsicle stick craft has dried from the hot glue gun or Elmer's Glue, you can use tissue paper to wrap this homemade gift.
3. Somewhat Simple Craft Time
I don't know about you, but I love having somewhat simple craft ideas for toddlers.
This easy DiY fall scarecrow popsicle stick craft is one of those somewhat simple craft ideas.
Gather up the supplies and follow my step by step instructions to use this fall DiY hot glue gun craft as part of your preschool craft time sessions.
This simple toddler craft is easy and fun for the whole family!
4. Story Time Entertainment
Lastly, it's important to have simple craft projects for toddlers to complete during story time.
This allows your toddlers to stay occupied while they listen to stories during at home or classroom story hour.
This fall scarecrow popsicle stick craft may need adult intervention, but you can have your preschoolers complete portions of their popsicle stick puppets craft during story time.
Supplies to Make This Scarecrow Craft:
Popsicle Stick Scarecrow Instructions:
1. Line up eight small popsicle sticks in an even, vertical row. You can also use larger sticks if you want him bigger.
2. Next, glue one small popsicle stick diagonally about one inch down from the top of your scarecrow.
3. After the glue settles, paint the diagonal stick and the space above it orange.
4. Then, glue some googly eyes to his face.
5. Cut out a long triangle for his nose and glue it on.
6. For his mouth, we traced ours first with pencil and then painted it black. If you have a steady hand, you can skip penciling first.
7. For his hair, we used paper yellow grass.
Though it would also work with strips of foam or even yarn as well. Use your imagine for his lovely locks.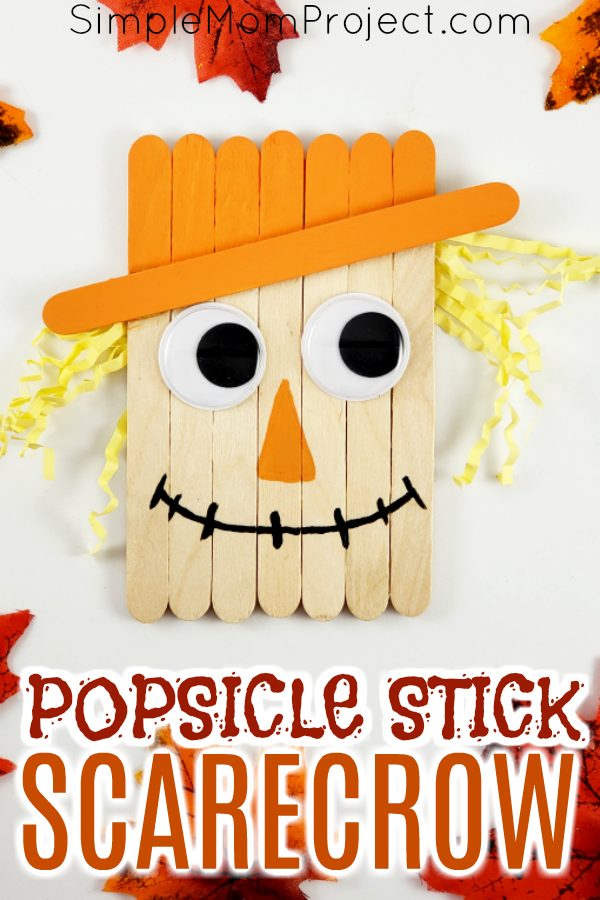 These are just some of my favorite ways to incorporate this art and craft project for kids into your daily home and classroom life. No matter what you opt to do with this easy DiY fall scarecrow popsicle stick craft, I'm confident that your kids will have a blast!

-Kaitlen D.
More Fun Fall Crafts: