Children love to play with colorful autumn leaves, running through a pile of leaves or throwing them up in the air.
These fall coloring sheets for kids is something fun to do if your little one is enjoying the autumn weather and everything the season has to offer.
The most fun part is, your child can color these simple printable autumn coloring pages with any color they like.
Sit back with some crayons or colored pencils and fill in the spaces of these cute fall coloring pages with whatever color they choose to create hours of relaxation.
Help promote the children's hand-eye coordination and fine motor skills by giving these black and white fall coloring sheets.
Cut out the fall coloring pages free template and use it coloring, tracing stencils, crafts and more!
We created 7 different fall coloring pages printable so your kids have a lot of choices every single day.
Take a break and enjoy this collection of amazing printable fall coloring pages for adults and children.
*By the way, this post may contain affiliate links which means I may receive a small commission at no additional cost to you if an item is purchase through that link. For more information, click here.*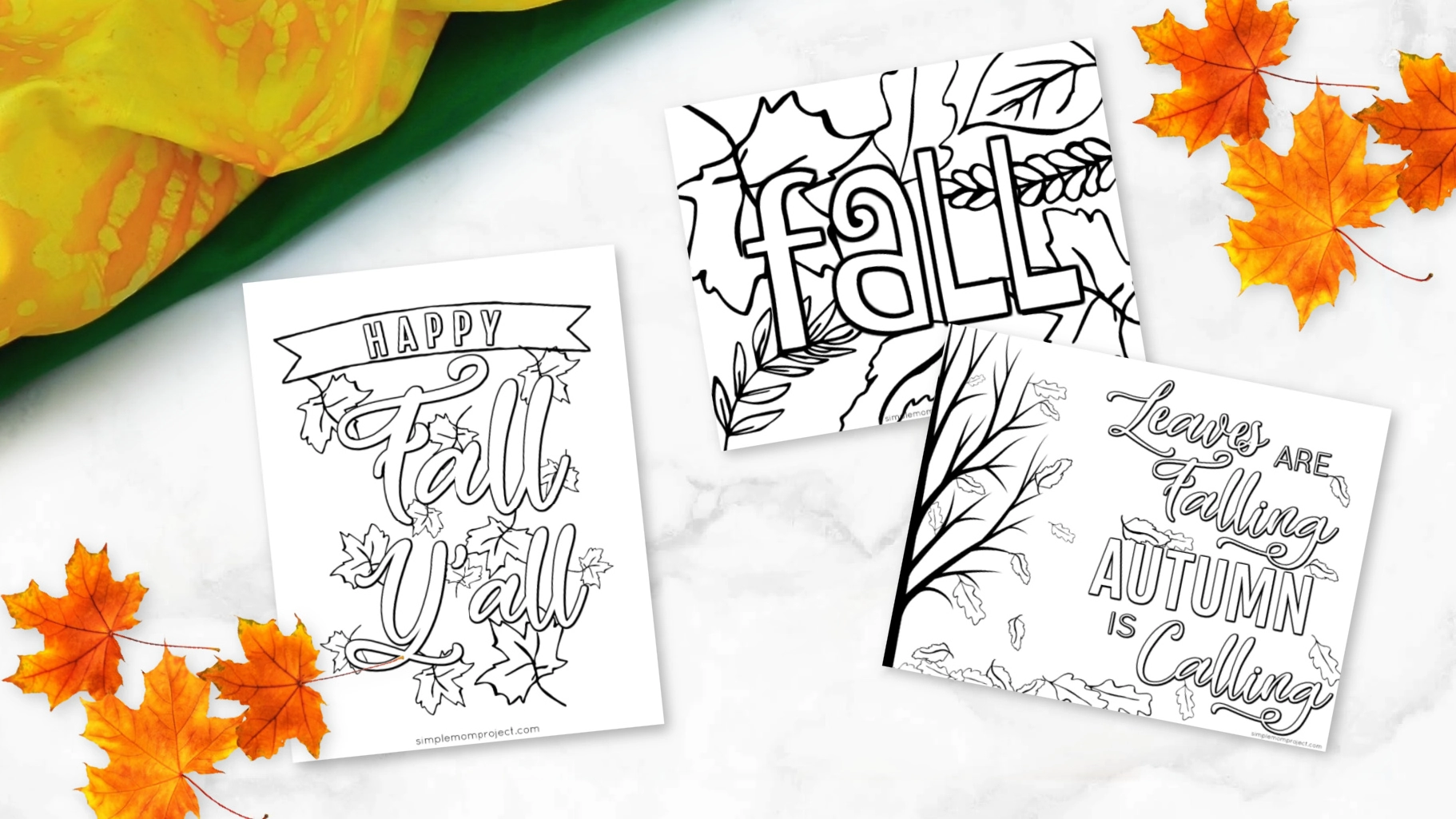 Free Printable Fall Coloring Pages
Fall Coloring Page Supplies:
Printable Fall Coloring Sheets (FOUND AT THE BOTTOM)
Make your child's finished autumn coloring page a forever memory by laminating it! We use this laminator and cannot express how much we love it! It is not only inexpensive, it is SO easy to use!
Your kids will love seeing how much you adore their art work when you laminate and display it for years to come!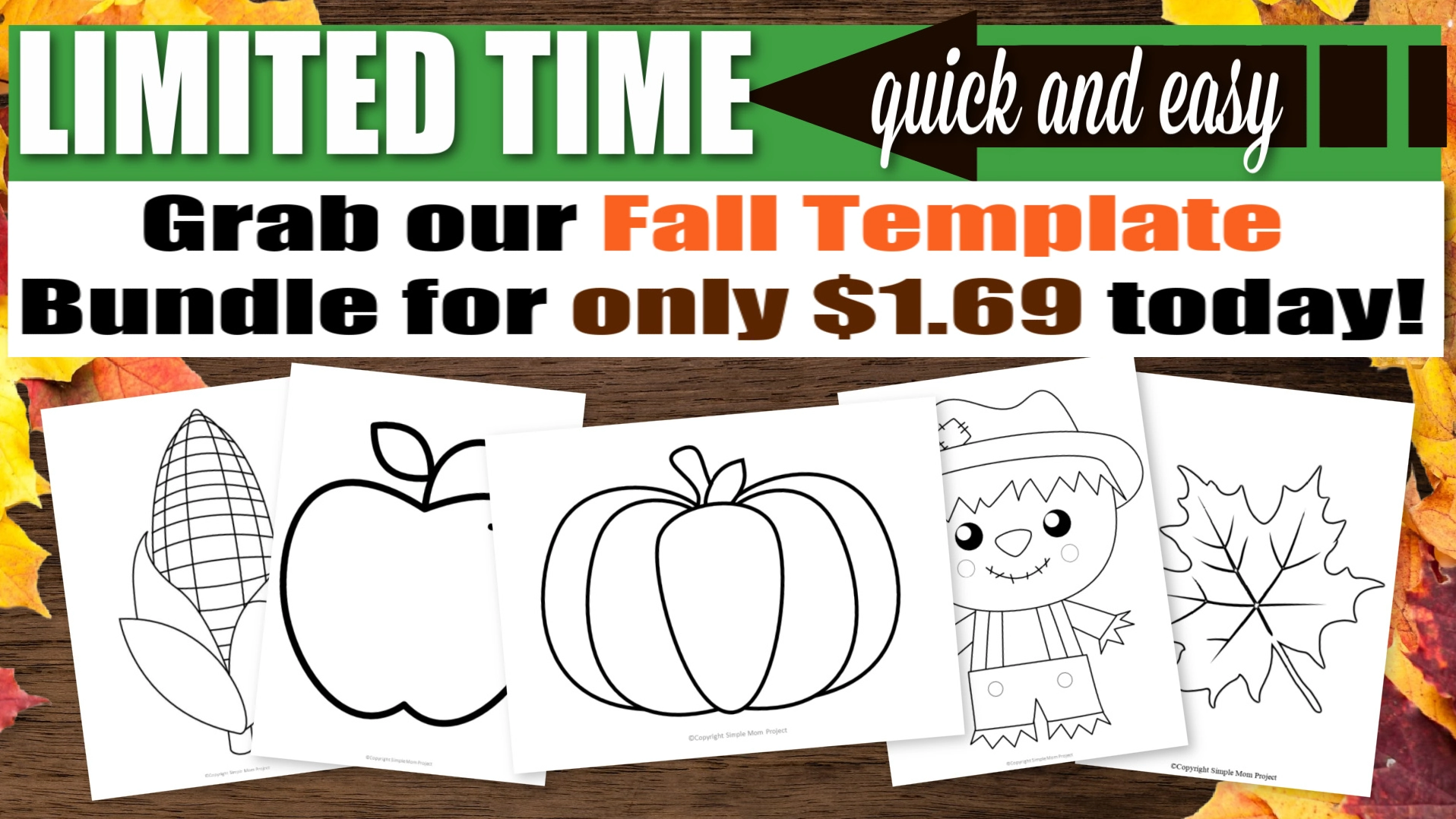 Need more coloring fun? Don't miss out on all our woodland fall animal coloring book for more autumn themed coloring pages and crafting fun with your little ones.
Ideas for Fall Coloring Page Printable
Here are some of the wonderful ideas on how to incorporate this free printable fall coloring pages in your daily life with your children.
1. Favorite Fall Books for Kids
Reading fall-themed books can get your children excited to learn all about the fall. Once your little one is done coloring these easy fall coloring pages for kids, take turns on reading aloud one of these books to encourage your child to boost their self-confidence and learn to read by themselves.
2. Handprint Fall Tree Craft
Craft is always a good idea to keep our little one busy while they are stuck at home.
These incredible fall coloring sheets printable inspire us to make simple art that's suitable for kids of all ages.
Have your child paint the paper plate green. Use a recycled toilet paper roll for the trunk and glue it onto the paper plate.
Trace your little one's hand on different colored cardstock papers and cut it out.
Glue all the traced colorful handprints onto the toilet paper roll.
Your kids can add decorative items to make their handprint fall tree craft stand out.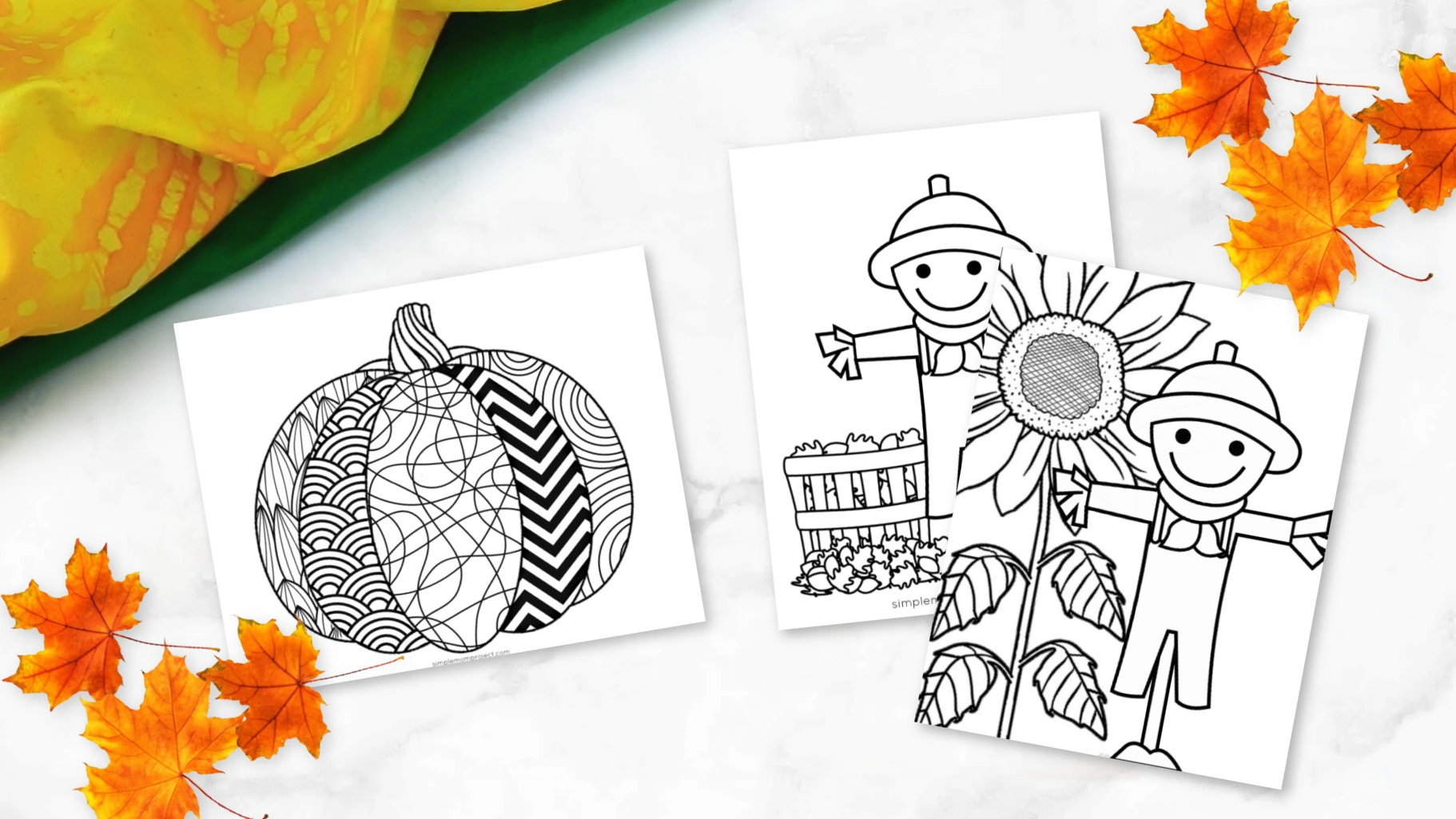 3. Fun Popsicle Stick Scarecrow
Scarecrows are one of the most popular symbols of fall so we thought it would be fun to make our own scarecrow out of popsicle sticks.
Line up the popsicle sticks and use a hot glue gun to stick them together.
You can also glue two popsicle sticks across the back of the line up sticks.
Have your child paint the whole popsicle sticks white or any light color. Draw a hat on colored construction paper and cut it out.
Cut out a triangle shape on a piece of orange paper for the use and use yarn for the hair.
Using a black sharpie, draw the mouth and googly eyes to give your scarecrow a playful look.
Keep scrolling down to see the scarecrow coloring sheet we included to our autumn coloring pages.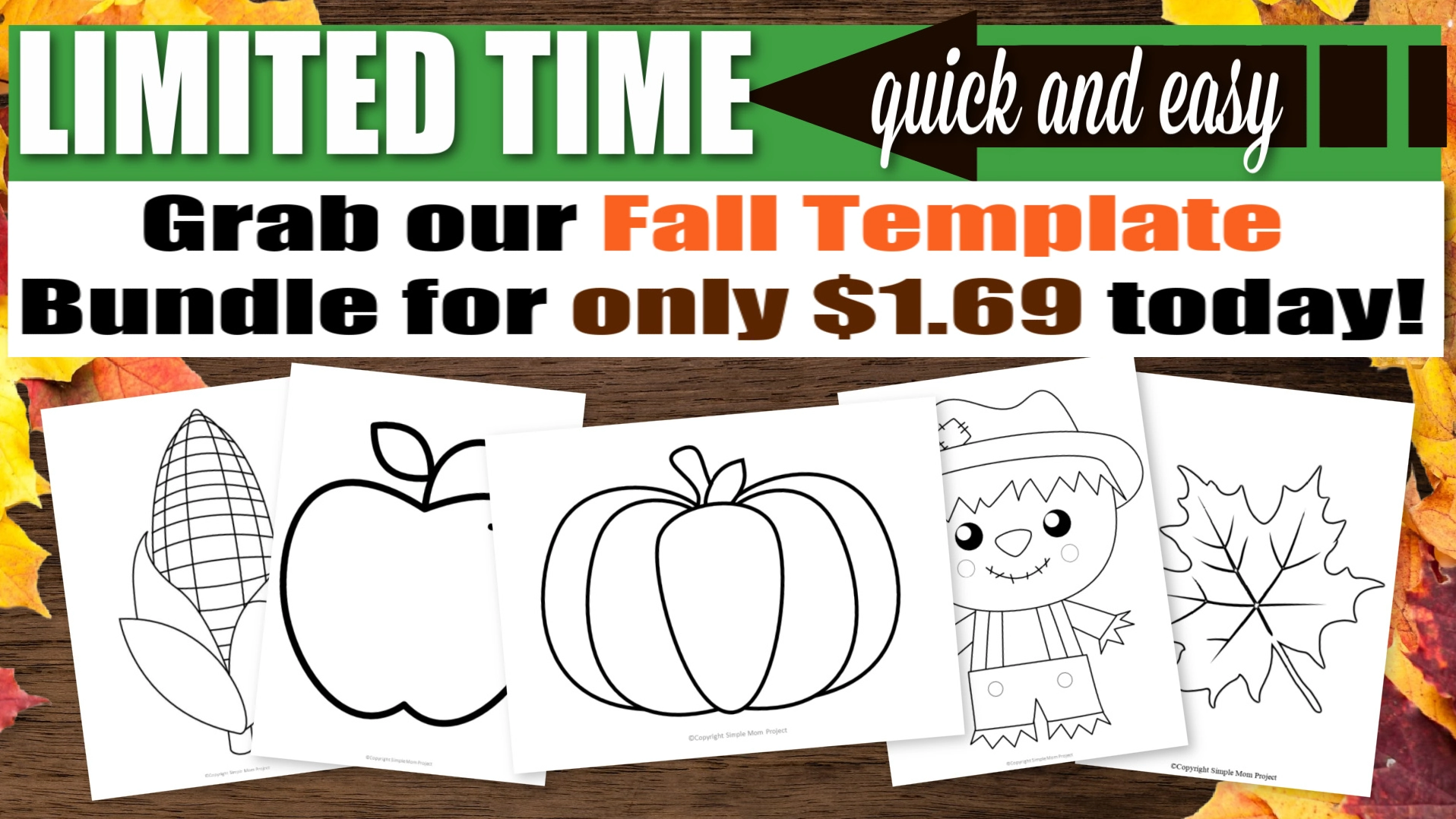 4. Autumn Home Décor
Be as stylish as you can be and decorate your home using our free printable fall coloring pages and other inexpensive craft supplies.
Have your children color their free fall coloring pages and frame it using construction paper or inexpensive cardstock frames.
Display the finished cute fall coloring pages craft anywhere in your house.
You can also create an autumn coloring page garland that's perfect to hang on your door.
Using a stapler, attach every finished easy fall coloring page on a long piece of string.
You may also want to add decorative items on your garland such as glitter glue, beads or gems.
Color in these cute fall coloring pages and share it with others today!
We hope you enjoy some of our awesome ideas in using these happy fall coloring pages with your little ones.
Fall Printable Coloring Pages: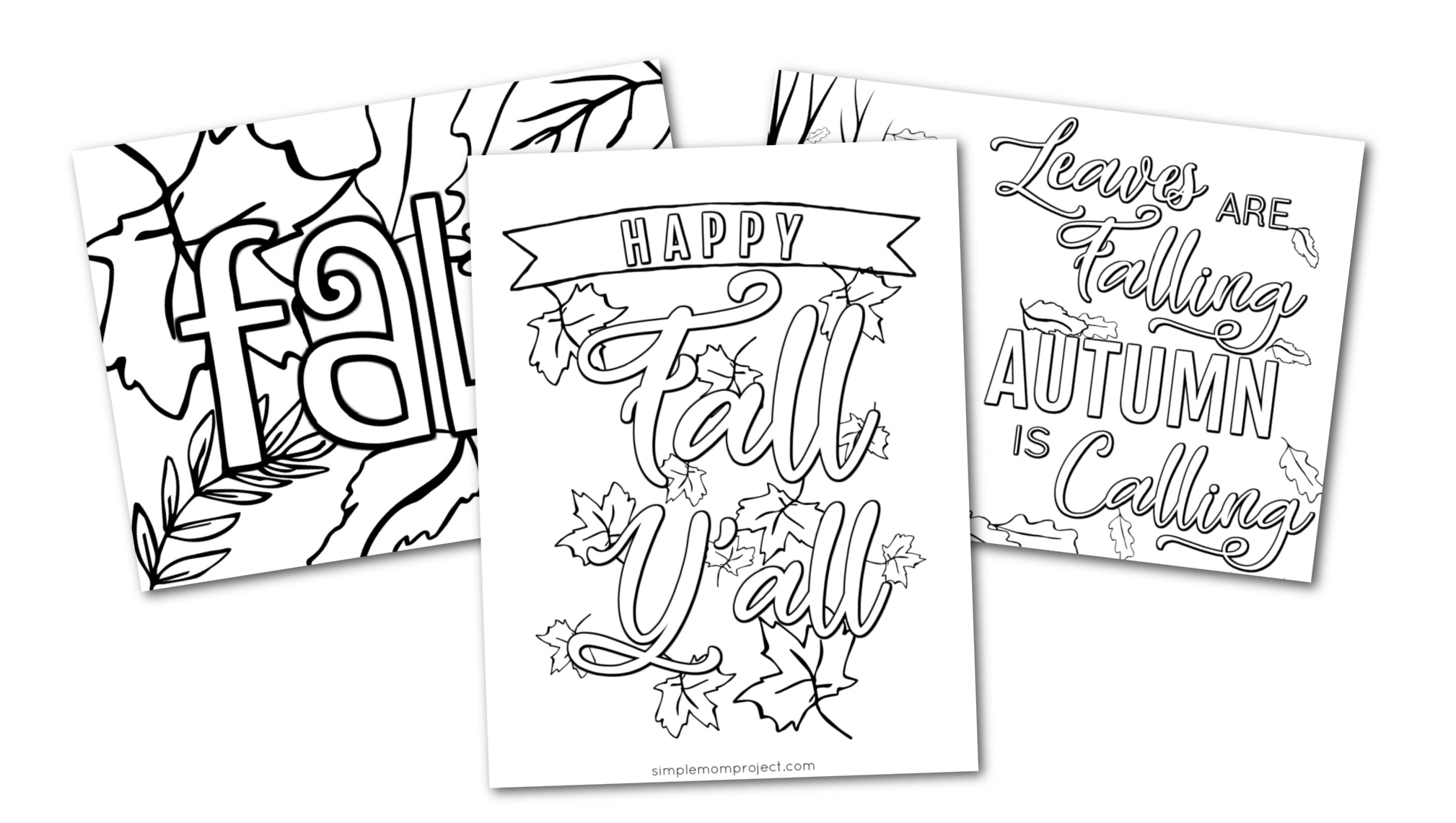 If your preschoolers love nature and playing outside, they are sure to enjoy these happy fall coloring pages.
These simple fall printable coloring pages are perfect for welcoming the autumn season in your home.
Come and have a great time with these free printable fall coloring pages for toddlers, preschoolers, kindergarten and adults.
When you have finished, be sure to share your creation on Simple Mom Project's Facebook Page and follow me on Pinterest!

Kaitlen D.
More Fun Fall Crafts: