Are you having a good time with all of our lovely flower crafts?
Can't get enough of learning about flowers and exploring them?
We are adding this beautiful petunia to our collection of flower templates.
This printable petunia template is ideal for art and science plans at home.
Discover the various types of petunias, make a petunia craft out of recycled materials, and learn about gardening.
Prepare for a fantastic time with all of the activities we have planned for your preschoolers and kindergarteners.


*By the way, this post may contain affiliate links which means I may receive a small commission at no additional cost to you if an item is purchase through that link. For more information, click here.*
Printable Petunia Template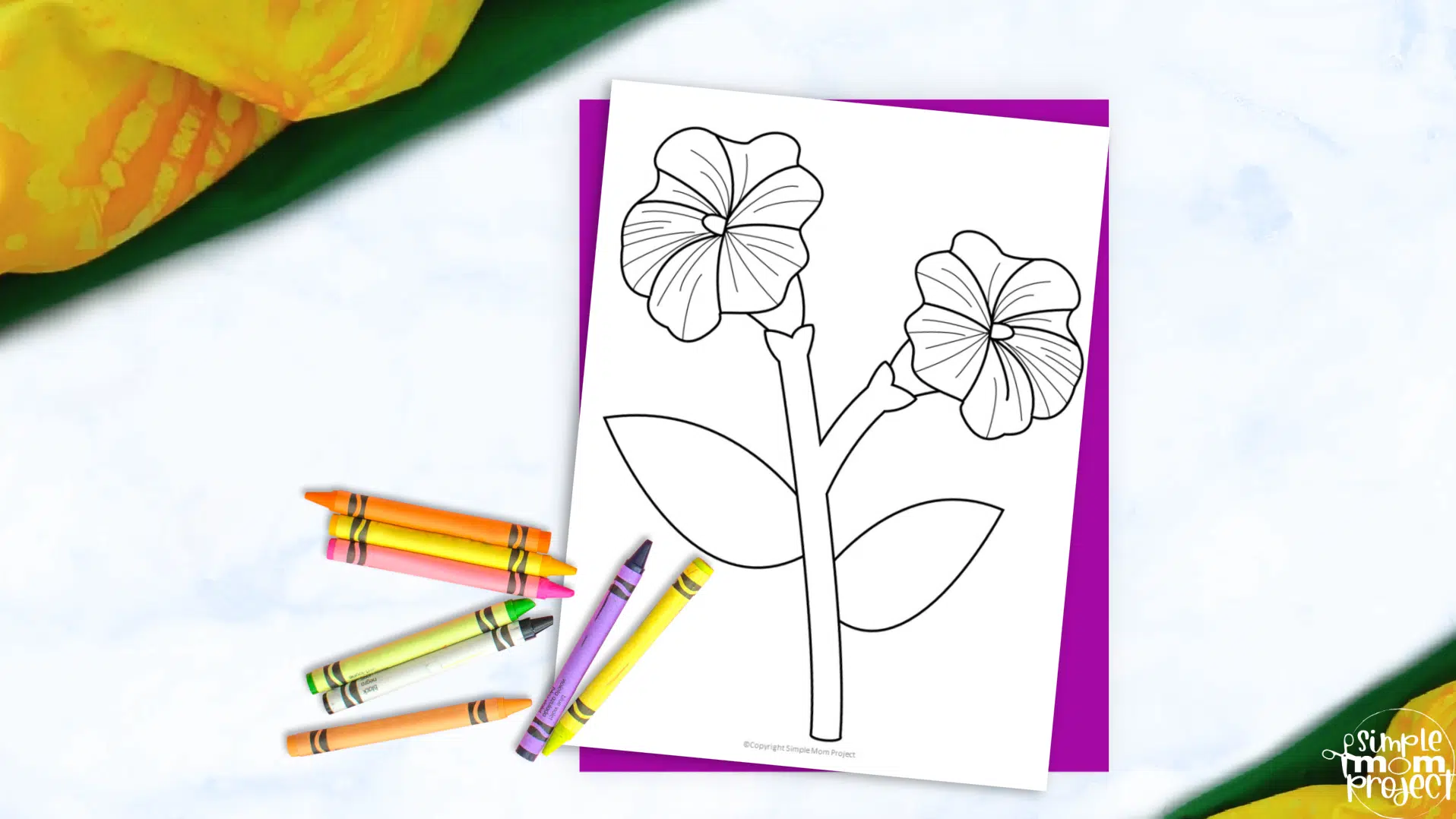 Printable Petunia Template Materials Needed:
Printable Petunia Template (FOUND AT THE BOTTOM)
Make your child's finished petunia template a forever memory by laminating it! We use this laminator and cannot express how much we love it! It is not only inexpensive, it is SO easy to use!
Your kids will love seeing how much you adore their art work when you laminate and display it for years to come!
Looking for more lovely flower crafts to add to your collection? Check out our Tulip, and Petunia Cut and Paste Craft.
Ideas for Printable Petunia Template
Grab a pen and paper and jot down these brilliant ideas for incorporating this printable petunia template into your daily routine.
1. Best Books about Flowers and Plants
Take time to explore flowers and plants with these books.
Your children will undoubtedly enjoy learning about their surroundings and flipping through the colorful pages.
2. Colorful Life of Petunia
Getting to know the petunia flower is a fun activity to do before working on the printable petunia template.
With these fascinating facts about them, you can learn about how this vibrant flower lives and how it is cared for.
Did you know that petunias are also called ornament plants because of their trumpet-shaped flowers?
They come in the brightest colors and patterns that bloom from spring until winter.
They are one of the most common house and garden plants.
Did you know they can be used as a food garnish? Petunia plants are not poisonous but it is not advisable for human or animal food.
If you have pets at home, petunias are safe plants for them.
Petunias are easy to grow anywhere under the sun.
Petunias require full sunlight to grow, so it is best to water them daily, especially during hot weather.
They are best grown outdoors in window boxes, hanging pots, and containers.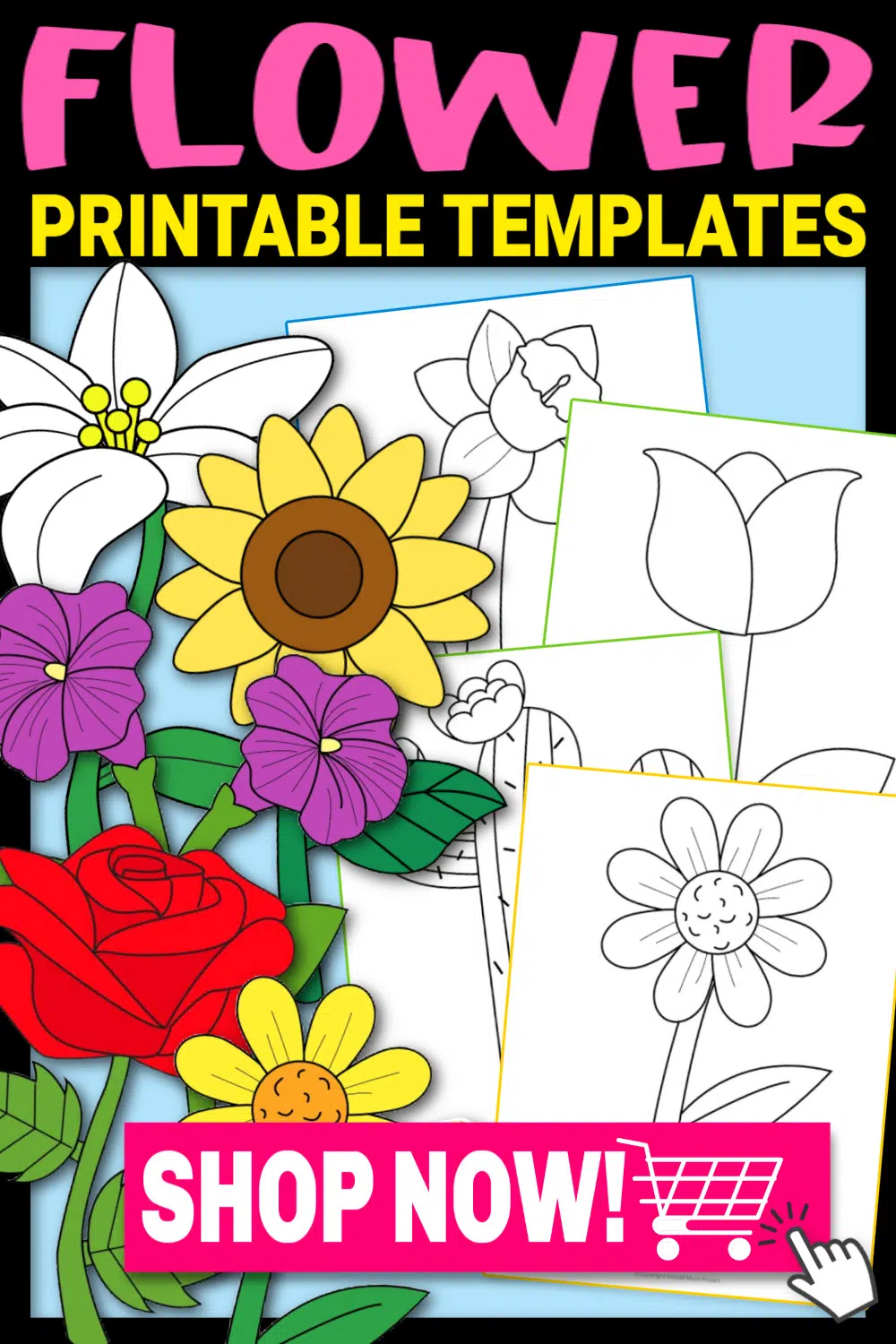 3. Paper Roll Petunia Stamping
Making crafts from recycled materials encourages a child's imaginative play.
They are also becoming more aware of the importance of protecting the environment through waste reduction, and it is inexpensive!
Gather all the paper rolls you can find around the house and let's get started on this activity.
The materials we need are paper rolls, paper, different colors of paint and a paintbrush.
Begin by cutting the paper roll's ends inches in towards the center.
Then fold the strips outwards.
You can paint the strips with a paintbrush or dip the paper roll into the paint.
Stamp gently onto the paper.
Hang your petunia flowers up or put them in a floral frame.
In no time, the kids will be wanting to decorate more of the printable petunia template.
4. Popsicle Flower Pots
This printable petunia template is sure to get the kids excited about going to the garden.
Spend the morning outside with your little ones making these popsicle flower pots to instill a love of gardening in them.
If your children enjoy gardening, they can plant their flowers in these DIY flower pots.
Prepare colored popsicle sticks, empty tin cans, rubber bands, ribbons, or yarn.
First, place the rubber band around the tin can.
Put the popsicle sticks in place underneath the rubber band.
Wrap the ribbon or yarn to cover the rubber band.
Have fun filling it with soil and planting a flower with your kids.
Are you having a great time taking notes on these printable petunia template ideas?
We are always happy to share the simplest and most enjoyable activities that you can incorporate into your school or home plans.


Printable Petunia Template:
Are you ready to get creative with the printable petunia template?
Decorate this flower drawing with whatever materials you have available.
This petunia coloring page can be colored, embellished with sequins or glitter, or even painted by your little ones.
Enjoy letting your kid's creativity flow with this flower template.
Send it to everyone you know who loves flowers.
We hope you had a wonderful time doing these activities with your little ones.
Don't hesitate to share your learning plans in the comment section.
Share all your brilliant creations on Simple Mom Project's Facebook Page and follow me on Pinterest!

Kaitlen D.
More Fun Flower Templates