Tulips are brightly colored flowers that bloom in the spring.
Everyone adores their perfectly formed petals and vibrant colors.
To complete your spring flower collection, we created this printable tulip template.
This printable tulip template is ideal for your home and school plans, whether you want to teach flowers, spring, or arts and crafts.
These activities can be done by your children at any time of the year, not just in the spring.
Have fun learning about tulips and other flowers with your preschoolers.


*By the way, this post may contain affiliate links which means I may receive a small commission at no additional cost to you if an item is purchase through that link. For more information, click here.*
Printable Tulip Template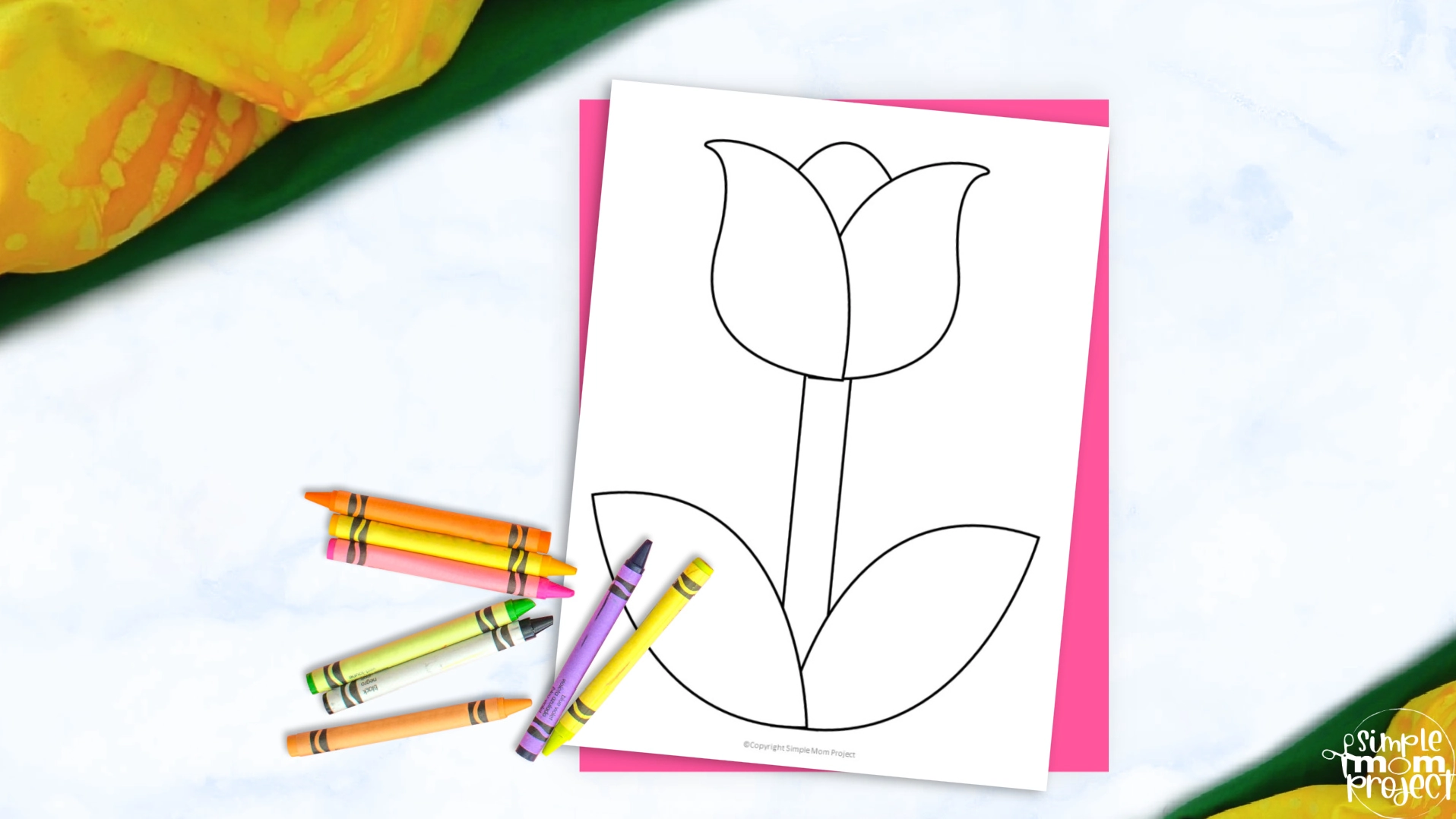 Printable Tulip Template Materials Needed:
Printable Tulip Template (FOUND AT THE BOTTOM)
Make your child's finished printable tulip template a forever memory by laminating it! We use this laminator and cannot express how much we love it! It is not only inexpensive, it is SO easy to use!
Your kids will love seeing how much you adore their art work when you laminate and display it for years to come!
Looking for more flower fun to add to your collection? Check out our Rose, Tulip Cut and Paste Craft.
Ideas for Printable Tulip Template
We are constantly coming up with ideas and new approaches to make learning enjoyable for your little ones.
Take a look at these ideas on how you can incorporate this printable tulip template into your everyday routine.
1. Beautiful Tulip Books to Read
Spend some quiet time with your children while reading these lovely tulip books.
Making reading a habit can help them expand their vocabulary and engage their imagination.
These are the best books to go with the printable tulip template.
2. Egg Carton Tulips
Nobody can ever go wrong when it comes to recycling egg carton boxes.
Did you know you could turn these egg cartons into tulips?
These printable tulip template ideas are always simple and inexpensive!
Get ready to craft with these easy-to-find materials.
We'll need egg cartons, paint, and a pipe cleaner or any stick that may be used as a stem.
Let's start by cutting the egg carton.
Paint the egg cartons in any color your kids like.
Poke a hole in the bottom and insert the pipe cleaner once they've dried.
To make a tulip bouquet, repeat the process and make more egg carton tulips.
These tulip crafts make a fun gift for someone this spring!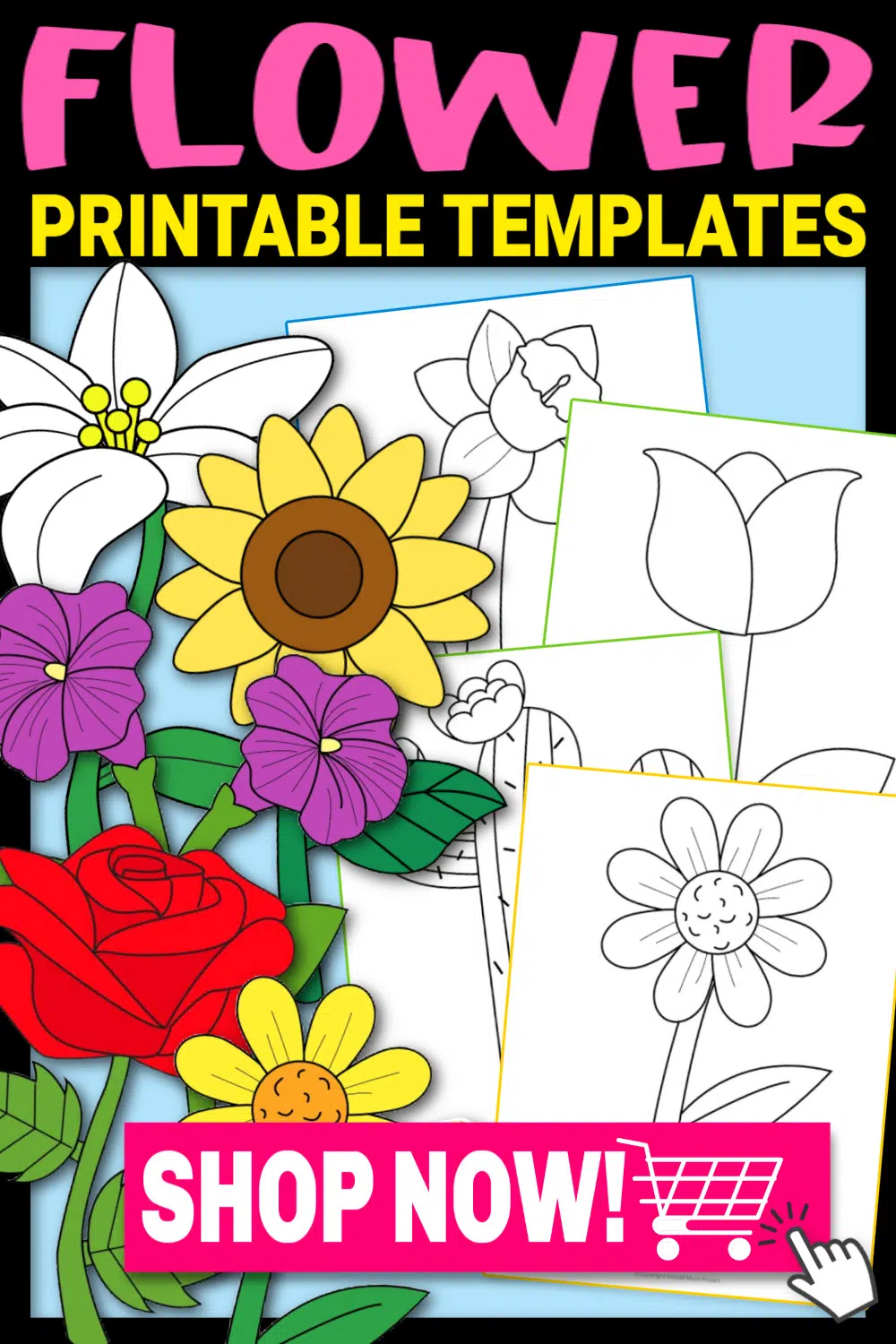 3. Origami Tulips
Origami is the art of paper folding.
It's a Japanese word that translates to "folding" and "paper."
Do you know why origami helps children enhance their skills?
Paper folding enhances concentration and focus while also improving cognitive ability, problem-solving capabilities, and hand-eye coordination.
Include this printable tulip template idea in your arts and crafts learning plans.
Only paper is needed for this origami tulip craft.
First, fold your paper into a square.
Fold it in half, then diagonally to make a triangle.
Open the triangle facing up after folding it in half.
Fold the triangle upwards from the base.
Fold the little edges of the tulip back and over.
Make colorful origami flowers by combining different colors of paper.
Your children will certainly enjoy folding these paper tulips.
4.  Tulip Fork Stamping
These printable tulip template ideas provide opportunities for children to explore new activities while also learning.
This tulip fork stamping boosts your child's painting experience.
Forks are easy to use in painting and make the prettiest tulip shapes.
We'll need forks, a paper plate to put the paint on, and paper for this stamping activity.
Pour different colors of paint onto the paper plate.
Guide your kids in stamping the fork gently into the paint and onto the paper.
You may also make the tulip leaves with the fork if you use green paint.
Take your time stamping and create as many beautiful blooming tulips as you'd like.
How did you go about implementing these concepts into your learning plans?
Which idea was your favorite?
We hope you and your kids have a great time doing these activities this weekend.
We are sure that your children will learn and thrive at all of their tasks.


Printable Tulip Template: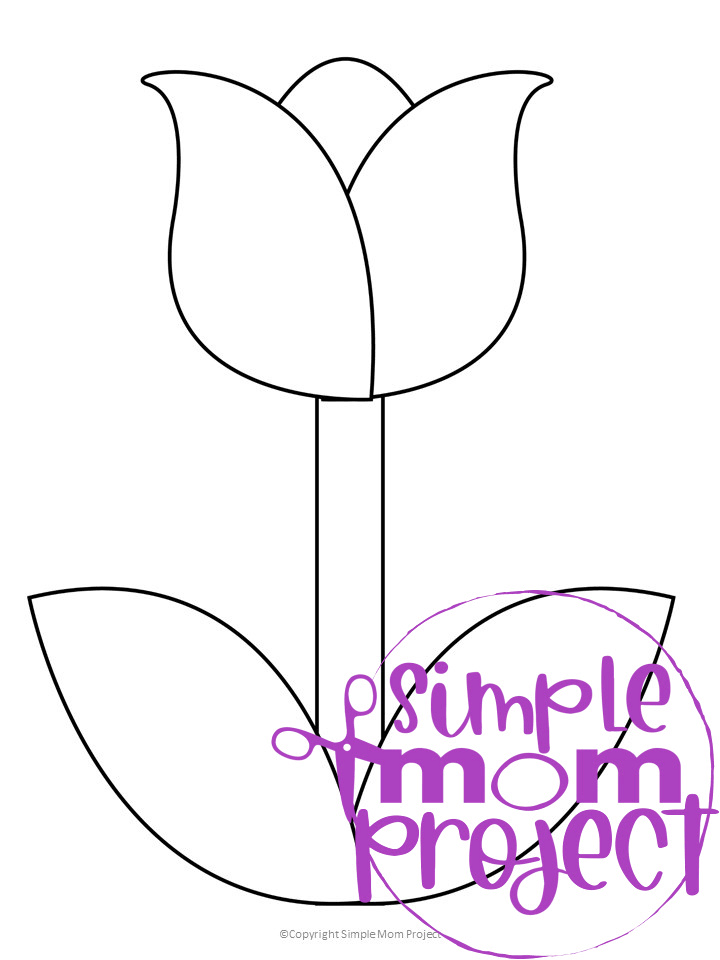 Get ready and let's work on this printable tulip template.
This simple tulip coloring page can be decorated with a variety of art materials.
They can paint it or embellish it with sequins and glitters to make it look like a real tulip.
Use your crayons and markers to create a rainbow of spring hues.
You can use the finished tulip template to design the wall, doors, or seats for your children's play and study room.
Enjoy the vibrant spring colors in your home.
We would be delighted to hear about your learning plans.
Don't hesitate to interact with us in the comment section.
When you have finished, be sure to share your creation on Simple Mom Project's Facebook Page and follow me on Pinterest!

Kaitlen D.
More Fun Flower Templates