Do you have little ones who love cars?
This printable car template is the perfect activity for them this weekend!
Keep them occupied and productive as they work on something they love.
Whether they love Lightning McQueen or race cars, this black and white car is ideal for them.
Enjoy using this free car template in any activity you have, such as coloring, drawing, crafting, or even learning the alphabet letter C.
Feel free to use this printable car template for your home or school transportation themed week.
You can also use it to learn more about the pronunciation of C.
Have fun using it as a coloring page, drawing guide, craft design, and classroom display!
It's free and very easy to print, so get your copies right away!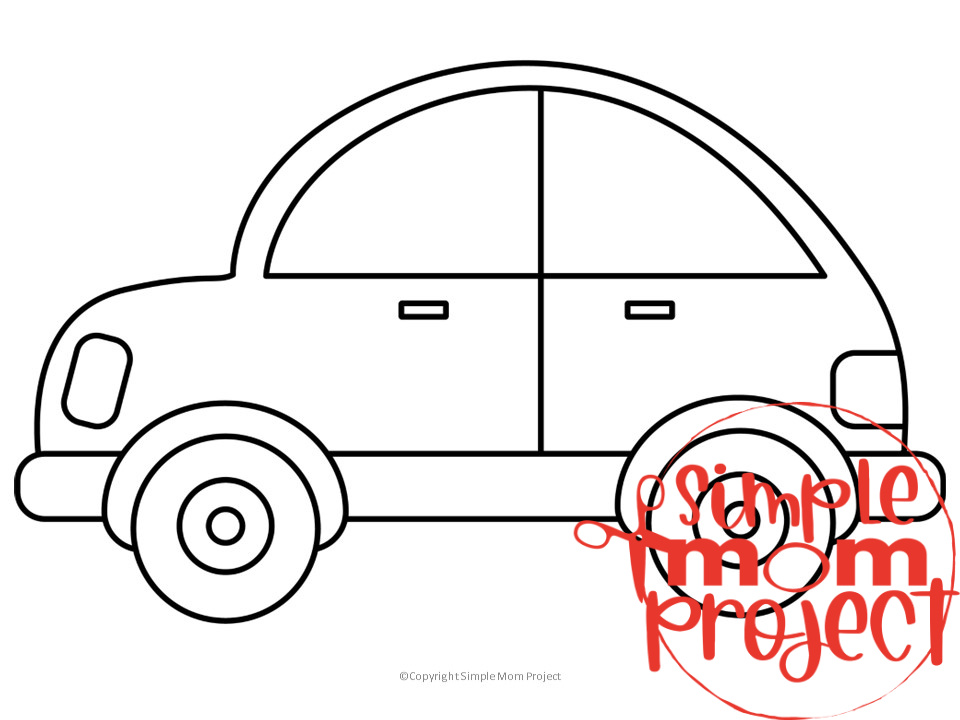 *By the way, this post may contain affiliate links which means I may receive a small commission at no additional cost to you if an item is purchase through that link. For more information, click here.*
Printable Car Template
Car Template Supplies Needed:
Printable Car Template (FOUND AT THE BOTTOM)
Ideas for Car Template
We wanted to share these creative ideas for using a printable car template in your routines.
We've made sure each is fun and simple to practice.
You won't have to worry about materials, as you'll only need common materials available at home and the car template.
Grab a pen and paper and jot down these ideas as you read!
1. Creative Car Learning Resources
When organizing routines for preschoolers and kindergarteners, we want to be as creative as possible.
We want to keep them engaged and interested in the activity.
So, in addition to the printable car template, we want you to check out these creative car learning resources.
You can use these resources to plan your activities and routines this week.
All of the items on this list are car-themed, so you'll stay on track with your transportation theme.
Kids are sure to love using and learning with all these learning resources.
We've made sure that all the items below are low-cost and easy to find!
2. Paper Car Crafts
This printable car template is so much fun to make, it will inspire your kids to make more car crafts.
In addition to working on the template, you can also create your own 3D car out of cardboard or just paper.
You can fold the paper into a car shape or stick a printable car template onto cardboard for added durability.
If you have embellishments on hand, you can also use cardboard boxes to make your own crafts.
Let the kids get creative when deciding what and how to do with their paper cars.
Don't forget to print out a copy of the printable car template so they have a reference on how to get started.
Once done, hang all of their paper crafts on the wall to form a transportation themed wall or board.
3. Race Car Coloring Pages
Since it is designed in black and white, your child can freely color and decorate this printable car model.
If your child is a Lightning McQueen lover or aspires to race cars one day, they will love coloring it like a racing car.
Provide your child with several coloring supplies to choose from.
You can provide crayons, markers or paints.
Turning this printable car template into a coloring page is sure to unleash their creativity and imagination.
Coloring also helps improve fine motor skills and proper pen grip.
If they want to make more racing cars, print as many printable car templates as possible!
When finished, compile them to create a racing car coloring book!
4. C is for Car
Besides arts and crafts, you can also use this printable car template to learn about a letter of the alphabet.
Car is one of the most common words to represent the letter C, which makes this car template the ideal template to learn more about.
You can use it as a visual aid or flashcard in your lessons.
You can also use it to learn more about the phonics of the letter C.
Start by asking your child to say the word car several times, emphasizing the first sound of the first letter.
Once they are familiar with the sound, ask them to pronounce the C sound on their own.
If you're teaching kindergarteners, you can also use this printable car template for them to learn to read and spell the word car.
CVC words are among the easiest to read and spell.
Have fun using all of these ideas in your routines this week!
We hope we made planning easier and simpler for you.
We're excited to share this printable car template with you and your kids.
If your kid wants more of these free vehicle templates, we'll have more in the coming days!
Printable Car Template: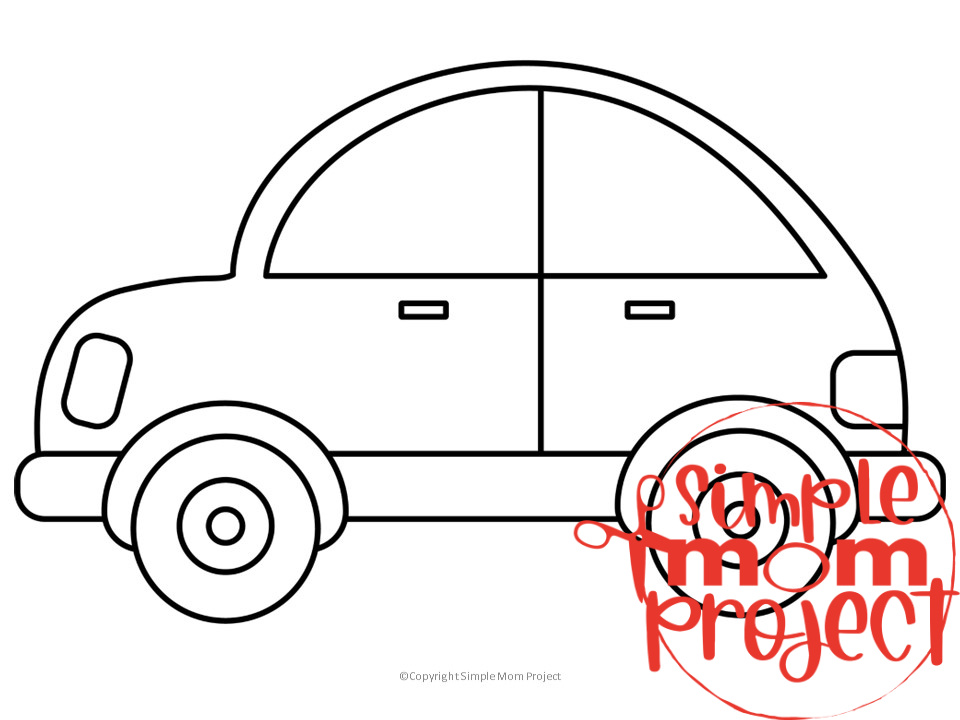 Tune your engine as we learn all about cars this week!
Include this printable car template in your transportation themed activities and routines.
Children are sure to love this black and white car drawing that they can incorporate into a variety of educational tasks.
The kids are free to use it to color, craft, draw and learn the pronunciation of the letter C.
It's free and easy to print so you can get as many copies as you want!
Working with this template will keep children busy and productive while developing a variety of abilities.
Let them improve their fine motor skills, hand-eye coordination, creativity and vocabulary with this printable car template.
You won't want to miss them all!
Grab your copy now and start planning your car themed lesson this week!
Don't forget to leave a message in the comment section.
When you have finished, be sure to share your creation on Simple Mom Project's Facebook Page and follow me on Pinterest!

Kaitlen D.
More Free Printable Vehicle Templates