Toddlers, preschoolers, and even older kids are fascinated with hippos because they are considered as the third largest mammals on Earth.
To keep your kids' interest in these animals, we created this easy printable hippo paper bag puppet craft.
Making this printable paper bag hippo puppet is such a great way to keep your children's little hands occupied and motivated while building fine motor skills.
The paper bag hippo puppet craft is perfect to use for your puppet show, pretend play or teaching wildlife animals.
We don't want you to encounter complicated steps in making a cute puppet, so we included step-by-step pictures with written directions and a short tutorial video.
Don't wait any longer, purchase a hippo template and play for hours!
*By the way, this post may contain affiliate links which means I may receive a small commission at no additional cost to you if an item is purchase through that link. For more information, click here.*
Printable Hippo Paper Bag Puppet Craft
Hippo Craft Supplies Needed
Need more crafty fun? Check out our Alligator Puppet and Dog Puppet.
T
hey are perfect for those days when staying indoors is the only thing your family can do!
Ideas for Easy Preschool Paper Hippo Craft
Take a look at these incredible ideas on how to incorporate this basic printable hippo paper bag puppet craft in your daily routine.
1. Improve Writing Skills
Give your little kids the exercise they need by providing them this simple printable hippo paper bag puppet craft.
Once your child is finished with this animal puppet, look for follow-up activities that will enhance their skills.
We encourage them to work on their writing skills, hence, we print out tracing uppercase and lowercase letter H worksheets.
Use a marker to draw directional arrows, it will be their guide on how to write the letter H from top to bottom.
Encourage them to practice as often as possible until they master the proper grip.
Aside from writing, kids should also know how to pronounce the word correctly.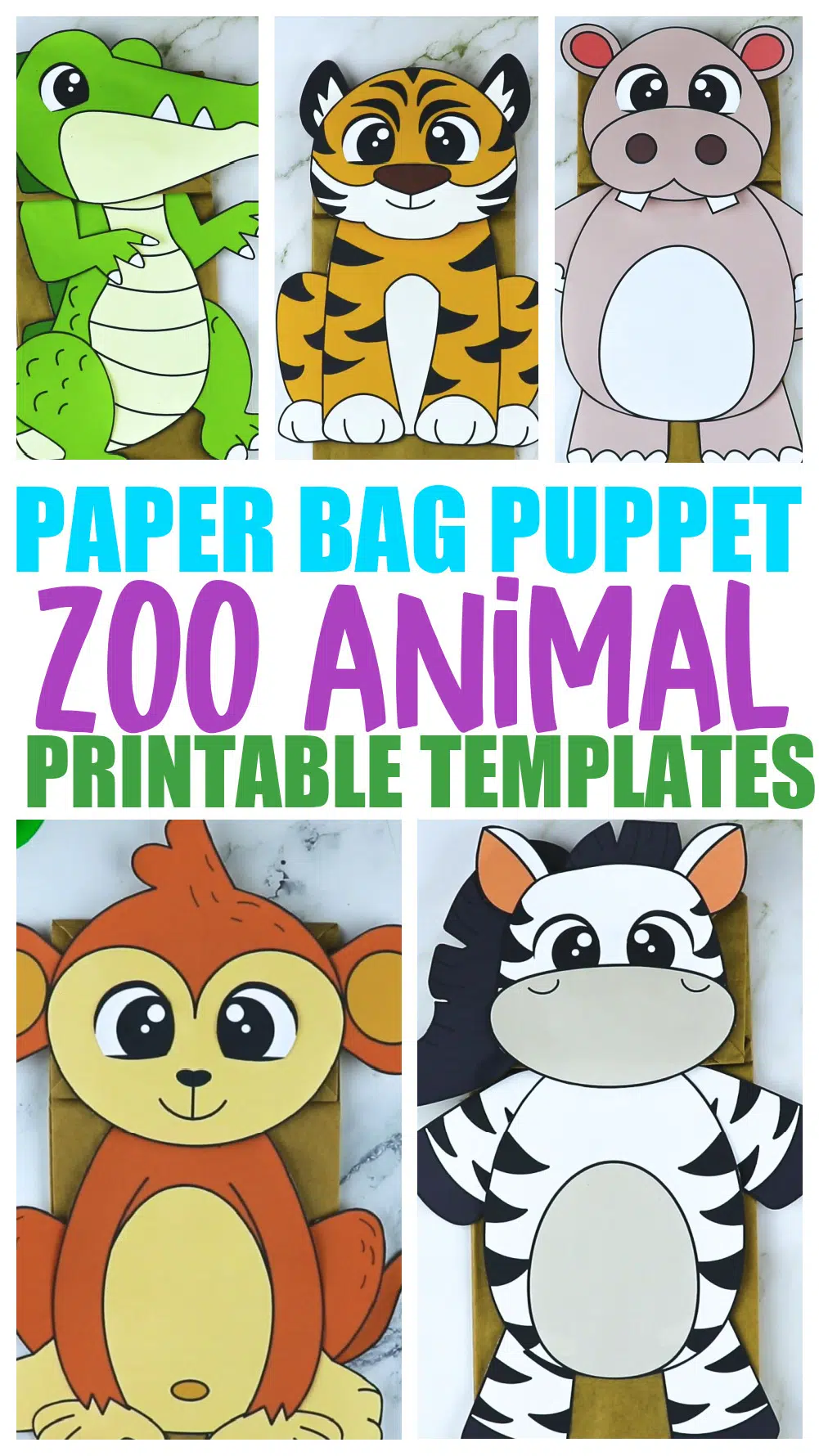 2. All Things Hippo
Making this hippo animal puppet craft is so fun and easy, kids would love to collect everything that involves hippos.
That's why we come up in gathering amazing products for your little ones, from reading stories to playing games!
Create a special bond with your kids by pairing this hippo finger puppet with any of the items we listed.
3. Paper Plate Hippo Craft
This printable hippo paper bag puppet craft takes around 5-10 minutes to complete.
We don't want to waste this opportunity to activate kids' creativity, so we came up with a paper plate hippo craft that looks great to pair with their hippo puppet craft.
Start painting the paper plate gray then set it aside to dry.
Next, cut out two holes for the eyes.
Then, draw the ears and snout on a cardstock and cut them out.
Glue the ears on each side of the upper part of the paper plate and the snout below the eyes on the bottom half of the paper plate.
You can add other features such as teeth and brows.
Once your hippo face is complete, glue on a large popsicle stick so your little one can hold them up on their face.
This hippo paper plate craft would make a great addition to your animal themed collections.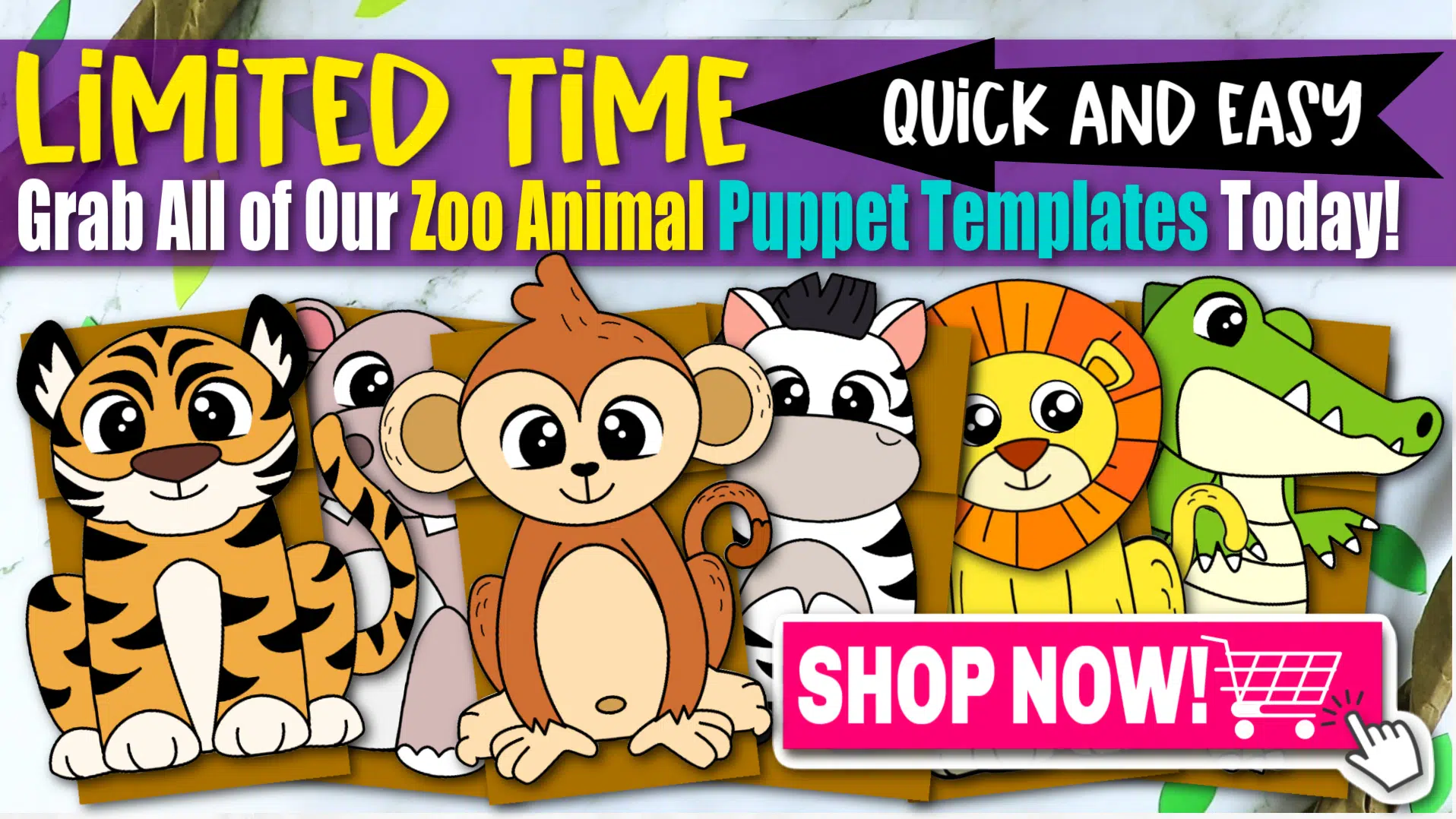 4. Animal Themed Classroom Décor
If the students are learning zoo animals or wildlife animals, be sure to include this printable hippo paper bag puppet craft as part of your arts and crafts activities.
The printable hippo template itself can be used as classroom décor or bulletin board background design.
Let the kids color their new friend any way they like and help them to stick the pieces together.
This hippo animal themed template is easy peasy to make, but brings a lot of fun for the whole class.
All of these cute hippo ideas are very useful and would work well for toddler, preschool or kindergarten kids.
Hippo Paper Bag Puppet Instructions
Are you ready to build your own hippo bag puppets?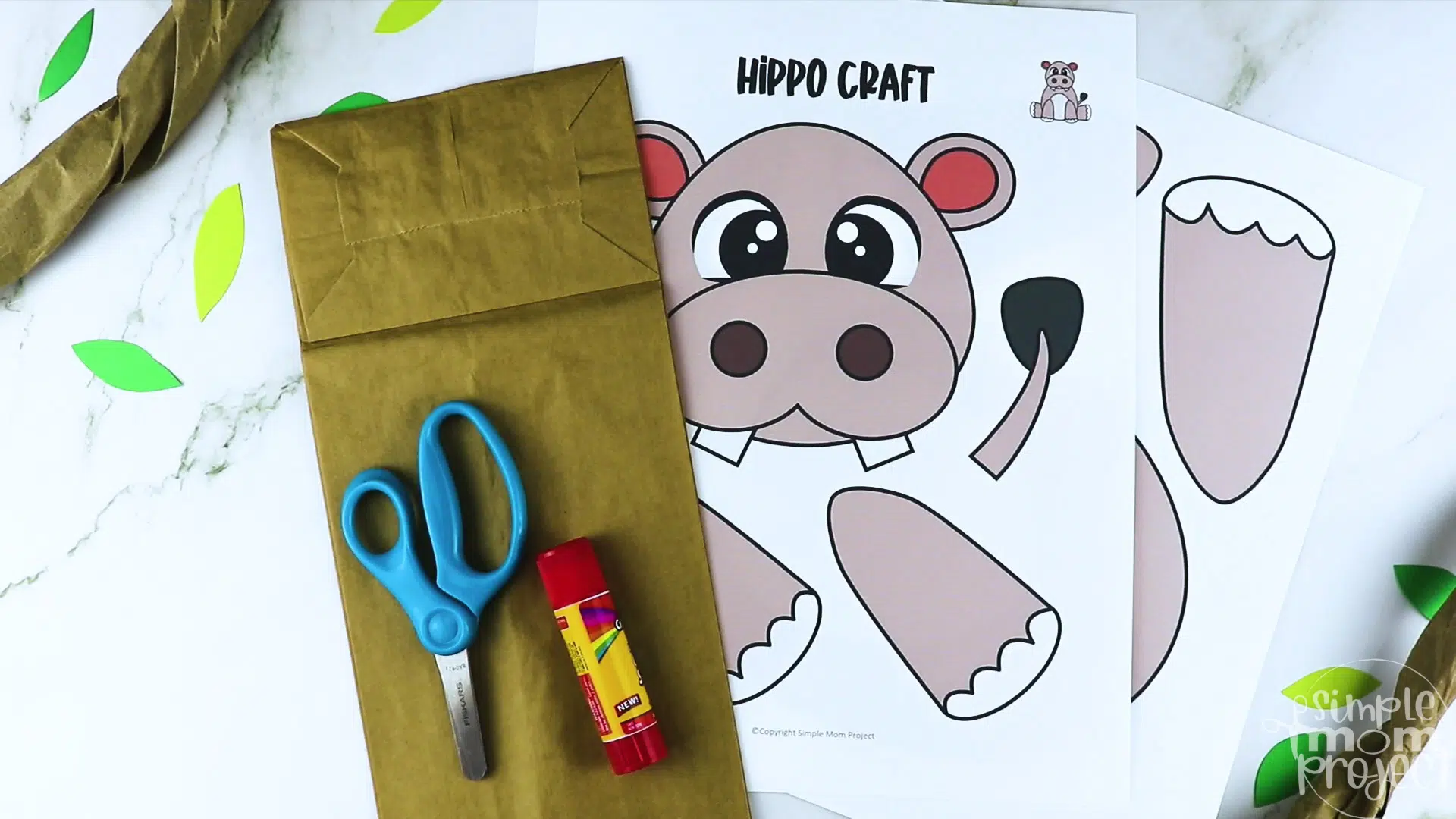 Start gathering all the crafting materials that you think you'll need for these craft activities.
Purchase and download the hippo printable templates.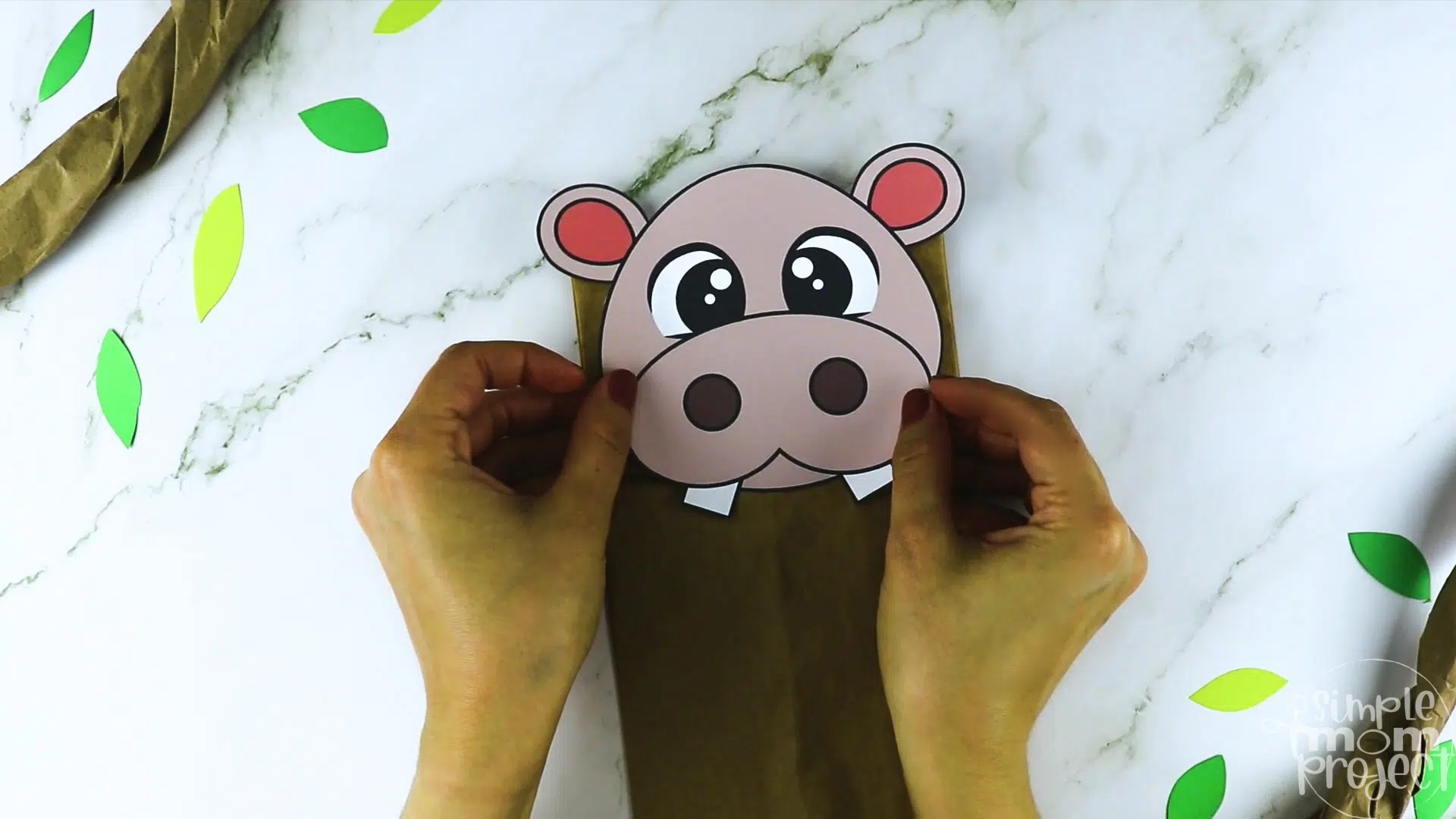 Cut out the hippo pieces or if you think your preschooler is ready to hold a scissor, you can let them have a go.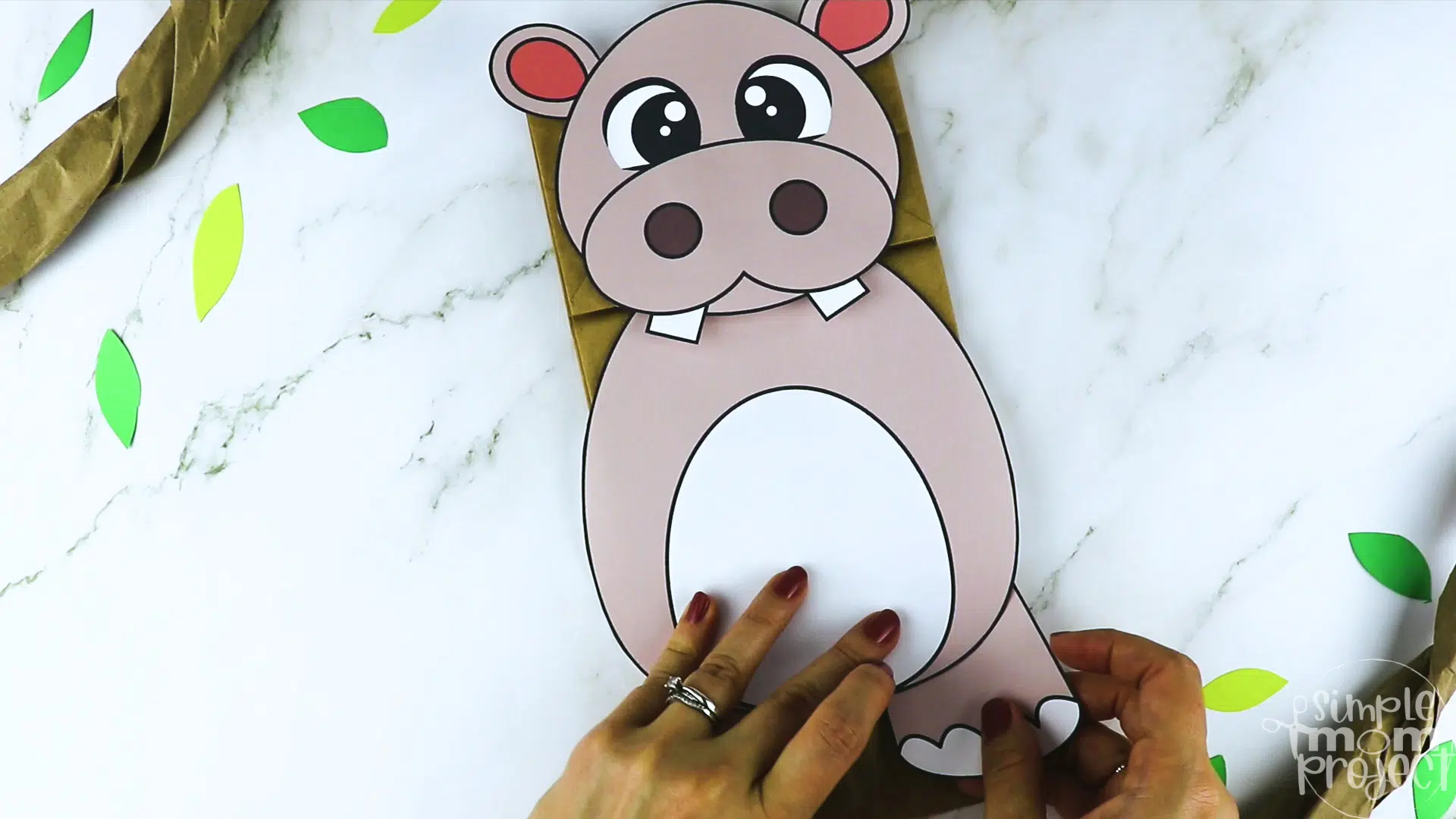 Position the head of the hippo at the bottom side of the brown paper bag and secure it using glue.
Glue on the body and legs of the hippo.
Now, your kids have hippo hand puppet printable crafts they can play with for hours!
More Options to Choose:
You can print the blank version and trace the cut outs on card stock paper for a sturdier hippo paper bag puppet craft,
Print the hippo template in color for a simple and easy rainy day craft or,
Print the blank hippo template and use it as a fun coloring sheet activity and then glue the pieces of the hippo craft together.
Printable Hippo Paper Bag Puppet Template
These easy peasy hippo printable crafts come with two different versions for kids of all ages to enjoy!
We included a black and white hippo printable template so kids can color it any way they like.
We also have the colored hippo craft template for kids who like to work on their cutting and sticking skills.
No matter which template they chose, the outcome will always turn out fantastic!
Don't forget to share your learning plans in the comments.
Need more zoo animal puppet fun? Check out our packed list of paper bag puppets for simple craft fun with your little ones.
When you have finished, be sure to share your creation on Simple Mom Project's Facebook Page and follow me on Pinterest!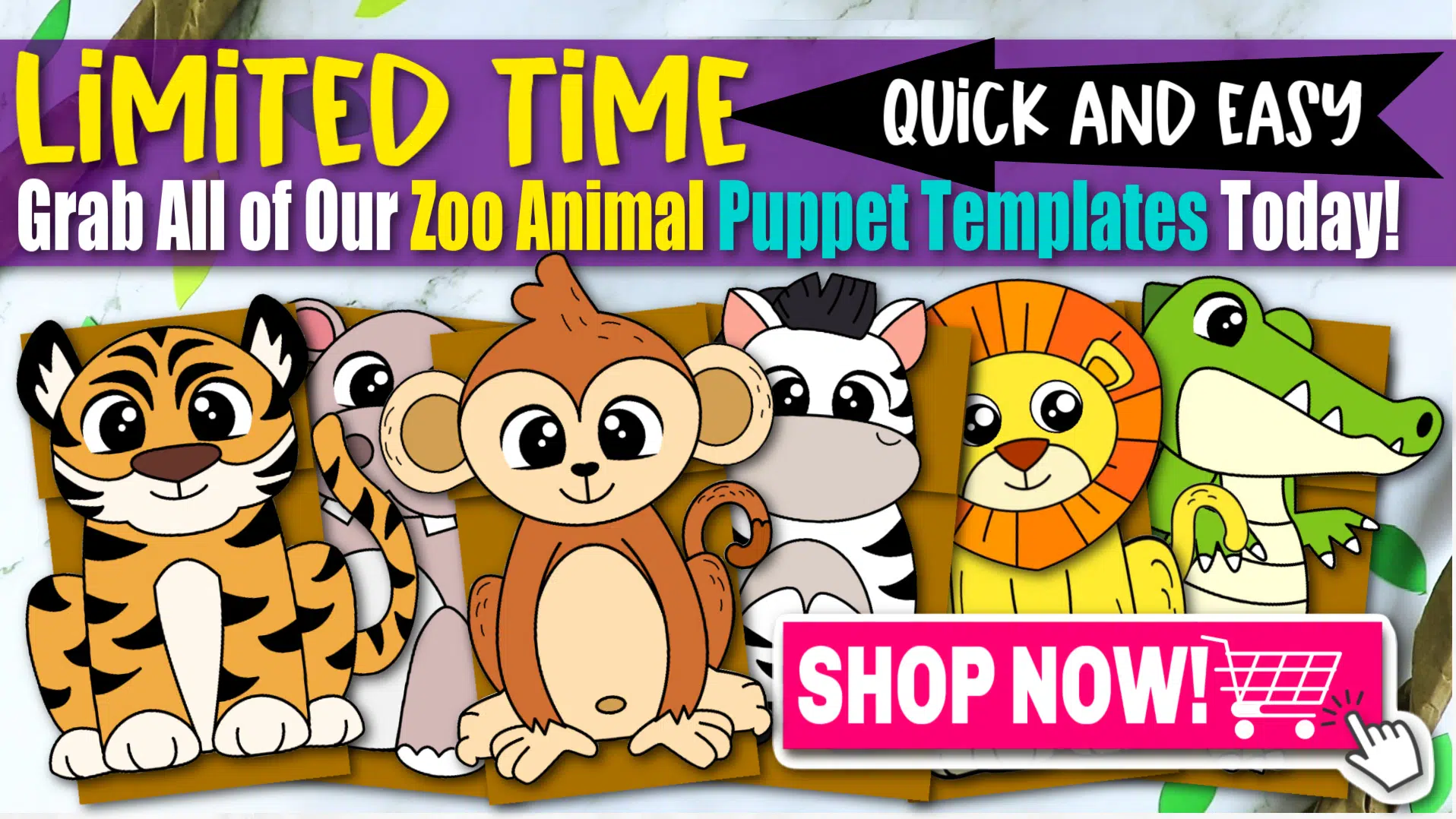 Kaitlen D.
More Fun Printable Puppet Craft Templates