Did you know that turkeys have greater eyesight than humans?
Did you know that despite their size, they have the ability to fly?
What makes these birds even more interesting is that they can change colors!
We will not forget to include them in our collection of bird templates.
With our printable turkey template, your children will learn more about turkeys and make turkey arts & crafts.
Whether you're looking for science or bird-themed activities for your kids, this printable turkey template has everything you need!
Make the most of your weekend by working on these printable turkey template ideas with your family.


*By the way, this post may contain affiliate links which means I may receive a small commission at no additional cost to you if an item is purchase through that link. For more information, click here.*
Printable Turkey Template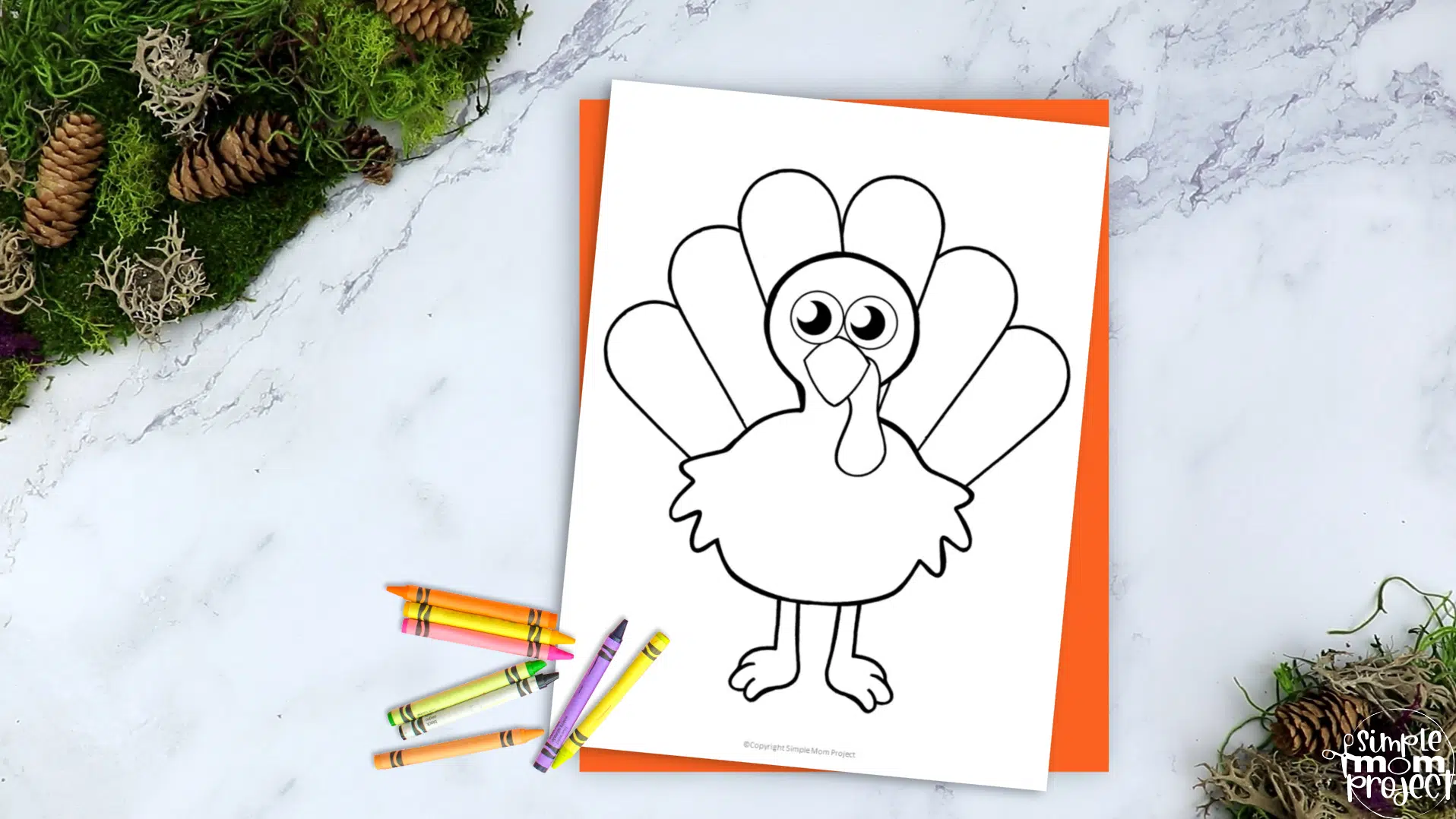 Printable Turkey Template Materials Needed:
Printable Turkey Template (FOUND AT THE BOTTOM)
Make your child's finished turkey template a forever memory by laminating it! We use this laminator and cannot express how much we love it! It is not only inexpensive, it is SO easy to use!
Your kids will love seeing how much you adore their art work when you laminate and display it for years to come!
Looking for more amazing bird crafts ideas? Check out our Turkey Craft, and Peacock Template.
Ideas for Printable Turkey Template
Learn more about these wonderful birds with our simple and fun ideas.
Take a look at these ideas for incorporating the printable turkey template into your kids' learning plans and daily routine.
1. Interesting Turkey Books for Kids
Starting your lesson with reading is a pleasant way to get things started.
Reading and browsing through these books will get them in the mood to learn about turkeys.
These books contain amusing turkey stories as well as turkey facts.
You can also read these books before working on the printable turkey template.
2. Handprint Turkey
Kids who enjoy painting and sensory activities will love this printable turkey template idea.
This is an activity that your kids can do with the whole family!
This is also a great outdoor activity, so you'll have plenty of room to work on your handprint craft.
Gather all the materials needed.
You'll need brown, orange, red, blue, and green paint, as well as a paintbrush, markers, and paper.
Begin by painting your children's palms and thumbs with brown paint for the turkey's head and body.
Paint the four fingers orange, red, blue, and green to make the feathers.
Encourage them to stamp their hand on the paper softly.
After the handprint has dried, use the marker to add other turkey features.
Invite other family members to join you in making more handprint turkeys!


3. Paper Cup Turkey
We enjoy coming up with ideas that are both inexpensive and simple to make.
This printable turkey template can also be used as a display or decoration for any turkey or bird-themed event.
To get started, we'll need paper cups, scissors, glue, and a copy of this adorable Turkey Craft
Cut out the turkey parts after printing a copy of the turkey craft.
This activity can be done with a medium-sized cup or any size of cup you have on hand.
Glue all of the turkey parts to the cup.
Make as many paper cup turkeys as you like.
Use them as a table decoration or a party favor!
4. Turkey Thank You Card
Did you know that turkeys represent gratitude?
This printable turkey template idea is wonderful for a thank-you present.
This turkey thank you card is perfect to give to a family or a friend.
Print a copy of the printable turkey template first.
Allow your children to color or paint it any way they want.
After that, you can cut out the turkey outline.
Glue the turkey onto a piece of bright construction paper that has been folded in half.
Continue by having your children write a message to that person expressing why are they thankful.
They will be able to express their feelings and emotions to them in this manner.
Did you enjoy writing down these ideas?
We hope we were able to help you with your learning plans.
These printable turkey template ideas will definitely have your kids excited to explore and learn more about turkeys!


Printable Turkey Template:
Bring out your bright art materials and let's get started on this printable turkey template!
The more craft supplies we provide for our children, the more they will be able to explore their artistic abilities.
They will also be able to practice their fine motor skills by holding the crayons or markers properly.
This weekend, spend time with your family coloring this turkey coloring sheet.
Share your creative materials for making terrific turkeys!
We want to know all the fun experiences you had with these ideas!
Don't hesitate to leave a message in the comment section.
When you have finished, be sure to share your creation on Simple Mom Project's Facebook Page and follow me on Pinterest!

Kaitlen D.
More Fun Bird Crafts And Templates