Do you and your kids or students have a letter of the week?
Are you looking for a break from the same old activities that never seem to end?
I know I was when we went over the letter R.
So, have no fear, because the superhero of the alphabet is here to save you – "The Letter R!"
You may be wondering, "What can extra 'The Letter R' crafts do for my kids?"
Here's the answer: It can spark their creativity, ignite their imagination, and turn every day into an exciting adventure!
This can also help cement phonics and letter recognition.
Say goodbye to boredom and welcome to these fun letter R crafts and activities! 
What does the letter "R" stand for in our preschool adventure?
Are you seeking for a fun and imaginative approach to teach the letter R and its wonders to your young children?
Then get ready for some "Roaring Fun!" Buckle up, because our letter of the week theme is about to take you on a thrilling adventure full of letter sounds, words, and interesting concepts.
This week promises a variety of fun and helpful activities that will leave your kids wanting more, just like the brilliant hues of a beautiful rainbow!
With the help of our free templates, kids can create collages of rainbow colors, paint rocks, or even construct rockets to achieve their most incredible dreams!
R stands for "reading," which opens the door to a world of literary knowledge.
How can you make sure your kids have a good time?
Keep the activities entertaining and age-appropriate to ensure they have a good time while discovering the wonders of the letter R!
Letter of the Week R Themed Activities
Have you ever wished for a quick and easy way to organize your letter R week themes?
We've got a surprise for you!
The best part?
These wonderful resources are available directly from Amazon with a single click!
And who doesn't love their express shipping? Two days? I think so!
This rock painting kit allows you to paint colorful rocks.
My daughters had a lot of fun painting their rocks with bright colors and drawing the letter "R" on each one.
Use this rain stick to dance to songs beginning with the letter R!
This one was my personal favorite because the rain-like sound is so relaxing and comforting, perfect for our kids' sensory development.
In our letter R lesson, this robot toy was one of my girls' show-and-tell toys.
They even pretended to be robots, which I thought was incredible and cool!
The kids had a great time with this rainbow play parachute when we had some friends around!
This is wonderful for large group activities and indoor and outdoor classes.
Roaring Rockets (Amazing Machines)
My children came up with this Roaring Rockets book after choosing a book with the letter R in the title.
They were able to read aloud some of the parts they loved, and then we had an interactive discussion about these amazing rockets.
20 Letter R Crafts and Activities
Ready for the inside scoop on some truly great letter R crafts and activities?
Whether you're a parent, a teacher, or a dedicated caregiver, here's the deal: adding these "R" crafts into your kids' activities is a game changer!
Do you have any idea how much fun and treasured memories you'll make together?
It's time to plunge into a world of creativity and learning that will leave everyone beaming with joy!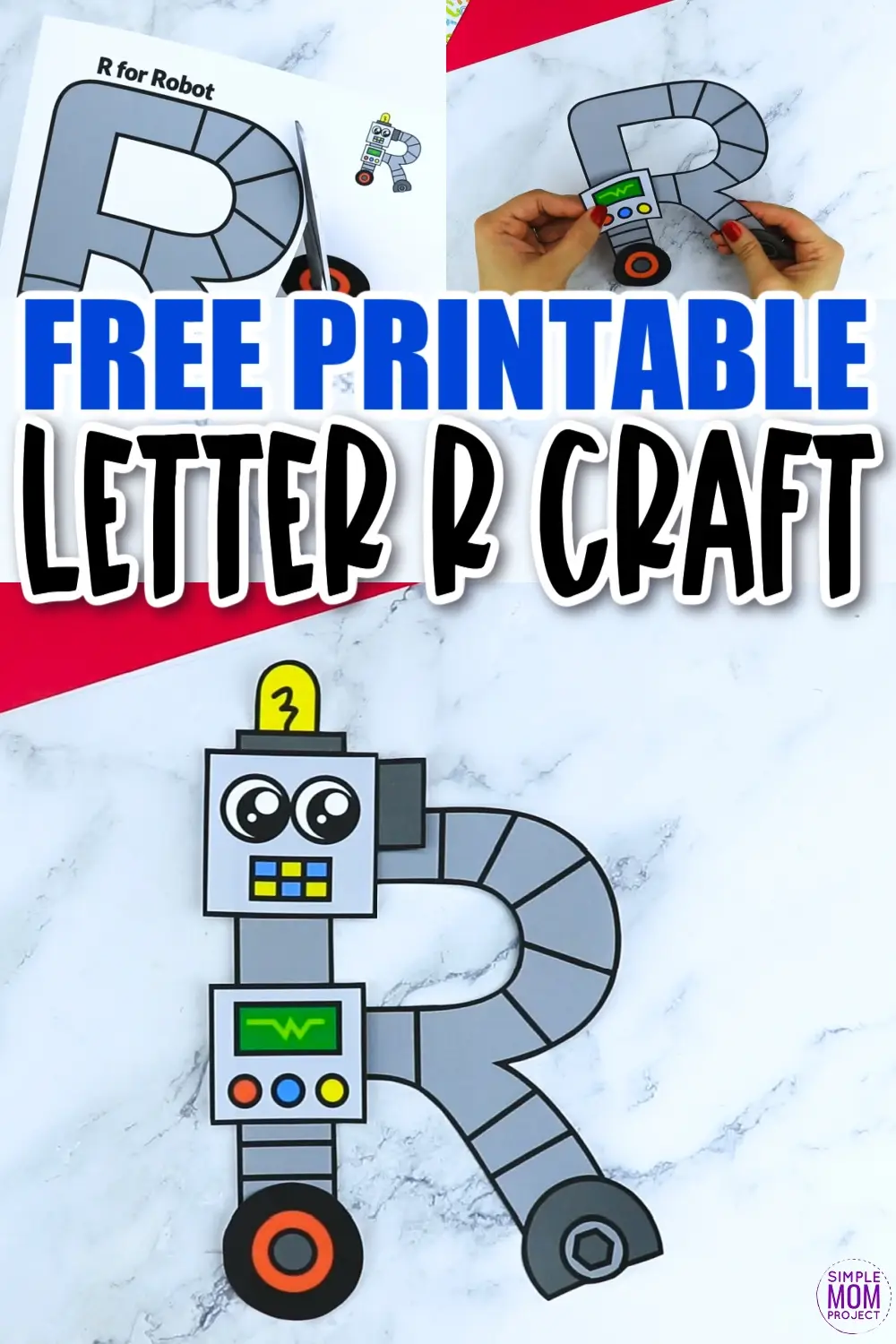 1. Free Printable Letter R Craft Template
Is 'Robot' the perfect match for the letter R?
Well, why not make your own R for Robot using this free printable letter R craft template?
If your child's name begins with an R, this is a great idea for them to craft as well!
2. Free Printable Uppercase Letter R Template
Do you want to explore the world of uppercase and lowercase letters?
Use this free printable uppercase letter R template to start learning the uppercase letter R!
They can use this template to paste different cut outs that begin with the letter R!
3. Free Printable Letter R Coloring Page
Why not bring out the robots and let the kids let their imaginations run wild?
They may create the robots of their dreams using this free printable letter R coloring page!
They are free to use any color they like on their robot craft template!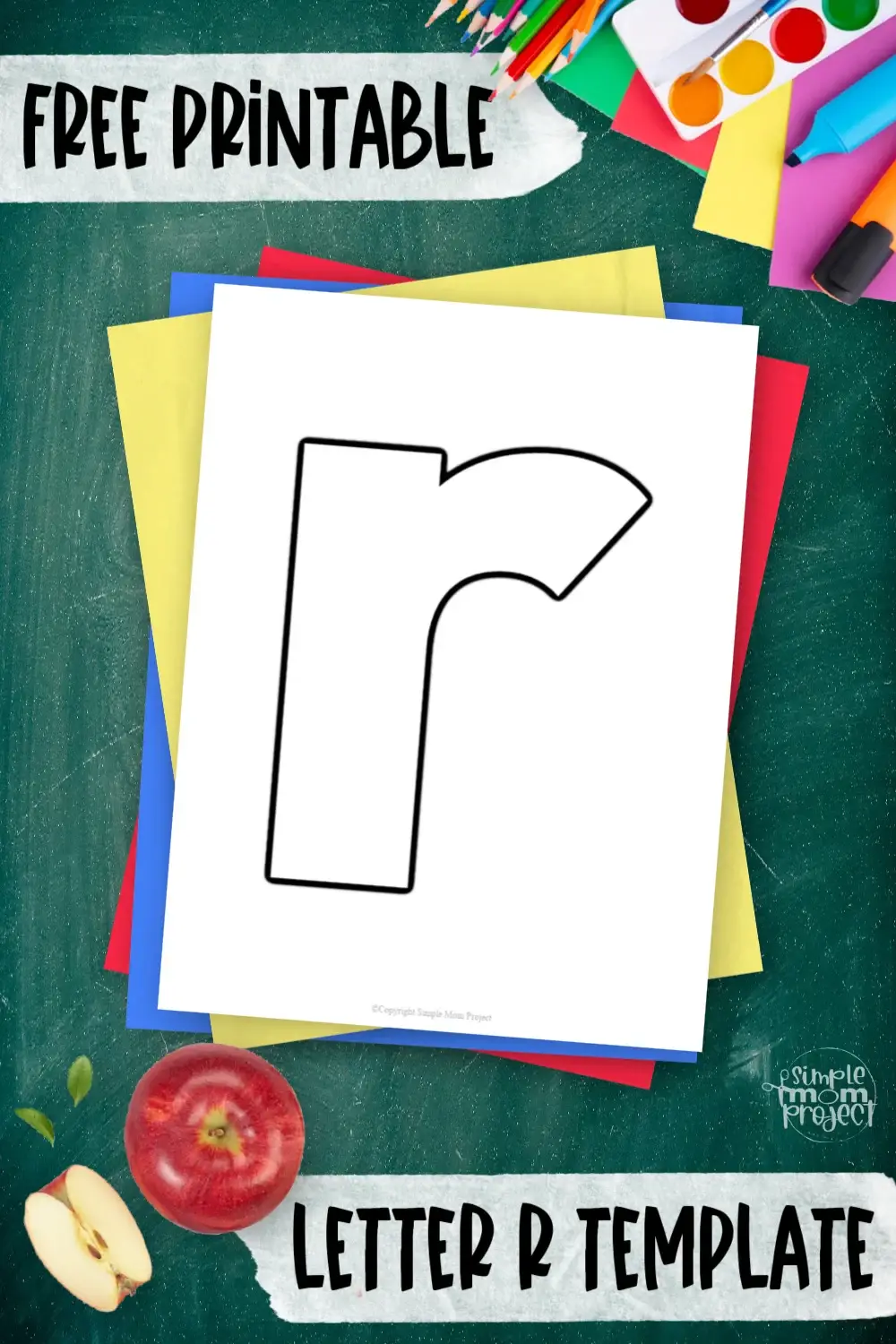 4. Free Printable Lowercase Letter r Template
Who knew learning lowercase letters could be so much fun and easy?
Grab this free printable lowercase letter r template and color, paint, cut, or make flashcards – the options are unlimited!
Make a rabbit, rainbow, or rocket out of it, or use it as a visual aid for writing exercises including the lowercase letter r!
5. Paper Letter R Rainbow Craft for Preschoolers
Why stick with the ordinary when you can boost your letter R learning with a paper rainbow craft?
Along with learning the letter R, children also learn about different colors of the rainbow.
Check it out! It includes a printable template that you can download from the website.
Ready to spring into the world of 'R'?
Why not add some fun to your learning by adding this lovely letter R craft to your activities?
Rabbit is one of the most commonly used words to represent the letter R, so you couldn't miss it out.
You don't have to worry because a printable template is included!
7. Letter R Craft – R is for Rainbow
Is it true? Can you learn the lowercase 'r' and explore all the rainbow colors with this craft?
Absolutely!
Plus, just like arranging rainbow colors, it's a terrific method for our little ones to improve their order-arranging skills!
Create your own colorful letter r crafts right away!
8. Lowercase Letter R Craft for Preschool
Ever thought about turning the letter 'r' into an adorable rabbit with a preschool craft?
Well, now you can!
Kids could make their lowercase r into a rabbit craft with some cotton ball and googly eyes!
9. R is for Road Craft – Preschool R Craft
Are you up for an alphabet journey that combines learning and transportation?
Children can play with their race car toys after creating this road craft.
Visit the website right away to see the letter R craft template!
10. Uppercase Letter R Craft for Preschool
Have you tried making a rooster craft before?
If not, then this uppercase letter R preschool craft can help you!
Use some basic resources to turn your uppercase letters into a rooster.
Learn about uppercase letters, roosters, and phonic sounds all in one project!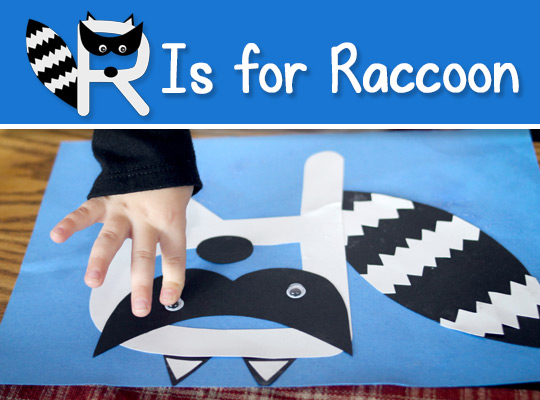 Who's up for a clever transformation in which the letter R is transformed into a cute, mask-wearing raccoon?
Is there anything more fun than this?
Check out the raccoon craft template to learn how to make one.
Repeat the word raccoon several times for kids to become familiar with the phonic sound of R!
12. Preschool Alphabet Book: Uppercase R
Has your child ever imagined you and him on a cosmic adventure while they transform into a rocketship?
Looking for the perfect accent to your space-themed alphabet walls or bulletin boards?
This is it!
Make their dreams come true today before it blasts off into space!
13. R is for Rainbow Letter of the Week
Curious to see the most inventive rainbow crafts we found, from simple rainbow artwork to DIY items including rainbow fruit loops?
Ready for some inspiration?
During your letter of the week activities, express your imagination by creating a ton of rainbow-themed crafts with your little artists!
14. R is for Raccoon Animal Alphabet Craft
Aren't raccoons the craftiest creatures?
Using this animal alphabet craft, you can create your own cheeky raccoon.
Raccoons should not be feared because they create a cute letter R craft!
How cute would it be to make a reindeer craft out of your children's handprints?
Your children's handprints can be used as the antlers, and a shiny little nose will finish it off.
This is wonderful for your winter decorations!
Isn't it heartwarming to think about preserving our children's tiny handprints as they grow older?
A treasured memory that lasts forever!
This R is for rabbit handprint craft serves as a beautiful keepsake.
Use this activity to make learning the letter R memorable!
17. R is for Rainbow Letter Craft
Are you prepared for an educational whirlwind?
Does this letter craft tell anything about the letter R, its phonic sound, the meaning of rainbows, and other things?
Of course!
Use it as a visual aid in your flashcard letter activities to learn about the letter R.
You may also include this on your alphabet wall!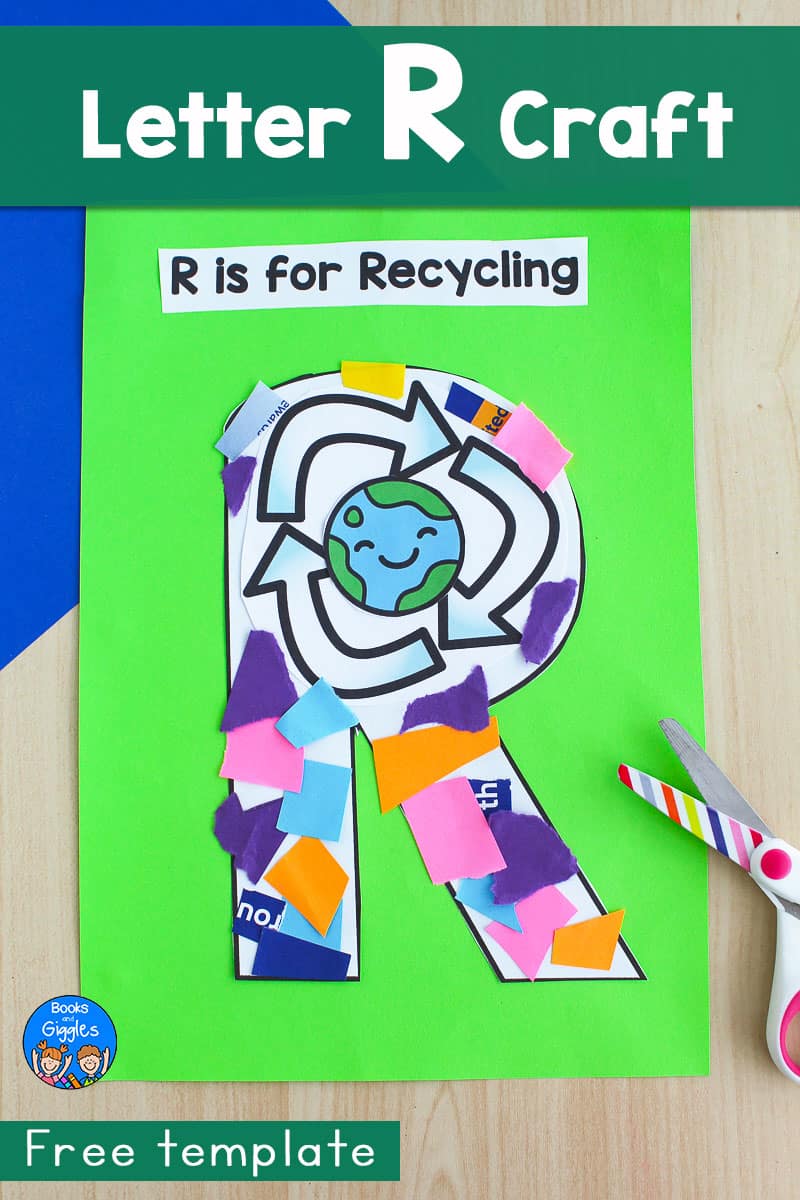 18. Letter R Craft: R is for Recycling
Ready to celebrate Earth Day with a project that says 'Reduce, Reuse, Recycle'?
Can you figure out what this 'R is for recycling' project is all about?
Let's go green together!
It teaches about words that begin with R as well as the value of recycling to the environment.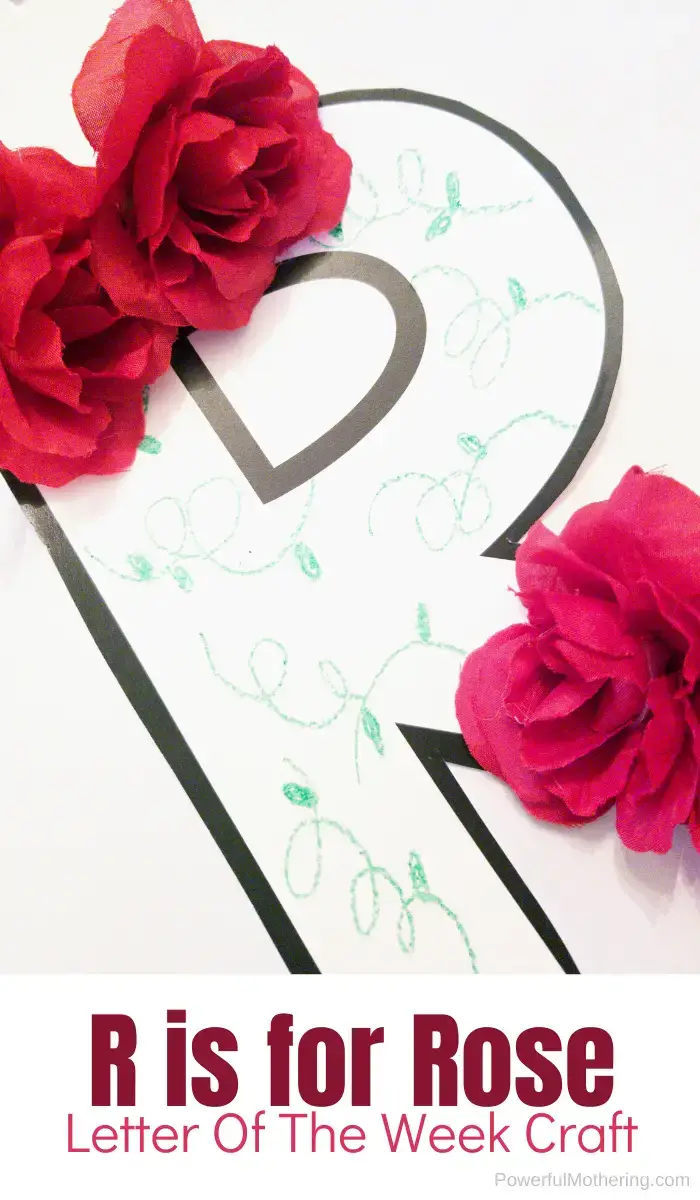 Who doesn't love red roses?
Are you ready for a lovely surprise?
This 'R is for rose' project is sure to bloom!
You may make a wonderful letter R craft with the printable letter R from the website, some silky roses, and a few materials.
Learn how to make one right now!
20. Animal Alphabet R is for Rhinoceros Craft
Do you know how many animals have names starting with the letter R?
Have you ever created a rhinoceros craft?
Make one today with this animal alphabet craft!
Are you ready for a week full of rainbows, rockets, rabbits, raccoons, and other exciting letter 'R' crafts and activities?
Will we discover, learn, laugh, and build great experiences as we go through the letter R?
You betcha!
The fun doesn't stop there since you can use the free printable letter R template whenever your kids wish to keep learning the letters of the alphabet.
So, saddle up for a week of fun alphabet letter crafts perfect for young children, whether at home or for preschool use!
We are always on the hunt for more, so if  you come up with your own Letter R craft that you'd like to be featured on the site, send us an email or comment on this post.
We would love to get your craft added!
When you have finished, be sure to share your creation on Simple Mom Project's Facebook Page and follow me on Pinterest!

Kaitlen D.