Want to provide a fun and exciting activity for your children to have a closer look at safari wild animals?
This free printable tiger craft template is a fun way for children of all ages to use for safari or zoo animal themed crafts and learning activities.
This free printable tiger craft template will introduce your child to alphabets and words that start with letter T.
It will also allow your preschooler to get creative with colors and patterns as they carefully cut and paste it together.
It will be easy for your little one to make this easy cut and paste tiger craft on their own because we included the simple step-by-step instructions and short video tutorial below. 


Need more crafty fun? Check out our Hippo Craft, Crocodile Craft and Zebra Craft.
 T
hey are perfect for those days when staying indoors is the only thing your family can do!
*By the way, this post may contain affiliate links which means I may receive a small commission at no additional cost to you if an item is purchase through that link. For more information, click here.*
Free Printable Cut and Paste Tiger Craft
Ideas for Easy Preschool Paper Tiger Craft
You wouldn't want to miss these fun ideas on how to incorporate this free printable tiger craft template in your everyday life with the kids.
1. Let's Learn About Tigers
Making this free printable tiger craft template is the perfect fit for children who love tigers and other safari animals. 
Tigers are easily recognizable with their black and orange stripes fur.
Did you know that they are the largest cat species in the world? It's true!
They can reach up to 3.3 meters in length and weigh up to 670 pounds!
Tiger cubs are really adorable! But did you know that cubs are born blind?
They are helpless and entirely dependent on tiger moms for protection and care until they become independent around two years of age.
2. Exciting Tiger Books for Little Learners
Whether your child is interested in listening or reading stories about tigers and other animals they often see in the zoo, they will definitely feel like they are on a real African safari adventure.
So, let's make this cute printable tiger craft educational by pairing it with one of these amazing books about tigers.


3. Fun Ways To Learn The Alphabet
We always want to include a simple craft activity to our weekend lesson plans.
These easy cut and paste tiger craft templates are perfect for children of all ages who are learning the alphabet especially the letter T.
You can either print out a large letter T and glue it on a cardboard as part of the visual aid or print out a letter T worksheet.
It's a great opportunity for your preschooler or kindergartener to identify the alphabet, practice writing the uppercase and lowercase letter T, and how to pronounce it.
4. Easy Paper Plate Tiger Craft
We love including paper plates in our easy DIY craft projects.
Who would have thought we can transform a simple paper plate into a cute tiger!
Come and craft with us using all the inexpensive materials – paper plates, paint or crayons, cardboard papers, scissors and glue.
Use our free printable tiger craft template as an inspiration in sketching the tiger's face on the paper plate.
Paint it with orange, black and white.
Draw the tiger's ears on a cardboard paper, cut out and glue it on the plate.
You can also turn it into a mask by cutting holes in the tiger's eyes.
There are many awesome tiger craft ideas for your toddler, preschooler and kindergarten.
We are confident that this exciting activity will create a memorable bond between parents and children.


Tiger Craft Supplies Needed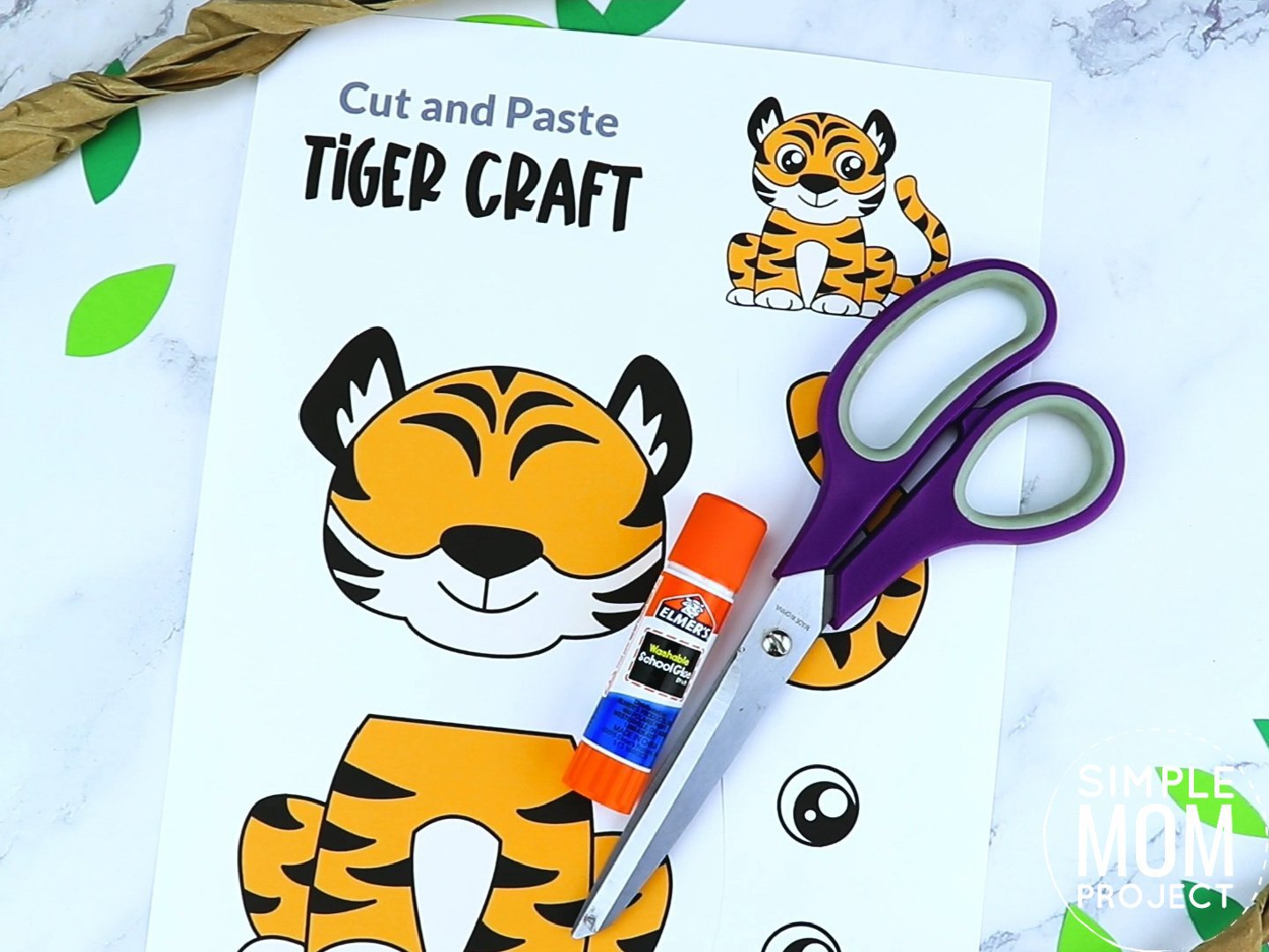 Printable Tiger Template (FOUND AT THE BOTTOM)
Keep scrolling to get your very own tiger craft today and start with your little ones and their tiger craft buddies today!
Tiger Craft Instructions
This cute printable tiger craft template is so easy!
Download and print out which version your preschooler wants to make first.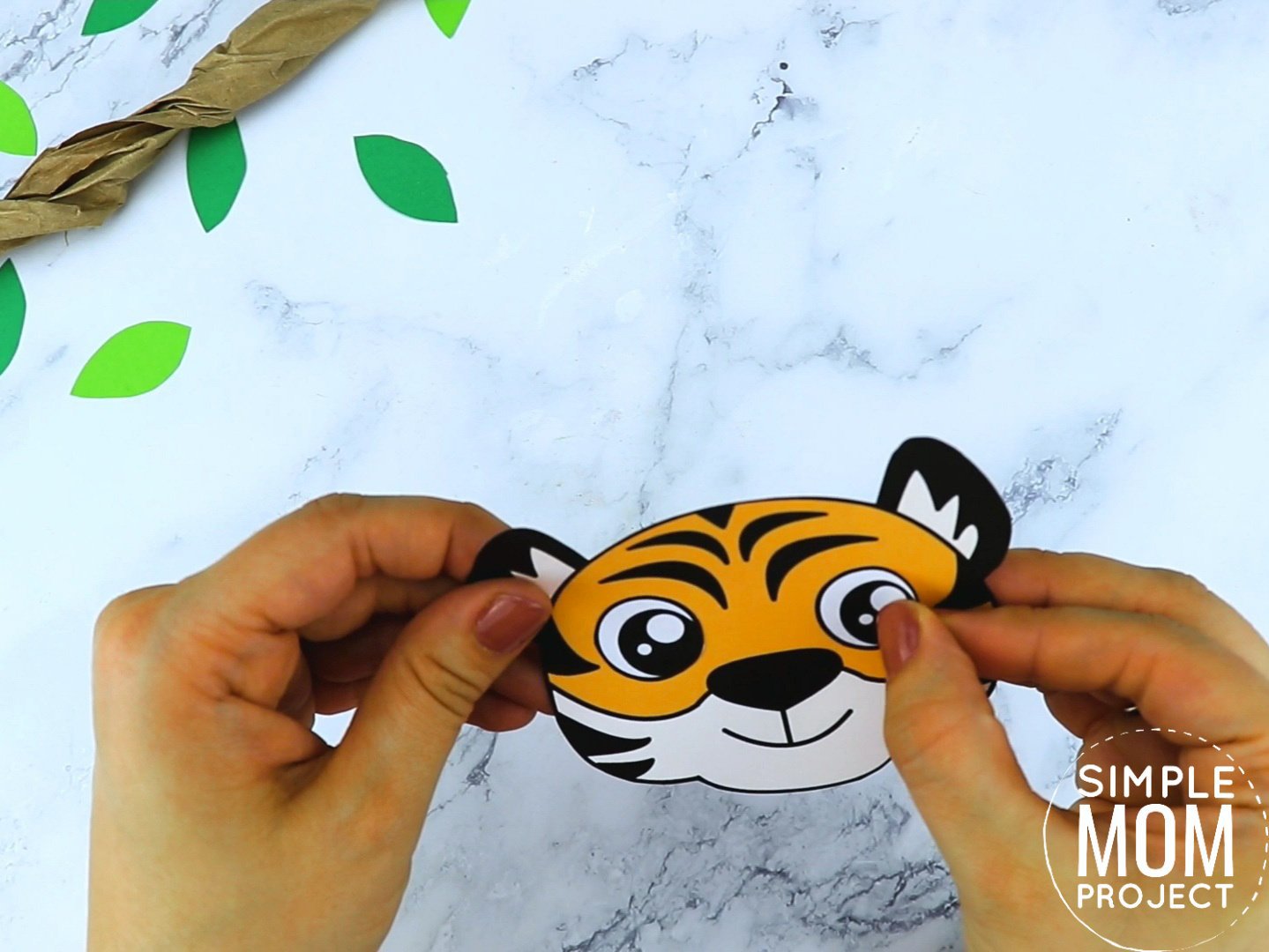 Cut out all the tiger drawing outlines into individual pieces.
Glue the tiger's big wide eyes.
Next, glue its head on top of the body.
Lastly, glue its long tail at the back of its body.
More Options to Choose:
You can print the blank version and trace the cut outs on card stock paper for a sturdier tiger craft,
Print the tiger template in color for a simple and easy rainy day craft or,
Print the blank tiger template and use it as a fun coloring sheet activity and then glue the pieces of the tiger craft together.
Free Printable Tiger Craft Template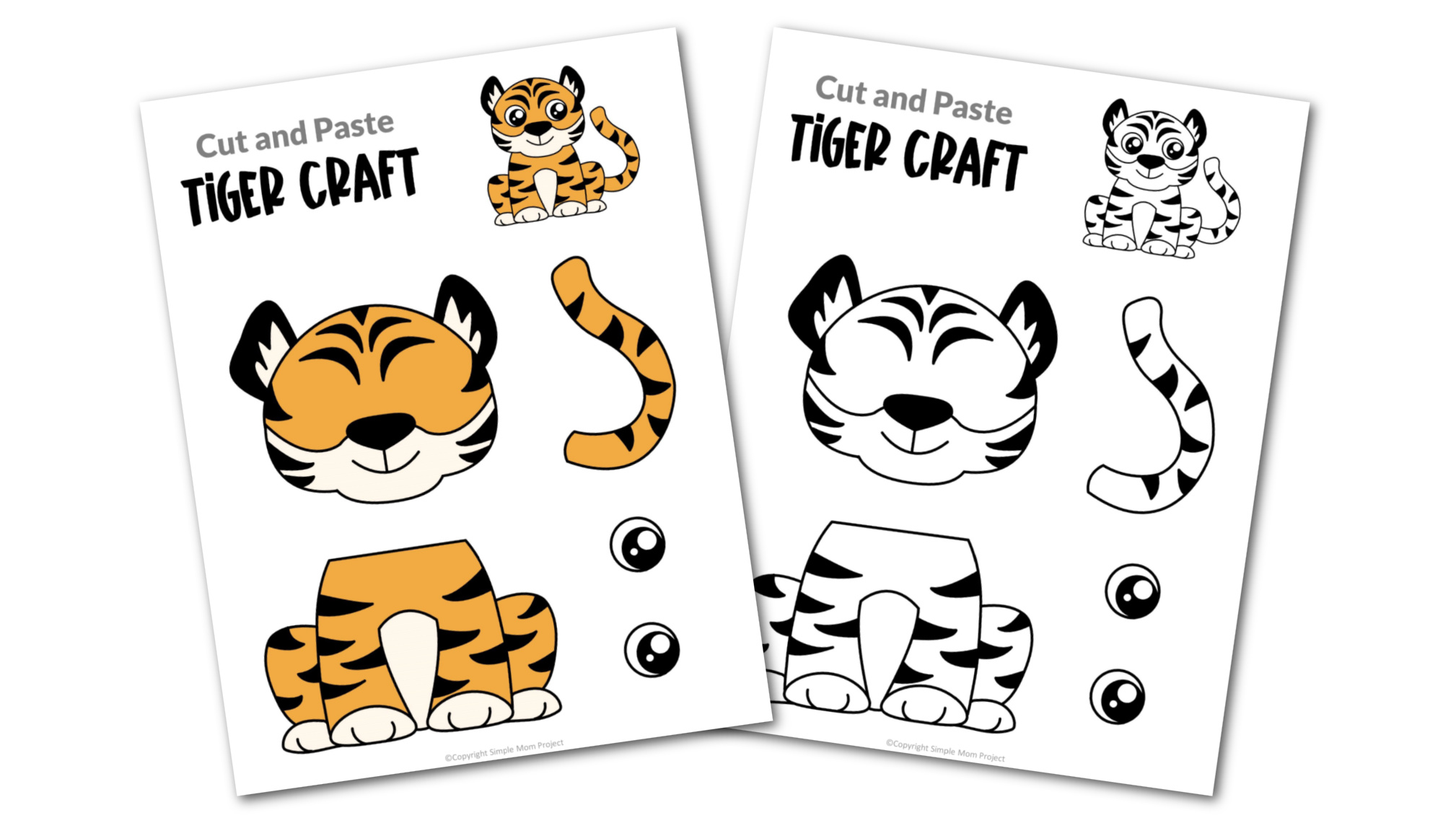 We have two fantastic versions of this printable tiger craft template so your little one can choose!
Whether they like the plain black and white tiger template so they can fill it up with colors anyway they like and there's also a colored version if they want to directly cut and paste it.
Don't forget to share your learning plans in the comments.
Need more safari animals fun? Check out our packed list of safari animals for simple craft fun with your little ones.  
When you have finished, be sure to share your creation on Simple Mom Project's Facebook Page and follow me on Pinterest!

Kaitlen D.
More Safari Animal Crafts