Feeling bored from the same routine everyday?
How about adding up a few fun activities to do?
On this page, you'll see simple yet effective ways to keep your kids entertained for hours.
All of us obviously have a sweet tooth.
If you were an ice cream flavor, what would you be called, and what ingredients would make up your scrumptious personality?
If I were an ice cream flavor, I'd be "Double Delightful Mommy Swirl" for a mom with two kids!
My flavor would be a balanced combination of chocolate and vanilla, expressing the love and joy I share with my two children.
My daughters like ice cream as much as I do, so I thought it would be fun to turn this wonderful cool treat into something they can swirl and sprinkle with their own creativity.
Can kids show their creativity through ice cream activities? Absolutely!
Children can create their own ice cream flavors and share them with family and friends, allowing them to express their unique tastes and personalities.
All of these activities will make your taste buds quiver with delight, as well as our free printable ice cream template, which will have you dreaming of sherbet twirls!
Put your creative abilities to the test and grab your glitter sprinkles as you work on these ice cream theme activities and the printable ice cream template!
*By the way, this post may contain affiliate links which means I may receive a small commission at no additional cost to you if an item is purchase through that link. For more information, click here.*
Pretend Ice Cream Shop
Can you imagine your kids' room being turned into a charming, pastel-hued ice cream parlor with glistening lights and whimsy ice cream-themed decor?
It's like entering a candy dream filled with endless imagination and excitement.
In fact, I recently transformed my girls' room into an ice cream parlor-themed dramatic play space, and the results were amazing.
They couldn't get enough of it.
Set up an ice cream cart or DIY station with attractive chalkboard ice cream menus.
By using cardboard boxes, paper cutouts, and printable templates, you can create ice cream scoops of all different sizes and forms.
Don't forget to outfit your little servers in uniforms, hats, and aprons, as well as ice cream scoops, bowls, and cones.
Name badges give their parlor roles a personal touch.
Short on time for a DIY extravaganza?
No worries, Amazon's got your back!
Who says you have to be a crafts master to make a wonderful ice cream parlor for your kids? Not us!
You can easily build up an ice cream shop for them that will inspire their imagination and provide hours of fun playtime with the incredible materials available on Amazon.
Clicking "Add to Cart" and waiting for something amazing to happen is all it takes! 
1. Cones, scoops, and bowls for ice cream are included in this ice cream playset. This will be the centerpiece of your ice cream store corner.
2. Since not all of us have the time to construct cardboard-box ice cream carts, this cute and colorful pretend ice cream cart is perfect for pretend play activities.
3. With a uniform, little kids will completely understand their roles as ice cream servers. It will be more realistic if you put on an apron and cap!
4. The ice cream pillow was a favorite for my daughters to cuddle with. We put this around since they thought it was a cute touch to their ice cream shop.
5. Of course, we couldn't miss this book out in our ice cream parlor! The pretend play is now even more exciting and engaging thanks to this ice cream shop book.
50 Ice Cream Activities for Preschoolers
How can ice cream-themed activities inspire children to work together in teams?
As kids construct crafts and work on their masterpieces, these activities promote teamwork and collaboration.
With all these fun ice cream activities, be ready to scoop up some imaginative fun and create ice cream dreams with your little artists.
For these, you don't need to worry about sticky fingers at all—just loads of creativity!
1. Free Printable Letter I Craft Template
What word could be better than ice cream to symbolize the letter I?
Include the free printable letter I craft template with your alphabet activities.
Working on their ice cream crafts while learning about the letter I would be a blast for kids!
2. Free Printable Ice Cream Template
Can't decide which ice cream flavor to get?
No need to worry since you can make them all with this free printable ice cream template!
Your children can color this template for free, whether they prefer chocolate ice cream, vanilla, strawberry, or bubblegum!
3. Free Printable Letter I Coloring Page
Having trouble making letter I learning a breeze?
Why not make it as simple as coloring with this free printable letter I coloring page?
Kids would be thrilled to use different colors to create different ice cream flavors.
You can print this out as many times as you'd like for free!
4. Easy Sponge Painted Ice Cream Craft
Looking for a fun and easy summer project?
You could make a fun summer ice cream project with just a sponge and paint!
Make a colorful and tasty ice cream by blending different colors with a sponge.
This summer, let our kids be messy and creative in a fun way!
5. Paper Plate Ice Cream Craft – Summer Craft Idea for Kids
Can you really let the summer pass by without making a fun ice cream craft? Of course not!
My kids had a great time doing this paper plate ice cream project last summer.
It was simple to make yet very lovely to display in my children's room.
6. Colorful Cardboard Ice Cream Cone Craft for Kids
Wondering how to add a dash of creativity to your National Ice Cream Day celebrations at home?
Include this cardboard ice cream cone project!
Gather all the cardboard you can find around the house and use it to create a colorful ice cream craft.
This is also a fantastic activity for family bonding!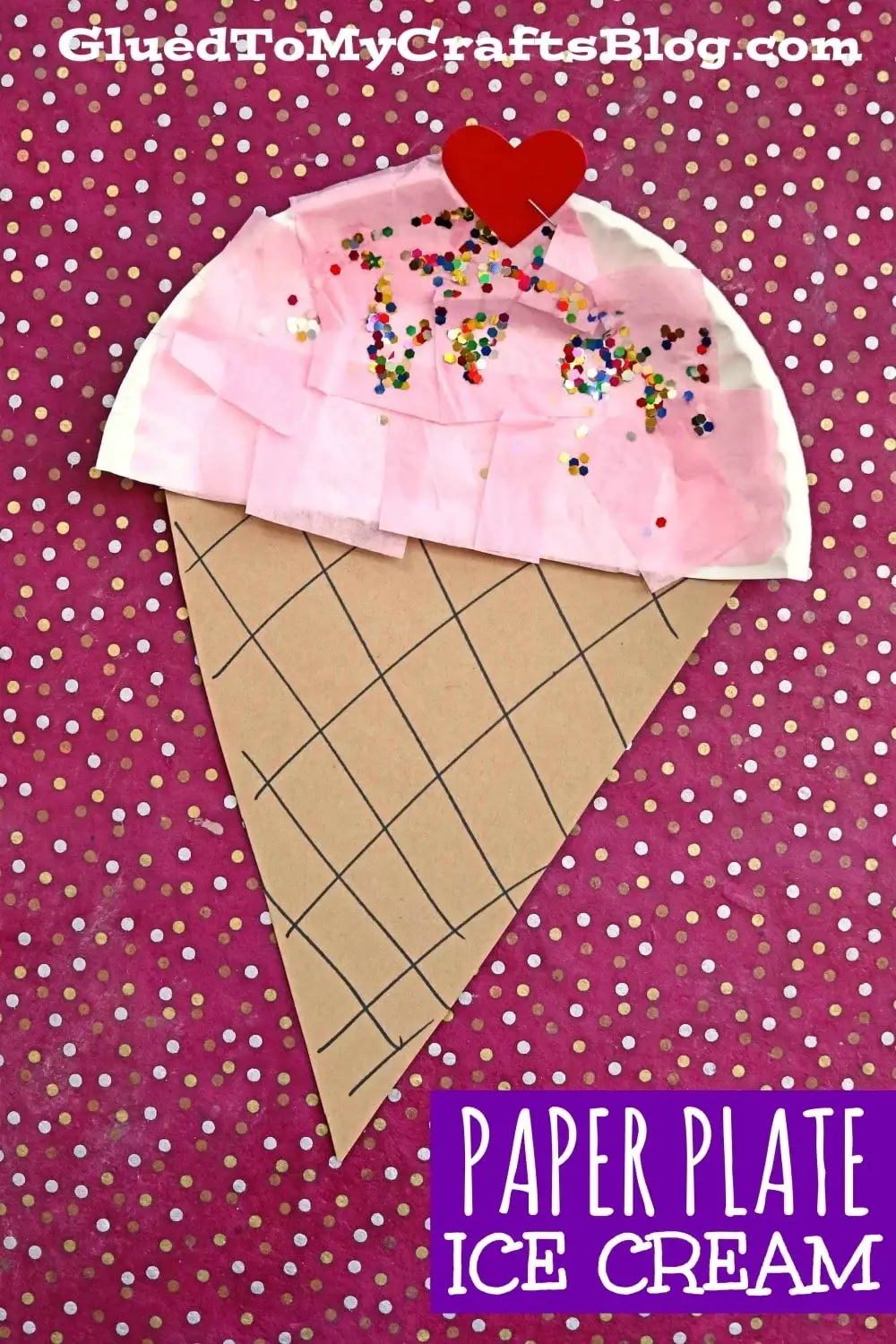 7. Paper Plate Ice Cream Craft for Kids
Looking for a fun craft that is always a hit?
So, get those paper plates ready because it's time for an ice cream activity that will surely tickle their creative taste buds!
Allow children to be creative when making their own ice cream cones!
8. Cupcake Liner Ice Cream Cone Kids Craft
Did you know that you could make an ice cream craft using cupcake liners?
Yes, of course!
This summer, incorporate ice cream-themed activities into your plans by making this cupcake liner ice cream cone craft.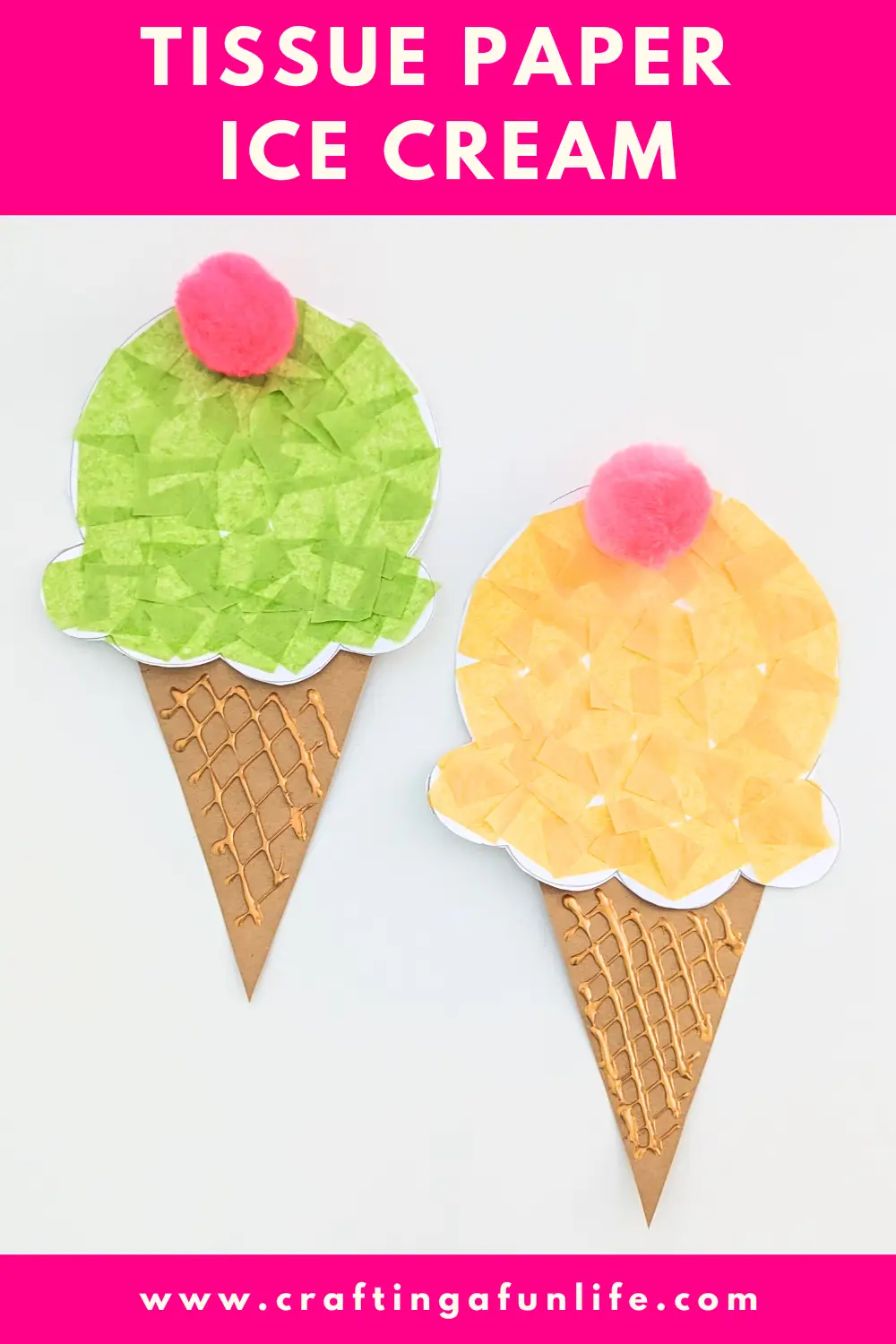 9. Easy Tissue Paper Ice Cream Craft for Kids
Looking for a kid-friendly project that is both creative and entertaining?
Look nowhere else!
This simple tissue paper ice cream craft is sure to be a favorite, as it was with my own children.
Plus, you can also download a handy template from the website.
Check it out today!
Are you ready to do an ice cream popsicle project with your kids?
Check out this page for a free template, then!
Making a popsicle craft has never been easier or simpler!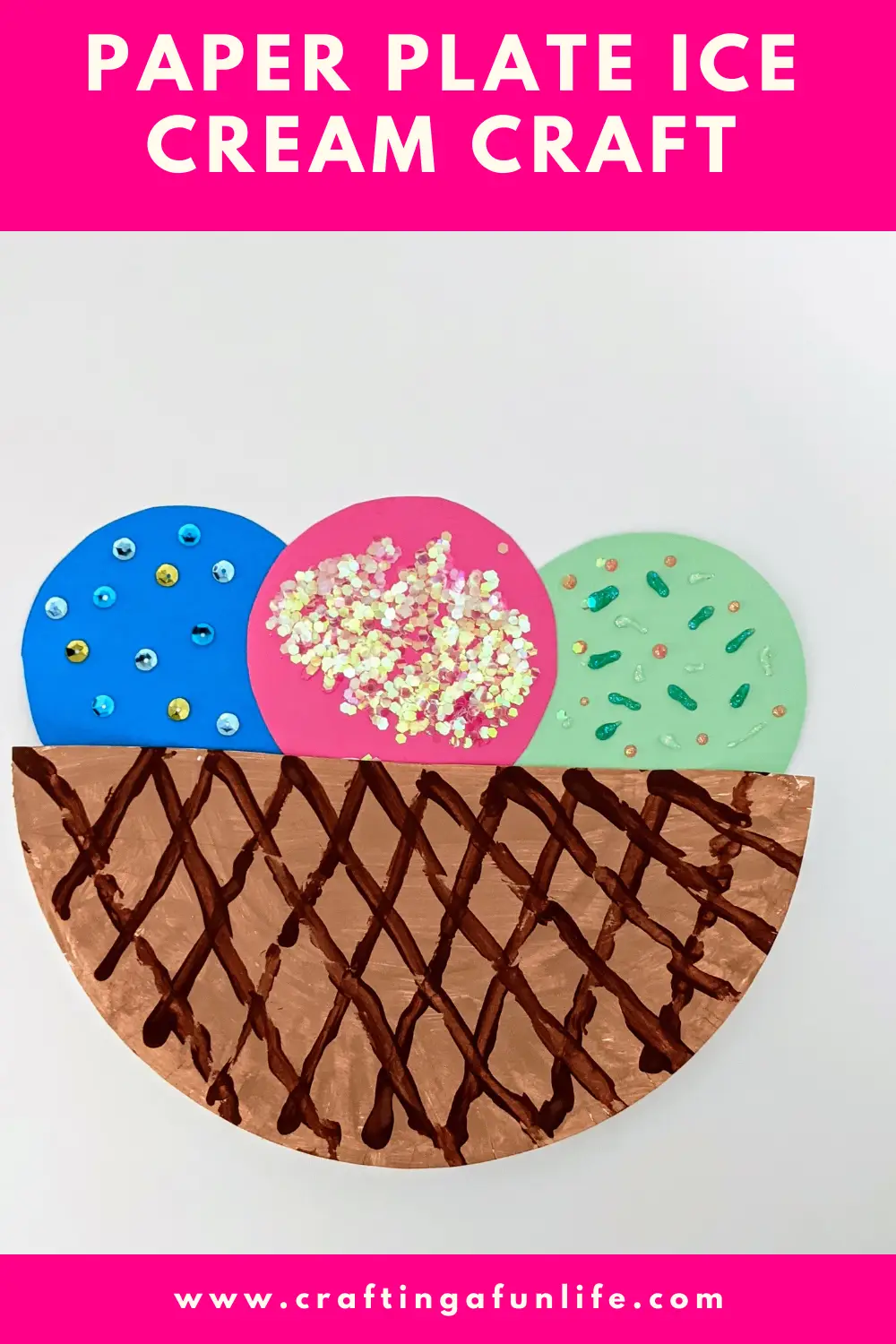 11. Awesome Paper Plate Ice Cream Craft
Why not create a delicious sundae craft using nothing but your trusty paper plates?
It's a fantastic idea that may be enjoyed during the hot summer days, the delicious celebrations of National Ice Cream Month, or whenever your creativity craves a treat!
You can make as many ice cream scoops as you want with this awesome paper plate ice cream craft!
12. How to Make A Fun Ice Cream Cone Craft for Kids
Looking for a craft that both parents and kids can enjoy?
Imagine how much fun it would be to make ice cream cones out of cotton rounds!
The fun twist is that you can really top them up with real sprinkles.
How's that for a creative treat?
Are you planning to set up a pretend ice cream shop?
Then use this paper ice cream craft to beautify your space!
This ice cream craft is too cute to resist, so make one right away!
14. DIY Ice Cream Paper Work Craft
Have you ever thought about watching tutorial videos for ice cream crafts?
It's like discovering a hidden cache of creative inspiration and learning!
It helps me save a ton of time and makes crafting ice cream crafts much simpler.
Watch this video tutorial today to create your own DIY ice cream craft!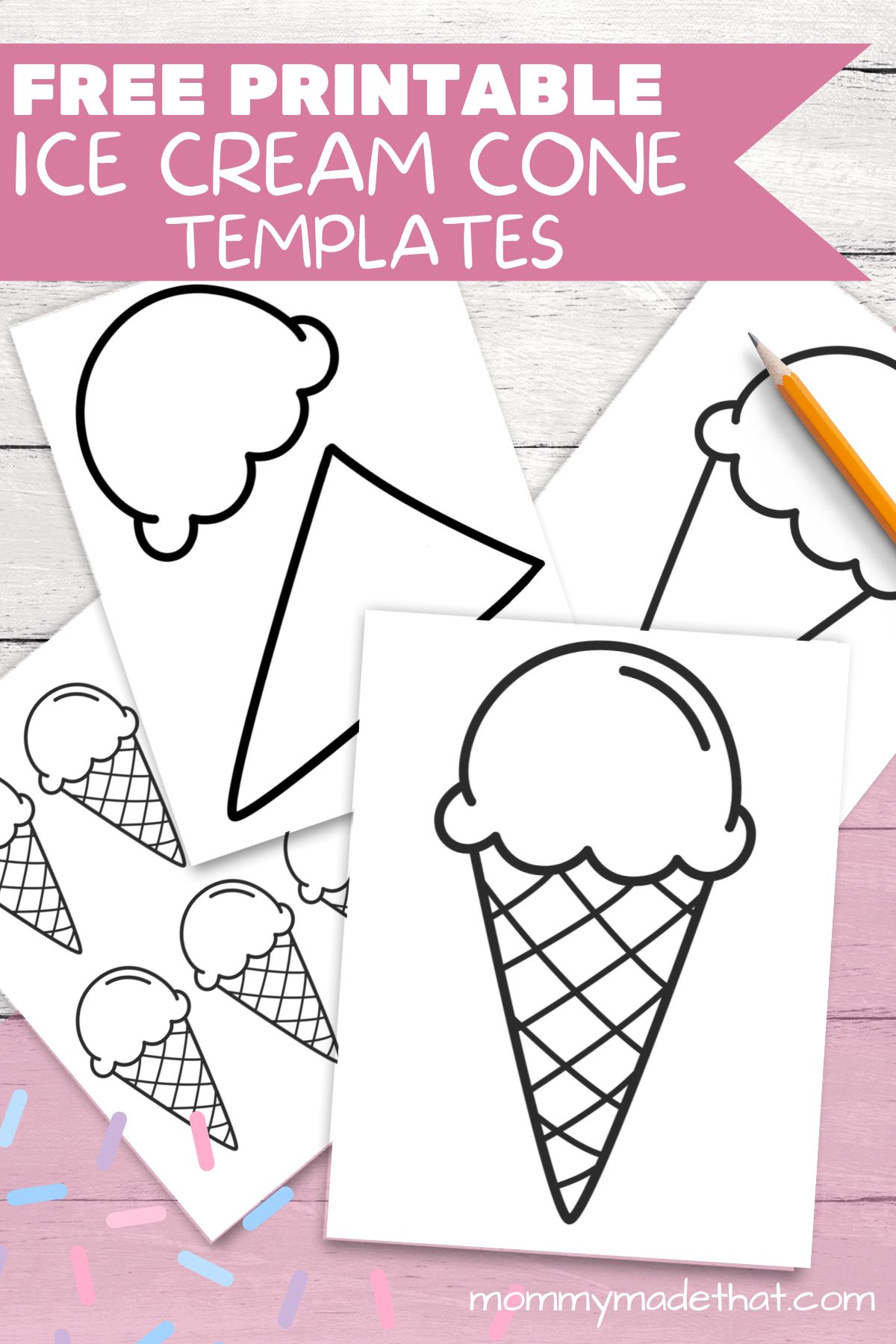 15. Fun Ice Cream Cone Template for Crafts and Coloring
Why not let your kids go on a fun ice cream template you can quickly print from the website?
Decorate your own ice cream cone with this fun ice cream template.
Kids are welcome to use any of their coloring supplies to create their own delicious ice cream cone crafts!
16. Simple & Tasty Ice Cream Craft Using Clay
Do you want to know how to bring your ice cream crafts to life?
Make your own ice cream scoops out of clay!
This is an interesting activity where kids can work on their little hand muscles by sculpting and stretching the clay.
Parents are welcome to join in on the fun as well!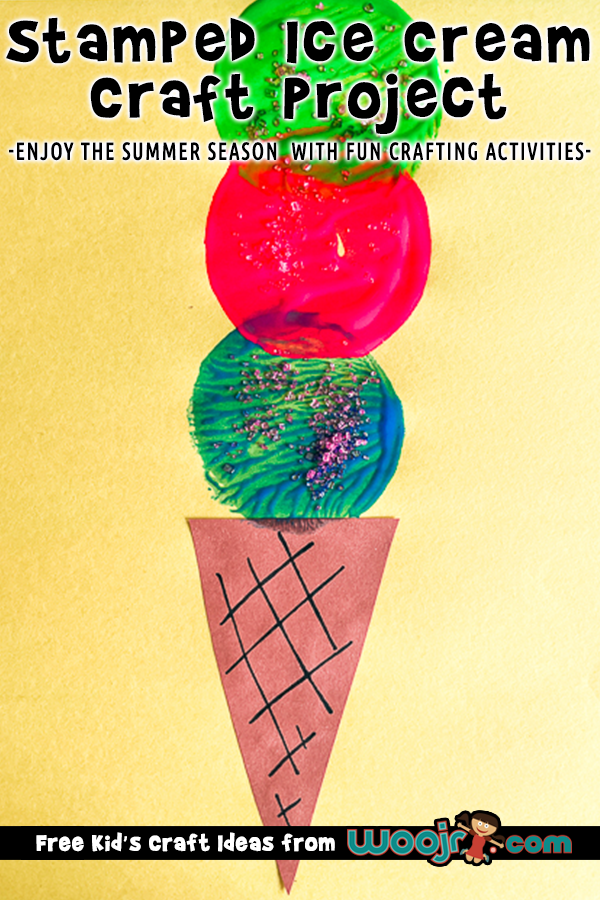 Ever wished you could have ice cream all day long, but without the calories?
Well, you can!
Explore the world of ice cream crafts with this lovely stamped ice cream activity.
Stamp your favorite "flavors" and enjoy a sweet day of creativity!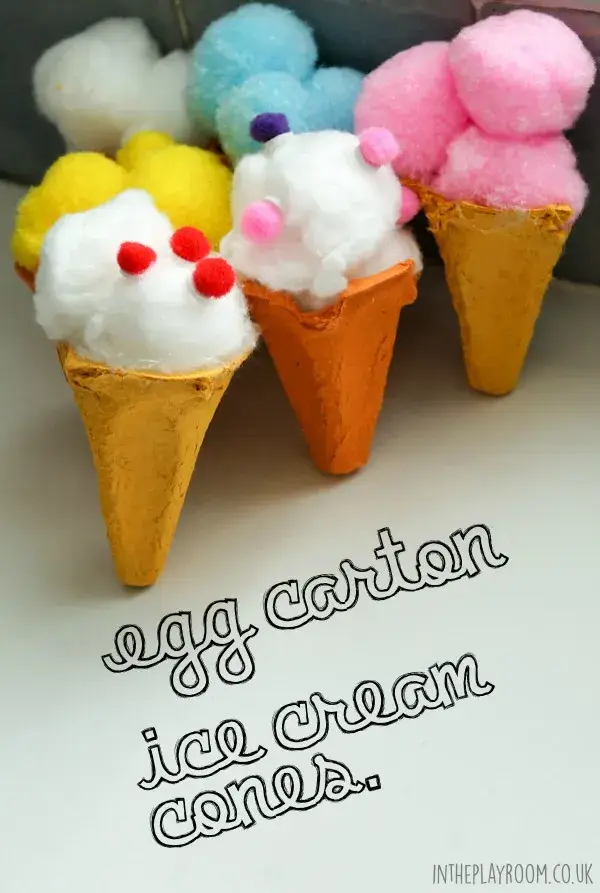 18. Egg Carton Ice Cream Cones
Think you should toss those empty egg cartons? Think again!
They're the secret ingredient in making the cutest ice cream cone masterpieces.
Prepare your egg cartons and get started on this adorable ice cream cone craft.
It's not just cute; it's also a great addition to your ice cream-themed imaginative play!
19. Paper Mâché Ice Cream Sundaes
Have you ever considered making recycling into a fun craft project?
We did just that with my kids by making paper mâché ice cream sundaes, and it was an incredible hit!
Not only did we give old supplies new life, but my children also had a great time decorating their own delicious creations.
Do you want to create a realistic ice cream scoop?
Then try combining glue and shaving cream!
Check out the full article to learn how to make your own right now!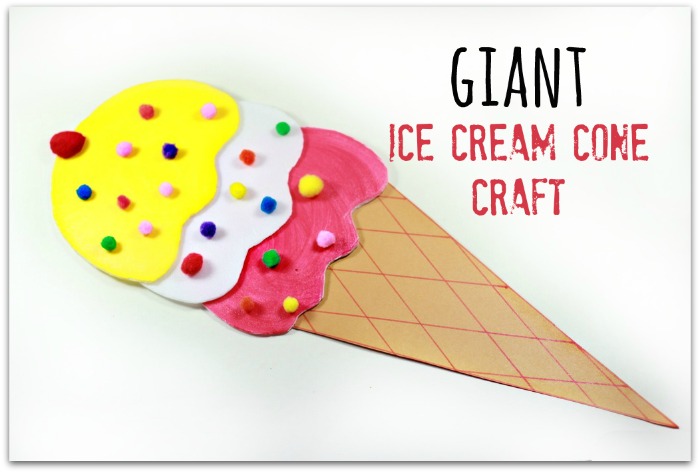 21. How to Make a Giant Ice Cream Cone Craft
Why not go all out with a huge ice cream cone project for your doors and walls?
It's not just a great way to jazz up your preschool classroom and bulletin boards; it's also a scoop of creative fun waiting to happen!
For more details, visit the website and begin your decorating adventure!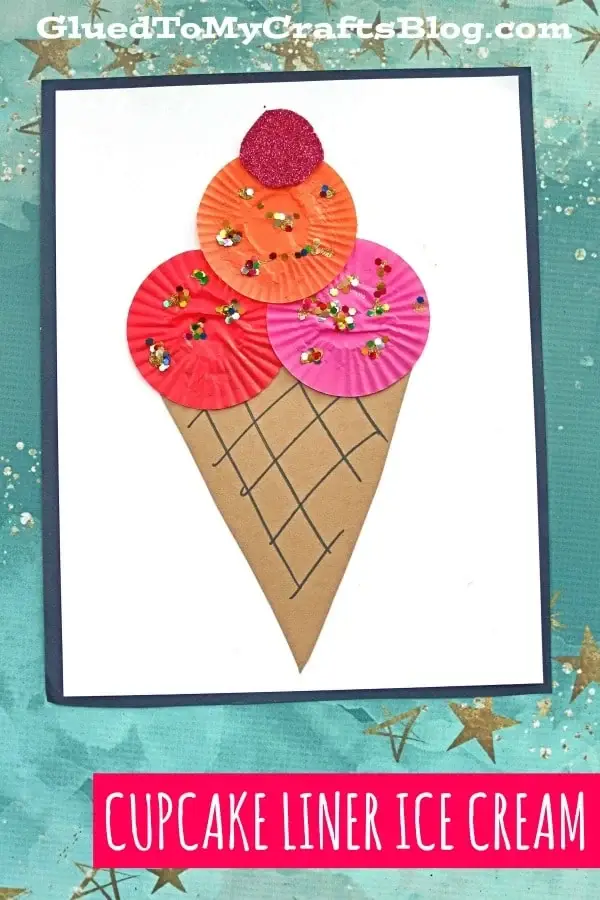 22. Cupcake Liner Ice Cream Craft Idea
Do you want to discover a surprising crafting treasure in the kitchen?
Cupcake liners have become my newfound favorite crafting materials!
The more colorful your cupcake liners, the cuter your ice cream crafts!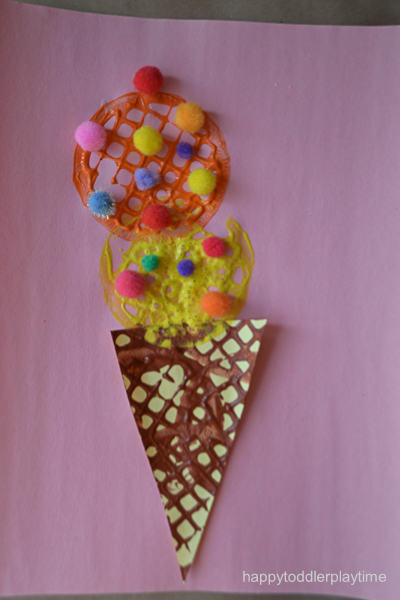 23. Potato Masher Ice Cream Cone
Who would have guessed that a potato masher could make such cute ice cream prints?
It was exciting to learn that we could create an ice cream cone craft using a potato masher!
If you're not convinced, look at this craft that your kids would love making. 
24. Craft: Pretend Play Ice Cream
Ever dreamt of owning your very own ice cream shop?
Why not make your playroom into the ice cream shop of your dreams by doing this pretend play ice cream project?
But here's the catch: while it appears to be wonderfully realistic, you can't eat it!
It's a fabulously inventive way to play and have fun without the brain freeze!
Having a party with an ice cream theme soon?
Include this ice cream cone garland, which you can make with your kids and afterwards use as party décor.
You don't want to miss out on these because they're adorable and wonderful for the summer!
26. Paper Plate Ice Cream Craft for Sweet Fun
Do you want to add some summer flair to your day?
Make some paper plate ice cream for some sweet, imaginative fun!
It's incredibly simple to make, and kids can design their ice cream cones!
If you want to paint this summer, try making one of these!
Can you say no to these fluffy pom poms?
Not a chance!
This pom pom ice cream craft is not your typical summer art project.
Kids will use wool, burlap, and other materials to create their own fluffy pom pom ice creams!
28. Puffy Paint Ice Cream Craft
Have you ever made crafts using puffy paint?
Have you ever used puffy paint to create an ice cream craft?
If you haven't yet, check out this awesome summer craft that kids will love!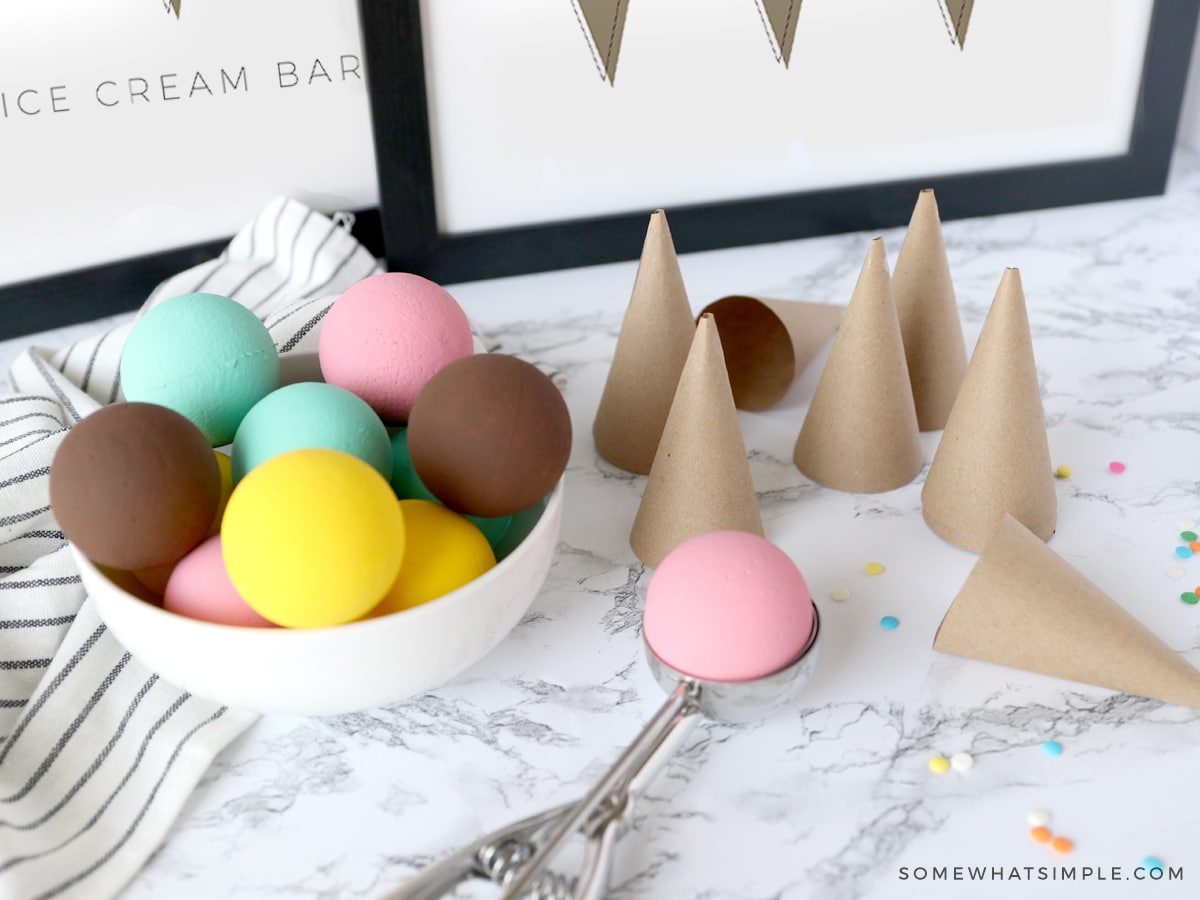 29. Ice Cream Cone Craft for Kids
Do you enjoy taking part in your children's imaginative play?
Because I do!
I love being a part of their silly experiences!
That's why we made this ice cream cone craft to use in our pretend ice cream parlor.
Because it seems so real, it was a lot of fun to make and play with!
Love all types of puppets?
We had an extra happy moment when we realized we could create an ice cream puppet!
Isn't it fun to build and play with your own handmade ice cream puppet?
Create one today with your children!
31. Pom Pom Ice Cream Necklaces
Want to make your summer outfit pop?
Try these pompom ice cream necklaces to add a unique touch to your look!
You can make one with your children and for yourself since it is simple to make.
This makes a sweet party favor for a summer gathering as well!
32. Felt Ice Cream Cone Craft for Kids
Isn't felt an underrated craft material?
I love it and can't wait to share this felt ice cream cone project with other felt crafters!
I had so much fun making this with my kids, and I know you will too!
33. Ice Cream Cone Craft for Kids
Looking for a great activity to do while eating your favorite ice cream sundaes?
Then this ice cream cone craft is perfect for the whole family!
It's great for family bonding during the summer.
34. Free Ice Cream Cone Template
Why do I love free templates so much?
Because they can be utilized for so many different things!
Like how I set up an ice cream-themed area in my kids' room with this free ice cream cone template.
Check it out on the website now to have your template downloaded!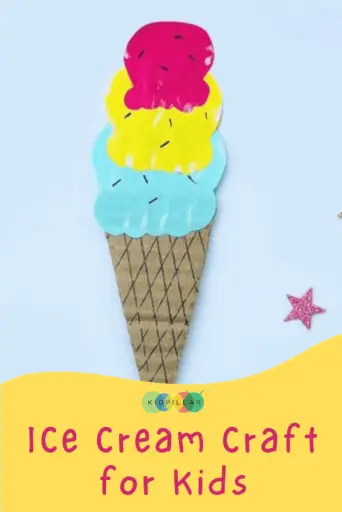 35. Ice Cream Craft – Cute Summer Craft for Kids
What would summer be without getting involved in their favorite activities with your children?
If your kids like crafting as much as mine do, then incorporate this ice cream craft in your summer art activities.
You can make this in just 15 minutes, which will give you plenty of time to spend with your children.
36. Ice Cream Cone Alphabet Tracing
Is there a trick to getting ready for the coming school year during the summer? Yes!
Mastering the letters now puts you on track for a fantastic start!
Make learning the letters and tracing fun for your children by using these ice cream worksheets.
Check out the website to download the worksheet now!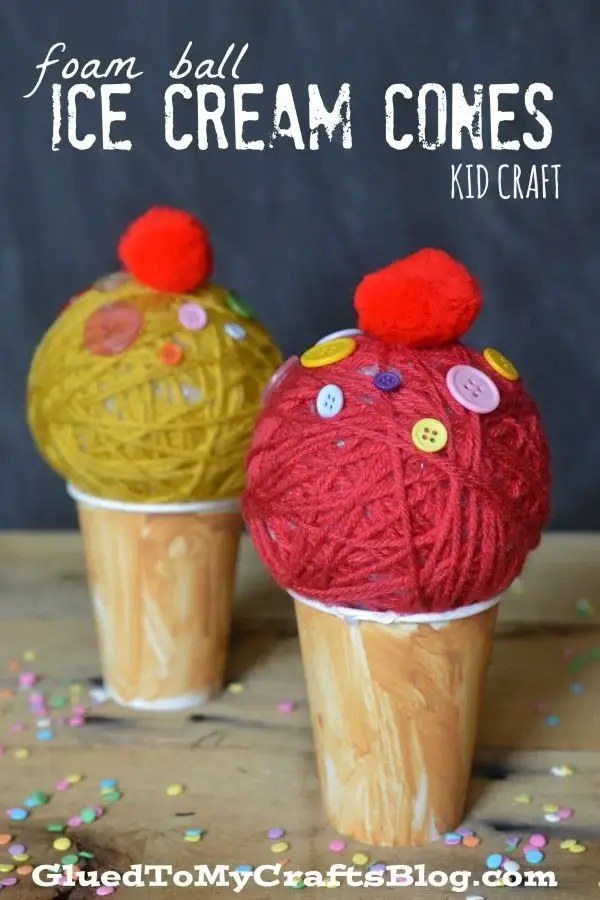 37. Paper Cup Ice Cream Cone Craft
Are you ready to experiment with paper cups, yarn, and foam balls?
Make a unique ice cream cone craft right away!
It was a lot of fun wrapping the foam balls in yarn to form ice cream scoops.
Today, give it a go with your kids!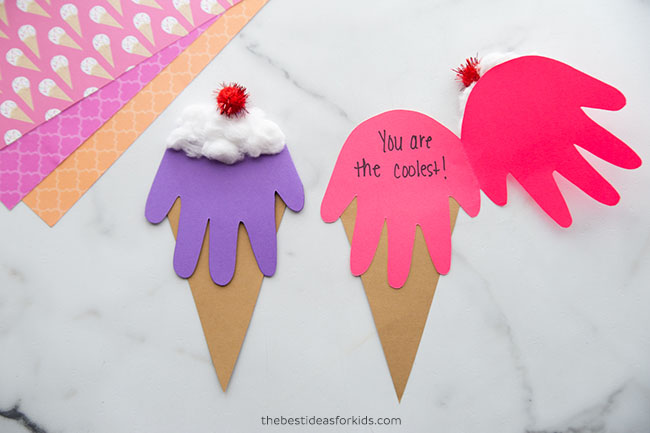 Are you a fan of handprint projects?
Don't miss out on this adorable ice cream handprint project—it's a must-have for your list of ice cream-themed activities!
It's an easy craft that also makes a nice souvenir of our children's handprints.
39. How to Make Ice Cream Bookmarks Perfect for Summer
Got little bookworms at home?
Why not make this ice cream bookmark together then?
It's a wonderful trick to boost your love of reading!
You can create as many as you want because it is simple to make.
It might also be a summer party favor or a gift for someone!
40. Handprint Ice Cream Cone Craft
Looking for a fun activity for the family?
Why not make different sizes of handprint ice cream cones?
They'll look lovely displayed in a frame or on the wall of your family room!
I'm sure seeing your family's handprints will always put a smile on your face!
41. Let's Decorate Ice Cream Cones
Want to encourage your children's imagination and creativity?
Let them go crazy with the ice cream cone decorating!
They can decorate their crafts with virtual sprinkles and chocolate chips using any crafting tools they like!
You may also make these while singing Ice Cream songs with your children!
Looking for ways to liven up your summer?
How about trying out the exciting game of "catch the ice cream" with your kids as an outdoor activity?
This game may be played by a big group of people, making it perfect for a classroom games activity!
Have your children ever done process art?
Make this one right away if they haven't yet!
Process art gives kids the freedom to express themselves creatively and use recycled materials with a fun twist, which is something I find interesting.
44. DIY Pretend Play Ice Cream Cones
Why spend money on ice cream toys when you can create them together with your kids?
It's a budget-friendly and bonding-filled delight!
As a mom who loves to DIY everything, I like these DIY pretend play ice cream cones.
During our imaginative play, my kids enjoyed playing with their own creations.
Did you know that you could create your own ice cream magnets using only plaster, paint, and magnets?
Isn't that interesting?
Check out the complete article on how to build your own ice cream magnets with your kids right now!
46. Ice Cream Cone Printable Activities for Kids
Are you looking for a treasure trove of ice cream printables with fun activities?
You need not look any further; this is the one!
These activities are appropriate for children of all ages and are great for teaching them basics of math and fine-motor skills.
Prepare to see a lot of them!
47. How to Make Adorable Ice Cream Painted Rocks
Did you know you could paint rocks and transform them into ice cream cones?
These rocks that were decorated to look like ice cream were fantastic!
Check out the website to learn how to make your own ice cream sundae out of rocks you've picked up from your backyard!
48. Puffy Paint Ice Cream Cone Craft for Kids
Ready to have some crafting fun with your kids?
Play around with puffy paint to create a crafty ice cream cone!
Puffy paint is a perfect craft material because it already has the look of melted ice cream.
Remember to remind your children not to eat the puffy paint because it looks like real ice cream!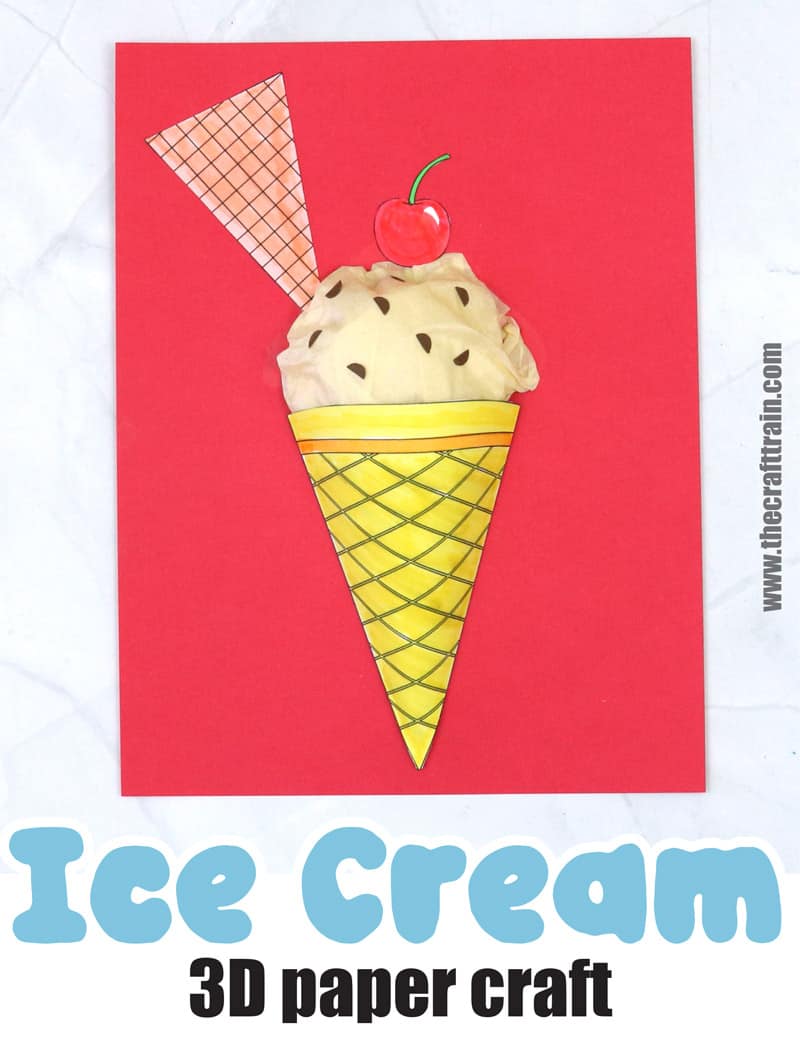 Think 3D crafts are too difficult?
Think again!
Take, for example, this 3D paper ice cream craft that my kids and I worked on this summer – it's easier than you think.
It appears to be so realistic that you want to make more and display them throughout the house!
Did you know that tearing paper is a great method to practice fine motor skills?
This paper ice cream craft is a fun fine motor skill exercise as well as an art activity.
Check out the website today to make one with your kids!
Ever dreamed of turning ice cream into art for your kids?
Well, ice cream crafts and activities let them do just that, transforming treats into masterpieces and adding a sprinkle of fun to their day!
These playful learning activities not only stimulate kids' imagination but also provide hours of fun while learning.
These hands-on activities not only allow young children to discover colors and shapes, but also encourage them to express themselves through art.
Gather your little artists, print out the free printable ice cream template, and watch their creativity melt into a summer treat masterpiece!
When you have finished, be sure to share your creation on Simple Mom Project's Facebook Page and follow me on Pinterest!

Kaitlen D.