My kids crowded the room as the sun set below the horizon, clutching a bucket of rubber ducks and different art supplies as the golden colors of the late afternoon decorated the room.
Who would have imagined that a simple rubber ducky could lead to so much fun and learning?
Allow me to take you through the wonders of preschool duck crafts and activities, where creativity meets the brilliant ideas of young minds.
As a mom of two, I often pondered how to spark curiosity in these little kids.
Fortunately, I found an answer in the form of these adorable duck crafts!
But how can you give these little artists something really special to craft with?
Hold on to your yellow feathers as we plunge in a world of duck craftiness, complete with a free printable duck template!
Do you feel like you're stuck in a never-ending loop of boredom?
I totally get it!
So, how do we break out from the ordinary and find some projects that inspire our little artists?
Get ready for a feathered journey as I lead you from a boring craft project to a quacking good time of duck crafts and easy activities!
*By the way, this post may contain affiliate links which means I may receive a small commission at no additional cost to you if an item is purchase through that link. For more information, click here.*
Letter D for Duck
Teaching the letter 'D' for duck to a bunch of lively kids?
It may appear to be a challenge, but let me assure you that it is a lot of fun!
I once found myself in this same scenario, wondering how to transform the letter "D" for "duck" into a lively experience.
So, how did I pull it off?
I began transforming our living room into a blanket pond, and my children became small ducks, waddling and quacking.
The room was filled with laughter as we colored and painted the free printable duck template.
The next day, we read their favorite children's books about ducklings while playing with duck finger puppets, worked on some wooden duck puzzles, and dressed up as ducks while singing "Five Little Ducks."
And, yes, I was the mother duck!
Just goes to show that with a little creativity, teaching the alphabet can be as fun as spending the day at a pond.
You may be wondering how to find the best duck-themed products for kids.
I embarked on my own duck quest, discovering the best duck-inspired items on Amazon.
When it comes to purchasing convenience, Amazon remains supreme.
And it's a shopping secret I'm pleased to share, as are all these wonderful duck products I discovered that are perfect for teaching the letter D for duck!
1. This duckling gets a cookie book by Mo Willems is a quirky story about a cute duckling that learns the importance of politely asking for something, like a cookie, by saying "Please."
2. The 10 little rubber ducks board book is classic that takes readers on a journey across the ocean as ten rubber ducks fall off a cargo ship.
3. What I like about this simple duck wooden puzzle is that it combines the beauty of woodwork with the fun of solving a puzzle.
4. Put these five little duck puppets on your finger and you'll find yourself in charge of a tiny duck show. It's a fantastic storytelling and role-playing tool that inspires both children and adults to be creative.
5. This duck hat is a guaranteed favorite for a costume party, a day at the zoo, or simply adding some quacking fun craft to your everyday life.
50 Easy Preschool Duck Activities
Are you ready to jump into a creative pond with your children?
We've got you covered with 50 easy duck crafts and activities that will make every day an adventure.
You'll be making great memories in no hard time with minimal preparation and maximum fun!
1. Free Printable Duck Template
What is it that a duck pattern can't do?
The answer is that the possibilities are limitless!
This free printable duck template is a multipurpose tool for inspiring imagination and keeping our kids entertained, whether it's for coloring or crafting.
2. Free Printable Farm Duck Template
Want to give your kids' activities a little bit of a farmyard experience?
You can't go wrong with this free printable farm duck template!
Today, enjoy a duck trip with your kids and make adorable animal crafts with a farm theme!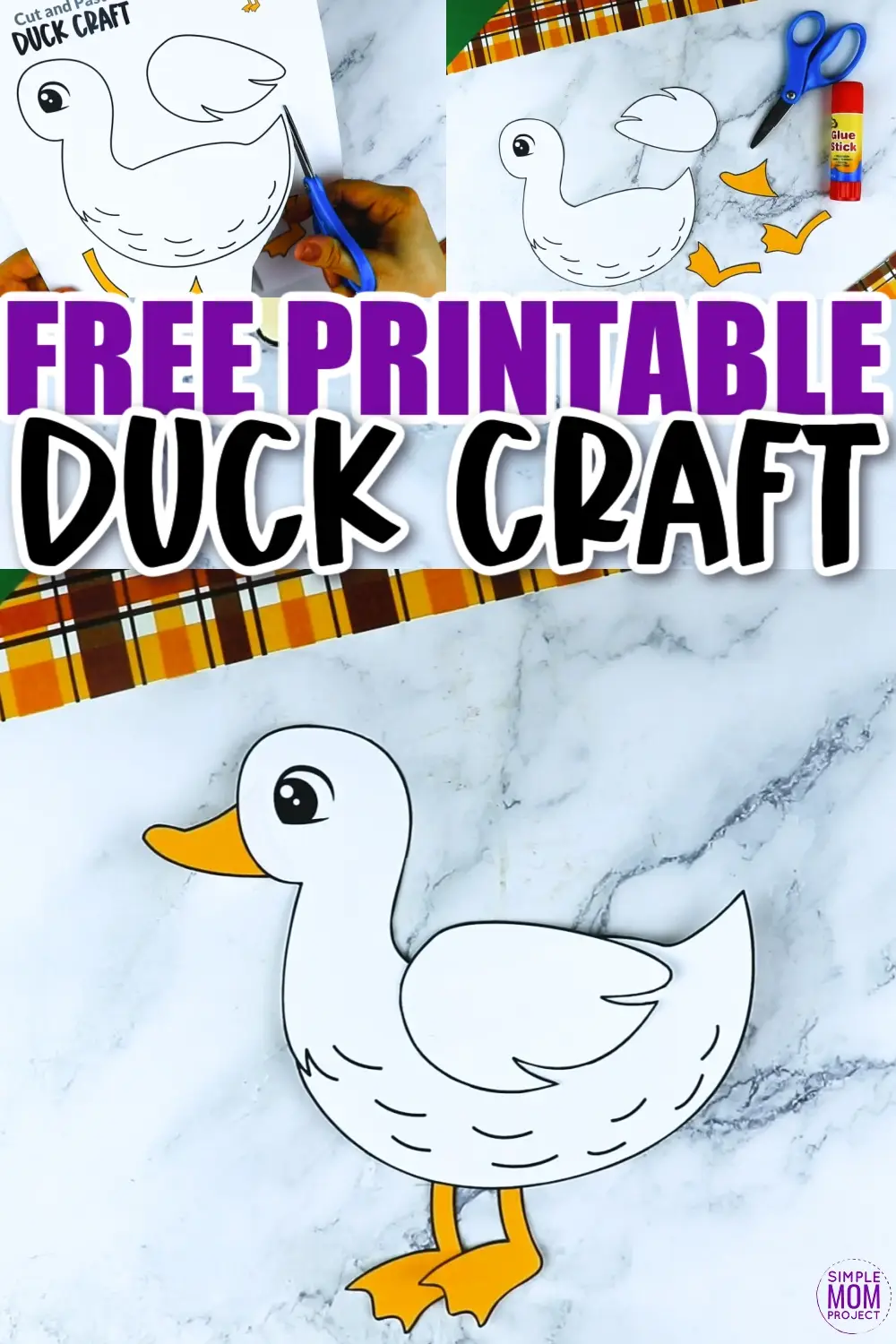 3. Free Printable Duck Craft Template
Looking to spice up your letter d crafts and lessons this week with a little bit of creative fun?
Include this free printable duck craft template in your activities.
Little ones will enjoy learning about the letter D while creating their very own feathered buddies.
Have you ever wondered how to keep your kids amused with an easy and cute craft?
Create this easy preschool duck craft right away!
With simple materials and easy-to-follow step-by-step instructions, this craft is a breeze for both kids and parents.
5. Hand Shaped Duck from Craft Foam
Are you looking for a craft that is both fun and memorable?
Have you ever made a duck in the shape of your child's hand?
This hand formed duck craft foam is more than simply a work of art; it also captures a piece of your child's uniqueness.
Get ready to have a great time while making a treasured keepsake!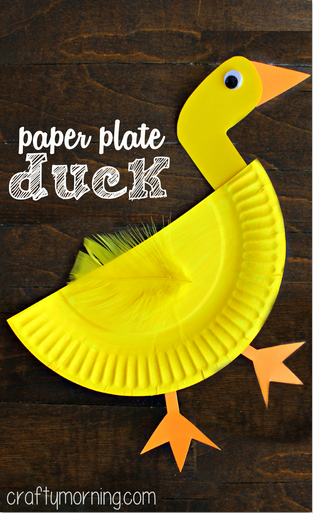 6. Paper Plate Duck Craft for Kids
Why not make a paper plate duck craft that turns a plain paper plate into a quacking masterpiece?
You'll be surprised at how a simple paper plate craft may be transformed into a charming feathered buddy.
It's easy to make and will keep you entertained for hours!
7. How to Draw a Duck Super Easy and Cute
Can you sketch a duck?
Watch this YouTube video to learn how to draw a duck.
It effortlessly turns any toddler or adult into an artist with a few easy steps!
8. Paper Plate Duck Craft Idea
Is it possible to make a paper plate into a cute duck?
With this paper plate duck craft, of course!
With a few tools and a little imagination, you can turn an ordinary paper plate into a lovely duck!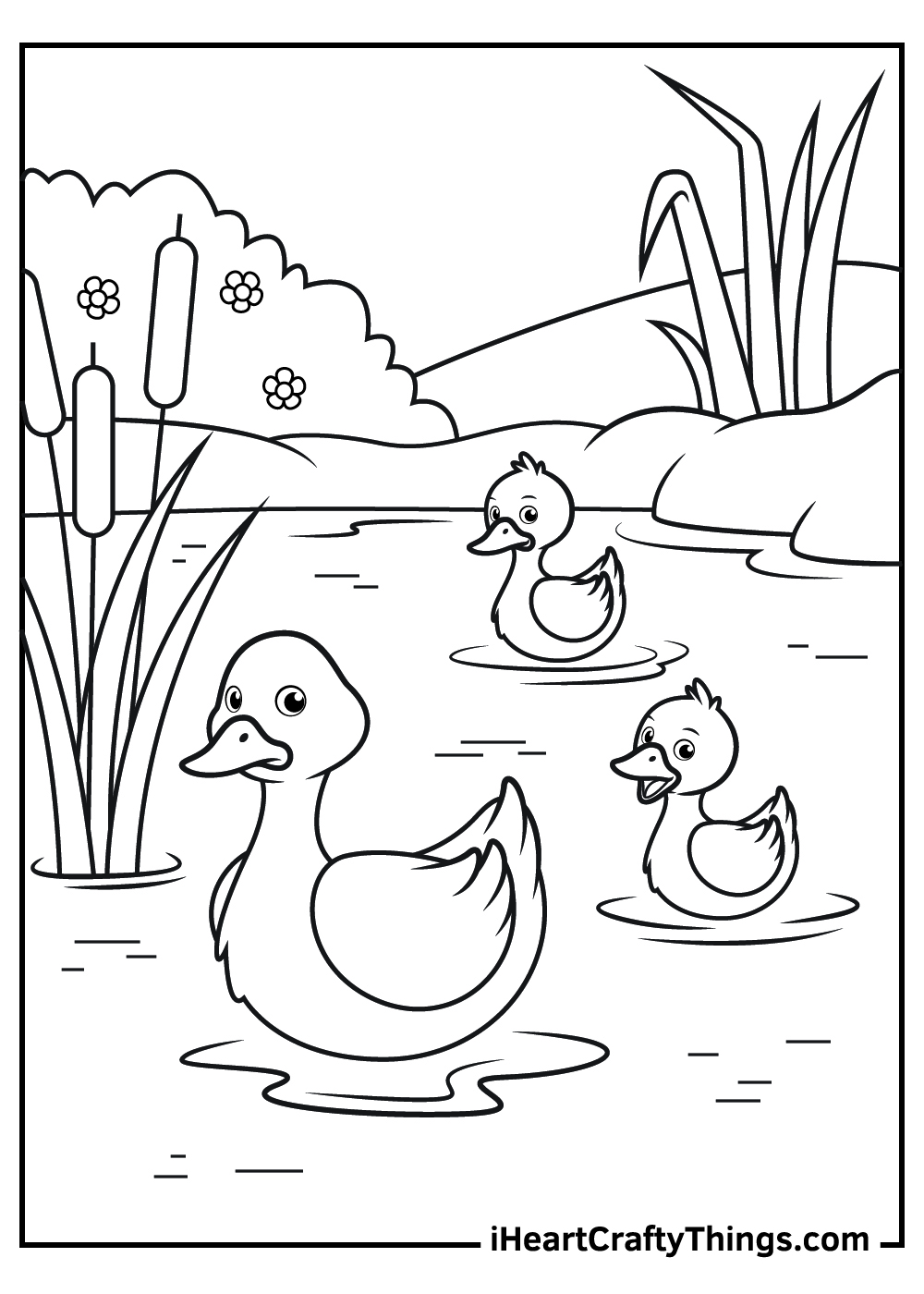 Want to keep your kids occupied and creative?
With these 15 duck coloring pages, you can plunge into a world of color.
It's a great activity for stimulating their creativity, and the broad selection of duck designs guarantees that there's something for everyone.
How can you have a blast with your kids while making a lasting memory?
By crafting a duck with your handprints!
This is a hands-on adventure that captures their distinct style and inspires their creativity.
Is it raining outside on a weekend and you're looking for things to do with your kids indoors?
We had a lot of fun completing this printable duck craft with my kids one rainy weekend.
It's a simple no-prep craft that's great for kids of all ages!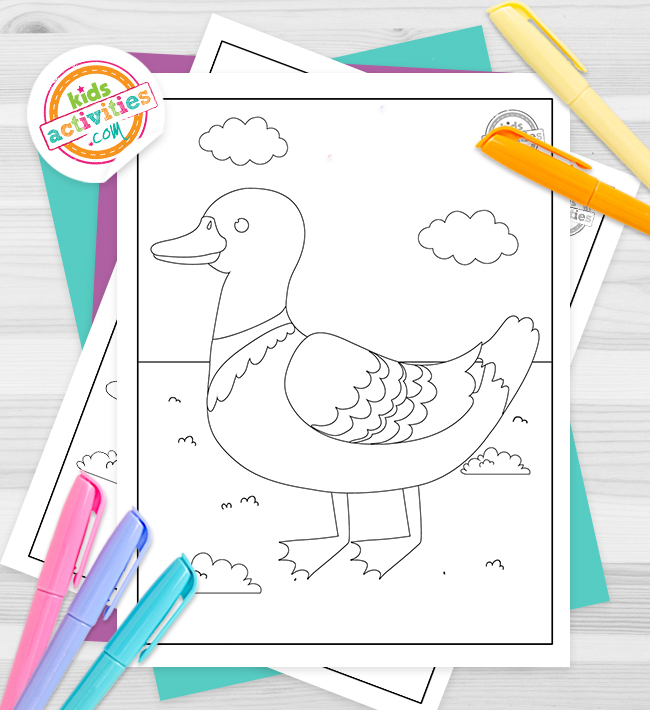 12. Free Printable Duckling & Duck Coloring Pages
Are you looking for an approach to make coloring for your kids more fun and enjoyable?
Working on these free printable duckling and duck coloring pages is like having an art inspiration pond right at your fingertips.
Download them all now to add a splash of color to your child's day!
13. D is for Duck Handprint Craft
What a blast would a hands-on, educational activity be for your children?
Have you ever made duck handprint art?
It's an exciting trip that combines learning and creativity.
You'll be developing fine motor skills as well as alphabet learning while having a great time.
14. DIY Floating Egg Carton Ducks and A Spring Pond Sensory Bin
Ready to brighten up your child's playtime with some creativity and sensory fun?
How about making your own floating egg carton ducks and a spring pond sensory bin?
It's a terrific activity that combines crafts with sensory play to provide an engaging learning experience.
In this fun spring-themed activity, children may explore, create, and learn!
15. Duckling Craft for Kids – Easy Duck Craft Preschool
Who wouldn't want to find a straightforward and enjoyable activity that encourages their children's creativity?
This duckling craft for kids will not only help children develop fine motor skills, but it will also bring smiles and creative joy to their day.
Check it right now to begin creating one!
  16. Duck Handprint Craft for Kids (Free Template)
Isn't everything so simple and fun with a free template?
This handprint duck craft, which includes a free template, is a fun activity that turns your child's handprint into a lovely little duck.
Together with your child, create a treasured keepsake that will leave you with a magnificent work of art and priceless memories!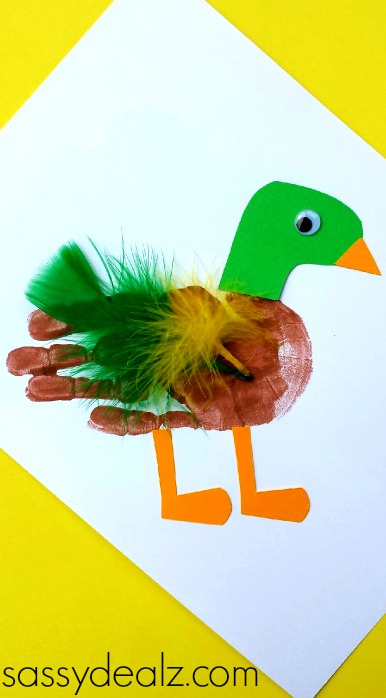 17. Mallard Duck Handprint Craft for Kids
Have you ever seen a mallard duck?
How about constructing a mallard duck out of a handprint?
This mallard duck handprint craft is a nature-inspired activity that allows our children to transform their handprints into marvelous mallard ducks.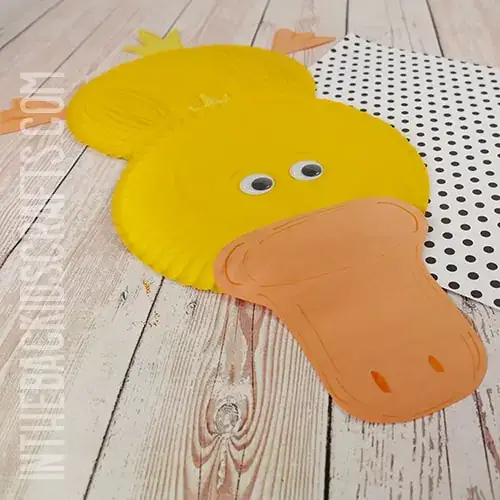 18. Paper Plate Duck Craft (with Free Template)
What can you make out of a paper plate?
Try this paper plate duck craft, which includes a free template.
This is not like any other paper plate ducks you've seen or made before.
19. How to Draw a Duck – Preschool
Do your kids enjoy drawing?
Have they ever drawn a duck?
This video tutorial for drawing a duck for toddlers is quite useful.
It is step by step, so children can work in parts.
20. Super Easy Paper Plate Duck Craft
Looking for a kid-friendly craft that is both easy and adorable?
This super easy paper plate duck craft is it!
Making this lovely duck out of a paper plate is a simple activity that encourages imagination and hands-on fun.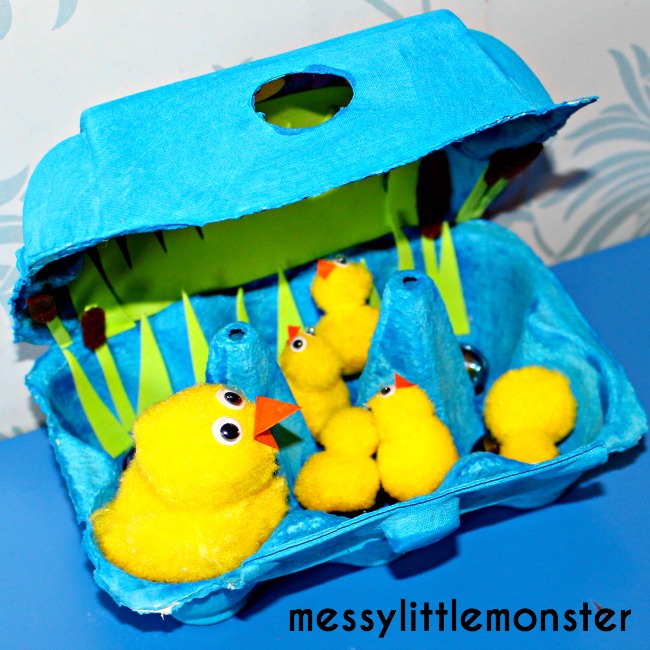 Want to make a classic nursery rhyme into a fun project for kids?
This five little ducks activity is a wonderful way to bring the song to life while also encouraging creativity and storytelling.
Crafting and singing together is a fantastic learning experience!
22. Eider Paper Bird Craft for Kids
Ready to introduce kids to the world of birds through a DIY adventure?
Make an eider paper bird! It's a fantastic activity that not only engages but also teaches about these peculiar seabirds.
Fill the day with fun and learning by having kids make their own eider paper bird craft!
23. Paper Plate Duck Craft Puppet Show
What are your techniques of bringing storytelling to life for children?
A puppet?
What a brilliant idea!
This paper plate duck craft puppet show is a creative and engaging experience that allows children to act out exciting stories using their crafts.
This is a fantastic way to express communication and creativity.
Have you ever made a craft with cupcake liners?
This cute and easy craft for kids uses cupcake liners to create a duck.
You'd be surprised at how easily you could turn plain white or yellow cupcake liners into adorable tiny ducks!
25. Paper Plate Duck Craft for Preschoolers
Do you know why I enjoy making crafts out of paper plates?
They are simple to make and wouldn't set us back a lot of money.
Just like this preschool paper plate duck craft.
It's easy to build, affordable and fun for kids while also promoting fine motor skills!
Have you thought about how to make drawing a duck easy and fun for kids?
Check out this tutorial to learn how to draw a duck.
You'll start by drawing some simple shapes and work your way up to drawing your own duck.
What is your kids' favorite duck book?
My kids love The Ugly Duckling and Duckling Gets a Cookie, among other books.
We made a craft with a duck like the ones in their favorite books.
If you want to bring the ducks from your favorite books to life, check out this craft for ducks!
28. Easy Paper Handprint Duck Craft Tutorial for Kids
Do you want a duck craft that is simple, creative, and a lot of fun for kids?
Use this tutorial to make a yellow paper handprint duck.
This is an excellent craft for children with tiny hands with big imaginations!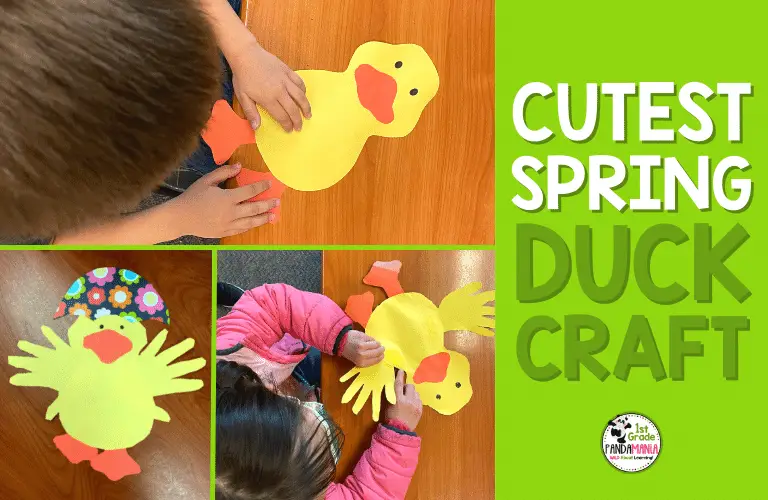 29. Easy to Make Spring Duck Craft
Are you looking forward to welcoming spring with your children?
Making this spring duck craft is a fun and easy way to do so.
Create your own bright and lively ducks by combining creativity and springtime cheer.
30. Spring Craft for Kids: Paper Plate Magnetic Duck Pond
Is it possible to make springtime even more collaborative and exciting for children?
Absolutely!
Today, create this magnetic duck pond using paper plates.
Make a paper plate duck pond complete with magnetic ducks!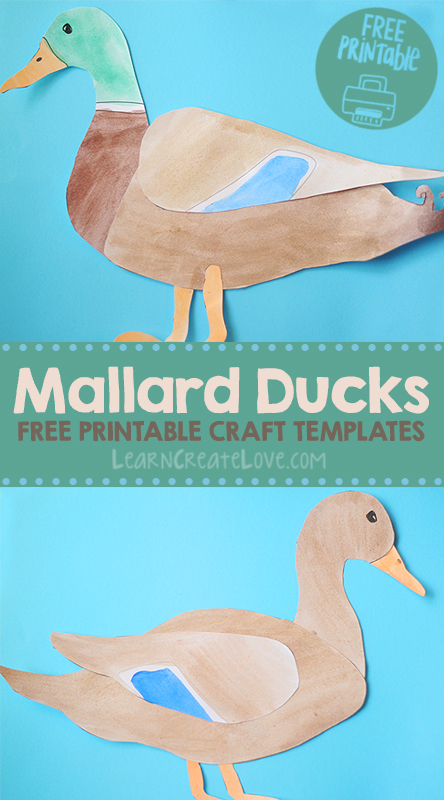 31. Mallard Ducks Printable Crafts
Why not use these printables to jazz up your creative time with some fun inspired by mallards?
These engaging printable projects are a great way to get kids interested in art and teach them about these well-known birds.
Have fun on your feathery trip with your kids!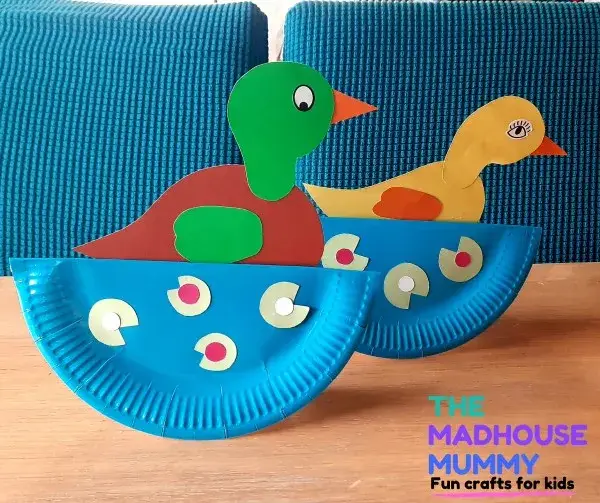 Have you ever seen ducks in a pond?
Why not make this duck pond rocker craft?
This is a fun activity that includes both crafting and play.
Today, let your children make their own rocking duck pond!
33. Simple Pom Pom Ducklings for Spring Fun
Want to add some fluffy springtime sweetness to your art projects?
This simple pom pom ducklings craft is great!
As they make their own beautiful ducklings, kids may exercise their creativity and fine motor skills while also bringing a charming touch to any springtime surroundings.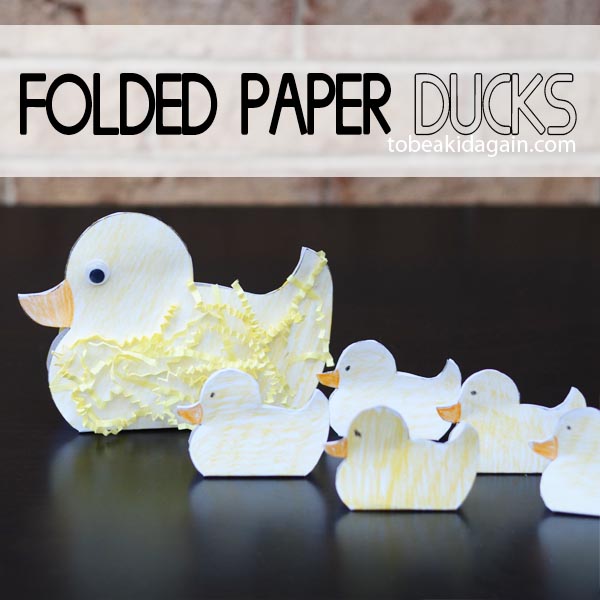 34. Paddling of Ducks! Folded Paper Duck and Ducklings Craft
Looking for a special craft that incorporates play into the mix?
How about making this folded paper duck and ducklings craft?
It perfectly combines creativity and imagination, giving crafting a delightful twist.
35. Popsicle Stick Duckling Craft
Have you ever made adorable ducklings out of popsicle sticks?
Crafting a popsicle stick duckling is a fun activity that helps kids develop their fine motor skills and teaches them how to use common materials to create something.
Now go get your popsicle sticks!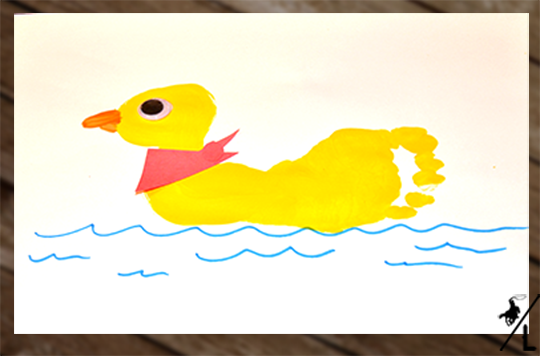 Do you want to engage in creative play with your kids and capture a moment in time?
Today, create this footprint duck craft!
It's a great way to make your child's little feet into amusing ducks as a keepsake.
37. Five Little Ducks & Mother Duck Craft
Looking for a kid-friendly craft idea that combines art and storytelling?
This five little ducks and mother duck craft is a wonderful way to bring a classic nursery rhyme to life.
It also allows young children to make their own ducks and mother ducks while retelling the story.
38. Adorable Duck Finger Puppets
What else may charming duck finger puppets be used for?
These beautiful duck finger puppets are a delightful way to bring stories to life.
With the help of these little quackers, storytime may become a fantastic experience that encourages creative play and storytelling talents.
How can an ordinary paper plate be transformed into a cute and crafty duck mask?
Check out this paper duck mask!
Your playtime or dress-up activities at home or school will be a blast with some feathery fun!
40. Rubber Duck Pond Sensory Bag
Do you want a one-of-a-kind, sensory-rich play for kids that is simple to make?
Our kids can explore and play with rubber ducks while developing their fine motor and sensory skills with this rubber duck pond sensory bag.
Have some watery fun and be creative today!
41. DIY Paper Cup Duck Family Puppets
Who's up for a creative family craft project that encourages playtime?
These paper cup duck family puppets transform ordinary paper cups into adorable duck puppets.
It also provides hours upon hours of imaginative storytelling and bonding time!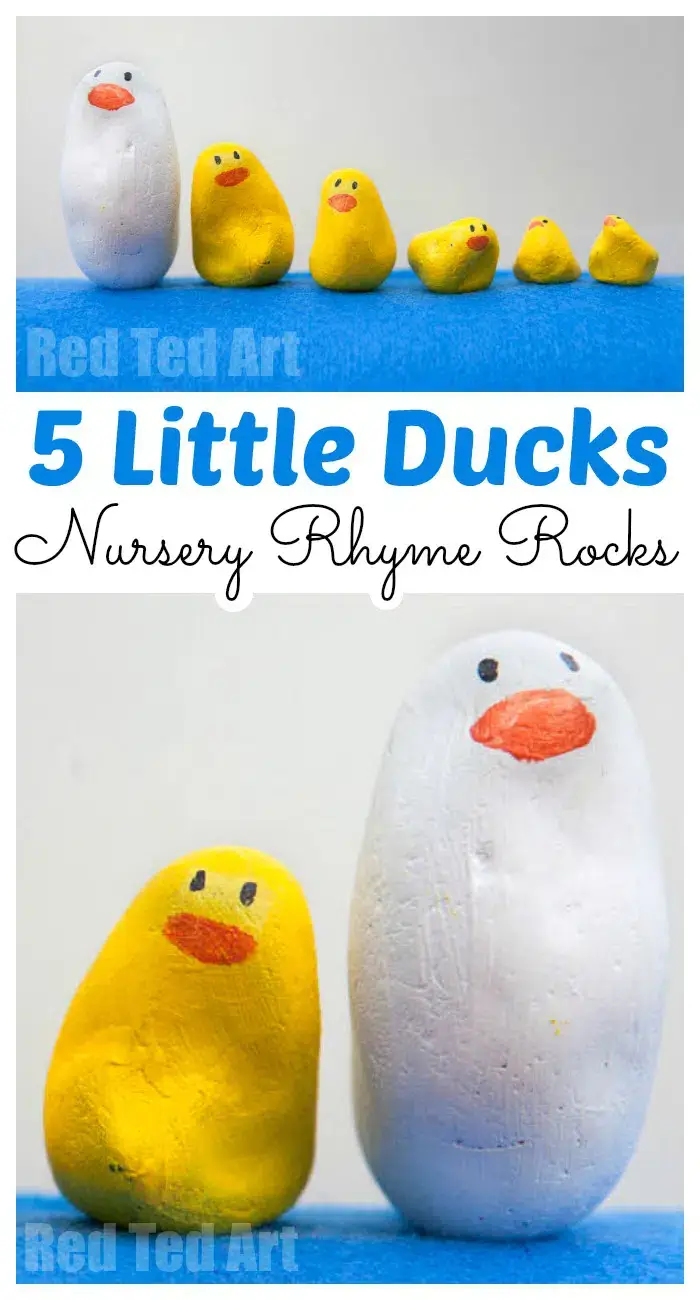 42. Kids Get Crafty: 5 Little Ducks Went Swimming One Day..
How can you transform a well-known nursery rhyme into a fun crafting adventure for your children?
Create this craft, Five Little Ducks Went Swimming One Day!
It brings the rhyme to life and allows kids to make their own ducks for a fun retelling that combines learning, crafts, and storytelling.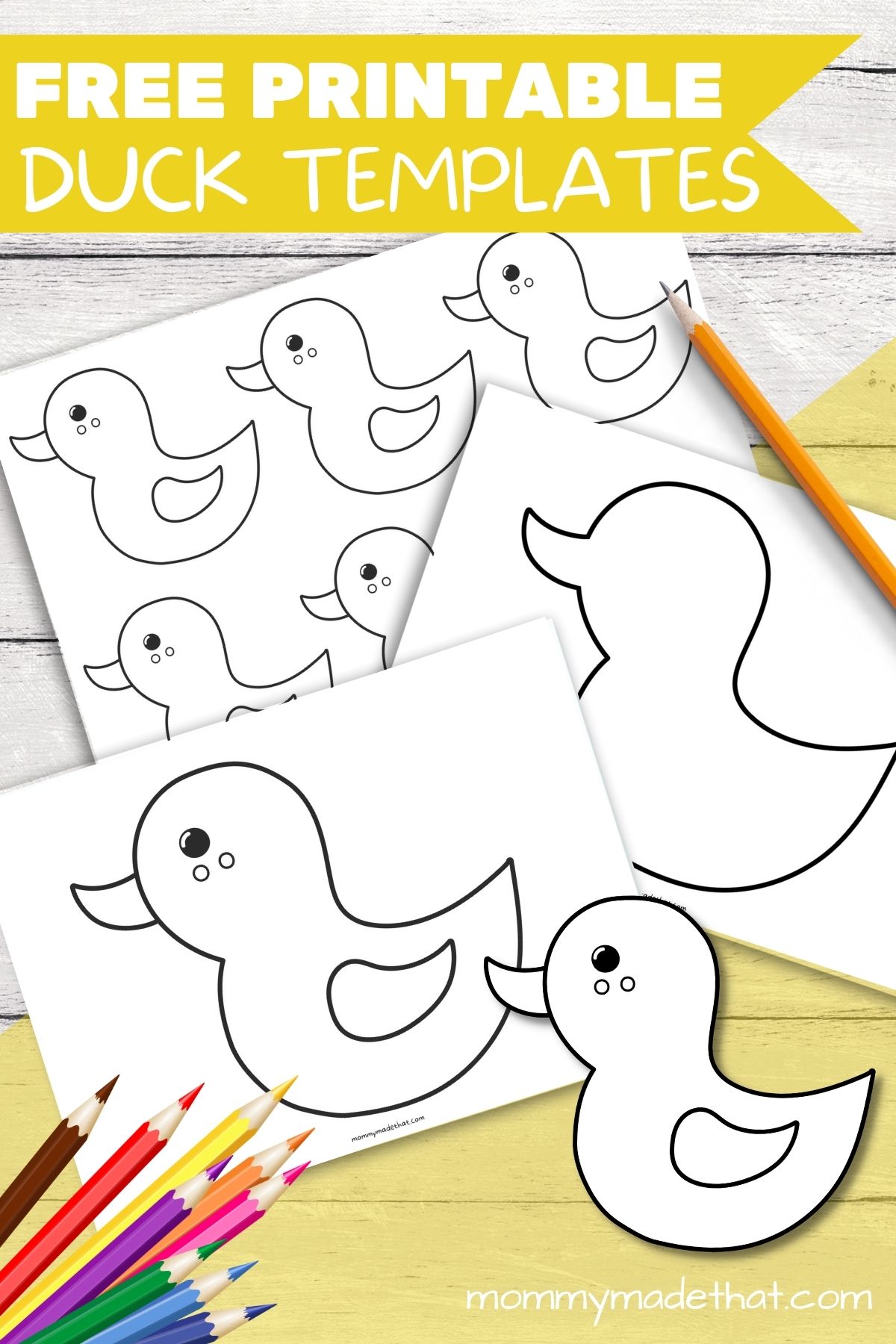 43. Free Printable Duck Template for Ducky Crafts and Fun
Want a simple, no-prep approach to include some duck-themed fun in your crafting projects?
Use the free printable duck template!
It's a creative resource with limitless possibilities for art projects and more.
44. Duck Stamping Painting Activity for Toddlers
Have you ever tried stamped painting with a real toy?
Make this duck stamping painting activity for toddlers!
This technique transforms a basic toy into gorgeous duck prints using just yellow paint!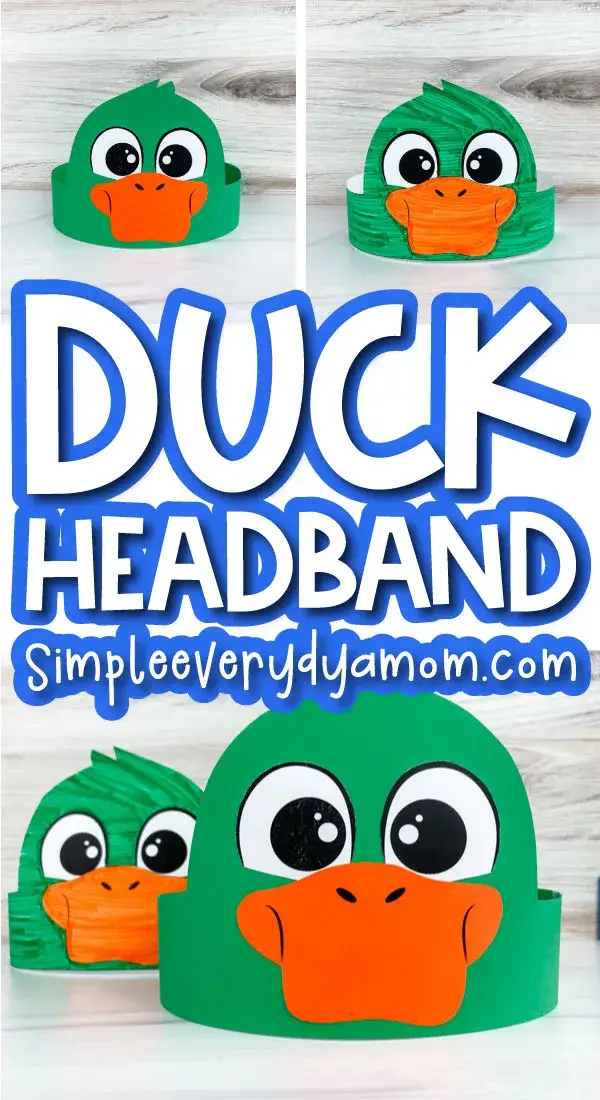 45. Duck Headband Craft for Kids
Looking for a craft that can also be used for pretend play?
This duck headband craft for kids is fantastic!
Children may create their own duck headbands as part of this activity, which also encourages them to act out their own duck adventures.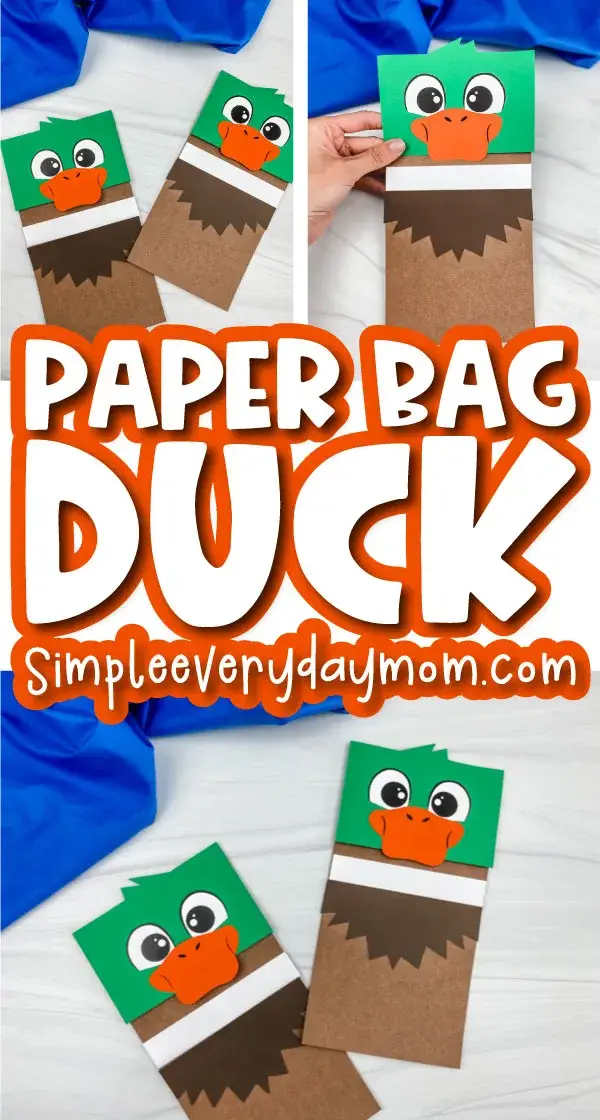 How can story time with your children be more interactive and enjoyable?
Make this paper bag duck puppet.
Children may create their own cute duck puppet and use imaginative play to bring stories to life.
47. Handprint Duck – You Quack Me Up Keepsake
Have you ever made a heartwarming craft?
This handprint duck is a keepsake project that allows our children to create a lovely duck out of their handprints.
It's wonderful to keep memories alive and to inspire creativity.
48. How to Draw a Duck for Kindergarten
Ever wonder how to make drawing a duck for children in kindergarten fun and easy?
Why not try this: How to draw a duck tutorial?
It simplifies the process, allowing our children to make their ducks and gain confidence in their drawing skills.
49. Duck Craft – Duck Template Included!
Who wouldn't want a craft that includes a template?
It makes everything so much easier! like this duck craft that I made with my kids.
It was a hassle-free crafting experience suitable for all ages!
50. Paper Plate Swimming Duck Craft
Are you looking for an activity that allows kids to make their own swimming duck?
Today, create this swimming duck craft using paper plates.
Dive into your crafting supplies and bring these swimming ducks to life for some fun!
Crafting with your preschool children may be a wonderfully gratifying experience, full of excitement, creativity, and treasured memories.
We'd love to see your works of art!
Have your kids discovered their inner artists?
Have you made a quack-tastic duck craft?
We're delighted to see your creations, so send us photographs or stories about your duck-tastic craft adventures.
Let us be an inspiration to one another and foster the joy of crafts with our little ducklings!
When you have finished, be sure to share your creation on Simple Mom Project's Facebook Page and follow me on Pinterest!

Kaitlen D.