We've been featuring land transportation crafts, and we've got more fantastic crafts to share with you!
Today, we'll be presenting a hot air balloon craft that's great for including into your air transportation lessons.
This printable hot air balloon craft template is designed for preschoolers because it is so simple to make!
It is incredible how it can be transformed into a range of crafts that work nicely for classroom activities and décor!
Children get to use different recyclable materials and be innovative while learning and creating hot air balloon crafts.
If you're wondering what to do with your kids over spring break, this easy DIY hot air balloon craft will keep them busy and entertained all day!
The step-by-step instructions make this hot air balloon craft template perfect for preschool children.
We'll take care of how to start creating it, so you won't have to worry about that.
You can also construct a 3D spinning hot air balloon using the two templates we've prepared.
Create a hot air balloon lantern using the black and white template.
Or, create a hot air balloon mobile craft using your colored hot air balloon template.
With these activities, your children will have an amazing experience with hot air balloons, so get your printable hot air balloon craft templates now!

*By the way, this post may contain affiliate links which means I may receive a small commission at no additional cost to you if an item is purchase through that link. For more information, click here.*
Printable Hot Air Balloon Craft

Hot Air Balloon Craft Supplies Needed
Need more crafty fun ideas? Check out our Airplane Craft and Helicopter Craft.
 T
hey are perfect for those days when staying indoors is the only thing your family can do!
Ideas for Easy Preschool Paper Hot Air Balloon Craft
There are several ways to incorporate this printable hot air balloon craft template into your activities.
Don't worry about the supplies or anything else; these activities are simple for kids and very easy to make.
These ideas work well with your goals for learning about vehicles and transportation themes.
Continue reading for more!
1. Great Hot Air Balloon Finds
Ever wondered how hot air balloons soar through the air?
Do you have a kid who dreams of taking a hot air balloon flight one day?
If so, they'll enjoy our hot air balloon finds!
You may organize your daily activities using these interesting hot air balloon items in addition to the printable hot air balloon craft template.
Read books about hot air balloon adventures during circle time or before your children go to bed.
Set a mood for learning about hot air balloons by hanging hot air balloon paper lanterns in your child's room or in your preschool classroom.
Kids' reading and creative play will both improve with the help of these items.
The printable hot air balloon craft template and all of these finds complement each other well!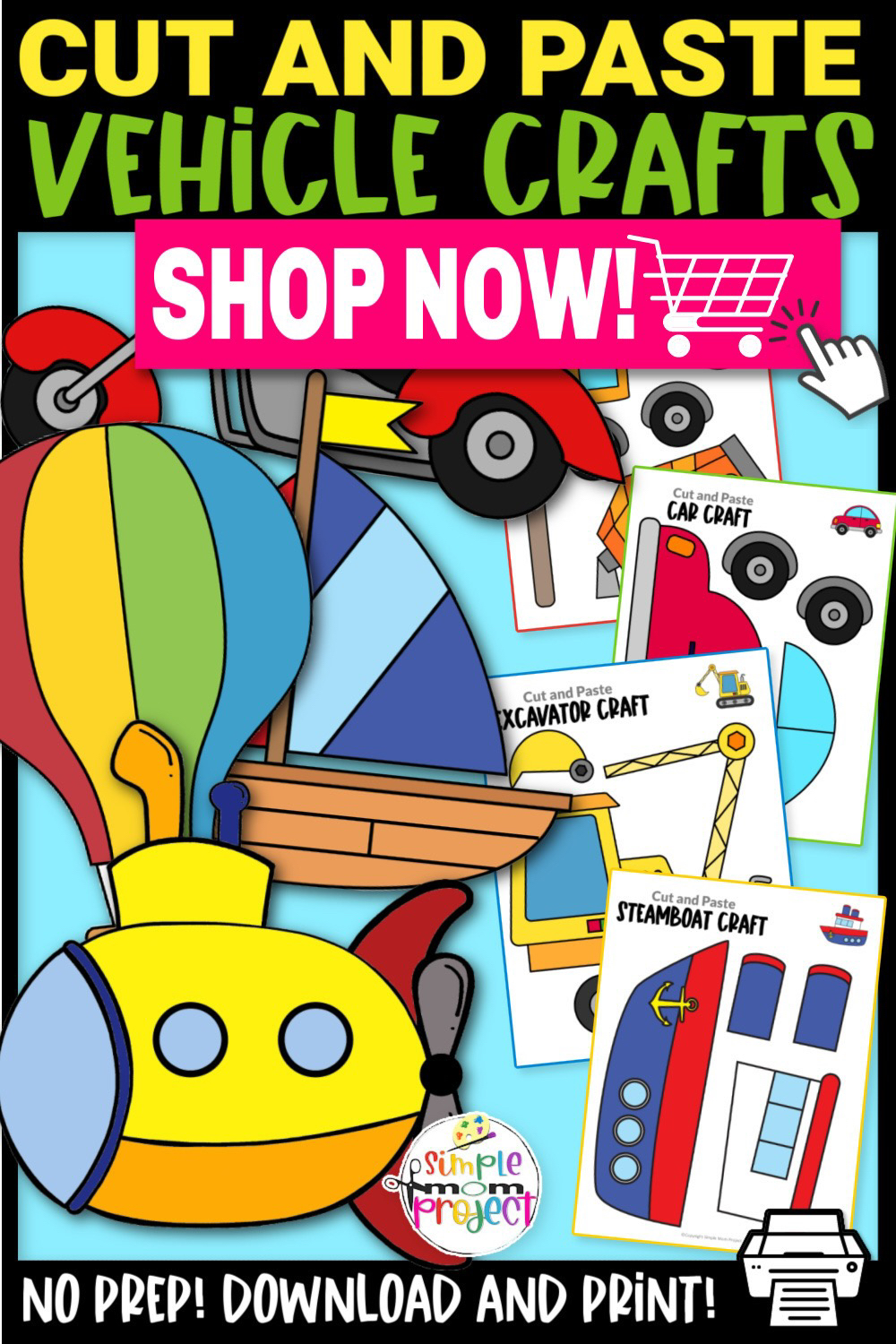 2. Hot Air Balloon Suncatcher Craft
Children have more time this spring to engage in their favorite activities.
Arts & crafts, of course!
If kids can't get enough of these amazing hot air balloons, you should include this printable hot air balloon craft template idea in your list of things to do.
With these hot air balloon suncatcher crafts, you can add brilliant colors to the windows in your house and classroom.
These suncatcher crafts will take kids on an imaginative adventure up, up, and away!
Start by gathering your scissors, glue, colored tissue paper, construction paper, and markers.
The black and white hot air balloon template can be used as a guide for drawing a hot air balloon.
Use a black marker to create a hot air balloon on a sheet of construction paper.
Cut off the drawing template once you've drawn every part of the hot air balloon.
Lend a hand to the kids as they cut along the hot air balloon suncatcher's outline.
Cut out the smaller sections because we'll be gluing the tissue paper there.
Keep the lines of the black hot air balloons precisely cut out.
Also, cut the tissue paper down into tiny squares.
Turn the hot air balloon around so the white outline is facing up once everything has been cut.
The tissue paper will be glued to it.
Apply a dab of glue to the white outline, then layer the colored tissue paper pieces one at a time.
Your suncatchers' colors will be more vivid the more tissue paper you overlay.
After gluing the tissue paper to all layers, trim the excess tissue paper from the hot air balloon's sides.
Your hot air balloon suncatchers are ready to be put on your windows and brighten up your spring days!
3. Papier Mache Art
No matter what time of day it is, my kids like making crafts.
I always make unique arts and crafts activities for kids to keep them interested.
My idea for a brand-new art activity for my kids was inspired by this printable hot air balloon craft template.
We may introduce our children to papier mache art with only basic supplies from around the house!
You may also make a papier mache hot air balloon craft out of newspaper or any other scrap paper you have lying around.
Prepare the paper mache paste with 1 cup of flour, 1 cup of water, salt, and balloons and set of paint for the hot air balloon craft.
To create the paste, combine all of the ingredients for paper mache.
Fill some balloons, then cover them with paste and paper.
Allow the children to dip paper strips in the paste before sticking them on the balloon.
It can be a little dirty, but it adds to the fun!
Bowls can be used to keep the balloon in place.
It is ideal to wrap the balloon in two to three layers of paper.
After covering everything and allowing them to dry, you can construct a basket from folded cardstock or construction paper.
Check to see if it fits the hot air balloon.
Continue by painting your hot air balloon crafts with various colors when the paste has dried.
Once they've dried, poke a hole or make a cut at the bottom to pop the balloon and remove it off.
Attach the balloon with tape and some threads and baskets.
4. Room Decoration
All of our transportation crafts make excellent room decorations, whether at home or at school.
This printable hot air balloon is so beautiful that you can use it to decorate your room at any time of year!
Whether it's at the beginning of the school year, during transportation-themed weeks, or during spring break.
They make cute paper lanterns for the ceilings, spinning hot air balloon mobiles for the door, and 3D paper hot air balloons for the bulletin board.
You can also use these hot air balloon craft templates to design a wall with the months of the year and the days of the week.
As an alternative, you might create name tags for your preschoolers and kindergarteners using these templates.
These bright hot air balloon craft templates are sure to create an exciting learning environment for children in the classroom.
Watching all of these hot air balloons fly around will inspire kids to be more creative and productive.
They're so cool that your kids will want to see them all over the place!
With these ideas, we hope we have made it easier for you to arrange daily routines.
Stay tuned for more if you want to give your kids more of these transportation crafts!
We are confident that these ideas will keep your children interested in learning about various modes of land, air, and water transportation.
We appreciate you taking the time to read all of these ideas because they are the best ones we have!

Hot Air Balloon Craft Instructions
Once you have all of your materials available, follow these easy steps to make a hot air balloon craft.
By cutting out the colored hot air balloon template, you may help your kids develop their fine motor skills.
When they customize their black and white templates, kids may showcase their artistic skills.
Place the ropes in the hot air balloon's base first.
Attach the basket as shown in the image below.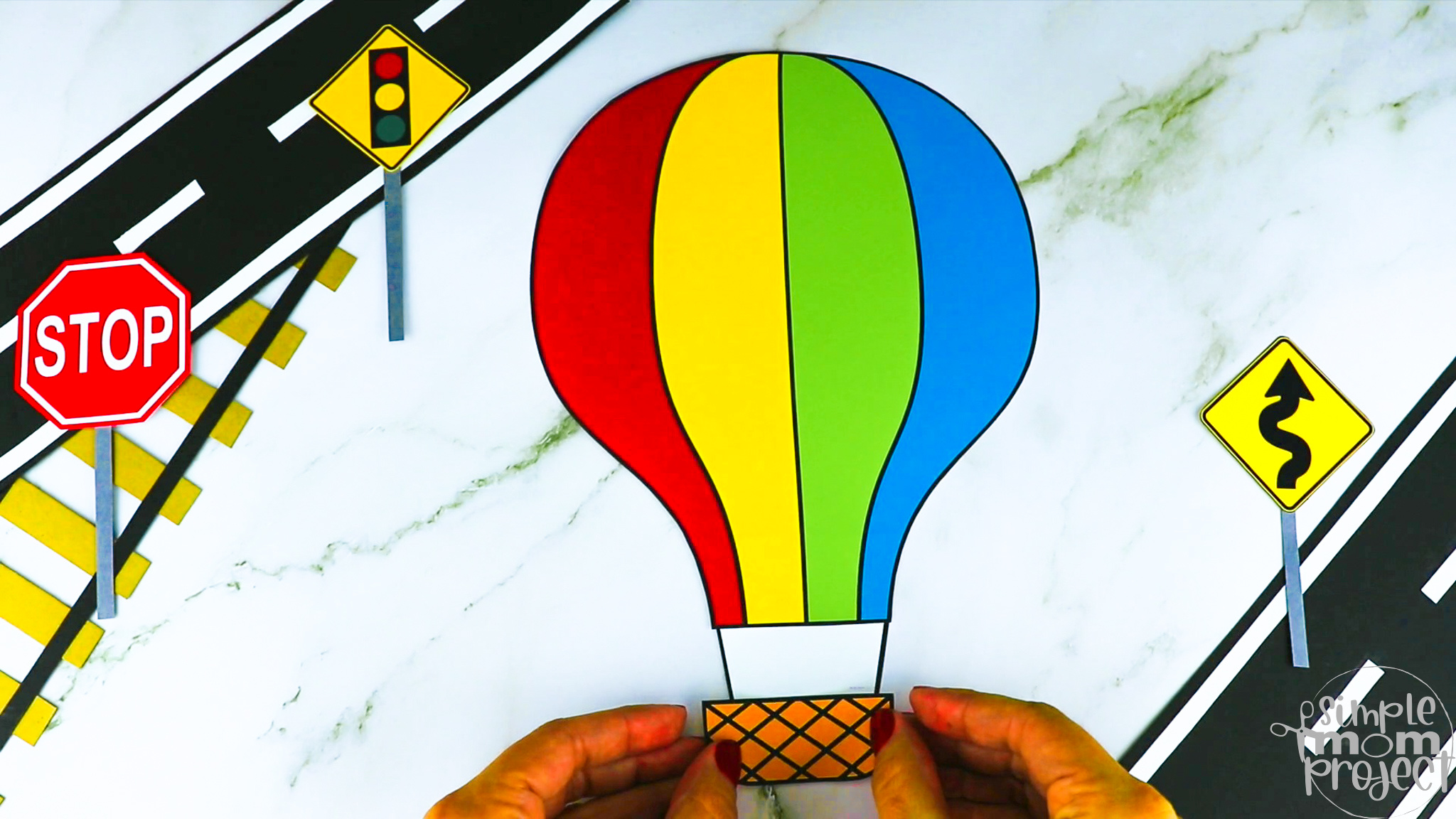 To finish the design of the basket, place the rectangle shape on top.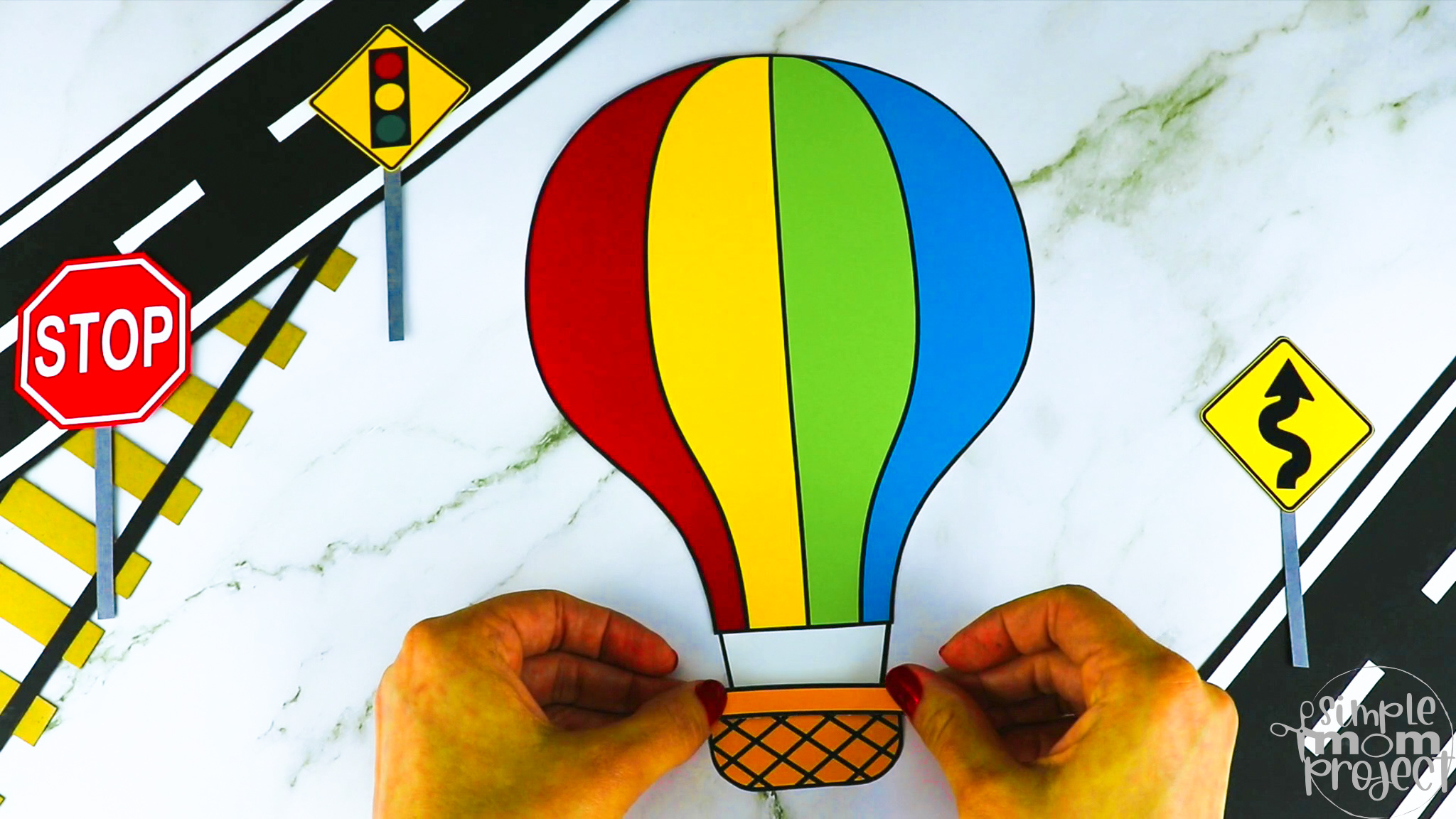 Look at your bright hot air balloon crafts all ready to go!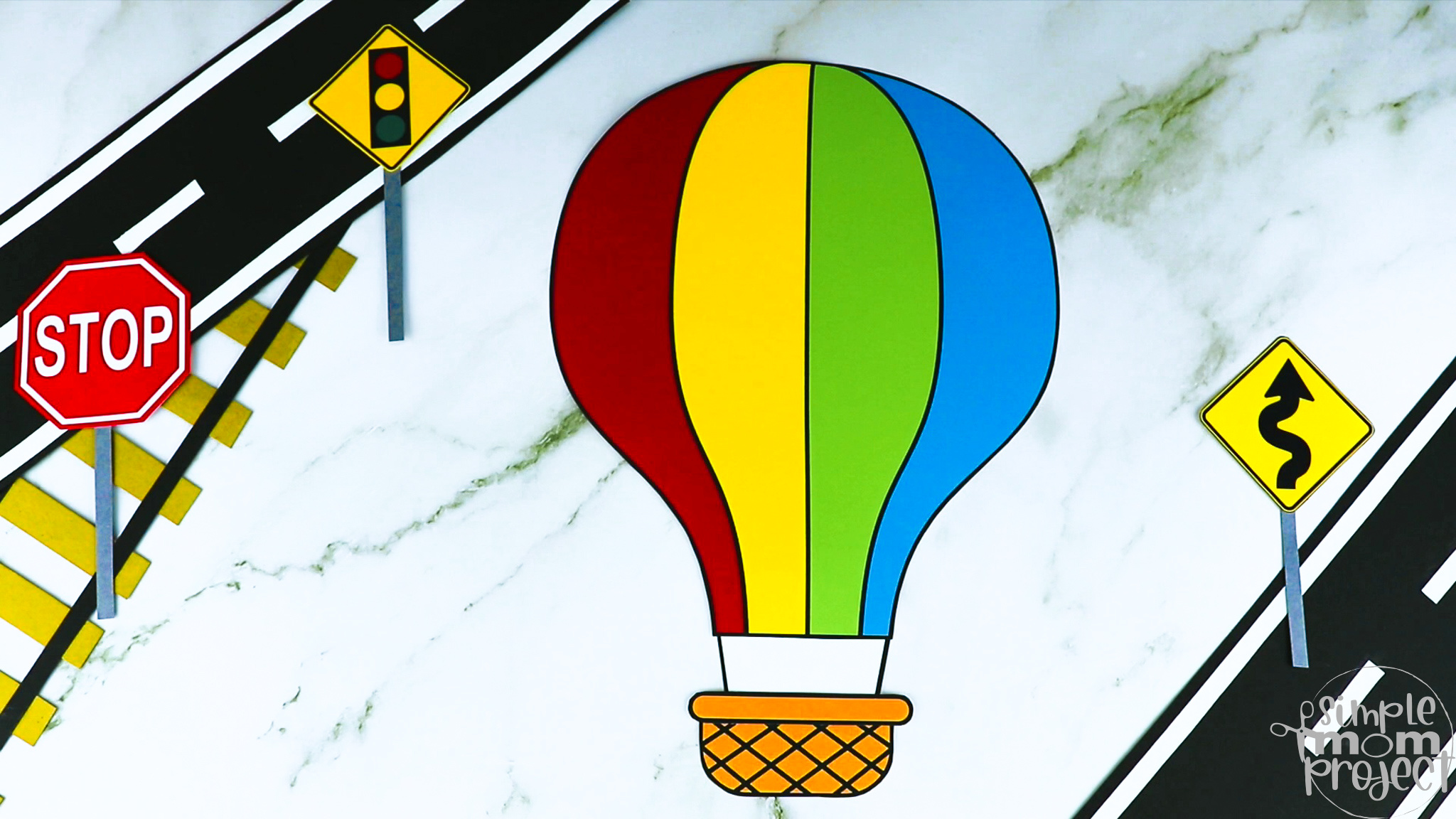 More Options to Choose:
You can print the blank version and trace the cut outs on card stock paper for a sturdier hot air balloon craft,
Print the hot air balloon template in color for a simple and easy rainy day craft or,
Print the blank hot air balloon template and use it as a fun coloring sheet activity and then glue the pieces of the hot air balloon craft together.
Printable Hot Air Balloon Craft
Do you have any plans for your children's spring break activities?
This printable hot air balloon craft template is designed for them to have fun with during their free time.
They will enjoy crafting this hot air balloon craft because of its colorful and realistic features.
This is a simple paper craft activity with step-by-step directions on how to complete it.
If children can't get enough of hot air balloons, they can work on them using two different templates!
As they make this hot air balloon craft, go on an imaginary adventure because we know how much kids would like to ride a hot air balloon one day!
Need more transportation craft fun? Check out our packed list of transportation crafts for simple craft fun with your little ones.  
When you have finished, be sure to share your creation on Simple Mom Project's Facebook Page and follow me on Pinterest!

Kaitlen D
More Printable Transportation Craft Templates