Have you ever taken your children on a plane?
What did they think when they first realized how enormous the airplane is?
They were definitely stunned and amazed!
If your children enjoy flying or watching planes pass across the sky, they will enjoy this printable airplane craft template!
With this airplane craft, kids will without a doubt be engaged for hours.
Along with the airplane template, they will be able to participate in fun activities that we have prepared for them.
They will also be able to complete other simple DIY airplane crafts, learn about different types of airplanes, and play while they learn.
It's incredible how simple it is to include this printable airplane craft template into your weekly activities.
We'll also provide you a list of ideas for how to incorporate it into your lesson plans.
Making their own airplane crafts is a lot of fun for kids.
They get to choose between two airplane templates while being able to follow simple step-by-step instructions.
We will provide a simple black and white airplane template for kids to express their coloring abilities, as well as a colored airplane template.
With this printable airplane craft template, kids may practice their cutting techniques as they separate the airplane's parts one at a time.
Such a good time that is also good for their development!

*By the way, this post may contain affiliate links which means I may receive a small commission at no additional cost to you if an item is purchase through that link. For more information, click here.*
Printable Airplane Craft

Airplane Craft Supplies Needed
Need more vehicle crafty fun? Check out our Helicopter Craft, and Rocket Space Ship Craft.
 T
hey are perfect for those days when staying indoors is the only thing your family can do!
Ideas for Easy Preschool Paper Airplane Craft
Grab a pen and paper and list down all these fantastic activities about the printable airplane craft template.
These are easy to incorporate into your everyday life.
1. Amazing Airplane Collection
You may also share this amazing collection of airplanes with your kids if they can't get enough of the printable airplane craft template!
We created this printable airplane craft idea because we know how much fun kids have with airplanes.
With these fascinating airplane-related items, you may begin organizing your daily activities.
We made sure to include some well-read books because we understand how important reading is to a child's growth.
Have them play with an airplane toy launcher with the entire family to round off the day's activities.
This incredible airplane collection will definitely be a favorite with the kids, so be sure to add it on your list!
2. DIY Airplane Toilet Roll Craft
We always enjoy coming up with simple, affordable DIY crafts.
Particularly if we plan to use a recycled household item to make a craft for kids.
Aside from using the template to create an airplane, kids can also make their own airplane out of an empty toilet paper roll.
These tissue paper rolls are so versatile and easy to use that we can make anything out of them!
Bring out your construction paper, scissors, glue, construction paper in different colors, empty toilet paper rolls, and paintbrushes.
To begin, paint the toilet paper roll in the color of your choice.
Draw and cut a rectangular form from the construction paper for the airplane wings while you wait for it to dry.
You can attach the rectangular piece of paper to the toilet roll once it has dried.
You can even include other airplane parts, such the windows, by using a marker.
Make more airplane toilet paper roll crafts in different colors!
With this recycled home item turned into a craft, kids will have a great time!

3. Fine Motor Activities
Aside from arts and crafts, children will be able to improve their fine motor abilities by participating in other airplane activities.
Children can practice cutting skills with the printable airplane craft template.
Give your children the opportunity to explore with various materials to create an airplane using this printable craft template idea while also developing their fine motor abilities.
To get them started on this fine motor practice, give them cardboard, papers, clothespins and popsicle sticks.
Did you know that you could make a basic airplane out of popsicle sticks?
Did you know that you can create an airplane just by folding a piece of paper?
How about the idea that a clothespin can be turned into an airplane?
The printable airplane craft template can be pasted onto a piece of cardboard, then cut out to create a flying airplane craft.
These are only a few of the fine motor exercises you can incorporate into your lesson plans.
They are simple to make and encourage our children's creativity!
4. Fly Like an Airplane
Go outside and look at all the planes in the sky!
Spend a day outdoors and let the kids observe the airplanes when they've finished their printable airplane craft.
You might include this cool printable airplane craft template idea while kids observe all the flying vehicles they see.
Allow your children to spread their arms wide out and pretend to fly like an airplane!
This is also a fun gross motor movement as kids try to glide around while pretending to be an airplane.
They get to create their imaginative play while building body control at the same time.
This is also exciting to play with other members of the family.
How did your preparation go with all these great ideas?
Did it inspire you to book a trip to fly soon?
We hope that all of these suggestions have helped you in a variety of ways.
Making their own airplane crafts will be a blast for kids to do in their free time!

Airplane Craft Instructions
Once your preschool, kindergarten and toddler kids have all the materials ready, follow these easy and simple step-by-step directions!
If your children opted to begin with the colorful airplane template, you can go on to cutting the airplane parts one at a time.
They can also work on the simple airplane template by decorating it with all of the decorative supplies they have on hand.
Start by attaching the larger blue colored wing on the side of the plane, directly below the windows.
Continue by attaching the red, smaller wing to the top of the aircraft, as shown in the picture below.
Finally, finish off this side of the airplane craft by adding the last red wing.
Look at your incredible work on your airplane craft!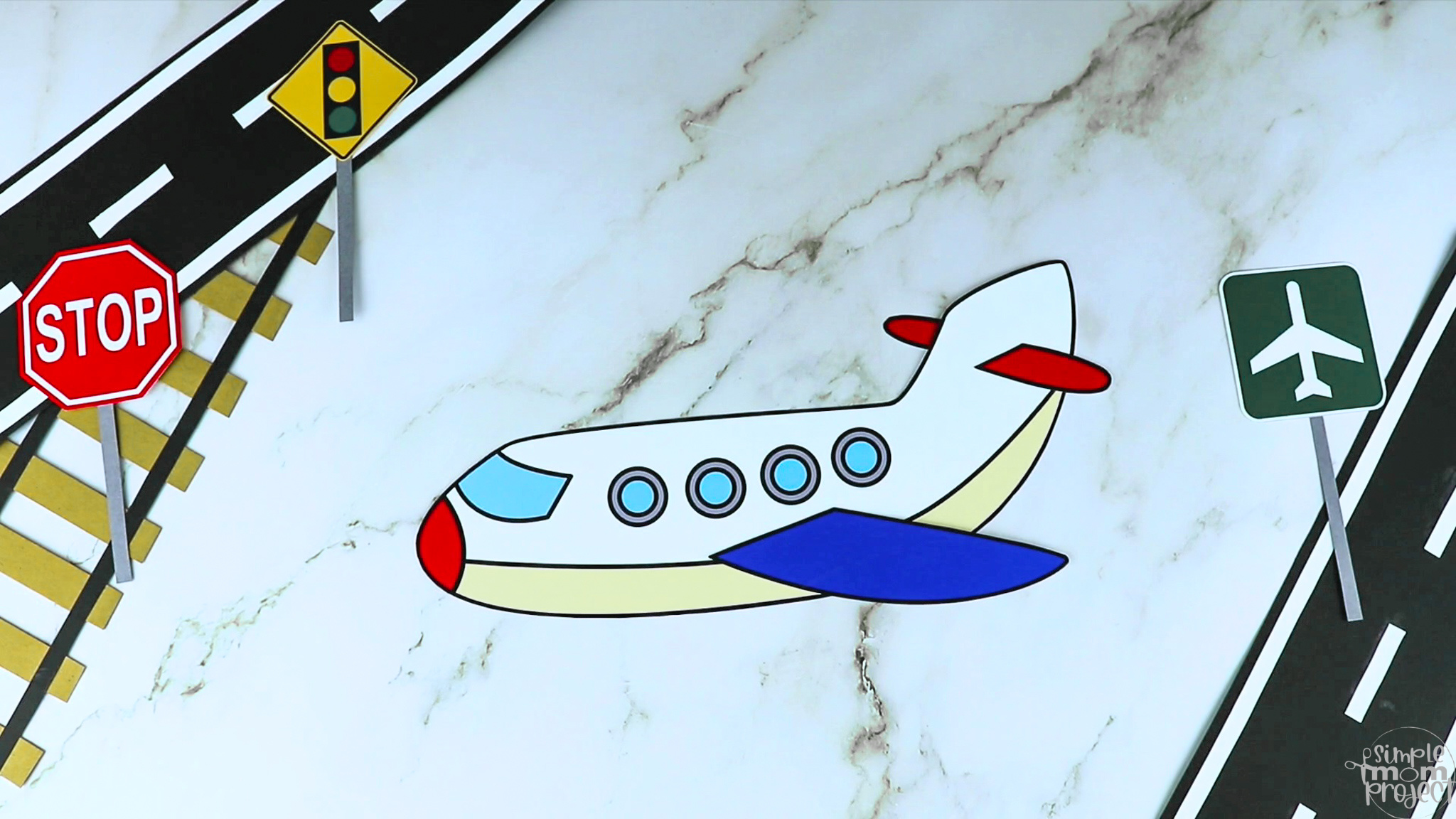 More Options to Choose:
You can print the blank version and trace the cut outs on card stock paper for a sturdier airplane craft,
Print the airplane template in color for a simple and easy rainy day craft or,
Print the blank airplane template and use it as a fun coloring sheet activity and then glue the pieces of the airplane craft together.
Printable Airplane Craft
Many people hope to fly one day, but there are also many who would find the experience terrifying.
You will enjoy creating your airplane crafts with only a few simple steps using this printable airplane craft template!
Whether you enjoy flying or are hesitant to do so, this aircraft will have you soaring over the sky in no time!
Children may improve their artistic and fine motor skills while making their own airplane crafts.
We also want children to have as many options as possible, therefore we created two airplane templates for them.
They can begin with a colored or plain airplane template.
You won't have to worry about how to finish your airplane crafts because all of our vehicle craft templates include step-by-step directions with real pictures!
This week, incorporate this printable airplane craft template into your plans and get ready to have a blast with all the aircraft fun!
Need more transportation craft fun? Check out our packed list of vehicle crafts for simple craft fun with your little ones.  
When you have finished, be sure to share your creation on Simple Mom Project's Facebook Page and follow me on Pinterest!

Kaitlen D.
More Printable Vehicle Craft Templates