This coming week, are you considering including transportation in your lesson plans?
You don't have to worry about coming up with fun activities to bond with your children since we've got you covered!
We have created a printable helicopter craft template that is simple to make; just cut and paste!
Children will love this printable helicopter craft template because it allows them to make arts and crafts, learn about the letter H, and much more.
You can already develop a complete learning plan for a week with these activities.
Kids will also learn how to recycle household items into amazing crafts.
Prepare for a fun-filled week with helicopters if you incorporate this printable helicopter craft template in your routines!
Completing this helicopter craft is as simple as 1, 2, 3 because kids will follow simple step-by-step directions.
As they cut and assemble the helicopter pieces together, children get to work on their hand-eye coordination.
This printable helicopter craft template is much more than just an arts and crafts activity.
Children can develop their creativity and their ability to follow instructions patiently.
This printable helicopter craft template will keep them occupied for hours!

*By the way, this post may contain affiliate links which means I may receive a small commission at no additional cost to you if an item is purchase through that link. For more information, click here.*
Printable Helicopter Craft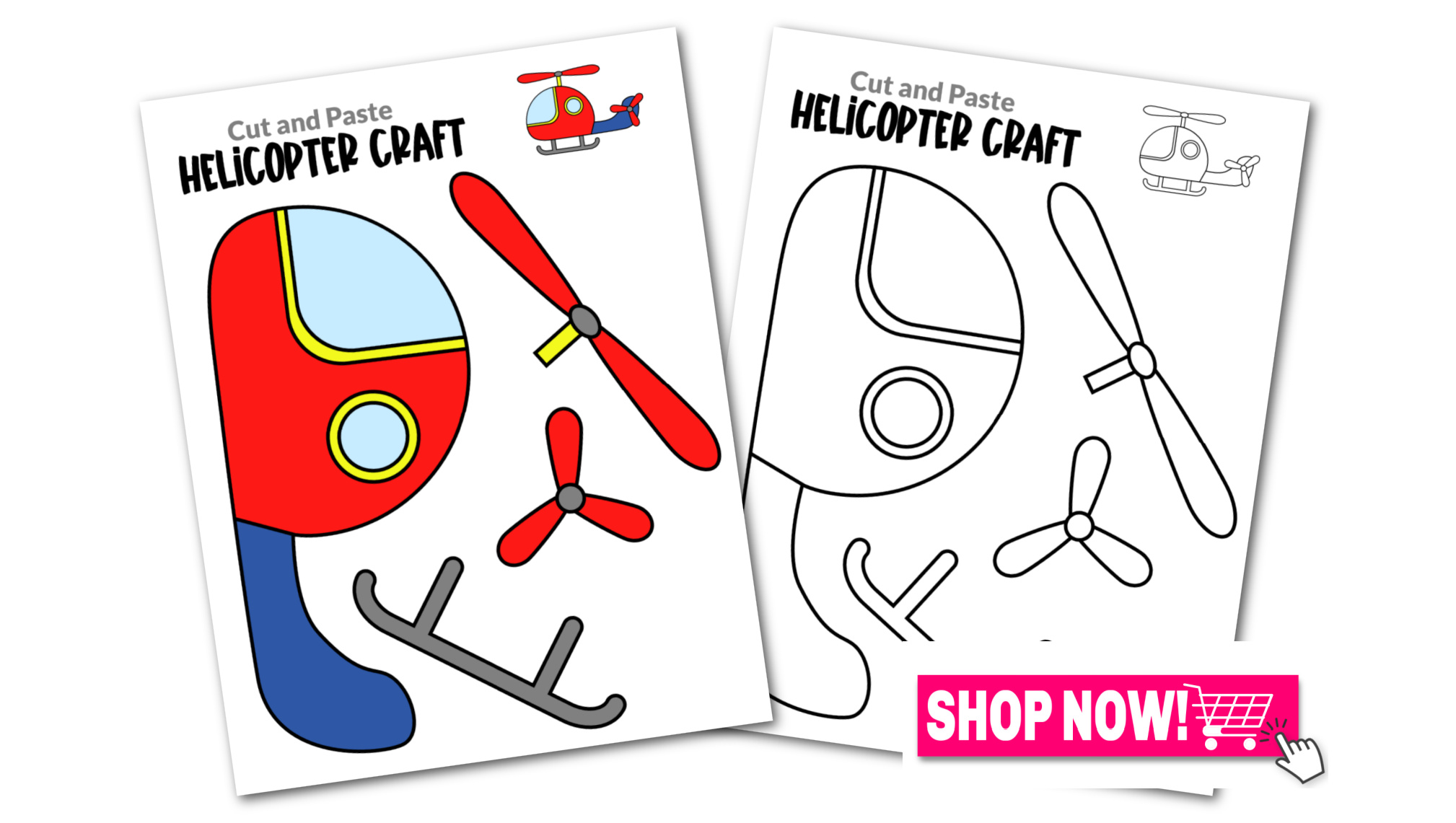 Helicopter Craft Supplies Needed
Need more crafty fun ideas? Check out our Letter H Craft, Airplane Craft and Train Craft.
 T
hey are perfect for those days when staying indoors is the only thing your family can do!
Ideas for Easy Preschool Paper Helicopter Craft
We always want kids to have fun while learning, therefore we came up with these ideas for them.
These are the best ideas we have for incorporating this helicopter craft template into their daily activities.
They can definitely make good use of their free time with these ideas!
1. Fun Helicopter Finds for Kids
Keeping toddlers, preschoolers, or kindergarteners interested in an activity can be challenging.
These children have the shortest attention span; therefore, we must prepare exciting activities for them.
My kids were immediately interested in transportation and helicopters after I showed them the printable helicopter craft template.
I'm glad I was able to find some fun helicopter-related products in advance.
I used these items to plan more activities for them once they finished the helicopter craft.
We read a book and played with some fantastic helicopter toys as we continued to learn about helicopters.
You may also use these helicopter items to introduce the printable helicopter craft template.
In any way, these items should be on your list because they make learning about helicopters more enjoyable than ever before!

2. Egg Carton Helicopter Craft
It's not necessary to spend a lot of money or search far for materials while making arts and crafts, especially if children will be the ones to create them.
Our arts and crafts materials must be simple, easy to find, and, of course, easy to make!
With the help of this printable helicopter craft template idea, we'll show kids how to reuse items they usually find around the house.
Let's start making an egg carton helicopter craft.
Bring out your empty egg cartons, paint, paper, scissors, and hot glue.
To begin, cut two egg carton shells and one conical shape for the helicopter tail.
Using hot glue, attach the two carton shells and the cone shape.
You can use any color you have on hand or a bright color to paint it.
Keep in mind to leave a small area unpainted for the helicopter window.
You may sketch and cut out two strips for the helicopter blades from paper, then place them on top of the egg carton craft.
You may add more helicopter parts, like drawing the doors.
The kids will love this egg carton helicopter craft, so be sure to make lots of them!
They'll have a great time doing this recycled egg carton craft with their buddies!
3. Helicopter Toilet Roll Craft
We always add new simple DIY crafts for kids, which is one of the best things about our printable helicopter craft template ideas.
So that kids may experience recycling different things, we make sure to include one or two homemade crafts in our list of ideas.
Recycling allows them to express their creativity by transforming an object into anything they want it to be.
Get to work and begin making a helicopter toilet roll craft by getting the following materials ready: a toilet paper roll, cardboard, paint, a paintbrush, popsicle stick, markers, scissors, and hot glue.
The body of the helicopter will be a toilet paper roll.
Other helicopter parts can be drawn and cut out on a piece of cardboard.
Create a rectangle for the tail by drawing it, cutting it out, and then trimming one inch off of one side.
To make the helicopter blades, cut the popsicle stick in half, or use a straw instead. 
To cover the toilet paper roll spaces, cut two cardboard circles.
Once all the pieces are ready, attach everything together using hot glue.
Finish it off by painting it with whatever color you want.
4. Letter H for Helicopter
With the help of this printable helicopter craft template, introduce and learn an alphabet letter!
Children may believe that learning letters is tiresome, but when combined with an engaging activity, learning letters becomes fun.
Move on to an alphabet lesson about the letter H when they have finished creating their helicopter crafts.
Transportation and the alphabet are great topics for your lessons this week!
You could also make more visual aids to teach about the letter H.
Prepare foam letter, cutout letter, or letter flashcards for the letter H.
The letter H's sound can be taught and introduced with the printable helicopter craft template.
Encourage children to repeat the word "helicopter" a few times while they are doing crafts by asking them what kind of vehicle they are making.
You can also say that H stands for helicopter or that Helicopter starts with H.
Repeating the word while emphasizing the first letter will familiarize them with its phonic sound.
Learning and creating vehicle arts and crafts will always be fun here with us!
We are happy that we were able to provide you with these ideas so that you can plan a fantastic week for your children.
They will certainly look forward to your lessons and activities built on these ideas.
Be sure to keep a look out for more vehicle crafts coming soon!

Helicopter Craft Instructions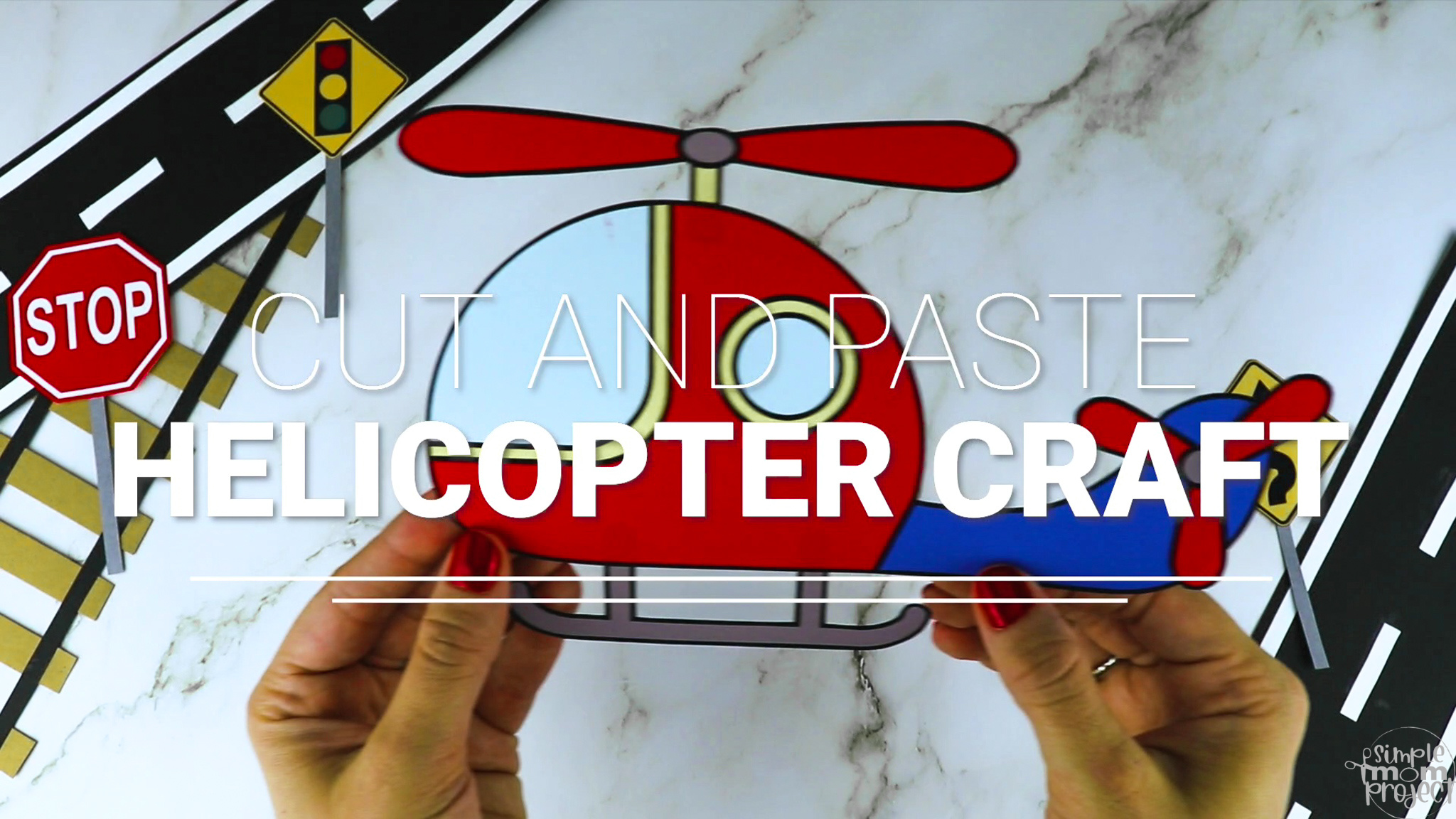 Bring out all of your materials and don't forget to check out these simple step-by-step instructions for finishing your crafts!
If your children decided to work with the colored template, you may start cutting the helicopter template.
Children can use their creativity to color their helicopter in any color they choose using the plain helicopter template.
Start by attaching the tail rotor to the tail fin's top end.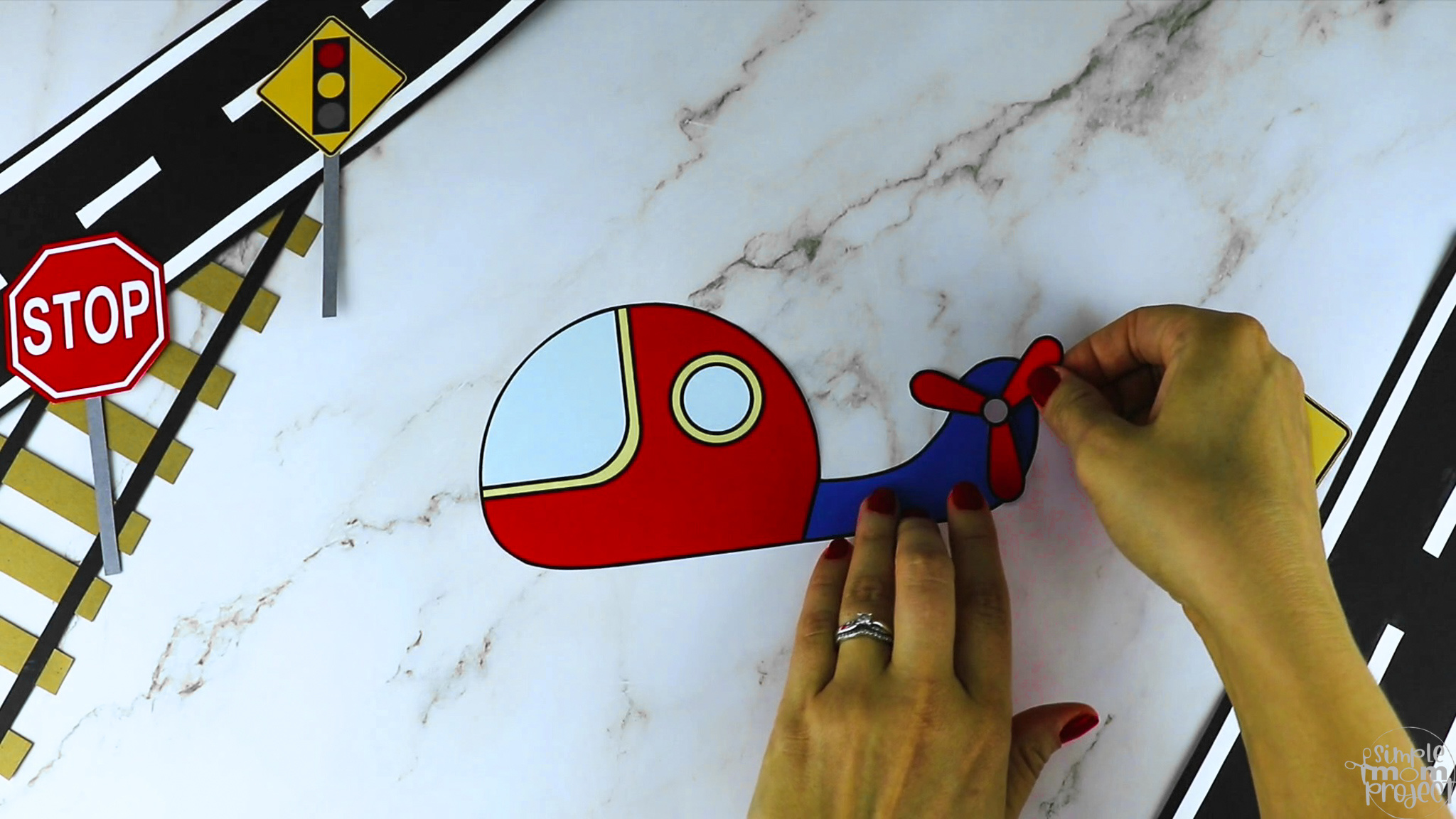 The landing skid should be placed below the helicopter cockpit.
Finally, attach the helicopter's main rotor blades to the helicopter's top.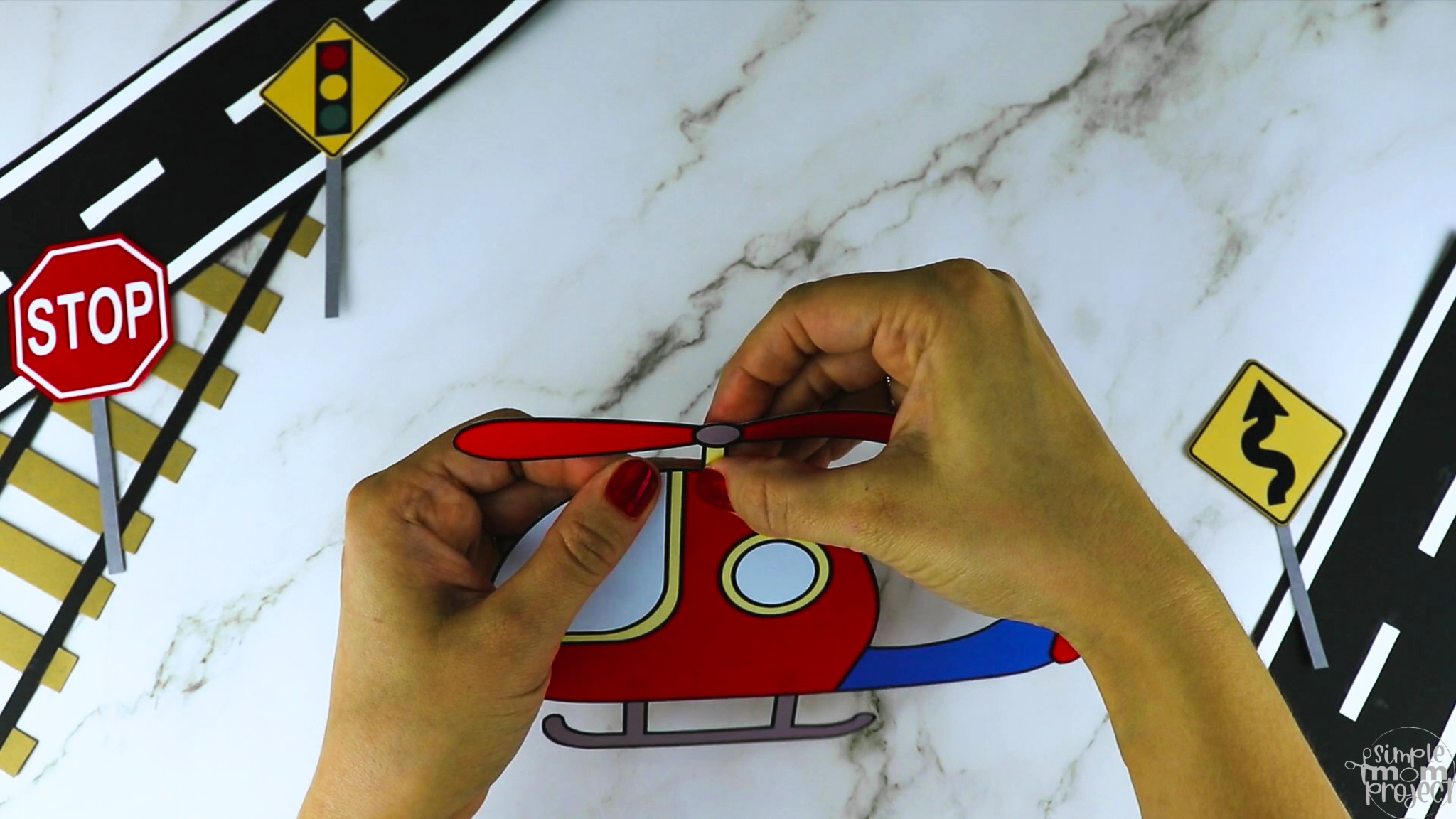 Your finished helicopter craft is now ready to go to the skies!
More Options to Choose:
You can print the blank version and trace the cut outs on card stock paper for a sturdier helicopter craft,
Print the helicopter template in color for a simple and easy rainy day craft or,
Print the blank helicopter template and use it as a fun coloring sheet activity and then glue the pieces of the helicopter craft together.
Printable Helicopter Craft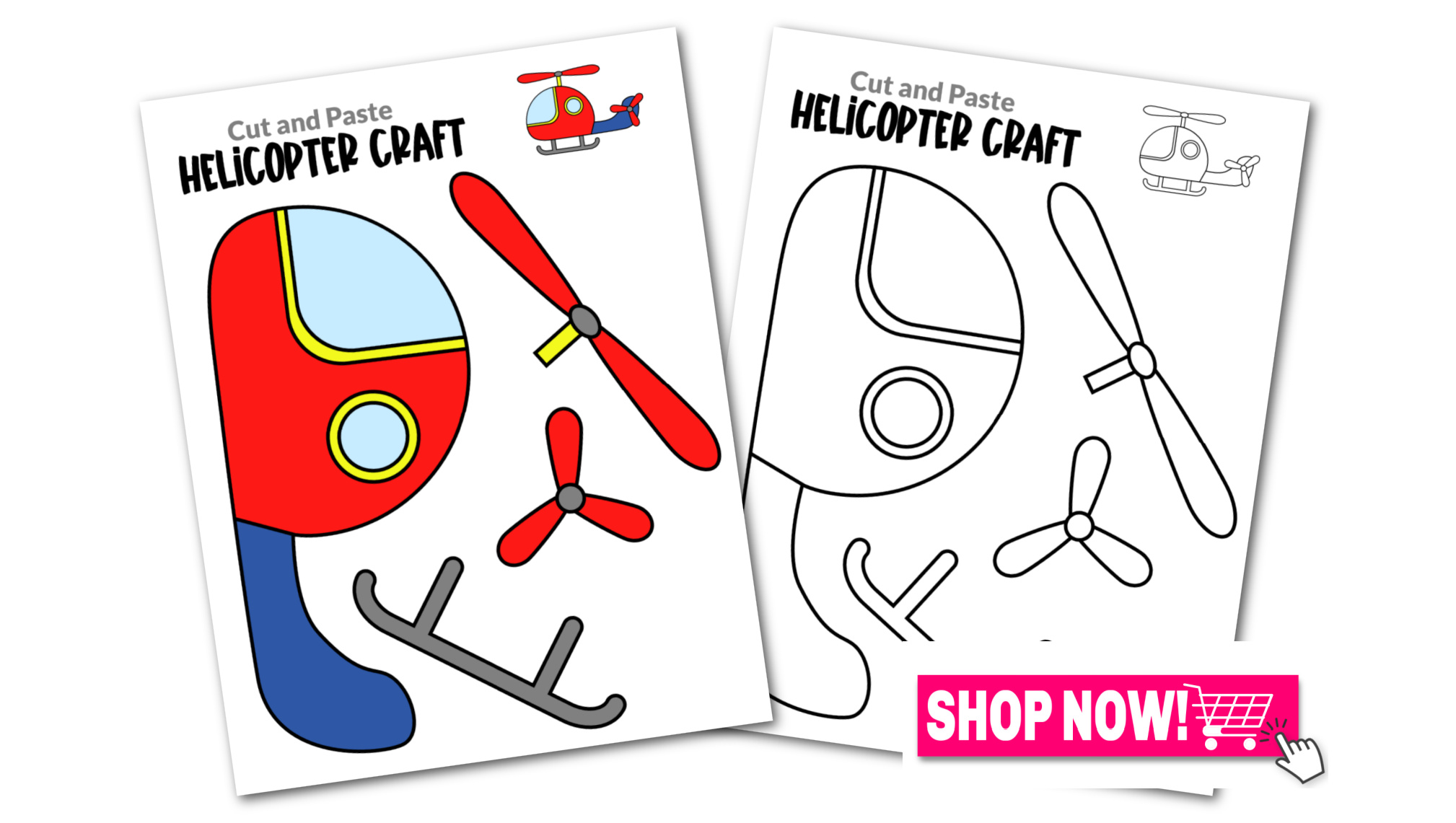 Transportation is usually an excellent topic for lessons or as a theme for your classroom décor.
This printable helicopter craft template is a great addition to your vehicle craft collection.
Making their own helicopter crafts will be a lot of fun for kids.
By cutting and arranging the helicopter parts, they can exercise their fine motor abilities.
This craft will definitely keep kids occupied because we will also be sharing two helicopter templates for them to choose from.
They may begin by coloring a plain black and white helicopter with all of their decorative supplies.
Or they could simply start cutting the colored helicopter template.
Because each template comes with step-by-step instructions, all of our vehicle crafts are simple to make.
Kids will want to make more, so be sure to print more copies of this helicopter template!
Need more transportation craft fun? Check out our packed list of vehicle crafts for simple craft fun with your little ones.  
When you have finished, be sure to share your creation on Simple Mom Project's Facebook Page and follow me on Pinterest!

Kaitlen D
More Printable Craft Templates