You can use these butterfly templates for hours of fun with your preschoolers. Butterfly crafts are such a popular theme for so many kids and with my black and white, free printable your kids can choose how to color and use their butterfly template.
There are many neat ideas to use this simple butterfly coloring page. This free printable could be used as part of your homeschool education about nature. Use the large butterfly template to have your kids color each butterfly in as a specific butterfly.
These large, black and white butterfly templates are perfect for preschoolers to color or used in any number of gorgeous butterfly crafts. Each butterfly outline will have a downloadable link below its image which can be easily printed off.
Pick out your favorite one or all of the butterfly templates and let your imagination fly!
Let's get crafting!

*By the way, this post may contain affiliate links which means I may receive a small commission at no additional cost to you if an item is purchase through that link. For more information, click here.*
FREE Printable Butterfly Templates
Fun Butterfly Activities:
1. Cycle of the Butterfly:
Using this as a monarch butterfly template you can educate your kids about caterpillars and how they grow into a beautiful butterfly. The book Time for Kids Informational Text: A Butterfly's Life for Grade 1 as a good read along book while your kids color their butterfly shape outline to match their favorite butterfly's colors.
Most kids are fascinated by the life cycle of a butterfly as it's an inspirational story of how something little, and sometimes ugly, can grow into a beautiful butterfly such as the ones your kids see in the flower garden.
2. Butterfly Party
:
Perhaps you're throwing a butterfly themed tea party soon and want to make your own tea party invitations.
You can use the butterfly outlines to create little tea party invitations to send by mail or hand out to family and friends for a fun and delightful butterfly tea party event.
3. Building Fine Motor Skills:
Lastly, we love using this butterfly template as a stencil to help our kids improve their fine motor skills. Your kids will simply cut the butterfly template out, being sure to follow the outline.
From there you can provide your kids with some construction paper to trace the butterfly outline onto.
4. Story Time:
When using this butterfly template with preschoolers, you may want to get The Very Hungry Caterpillar book to encourage colorful fun. This book, written by Eric Carle, is a fun board book for younger kids to enjoy as they sit to color their butterfly coloring pages. 
To print your favorite butterfly template, turn the printer on, click on the link below the image and then click print.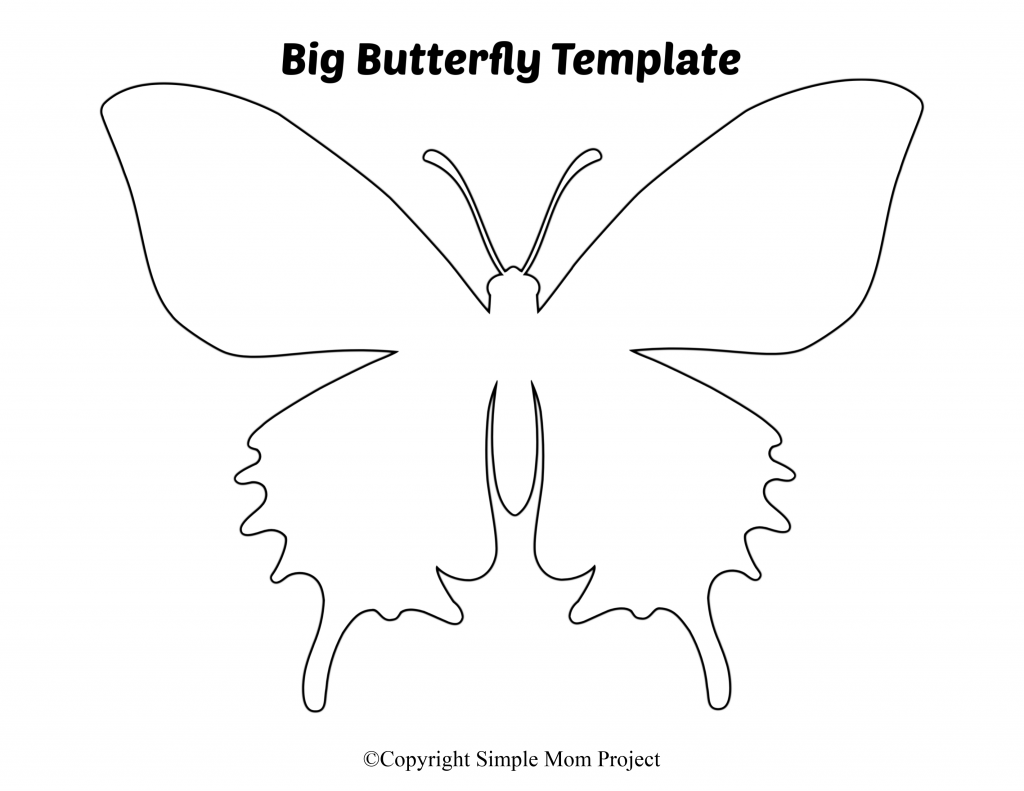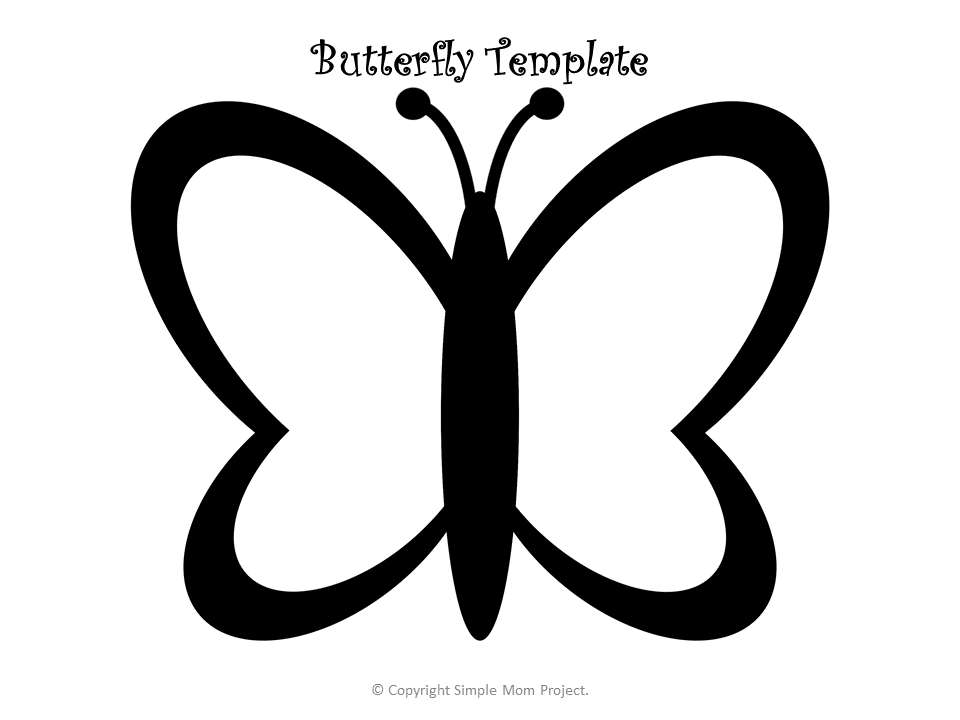 This butterfly stencil is great in many butterfly crafts, but we used it to make these stunning butterfly sun catchers. 
Follow along with the step-by-step tutorial to make your own butterfly sun catcher too!
It's always neat to see what type of creative ideas your kids come up with to use this butterfly template. Whatever you opt to do with this butterfly template, we're confident that your kids will enjoy hours of creative playtime using their butterfly outline for craft or coloring time together.
If you're ready to use this free printable, then you can go ahead and download our free to color black and white butterfly template below. You may print as many pages as you'd like for hours of butterfly crafting and coloring fun with kids.
When you have finished, be sure to share your creation on Simple Mom Project's Facebook Page and follow me on Pinterest!

Kaitlen D.