Children are captivated by these beautiful and brightly-colored butterflies flying through the flowers.
If you're looking for some exciting activities for kids this spring break, we are happy to share this free printable butterfly template.
Our large, black and white simple butterfly outline template provides a fun and creative way for preschoolers to practice their fine motor skills.
This blank butterfly template activity is wonderful to fill in with the most amazing colors!
This simple butterfly cut out template could work for a variety of ideas including learning the alphabet, butterfly themes or bugs and insect crafts.
Combine this simple butterfly stencil printable with recycled materials to form cool decorative things.
Enjoy this butterfly shape template, which is great for making a paper butterfly, simple butterfly crafts, and other easy crafts for kids of all ages.
Get the printer ready, your children are going to want to grab all of these easy butterflies outline printable.
Share our free printable butterfly outline template to each member of your family and friends.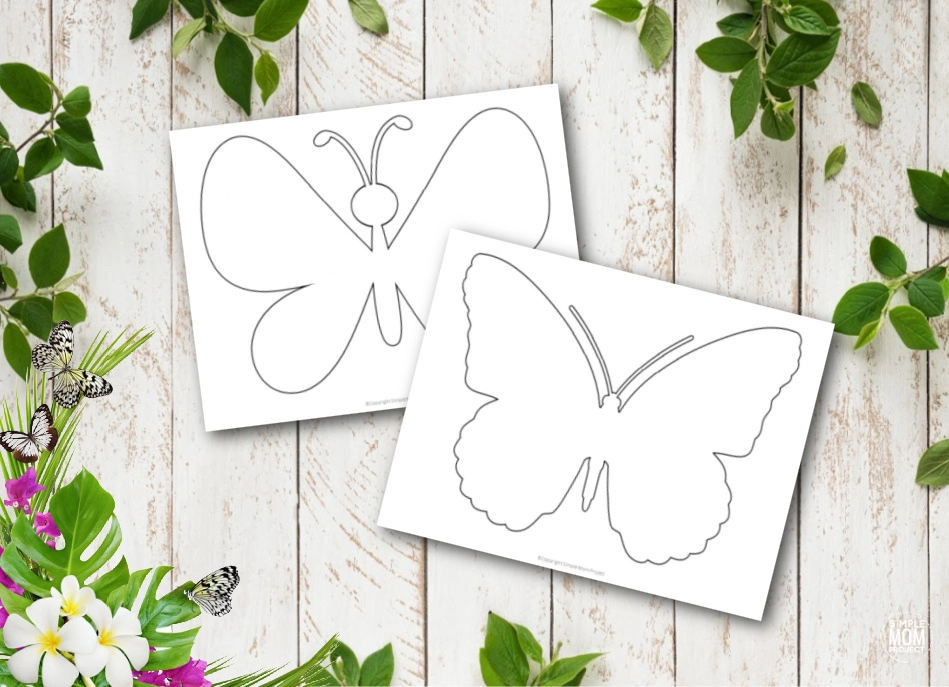 *By the way, this post may contain affiliate links which means I may receive a small commission at no additional cost to you if an item is purchase through that link. For more information, click here.*
FREE Printable Butterfly Templates
Fun Butterfly Activities:
Below are the few lists of awesome ideas on how to include this free printable butterfly template in your daily life with your children.
Continue reading if you're looking for a great activity or fun crafts on butterflies. 
Feel free to include all of these fun ideas for making the most of these butterfly templates into your plans for this week!
1. Amazing Facts About Butterflies
Young children love watching caterpillars transform into beautiful butterflies. There are almost 20,000 butterfly species around the world.
Did you know that butterflies use their feet to taste?
A female butterfly uses its sensors to find out whether its caterpillars will be able to eat the leaves they have landed on.
Did you know butterflies have four wings? Made up of two hindwings and two forewings.
If you plan to study butterflies and its life cycle this weekend, be sure to include this simple butterfly printable template.
Preschool or kindergarten will never feel bored learning with our butterfly template printable.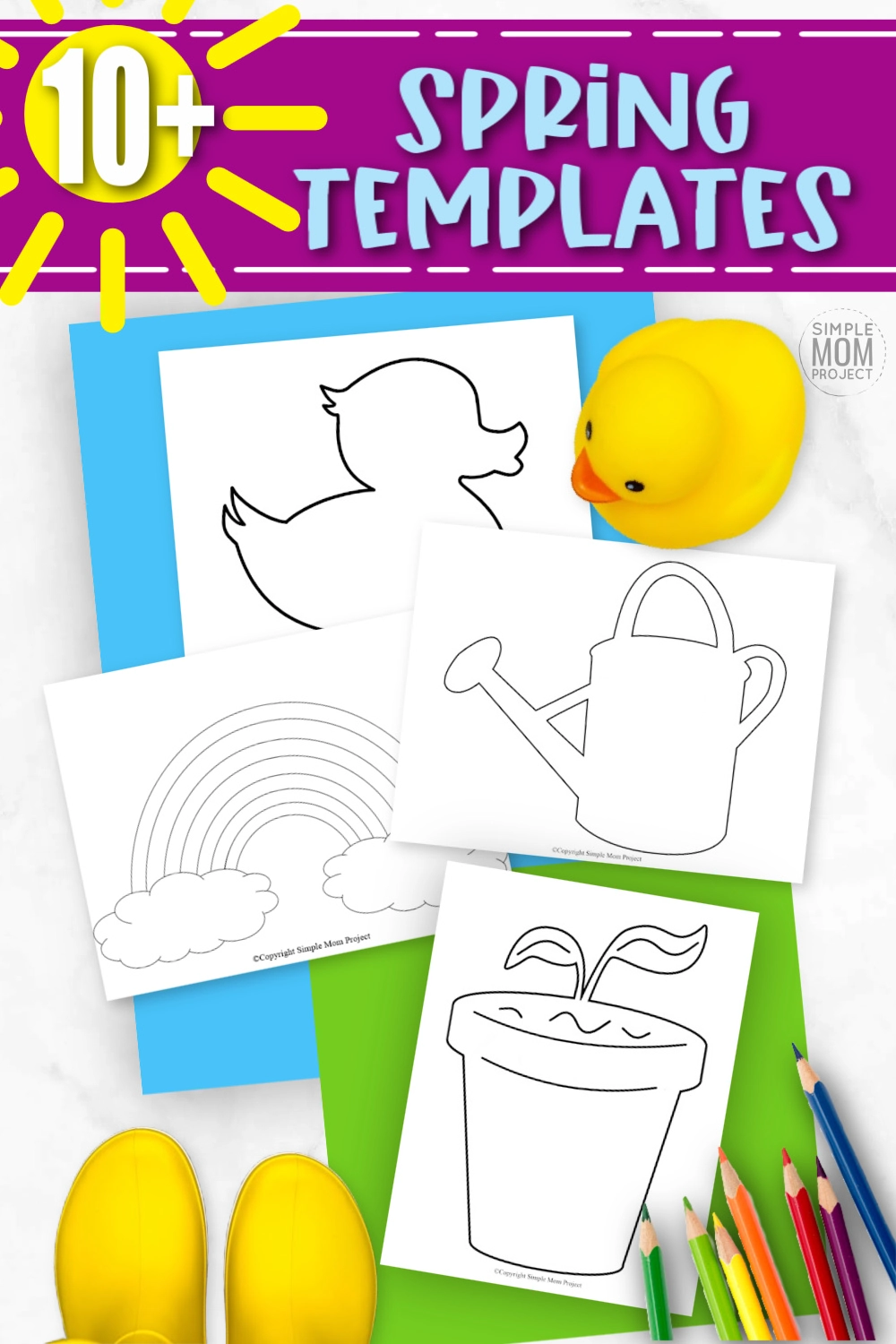 2. Lovely Butterfly Theme Party
Perhaps you're throwing a lovely butterfly themed tea party soon and want to make your own tea party invitations.
You may use all of these butterfly free printables to prep for your party by creating different beautiful butterfly crafts that are perfect for décor!
We decided to create many designs of simple printable butterfly outline templates for your little one.
Have your little one pick which butterfly template to print out.
Take out all the coloring materials you already have in hand, and let your child color this cute butterfly stencil printable however they want.
Decorate the butterfly's body with a marker and create butterfly wings templates using any bright colors you have on hand.
Using a sharpie, write down all party details and send it to your friends and family. You can also turn this free printable butterfly template into garland.
Once your preschooler is done coloring and decorating the simple butterfly outline, punch holes on top corners of each butterfly printable to insert strings on it.
These free printable butterfly coloring pages also make fantastic stickers in different colors.
Use the stickers as keepsakes for your tea party or for whatever you wish!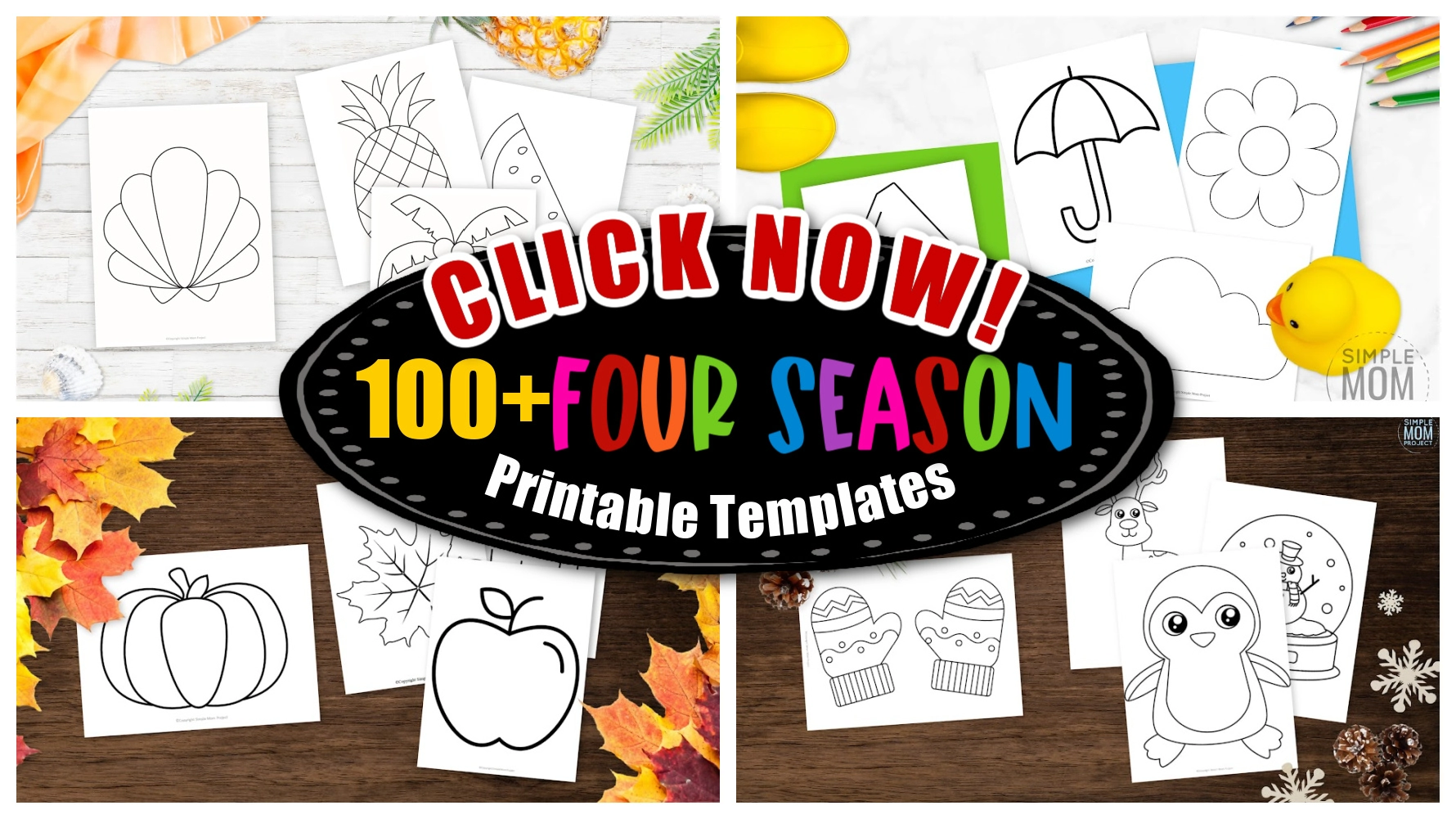 3. Building Fine Motor Skills
Making this free butterfly template helps children develop their fine motor skills.
If your child knows how to use scissors properly, encourage them to try and cut along the lines of the blank butterfly template.
Provide your kids with some construction paper to trace the butterfly outline printable.
This free butterfly template requires great attention to detail and precision to keep within the lines.
It is also a good idea to use this butterfly template as coloring pages to practice good grip and coloring techniques.
Allow your little one to get creative with color and patterns as they explore the life cycle of a butterfly.
Don't let your little ones have all the fun, we got varieties of butterflies to print for the whole family to share.
4. Story Time with Children
Children love learning about butterflies, especially in the spring. Spending time reading to your little learner shows that reading is important.
If your child is still fascinated with butterflies and this simple butterfly stencil printable, we highly recommend these books.
5. Easy Butterfly Craft
Making this simple butterfly outline template is one of the most productive and fun things your child can do during spring break.
We mostly focus on easy and inexpensive projects so your kindergartener can do it on their own.
Choose a butterfly template to print then carefully cut out the butterfly outline.
Have your preschooler color and decorate the butterfly printable template with glitter glue, beads or sequins.
Add some googly eyes to your butterfly crafts to take them to the next level.
If you want to use the butterfly coloring page for an activity, you can cut it out and attach it to cardstock to make it more durable.
Using a hot glue gun, attach a popsicle stick at the back of the butterfly cut out template.
Your little one can use this cute printable butterfly craft in a mini puppet show.
Another option is, glue this adorable butterfly stencil printable onto a clothespin.
Hang it up on a bulletin board or classroom display for spring season.
We hope you enjoyed these fantastic ideas using this realistic butterfly template free craft.
This free printable butterfly template will surely keep your toddler, preschool or kindergarten busy while you're doing other chores.
Free Printable Butterfly Outline Templates
Make the most beautiful butterfly wings templates with your kids today!
This butterfly stencil is great in many butterfly crafts, but we used it to make these stunning butterfly sun catchers. 
Follow along with the step-by-step tutorial to make your own butterfly sun catcher too!
If you're ready to use this free printable, then you can go ahead and download our free to color black and white printable butterfly template below.
You may print as many pages as you'd like for hours of butterfly crafting and coloring fun with kids.
Are you and your child having a great time making this easy butterfly printable template? Be sure to comment down all your incredible butterfly printable experiences with your little one.
When you have finished, be sure to share your creation on Simple Mom Project's Facebook Page and follow me on Pinterest!

Kaitlen D.
More Fun Butterfly Crafts for Kids