Have you ever thought about why flamingos are pink?
Did you know that their pink color comes from the food they eat?
Flamingos eat algae and brine shrimp, which give their feathers their pink color.
But, of course, these flamingos are more than just their brilliant pink feathers!
Use our printable flamingo template to get to know these adorable birds.
With our printable flamingo template, you can learn about flamingos, make flamingo crafts, and organize a tropical-themed or flamingo-themed party.
Your children will definitely like working on these flamingo template ideas for the entire week.


*By the way, this post may contain affiliate links which means I may receive a small commission at no additional cost to you if an item is purchase through that link. For more information, click here.*
Printable Flamingo Template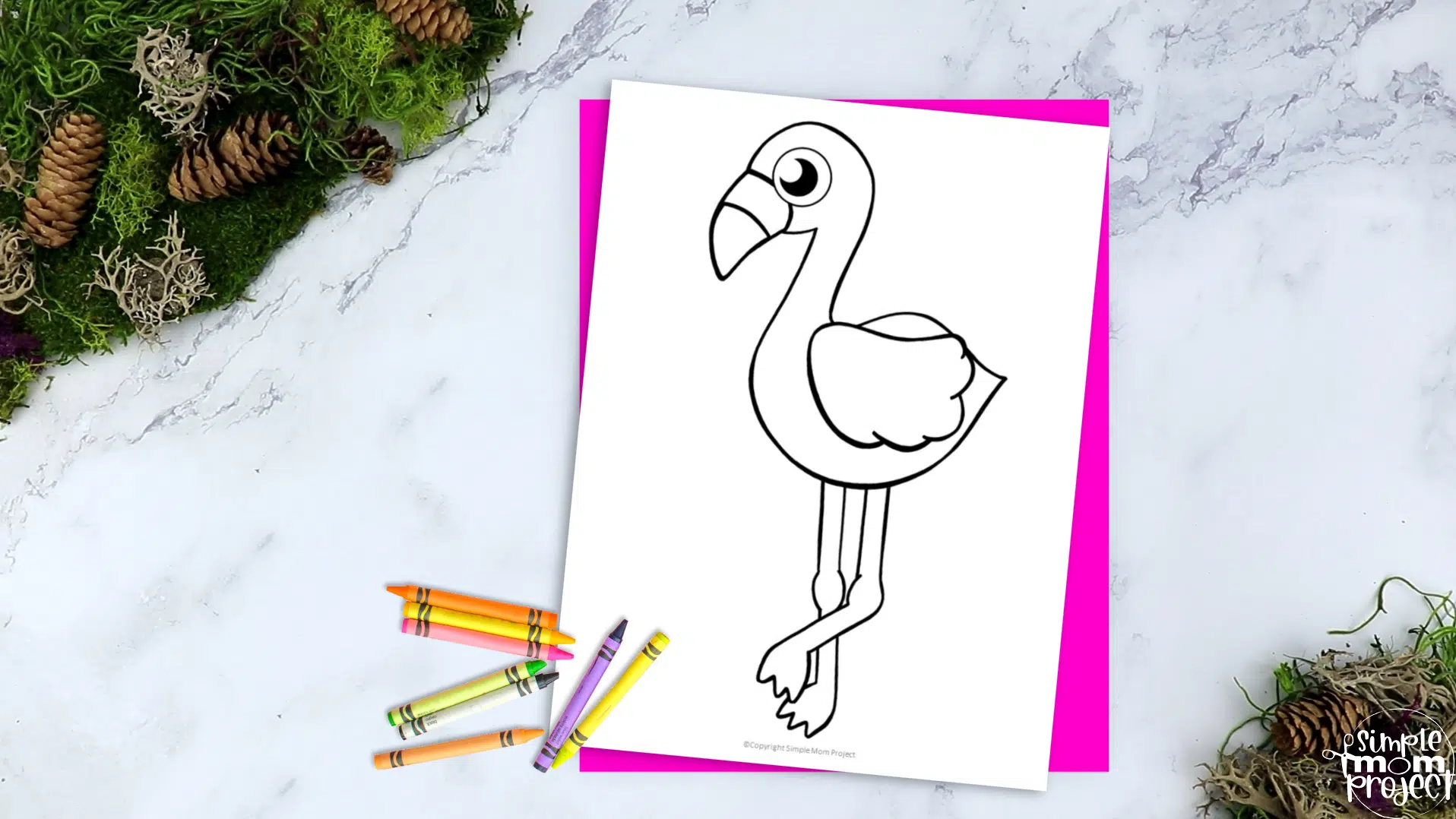 Printable Flamingo Template Materials Needed:
Printable Flamingo Template (FOUND AT THE BOTTOM)
Make your child's finished flamingo template a forever memory by laminating it! We use this laminator and cannot express how much we love it! It is not only inexpensive, it is SO easy to use!
Your kids will love seeing how much you adore their art work when you laminate and display it for years to come!
Ideas for Printable Flamingo Template
We've added this printable flamingo template to our bird template collection for all the kids that love pink and flamingos!
Take note of these ideas for incorporating them into your home learning plans and routines.
1. Fascinating Books about Flamingos
Reading is a great way to improve a child's literacy.
These entertaining books and informative stories will teach your children about how flamingos live, eat, and interact with other animals.
After reading these books, your children will certainly want to work on the printable flamingo template.
2. Flamingo Handprint Craft
Flamingos are the best bird models for crafts.
You may make a flamingo craft with a variety of arts and crafts supplies, even your own hands!
This flamingo printable template idea is a fun outdoor activity for the whole family.
Invite other family members over to make flamingo handprints of various sizes!
We'll need paper, pink paint, a paintbrush, and markers.
Begin by using a paintbrush to paint your child's hand pink.
If they want to, you can also let them dip their hand in the paint.
Guide them in stamping their hand on the paper gently.
After the handprint has dried, they can draw the flamingo's face and legs using markers.
The printable flamingo template can be used as a drawing guide.


3. Flamingo Invitation or Greeting Card
This flamingo printable template can be used to create an invitation or greeting card for someone special.
Gather your crafting items and get started on your pink flamingo cards!
Download and print the flamingo template.
Begin by coloring, painting, or pasting colorful beads and sequins onto the flamingo drawing.
Cut out the flamingo stencil and glue it on a piece of colorful construction paper.
Allow it to dry before writing a short message or the details of your party on the paper for the invitation.
Print as many flamingo templates as you'd like to make more flamingo invitations or greeting cards to give to friends and family.
4. DIY Flamingo Party
Are you hosting a flamingo or tropical-themed party this weekend?
This printable flamingo template will help you with all of your planning and decorations!
This printable flamingo template can be turned into cupcake toppers, party banners, balloon decorations, party favors, souvenirs, and more.
You may also use these flamingo templates as an art activity for the kids to do at the party.
With these printable flamingo template ideas, you can enjoy planning your lessons and upcoming parties.
These adorable pink flamingos will delight your children more than ever!


Printable Flamingo Template:
We're sure that your children are excited to get their hands on this flamingo printable template.
Bring out all of your bright pink crayons, markers, paint, and other decorative materials.
Let's get started with these lovely flamingos!
This simple black and white flamingo stencil will help with the development of your child's creativity.
They will be encouraged to use their imaginations to bring a flamingo to life.
Don't hesitate to tell us more about your experiences while planning your flamingo learning plans and parties!
Leave us a message in the comment section.
When you have finished, be sure to share your creation on Simple Mom Project's Facebook Page and follow me on Pinterest!

Kaitlen D.
More Fun Printable Craft Templates