All aboard for this week's lesson on transportation!
All of the kids who love Thomas and Friends and trains are in for a treat, too!
This printable train template is perfect for working on during transportation theme lessons as well as during your children's leisure time.
It is in black and white so that it could be readily incorporated into any activities.
Incorporate trains into science by understanding their parts and vocabulary by learning the letter T, in addition to arts and crafts.
You are free to modify your own printable train template using any materials you have on hand.
Grab your copy right away because printing is simple and completely free!
Have fun working on it with all of your train toys!
*By the way, this post may contain affiliate links which means I may receive a small commission at no additional cost to you if an item is purchase through that link. For more information, click here.*
Printable Train Template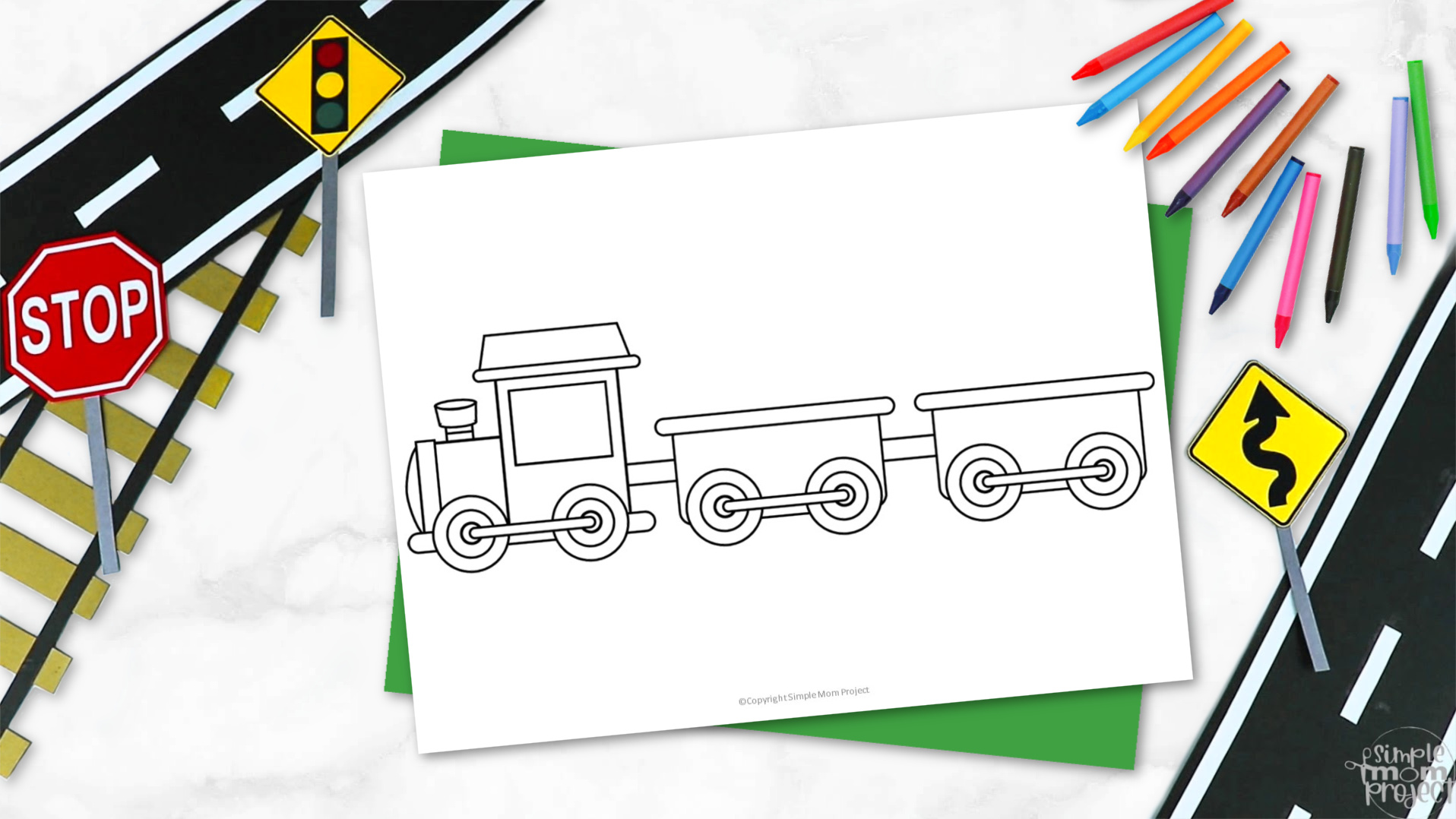 Train Template Supplies Needed:
Printable Train Template (FOUND AT THE BOTTOM)
Ideas for Train Template
Looking for ways to incorporate the printable train template into your daily activities?
Don't worry, we've got you covered.
Check out these fantastic ideas we've compiled for maximizing it.
Whether you are at home or in school, we made sure that each of these is fun, simple, and easy to apply.
Simple household items and the printable train template are all that are needed for these activities!
1. Choo, Choo Train Collection
The printable train template can be introduced with a great collection of amazing materials compliment it perfectly.
If you're looking for resources to add in your lesson plans, this collection is for you!
We made sure to collect materials that might be used in activities with it.
The children will be inspired to learn more about trains by each and every piece in this train collection!
They would enjoy playing with train toys and reading the books we included in the collection.
These resources can be given either before or after kids complete the printable train template.
Enjoy incorporating these items into your week's plans.
Check out each of them by clicking on the links below!
2. Shape Train Craft
Did you know that you could teach shapes using this printable train craft?
Kids will be inspired to do more train crafts, so let's learn shapes by creating a shape train craft!
This is the best time to introduce them since we'll be using different shape cutouts to construct a train.
You can include this in your toddler, preschool, and kindergarten math activities.
Take a couple of the papers you have on hand; they can be scraps of paper or construction paper.
Triangles, circles, squares, and rectangles are just a few of the shapes that can be cut.
Ask the kids to name each cut-out shape before having them create their craft for the shape train when they have done so.
Allow them to explore with the shapes at hand to create a train craft.
You may show them a copy of the printable train template as a reference.
3. Alphabet Train Bulletin Board
We enjoy decorating our classrooms in keeping with the weekly themes.
Use the printable train template to make an alphabet train-themed bulletin board if your class is doing a week on transportation!
You can print as many copies of the printable train template as you need to use for your alphabet letters.
The printable train template can be used for more than just a bulletin board display; it can also be used as word walls, classroom door décor, and other things.
Additionally, you could use it to create an attendance board!
You can add images of your preschoolers and kindergarteners after using the train template for it.
Print one copy for each of your kids!
4. Parts of the Train
These incredible vehicles serve as much more than just transportation.
Have your kids ever wondered how these vehicles function?
Have your kids ever traveled by train?
What was their experience like?
Utilize the printable train template to learn about the parts of the train this week as you study transportation.
While kids learn about its components, use the train template as a flashcard or a visual aid on the board.
You might also include information on how each component's role affects how the train runs.
Before the activity, engage the kids in conversation by asking them if they've ever taken a train and how it went.
This printable train template idea could be used in your science lectures this week.
Enjoy discovering more about trains and how they operate!
How did these concepts fit into the lessons you had planned for this week?
It was a lot of fun coming up with them and sharing them with you and your kids.
You are welcome to include any or all of these in your everyday routine at home and at school.
Check out the rest of our collection of free vehicle templates soon if your kids couldn't get enough of these vehicles!
Printable Train Template:
Let's board this printable train template!
Get your copy now and enjoy using it to its fullest in your activities!
Simple exercises like coloring, crafts, drawing, and even cutting can be done with it.
With the help of this black and white train template, you may learn about the parts of trains, how they operate, shapes, and more.
You can use this to make displays for your preschool and kindergarten classroom's bulletin board, walls, and doors.
The kids will love working on this printable train template after watching their favorite cartoon, Thomas & Friends.
Gather some supplies, such as glue, scissors, construction paper, and crayons, to create your own special train templates.
This is free and will definitely encourage your children to put forth effort and be imaginative in their activities.
Don't forget to leave a message in the comment section.
When you have finished, be sure to share your creation on Simple Mom Project's Facebook Page and follow me on Pinterest!

Kaitlen D.
More Free Printable Vehicle Templates