Does your family enjoy beach days in the summer?
Take a few moments to stop and feel the rays of the sun on your skin, the sand on your feet, hear the rushing of the waves and watch these little sand crabs occasionally walk onto the shore.
Aside from collecting sea shells to take home, my kids are fascinated in digging sand crabs.
That's why we decided to add this free printable crab template in our beach template activities!
It's a fun summer activity that will help to develop your child's motor skills, eye-hand coordination, creativity and imagination.
Get the printer ready!
Download and print as many simple printable crab templates as you want to share with your family and friends.
*By the way, this post may contain affiliate links which means I may receive a small commission at no additional cost to you if an item is purchase through that link. For more information, click here.*
Free Printable Crab Template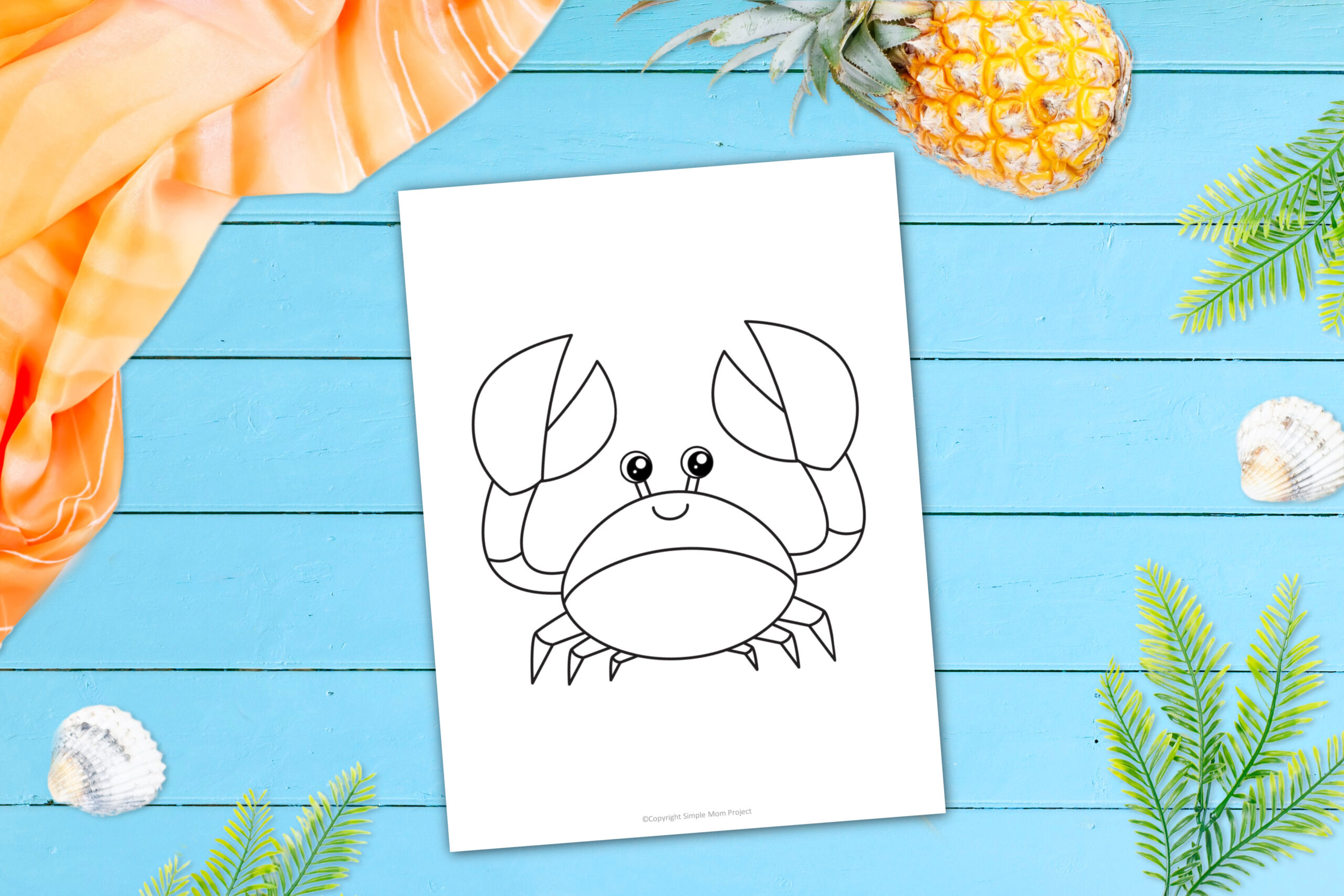 Crab Template Materials Needed:
Printable Crab Template (FOUND AT THE BOTTOM)
Make your child's finished crab template a forever memory by laminating it! We use this laminator and cannot express how much we love it! It is not only inexpensive, it is SO easy to use!
Your kids will love seeing how much you adore their art work when you laminate and display it for years to come!
Are you looking for more beach templates? Check out this Summer Sailboat, Seashell and Star Template for your kids.
Ideas for Crab Template
We'd like to share some fantastic ideas on how to incorporate this free printable crab template in your child's everyday life.
1. Learn Amazing Crab Facts
If your children love watching SpongeBob SquarePants, they are definitely fascinated with these little crabs digging a hole in the sand on the beach.
Did you know that crabs are decapods from the crustacean family?
It means they have ten legs.
The front pair are gripping claws and the remaining eight are used for walking.
Hermit crabs are fascinating creatures.
Did you know that hermit crabs are omnivores and scavengers?
They eat dead animals that they find and small organisms like plankton, fish, worms and other invertebrates.
Once your preschooler or kindergartener is done decorating their own free printable crab template, use it as part of their lesson plans.
2. Letter C is for Crab
Making this cute printable crab template is the perfect summer activity if you are teaching your little one to learn their basic ABC's, especially the letter C.
Print a traceable upper and lowercase letter C for your preschooler to help them build their penmanship skills.
Print the letter C and "crab" word on a large sheet of paper in an easily readable color.
Then, teach them how to correctly pronounce the C sound repetitively.
Make sure to do it in a fun way so your little one can easily remember it.
3. Easy Paper Plate Crab Craft
Creating a paper plate crab craft is as easy as color, decorate, cut and paste!
Once you have all the craft supplies, let's start crafting!
Let your preschooler paint the paper plate red.
Using our own simple printable crab template, trace the crab's claws on a red cardstock paper and cut it out.
Glue each piece to the paper plate including the googly eyes.
You can also turn this DIY paper plate crab craft into a fancy face mask by cutting out the holes instead of adding the googly eyes.
Attach a large popsicle stick at the bottom of the crab's face so your child can hold it up.
4. Wonderful Stories About Crabs
Sharing a book with a child is fun!
Reading a good book to your little learner is great for bonding, it also helps improve their language and listening skills.
If you're looking for amazing books for your kids to read during the summer break, we highly recommend the following:
There are a lot of awesome crab craft ideas, we hope you and your little one will gain knowledge in making this free printable crab template.
Printable Crab Template:
This free printable cartoon looking crab template is a basic white and black line drawing with no color so your kids can easily use it for coloring, easy crafts, stencils and more.
Your preschooler will have a chance to work on their fine motor skills, scissor skills when they cut out the crab shape template and focus on coloring within the lines.
We would love to see the results on how this simple printable crab template benefits you and your children so please feel free to share your experiences and photos of your masterpieces in the comment section.
When you have finished, be sure to share your creation on Simple Mom Project's Facebook Page and follow me on Pinterest!

Kaitlen D.
More Fun Beach Templates