Did you know that triceratops means "three-horned face" in Greek?
However, these dinosaurs only possessed two horns.
The shorter horn on the end of its nose was formed of keratin, a substance similar to that found in our fingernails.
Their enormous unusual skull and horns, as well as their bird-like beak on their mouth, are what make them so interesting.
We couldn't leave these incredible dinosaurs out, so we made a printable triceratops template that is perfect for your little dinosaur fans.
This printable triceratops template has it all, whether you want to learn more about these dinosaurs, make triceratops crafts, or enjoy a productive week with your kids.
You will be blown away by the ideas we have prepared for you to incorporate into your home learning plans and routines.
Gather everyone you know who loves triceratops or anything dinosaur-related to work on this printable triceratops template this week during a wonderful family bonding activity!


*By the way, this post may contain affiliate links which means I may receive a small commission at no additional cost to you if an item is purchase through that link. For more information, click here.*
Printable Triceratops Template
Printable Triceratops Template Materials Needed:
Printable Triceratops Template (FOUND AT THE BOTTOM)
Make your child's finished triceratops template a forever memory by laminating it! We use this laminator and cannot express how much we love it! It is not only inexpensive, it is SO easy to use!
Your kids will love seeing how much you adore their art work when you laminate and display it for years to come!
Ideas for Printable Triceratops Template
We'd like to share a list of fun and easy printable triceratops template ideas that you can use in your daily activities.
Your children will certainly enjoy these ideas, which will also assist with their development of fine motor skills, literacy, vocabulary, and socialization.
1. Triceratops Collection for Kids
You can start your lesson or activity with this printable triceratops template.
This triceratops collection includes educational stories and facts about the dinosaurs.
We've also added triceratops toy figures for your kids to play with and engage in imaginative play with their pals, as well as stuffed plush toys to snuggle with during reading time.
Your kids can enjoy these collectibles before working on the printable triceratops template.
2. Cupcake Liner Triceratops
These cute triceratops dinosaurs can be used in a variety of crafts.
You can make these and use them to personalize your child's room, art walls, or even the covers of coloring or drawing books.
This printable triceratops template idea is simple and fun to do with your kids.
This cupcake liner triceratops craft can be used in your arts and crafts activities.
To begin, all you'll need are cupcake liners, googly eyes, pipe cleaners, construction paper, scissors, and glue.
Start by folding the cupcake liner in half.
Draw and cut a circle form out of construction paper for the triceratops head, then glue it on the cupcake liner.
After that, add the googly eyes. For the horns, cut pipe cleaners about an inch long and glue them in place.
Make as many colored cupcake liner triceratops as you can and let your kids use them to decorate their rooms, art walls, and more.


3. Letter T Recognition
This printable triceratops template can be used in a variety of learning techniques such as introducing the alphabet.
If your children enjoy dinosaurs and T is your letter of the day or week, you can incorporate this idea into your plans.
Allow your children to finish the printable triceratops template before continuing to teach the letter T.
"T is for Triceratops" or "Triceratops begin with the letter T" are good places to start.
Encourage them to say the word aloud, emphasizing the T sound.
In this approach, kids will become familiarized with the phonic sound of T. Aside from the printable triceratops template, you can also teach the letter T with visual aids such as a flashcard, foam letter, or cut out.
4. Triceratops Popsicle Stick Puppet
This printable triceratops template can be used not only for coloring or painting activities.
You can also use it for making puppets that children can use in puppet shows or imaginative play.
This idea is perfect if you're planning a dinosaur puppet show for your kids or looking for props to showcase during circle time.
All you'll need is a printable triceratops template, some cardboard, popsicle sticks, scissors, and glue.
You can color or paint the triceratops drawing or leave it uncolored if your children prefer.
Cut out the triceratops and glue them on a piece of cardboard to make them more durable.
Once it has dried, cut the triceratops out again and attach the popsicle stick to the back.
Did you have a good time incorporating these ideas into your learning plans and routines?
We hope you enjoyed them as much as we did sharing them.
These printable triceratops template ideas are sure to be a fun way to spend time with your family and friends this weekend!


Printable Triceratops Template: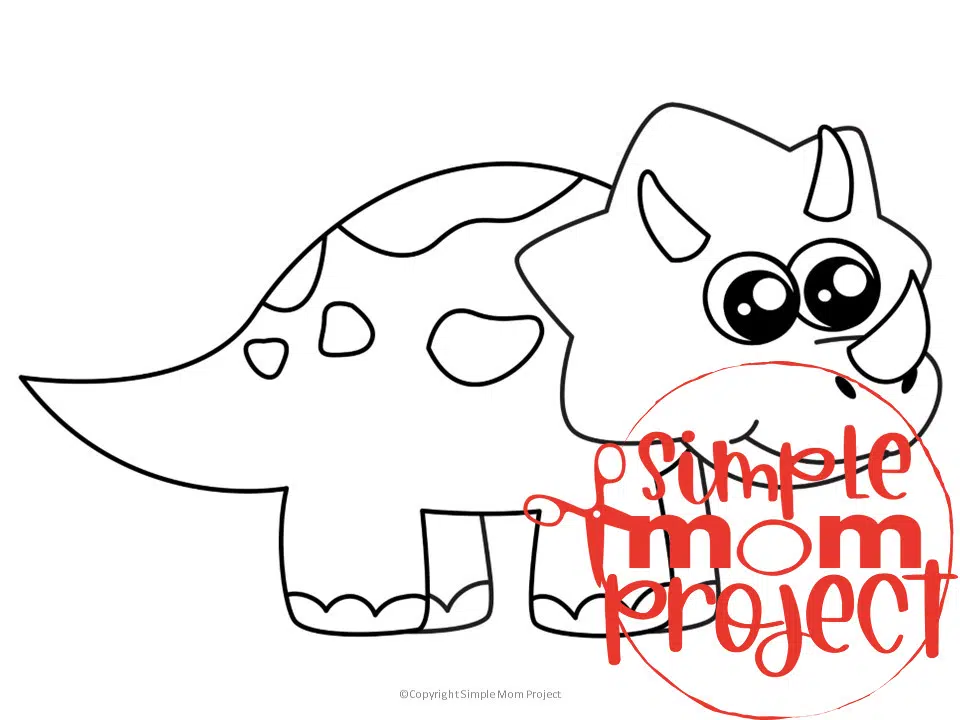 It is never too early to expose our children to arts and crafts.
Working with various art materials including crayons, markers, and paintbrushes helps them develop their fine motor skills.
This cute triceratops drawing will also allow kids to express their imagination.
Allow them to mix and match different colors to make real-life triceratops similar to those in the Jurassic World movie.
Have your kids hang their finished masterpieces on the wall together with other dinosaur collectibles that they have.
We want to hear your exciting thoughts and experiences with these ideas!
Don't hesitate to interact with us in the comment section.
When you have finished, be sure to share your creation on Simple Mom Project's Facebook Page and follow me on Pinterest!

Kaitlen D.
More Fun Dinosaur Crafts And Templates