Is your child having a dinosaur obsession?
Today is their lucky day because we are going to share this free printable brachiosaurus craft template that will keep them entertained for hours.
Making this easy cut-and-paste brachiosaurus craft template is a fun way for kids of all ages and at the same time it helps develop their fine motor skills, concentration and creativity.
With its long neck and massive size, this simple printable brachiosaurus craft template will surely be loved by your kids.
Download, print out and share it with your family members and friends.


Need more crafty fun? Check out our Tyrannosaurus Rex and Triceratops craft.
 T
hey are perfect for those days when staying indoors is the only thing your family can do!
*By the way, this post may contain affiliate links which means I may receive a small commission at no additional cost to you if an item is purchase through that link. For more information, click here.*
Free Printable Cut and Paste Brachiosaurus Craft
Ideas for Easy Preschool Paper Brachiosaurus Craft
We're glad to share with you these brilliant ideas on how to incorporate this free printable brachiosaurus craft template in your daily life with the kids.
1. Amazing Brachiosaurus Facts for Kids
Dinosaurs were around millions of years ago.
Among the well-known dinosaurs were the Tyrannosaurus Rex (often called T-Rex), Velociraptors, Triceratops, Stegosaurus, Pterosaurs and Brachiosaurus.
Most children are familiar with these dinosaurs through cartoons or movies like Jurassic Park and Jurassic World.
Brachiosaurus was a large, plant-eating dinosaur with a very long neck and a long tail.
Did you know that brachiosaurus means arm lizard?
The name refers to the interesting nature of their legs which were longer at the front than the back.
Did you know that Brachiosaurus was a quadrupedal animal?
It means that it walked using all of its legs.
Can you guess how many kilograms of food they need to consume each day?
Paleontologists think the Brachiosaurus ate between 200 and 400 kilograms of plants every day!
2. Favorite Bedtime Dinosaur Stories
Studies show children who are fascinated by dinosaurs usually have better learning abilities.
Reading to our little one will help them grow their curiosity and memory.
If you are looking for more dinosaur stories to read with your children.
We highly recommend these amazing books.


3. Easy Paper Plate Brachiosaurus Craft
There's nothing better than spending the weekend with the kids making simple crafts using recycled materials we already have in our house.
We thought it would be fun to create a simple paper plate brachiosaurus craft!
First, cut the paper plate in half and have your child paint it however they want.
Trace this free printable brachiosaurus template onto a sheet of colored paper or similar color of your paper plate then cut it out.
Glue every piece of the brachiosaurus drawings into the paper plate and finish it off by gluing wiggle eyes.
Let your little one add designs as much as they want to make their brachiosaurus craft stand out.
4. Cool Brachiosaurus Handprint Art
Can't get enough of these dinosaurs?
Let's turn this easy printable brachiosaurus template into a cool handprint art!
Trace your little one's hand on the construction paper and cut it out.
Draw the brachiosaurus' head and neck on another sheet of paper, cut out and glue it on the handprint.
Have your preschooler paint and decorate it by adding small circles on its body.
Don't forget to draw the eyes and mouth of the dinosaur.
All these wonderful brachiosaurus craft ideas are very easy and would work well for toddlers, preschool, kindergarten and early elementary kids.


Brachiosaurus Craft Supplies Needed
Printable Brachiosaurus Template (FOUND AT THE BOTTOM)
Keep scrolling to get your very own brachiosaurus craft today and start with your little ones and their brachiosaurus craft buddies today!
Brachiosaurus Craft Instructions
Have your child pick which of these two brachiosaurus dinosaur craft templates they want to make first.
My little one usually picks the black and white drawing so they have the opportunity to fill it up with beautiful colors.
Using a pair of scissors, start cutting out each piece of this simple printable brachiosaurus craft template.
Glue its cute little legs and its lovely eyes.
It's so easy to make, even your toddler can attach the pieces together.
There's a short step-by-step video tutorial to guide your little one while making it.
More Options to Choose:
You can print the blank version and trace the cut outs on card stock paper for a sturdier brachiosaurus craft,
Print the brachiosaurus template in color for a simple and easy rainy day craft or,
Print the blank brachiosaurus template and use it as a fun coloring sheet activity and then glue the pieces of the brachiosaurus craft together.
Free Printable Brachiosaurus Craft Template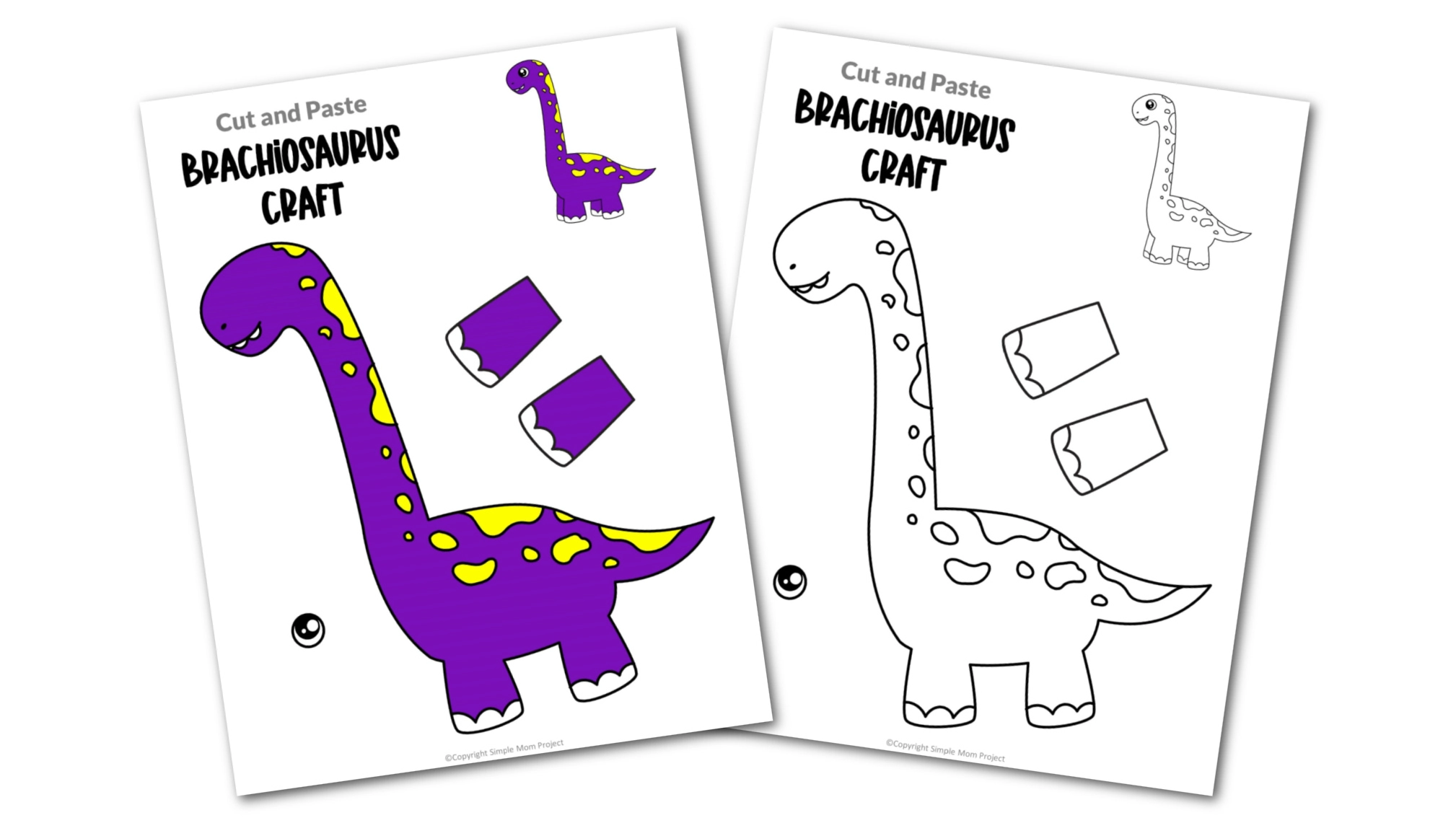 Having a hard time which of this free printable brachiosaurus craft template is best for your little one?
Why not download and print the two versions?
We have the plain black and white brachiosaurus drawing template and the colored version.
Don't forget to share your learning plans in the comments.
Need more dinosaur craft fun? Check out our packed list of dinosaurs for simple craft fun with your little ones.  
When you have finished, be sure to share your creation on Simple Mom Project's Facebook Page and follow me on Pinterest!

Kaitlen D.
More Fun Dinosaur Crafts