Looking for something fun to do with your kids this weekend?
Do you want your children to have fun while both learning and being productive?
Everything you need is available in our vehicle craft collection!
Whether your children enjoy transportation or role playing, this printable police car craft template will make their time worthwhile.
Beyond arts and crafts, children can use imaginative play to express their creativity.
They will also learn about various community helpers and the value of each one, and engage in other activities.
As they learn about police cars, they will also get to use a range of educational resources.
This printable police car craft template is excellent for incorporating into your routines and classroom activities.
Because we want kids to have an easy and fantastic experience making them, all of our vehicle craft templates come with detailed instructions.
We understand that children have a variety of options when it comes to arts and crafts, so we created two police car templates.
They can either begin by cutting out the colored template or by coloring the basic black and white template.
Working with the printable police car craft template allows our youngsters to hone their artistic ability as well as their fine motor skills.
So, if you're looking for an activity to encourage your children's creativity and development, this is it!
Plan to have a great learning experience by including this printable police car craft template in your activities!


*By the way, this post may contain affiliate links which means I may receive a small commission at no additional cost to you if an item is purchase through that link. For more information, click here.*
Printable Police Car Craft

Police Car Craft Supplies Needed
Need more crafty fun ideas? Check out our Police Officer Craft, Fire Truck Craft and Car Craft.
 T
hey are perfect for those days when staying indoors is the only thing your family can do!
Ideas for Easy Preschool Paper Police Car Craft
There's no need to worry about how to incorporate the printable police vehicle craft template into your routines because we'll provide you some options!
We'd be happy to share these fantastic ideas for maximizing it.
These are the easiest and best activities you can do with your children.
Organize your learning plans with these ideas!
Find out more by reading on!
1. Perfect Police Car Finds
Children love to request more!
They consistently ask for more of the things they like.
We are confident that once kids have completed their police car crafts, they will want more police car items.
Give them these police car finds if they can't get enough of them.
They will be inspired to learn about police cars after seeing these amazing discoveries!
If you're not sure where to begin with your activity, these items can be used to introduce the printable police car craft template.
Start by dressing up as a police officer, reading a book about a police car, and playing with a police car toy.
These great police car finds are guaranteed to get the kids excited about doing some police arts and crafts.
You may also use these for preschool activities because these fun objects can be shared by everyone!
These would be great for kids to use and play with their friends.
Take note of these police car finds and add them to your list!

2. Paper Plate Police Car
We always include an easy and hassle – free DIY craft in our printable police car craft template ideas.
Because we want children to enjoy creating arts and crafts, we have a simple art project ready for them to do.
This paper plate police car craft requires only basic materials such as a paper plate, black and blue paint, a paint brush, scissors, glue and crayons.
It's a great idea to practice making this police car craft before using the printable police car craft template.
Bring out your supplies and let's get started on this craft!
The paper plate should first be cut in half. The other half should be painted blue.
While you're waiting for it to dry, draw and cut out two circles for the wheels using the other half of the piece.
The two circles should be painted in black. Once each piece of the police car has dried, glue them all together.
You can use your crayons to create more police car features.
Draw a picture of the windows, doors, and police sirens.
To make your paper plate police car project even more spectacular, sketch and cut the middle section to make the opening doors.
Another option is to add a picture of your child on the window.
Make more of these paper plate crafts so your kids can personalize them!
3. Footprint Police Car Craft
How incredible is it that we can create art by using our feet?
We're going to use our feet to create a police car craft in this printable police car craft template idea.
Their tiny footprints will be so adorable from this exercise, you'll be in awe!
To get started, all you need is blue paint, paper, and markers.
Prepare to stomp your tiny feet softly on the paper to create police car crafts!
Put blue paint on either the right or left foot.
Help your kids gently stamp their foot on the paper.
If they want to make a two footprint police car craft, paint their other foot as well and repeat the process.
Wash their feet and wait for it to dry.
Once it has dried, use the markers to add more siren lights, doors, windows, and wheels to the police car.
You can do this activity with the entire family!
Invite the entire family to participate in this activity and construct various sizes of footprint police car crafts.
Cut out your footprints and hang them all up to display your police car collection!
4. Community Helpers
What's fantastic about this printable police car craft template is that it can also be used to teach children about community helpers.
Familiarizing them with our community helpers, as well as their importance and role in the community, will assist them understand their responsibilities.
You may begin with the police officer because we will be working on the printable police car craft template.
Describe the responsibilities and duty of a police officer in our community.
You can also ask them what they think of these community helpers and if they have seen one before.
Having a conversation about it will make children appreciate these individuals even more when they get the opportunity to interact with them in the future.
A role-playing game is another exciting experience involving community helpers.
Allow your children to choose a community helper, then prepare simple costumes and props to go with it.
Encourage them to act out and perform the tasks of a community helper.
The children can participate in this role playing game with their pals as well!
This can also be a fun group activity for your preschool and kindergarten learners.
You may also organize a community helper day in your classroom and ask your preschoolers to dress as their favorite community helper!
May all of these printable police car craft template ideas be a part of your learning experience this week!
We hope we made it easier for you to organize your activities.
Children will certainly enjoy these activities and be motivated to learn more about different modes of transportation!
These ideas will bring out the best in your children's skills!
More vehicle crafts are on the way, so keep an eye on our collection!

Police Car Craft Instructions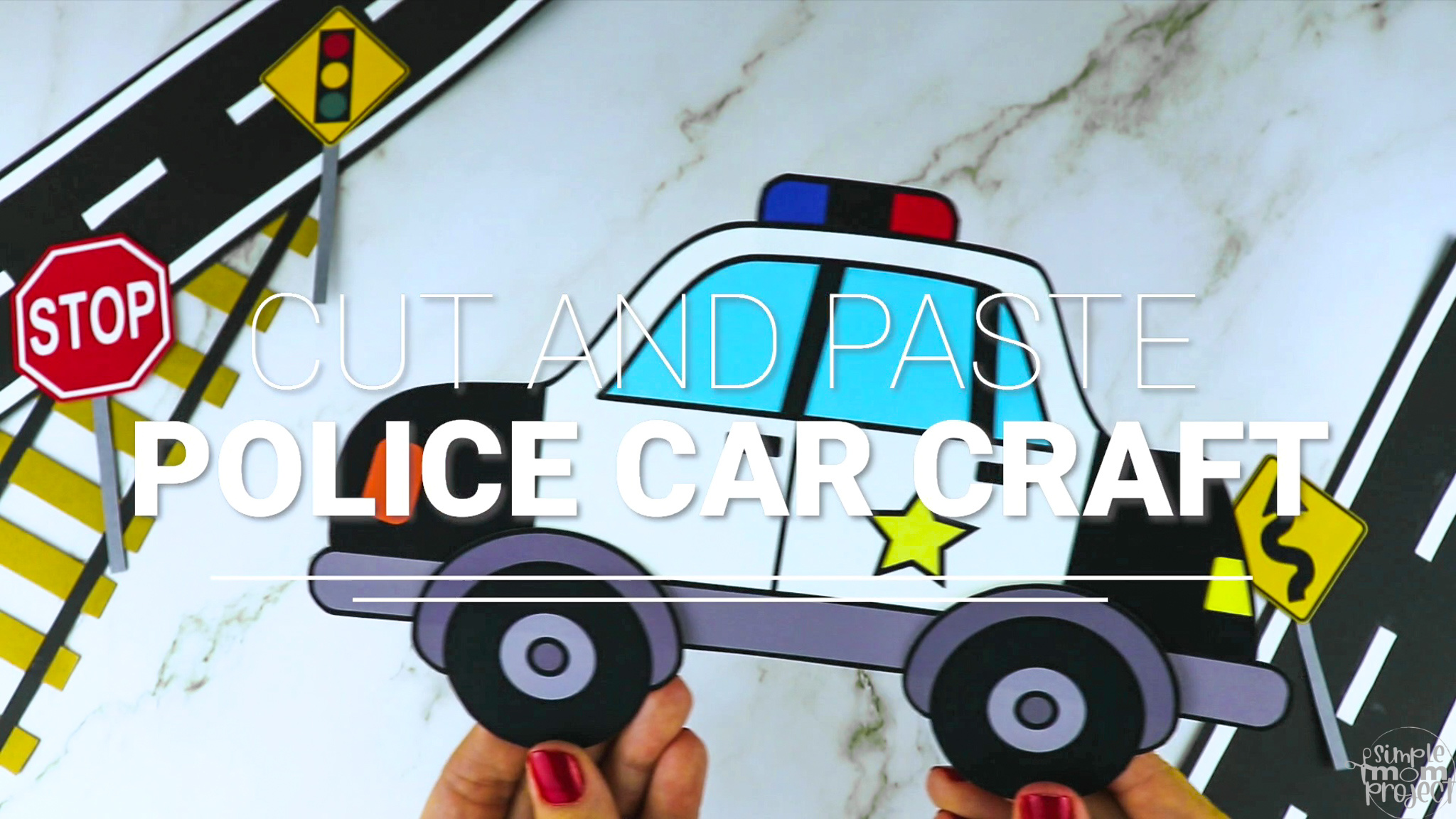 Bring out the supplies you'll need because we've prepared these simple, step-by-step directions for you!
If your children chose the colored template, you can instruct them on how to cut the police car parts one at a time.
Color the black and white template with all of your decorative items on hand.
Once all of the police parts are ready, begin by placing one wheel on the lower left side of the police craft.
Add the last car wheel to the lower right side of the police car.
Put the police siren lights on top of the vehicle to complete the craft, as seen in the image below.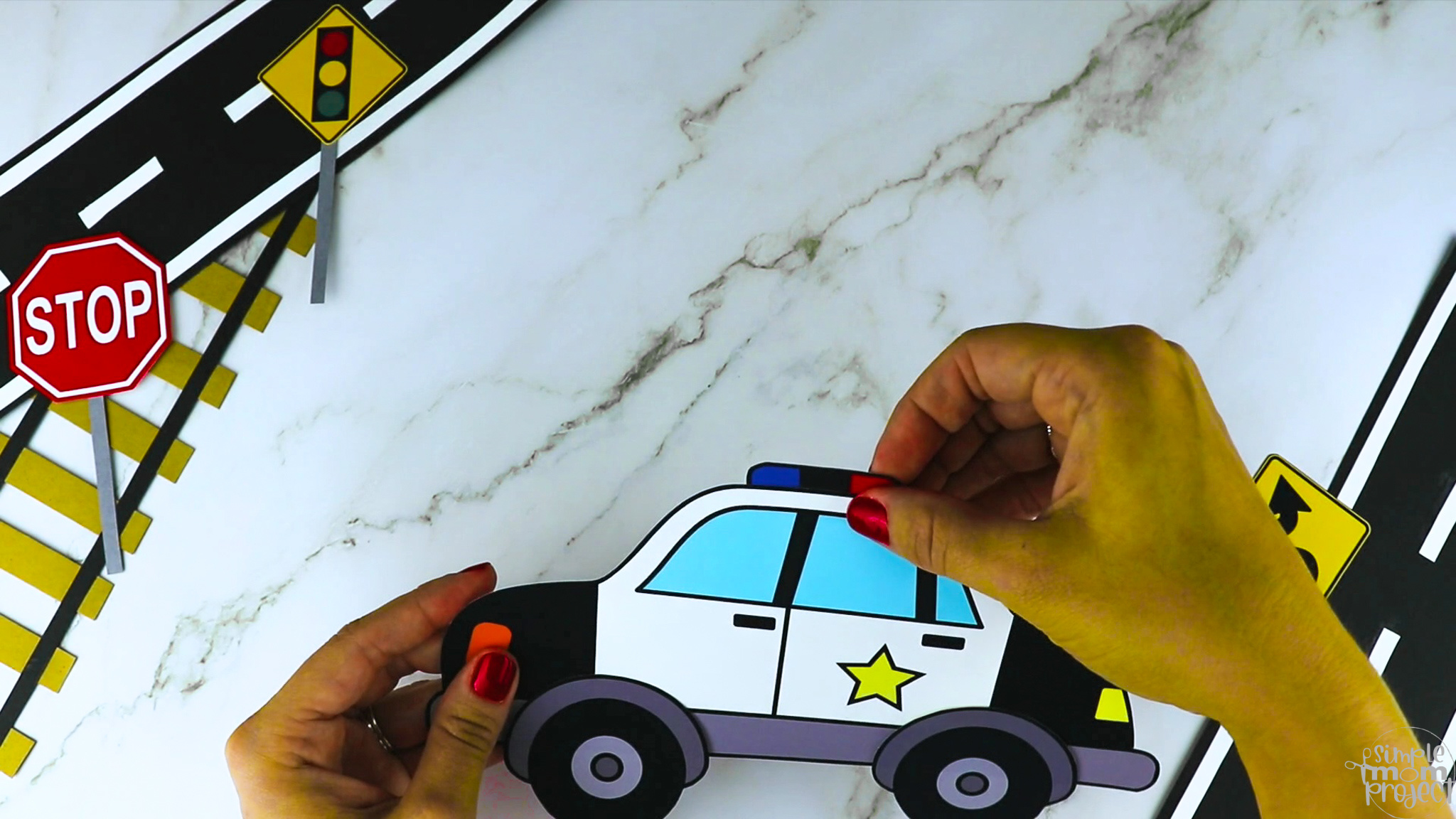 Look how great your finished police car crafts are, and how ready it is to save people in the community!
More Options to Choose:
You can print the blank version and trace the cut outs on card stock paper for a sturdier police car craft,
Print the police car template in color for a simple and easy rainy day craft or,
Print the blank police car template and use it as a fun coloring sheet activity and then glue the pieces of the police car craft together.
Printable Police Officer Craft
If your children enjoy arts and crafts and different types of cars, have them work on this printable police car craft template!
This car template is ideal if you want them to use their free time productively while working on something they enjoy!
Allow children to bring out their police car toys while they construct their own police car crafts.
They will have a great time doing this activity since it allows them to improve their following skills as well as their fine motor talents.
This is an excellent place to start practicing with scissors if your child is just learning how to use them.
Following the step-by-step instructions will help them practice patience.
As they organize and put all the parts together, they can also hone their hand-eye coordination skills.
The two templates we've provided can be given to your preschoolers if you want to use this template for your preschool activities.
Allow them to select between working on the plain police car template and the colored one.
They can also do both if they choose!
Prepare to have a blast learning about these transportation vehicles by including this printable police car craft template!
Need more transportation craft fun? Check out our packed list of vehicle crafts for simple craft fun with your little ones.  
When you have finished, be sure to share your creation on Simple Mom Project's Facebook Page and follow me on Pinterest!

Kaitlen D
More Printable Craft Templates