If you're enjoying our vehicle crafts, you're going to have even more fun in the next days because we added a new transportation craft!
This week, include this printable fire truck craft template in your kids' activities.
Kids may practice their fine motor skills and hand-eye coordination with this awesome fire truck craft, which is as easy as cutting and pasting.
We also included suggestions for how you may incorporate this printable fire truck craft template into your routines.
Aside from arts & crafts and transportation knowledge, students will also learn about shapes, recycled materials, and other topics.
Work on this printable fire truck craft template and other fire truck themed activities with your kids if you want to have a fun week!
We made it a point to include step-by-step instructions so that children could easily complete their crafts.
Did you know they can also choose from two different fire truck templates?
Yes, we created two templates so they could freely work with whatever they desired.
Give them a simple black and white template or a colored fire truck template to complete.
They could do both if they couldn't get enough of these amazing fire trucks.
Fire engines make excellent arts and crafts, and they also teach about fire safety, so incorporate this fire truck craft into your routines!

*By the way, this post may contain affiliate links which means I may receive a small commission at no additional cost to you if an item is purchase through that link. For more information, click here.*
Printable Fire Truck Craft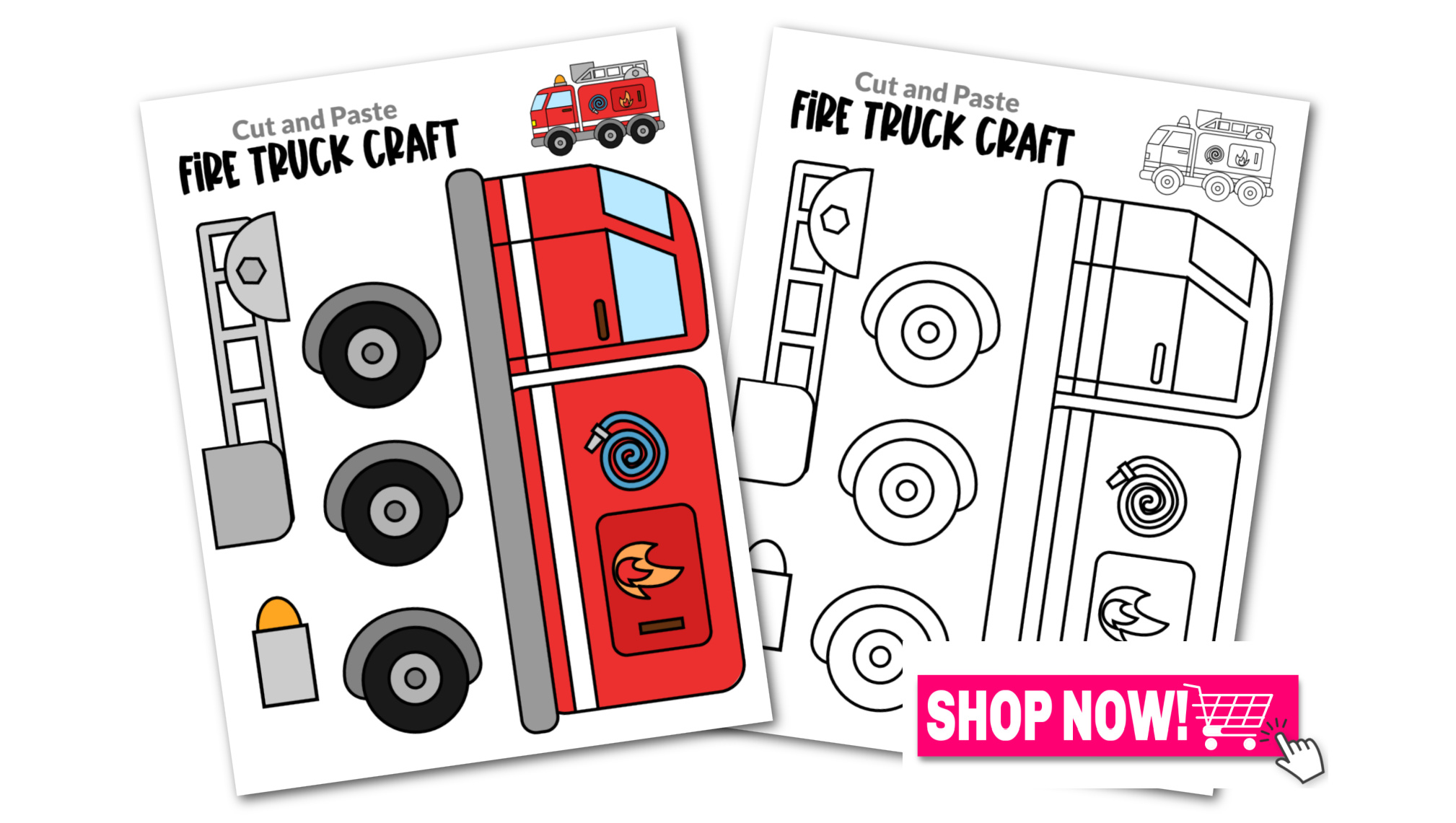 Fire Truck Craft Supplies Needed
Need more crafty fun ideas? Check out our Firefighter Craft, Helicopter Craft and Ambulance Craft.
 T
hey are perfect for those days when staying indoors is the only thing your family can do!
Ideas for Easy Preschool Paper Fire Truck Craft
There are several ways to incorporate this printable fire truck craft template into your activities.
Don't worry about the supplies or anything else; these activities are simple for kids and very easy to perform.
These ideas work well with your goals for learning about vehicles and transportation themes.
Continue reading for more!
1. Fantastic Fire Truck Collection
Do you have a child that aspires to work as a firefighter someday?
If so, they'll love this fire truck collection!
You may organize your daily activities using these awesome fire truck items in addition to the printable fire truck craft template.
After kids have finished constructing their fire truck crafts, you may introduce this fire truck collection.
Or, you may introduce the printable fire truck craft template using these wonderful finds.
In any case, these items will quickly become your children's favorites!
Reading stories, pretending to be firefighters, playing with fire trucks, and other activities can help create the right learning environment for learning about fire trucks and fire safety.
All of these amazing fire truck items suit the printable fire truck craft template, so include it on your checklist!

2. Egg Carton Fire Engine Craft
Want to do some arts and crafts but lack the necessary materials? Recycling is something we can do!
Did you know you can make a fire engine out of an empty egg carton?
If you're not sure what materials to use, this printable fire truck craft template idea is ideal for kids because it's so simple to create!
An empty egg carton, bottle caps, a piece of cardboard, red and black paint, a paintbrush, and hot glue are all we'll need.
The egg carton box should first be painted red.
Once it has dried, secure the egg carton with hot glue to prevent it from opening.
You can create and cut out square forms for the side windows and rear windows on a piece of cardboard.
On the cardboard, you could also draw a ladder shape and cut it out.
Paint four bottle caps with black paint to use as wheels.
For the headlights and siren of the fire truck, leave the other bottle caps unpainted.
When all of your parts are prepared, you can put everything together using hot glue.
Attach the windows on both sides and the front of the egg carton box.
Place the cardboard ladder on either side of the carton.
Attach the bottle cap wheels on both sides first, followed by the headlights and siren.
3. Shapes Recognition
Are you wondering how to teach the shapes to your children?
Kids in preschool and kindergarten can learn about shapes as part of their math lessons.
This printable fire truck craft template idea can be incorporated into an activity where children create a fire truck using cutouts of various shapes.
Children will benefit from this activity because they will learn about shapes, fire truck parts, and patience as they follow and put the pieces together.
Let's begin learning about shapes by cutting out some cardboard patterns for the fire truck parts.
Prepare the cardboard cutouts for the following shapes: a rectangle, a square, two circles, a triangle, and two ovals.
This shape recognition activity can begin with a simple game in which the children try to construct a fire truck out of cutouts.
Move on to identifying the shapes after they have finished assembling the parts.
You can also make this shapes recognition activity into a fun game by having the kids compete to put all of the shapes together as quickly as possible.
The first player to construct a fire truck wins the game.
4. Footprint Fire Truck Craft
Looking for a fun and unique arts and crafts activity that will keep kids interested?
In this printable fire truck craft template concept, we will make a fire truck using our feet!
Who knew we could make print crafts with our feet?
Children will love this activity because they get to use their cute tiny feet to make a fire truck.
Prepare red paint, a paintbrush, paper, and markers before you begin!
Start by applying red paint on your child's foot.
Help them delicately stamp their foot on the paper.
You may wash their feet first while you wait for it to dry.
Using the marker, add more fire truck parts like doors, windows, wheels, and a ladder once the footprint has dried.
You can also follow up with a short lecture on fire safety for children.
How did these ideas fit into your planning?
Are you ready for a fun weekend with all of these printable fire truck craft template ideas?
You'll have a blast spending time with your kids by using these ideas.
Children will definitely want more of these amazing vehicle crafts, so keep an eye out for our collection!

Fire Truck Craft Instructions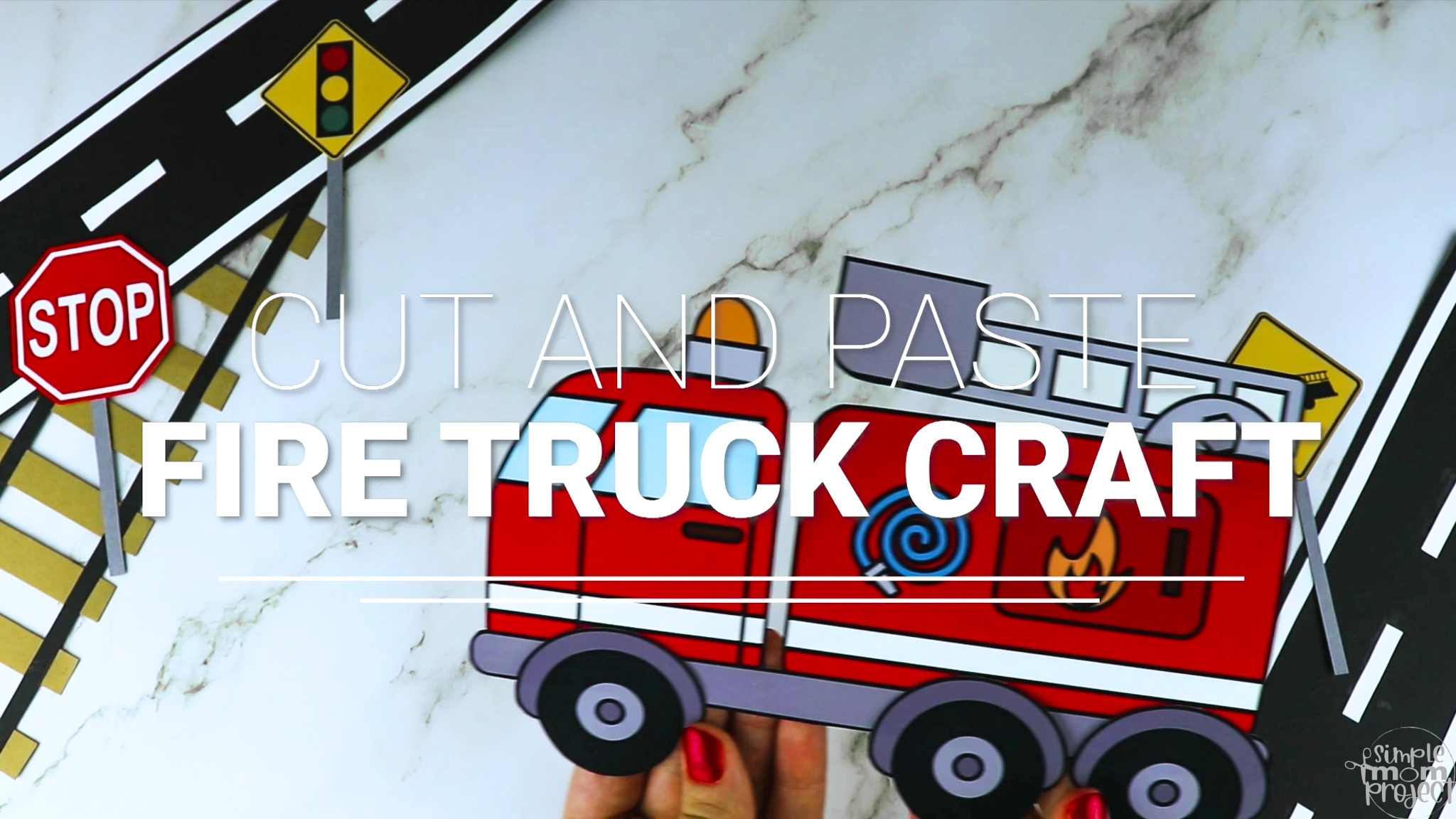 If you're excited to work on your fire trucks, gather your materials and follow these instructions!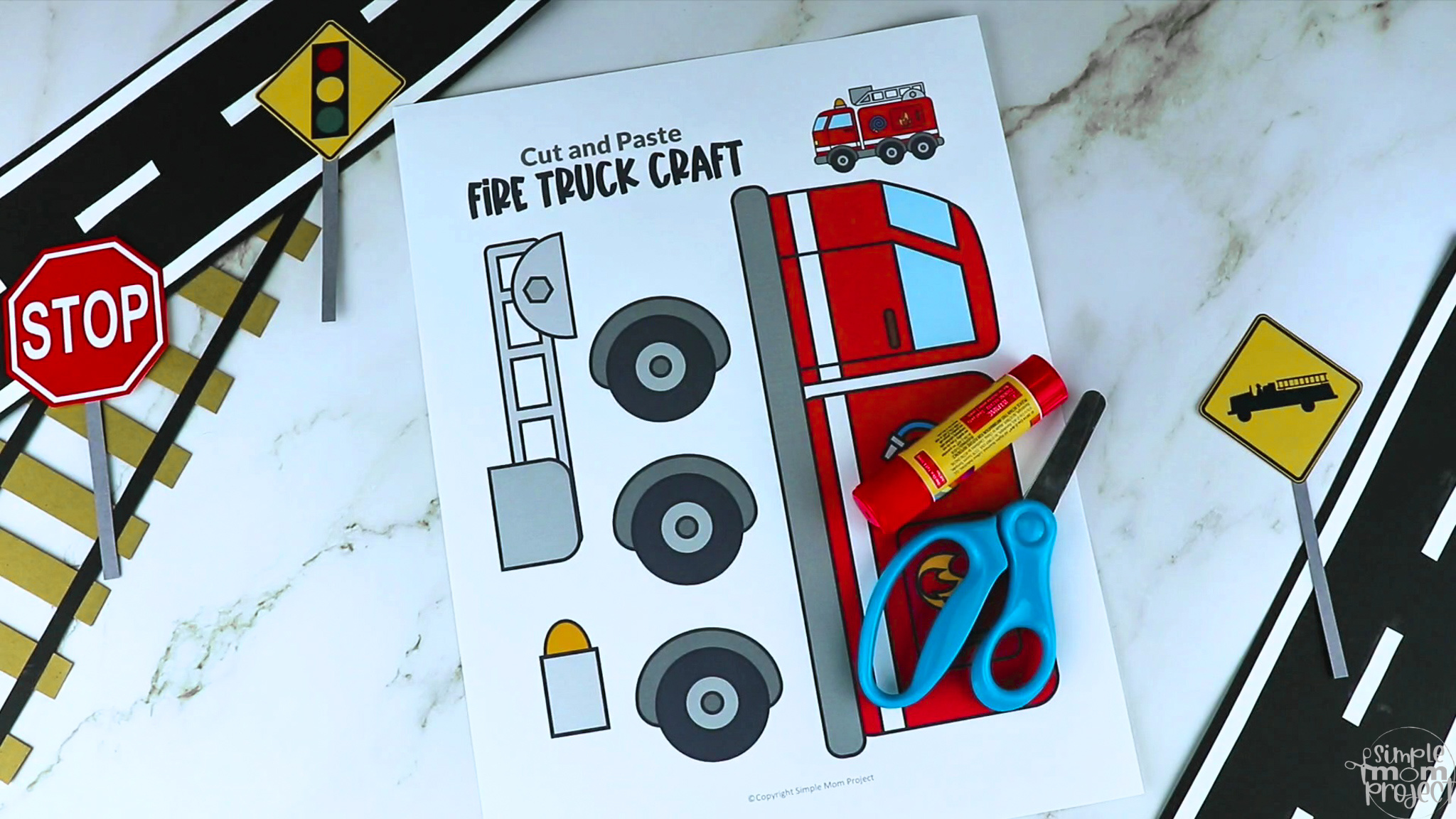 Get started on cutting the fire truck pieces using the colored fire truck template.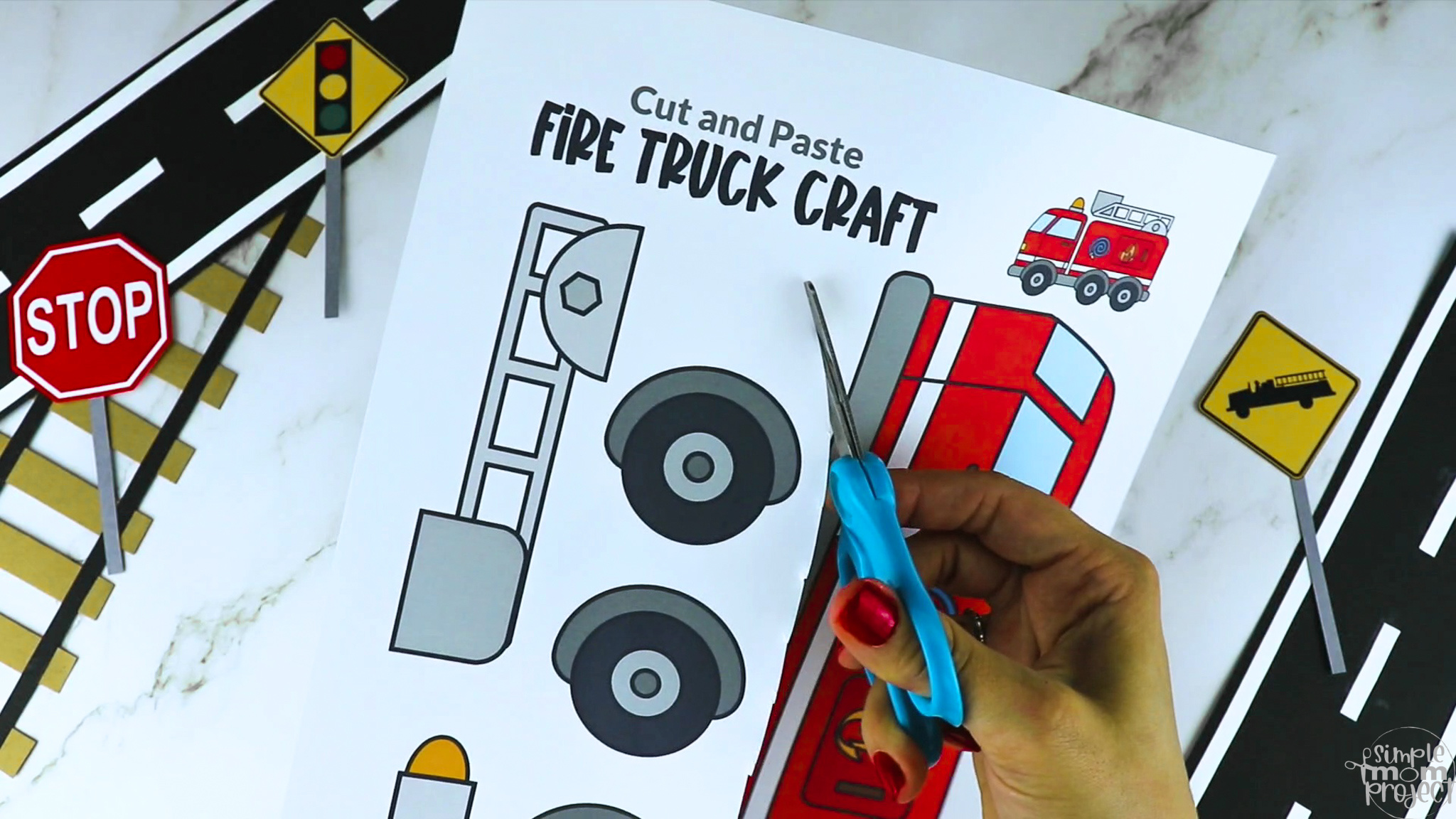 Kids can practice their coloring skills by decorating the plain black and white fire truck template with any coloring materials they have handy.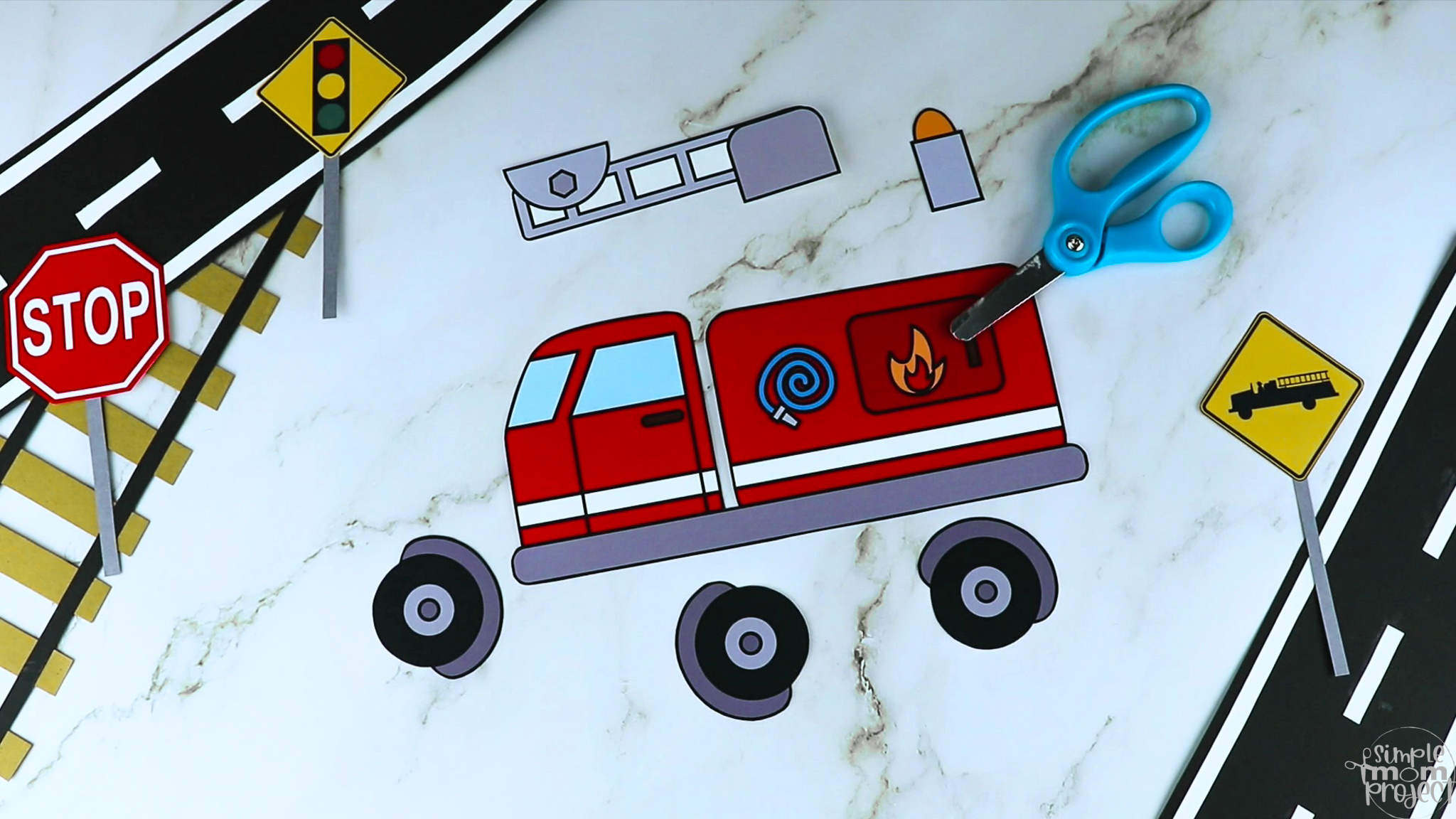 Start by attaching the three wheels to the lower section of the fire truck template.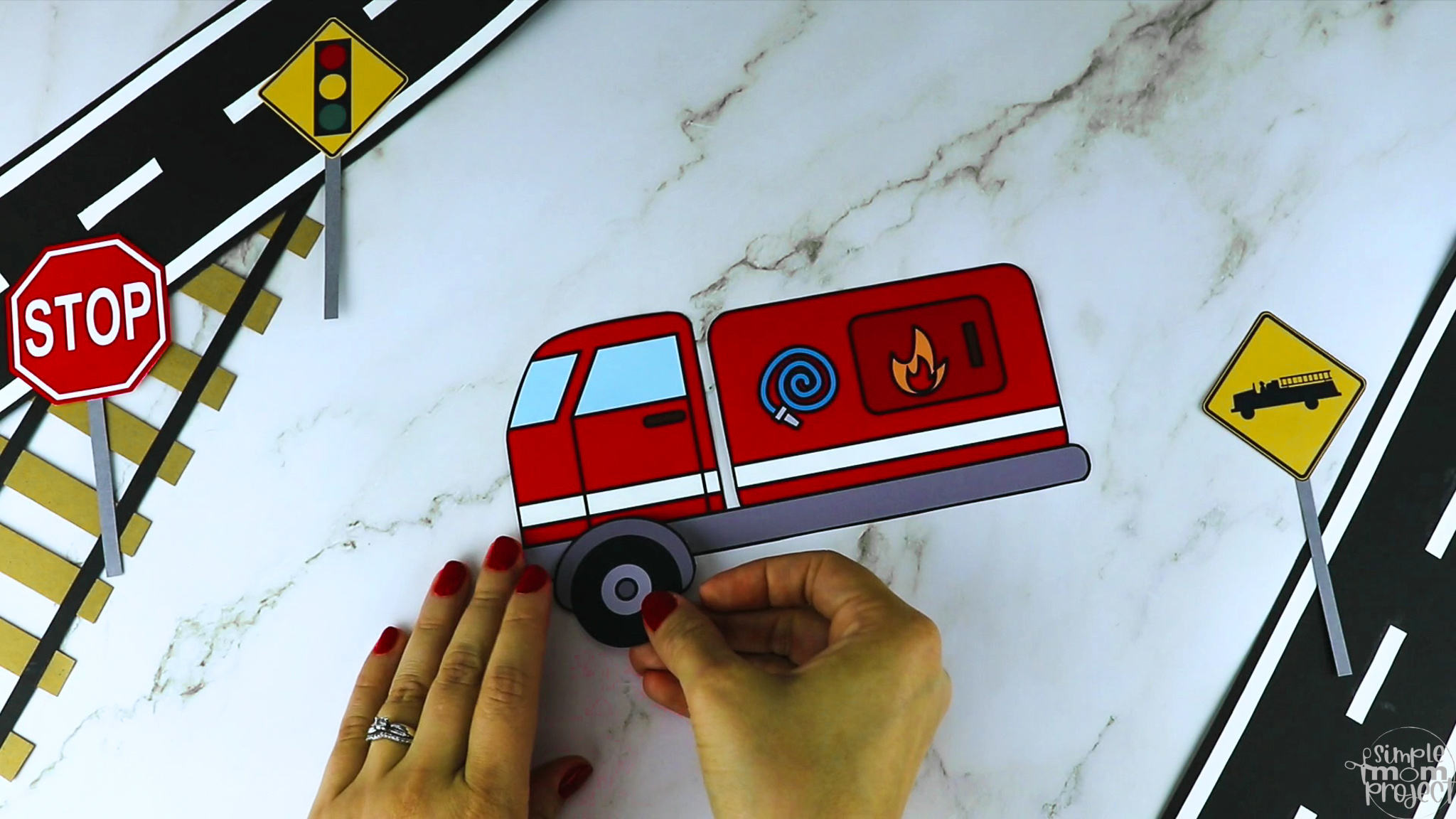 Place the ladder on top of the fire truck as seen in the image below.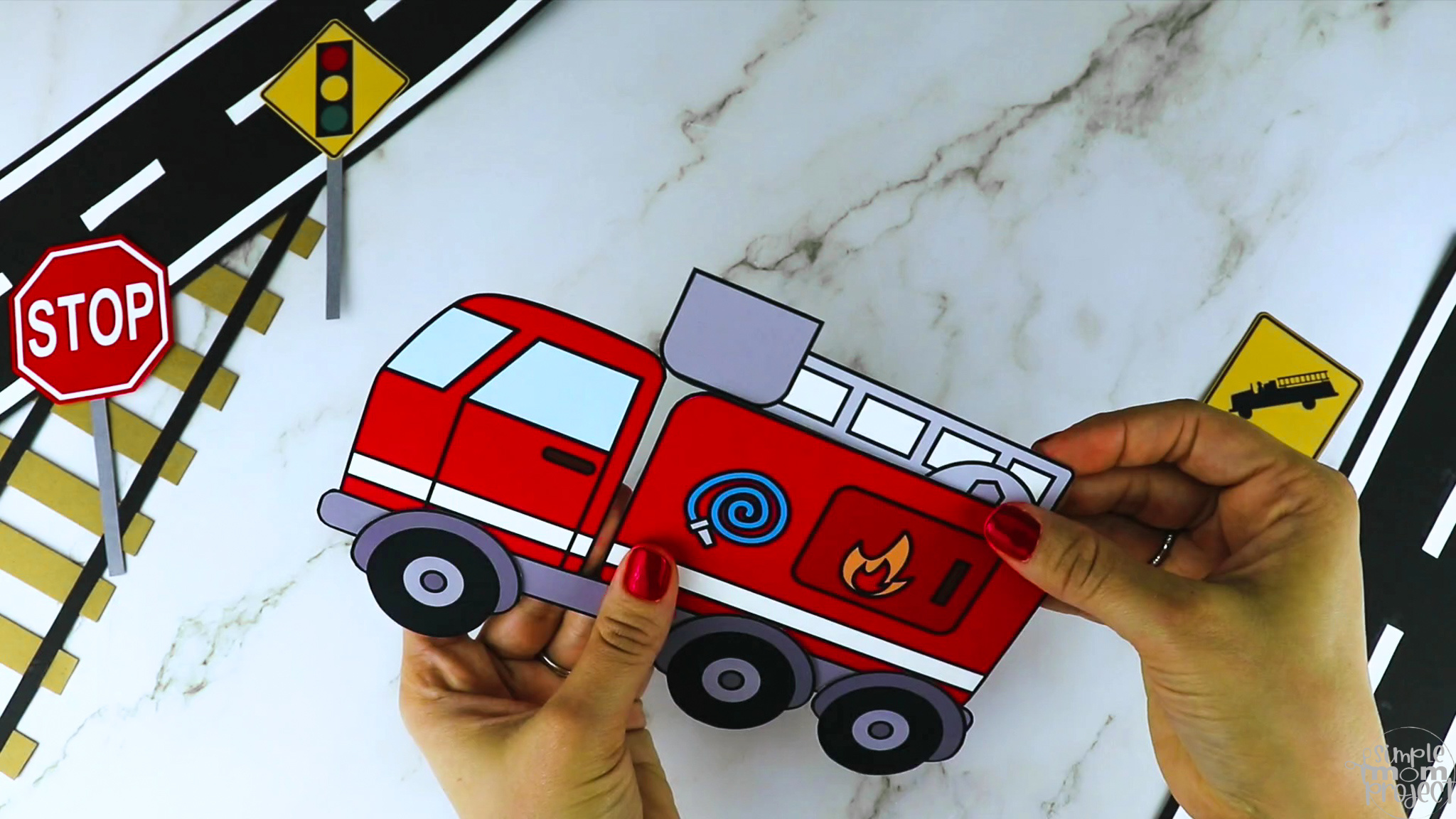 Finish your fire truck craft by placing the siren on top of the fire engine.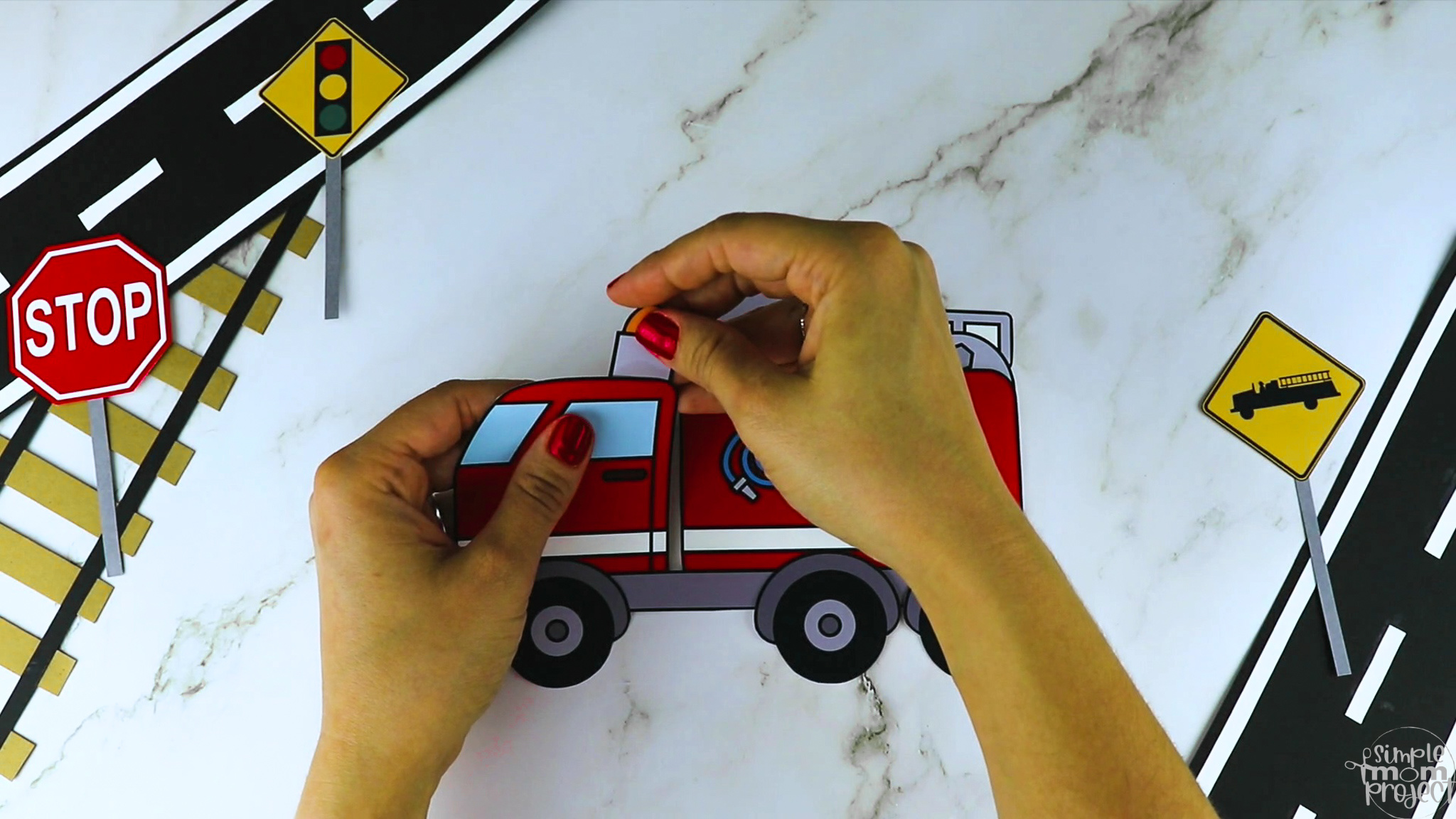 Your finished fire truck craft is now ready for rescue!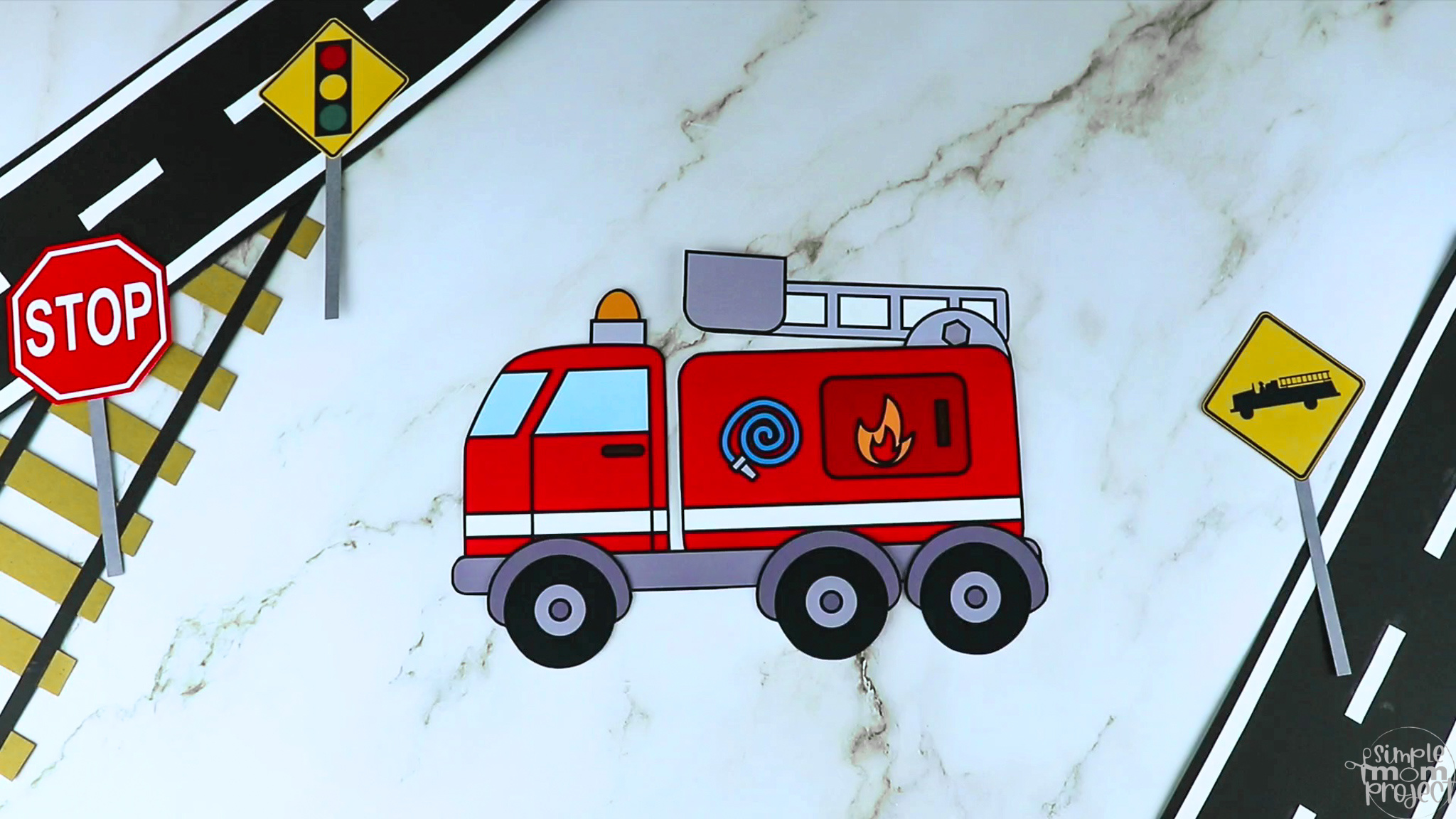 More Options to Choose:
You can print the blank version and trace the cut outs on card stock paper for a sturdier fire truck craft,
Print the fire truck template in color for a simple and easy rainy day craft or,
Print the blank fire truck template and use it as a fun coloring sheet activity and then glue the pieces of the fire truck craft together.
Printable Fire Truck Craft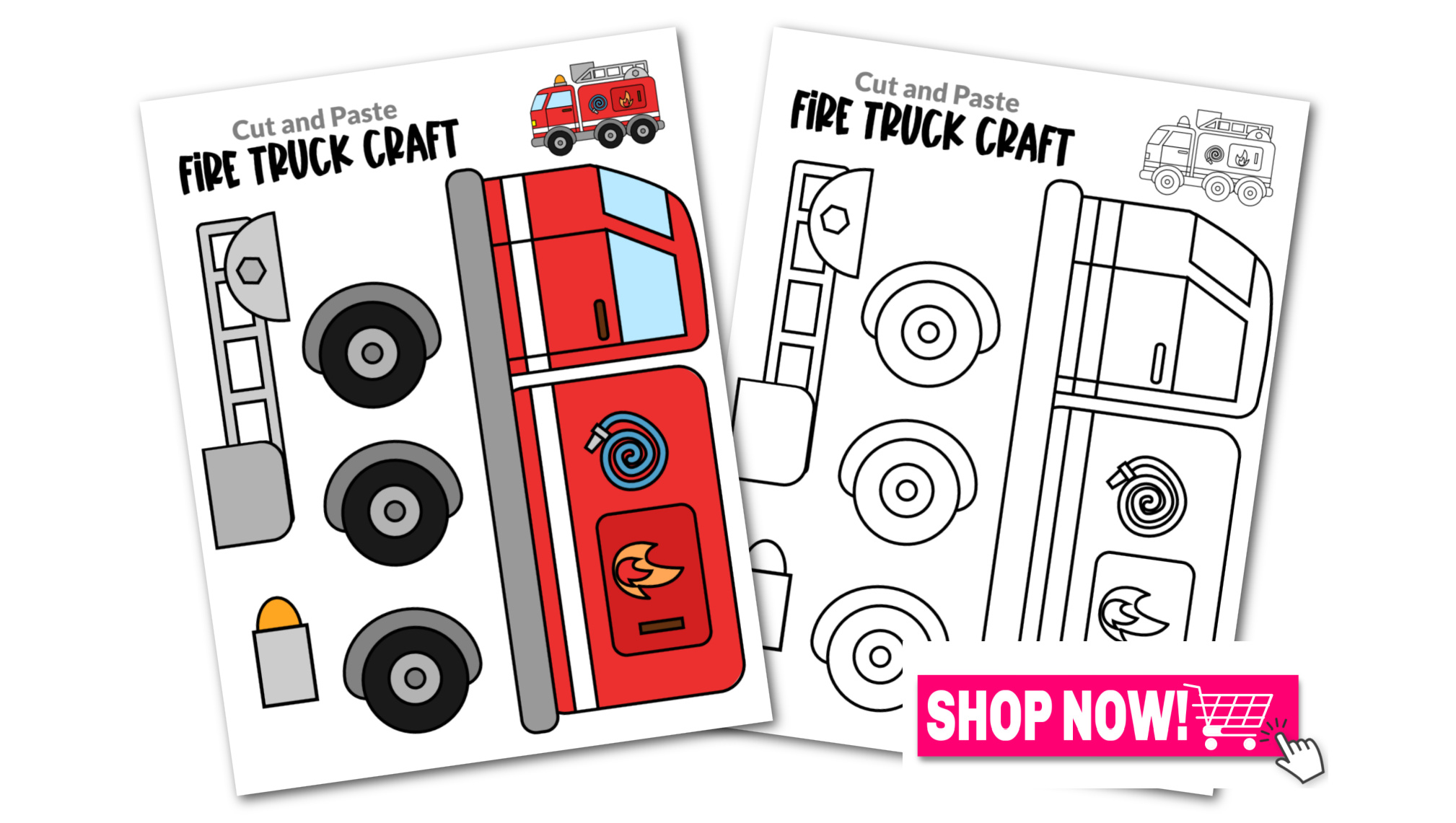 Include this printable fire truck craft template in your weekly activities!
Kids will not only practice arts and crafts, but they will also learn about fire truck parts, fire safety, and how to be creative.
These vehicle crafts are ideal for teaching children about the importance of transportation in our community.
Using this printable fire truck craft template, you can make this fire truck in just a few simple steps!
Simply follow our simple step-by-step instructions to finish your fire trucks.
Children will also have the option of choosing between a plain fire truck template and a colored one.
This printable fire truck craft template combines arts & crafts with fine motor skills.
Using this template, children can practice their cutting and coloring skills.
Make this a part of your family bonding time and have fun learning and making fire truck crafts!
Need more transportation craft fun? Check out our packed list of vehicle crafts for simple craft fun with your little ones.  
When you have finished, be sure to share your creation on Simple Mom Project's Facebook Page and follow me on Pinterest!

Kaitlen D
More Printable Craft Templates