Make way for an incredible animal that is ready to roar your weekend activities!
We've created a brand-new heart-shaped animal that children will surely enjoy making.
This printable heart tiger craft template is as amazing as all of the kids who want to make it.
If you're searching for a fun project to do with your kids, this heart tiger craft is guaranteed to make your time together memorable.
Create wonderful crafts using the supplies you may find at home and this printable heart tiger craft template.

Along with learning how to recycle, kids will develop a variety of abilities, including fine motor, focus, and creativity.
All toddlers, preschoolers, and kindergarten kids will love making this printable heart tiger craft template!
Add this heart tiger craft to your list of easy preschool crafts you may make at home or at school.
Children have a choice between two wonderful tiger templates.
They have the option of using the colored tiger template or the simple black and white template for coloring.
Additionally, a tutorial video and step-by-step directions will be provided for kids to simply follow along with.
You should include this printable heart tiger craft template in your list of crafts to make this week!
*By the way, this post may contain affiliate links which means I may receive a small commission at no additional cost to you if an item is purchase through that link. For more information, click here.*
Printable Heart Tiger Craft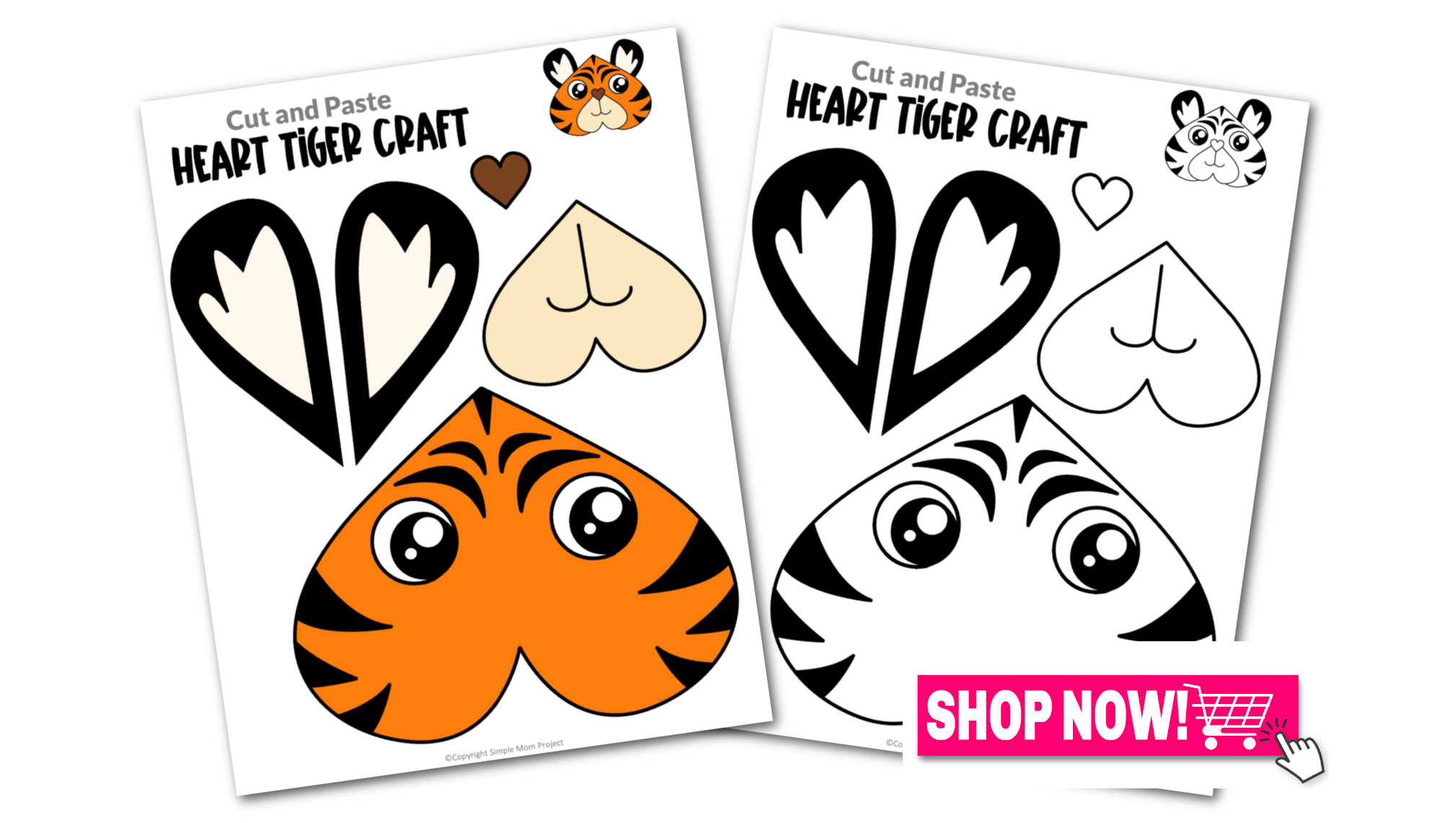 Heart Tiger Craft Supplies Needed
Need more crafty animal ideas? Check out our Heart Lion Craft, and Heart Zebra Craft.
 T
hey are perfect for those days when staying indoors is the only thing your family can do!
Ideas for Easy Preschool Paper Heart Tiger Craft
Use all these creative ideas for how to incorporate the heart tiger craft into your daily activities to plan out your weekend!
We have come up with the simplest and easiest ideas that you and your children can readily use at home and at school.
Continue reading for more, and have fun incorporating it into your learning plans!
1. Terrific Children's Tiger Collection
Decorate your study nooks with these terrific tiger items to create the perfect environment for learning about these amazing tigers!
Because they are so charming, these tigers are the perfect design for your kids' study and play areas.
The printable heart tiger craft template pairs beautifully with this terrific children's tiger collection.
These materials can be used to introduce the heart tiger craft.
Add two interesting tiger storybooks to your kids' learning area, as well as a cozy tiger plush and a squishy tiger fidget.
They would definitely want more of this printable heart tiger craft template after seeing this collection!
2. Easy Origami Tiger Craft
This printable heart tiger craft template is so much fun to make that children will want for more of these simple crafts!
We always make certain that our ideas are useful to the growth of all children.
Did you know that, in addition to fine motor skills, origami helps children understand and characterize?
Children already stimulate some parts of their brains while using their hands to create an origami.
This is also a good idea for an activity to help them build their hand-eye coordination and concentration.

Let's start folding origami, so get out your markers and orange construction paper or any other type of paper you have!
Make a square out of your paper.
Fold it into a triangle.
Now fold the triangle's top portion downward.
Fold up the right side of the triangle, then repeat with the left side.
Draw the tiger's eyes, face, whiskers, and stripes on the back with your markers.
Isn't it simple to build an origami tiger?
Cut extra paper squares and make more of these adorable tiger origamis!
3. Heart Tiger Foam Cup
Our printable heart tiger craft template ideas will always feature a basic craft constructed from items found around the house.
By doing this, we can also show kids how to recycle materials to create new crafts.
The kids will love making something unique out of recycled materials with the help of this DIY idea.
This is the best moment to create a heart tiger foam cup if you have foam cups or paper cups at home!
All you need are cups, orange paint, scissors, glue, and a copy of the printable heart tiger craft template!
Start by painting your cup orange.
You can go ahead and cut and put the heart tiger pieces together while you wait for it to dry.
After the cup has dried, you can now attach the heart-shaped tiger craft to it.
Make sure you attach the heart tiger with the open section at the top if you want to turn your tiger foam cups into pen holders.
Then place the heart tiger with the top of the cup facing downwards if you just want to display the heart tiger foam cups.
4. Tiger Heart Shaped Card
We designed our collection of heart animals to be versatile so you can use it to create a variety of quick and easy crafts that kids will adore!
You may also use this printable heart tiger craft template to send a short message to someone to show them how much you care.
Make your own tiger heart-shaped cards using this printable heart tiger craft template!
This would make a wonderful gift for a friend or family member who loves tigers and cats!
Print a copy of the heart tiger craft template.
Cut out the pieces of the tiger, then glue them together.
Use the space provided on the back of the tiger craft to write a short greeting or thank-you message.
Use colorful markers to decorate your tiger heart-shaped cards, and for an extra special touch, add bright beads and glittering sequins.
We are happy to have shared all of these unique ideas for incorporating the printable heart tiger craft into your daily activities!
These ideas are going to bring out the most in your child's ability in arts and crafts, science, and other areas.
With all these activities, the kids will surely enjoy their weekends with you.
We're looking forward to seeing how much fun you and your kids have doing our collection of heart-shaped crafts!
Heart Tiger Craft Instructions
Gather all of your materials and don't miss this detailed guide to making heart tiger crafts!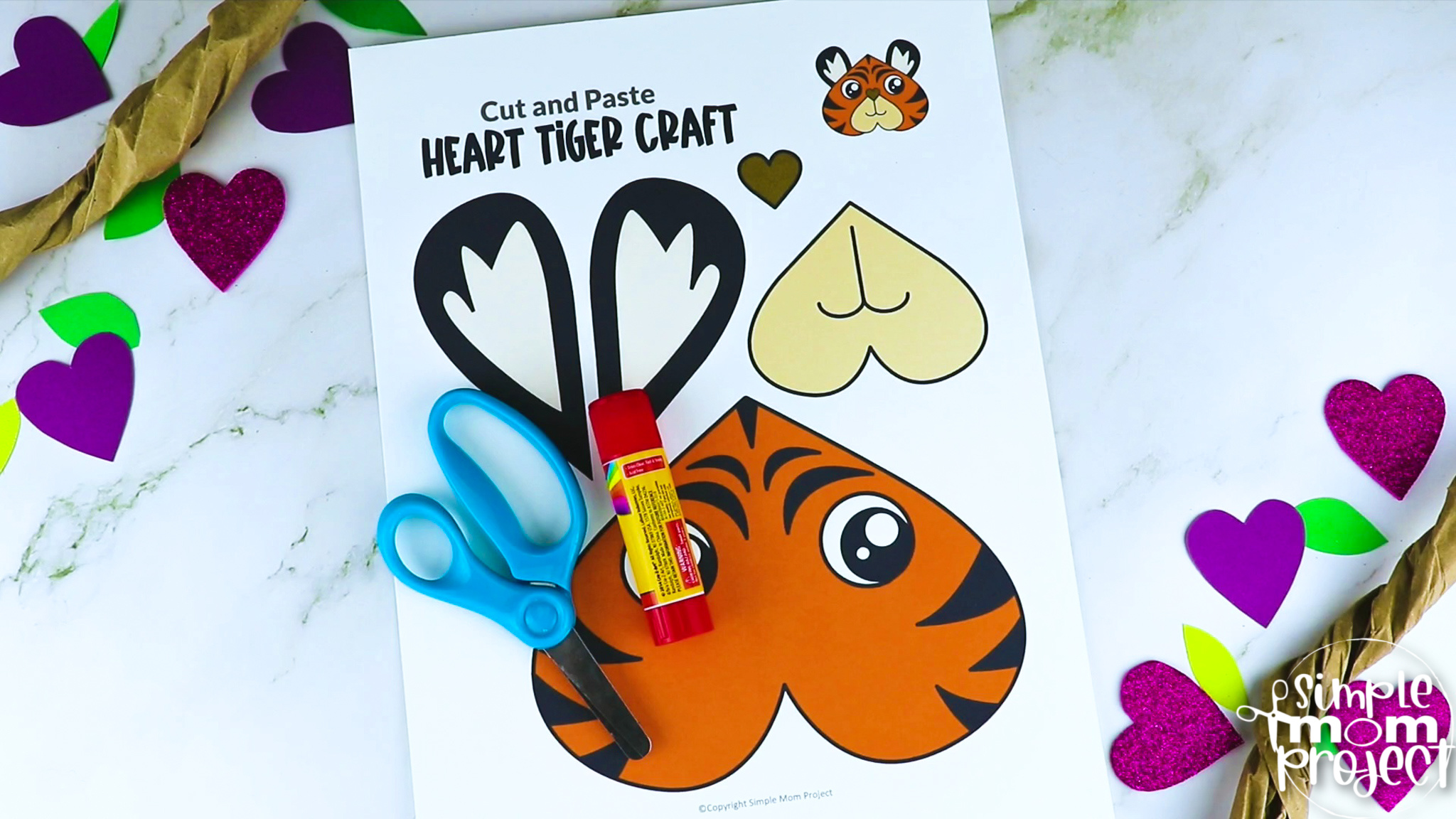 Help your children in cutting out each heart tiger piece individually.
If your children decide to work on the colored heart tiger template, provide them with a range of coloring supplies.
Put the upside-down heart that acts as the tiger's mouth first on the craft.
Place two tiger ears on both upper sides of the head.
Finish the tiger craft by placing the heart-shaped snout in the center, as seen in the image below.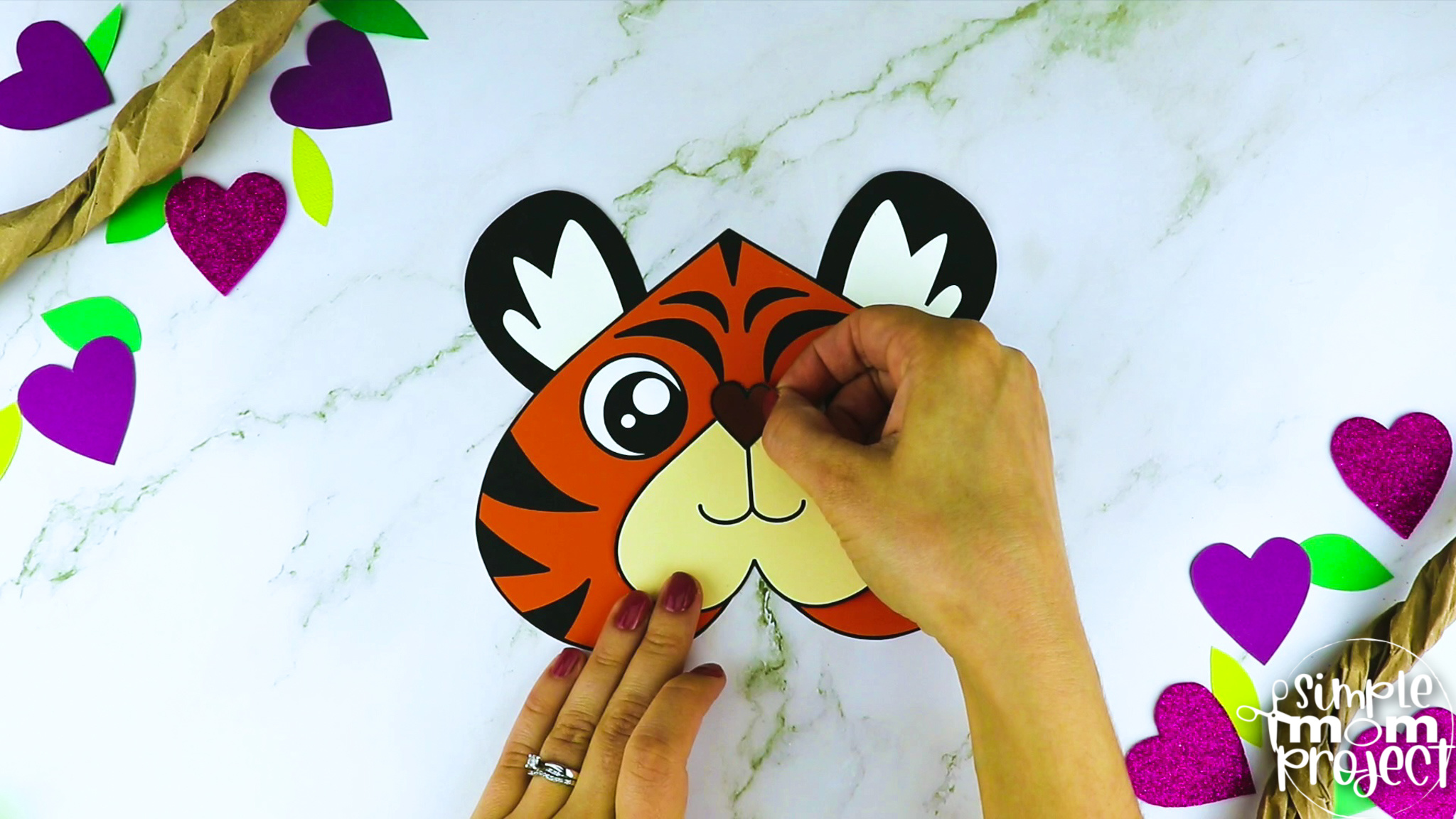 Take a look at this amazing tiger craft you made; it's just as awesome as you!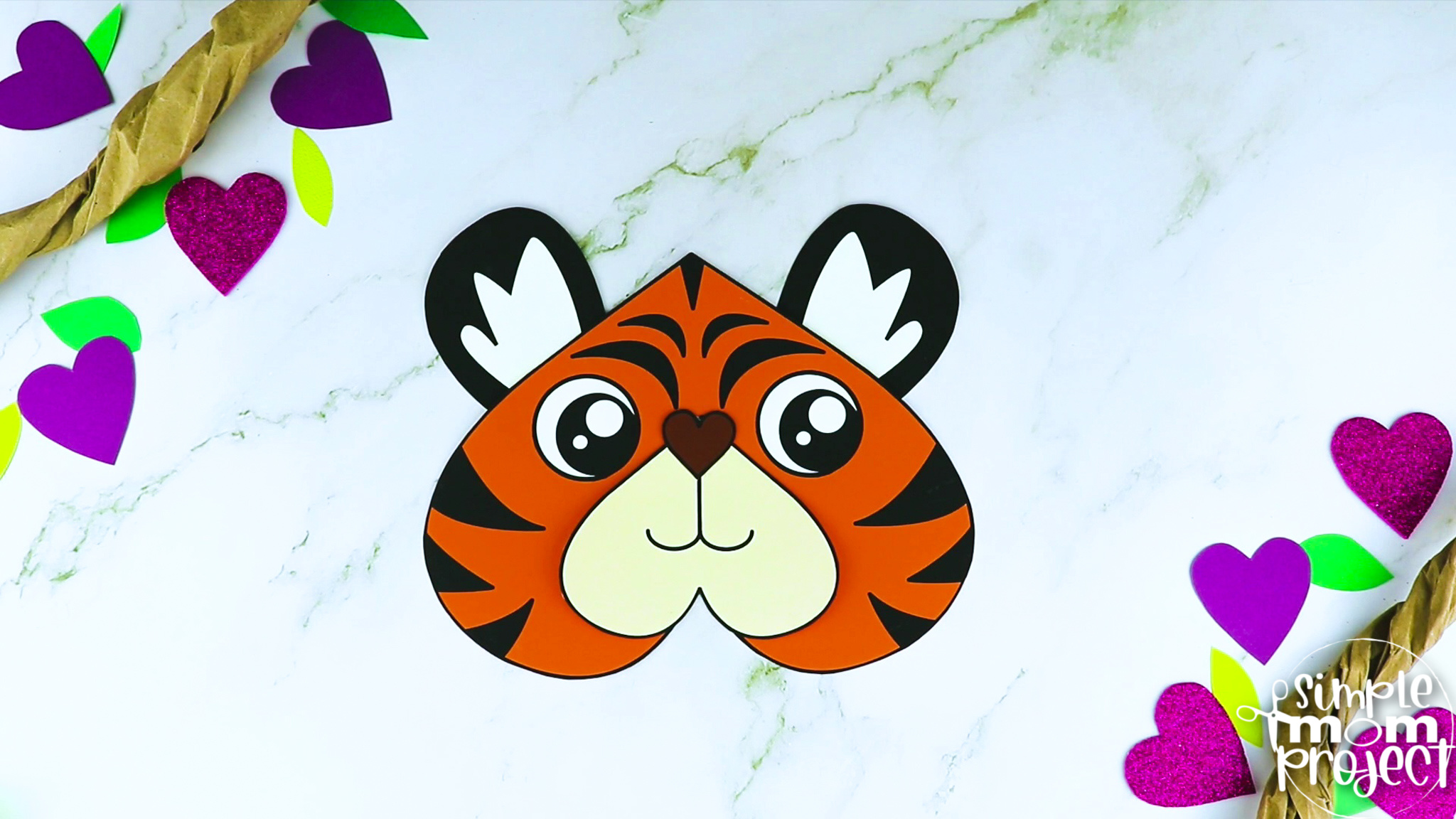 More Options to Choose:
You can print the blank version and trace the cut outs on card stock paper for a sturdier heart tiger craft,
Print the heart tiger template in color for a simple and easy rainy day craft or,
Print the blank heart tiger template and use it as a fun coloring sheet activity and then glue the pieces of the heart tiger craft together.
Printable Heart Tiger Craft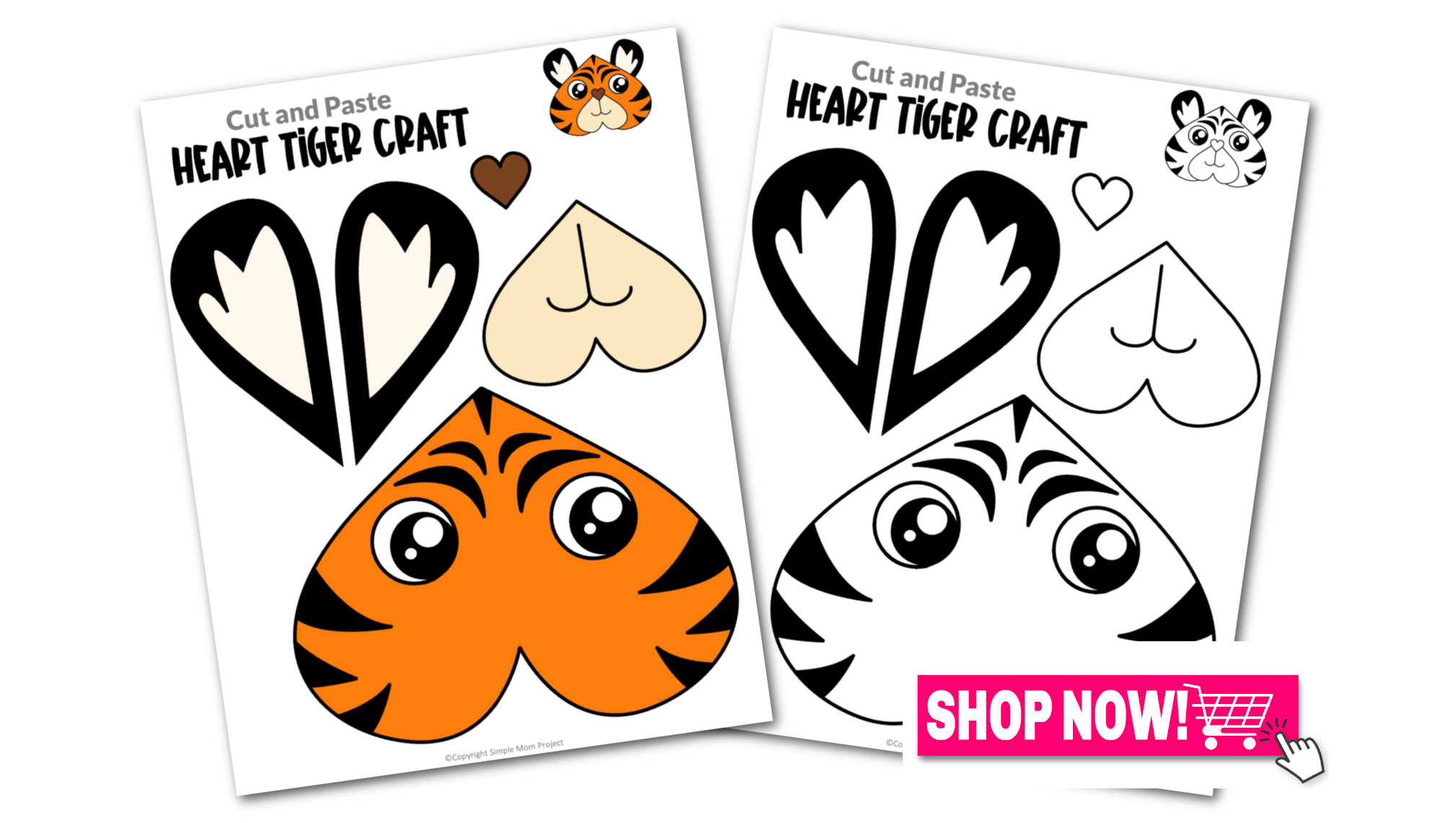 Are your kids ready to roar with this heart tiger craft template?
Then print a copy right away!
This heart-shaped tiger craft is designed to be as simple as cut and paste.
Making their own tiger crafts is a lot of fun for kids and they are sure to enjoy it because they look amazing.
They can also choose from two heart tiger templates, and if they want more, they can work on both.
Cutting the parts for the tiger would be an excellent practice exercise for your children if they are just learning how to use scissors.
Putting the pieces together is a great method to improve their focus and hand-eye coordination.
You must have this heart tiger craft template in your collection of craft ideas!
Follow our simple steps with images and a tutorial video to complete your crafts in no time!
Need more adorable animal craft fun? Check out our packed list of heart animal crafts for simple craft fun with your little ones.  
When you have finished, be sure to share your creation on Simple Mom Project's Facebook Page and follow me on Pinterest!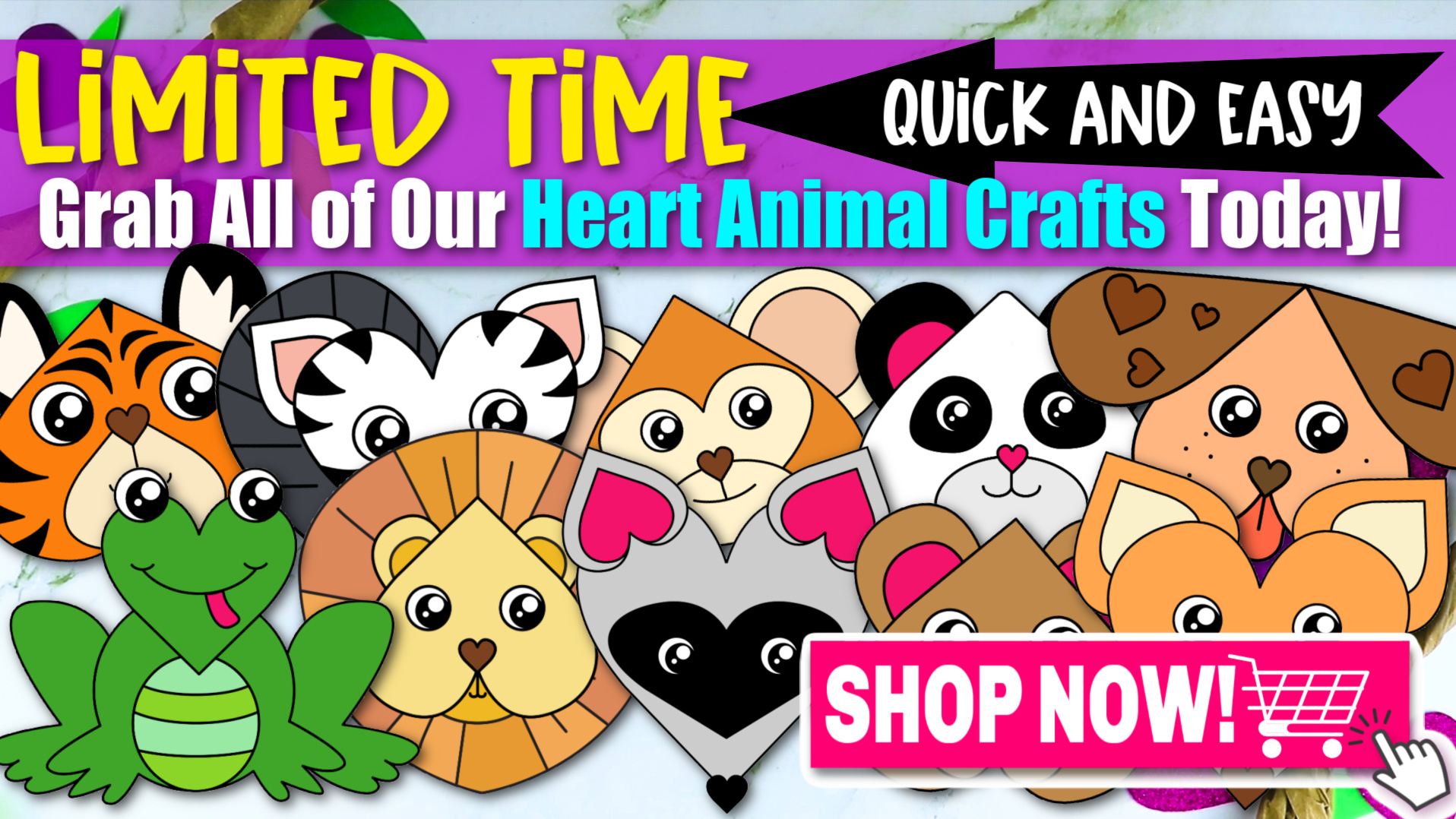 Kaitlen D
More Printable Heart Animal Craft Templates