Watermelon is the perfect refreshing drink to serve during the summer whether you are going to the beach, having a picnic or just staying at home.
Watermelon fruit also helps hydrate our body during the hot summer.
This simple free printable watermelon drawing is the perfect summer activity for children of all ages.
It will encourage your little one to discover a lot of easy DIY crafts, recognize colors, learn the alphabet, improve creativity and many more!
Invite your little one's friends to come over for a simple watermelon shake bonding as they color, design and cut out this free printable watermelon slice template.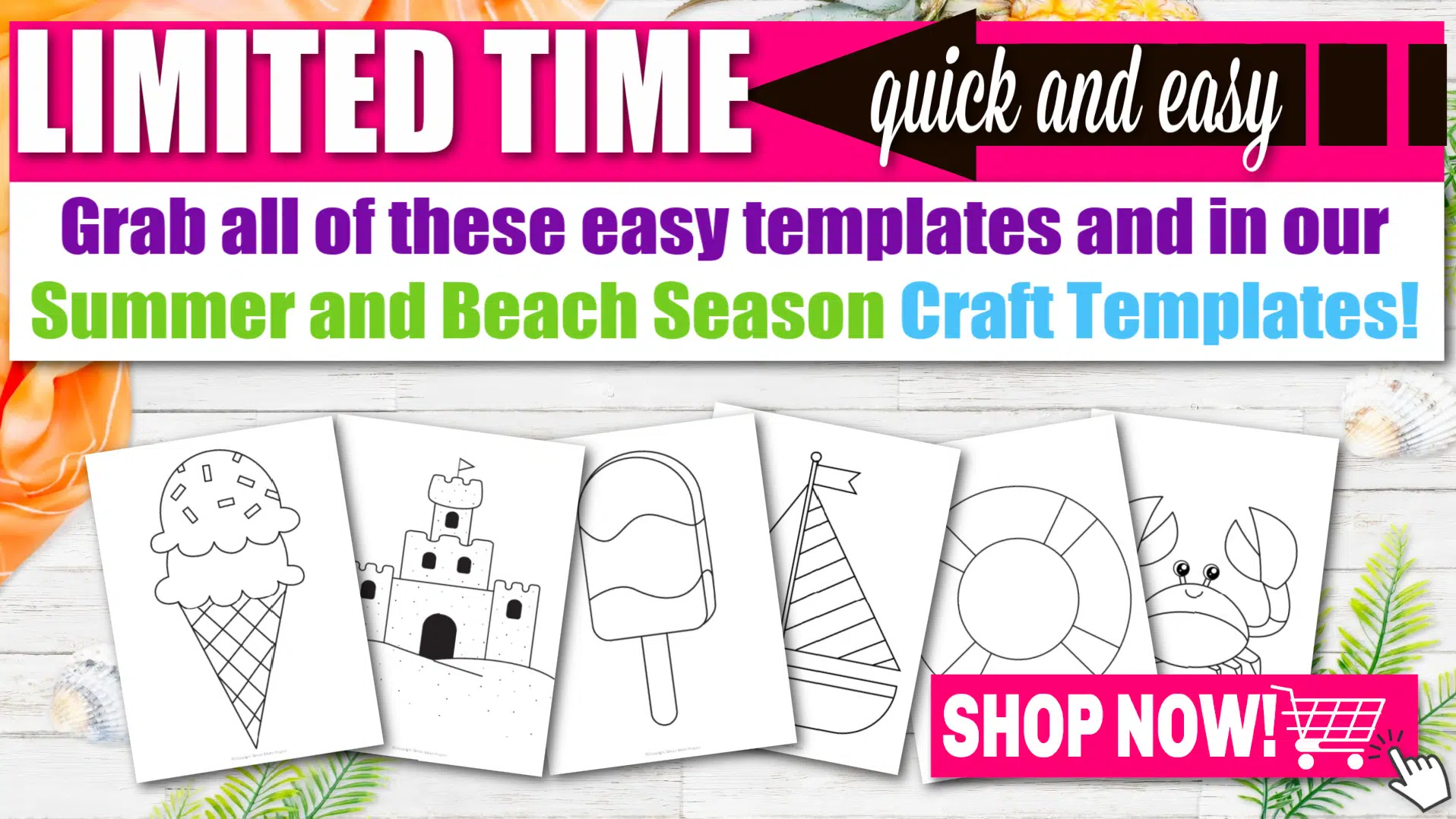 *By the way, this post may contain affiliate links which means I may receive a small commission at no additional cost to you if an item is purchase through that link. For more information, click here.*
Free Printable Watermelon Template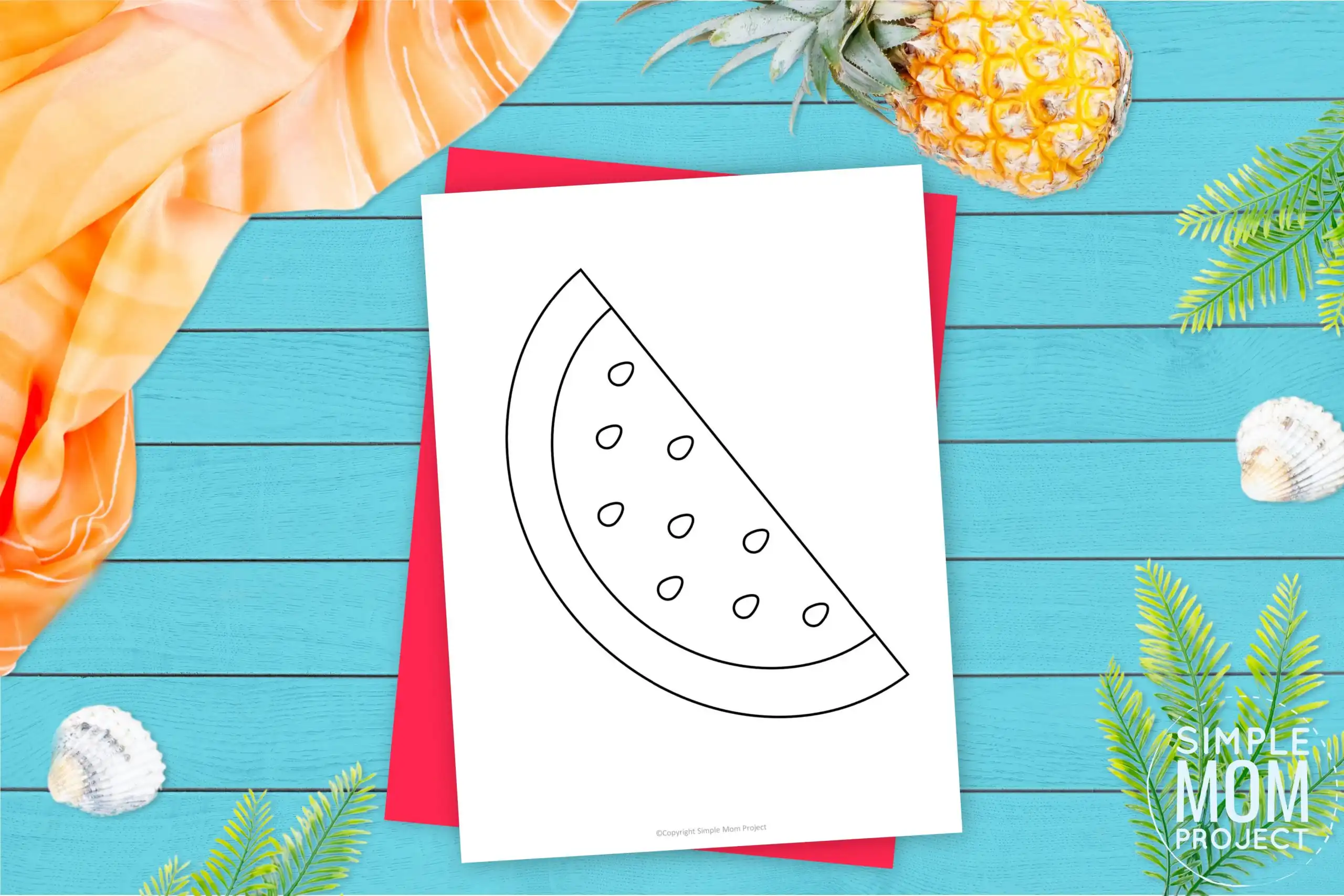 Watermelon Template Materials Needed:
Printable Watermelon Template (FOUND AT THE BOTTOM)
Make your child's finished watermelon template a forever memory by laminating it!
We use this laminator and cannot express how much we love it! It is not only inexpensive, it is SO easy to use!
Your kids will love seeing how much you adore their art work when you laminate and display it for years to come!
Looking for more adorable beach templates for your little one? Be sure to try our Pineapple and Palm Tree template.
Ideas for Watermelon Template
We're happy to share with you these wonderful ideas on how to incorporate this free printable watermelon template to your kid's everyday life.
1. Stories About Fruits for Kids
Summer wouldn't be the same without watermelon. My kids love fruits whether they serve as slices, juice or shake.
While enjoying their fruits, they either make simple crafts, coloring pages or reading books.
Here are a few lists of my children's favorite books about fruits and we're glad to share it with you and your little one.
2. Easy Paper Fan Watermelon
Making easy crafts is one of our favorite family bonding.
After coloring and cutting out this free printable watermelon drawing template, we decided to make a cute paper fan watermelon that's perfect for this warm weather.
Gather all the common supplies you probably already have in your home, like paper plates, popsicle sticks, paint, glue or tape and scissors.
Fold the paper plate into half that looks like a watermelon slice.
Guide your preschooler in painting it and use marker pen to make dots that look like the seeds.
Lastly, glue or tape the popsicle stick as the paper fan's handle.
It's that simple!
Now your children are ready to cool down this summer using their very own paper fan watermelon craft!


3. Letter W is for Watermelon
Let's turn this free printable watermelon clipart template into a preschool lesson plan.
Once your preschooler is done decorating their easy printable watermelon template, teach them all about letter W.
Whether it's writing the upper and lowercase letter W or how to pronounce it.
Print a traceable letter W and guide your preschooler the correct way of holding a writing tool.
You can also print a large letter W, glue it on a cardboard and hand it on your kid's learning board.
These are some of the few simple ways in teaching your children the alphabet.
4. DIY Watermelon Party Invitations
Throwing a beach party this summer season? Making a cute printable watermelon slice party invitation will be perfect!
Once your child is done coloring this printable watermelon slice drawing template.
Write the party details on it using a marker pen.
My kids decided to add cute pink ribbons to make it fancier. It's a super easy and inexpensive craft.
Share this brilliant DIY watermelon craft to your friends, too!
We hope you enjoyed these awesome watermelon craft ideas we shared.
We are confident that your toddler, preschooler and kindergartener will learn a lot in making this summer fun activity!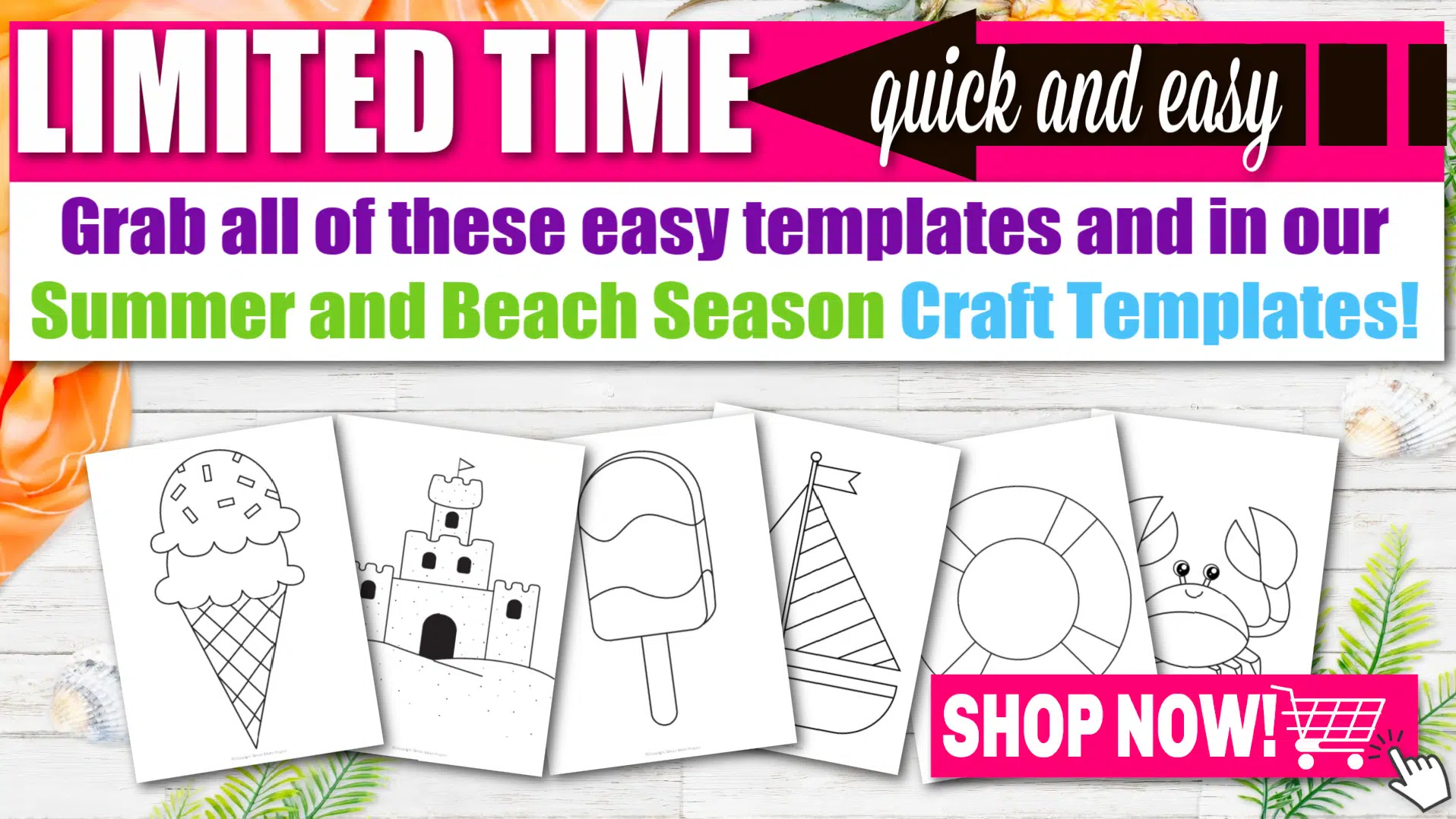 Printable Watermelon Template:
Beat the summer heat with this free printable watermelon slice template that will surely be loved by your toddler, preschooler or kindergartener.
Let your children color and cut out this cute printable watermelon drawing however they want to design their very own watermelon craft.
Having fun decorating this free printable watermelon template?
Don't forget to share in the comment section all your amazing experiences in making this easy printable watermelon clipart with your kids during summer break.
When you have finished, be sure to share your creation on Simple Mom Project's Facebook Page and follow me on Pinterest!

Kaitlen D.
More Fun Beach Templates