Did you know that a group of peacocks is referred to as a party?
Did you also know that peahens are female peacocks?
Peacocks are one of the most fascinating birds to explore, which is why we've included this printable peacock template in our collection of bird templates.
We wouldn't leave out this vividly colored bird from our list.
Prepare for a fun and productive weekend by sharing our printable peacock template with your family!


*By the way, this post may contain affiliate links which means I may receive a small commission at no additional cost to you if an item is purchase through that link. For more information, click here.*
Printable Peacock Template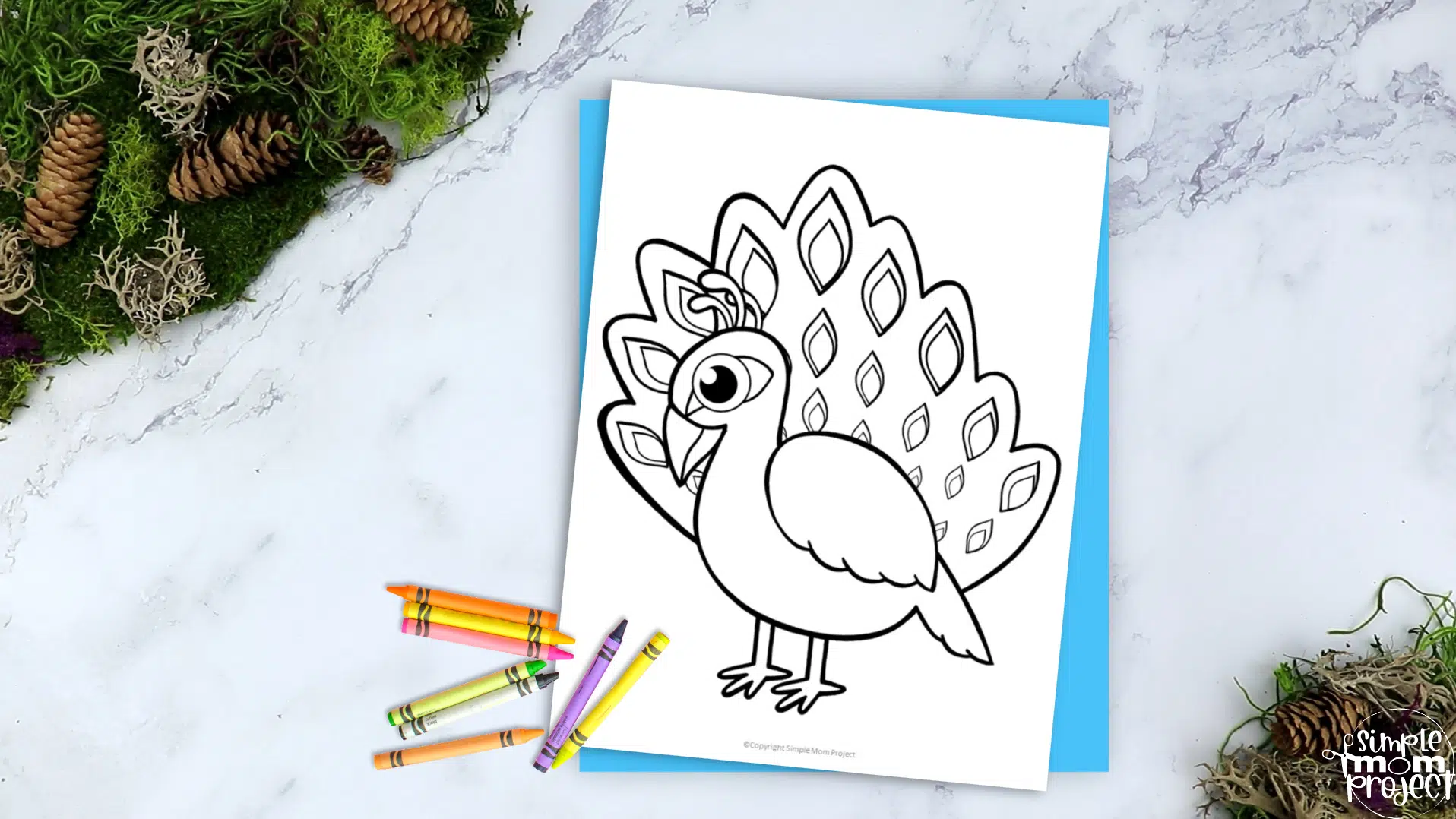 Printable Peacock Template Materials Needed:
Printable Peacock Template (FOUND AT THE BOTTOM)
Make your child's finished peacock template a forever memory by laminating it! We use this laminator and cannot express how much we love it! It is not only inexpensive, it is SO easy to use!
Your kids will love seeing how much you adore their art work when you laminate and display it for years to come!
Looking for more amazing bird crafts ideas? Check out our Peacock Craft, and Turkey Template.
Ideas for Printable Peacock Template
Aside from learning about these magnificent birds, we've compiled a list of interesting ideas for incorporating this printable peacock template into your learning plans and daily routines.
1. Peacock Books to Read
You can begin learning about these magnificent peacocks by reading these wonderful books.
It contains not only informative facts about peacocks but also moral stories that are beneficial to our kids.
2. Paper Peacock Craft
This printable peacock template idea is a fun activity to do with your children and their friends.
Making their own brightly colored paper peacock crafts will be a delight for the kids.
Simple supplies such as blue and green construction paper, sequins, markers, scissors, and glue are all that are needed.
Begin by folding the green construction paper into the tail of a peacock.
To make pleats, fold it back and forth.
It should be folded in half and the inner ends glued together.
Use sparkling sequins to decorate the paper.
Cut out a peacock body shape from blue construction paper.
Markers can be used to draw the peacock's face and other details.
To create a party of paper peacocks, make as many paper peacock crafts as you wish!


3. Peacock Paper Fan
Did you know that a paper plate can be used to transform a peacock into a fan?
This peacock paper fan can be brought and used whenever you want, especially when it's hot outside and you need to cool down.
This printable peacock template is multipurpose and simple to make.
And you simply need common materials to get started.
Prepare a paper plate, popsicle sticks, crayons, markers, scissors, glue, and a printout of the peacock template.
Begin by transforming the paper plate into a peacock's tail.
You can make it in a variety of techniques, including having your children color, paint, or paste strips of green paper.
Cut the peacock outline from the template after you've finished decorating it.
Only cut the body of the peacock and glue it on the paper plate.
Attach a popsicle stick to the back bottom part of the paper plate to construct a fan handle after everything has dried.
You may repeat the process to make a lot of peacock paper fans to enjoy with your family on a warm afternoon outside.
4. Peacock Feather Craft
Peacock tail feathers are among the longest and most gorgeous feathers found in any bird.
This printable peacock template idea will undoubtedly inspire your children to create gorgeous peacock feather crafts that they can use every day!
Gather green construction paper, beads, sequins, and other glittering decorations, as well as scissors and glue.
Cut the green construction paper into a feather or oval shape to begin.
To give it a feathery appearance, cut the sides into thin strips.
After that, glue the beads and sequins to the middle of the feather.
Attach the peacock feather craft to a pen, pencil, or markers.
You can also use it as part of a favor bag decoration, a souvenir, or even as an accessory!


Printable Peacock Template: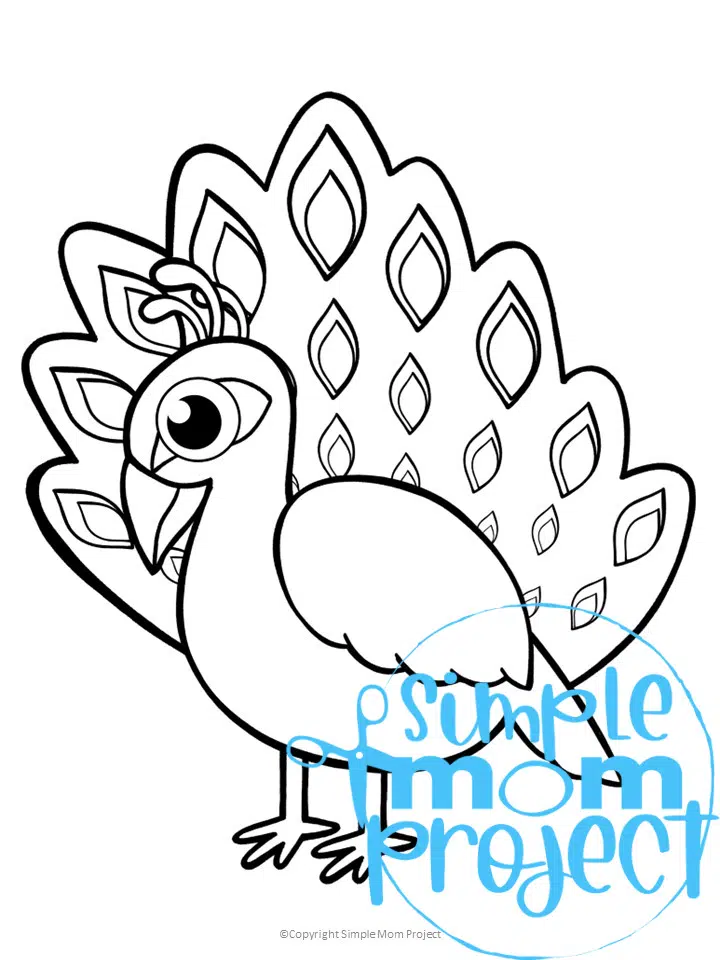 Bring out all of your brilliant art supplies to customize this peacock template and bring a peacock to life.
Your kids will love this peacock coloring page, which they may color during art class, science lessons, or at any other time of the day.
They can even keep their finished pieces in their collection of bird coloring pages.
Print as many copies of this peacock template as you like.
Spend time with your family decorating it in the most creative way possible.
Don't forget to tell us about your experiences with this printable peacock template.
Don't hesitate to leave us a message in the comment section.
When you have finished, be sure to share your creation on Simple Mom Project's Facebook Page and follow me on Pinterest!

Kaitlen D.
More Fun Bird Crafts And Templates